Men can have a hard time trying to cover some minor imperfections, but with these hairstyles for men with big foreheads, you will find your ultimate hairdo.
These haircuts will save your social life, your uneven hairline, and will seamlessly hide your larger forehead! No reason to be ashamed of your shape, just get the ultimate haircut and enjoy the perfect and personalized option for you.
How to Style Hair to Hide Big Forehead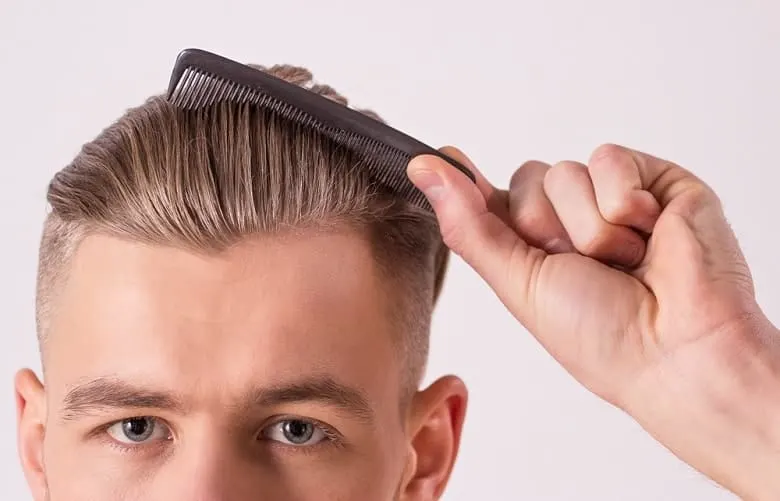 If you want a hairstyle that can cover the size of your forehead, know that you have three options and three different styles to choose from:
You can go for a semi-bold cut and have most of your hair shaved & faded, or you can go for undercuts & side cuts. This design will allow you to accentuate your head shape while making some minor distractions with unusual lines & shapes on the side. With these, no one will really bother or notice the size of your forehead.
Go for a set of bangs. Short, mini, loose, wavy, or super long bangs can hide the appearance of a larger forehead. These can actually serve you like curtains which you can customize whoever you feel like. You can straighten them or simply comb through them on a daily to hide the appearance of a larger forehead.
Get a pompadour, go for a frizzy or a spikey top, or any larger detail at the center. Bigger, puffier & more voluminous details will give out a distraction and will create an illusion of a larger head in general. This means that they will hide the focal point of your forehead while seamlessly blending in with the rest of your hairdo.
Best Haircuts for Guys with Big Forehead
Check out the following 35 styles to take inspiration for your next hairstyle.
1. Wavy Fringe
Asian boys with naturally wavy hair can try out an undercut along the sides keeping the top long and adding layers. The front strands fall over the forehead adding a subtle cuteness to the face. Apply pomade on the fingers before running them through the hair while styling.
2. Side-Swept Bangs
This haircut is ideal for men with a big forehead and straight hair. The long top tapers towards the sides and back with side-swept bangs grazing the eyes at the front and covering most of the forehead. Comb the strands sideward and let them fall naturally at the front.
3. Perfect Layers
Sport these gorgeous layers to make the ladies swoon over you. Grow the hair a few inches and ask the barber for as many layers as possible. The key lies in swooping out the ends using a roller brush and hairdryer and letting them fall on the face for a debonair finish.
4. Long Locks
Elderly men can distract all the attention from their receding hairline by rocking long locks. Go for a deep side parting and soft layers and dye the strands in a medium brown hue along with the brows to contrast against the greying beard and mustaches. Try out a chic ponytail too.
5. Killer Dreads
Keep your hair game strong with shoulder-length dreadlocks. African-American guys can experiment with a low-maintenance hairstyle by shaving their sides and keeping the top significantly long. Twist and dread the hair and leave the locs free to dangle or style them in a man bun.
6. Textured Top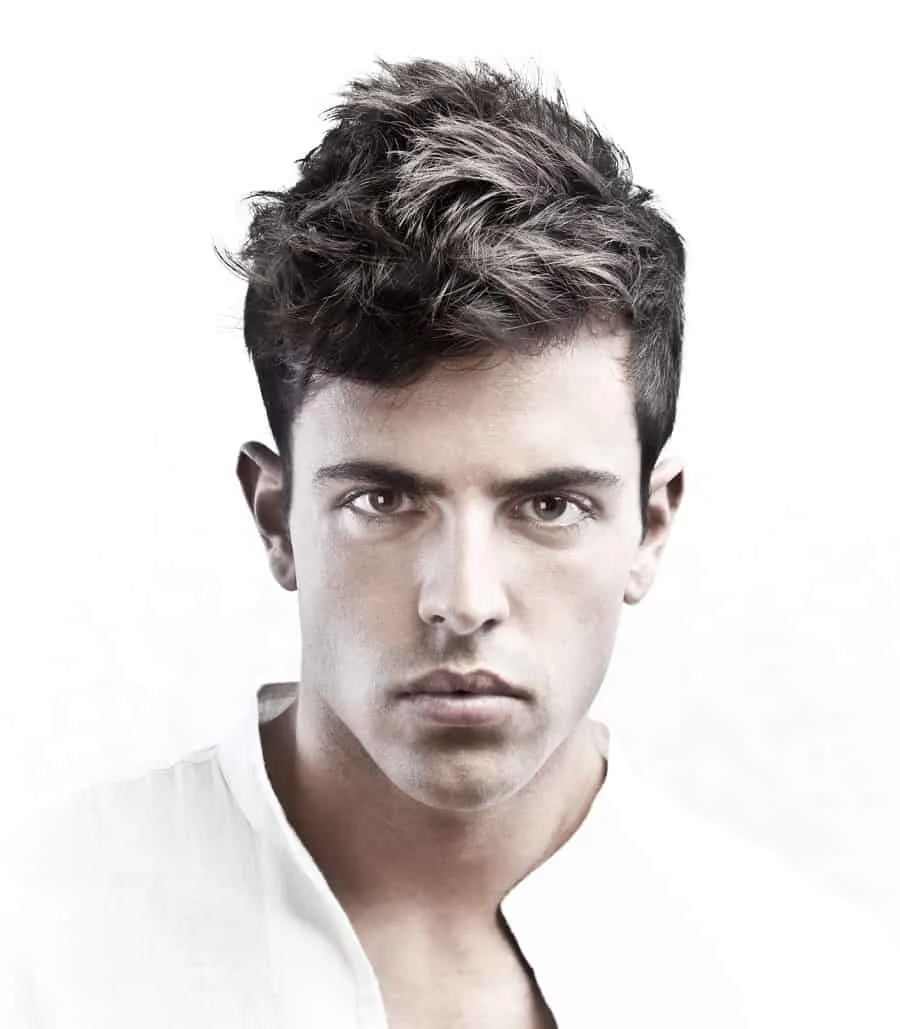 Make a style statement by clipping the sides neatly and creating some movement and texture on the top by adding short layers. Go for a chic comb-over for a classic look or hand tousle the top using some styling product for a more voguish appeal depending on the mood and occasion.
7. Messy Spikes
There is no age limit when it comes to rocking spikes. Guys with thin hair can brush down their neatly clipped sides and back while styling the top in messy spikes. Push the strands towards the center top to create a mohawk silhouette. This style is suitable to hide a widow's peak.
8. Short Shag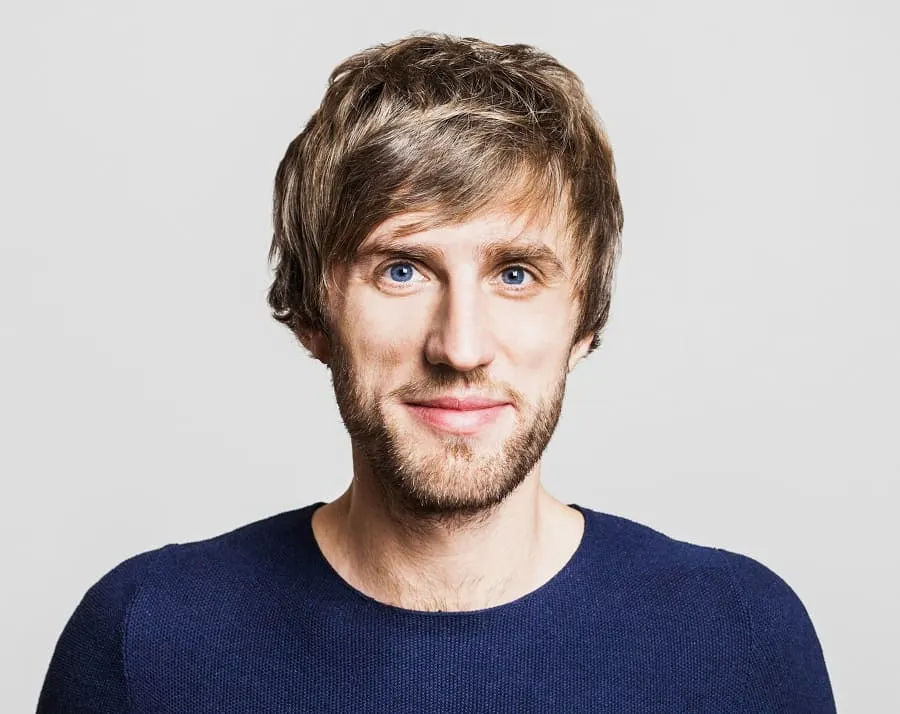 Considering the laid-back ones, a short shag is effortless to style and suits all face shapes. This modern haircut is created using the razor cutting technique with a lot of choppy layers covering the ears. The uneven fringe at the front hides any imperfection on the forehead seamlessly.
9. Carefree Curls
Messy is the new dressy! The best way to show off your curls is by setting them free to bend naturally in all directions. The undercut along the sides keeps all the attention on the messy top with an angular fringe falling forward on the face. Hand-tousle the hair and you are ready to rock.
10. Sleek Side Part
Asian boys with thick straight hair can check out this sleek look for a gentleman's appeal. The long top tapers towards the sides that are still long enough to cover the ears. Comb the hair with a classic side part and finish off with a spritz of hairspray.
11. Ruffled Appeal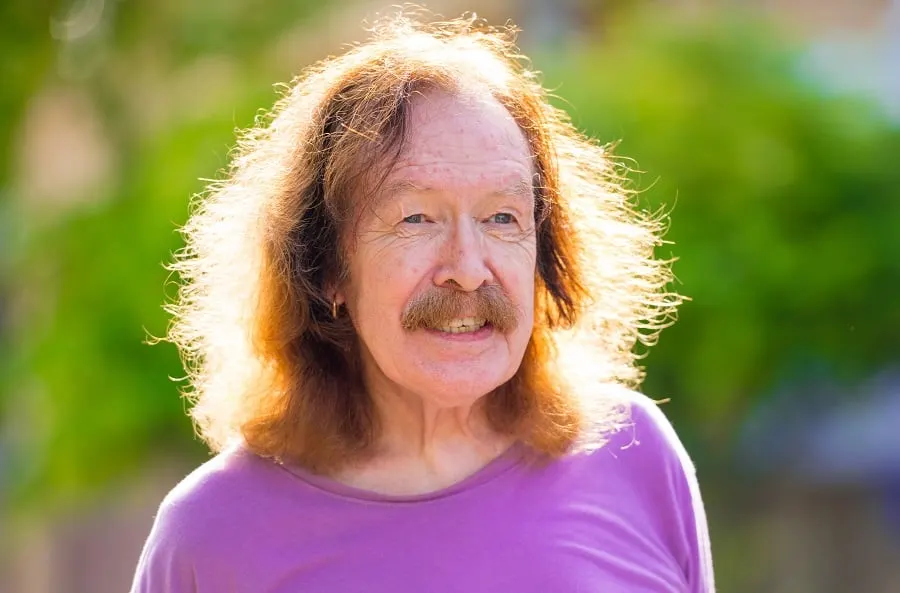 Men getting on in years can keep in style by layering their mane to fall on the shoulders with a side-swept fringe sitting at the front. The best part is that the uncontrollable frizz adds up to the look that is coupled with chevron mustaches. Easy breezy!
12. Long Top + Undercut
Who will notice a large forehead with such a debonair haircut? The sides are buzzed to contrast against the long layered top that falls over on one side. Spice up the look further with a thick round beard and connected mustaches. Can't get any hotter!
13. Soft Mop
Wavy hair is a blessing as it can be styled in countless ways. This classic haircut from the 60's is worn by young boys of today with a modern twist. The hair is layered for the waves to fall at different lengths with a deep side-parted fringe accompanying the face at the front.
14. Textured Short Hair with Bangs
If you have short hair, disguise a big forehead with bangs and lots of texture in the hair. Your bangs can be thin so they don't overpower your look, but feel free to load up those short locks with hair gel for shape.
15. Piecey Wavy Hair
If your hair has waves or curls, use that to your advantage. Comb in a center part on short hair, and accentuate texture with hair product, creating small piecey sections with fingers. Don't worry about styling the bottom half of hair when the top is this good looking!
16. Super Short with Rounded Front
Cropped bangs can be a good look for men with a large forehead. To complement strong bone structure, make sure the cut is rounded. If you prefer, you can keep the top of the hair long and sides short.
17. Side Combed Layers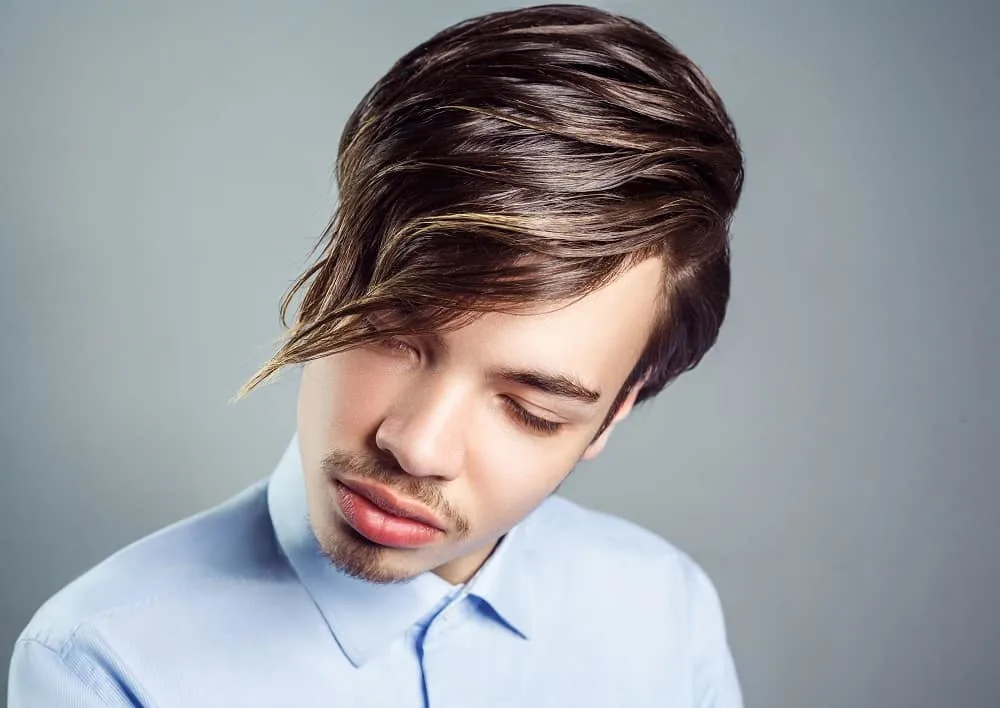 For hair with a couple inches to work with, ask your stylist for long layers. Then you can come them to one side, styling them so they cover half your forehead. Work in a bit of product for hot piecey texture.
18. Combed Back with Beard
Older men trying to disguise a big forehead can distract from it easily with an extra long beard, which will pull the eye down. Keep your look polished by combing in an off center part, then smoothing the hair directly back.
19. Long Top, Short Sides Haircut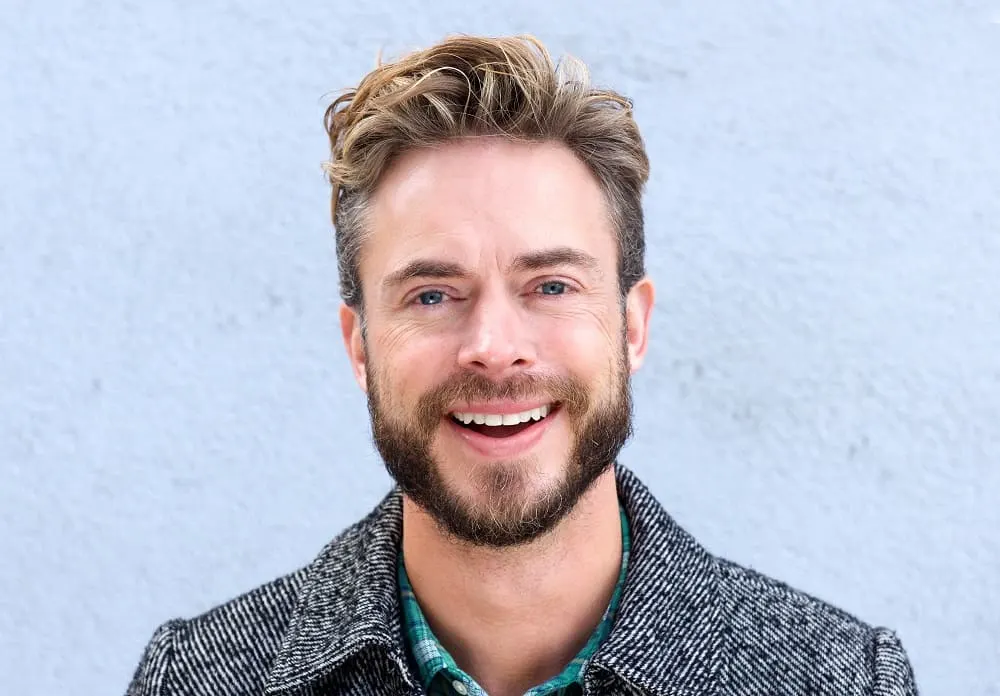 One of the most popular haircuts for men is the one that features a long top and short sides. Not surprisingly, when you load up the top with touchable texture that enhances natural waves, no one will even notice your big forehead.
20. Mullet with Bangs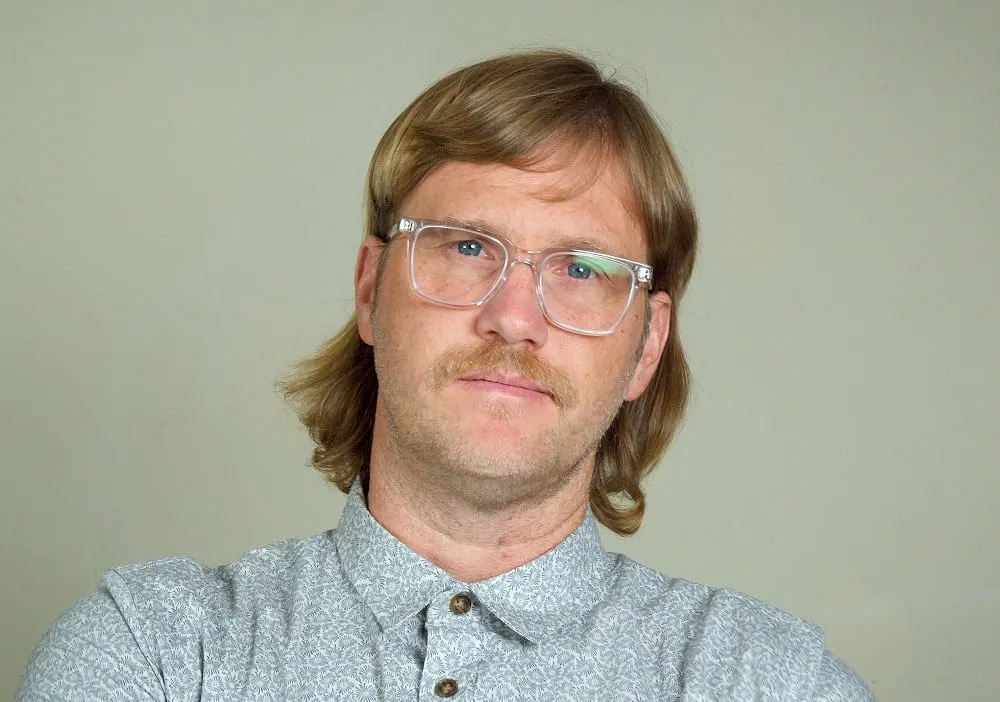 A mullet is an older hairstyle for men, but can be a bold move for guys who like uniqueness. This short version features soft short bangs that are perfect for covering a big forehead.
21. High Fade on Gray Hair
Looking for an edgy men's haircut to cover your large forehead that will also work with your gray hair? A high fade incorporated to a short haircut is a great way to draw attention to your look's details rather than that facial feature you aren't fond of.
22. Very Curly Hair with Side Bangs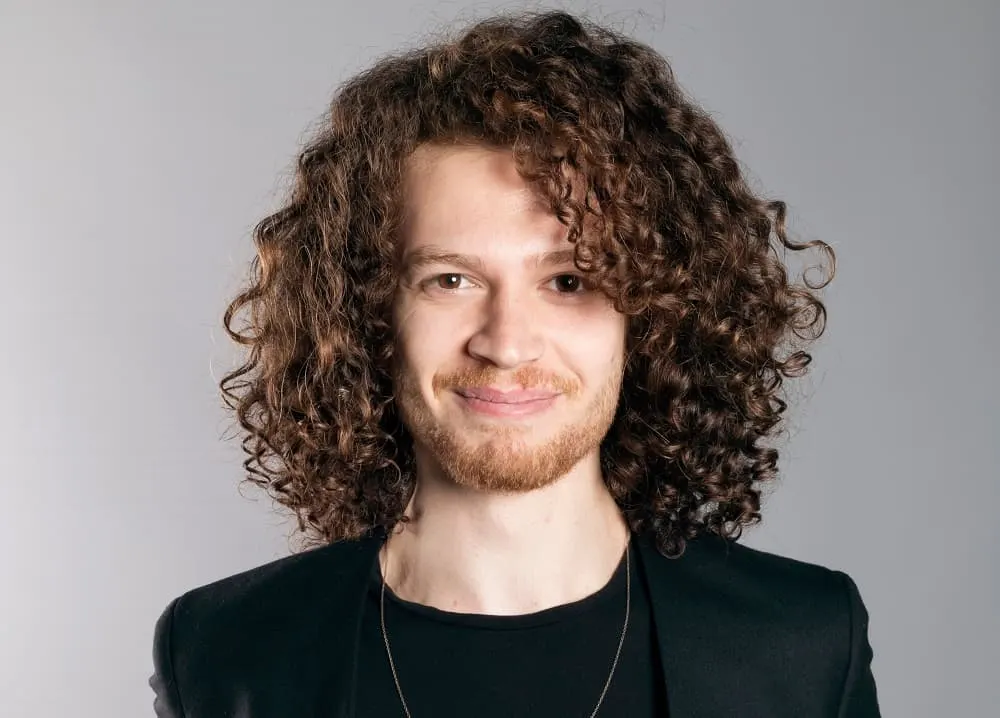 Adding side bangs to your haircut is a great way to not only pull a look together, but cover up a big forehead too. If your hair is super curly, go with a shoulder-length haircut that concentrates short layers around the face.
23. High Fade with Wavy Hair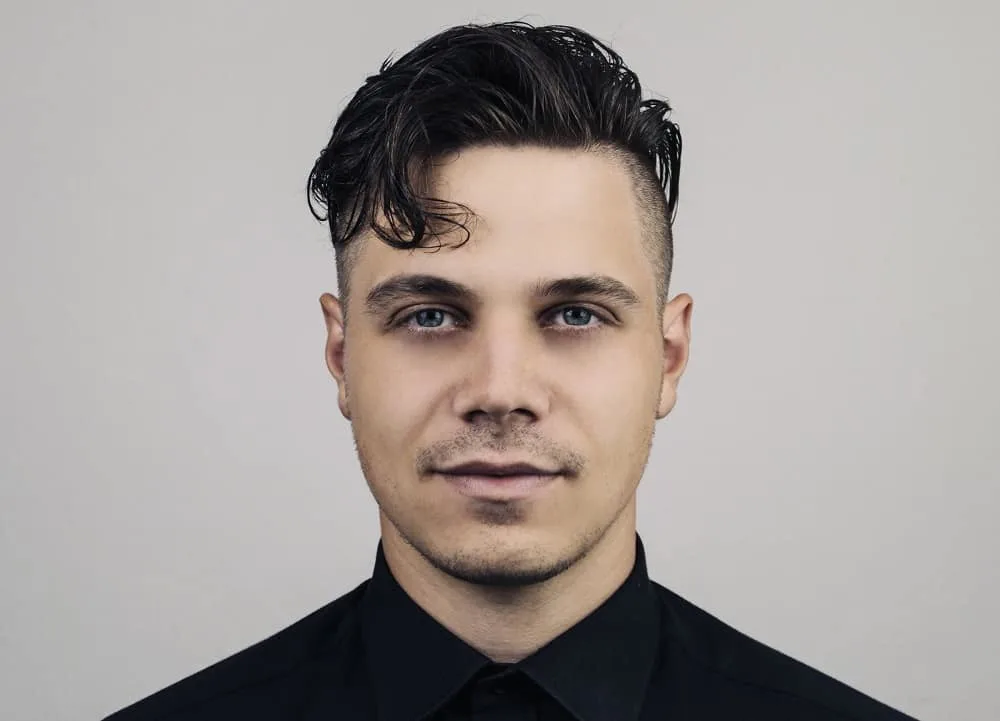 Is your face shape oval or long? Go with a high fade to frame your short to medium-length wavy hair. It's an edgy look that flatters long faces and large foreheads, and is also handsome and professional for nicer settings.
Suitable Hairstyles for Big Forehead and Round Face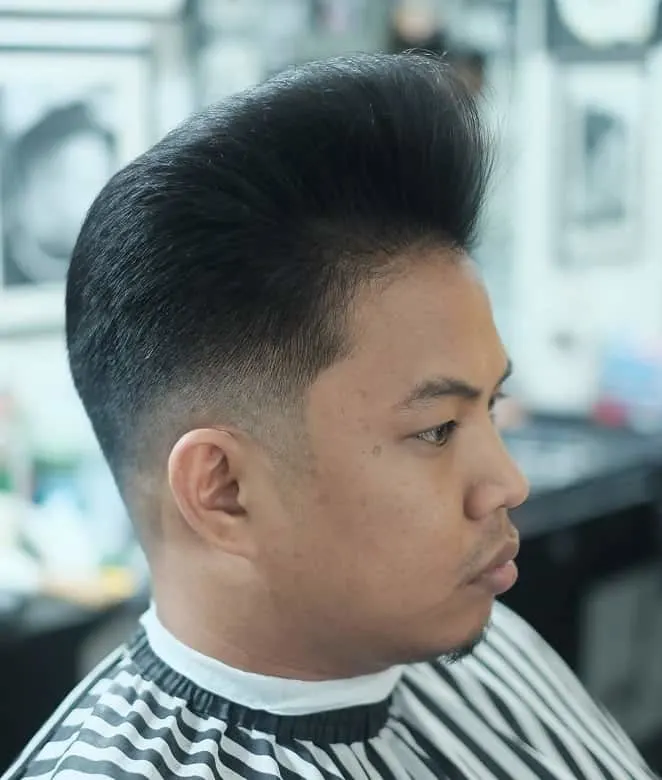 If you have a larger forehead and a rounded face it may be a bit harder for you to mask it.
However, get something sharp & defined on the sides since it will drag the attention away from your rounded appearance. This haircut is what you are looking at!
If you are blessed enough and you have voluminous curls, make sure you get a pair of bangs. Bangs can be an excellent cover-up at covering your forehead while they also look stylish & cute.
26. Messy Hair with Drop Fade
If you trust your barber go for this ultimate haircut for guys with a big forehead. It is faded & perfectly cut on the sides while having just enough of volume at the front to cover your forehead.
Perfect Hairstyles for Men with Receding Hairline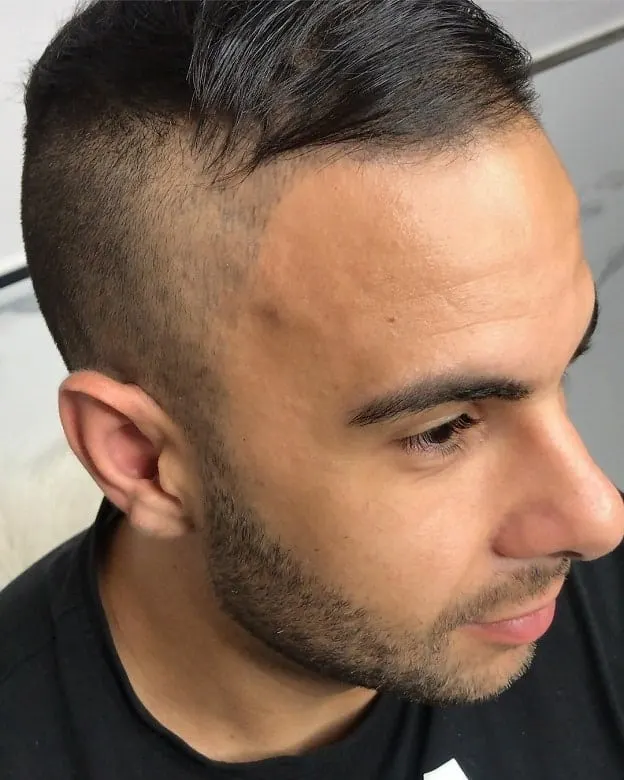 A receding hairline will happen to every guy at one point of his lifetime. If you want to do a hairstyle which can cover it, go for some side swept bangs, along with shaved & defined sides. This hairstyle for big forehead men is a good option to start with.
28. Spikey Quiff
Another way how you can deal with a receding hairline is by getting a spikey accessory at the top. This way of hairstyling can be attention seeker and will save men with a big forehead.
Short pompadour cuts are usually worn by men who want to cover up some bald patches. Get this haircut if you are a men with big forehead and want something which can seamlessly cover your receding hairline, along with your bigger forehead.
Hairstyles for Men with Thin Hair
30. Spikey Top with Low Fade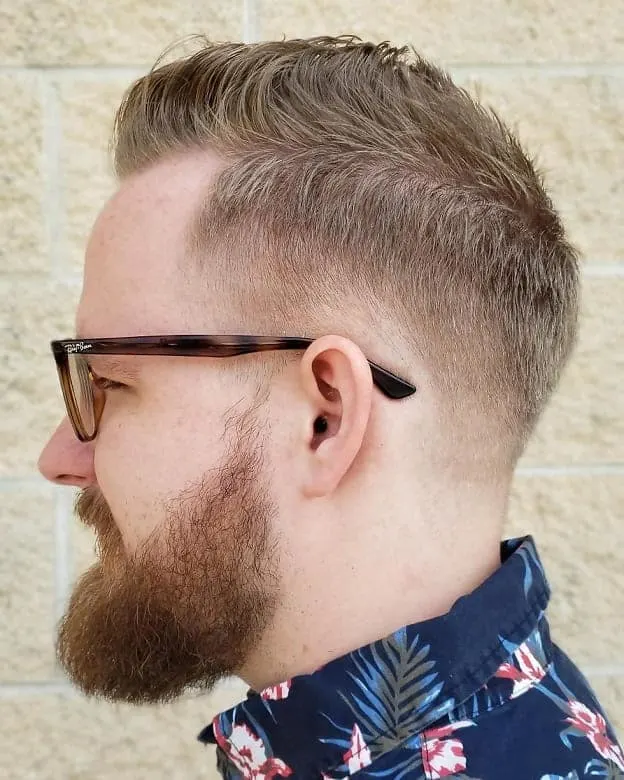 If your hair is super thin and you don't have a lot of volumes make sure you spike it up. This way you will create an illusion of a fuller hairline, while also creating the perfect men's hairstyle for the big forehead.
In case you are looking for a hairstyle for a big forehead, look into this one. That is, as long as you have longer & fuller curly hair. With this cut, no special requirements are needed.
Simply emphasize your look by getting some baby bangs at the front, and always wear your hair curly & voluminous for the ultimate distraction.
32. Shaved Sides with Textured Spikes
If your hair is thin and short use a lot of gel to give it volume. This can be an amazing trick at giving out an illusion of a smaller forehead.
Haircut Ideas for Black Guys with Big Forehead
This sharp & defined haircut to hide men's big forehead looks cute and is appropriate for your daily wear. Also, it is easy to maintain & style since it is done only with a bit of your go-to curling gel.
The more cuts & stylish designs you have the better. This haircut is ideal for guys with big forehead since it has defined edges, as well as a lot of stylish accessories, including the ones around your beard.
If you are low-maintenance and you need something which can suit your head shape, get this frizzy cut. It is manly and quite defined on the sides, exactly what you need in order to cover up the forehead.
FAQs
How many fingers is considered a big forehead?
A good rule of thumb is that a forehead should be four fingers wide. If your forehead is as long as or longer than the width of five of your fingers, you have a prominent forehead.
Does a man with a large forehead look attractive?
Yes, a man with a prominent forehead can still appear attractive as long as he keeps and maintains the proper haircut. Styling your hair can do a lot to help make a large forehead attractive.
How can I make my forehead look smaller?
The two most popular ways to make a forehead look smaller are getting bangs or having hair styled upwards in a pompadour. Bangs cover up some of the forehead's length, making it appear smaller.

Additionally, a pompadour creates an optical illusion of a longer face, making a more prominent forehead appear more proportional.
Big forehead vs. small forehead – what's the difference?
A prominent forehead and a small forehead occur when a forehead is significantly longer or shorter than the width of four fingers. Both foreheads can look just as good as a normally-sized forehead, but they require different haircuts and styles.

You can make certain parts of your face, including your forehead, look bigger or smaller with proper hairstyling and care.
No reason to hide your forehead when you can incorporate the right hairstyle and show it off! Men with big foreheads can choose one out of 35 different hairstyles for big forehead men, and still get away with it!
If you want to improve your confidence level, boost your self-esteem, and look as never before, know that your salvation is in the right hairdo, which is customized based on your preference.