Long bobs with side bangs look awesome on women if styled properly. Bobs are a classy hairstyle that is always the main part of trendy dos. Whether asymmetrical, choppy or perfectly symmetrical, bob styles are always eye-catching. Add side bangs to the mix and an air of contemporary mystery is created.
Which Bangs Styles Will Suit Your Lob?
Lobs have made it big on the fashion trends this time. And why wouldn't they? They are so cool and stylish that ladies find it hard to resist them. Lobs get better when some bangs are added to them, don't they?
From a long bob with side bangs to vintage pinned-up bangs, all the bang styles are lovely and trendy. So, if you have a lob and want to add some bangs to it then hold on for here is a guideline on which bangs style will suit your long bob style.
Blunt Bangs for Straight Sleek Lob
If you have a black sleek lob and want to keep things natural yet stylish then go for blunt bangs. These bangs end at your eyes and make you seem intense and severe. You can have them cut longer too if you want to.
Choppy Bangs for Thick Wavy Lob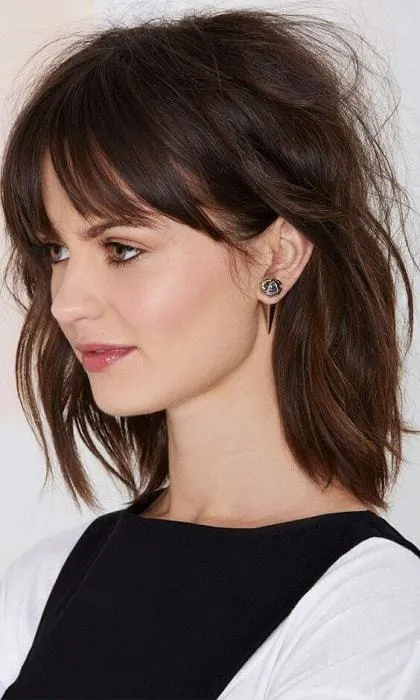 If you have thick hair styled in a wavy and well-layered lob then choppy bangs are perfect for you. They draw major attention to your eyes while making your hair look less thick and more natural.
Side Swept Bangs
Side swept bangs are great for your lob if you have fun and easygoing loose curls in your lob. They make you look stylish and young while covering most of your forehead in an asymmetrical way.
How Lob Differs from Bob?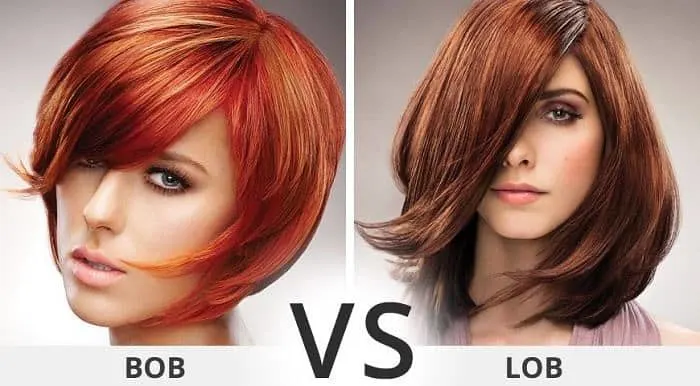 Lob and bob are both impressive and popular hairstyles. A lob is sometimes referred to as a long bob too since it is the same as a bob with a greater length.
A bob skims the surface of the jawline usually while a lob touches your shoulders. The women who love short hair but do not want to risk cutting their hair too short can go for a lob as it falls in the category of medium length hair.
Bob is more focused around the face, draws major attention there while a lob is longer, and is suitable for all face cuts and shapes.
Chic Long Bobs With Side Bangs
This hairstyle is also called lob with side bangs/fringe. Here is a list of 50 stunning long bob styles with side bangs we really love!
1. Layered Bob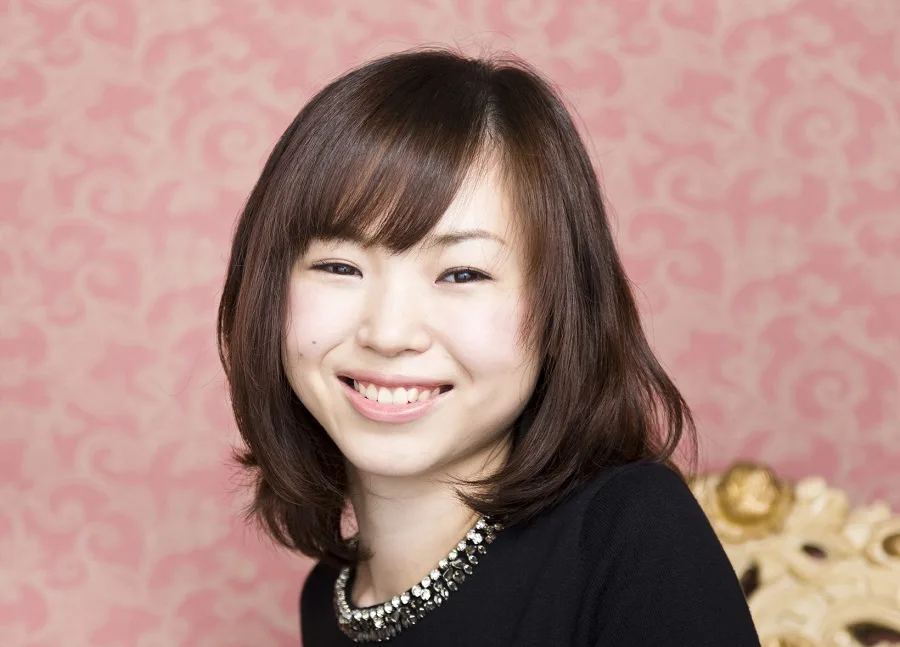 Asian girls look so cute with a long bob with side bangs. To recreate this look, create layers and round the tips inwards. The fringe should have a medium length, covering the eyebrows. Also, wear them on one side.
2. Upward Bangs
A straight medium bob haircut can get such a glammy touch, and it's all thanks to those beautiful bangs. To get that amazing look, straighten the longer strands. For the bangs, lift up your roots to create volume. Use a curler to round the tops of the fringe.
3. Highlighted Bob
Layers make any long bob with side bangs look fantastic, especially if you have a round face shape. If you want to look sunkissed, blonde highlights are always a good option. Make them thin; this way, they will stunningly blend with that chestnut brown shade.
4. Creamy Bob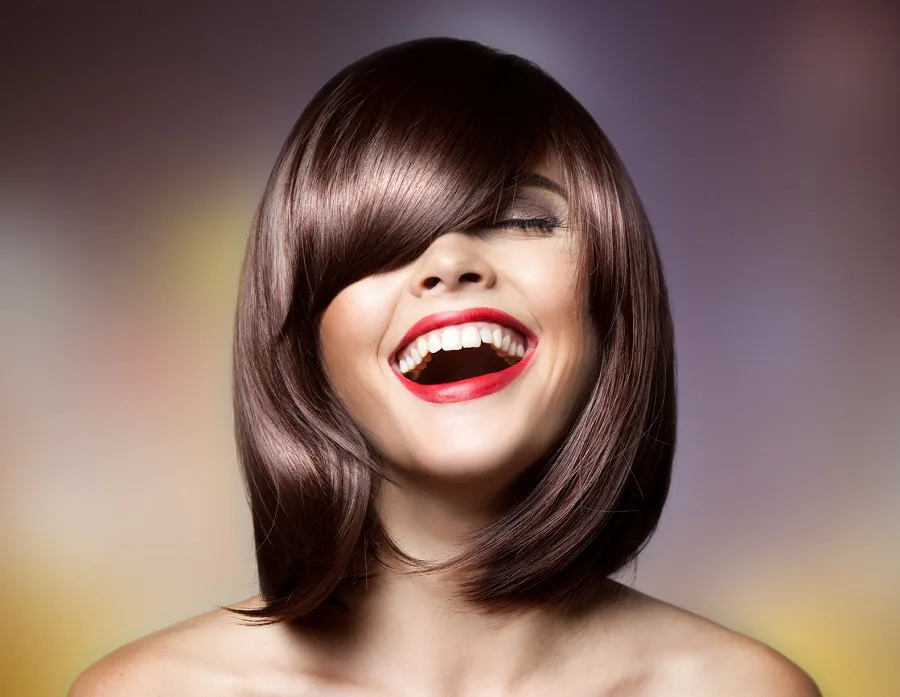 Silky and creamy, this bob haircut will look marvelous. When attending events or parties, a hairstyle like this will draw all the attention on you. Make sure you opt for a creamy chocolate brown and soak your hair in a conditioner before styling your hair.
5. Asymmetrical Bob
If you'd love something crazier that tells a lot about your personality, this hairstyle is probably one of the best ideas for you. Create an asymmetrical bob haircut that is very short on one side and reaches the shoulder line on the other. Go for blunt bangs and orient them in the longer hair direction.
6. Bob with Blonde Highlights
An angled long bob with side bangs is perfect for women with a round face. To add more dimension to your hairstyle, create blonde highlights for the front pieces. They will gorgeously blend with your creamy brown hair color.
7. Straight Bob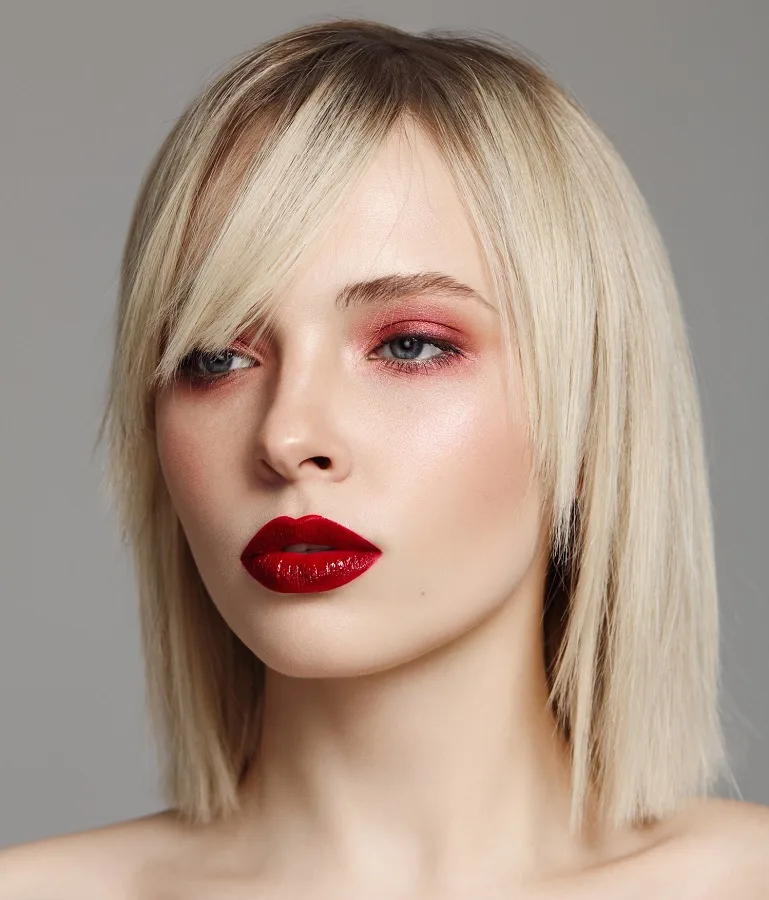 A flawlessly long bob with side bangs is a great idea for a photoshoot or a fancy event where you need to look your best. Opt for a warm blonde that suits your complexion and cut the hair in a straight line. Layer the fringe and straighten your strands with an iron.
8. Copper Bob
As a woman with fair skin, a long bob with side bangs in a copper ginger color will look absolutely fabulous. Bangs must be longer, reaching your cheeks, while the rest of the hair should be cut in a medium length, reaching the shoulders. When you dry your hair, style the tips of your fringe to the back.
9. Wavy Bob
Asymmetrical long bobs with side bangs can be so glamorous. Opt for an ashy blonde hair color that suits your skin tone, and use a wand or a straightening iron to create some waves or curls. Straighten the piece of bangs that cover your forehead.
10. Bob for Black Women
When you want a bob haircut, you firstly need to think about the texture of your hair and adapt the trim. If you have curly or afro hair and don't want to spend each day straightening it, there are many hair extension options you might consider, which can help you get the look you want.
11. The Classic Long Hair Bob with Side Bangs Look
The elements of a good long bob with side bangs is one in which the bob drops just below the nape of the neck with a noticeable side-sweeping bang. Celebrities love this style as we often see them wearing it on the red carpet or a night out on the town.
They are easy to maintain and can readily have extensions added for a different expression of self. Women with this hairstyle look really cute if it suits with the face!
12. Red and Fabulous
Add a bit of flare to your lob with side bangs by giving it a bit of color. This deep red with dark undertones adds a bit of flash to an already gorgeous look. Not a red head? Go blonde! Also, there is the option for highlights to make this cut that much more fabulous!
13. The Long Bob with Inverted Side Bangs
The long bob and side bangs combo hairstyle enables you to take on a variety of looks including an inverted side bob with side bangs!
14. Asymmetrical Long Bob with Side Bangs
This look is neat, long and yes, the side bangs are there. The image is asymmetrical, but it's a clean and sleek cut that will turn heads. Most girls with triangle and oval face shape look fascinating with this style.
15. The Creative Long Bob with a Side-Bang Pin
Get creative with your side bang! Add a pin to tuck your bangs back while still showing off the beauty of this cut. Your hair is still long enough for more than pinning those bangs. While the long hair bob with side bangs might be your chosen hairstyle, there is still room to alternate hairstyles. You can also switch things up by pinning your hair into a sweeping up-do.
16. Long Layered Bob with Side Bangs
Layered bobs are a great hairstyle for women with thick hair. You'll get more manageable hair and can wear it with cute side bangs and wavy body.
17. Long Angled Bob with Side Bangs
A chic hairstyle featuring side bangs, this long straight angled bob is rich in auburn color. The ends are slightly flipped so they curl into toward the face.
18. Side Part with Side Bangs
Many hairstyles feature a center part and a side bang, but this medium blonde hairdo builds the side bang off a side part. It flatters a multitude of face shapes, like this heart-shaped one.
19. Long Curly Bob with Side Bangs
For curly hair, cut it short to bob-length and work the texture with product. A choppy side bang gives this look edge and beautiful contrast.
20. Long Thin Bob with Side Bangs
For thin hair, a long bob with straight locks and side bangs is a gorgeous option for youthful face-framing. This look also features an off center part, creating small volume in the process.
21. The Messy Long Hair Bob with Side Bangs
While some of the cutest bob styles for women are proportioned and cleanly-cut, some of the most beautiful long-haired bobs with side bangs are messy or rich with cascading waves that help to lighten the look. Messy does not mean unkempt but instead, a hairstyle that is gloriously carefree.
22. Tousled Lob with Messy Bangs
Who doesn't love messy tousled long bob running down the sides of their face? This lovely lob has untamed messy bangs swept to a side which make you look young, carefree and fun loving. Embrace it with edgy classy hair color and see how everyone appreciates your style sense.
23. Long Bob with Flowy Side Bangs
This chic and modern style is particularly attractive due to the modern grey highlights on the natural base of brown or black hair. These flowy side bangs are sure to get you all the attention that you want to have.
24. Soft Romantic Bangs
What is more feminine than soft blond locks? You can get an even more soft and romantic look with your hair highlighted around the tips while rocking a long bob with side bangs.
25. Long Side-Part Lob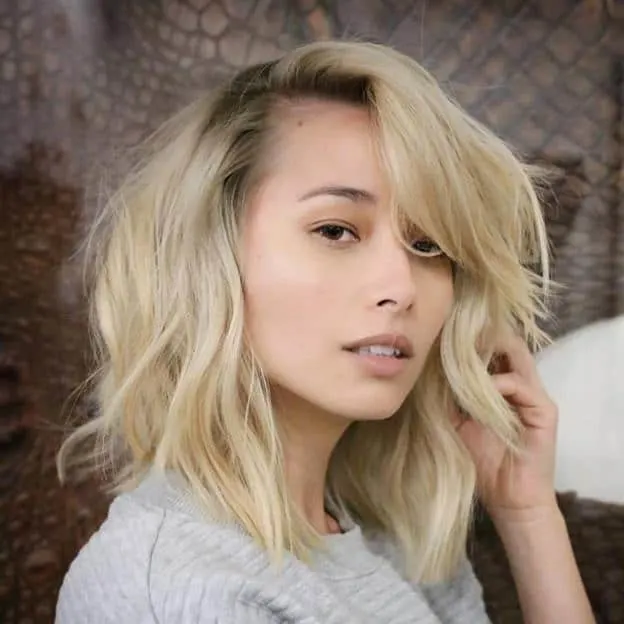 This long bob comes in a lovely blond shade which has a side part. The bangs at the front are more of a fringe as they go lower than the eyes and are swept to a side delicately.
26. Natural-Looking Side Swept Bangs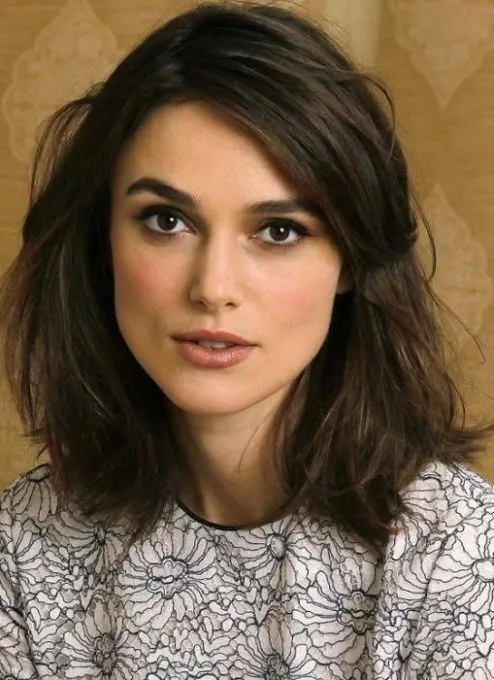 Do you want to look cool and chic, but want to keep things natural too? This lovely lob with natural side-swept bangs is a nice style for you to achieve that. It is perfect for those who prefer to have that class apart natural look in the crowd.
27. Choppy Cut
This beautiful and attractive choppy cut is cool as the lob has many exquisite layers. The choppy bangs swept to a side add more character and loveliness to it.
28. Highlighted Bob with Side Bangs
For older women wanting an updated look, try this short highlighted bob with side bangs. The layers are mostly up front around the face for gorgeous framing.
29. Side Bangs for Oval Faces
A layered bob with side bangs is a good look for women with oval faces or wide foreheads. Make them mostly straight and fill the body with soft waves; you can even add highlights!
30. Ash Grey Messy Side Bang
Pump up the volume on a layered short bob with messy side bangs. The ash grey color looks great against darker skin tones. Use hairspray to tease in volume.
31. Straight Side Bangs with Highlights
If you prefer to wear your hair straight, you'll love the way this straight long bob with its thick side bangs looks. Add chunky highlights in light blonde for shine.
32. Soft Side Bangs on Long Hair
For a professional hairstyle you can wear to work or a formal look for special occasions, straighten your long hair and wear it with a side bang, teasing the hair at the crown for volume.
33. Asymmetrical Bob with Side Bangs
On oval and heart-shaped faces, asymmetrical bobs with side bangs are a flattering cut. Leave your hair the natural color or choose a light shade like blonde.
34. Blonde Side Bangs
These extra long side bangs glow with different shades of blonde. They style is a stunning nod to Faith Hill's sexy teased short hair circa 1999.
35. Thick Side Bangs for Black Women
If you're updating your natural black hairstyle, rock tight spiraled curls, a heavy side part, and thick bangs. This is definitely a dramatic look great for parties!
36. Choppy Cut with Side Bangs
For your balayage or ombre medium length hairstyle, add in a small section of side bangs and fill the hair with large curls.
37. Light Blonde Straight Bangs
Emma Stone once rocked this long straight hairstyle with side bangs. Her round face proves how soft and chic blonde side bangs can flatter your angles.
38. Blunt Side Bangs
Jessica Alba's brunette wavy hairdo features bluntly cut side bangs. They aren't thick but they still make a statement because they come past eyebrows, drawing attention to the eyes.
39. Ombre Hair with Side Bangs
To liven up your long straight hair, add side bangs and go for ombre in blonde and a light pink at the ends. A few blonde highlights scattered throughout lighten up a dark brown base.
40. Teased Hair with Side Bangs
For a vintage spin on a medium or long hairstyle, go for smooth side bangs and an ultra teased crown for volume. Wear it as is or add a colorful bandana.
41. A-Line Bob with Side Bangs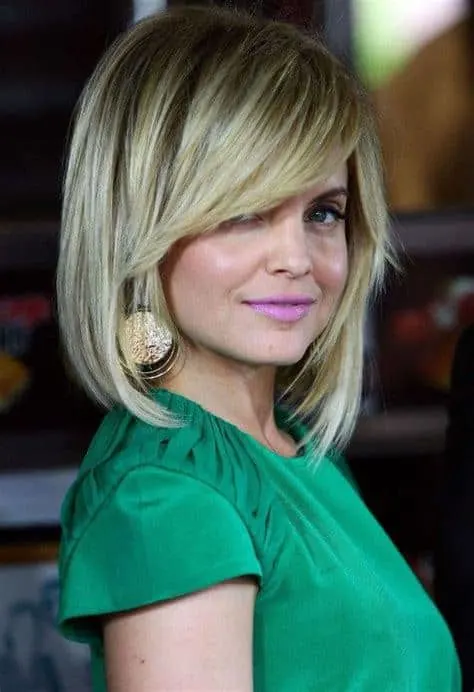 This highlighted A-line bob shows off a thick side bang, a great hairstyle option for women with small faces.
42. Choppy Short Haircut
Whether you have thin or thick hair, load up the body with choppy waves and pair with a smooth side bang.
43. Red Highlights
Another way to style up your asymmetrical bob and swooped side bangs is with light red highlights on dark red hair.
44. Bright Yellow Bangs
If you aren't afraid to take a chance on an out-there look, add bright yellow to short hair with teased body and long side bangs.
45. Thin Hair Side Bangs
For this side bang hairstyle, concentrate short layers at the bottom half of the hair.
46. Caramel Highlighted Bangs
On brown and caramel balayage hair, a side bang is the gorgeous finishing touch.
47. Curly Side Bangs
Instead of wearing your super curly hair down and simple, shape it up with side bangs.
48. Long Messy Side Bangs
Not all side bangs are short and sweet. These extra long ones cover one eye and look gorgeous with teased and messy choppy body.
49. Short Bob, Short Bangs
While Taylor Swift has rocked many great looks over the years, this short straight A-line bob and cropped side bangs is one of the chicest and sleekest.
50. Grey Balayage Bob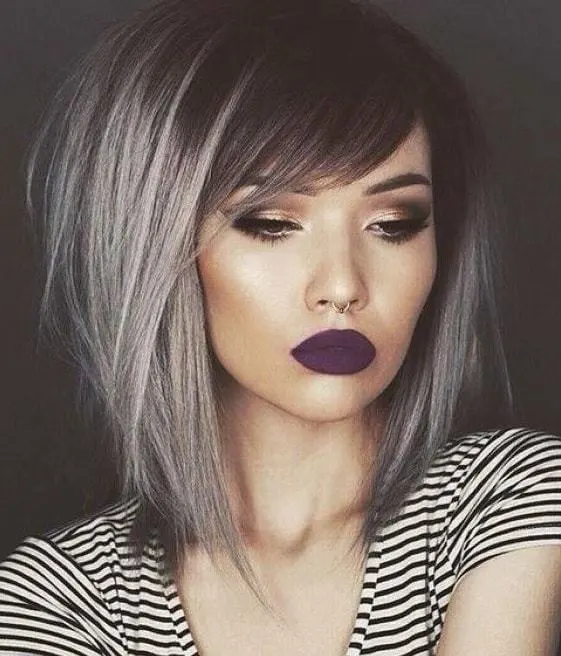 Adding volume to the crown of your head on ash balayage bob is the easiest way to create a sexy look with side bangs.
There are many ways to wear the long hair Bob with side bangs. There is no hard rule to stick to when it comes to wearing this style. You have the option to wear this style bone-straight, add color or highlights or even a few waves and curls.
The key thing to remember is that flexibility of this hairstyle will take you a long way whether you're going to the gym, shopping, a night on the town or a formal event.