Long bobs with side bangs look awesome on women if styled properly. Bobs are a classy hairstyle that is always the main part of trendy dos. Whether asymmetrical, choppy or perfectly symmetrical, bob styles are always eye-catching. Add side bangs to the mix and an air of contemporary mystery is created.
Which Bangs Styles Will Suit Your Lob?
Lobs have made it big on the fashion trends this time. And why wouldn't they? They are so cool and stylish that ladies find it hard to resist them. Lobs get better when some bangs are added to them, don't they?
From a long bob with side bangs to vintage pinned up bangs, all the bang styles are lovely and trendy. So, if you have a lob and want to add some bangs to it then hold on for here is a guideline on which bangs style will suit your long bob style.
Blunt Bangs for Straight Sleek Lob
If you have a black sleek lob and want to keep things natural yet stylish then go for blunt bangs. These bangs end at your eyes and make you seem intense and severe. You can have them cut longer too if you want to.
Choppy Bangs for Thick Wavy Lob
If you have thick hair styled in a wavy and well-layered lob then choppy bangs are perfect for you. They draw major attention to your eyes while making your hair look less thick and more natural.
Side Swept Bangs
Side swept bangs are great for your lob if you have fun and easygoing loose curls in your lob. They make you look stylish and young while covering most of your forehead in an asymmetrical way.
How Lob Differs from Bob?
Lob and bob are both impressive and popular hairstyles. A lob is sometimes referred to as a long bob too since it is same as a bob with a greater length. A bob skims the surface of the jawline usually while a lob touches your shoulders. The women who love short hair but do not want to risk cutting their hair too short can go for a lob as it falls in the category of medium length hair. Bob is more focused around the face, draws major attention there while a lob is longer, and is suitable for all face cuts and shapes.
Chic Long Bobs With Side Bangs
This hairstyle is also called lob with side bangs/fringe. Here is a list of 30 stunning long bob styles with side bangs we really love!
1. The Classic Long Hair Bob with Side Bangs Look
The elements of a good long bob with side bangs is one in which the bob drops just below the nape of the neck with a noticeable side-sweeping bang. Celebrities love this style as we often see them wearing it on the red carpet or a night out on the town.
They are easy to maintain and can readily have extensions added for a different expression of self. Women with this hairstyle look really cute if it suits with the face!
2. Red and Fabulous
Add a bit of flare to your lob with side bangs by giving it a bit of color. This deep red with dark undertones adds a bit of flash to an already gorgeous look. Not a red head? Go blonde! Also, there is the option for highlights to make this cut that much more fabulous!
3. The Long Bob with Inverted Side Bangs
The long bob and side bangs combo hairstyle enables you to take on a variety of looks including an inverted side bob with side bangs!
4. Asymmetrical Long Bob with Side Bangs
This look is neat, long and yes, the side bangs are there. The image is asymmetrical, but it's a clean and sleek cut that will turn heads. Most girls with triangle and oval face shape look fascinating with this style.
5. The Creative Long Bob with a Side-Bang Pin
Get creative with your side bang! Add a pin to tuck your bangs back while still showing off the beauty of this cut. Your hair is still long enough for more than pinning those bangs. While the long hair bob with side bangs might be your chosen hairstyle, there is still room to alternate hairstyles. You can also switch things up by pinning your hair into a sweeping up-do.
6.
long layered bob with side bangs
7.
long angled bob with side bangs
8.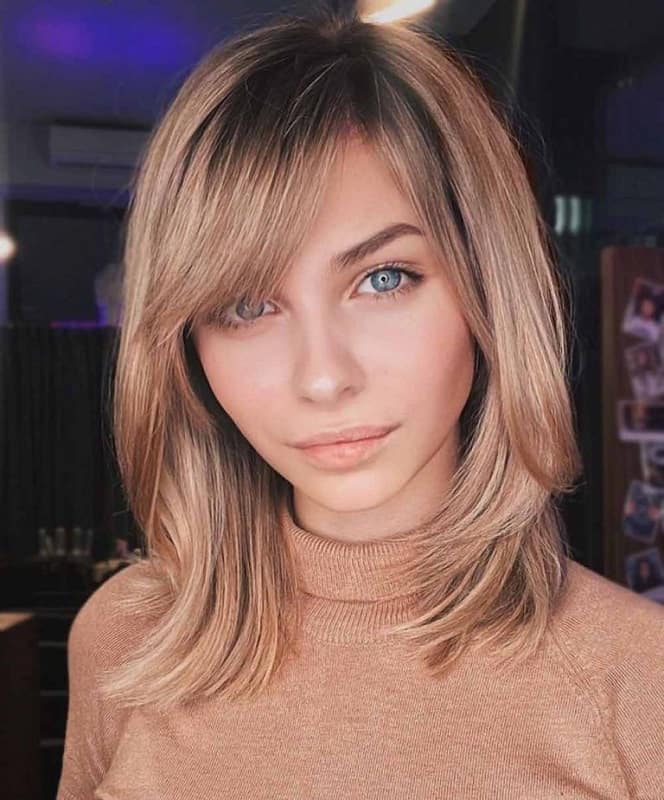 9.
long curly bob with side bangs
10.
long thin bob with side bangs
11. The Messy Long Hair Bob with Side Bangs
While some of the cutest bob styles for women are proportioned and cleanly-cut, some of the most beautiful long-haired bobs with side bangs are messy or rich with cascading waves that help to lighten the look. Messy does not mean unkempt but instead, a hairstyle that is gloriously carefree.
12. Tousled Lob with Messy Bangs
Who doesn't love messy tousled long bob running down the sides of their face? This lovely lob has untamed messy bangs swept to a side which make you look young, carefree and fun loving. Embrace it with edgy classy hair color and see how everyone appreciates your style sense.
13. Long Bob with Flowy Side Bangs
This chic and modern style is particularly attractive due to the modern grey highlights on the natural base of brown or black hair. These flowy side bangs are sure to get you all the attention that you want to have.
14. Soft Romantic Bangs
What is more feminine than soft blond locks? You can get an even more soft and romantic look with your hair highlighted around the tips while rocking a long bob with side bangs.
15. Long Side-Part Lob
This long bob comes in a lovely blond shade which has a side part. The bangs at the front are more of a fringe as they go lower than the eyes and are swept to a side delicately.
16. Natural-Looking Side Swept Bangs
Do you want to look cool and chic, but want to keep things natural too? This lovely lob with natural side-swept bangs is a nice style for you to achieve that. It is perfect for those who prefer to have that class apart natural look in the crowd.
17. Choppy Cut
This beautiful and attractive choppy cut is cool as the lob has many exquisite layers. The choppy bangs swept to a side add more character and loveliness to it.
18.
19.
20.
21.
22.
23.
24.
25.
26.
27.
28.
29.
30.
31.
32.
33.
34.
35.
36.
37.
38.
39.
40.
There are many ways to wear the long hair Bob with side bangs. There is no hard rule to stick to when it comes to wearing this style. You have the option to wear this style bone-straight, add color or highlights or even a few waves and curls. The key thing to remember is that flexibility of this hairstyle will take you a long way whether you're going to the gym, shopping, a night on the town or a formal event.