Bob with bangs is a versatile hairstyle if you have short or medium length hair. A short or long bob hairstyle with bangs can help you frame your face perfectly and draw attention to all of your most attractive facial features. This elegant hairstyle is great for accentuating your cheekbones and your eyes. A longer cut will normally help your hair to look thick and voluminous.
Trendy Bob Hairstyles with Bangs
Although bobs with bangs have been popular for decades, hairstylists are still managing to come up with fantastic new looks which are certain to dazzle and take the breath away. If you are interested in bob haircuts with bangs, look through this list and take inspiration from the mixture of classic bob hairstyles and modern new looks.
1. Short Layered Bob with French Bangs
This short layered bob is full on top and choppy at the ends with face-framing french bangs. This feminine and flirty look have bangs that gently fall into the eyes and follow the shape of her eyebrows. You can also do an ombre color as this model as which is stylish and modern.
2. Soft Bangs
Trim the ends of your bangs and the rest of your hair to give it a little softness. Run your fingers through your bangs once to separate your hair out a little. This bob with bangs hairstyle is perfect for everyday wear and requires very little maintenance.
Best short haircuts for women ever
3. Short Textured Bob
The texture in this style comes from highlight and lowlights, as well as the hair being lightly tousled. Go over your hair once lightly with straighteners, then run your fingers through it a few times whilst lifting from the roots.
4. Oil Slick Colored Bob with French Bangs
Women who want to reboot their style with an edgy color and cut should try a wavy bob with french bangs and an oil slick hair color. This hair color style blends blues, purples, greens, usually towards the ends of the hair.
Women love short inverted bob hairstyles with bangs. Long bangs hang gently in your eyes to create mystery and intrigue. The blunt ends of the cut are gently curled under to frame out her face.
Transform your bangs into a light side fringe by sweeping your hair upwards from the roots and combing over to one side. This technique gives your bangs on bob a bouncy volume. If you have thinner hair, lightly layer the rest of your hair to help to keep it looking voluminous.
7. Volume
Build volume in your bob by adding lots of layers. Blow dry straight whilst combing from the underneath to add even more volume. Curl your hair loosely under your chin to help to give your face shape.
Check some amazing curly wavy hairstyles
If you have a side parting, you can still create a great bob hairstyle with bangs by sweeping hair across from your parting. Make your bangs fuller by sweeping hair all the way from the back near to your crown.
9. Rounded Bob Hairstyle
Cut lots of layers into your hair, so that it is much shorter at the end all the way around. Lightly curl the ends under with a barrel brush will help to give you a rounded bob. Lots of texture has also been added to this bangs on bob hairstyle by running plenty of product through it.
10. Wavy Bob
This wavy bob is both subtle and striking. If you have naturally medium wavy hair, all you will need to do is let your hair dry like this. For big waves, put your hair in heated rollers, then run through your hair with a bristle brush after you have taken your hair down.
11. Beach Blonde Bob
This sunny shade of blonde is perfect for the beach. It doesn't matter if your roots are showing because short bob haircuts with bangs are always a super playful style. Lightly layering will help to give your hair more bounce.
12. Straight and Sleek
Long angled bob hairstyles with bangs look fantastic when they are perfectly straight and sleek. Use ceramic irons with a heat protection serum for the maximum effect. The tiniest flick forward or under with a bob can help to frame your face.
13. Hint of Pink
Make bob haircuts with bangs look a little bit more special by adding a touch of color to your style. A subtle shade of pastel pink is perfect if you are looking for something which is soft but still funky.
The classic bob with bangs has been popular for decades. Blunt bangs and short, jaw-length hair help to frame your face and draw attention to your eyes. This length also points straight to your lips.
15. Blunt Lob with Thick Curtain Bangs
Large foreheads can be hidden behind thick curtain bangs that hang straight. These bangs are perfect for thick hair and don't show any forehead through.
If you haven't waxed your eyebrows in a while, thick blunt cut bangs can hide the fact that you need to go to the salon. This super straight bob and bangs combo also makes the model look powerful and serious.
16. Multiple Partings
Putting multiple partings into your hair can work well with any style, not just for long bobs with bangs. Multiple partings can give your hair an ultra-modern look.
Trendy Weave Hairstyles You Should See
17. Short Bob with Bangs
In this short bob with bangs style, the hair has been curled under slightly to help to follow the shape of the face around. It accentuates the cheekbones and shows off your neck.
Highlights and lowlights can help to add the illusion of texture to any hairstyle. Complementary colors seem to add volume and depth to your natural hairstyle.
Bob hairstyles look fantastic with blunt bangs. Despite the fact that blunt bangs have been popular for a decade when teamed up with a jaw-length bob, they can still look ultra-modern.
20. Short Auburn Bob with French Bangs
Dramatic color such as deep auburn can be softened by French cut bangs. Bangs on short bobs are edgy, and stylish but also feminine but take little time to get ready. French bangs frame the face and add layers that draw focus to the eyes.
This look is great for professionals who want to be seen as organized and well kept. But also perfect for busy moms who don't want their hair pulled by toddlers.
Auburn Hair Color Ideas for Medium Hair
21. Choppy Bob
Many bob hairstyles have a classic blunt cut, but in this haircut, the hairstylist has added in some choppy ends. This choppiness has helped to soften the look slightly and open up the face.
22. Side Bob with Bangs
Although bobs are traditionally a similar length all the way around, this asymmetrical side bob with bangs is truly stunning. Sweeping all of your hair over to one side can really help to open your face up.
23. Medium Classic Bob with Bangs and Highlights
Highlights can make a woman look like a different person. A long bob balayage is fun, makes hair look shiny, healthy and vibrant. Bangs can be highlighted as well. This look is perfect for going on vacation or getting ready for summer. Highlights can also help hide grey hairs in a short bob with bangs.
24. Helmet Bob
The helmet bob follows the shape of the model's face and head so perfectly that it almost looks as though she is wearing a helmet. Very light layers and careful flicking with your hair straighteners can help you to achieve this look.
25. Tousled Bob with Bangs
The tousled bob and side swept bangs is a really simple look to achieve. All that you need to do is to let your hair dry naturally and then run your fingers through your hair.
St. Patrick's Day isn't the only time to have pastel green hair. Women who want to reboot their style with a bold color choice can try a neon green asymmetrical bob with wavy layers.
This hairstyle is youthful, feminine, and edgy. If you love to play with style and make bold statements a colored bob with bangs is perfect.
27. Shaggy Bob
A shaggy bob hairstyle with bangs needs volume and texture. Cut in lots of layers and scrunch product through your hair whilst trying to help create this short shag hairstyle.
28. Sleek Two Toned Bob with Bangs
Two-toned bobs are a new look that is super funky and works great with bangs. Bangs and face-framing layers are dyed one color, and the bulk of the hair is dyed another contrasting color.
This color blocking technique is modern and artistic while the gentle asymmetry and layers towards the back add a lot of volume on her crown.
29. Short Blunt Bob with Fringe Bangs
Short bobs are great for women that want to wear their hair down but still be kept off their shoulders and away from their face. Wide fringe bangs with bob are flirtatious and create a square frame to the face. This look is sophisticated and sexy but does require a lot of upkeep because of the undercut needed.
Straight, asymmetrical bobs are dramatic and edgy. Fringe bangs with short bobs draw attention to your eyes and look flirty, seductive, and feminine. You can add highlights to this chin-length bob with bangs if you want to look edgy or brave.
31. Short Wavy Bob with Bangs
Wavy bobs with bangs are cute and fun. If your face is long or angular, short bob and bangs can help widen your face. A short wavy bob is easy to style with a wide tooth comb or with your fingers. Add some moose to help those loose waves stay bouncy and untangled all day long.
32. Long Asymmetrical Bob with French Bangs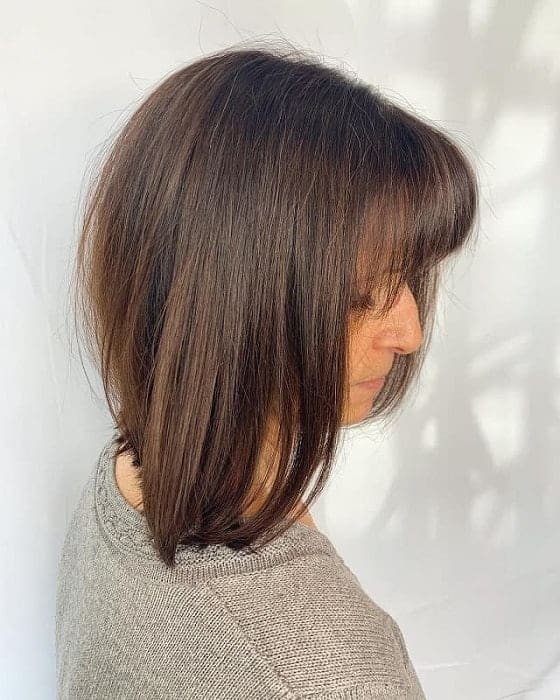 Long asymmetrical bobs with bangs are stylish and elegant. You get the luxury of long hair with the ease of a bob cut and style. French cut bangs blend into face-framing layers with long asymmetrical bob hairstyles and can be straightened or worn wavy/curly.
33. Medium Choppy Layered Bob with Bangs
Medium length bobs with layered short choppy hair are funky and edgy. Adding a french bangs that blends into the hairline just past the eyes can round out a wide face and add volume to thin hair. This minimal effort look is purposely messy and great for moms and women on the go.
This classic cut bob is cut just above the chin and features bangs cut in the same blunt style. Blunt cut bangs are great for faces with high cheekbones and strong jawline. Pink color adds a softening to the strength of the blunt cut, but any color would look great with this classic short bob with bangs.
35. Short Bob with Blunt Bangs
This short bob is similar to a pixie cut. The sides are one length that sits just above the jawline but gets shorter the further back you went and layered up for volume and texture.
The blunt cut bangs hang just above her eyelids for drama. This blunt bob with bangs look is reminiscent of flappers and the jazz era of the 1920s.
Whether you want a long bob with bangs or a short bob with bangs, you can take plenty of inspiration from the list that you have just seen. Ask your hairstylist about how to make bangs work for your face shape.