These days, men are starting to become more creative with their hairstyles, especially with their hair color. So if you've long wanted to give bleached hairstyles a try, now is the perfect time to do so.
While it may seem like this shade is too bold or edgy for most men, it's the perfect hair color for fashionable men who love to stand out. The best part is that there are plenty of bleached hairstyles for men that you can choose from, so you can easily find one that suits your personal style.
Attractive Stunning Bleached Hairstyles for Men
To make the most of your cool new shade, you need to find an equally eye-catching hairstyle. Lucky for you, we've compiled some of the coolest bleached hairstyles for men below.
1. Light Golden Blonde + Undercut
Go for that boy-next-door vibe with a loose and flowy brush-back hairstyle which is a carefree version of the sleek slicked back look.
To give this brushed-back hairstyle the edge it needs, add an undercut to your natural hair color. The contrast between the two colors will definitely make it stand out.
2. Platinum Blonde Curly Hair + Shaved Sides
Show off your naturally curly hair with this simple yet attention-grabbing hairstyle. Dye it in a beautiful platinum blonde shade that suits cool skin tones pretty well to give it a touch of mystery.
Shave the hair at the sides of your head to let your curls become the center of attention and to keep the look from becoming too messy.
3. Pale Blonde Wavy Crew Cut
Give the classic crew cut a refreshing twist by going for the wavy and a bit messy look. You can instantly give this timeless hairstyle a modern update by having it bleached to a pale blonde shade.
4. Dip-dyed Sandy Blonde Afro
Most men think that dark skin and bleached hairstyles don't match, but we found a way to make it work, and this dip-dyed hairstyle is the way to go. With this hairstyle, the darker roots promote a nice and natural transition to your blonde curly tips.
5. Bronde Sideswept Long Hair
You have to admit, a pale blonde hair color is too common for a gothic hairstyle like this side-swept long hair. So if you want it to look unique and more eye-catching, we recommend going for a bronde shade that works well with fair skin tone.
6. Blonde Spiky Hair + Black Beard
If you find dark roots and lighter tips to be too common, then let's switch things up with this blonde hair and dark beard combo. It might seem weird at first, but a lot of actors have pulled it off so we're telling you that it works!
7. Middle-Parted Sandy Blonde Hair
Take advantage of your perfectly symmetrical face or oval face shape with a middle-part hairstyle. The center part is not easy to pull off, but it's an excellent choice if you want to add an edge to your look.
8. Beach Blonde Bowl Haircut
Bowl haircut is probably one of the most unique bleached hairstyles for men that you can try, but we assure you that it's worth the risk.
If you want a sophisticated and distinctive hairstyle, we suggest pairing your bowl haircut with an edgy undercut like this one.
9. Black Short Hair + Sandy Blonde Fohawk
Going for a fohawk is one of the best ways to dip your toes in the mohawk hairstyle without fully committing to it. Give the fohawk more emphasis by dyeing it in your choice of blonde shade while keeping the rest of your hair in your natural hair color.
10. Bright Golden Blonde Crown + High Fade
Let your curls take center stage while still keeping your look neat and tidy by going for this high fade and curly crown duo. The high fade will keep your sides clean, so you can focus on making your curls shine and you can do that with a cool golden blonde shade.
11. Layered Blonde Ombre
The long and layered straight hair look can easily look old and boring. Lucky for you, you can easily spice it up by bleaching the ends of your hair. The blonde ombre emphasizes the wispy layers and makes them come to life.
12. Side-Parted White Blonde Hair
Inject a touch of masculinity and authority to your short hairstyle with a left side part. And if you have a cool skin tone, you should pair it with a platinum blonde hair color to give it a trendy vibe.
13. Beige Blonde Slicked-back Hairstyle
The slicked-back hairstyle is designed to give you an air of authority, but you can easily make it one of the most carefree-looking bleached hairstyles for men by bleaching it in a fun beige-blonde shade.
14. Bleached Sideswept Dreads
Since we have dip-dyed afro curls, then we should certainly add dip-dyed dreads to the list. The bleached tips brightened up the dreadlocks and gave them an entirely new look.
15. Two-toned Bleached Hair
If you can't choose between keeping your hair color or going for a lighter and trendier one, then we suggest that you get only half of your hair bleached. With white hair on the side and black on the other, you get the best of both worlds while making heads turn.
16. Platinum Blonde Spiky Mullet
Let's make the mullet hairstyle more unique and striking by making it long and spiky. The long spikes are definitely a game changer and can make even thin and fine hair look thicker and more voluminous. Add in the platinum blonde shade and you got yourself a stunner.
17. Golden Blonde Hair + Fade
A short and simple hairstyle like this one will allow your bleached hair to shine through, so don't be afraid to experiment with color. If you have a light to medium skin tone, a golden blonde shade is what you need to give your skin tone that instant glow.
18. Bleached Bowl Mullet
A bowl haircut has a clean and straight line that promotes a neat and tidy look. If this looks too serious for your taste, add a mullet at the back to inject some fun into your look. With this hairstyle, you get business in the front and party at the back.
19. Bleached Wavy Spikes
Let's take your wavy spikes to a whole new level by bleaching their tips. The lighter tips bring more emphasis to the spikes and give them more movement and texture.
20. Icy Hair + Hair Art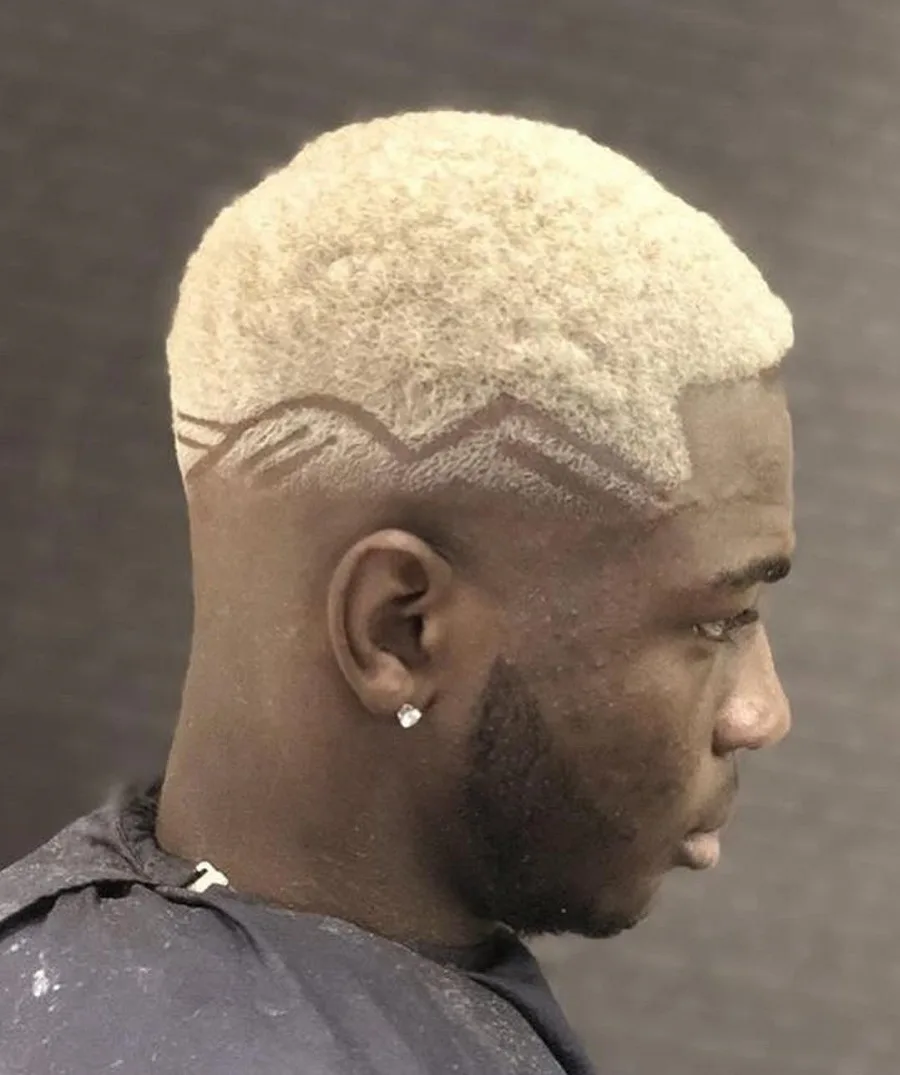 If you want to keep your hair short but want to make it stand out at the same time, a frosty white blonde is the perfect choice for you. As the lightest ashy shade out there, this will certainly add a great contrast which will make the hair art look more noticeable.
21. Classic Blonde Shag Mullet
Shag mullet is one of the stylish bleached hairstyles for men out there, so you should match it with an equally exceptional color like this natural blonde color. With this bright shade, the spotlight will surely be on your wherever you go.
22. Silver Blonde Long Layered Hair
Nothing screams surfer dude louder than a long and layered hairstyle, and adding a silver blonde hair color to it will give it the oomph that it needs. The shade's metallic tinge is a better choice for a cool skin tone much more than a golden blonde ever will be.
23. Icy Blonde Fohawk
With its pale shade and silvery hue, this icy blonde is certainly a hair color that can make heads turn. And if you want to stand out (literally), then you should pair it with this tall fohawk. Just make sure to apply lots of mousse or pomade to keep it in place.
24. One-sided Long Bleached Hair
If you're blessed with gorgeous naturally wavy hair, then this is one of the bleached hairstyles for men that you should go for. The one-sided long wavy hair allows you to show off your beautiful mane while the short side prevents the hairstyle from becoming too messy and unruly.
25. Bleached Short Crew Cut with Line
A line-up and a high fade are cool fixes for thinning hair. The shaved sides make the hair look fuller and thicker at the top while the lineup provides a more defined transition and elevates your overall look.
Bleached hair already looks cool, but it will look even more amazing when styled right. Lucky for you, we have these bleached hairstyles for men that would certainly look fantastic in your new shade.