Men's mid and bald taper fade hairstyles are a raging fashion nowadays as they have so many options available for their final look.
Taper fades of all kinds are there to provide you with the right amount of skin exposure on your head and ease to carry. You can have the tapering or fading to the extent that you prefer or that your hairdresser suggests.
While we are talking about different types of taper fades, let's have a look at different mid & bald taper fade cuts.
Mid Taper Fade Haircuts for Men
The amount of tapering or fading that you get is solely your decision, but it is a fact that mid taper fades are very popular among men nowadays.
This is because mid taper fades to give a less intense and more approachable feel to your personality. Let's take a look at 15 of our favorite men's mid-taper fades.
1. Hard Line and Fluffy Top
This style of feed often has a lot of contrast, leading to a very rugged look. The hard line makes it an even more masculine style. Add some variance by having the top nice and fluffy to create a soft and approachable look that will be a big hit with the ladies.
2. Redhead Gradient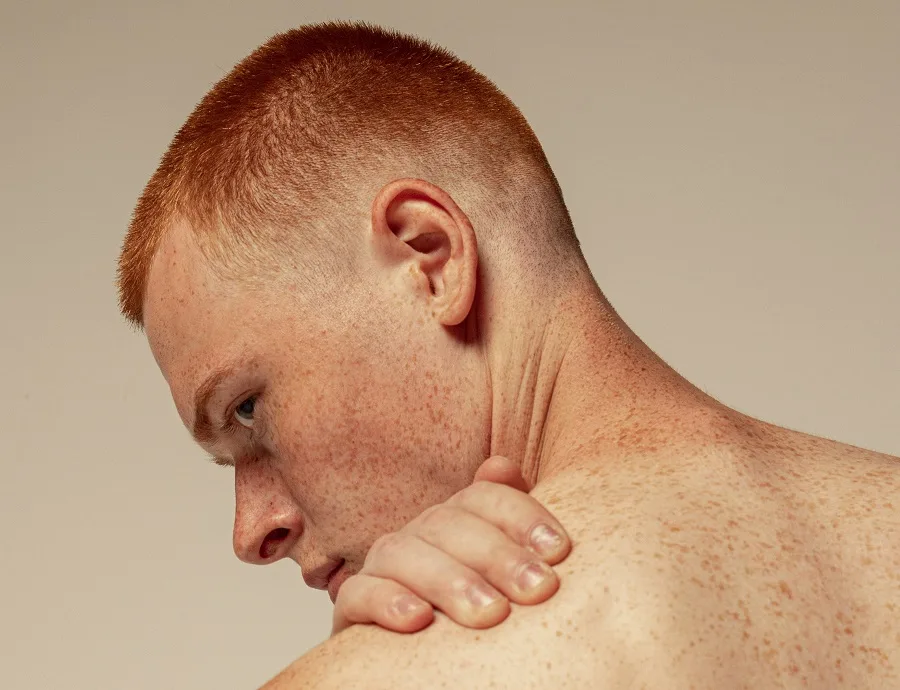 Red hair stands out a lot so you'd best create a mid taper fade that looks fantastic. Having the fade be so smooth that it looks like a gradient is a good idea. Keep the hair on top pretty short if you want a look that's low maintenance and requires minimal daily styling.
3. Thin Dreads
Thin dreadlocks are very malleable and in style, but having them all over your head can make you feel like you have an awful lot of hair.
Compensate by having minimal hair on the sides to create that wonderful fade. Add a beard along your jawline that gets thicker at the chin.
4. Short Super Light Blonde
Men with naturally dark hair going blonde is a modern trend, so you'll need a modern style to go with it. However, dying your hair in this light shade can damage your strands, so it's a good idea to keep the top pretty short to avoid harming your hair too much.
5. High Bristly Look
A bristly texture can be fun to run your hands through. Styling it high up is a nice way to show it off. The hair is mostly a uniform length from crown to the hairline, but it doesn't look too flat.
6. Fluffy Quiff and Beard
Do you want to curate a very soft look? A quiff and a nice, thick beard will help you do that. If you have a taper fade that slants all the way back to the nape of your neck it's also a good idea, as this takes some of the sharpness out of your look.
7. Tight Protective Braids
Braids are low maintenance as they can be worn for several weeks and they protect your hair. Get them installed from your hairline back to your crown with loose ends. On the sides, a bald taper fade will keep the rest of your hair looking pretty trendy.
8. Textured Black and Blonde
Are you one of those guys who like a lot of contrast? Pair black and blonde hair and have lots of contrast at the place your hair fade out to the skin. Instead of a gradient style, make sure your hair is thick and suddenly the lower part of your head is shaved.
9. Sleek with Shaved Hairline
Squaring and shaving lines along the hairline is a useful trend that will show you know exactly how to look your best. The hair is pretty sleek and short, and it will require daily styling with gel. There is a medium amount of contrast on the faded sides.
10. Soft Mop of Curls
Curly hair can be difficult to control when it's all over your head. It also doesn't look the best when you have thinner curls, as the sides can begin to appear lackluster. That's no problem if you want to get a mid taper fade on the sides of your head to make you look better.
A mid taper fade gives you a refined but friendly and easygoing look. When combined with a comb-over, it looks excessively stylish and impressive. It is particularly good for men whose work involves personal interactions with clients.
12. Mid Taper Fade with Curly Hair
Mid taper fade is nice and adds a lot of charm and friendly charisma to your personality. Curly hair makes it look cooler and takes mid taper fade to a whole new level. Cut your curly hair short, but not too short and have a nice mid taper fade to go with it.
Ultimate Taper Fades with Curls and Waves
13. Mid Taper Fade with Waves
Waves bring a certain touch of youthfulness and fun to your hairstyles. They go a long way in making you look tasteful and stylish. Pair them up with a mid-taper fade and you have the coolest and most exciting hairstyle for you. Your friends will surely come up for hairstyle advice to you once they see you sporting this hairstyle.
14. Slick Back Mid Taper Fade
Now, this is where mid taper fade gets real and most fashionable. Slick back hair makes you look polished, refined and cultured. When all of this makes you look classy then why not top it off with a mid-taper fade to look even more exquisite and picture ready?
15. Mid Taper Fade for Afro Black Men
Afro black men need mid taper fade to look funkier and cooler with their afro hair flying about. The mid taper fade nicely brings out their hairline and facial features.
Bald Taper Fades for Men
Bald taper fade adds more intensity and sharpness to your hairstyle and the overall personality. It lifts up your persona and makes you look more confident too.
With so many cool aspects, bald taper fade is great for men who want a sharper and less messy look. Here are the 15 best bald taper fade ideas that we came across.
Splendid Low Bald Fade Hairstyles for Men
16. High Bald Fade with Fluffy Top
You'll create a lot of contrast in your look if you have a bald taper fade on the side but long, fluffy hair on top of your head, styled with soft hold gel or cream. The higher the fade, the higher the contrast will be in looks like this.
17. Top Knot
Show off a topknot on the crown of your head and form it using hair that's in extremely thin twists or dreads, so it's easier to style and manipulate. Wearing your hair up like this will let you show off the carefully cut sides of your hairdo.
18. Thick Tall Tresses
If you have thick hair, then you should most definitely show it off. Keep your hair long and style the tresses directly up to create a soft but eye-catching appearance.
The taper faded sides will make it easy to maintain, meaning you have less hair to style every day.
19. Tight Afro Hair with Design
Style your afro hair texture in a way so it becomes very tight and has a neat curved style without a single hair out of place. Making sure it's styled upwards will let people see the design on the bald faded sides.
20. Loose Natural Hair Texture
Are you a black guy who loves showing off your natural hair texture? Keep it loose, but make sure your different strands are defined to create a look people won't be able to look away from.
Add stylishness by getting a bald tapered fade on the sides, so your look doesn't become too monotonous.
21. Blue and Red
Stand out by getting colorful hair on top of your head. Light blue will create contrast with a deep but vibrant red. Your natural hair color should be visible on the sides. Style the colored sections forward with some hard-hold gel.
22. Short Blue Locks
Show off a little personality by dying the hair on top of your head a bright, head-turning blue. It'll create a nice gradient from blue to the natural color of your skin. It's a gradient with a lot of contrast, but it looks incredible.
23. Neat Natural Grey
Older guys may opt to grow out their natural grey as this makes it easier to maintain their hair. Keep it neat, styling the top upwards on one side with a side parting and adding a gradual fade to complete the look.
24. Ponytail on the Crown
Long straight locks along the top of the head are seen in many variations of fade hairstyles. These tresses are then secured in a little ponytail on the crown of the head. This works well for dark, thin hair.
25. Thick Mullet + Taper Fade
Mullets, where the hair doesn't get too long in the back, are very common among guys now. All of the hair is brushed towards the back of the head, keeping it neat in the center. The tapering on the sides gives it a clean look.
26. Bald Taper Fade for Afro Black Men
Afro black men already have very messy hair which goes flying in every possible direction. Having them short or at a normal length with a bald taper fade is one of the best ways to keep them in their place. This way you can look cool and carefree without coming off as too messy or wild.
27. Bald Taper Fade with Comb Over
A bald taper fade in itself is sufficient to make you look organized and elegant. A comb-over along with it just adds that extra class and style to it which never goes unnoticed or unapproved of. So, get this style if you are in for looking ready for a formal meeting at all times. Business managers especially look great in this as they set an example for their subordinates even with the way they look.
28. Bald Taper Fade with Waves
Bald taper fade makes a very contrasting, but pleasant to look at the combination of organized, intense and carefree. It does not let your personality fall into either of the two extremes of seriousness and carefreeness. This hairstyle is sure to make everyone admire your fashion sense wherever you go.
A beard looks great when it is paired up with a bald taper fade, as it makes you look refined and well-groomed. It accentuates the rest of the features of your face which remain uncovered by your face.
30. Bald Taper with Design
Bald taper fade is fun and exciting, but the addition of designs makes it more thrilling and impressive. You can have any design or pattern made in your hair by your hairstylist and look great.
Do you like all these hairstyles? So pick your favorite hairstyle with mid taper fade or bald taper fade and get a new look!