Taper fades and comb over hairstyles have been popular among men of all ages for a long time. Taper fade comb over hairstyle combines the two that look magnificent. The sides are tapered according to your wishes, whether high, medium, or low fade. The top is left sufficiently long to create different types of comb-overs.
Depending on how much time you have for maintenance and how stylish you want to look, the length of the top part of your comb-over may vary. Comb over hairstyles can also be high, medium, and low. They can look as stylish pompadours or lay low for a sleek wet look.
What Is a Comb Over Taper?
The comb-over taper is a haircut that combines two popular hairstyles– comb over and taper fade.
Comb-over is parted to the side and a thicker portion of the hair is combed across the head and over to that side. On the other hand, a taper fade keeps the hair long at the top and progressively gets shorter at the sides and at the back until the hair gradually fades and blends into the skin. The fade gives added structure to the entire look, making it look more balanced.
When combined together, you get a cool vintage hairstyle with a sleek and modern touch.
Taper Fade Comb Over Hairstyles Anyone Can Master
Taper fade with a comb over hairstyle is most likely a variation of a style you've tried before. But not many men think about how to make subtle changes. Easy tricks turn your simple cut into a stylish masterpiece. Therefore, if you are looking for ways to improve, this list of 30 hairstyles can give you an idea of what to ask the hairstylist.
The next time you sit in that barber's chair, tell them that you want a taper fade comb over haircut!
1. Comb Over + Bald Taper Fade
For a more rugged look, opt for a short comb over haircut paired with a bald taper fade.
This is a fade with the sides going super short– almost bald. To achieve this look, you'll need to use scissors and clippers to create a smooth transition.
2. Mid Taper Fade
Do you want the sleek style of comb over minus the hassle of maintaining long hair? Go for a spiky comb over which looks equally as cool but is easier to style. Pair it with the universally flattering mid taper fade which looks stylish yet casual.
3. Taper Fade + Temple Line
A cropped comb over paired with a high taper fade looks sleek and polished. If you want to make it attention-grabbing, add a temple line. This simple addition emphasizes the fade and makes the comb over design stand out.
4. Faux Hawk With Hair Design
For an edgier and unique hairstyle, try a faux hawk comb over which is a shorter and spikier version that's heavily focused on the middle part of the head. Since the haircut is already eye-catching enough, pair it with an unassuming mid taper fade with a cool hair art.
5. Skin Taper Fade
For men with thinning gray hair, it's best that you keep your combover short and simple. Complete the look with a skin taper fade that matches your short hair length and perfectly blends at the sides and back of your head.
6. Receding Hairline Haircut
Did you know that the comb-over is one of the best haircuts for men with thinning hair and receding hairline? That's because this hairstyle allows you to sweep your hair across the receding hairline, concealing it and making it less noticeable.
7. Wavy Comb Over + Fade with No Line
Your natural wavy and textured hair is the best candidate for creating the sexiest comb over hairstyle. Ditch the parting line to keep the hairstyle looking natural and effortless.
8. Slick Comb Over with Hard Part
Make your black hair stand out with a slick comb-over and low taper fade. The top part is left longer to showcase your hair's beautiful color while the low fade creates a beautiful structure and shape at the sides. The hard part makes the slick comb over look classier and more distinguished.
9. Two-Color Comb Over Fade
The comb-over is one of the coolest hairstyles out there, but two-tone hair color can take it to a whole new level. The platinum blonde and black hair combination give this classic hairstyle more movement and depth.
10. Comb Over Undercut + High Taper Fade
For a comb-over like no other, pair your haircut with an undercut. The undercut emphasizes the fade and provides ample room for a gorgeous hair art.
To keep your look more badass (but not to the point of looking like a gangster), keep your comb over short and perfectly styled.
11. Curly Comb Over + Taper Fade
Comb-over hairstyles look amazing on all hair textures and types and is best if you want to keep your curly hair neat and clean-looking. With a hard part, mid taper fade, and perfectly shaved beard, you'll surely look every inch like a gentleman.
12. Comb Over Taper Fade with Wave
Add waves to your overall look for a simpler and more casual version of the sleek comb over hairstyle. This option is perfect for medium-length hair. Run your fingers to create the small waves and secure the look with either a mousse or a styling gel.
13. Thin Wavy Hair
If you have thin and wavy hair, stick with a subtle combover hairstyle. You don't have to sweep your hair across your head, just simply brush it to the side a little bit. To balance the thin and short hair on top, stick to a skin taper fade.
14. Short Comb Over + High Taper Fade
A short comb-over is a more charming and classy version of the polished and clean-looking crew cut. Add in a hard part and a high taper fade and you can make any little boy look like the perfect gentleman.
15. Medium Taper Fade with Spiky Comb Over
Spikes are popular, you know it. How can you mix a comb over with spikes? Take a look at this example. A medium fade is created on the sides while the hair on top is brushed laterally and the ends are spiked.
Try Cool Short Spiky Hairstyles
16. Perfect Square Forehead Comb Over
A square tramline on your forehead is needed in this haircut. Then comb over your trimmed hair.
17. Rolled Comb Over in a Widow's Peak Shape
Widow's peak shape is a popular V-shaped comb over hairstyle. Back brush your hair in a V shape and get this haircut.
Curly and wavy hair is hard to manage, that's why their owners prefer short hairstyles. You can opt for a high taper fade comb over hairstyle and leave the top part only about one inch long.
Handsome Comb Over Haircut Ideas
19. High Tapered Fohawk
This style is a bold way to make a statement. The sides are arranged into a very high taper fade which helps you create an impression of a mohawk. The top part is slightly combed over to create volume.
20. Rolled Pompadour Haircut and Long Fade
Rolled hair gives the perfect highlight in a long fade haircut. Keep the side parts of your hair faded to get this haircut combo.
Slicking back your long hair would make an attractive hairstyle if you style that haircut with the fusion of taper undercut.
22. Lightly Tousled Hairstyle for Men
If you want to flaunt your naturally thick hair, you can go for the high fade comb-over hairstyle. Keep the top front hair fluffier than the remaining hair, for a voluminous look. Apply the light golden highlights to the front fluffy top for a voguish look.
23. Floppy Faux Hawk and Angular Taper Fade
It is one of the edgiest haircuts that look manlier when club up with a thick, full beard. Divide the hair into two sections with the help of a hard part. It requires regular maintenance. If you want to add more style to your appearance, you can blonde your hair.
Modern Tapered Crew Cuts (New Trend)
24. Short Taper Fade Hairstyle
Ideal for those guys who have short hair and want to have a heroic military haircut. Achieve the look by taper fading the sides and back of the head, and keep the remaining hair relatively longer. Line up the forehead for a finished and well-maintained look.
25. Taper Fade Comb Over for Tween
Tweens mostly look for those hairstyles that usually take less time to style, the given taper fade comb-over is amongst these hairstyles. It is easy to maintain and gives gentlemen look to young guys. Keep the sides and back of the head shorter than the top. Apply a good quality pomade to achieve perfectness.
When nothing works, try to grow a lineup faded beard and taper fade comb-over hairstyle with a stylish short line at one side of the head. It gives guys of any age and physique a masculine and ultra-stylish personality.
27. Wavy Hair Comb Over + Taper Fade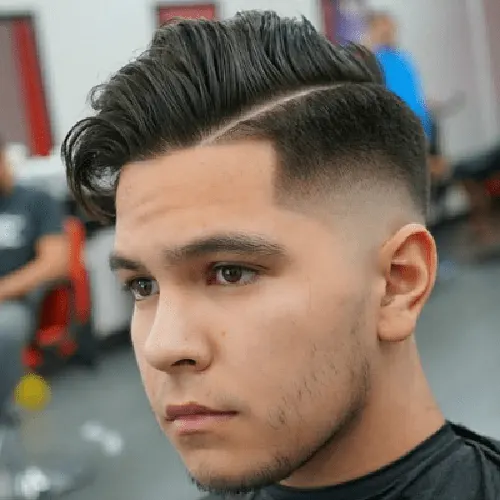 Wavy comb-over hairstyle with taper fade sides is ideal for those guys who have naturally curly or wavy hair. The ultimate advantage of having wavy hair is that it provides volume and thick texture to the whole hairstyle. Do not forget to apply a good quality gel to style these curls into any shape.
28. Textured Spiky Taper Fade Comb Over
Spikes are amongst those hairstyles that never go out of the trend. Taper fade sides make the spikey comb-over hairstyle more prominent. Hold the spikes with the hair gel. Slightly comb the front spikes to give a resemblance of comb-over haircut.
29. Comb Over + High Fade + Fringe
A perfect blend of fresh, edgy and professional look that is achieved by combining the long comb-over, side fringe, and high fade cut. It is easy to achieve and involves a tad bit application of hair gel. Peek a Boo stubble add more charm to the guy's personality.
30. Taper Fade Comb over Hairstyle with Tramlines
If you are looking for something sophisticated that will give absolute graceful features, you can opt for this comb-over hairstyle with taper fade sides to achieve your personalized goals. You can rock with this hairstyle combo by incorporating tramlines and growing a blonde beard.
These taper fade comb over hairstyles can help you make a decision when it comes to changing your image. Whatever haircut you choose, you'll definitely look modern and enjoy the results.