Taper fade haircuts are popular because of their versatility. The combo of taper fade with braids add more charm to men's personality. This hairstyle basically carries the long hair on top of the head, while the sides are faded gradually from the sides and back as well.
Braid style entirely depends on hair type and texture. It looks really good on thick hair. While making braids, you should give the extra care to your hairs, always apply moisturizer on hairs and never braid the hairs tightly, because, it may cause harm to your hairs.
If you are a braid lover but want some uniqueness in your personality, then you can try this hairstyle. Here, we will inspire your thoughts with the trendy and wondrous types of braids with taper fade.
Best Braid Hairstyles with Taper Fade
Let's have a look at these 21 unique and cool braids hairstyles with taper fade for men and try out one!
1. Long Braids with Taper Fade+ Undercut
If you have long hair and are fed up of boring braid, then you can try this epic combination of taper fade with braid and undercut. It will change the overall look of your long hair, making your personality captivating among the crowd.
2. Taper Fade with Short Braids
Do you have short hairs and love braid? Then, you can try this impressive blend of tape fade with short braids, as shown in the image.
3. One Side Braid with Taper Fade
This taper fade combination with braid, suits on wavy and curly hair. Curly or wavy hairs give more volume to this hairstyle. A braid is made on one side of the head while, the top hair can be styled into pompadour, comb-over or any other style. Kindly have a look at the image.
4. Double Braids Taper Fade Haircut
If you get bored by a simple braid, then you can make two stylish braids of your hair with taper fade haircut. You will surely love this change.
The French braid becomes the stylish hairstyle when it is combined with taper faded haircut. You can also blond your hair to give it an attractive look.
6.
7.
8.
9.
10.
11.
12.
13.
14.
15.
16.
17.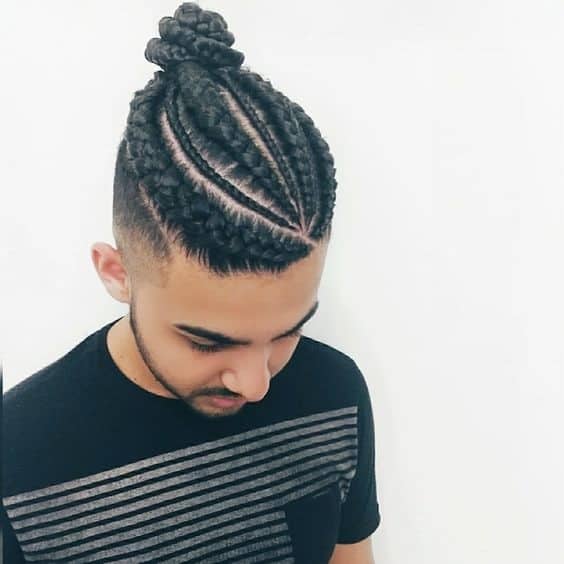 This extraordinary combination of taper fade haircut with braid and bun gives a fashionable and cool look to gentlemen, as shown in the image below. You can wear this hairstyle at any event, in the offices as well.
Mohawk itself is a versatile hairstyle. But when it combined with a taper fade and stylish braid, then it adds a stunning factor to men's personality that no one can beat.
20. Cornrow with Taper Fade
Cornrow hairstyle includes several braids that are very close to the scalp. These cornrows when styled with taper fade, it gives an extra stylish look to this haircut.
21. Four Braids with Taper Fade
You can play with braids as much you can. If you have tried single and double braids with taper fade, then you can also try four braid's hairstyle for a change.