Taper fade haircuts are popular because of their versatility. The combo of taper fade with braids add more charm to men's personality. This hairstyle basically carries the long hair on top of the head, while the sides are faded gradually from the sides and back as well.
Braid style entirely depends on hair type and texture. It looks really good on thick hair. While making braids, you should give the extra care to your hairs, always apply moisturizer on hairs and never braid the hairs tightly, because, it may cause harm to your hairs.
If you are a braid lover but want some uniqueness in your personality, then you can try this hairstyle. Check out some trendy and wondrous types of braids with a taper fade.
Best Braid Hairstyles with Taper Fade
Let's have a look at these 21 unique and cool braids hairstyles with taper fade for men and try out one!
1. Long Braids with Taper Fade+ Undercut
If you have long hair and are fed up of boring braid, then you can try this epic combination of taper fade with braid and undercut. It will change the overall look of your long hair, making your personality captivating among the crowd.
2. Taper Fade with Short Braids
Do you have short hairs and love braid? Then, you can try this impressive blend of tape fade with short braids, as shown in the image.
3. One Side Braid with Taper Fade
This taper fade combination with braid, suits on wavy and curly hair. Curly or wavy hairs give more volume to this hairstyle. A braid is made on one side of the head while, the top hair can be styled into pompadour, comb-over or any other style. Kindly have a look at the image.
4. Double Braids Taper Fade Haircut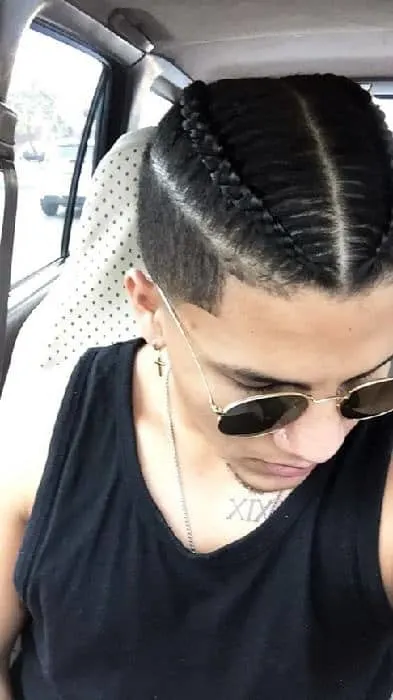 If you get bored by a simple braid, then you can make two stylish braids of your hair with taper fade haircut. You will surely love this change.
The French braid becomes the stylish hairstyle when it is combined with taper faded haircut. You can also blond your hair to give it an attractive look.
6. Braids with Undercut
Black men who wear braided hairstyles will love the edginess a taper fade adds to their look. We love this style of a low ponytail that a faded undercut peeks through.
7. Long Braid Faux Hawk
Get a knockout look no one else will have by combining braids and a taper fade into a faux hawk. Shave the sides completely and leave a strip of long braids down the middle. To emphasize the length and shape, gather the braids together in a ponytail.
8. Cornrows with Beads
You could shape cornrows directly back from your hairline but letting them hang straight down is also another cool style. Top off the ends with a couple stacked beads in black or a contrasting color like white.
9. Colorful Braids
Do you love a hairstyle that packs a lot of punch in its detail? Use two different colors to play up your braids! This braided man bun features dark blue and blonde, both of which stand out over a dark base color.
10. High Skin Taper
Even short braids can look cool with a fade haircut. This high taper works well with the braids to give eyes a lot to look at. You can make all the braids the same width or mix them to be thin and thick.
11. Dread Twists
Looking for a protective haircut for your natural black hair? Dread twists are always handsome and fresh-looking. They'll tame thick hair and make it easier to style, and thicken up thin hair. Wear it loose or in a low man bun or ponytail.
12. Criss-Cross Taper
A long braided ponytail is beautiful on its own, but any added detail in a high taper fade can take your look to the next level. This version features criss-crossing patterns, but consider waves or alternating thick or thin lines, as well.
13. Blonde Highlights
For men with dark hair, blonde highlights or blonde ombre is a great option for lightening up your look. These four braids come from different directions on the head and can either combine in a low man bun or be left loose. Don't forget to sharpen up your look with a shape up.
14. Mid Fade
A mid taper fade can work wonders on flattering your face definition, especially at the cheekbones. Add it to medium or thick braids that start at your hairline, go directly back across the head, and secure together.
15. Little Boy's Fade
Your little man will love you even more for giving him a cool taper fade. With long thin box braids that show adorable curly texture at their ends, and curved shaved lines that criss cross in the fade, you need to be sure to get photos of this look!
16. Curly Braids
Do you have curly hair and prefer a short haircut? Short braids with high tapering into fade are stylish and can be personalized with alternating colorful beads.
17. Braid-Lined Taper
You can incorporate braids even if you like leaving your natural black hair free-flowing. This style features a thick man bun and a sharp tapered fade lined with one braid at the top.
This extraordinary combination of taper fade haircut with braid and bun gives a fashionable and cool look to gentlemen, as shown in the image below. You can wear this hairstyle at any event, in the offices as well.
Mohawk itself is a versatile hairstyle. But when it combined with a taper fade and stylish braid, then it adds a stunning factor to men's personality that no one can beat.
20. Cornrow with Taper Fade
Cornrow hairstyle includes several braids that are very close to the scalp. These cornrows when styled with taper fade, it gives an extra stylish look to this haircut.
21. Four Braids with Taper Fade
You can play with braids as much you can. If you have tried single and double braids with taper fade, then you can also try four braid's hairstyle for a change.