When you wear a taper fade on short hair, you know you're on-point anytime you leave the house. There's just so much more you can do with this dashing cut, though. Add a part, start the fade at the neckline, pair it with an almost-mohawk—endless possibilities, endless styles, endless potential to show off how damn smooth you are.
Experience Taper Fades to Fab
If you need some inspiration, look no further. Don't just tell your barber you want a taper fade on short hair. Give him permission to experiment. Ask him to do something unique, something fly, something that will keep all eyes on you.
1.
high taper fade
2.
low taper fade
3.
taper fade for black men
4.
medium taper fade
5.
afro taper fade
6.
taper fade on long hair
7.
curly taper fade
8.
bald taper fade
9.
Mexican taper fade
10.
taper fade comb over
11.
taper fade with waves
12.
skin taper fade
13.
taper fade with dreads
14.
taper fade for straight hair
15.
taper fade with beard
16.
short taper fade
17.
burst taper fade
18.
drop taper fade
19.
taper fade mohawk
20.
taper fade with design
21.
taper fade with part
22.
pompadour with taper fade
23. Swoop Part
Want to add a little extra oomph to a taper fade on short hair? All it takes is a curved part. Ask the barber for a little swoop, though. Everybody needs some extra swerve in their life.
Copy These Taper Fades on Long Hair
24. Hairline Fade
This cut is alternately known as both a hairline fade and a neckline fade because the fade starts at the hairline—and at the neckline, in the back. The secret is that you want to be able to see the fade; the gradient should be visible. Even without the longer shock of hair on top, this cut is fire.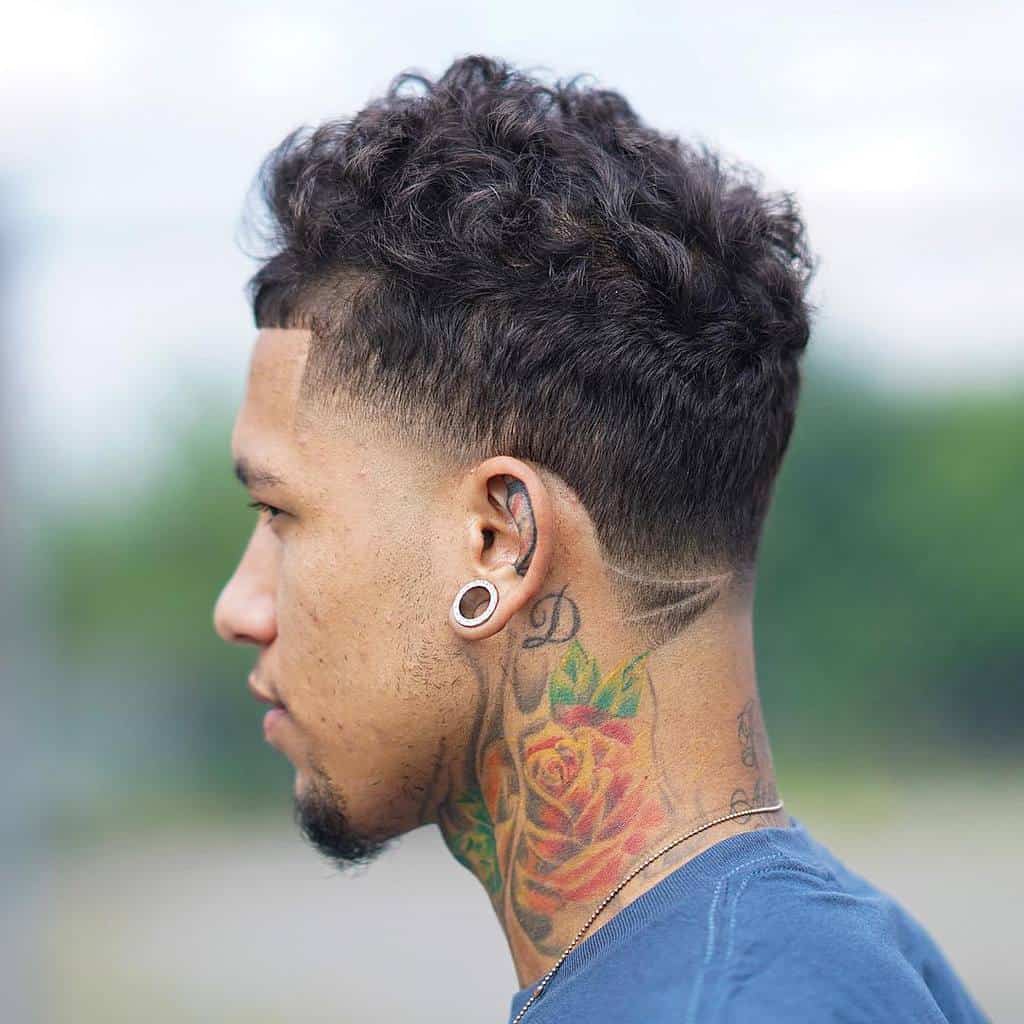 Short is relative, especially when it comes to your hair. No reason to crop those curls—they're irresistible. Keep your hair a bit long up top—nothing crazy, just leave enough to create a contrast with your fade.
26. Taper Faded Undercut
Let the barber know that in addition to a taper fade on short hair, you want an undercut as well. You can get your haircut constructed so that it's always ready for a side part or you can opt to slick it straight back instead.
How smooth is this? That fade is flawless, the edges are sharp AF, and the curls are tight. Like, damn.
Taper Fades In Every Possible Way
A taper fade on short hair is a classic, timeless cut, but you can dress it up and take it to another level. How do you make your fade your own?