When you wear a taper fade on short hair, you know you're on-point anytime you leave the house. There's just so much more you can do with this dashing cut, though. Add a part, start the fade at the neckline, pair it with a mohawk – there are so many variations you can try a taper fade.
Taper Fade Haircuts
Are you confused about how to achieve a well-done taper fade or need taper fade haircut inspiration? Don't just tell your barber you want a taper fade. Show him one of the below styles and ask for a unique cut that will keep all eyes on you.
1. High Taper Fade
Compared to a low fade, a high taper fade begins at the top of the temples to separate the long hair up top from the closely buzzed hair at the sides of the head. These fades offer a highly groomed appeal.
2. Low Taper Fade
Don't sacrifice your gorgeous hair, give it shape with a low taper fade. If you have longer hair on top, as with this style, then a gradual fade often makes the most sense, especially if you're going for a refined, preppy look.
3. Taper Fade for Black Men
Regardless of how short or long your hair is, a taper fade for black men is an easy way to spruce up your current look and make your face appear thinner. Fades work especially well on bearded styles so as to open up the appearance of your face.
4. Medium Taper Fade
As the name suggests, a medium taper fade begins at the middle on the sides of the hair. This makes the hairstyle clean cut around the ears and the back of the neck while maintaining a slicked back style on top.
5.  Afro Taper Fade
Give your natural, curly hair shape and style with an afro taper fade. Go for a burst fade that focuses the fade on the portion of hair over the ear so hair can be kept long in the back.
6. Taper Fade for Long Hair
Man buns are the perfect accessory for guys with long hair. A fresh take on this style would be a taper fade on long hair that will not only look cool but keep you cool as well.
7. Curly Taper Fade
Take your hairstyle from simple to interesting with these edgy long bangs on a curly taper fade. A hard line part makes the fade that falls underneath feel natural and balances out a cheekbone-skimming fringe.
8. Mid Bald Fade
As you would imagine, a bald taper fade gradually fades from thick hair to totally bald portions that reveal the skin underneath. It actually works for a variety of styles. As seen here, it can even be worn on hair that is longer than 2-3 inches.
9. Temple Fade
As the name implies, this fade is focused solely at the temples for just a touch of the trend. Typical for a Mexican taper fade, this look is characterized by sharp, clean lines that highlight masculinity.
10. Taper Fade Combover
Sleek, combed over styles are a classic professional style for a reason. With a taper fade comb over however, your look is suddenly super fresh and relevant. A low fade is ideal if you're just trying out a fade for the first time.
11. Taper Fade with Waves
Popular among Black men, beautiful ripples that run horizontally along the hair add a truly unique texture to the hair. A taper fade with waves that is focused around the temple is ideal for a thick beard style that hides the lower portion of the face.
12. Skin Taper Fade
Similar to a bald fade, a skin taper fade buzzes hair so close to the head that the skin underneath is visible. We love the way it compliments the rounded shape of these short baby bangs and the short, choppy layers worn up top.
13. Taper Fade with Dreads
Dreadlocks are a powerful style, but they don't need to overpower you. Keep the look under control by creating a high and tight look with a taper fade with dreads. It looks particularly stylish when the dreads are pulled back into a high ponytail look.
14. Taper Fade for Straight Hair
This look may have a gorgeous faux hawk, but it can be hard to add interest to straight locks. A taper fade for straight hair provides the perfect contrast to long hair up top and makes things a little more special.
15. Taper Fade with Detail and Beard
It's not that this style isn't interesting on its own, but a fun detail and beard help make this look all your own. Beards can absolutely crowd the face, so a taper fade with beard is perfect for slimming and opening up your face and eyes.
16. Short Taper Fade
This style is common for cleaning up long hairstyles, but a short taper fade is just as stylish and on trend. Because the difference between the hair on top and the faded portion of hair isn't drastic, a gradual fade makes the most sense.
17. Burst Taper Fade
A modern take on a mohawk, a burst taper fade merges the tapered portion of hair down the back of the neck and around the ear. Add some cool lines for extra detail and your own personal flair.
18. Drop Taper Fade
Similar to a regular fade, a drop taper fade falls behind the ear. This style in particular is beautifully done, from the fade to the perfectly straight baby bangs and short, meticulously groomed beard.
19. Taper Fade Mohawk
This style is pretty punk, but this look is rather chill thanks to the tapered look. The higher your fade, however, the more defined your mohawk will be. Try a low taper fade mohawk on dark hair with gray frosted ends.
20. Taper Fade with Design
Do you really want a fresh hairstyle? A taper fade with design isn't for everyone, but if the look appeals to you and is appropriate for your place of work, adding a sweet design is totally worth it.
21. Taper Fade with Part
A taper fade with part takes a classic, more distinguished hairstyle and freshens it up with the times. Many men prefer a side part to shape and define their face while a fade helps it feel relevant.
22. Pompadour with Taper Fade
Amp up your bearded style with a sexy pompadour with taper fade. This look is all about creating smooth height and a gradual tapered fade provides excellent contrast.
23. Swoop Part
Want to add a little extra oomph to a taper fade on short hair? All it takes is a curved part. Ask the barber for a little swoop, though. Everybody needs some extra to swerve in their life.
24. Hairline Fade
This cut is alternately known as both a hairline fade and a neckline fade because the fade starts at the hairline—and at the neckline, in the back. The secret is that you want to be able to see the fade; the gradient should be visible. Even without the longer shock of hair on top, this cut is fire.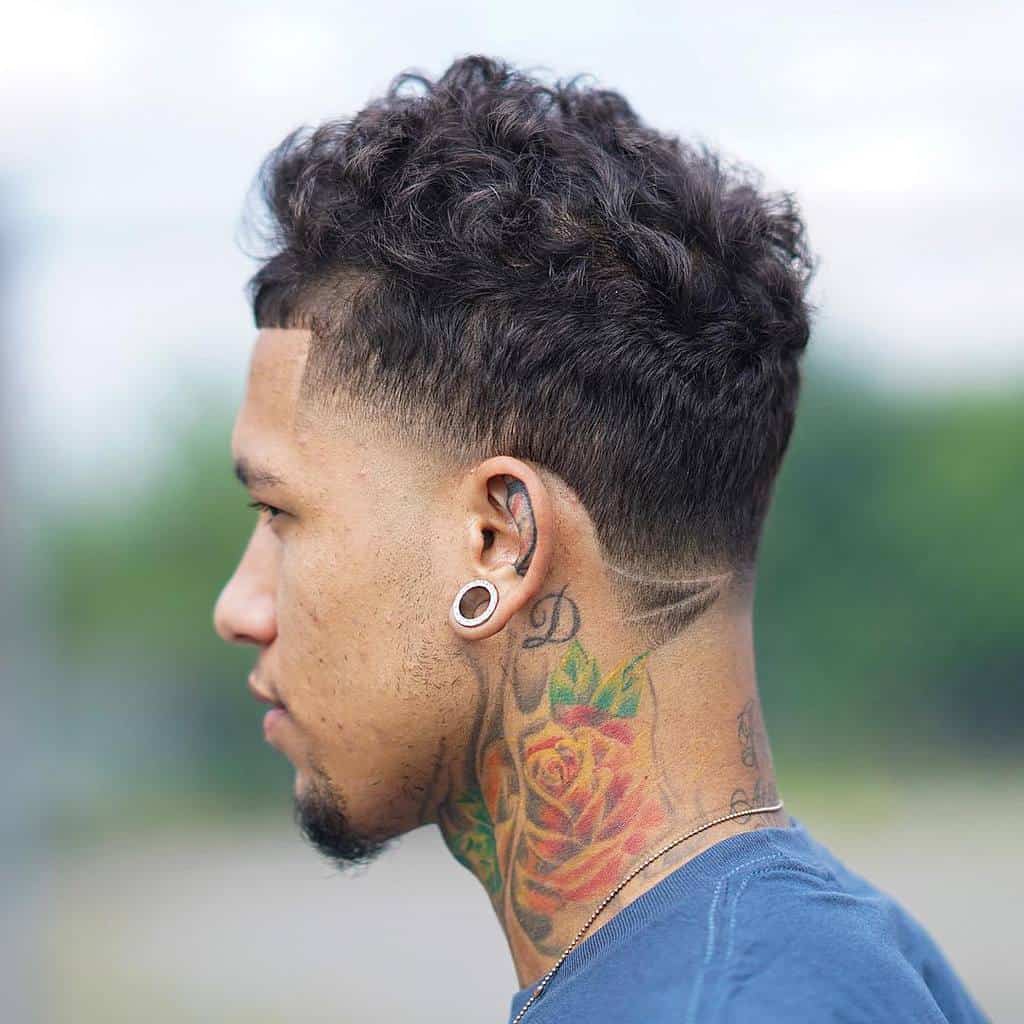 Short is relative, especially when it comes to your hair. No reason to crop those curls—they're irresistible. Keep your hair a bit long up top—nothing crazy, just leave enough to create a contrast with your fade.
26. Taper Faded Undercut
Let the barber know that in addition to a taper fade on short hair, you want an undercut as well. You can get your haircut constructed so that it's always ready for a side part or you can opt to slick it straight back instead.
How smooth is this? That fade is flawless, the edges are sharp AF, and the curls are tight.
A taper fade on short hair is a classic, timeless cut, but you can dress it up and take it to another level. How do you make your fade your own?