French braids have long been thought to be just women's hairstyle. Times have changed which is why nowadays we can so many men with French braids. A man can look just as fashionable, if not more when his hair is braided.
This french braid hairstyle for men is not only good looking, but it's also very practical. If you're a man who likes sports, this is a perfect way to keep the hair away from your face.
Men's French Braid Hairstyles
Here we have presented some amazing french braid hairstyles for men that'll give you a unique look.
1. Long Braids for Men
French braids look their best when they're done on long hair. That way you can really see the texture. A great idea is to create many braids and then to tie them all in a braid.
2. Men's French Braid With Blonde Highlights
French braids are most noticeable when they're done on hair with highlights. Outgoing men are those who experiment with highlights the most. Since they're always up for new challenges, they love trying out new French braid styles. If you're one of them, start experimenting.
3. Red Carpet Hair
Let's be real, most men on red carpets have quite boring hairstyles. They usually just have well-groomed short hair. We love to see some change. This is just as true for regular men. If you're ready to spice things up and introduce some change into your life, it's time to start braiding.
4. On The Inside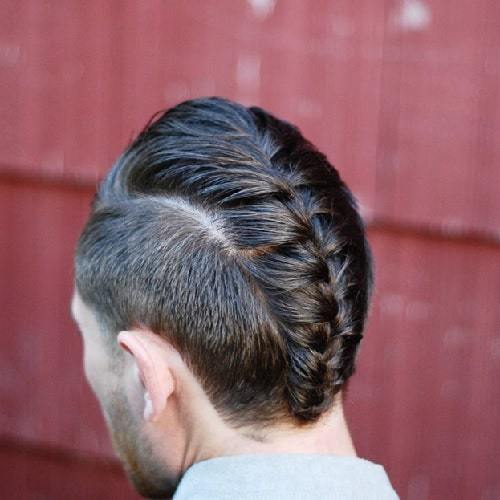 French braids are one of those hairstyles where you can really express your creativity. Yes, regular braids can look great on most men. But, if you're striving towards looking extra great, it's time to learn new braiding techniques like making inside-out French braids.
5. Full French Braids Hairstyle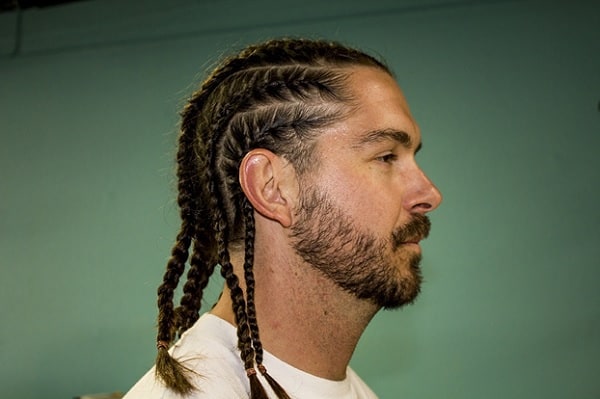 What better way to keep your hair away from ponytails than with French braids. Football players love having twisted up long hairstyles with French braids. It's because of their simplicity. Even though they're really simple, having many little French braids will certainly look fashionable no matter who you are.
6.
7.
8.
9.
10.
11.
12. Men's Full-Length French Braid
To use the full potential of a French braid hairstyle for men, it's best that you go for thicker braids. At the ends of hair, make a small ponytail and secure it with elastic. The end result will be a luscious and gorgeous hairstyle.
13. Fun And Fresh French Braids for Men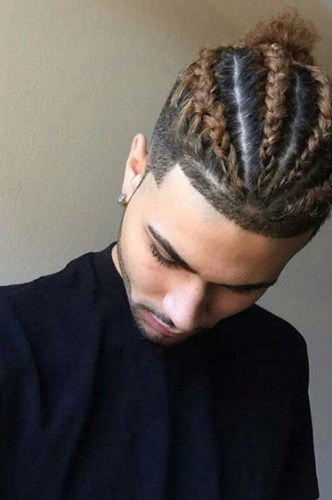 French braids on black hair are often less noticeable. If you want to bring full attention to the braids that you create, get some highlights. They don't have to be completely bleached. Just a few shades lighter highlights can change your hair game.
14. Practical And Chic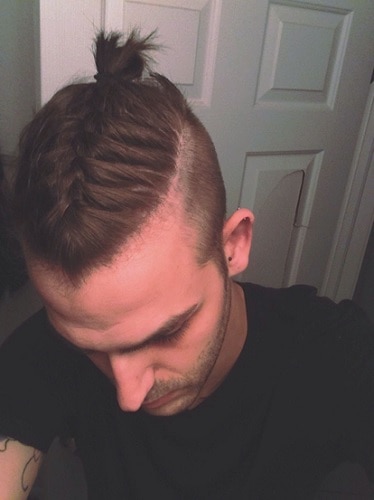 If you're a man who has long hair with shaved sides, you're probably getting sick of man ponytails. Ponytails are definitely not your only option. One of the best choices you can make is to start learning how to create cool French braids.
Vikings are known for their silver hair and gorgeous man braids. If anyone has perfect braiding skills, it's the Vikings. You can easily recreate their look with some practice and patience. The key here is to keep your hair healthy and shiny, just like the Vikings do.
16. French Man Braid for Short Hair
For short hair that is long on top, try a French braid, which aren't just for women! The style is a cool twist on a rugged Viking style.
17. French Braids for Black Men
To get this stylish men's haircut, add in small braids starting at the hairline. Braid them back into a French braided bun.
18. Men's French Braid with Fade
To mix edge with a fresh updated style, French braid the long top of your hair and fade the sides so they're a gradual buzz. An undercut makes this look easy to maintain.
19. French Braids for Men with Long Hair
Section off French braids on your long hair and braid them through to the ends. Then gather them into a ponytail or man bun.
20. French Man Braid with Shaved Sides
A French braid proves how updated a traditional Viking haircut can truly get when the sides are shaved. Pair the look with a bushy beard for rugged contrast.
21. French Braided Man Bun
For those times when you want to wear your long hair up in a man bun, add a bit of cool detail to the back with a French braid. It's the peek of man boho you need!
22. French Pigtail Braids for Men
If you've never tried pigtails, you'll be surprised to see just how cool they can look on a men's hairstyle. Just braid two sections of hair for easy style.
23. French Mohawk Braids for Men
A center French braid is the star of the show when bordered by two smaller braids. Fade the sides and gather the top hair into a man bun or ponytail.
24. Sleek French Braid
French braid is also popular among asian men. This sleek braid looks very cool and is perfect for any casual or formal party.
25. Tiny Men's French Braids
It may take some time to style a lot of these tiny French braids, but the result is detailed and great for keeping hair contained, especially on hot days.
More French Braid Styles for Men
If you're a man who tried any of the French braid hairstyles at one point, you've probably fallen in love with this hairstyle. Once you start braiding, it's really boring to come back to the old ponytail hairstyles. So, keep braiding and have all the fun you want to have with your hair.