Nowadays along with the beard and hair, keeping different mustache style has become a fashion. From the below discussion you will get some tips to grow and maintain your desirable mustache.
First of all, you have to clear the doubt whether you want to grow a mustache or not. It may change your look in a drastic way. So, to get a more mature look, you can choose a mustache style that is well adjustable with your face.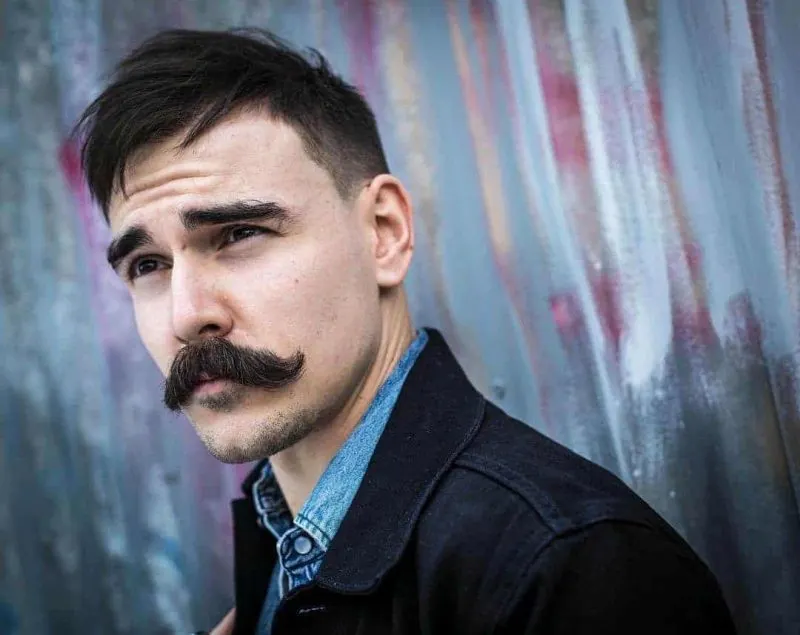 With the properly chosen mustache, you can have the desired look you wished for, otherwise, it may give your face a bad appearance. And the most important thing is to maintain your mustache with proper care.
How to Take Care of Your Mustache
To make a healthy desirable mustache, here we come with some tips that can be followed.
Let The Hair Grow
It is the first step for having the mustache. When the hair grows in the whole face, you can trim it regularly without the mustache region. At the earlier stage, the facial hair may not be thick. Don't lose your patience and wait until it becomes thick.
Trim Unwanted Hair
When the facial hair has grown, trim it to get the perfect shaped mustache you have chosen. It is important to have patience while growing it and avoid to shave too much to get thick hair. Rather let the hair grow naturally.
Accelerate The Hair Growth
In addition to the previous point, balanced diet, proper sleep, maintenance, cleaning facial hair regularly are also important for the healthy growth of mustache and to avoid the facial skin complications.
The maintenance is the biggest issue when your mustache has grown. For taking good care of your mustache you can follow the tips discussed below.
Trim To Remove The Unwanted Tips
Routine wise trimming is important to remove the extra hair and to keep the mustache in the right shape. Scissors or machine equipment can be used to trim to cut the unwanted hair.
Clean Regularly
For the healthy growth, hair of beard or mustache needs proper care. And for that, cleaning the hair is the must. Mustache may become dirty during eating food or by the dust. So you need to clean your mustache by washing it with neutral soap regularly. You can also use baby shampoos for the dry and flaking skin under the mustache.
Keep The Perfect Mustache Shape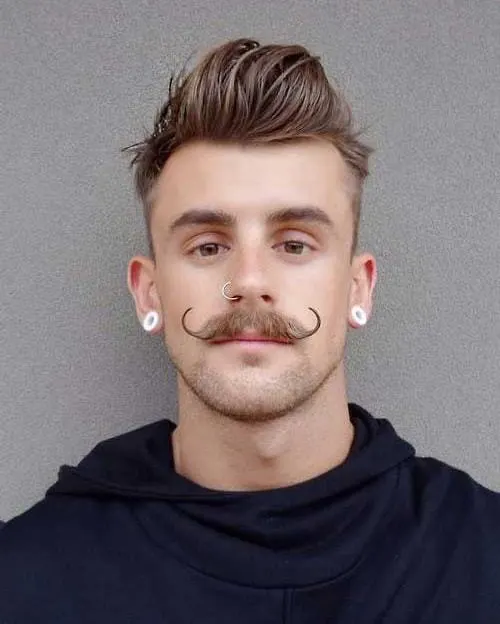 Alignment of mustache is another issue. To keep the perfect size, shape your mustache's end with suitable waxes and ointment. And also to control the appearance of the mustache, natural oils can be used which moistures the hair and make it shiny.
The crucial part of the mustache is to choose the best type which goes well with your face shape. You also have to consider the hair type and the most important thing, you need to be confident with the type of your mustache.
Mustache Styles for Different Face Shapes
Some people love to keep the mustache with a beard and some wants to keep without a beard. Let's have a look at different types of mustache styles with different face shapes and pick the best one for you!
Mustache for Round Face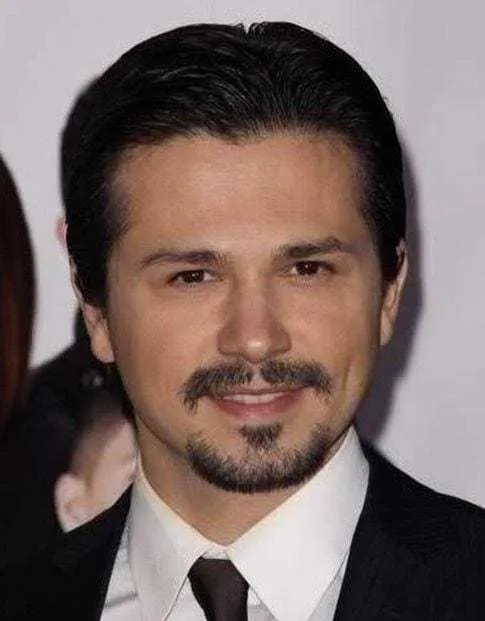 In round face, the chin looks fatter because of the lack of angles on the face. So if you have a round face then shouldn't try short mustache, rather choose longer mustache which will stretch your face and your face will look a little thinner and.
Mustache for Oval Face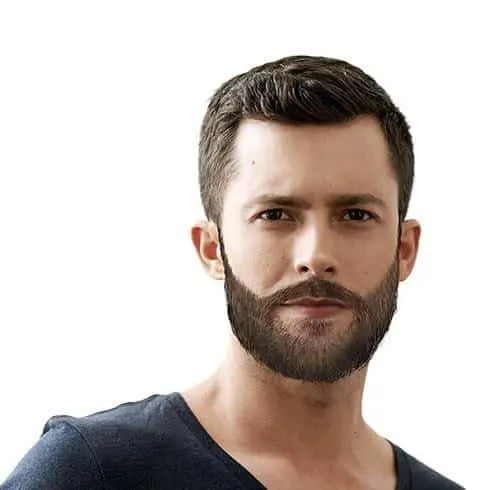 Almost every mustache types go well with this face shape. You can choose longer, shorter even curved mustache if you have an oval face.
Handsome Handlebar Mustache Styles to Try
Mustache for Square Face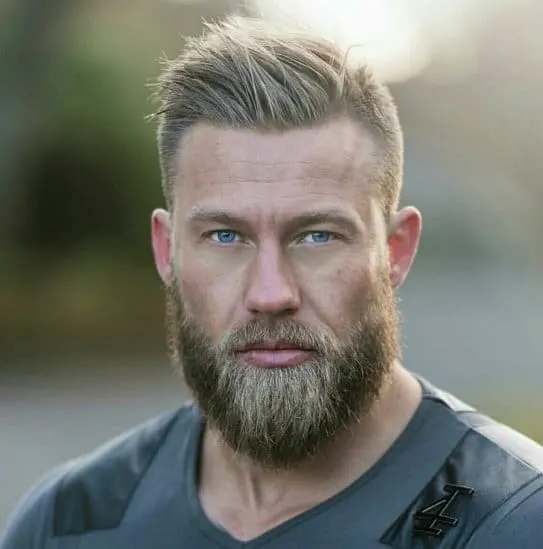 A square face has many angles, for which it is also known as "macho look". Though all types of mustache go well with this face shape, a thicker mustache is the best option rather than a fine mustache. You may also like popular Fu Manchu mustache.
Mustache for Triangular Face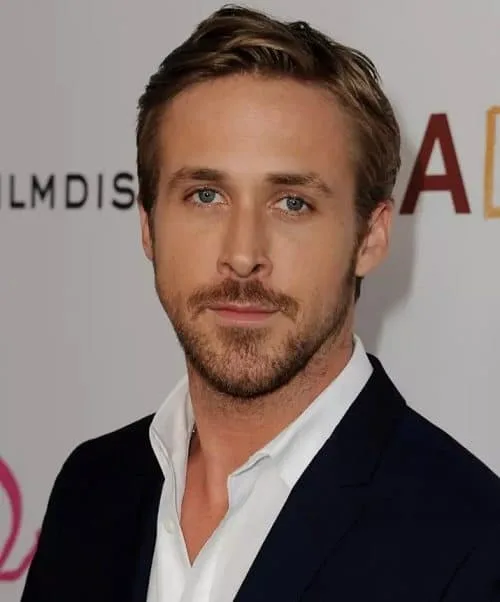 With the triangular face, it is recommended to make your mustache a little thinner and more drawn because of the several face angles and get the traditional look.
Different Types of Mustache Styles
Here, we've collected the more popular styles of mustaches, worn by men of all ages. Have a look: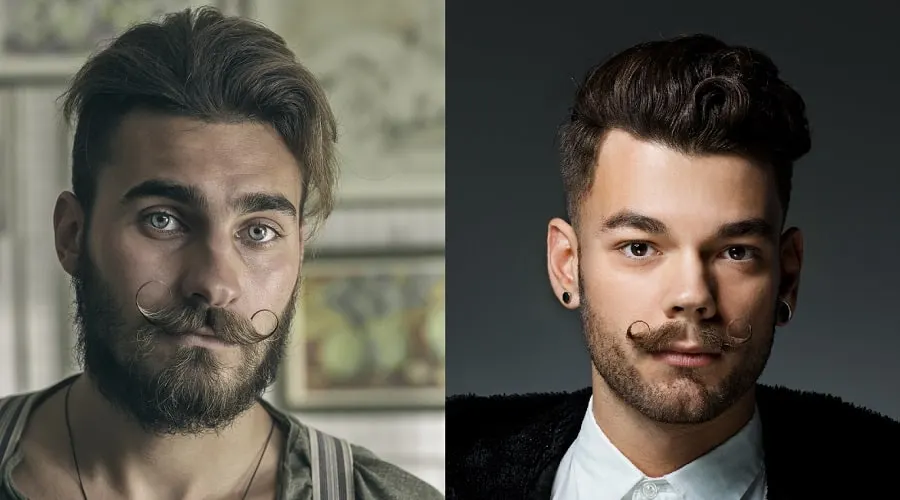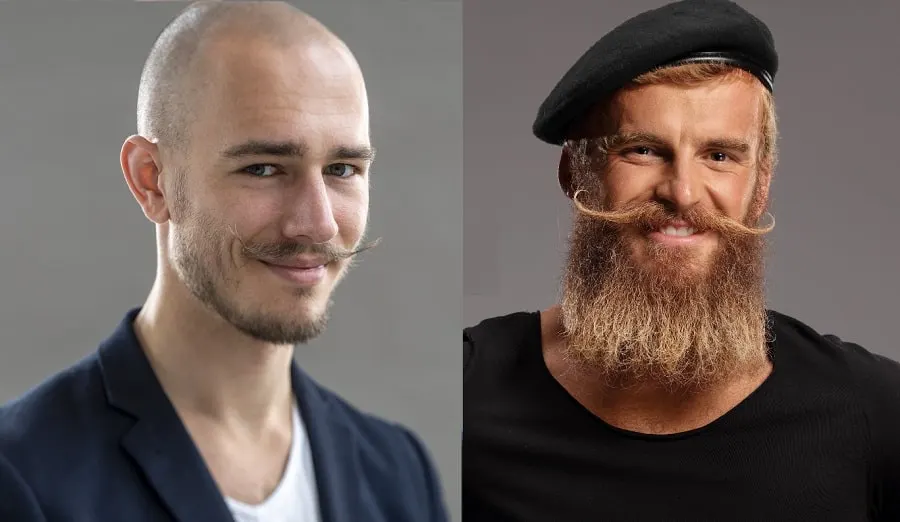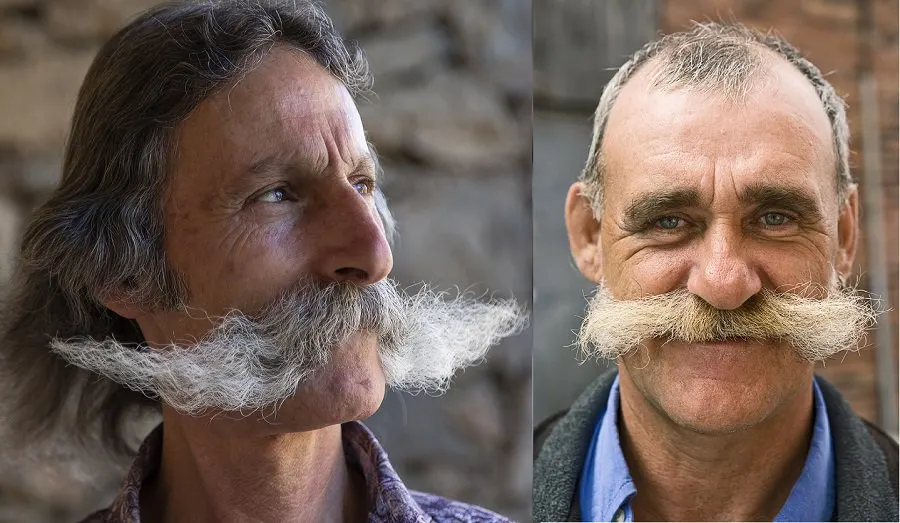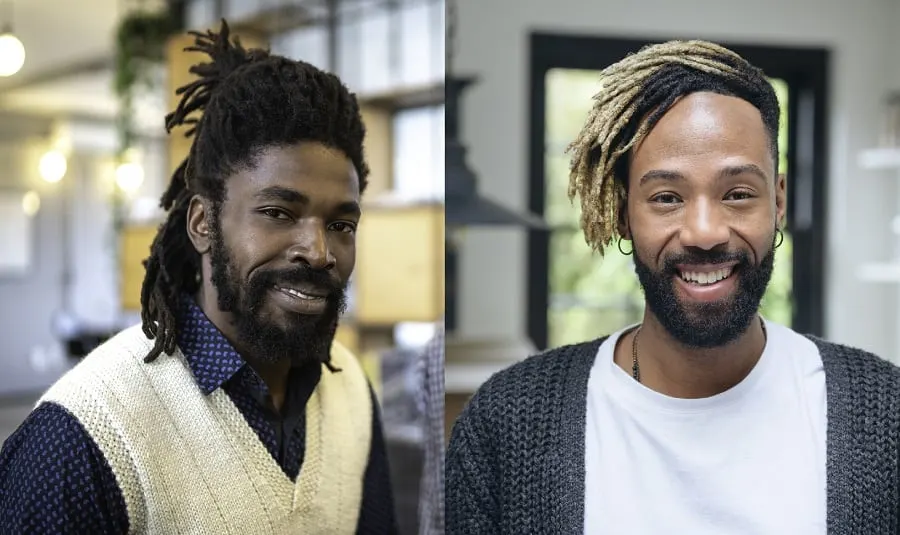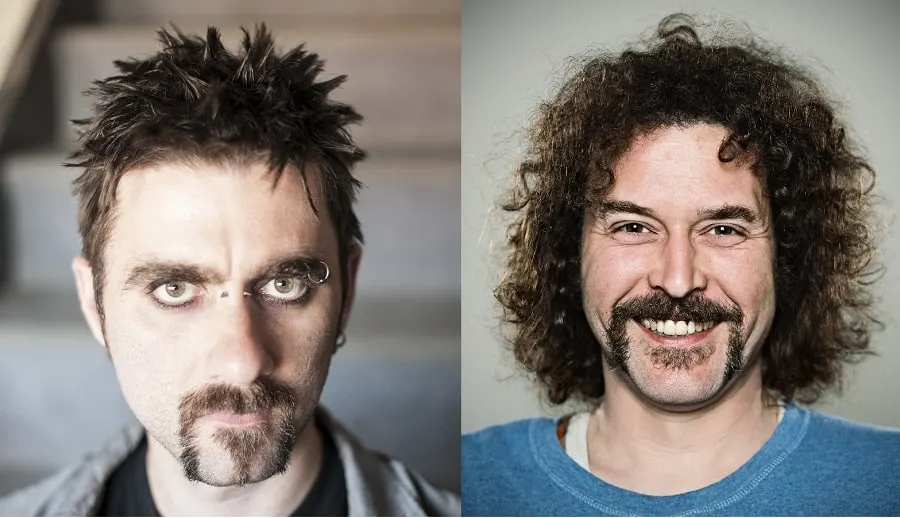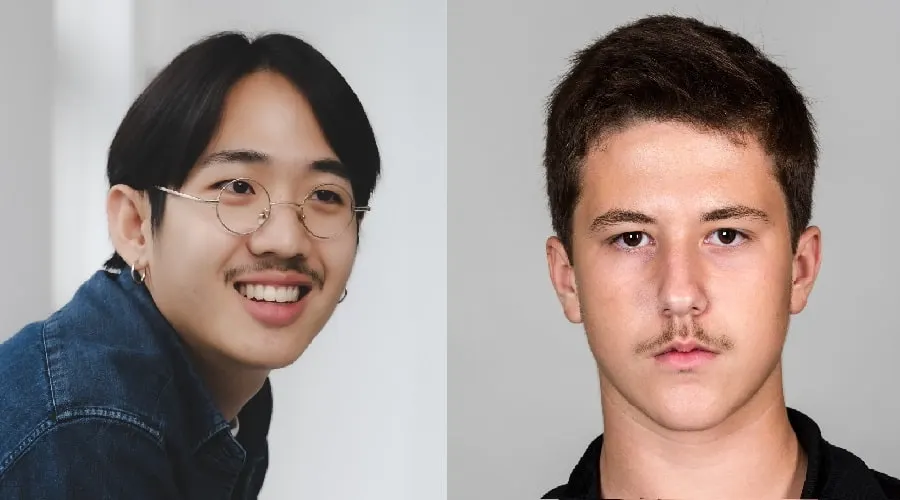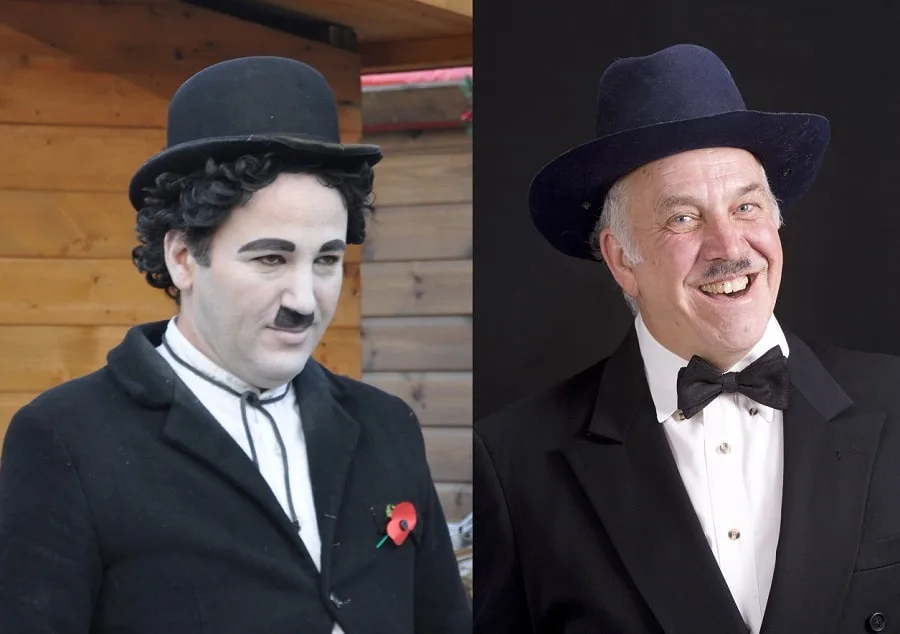 1. Walrus Mustache
A walrus mustache is so name because of its obvious resemblance to a walrus' whiskers! The thick style of mustache typically covers both the lips, but is also worn where it just covers the top lip. It's best suited for men with thick, bushy facial hair. It's also usually worn without a beard.
2. Pyramid Mustache
If you prefer your mustache to have some shape, you'll love the pyramid mustache's triangular shape. As you see above, this mustache style is versatile, great for any face shape. Young men wear it in a thick color, like black, for an edgy touch to their style, while older men let their grey hair peek through in a trendy way.
3. Pencil Mustache
For the man who is a minimalist when it comes to his facial hair, a pencil mustache is ideal. The thin line of hair is centered between the top lip and the nose. It can be worn with or without a goatee, making it another favorite versatile style of mustache!
4. Imperial Mustache
Determined to make a statement with your mustache? The imperial mustache is a favorite of men with a bold sense of style. Its "royal" upward curved shape is thick in both texture and width. Customize the length to be short for the office or extra long if you want a look that is sure to get you noticed!
5. Horseshoe Mustache
Unlike the actual horseshoe, a horseshoe mustache won't bring you bad luck just because it's upside down! From Hulk Hogan's thick, bushy white mustache to John Travolta's thinner style, the horseshoe mustache is always a trendy choice.
6. Handlebar Mustache
A handlebar mustache is easily recognized by its curled ends. Some men choose a thin style of handlebar mustache, while others sport a fuller one.
Worn with or without a full beard, the handlebar mustache always adds that special something to your style. You can shape the curled ends with a little facial hair gel. You can also pair glasses with your handlebar mustache for styling.
7. Fu Manchu Mustache
Beginning at the corners above the mouth and extending downward to show off length is the thick, straight Fu Manchu mustache. While it tends to look better when there's facial hair right above the lip, it's certainly not a requirement and may actually look a little more punk without.
8. English Mustache
Consider yourself a prim, proper, dapper gentleman? The English mustache, with its pencil thin, straight shape, might be your match! It is worn without a full beard and can be worn short – where the ends of the mustache meet the corners of the mouth – or extra long!
9. Dali Mustache
Artist Salvador Dali flaunted this handsome thin mustache. By using lots of wax, you can make your Dali mustache's curled shape extend upward and out. Younger men tend to rock a shorter version of the Dali mustache.
10. Chevron Mustache
While many of the mustache styles above feature an upward and curled shape, the chevron mustache angles down at the corners of the mouth. Between the upper lip and the nose, hair is thick and trimmed short for a bold effect.
Now it's on you what type of mustache you want to grow. Along with our tips, consider your own preferences to choose the best mustache for you!