It doesn't get the same attention other colors do, but brown hair can be just as beautiful as the other hair colors, as Hollywood proves.
There are plenty of both younger and older actresses with brown hair rocking their locks in different styles and shapes.
If you want some inspiration for your brunette hair, then let's look at what some of the refined and classy women of Hollywood are up to these days with their hair.
Brown-Haired Older Actresses to Follow
Plenty of senior Hollywood celebs have brown hair, but if you want to see elegance and simplicity, these senior actresses have what you need.
1. Elizabeth McGovern – Wavy Bob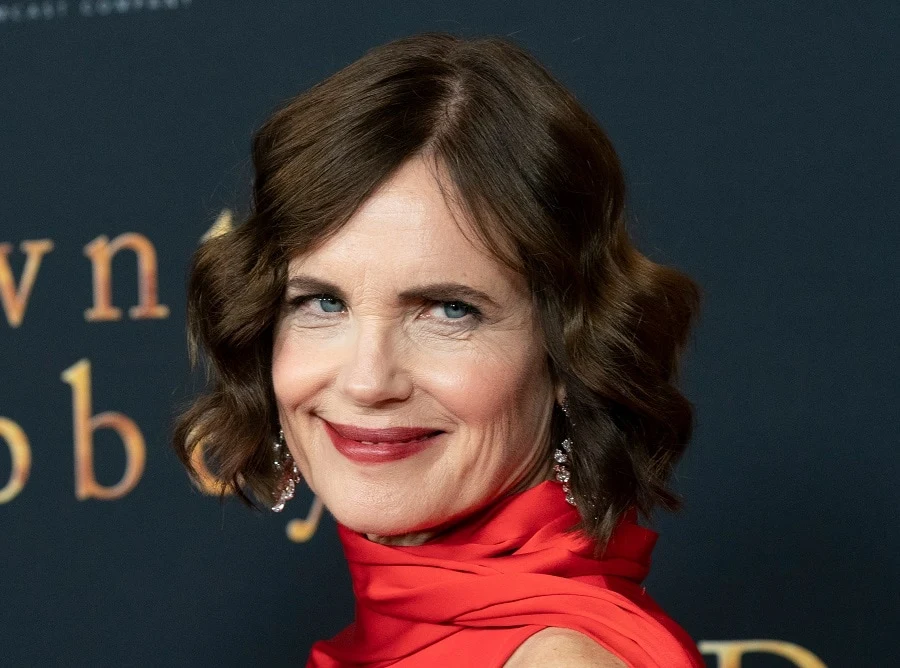 While long hair looks elegant, it can be annoying to wash and dry for older women. Instead, take inspiration from this actress with brown hair and have your hair cut even with your chin.
From there, some wavy curls and a center part could let you get a regal style without having to dry your hair for an hour!
2. Allison Janney – Wavy Layers
If you want a more voluminous look, then something like Allison Janney's style is the way to go. The wavy styling helps add volume to the hair, and you can see her haircut forms feathery layers that sweep with the curl of her hair.
Finishing off with some blonde and red highlights helps with the elegance of the hairstyle, too!
3. Isabelle Rossellini – Short and Professional
Even more utilitarian than short wavy hair is hair cut short enough to comb back simply. Isabelle Rossellini is a senior actress with a short brown hairstyle, which allows her to comb her hair off to her right side.
A little styling gel or spray can help keep this business-friendly hairstyle in place all day.
4. Helena Bonham Carter – Updo With a Twist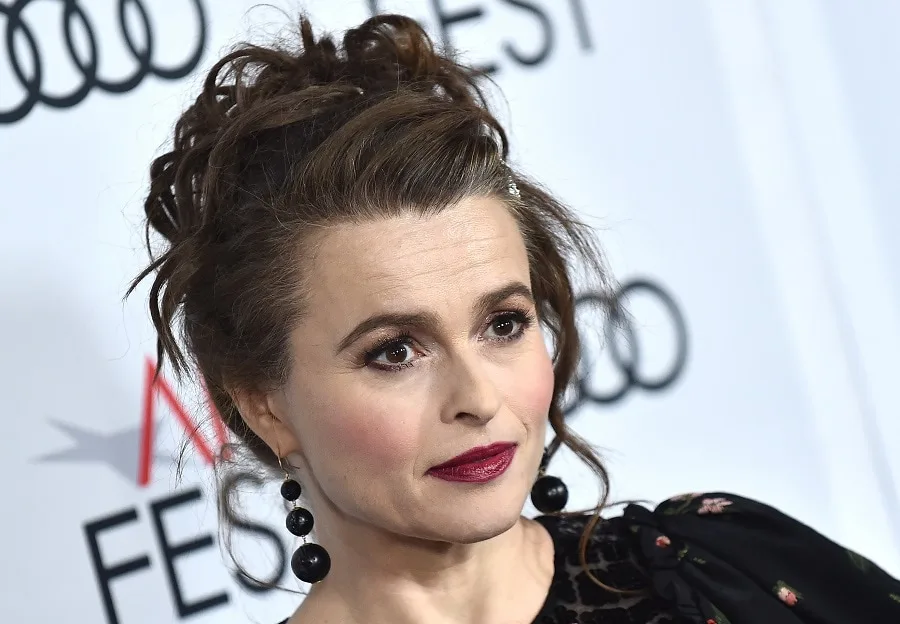 Helena Bonham Carter shows that you don't just have to let your long hair hang down. With some styling, wavy brown hair can look great when done up into a messy bun.
Teasing some of your bangs into a side curl to drape beside the face helps add some interesting details to the hairstyle, too.
5. Marcia Gay Harden – Straight-Laced Center Part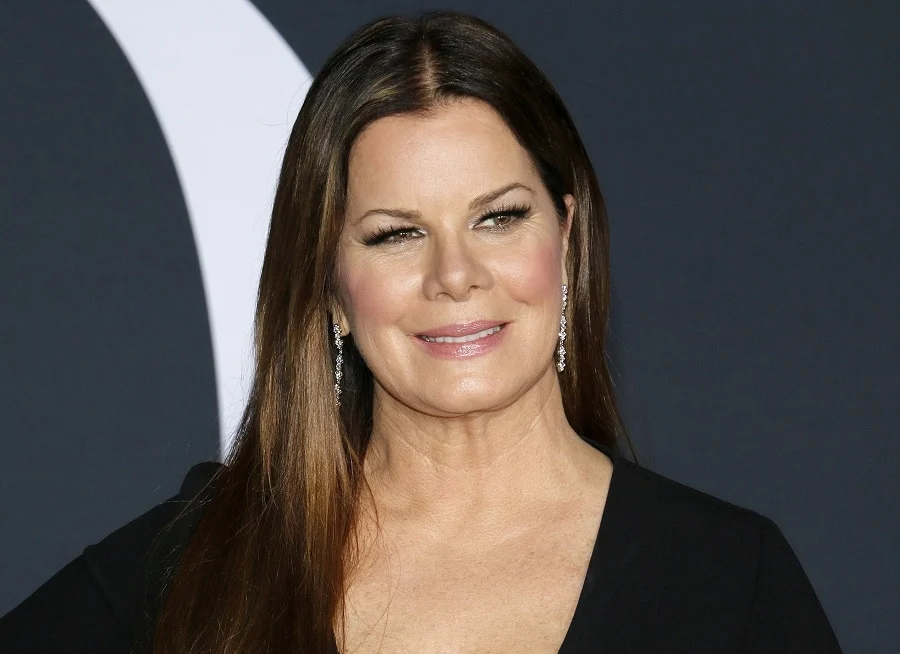 You've seen plenty of curly and wavy hair on this list of older brunette actresses, but what about the women that can't curl their hair to save their life?
Well, follow along with Marcian Gay Harden and go for a simple center part with straightened hair that looks sleek and shiny!
6. Mary Steenburgen – Bob with Bangs
Fringe bangs may not be as popular as they used to be, but Mary Steenburgen shows that it works regardless of the time or color of your hair.
A slight bob to the hair helps the ends of the locks curl around and frame your features, and the fringe helps bring attention to the eyes.
7. Melissa McCarthy – Wavy Blonde Tips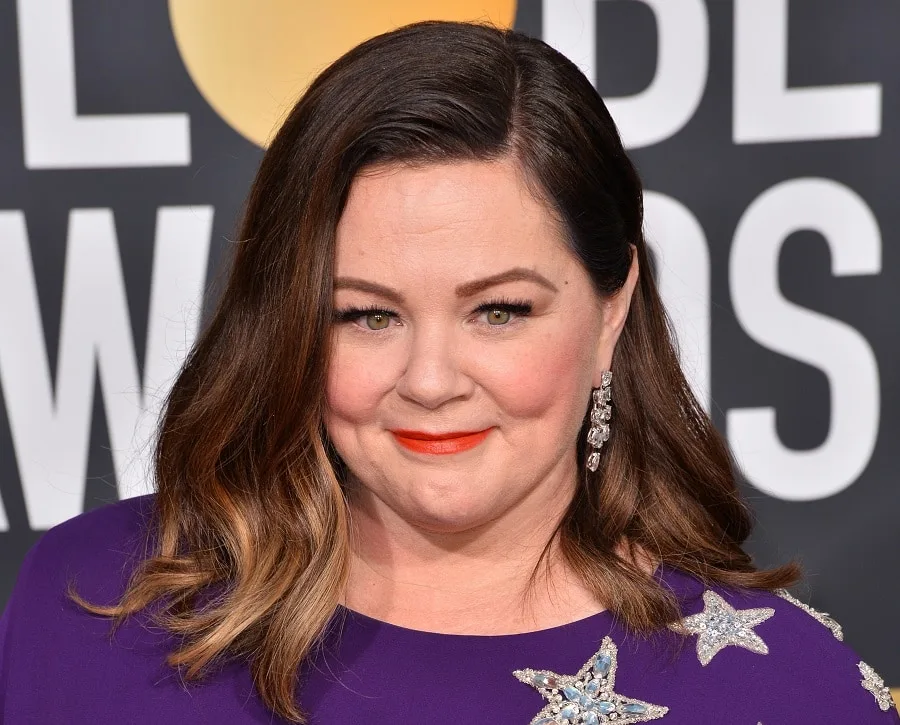 A splash of a different color can help make brown stand out more, especially when you use blonde!
Melissa McCarthy combines a side part style with blonde tips to help her wavy, brown hair stand out while on camera.
8. Andie MacDowell – Thick Waves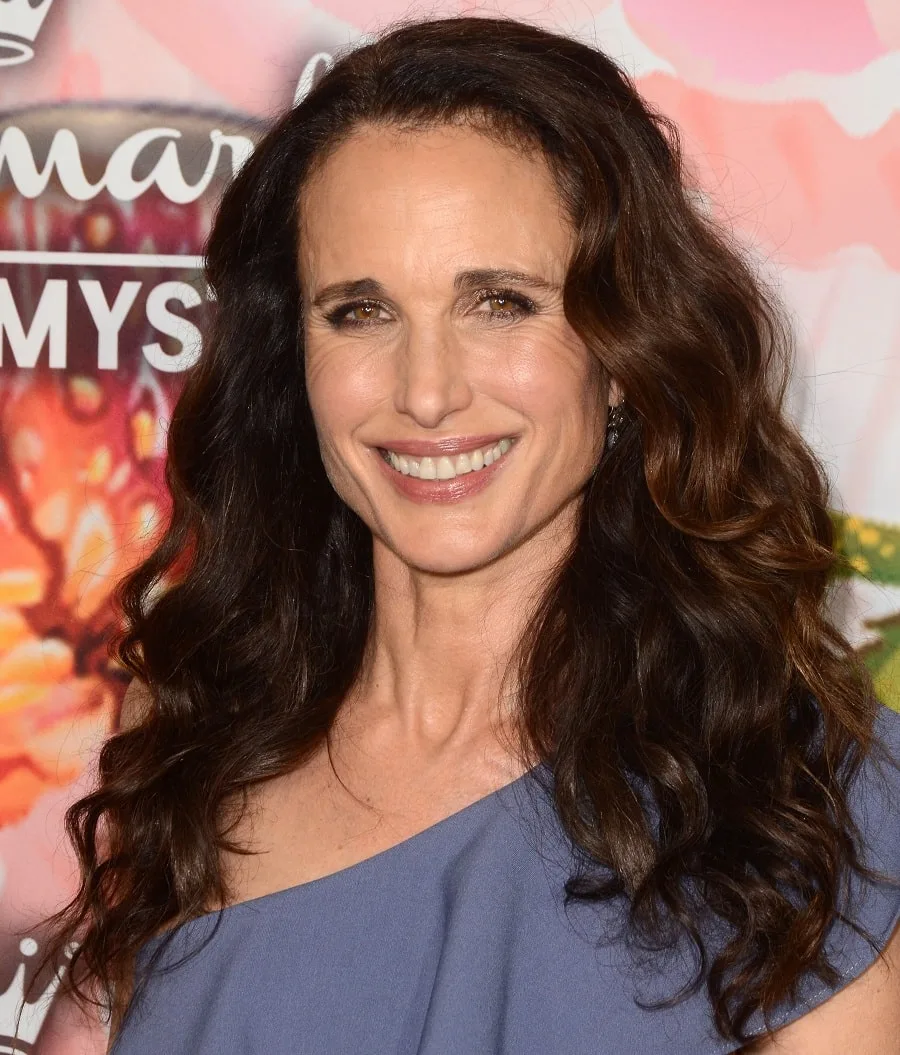 If layers aren't your thing, then maybe something simpler, like Andie MacDowell's long locks with waves, will do the trick!
Her wavy brown hair falls in front of her shoulder, framing her face nicely. A little bit of red lowlight helps bring out the deep brown hues of her hair, as well.
9. Lolita Davidovich – Ruddy Part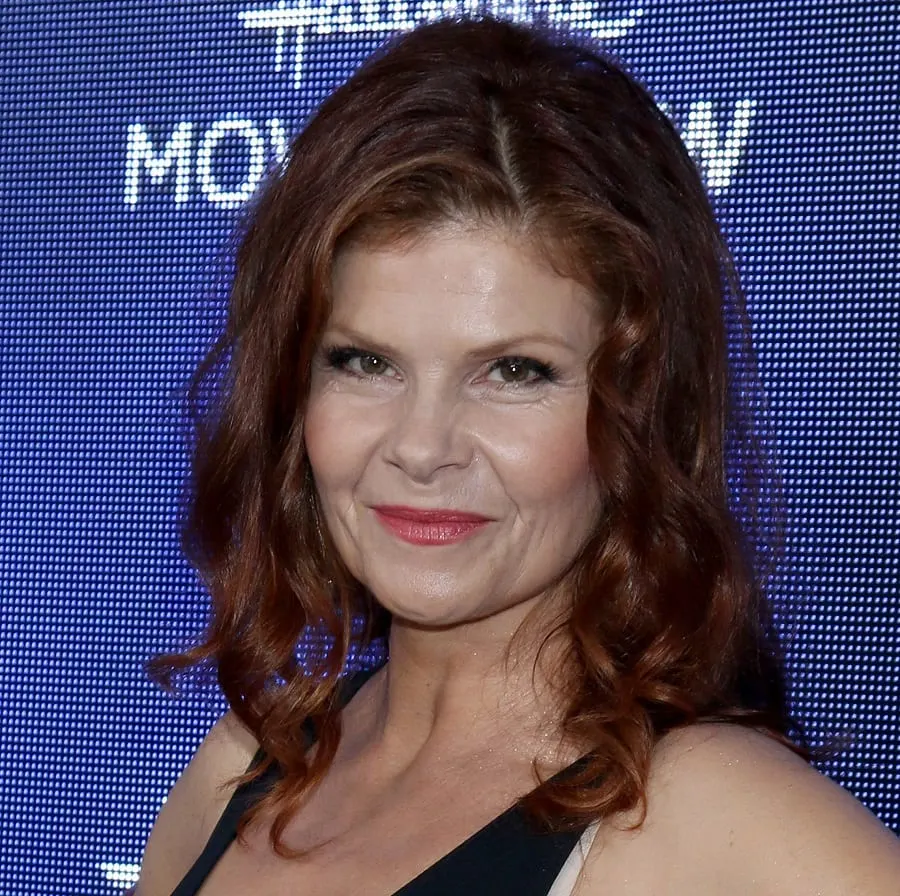 It's no secret that red hues help bring out a deep, healthy color in brown hair.
This senior actress used this trick to her advantage by combining her ruddy locks with a center part and curled hair to frame her face and accentuate her cheekbones.
10. Sandra Bullock – A Little Bit of Everything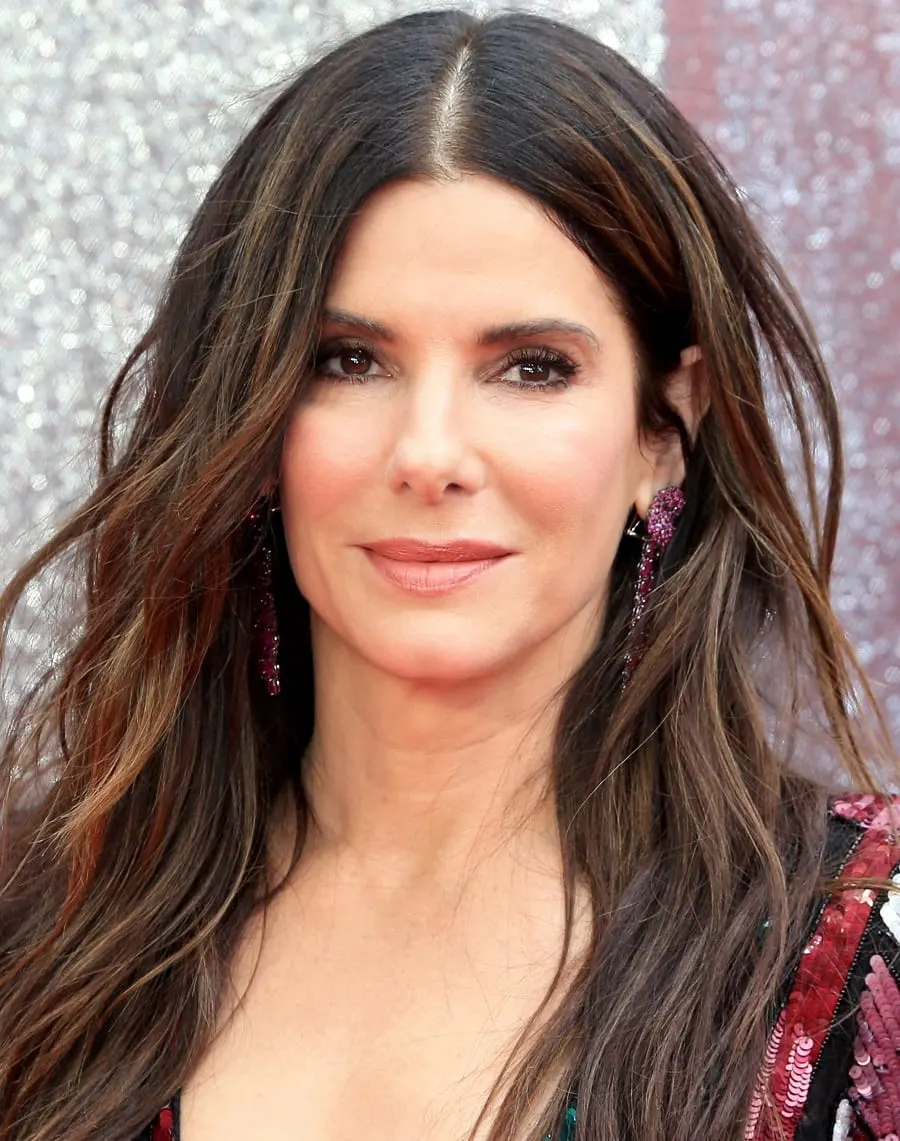 Sandra Bullock takes all of the tips and inspirations you saw from the older actresses with brown above and combines them.
Blonde and red highlights, a slight wave in her torso-length hair, and an elegant center part give this popular celebrity a fashionable, busy look that pairs well with many kinds of dress and attire.
Regardless of age, we can all agree that brown hair doesn't have to be bland!
The styles these older actresses with brown hair showed off above prove you can take brown hair and elevate it with some straightforward styling tips and a few color tricks.
Check out the styles once more to see if any stood out for you! There's always great inspiration to find in seeing what those that walk the red carpet bring forward!