Glamorous celebrity hairstyles don't always have to be long and lush. Short celebrity hairstyles serve as benchmarks showing us what's in fashion. There are countless examples of stunning female celebrities with short hair.
We have collected some of the best modern pictures of celebrities who know how to rock a perfect short haircut.
Celebrities with Short Hair
Short hair for women became very popular in the 1920s. Flapper girls were the height of fashion and many women tried to emulate the party style. During the second world war, short hair came back into fashion as women became inclined to choose short haircuts for practical reasons.
In the 1960s, impish fashion models like Twiggy started to popularise very short hairstyles and cropped looks. These styles were introduced by women who wanted to break away from traditional feminine beauty ideals.
Modern celebrities know how to work a short haircut and cropped hairstyles have stayed in fashion for a long time. This is because the styles are practical and versatile.
Check out how some of the hottest stars have worn their hair short, then pick out a style that flatters your face and ignites your imagination.
1. Katy Perry
Katy Perry's short platinum blonde bob is sleek and straight with an off center part. Platinum is one color that looks great with all skin tones.
2. Black Celebrity with Short Hair – Lupita Nyong'o
Lupita's natural black hair has no frills added to it, making it a low maintenance short textured pixie great for keeping black hair healthy.
3. Julianne Hough
Interested in going short but still want to maintain texture and body? Go for a choppy layered short haircut with a heavy side part.
4. Celebrity with Short Curly Hair – Millie Bobby Brown
Millie is no longer seen as a young actress since she's sported this mature ladylike yet edgy short hairdo. Try a balayage blend of light and dark blonde.
5. Celebrity with Very Short Hair – Kristen Stewart
Kirsten is known for her boldness when it comes to hairstyles and this buzzed haircut is no exception. Pair the short hair with platinum or a super light blonde and a contrasting smoky eye.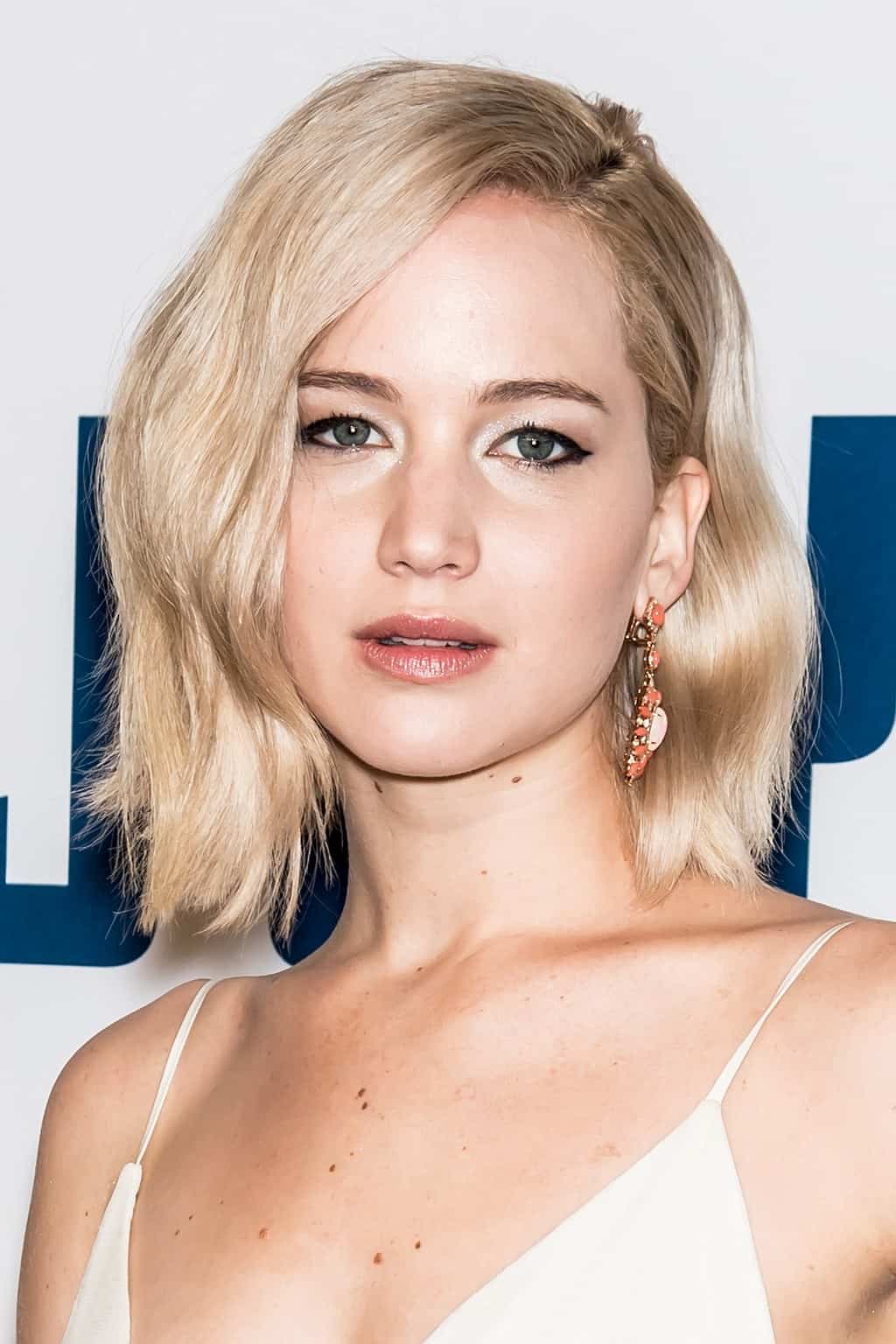 Who wouldn't love a gorgeous short blonde hairstyle like Jennifer Lawrence's? An easy off center part and wavy body is all it takes to create this beauty.
Kate Middleton Flaunts Her New Bob Hairstyle
7. Aubrey Plaza's Medium Layered Bob
Take the Aubrey Plaza approach to gradually work your way into a super short length celebrity hairstyle. Bobs are still short—make sure it hits above your shoulders, that's all. And yes, adding waves makes all the difference — you want your bob to have texture, plus curling or waving your hair allows you to envision it even shorter.
8. Scarlett Johansson's Gorgeous Undercut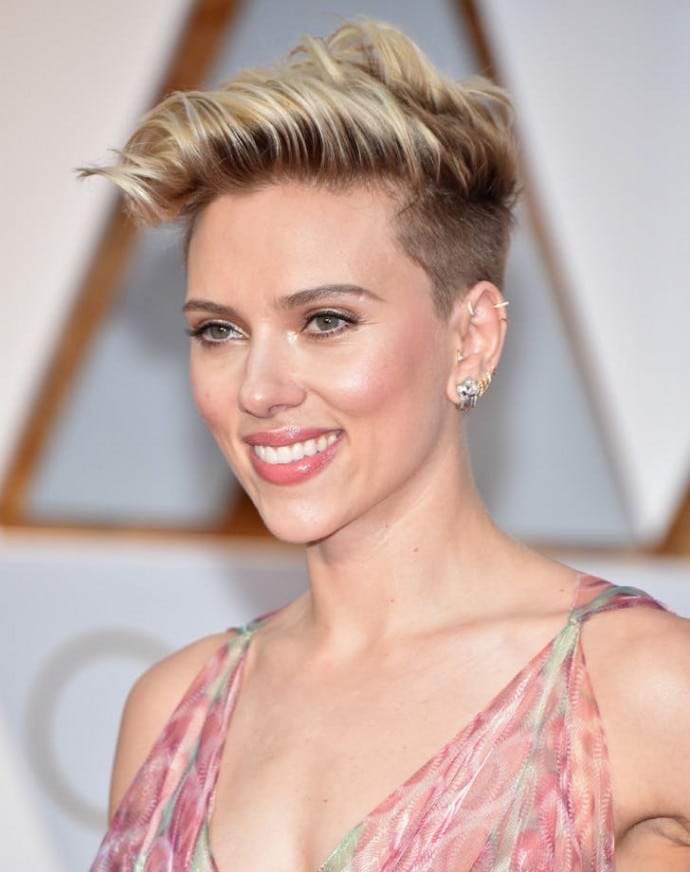 Women were wearing undercuts long before Scar-Jo debuted hers, but she brought the style into the mainstream as a perfectly suitable choice for women. Her poofy pompadour and the shape of the undercut add feminine elements.
9. Anne Hathway's Cute Short Pixie with Bangs
Love a rich brunette hair color? Add it to a short pixie with a heavy side bang. This hairstyle really flatters an oval face.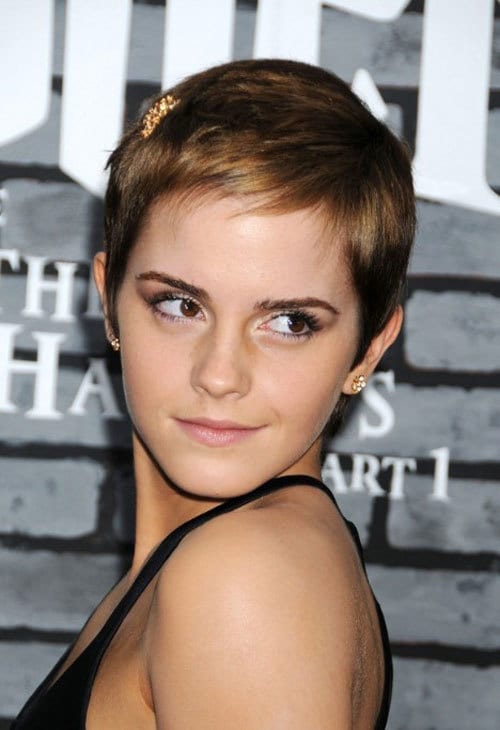 The world went wild when Emma Watson cropped her hair into a pixie cut. Hermione Granger's curls disappeared, but a mature, model-ready young woman stepped out in her place.
A pixie like this is perfect for women with strong facial shapes and features, such as a square jaw. Own that androgyny!
Lily Collins' cut is halfway between a crop and a bob, hence it's more of a lop. It's gorgeous, though, and another ideal transitional cut. It's short, but not too short, so you won't feel overwhelmed or mourn the loss of all your hair.
12. Chin Length Bob with Side Parting
If you usually wear your hair straight and want to go short, copy Sarah Hyland's short bob. Some caramel highlights over a dark base make this look sophisticated yet sexy.
Remember when Katniss cut her hair? Jennifer Lawrence's features are full and lush, making them ideal for a short 'do. However, she wisely softened the cut by keeping the bangs long and purposely uneven.
If you want to keep cool but look hot for summer, this is the short celebrity hairstyle for you.
14. Miley's Punky Combover and Undercut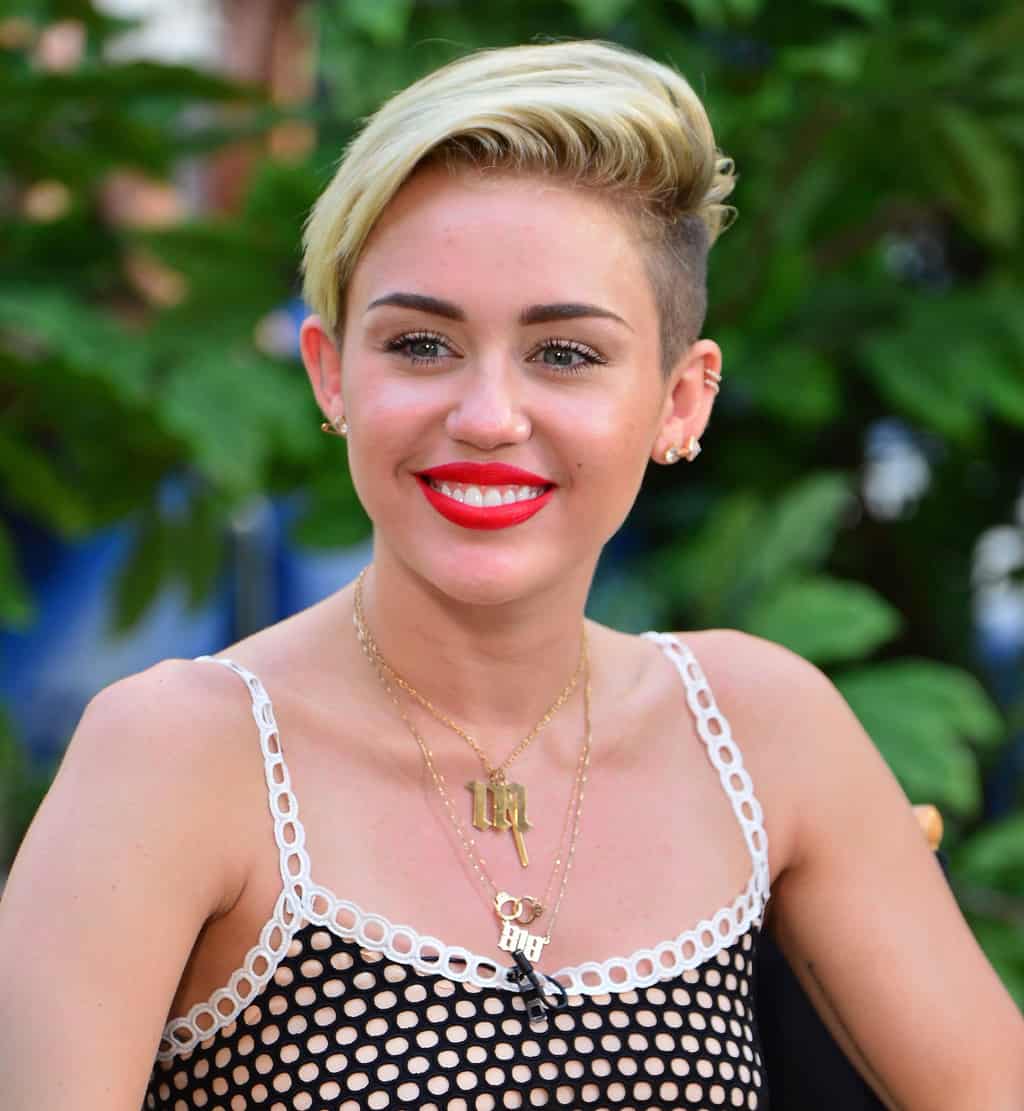 Miley's undercut and the platinum bleach job that came with it were divisive. People either loved it or hated it. We're in the "loved it" camp—a pale blonde or silver undercut with dark roots is dramatic and on-trend.
15. Charlize Theron's Short Blonde Hair
Is your face oval-shaped? Then you should definitely try Charlize's short blonde hair. This pixie has plenty of body with soft waves on either side of the side part.
16. Ginnifer Goodwin
The ultimate choice for women who desire an edgy short haircut is Ginnifer Goodwin's jaw-length black hairstyle with super short bangs.
17. Shailene Woodley
Dress up a short pixie or chin-length haircut with a side braid like Shailene's. Whether it's traditional or fishtail, start it at the hairline of an off center part to serve up a look.
18. Gigi Hadid
A sleek straight hairstyle like Gigi Hadid's isn't just for special occasions. Wear it to work for chic vibes all day. Smooth away frizz and maintain the sleekness with hairspray.
19. Zoe Kravitz
Another edgy hairstyle to rock is this short pixie with long sides and short cropped bangs. A rich black pairs well with dark skin tones and smoky eye makeup.
20. Dua Lipa
For simple yet classy style for short hair, try this straight bluntly cut shoulder-length haircut. A center part and straight locks is all you need.
21. Winona Ryder Throwback Crop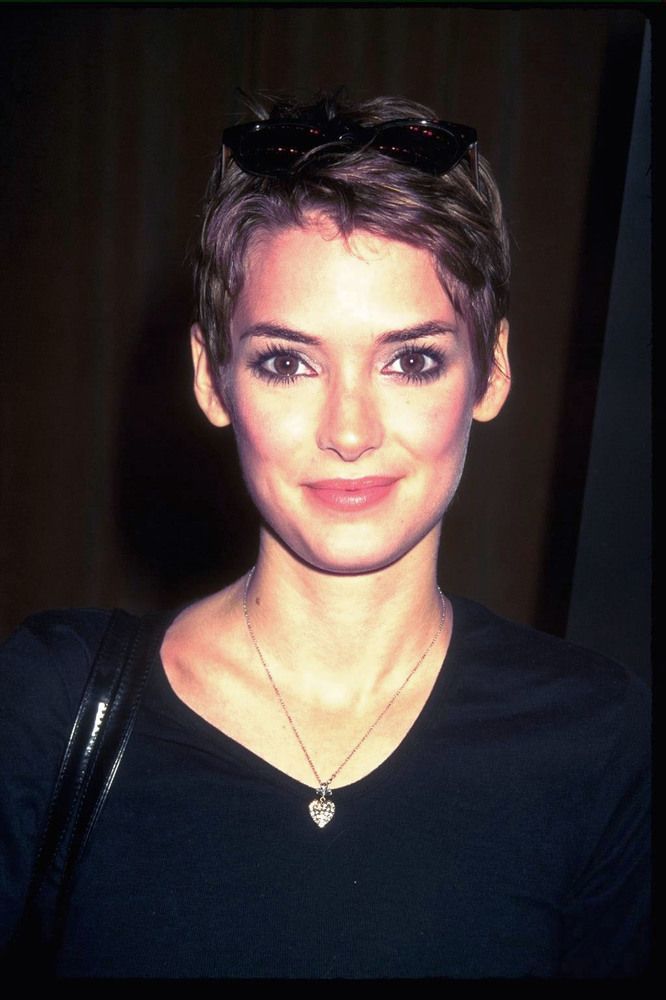 Winona Ryder's cropped coif still stands out as one of the best short celebrity hairstyles of all time, and no wonder—look how flattering it is! She genuinely looks like a pixie. A crop like this begs for a tousled bedhead approach to styling.
A classic short hairstyle worn by the celebrities is blunt bob. Her sleek, blunt-cut bob is simple, elegant, and timeless, particularly when combined with a middle part. You should also aspire to a high shine like that.
23. Taylor Swift with Retro Short Curls
For sexy vintage vibes, add soft curls to a short hairstyle with a side part. Finish up the ends with neat, smooth blonde curls in a kinky shape.
24. All About Eve
Eve is always hair-spiration. Her softly rounded cut, with its side swept bangs and bouncy flip gives off the illusion of longer hair. In other words, go for a short celebrity hairstyle like this when you still want fullness, and when you still want something to play around with and style.
25. Halle Berry's Tousled Crop
Halle Berry has been slaying short haircuts for years now, and she never disappoints. Here's a longer, tousled crop that gives off a playful, laid-back vibe. However, her sleek, smooth pixie cuts are fire, too.
Since stars get tired of long hair, too, there's a bevy of short celebrity hairstyles from which to draw inspiration. Our list of celebrities with short hair is awesome because it shows a lot of variety. You will love to read it to get the best ideas.