Partial and full highlights are a great way of adding a touch of color to your hair. Adding highlights can completely transform your style and may be able to revitalize any hairstyle or haircut.
Once you commit to the idea of highlights, you will need to decide on partial vs full highlights. We will try to clarify the difference between partial and full highlights so that you will feel more confident about which style to pick.
Difference Between Partial Highlights and Full Highlights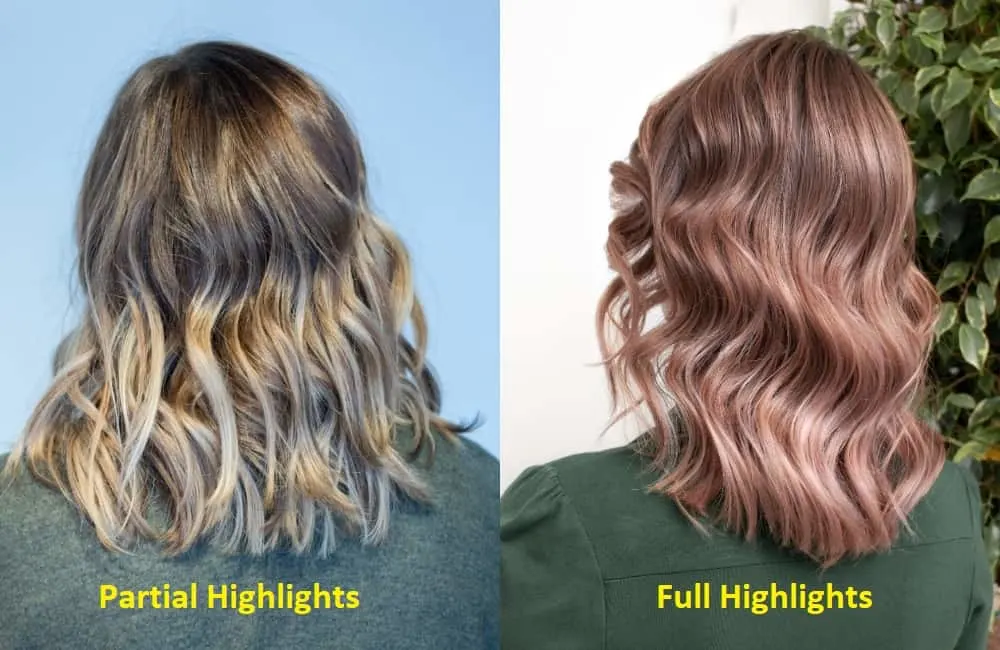 The main difference between partial and full highlights is the amount of your hair that they cover. With full highlights, your hairstylist will seek to add highlights throughout your hair. On the other hand, if you choose to have partial highlights added to your hair, the stylist will only add highlights in certain sections of your hair.
The areas where the stylist will add the highlights will depend on the look that you are trying to achieve. They may only be added to the top layer of your hair, or they may be added to the front sections. With partial highlights, the possibilities are endless.
Cost
If you are short on cash, you will be pleased to know that one of the partial vs full highlights differences is the price. Partial highlights are normally less expensive than full highlights because less work and fewer materials are required. On the other hand, full highlights might be a better value for money.
Effect
Full highlights can be used to give a more dramatic effect to the hair than partial highlights do. Because a lot of the base hair color can still be seen through partial highlights, the effects tend to be more subtle.
However, full highlights can dramatically change the overall color of the hair and help to give it the appearance of texture. If you do want a subtle look from a full highlight style your hairstylist should be able to arrange this for you.
Maintenance
Partial highlights are considered to be a low maintenance option compared to full highlights. In terms of maintenance, the key difference between partial and full highlights is that it is less obvious when your dye starts to grow out if you only have partial highlights. Because full highlights are more intense, they need to be retouched more frequently.
A tutorial worth watching if you love hair highlights:
Same Process
Your hairstylist will use the same process to dye your hair, regardless of whether you choose to have full highlights or partial highlights. The most common method of doing any type of highlight is to use foils and a color-paste brush to get color in the right areas.
Although it is the same process, full highlights will normally take much longer to complete than partial highlights. This is because full highlights must be applied to more sections of the hair. Your stylist should also take more time to carefully apply the correct color highlights to the right sections of the hair. This will help to create the perfect look for you.
Partial Vs. Full Highlights: Comparison Table
Partial Highlights

Full Highlights

Definition

Highlights that placed on the half of head. Usually, it's around the face for a brightening effect. Can be a few on the back of the head if you are a fan of the high ponytail.
Highlights are placed all over your head. That allows achieving maximum blonde with darker roots.
Amount of foils
Up to twenty foils maximum.
Can be over a hundred, depends on hair density.
Beauty price
More affordable than the full highlights.
Sometimes the price is twice as high as for partial highlights.
Processing time
It's definitely faster but still can take around 1 hour without the toning part.
From 2 to 4 hours depending on the type of highlights and amount of foils.
Covering grey hair
If you just started to have grey around the face and on the temples, partial highlights with an ashy tone can disguise it.
If you have more than 40% of grey, it's time for full highlights. The point is to pick and highlight the silver strands.

More grey means more foils.

Hair damage
The fewer strands bleached, the less noticeable the damage to the hair. Having less foils makes it easier to control the bleaching process.
More hair is bleached what makes the damage more visible.

The process takes more time. Therefore, there is a chance that the hair that was bleached first will stay inside foil longer and appear more damaged.

Pros
Helps to create the natural look of sun-kissed hair.
The best option to go from dark to light without total bleaching.
Related Topics:
Take a Close Look at Full Vs Partial Highlights
It's really fun playing around with different highlights on different hair colors. Both the partial and full highlights on hair can completely change your look. The thing is: you need to look good no matter it's partially highlighted or fully highlighted!