Full highlights are a big hit nowadays. Highlights make the hair appear shiny, and they accentuate texture and style you're going for. They're versatile and serve many other purposes including shaping your face and producing a slimming effect.
Highlights also bring freshness, pop of color, edginess, and drama to your hair. Reasons to get full highlights are numerous, but you don't have to go for partial kind only. We bring you 11 ideas that show exactly what makes them so awesome.
What Is The Full Highlights?
You've probably heard of full head highlights many times but weren't quite sure what it means. Aren't highlights just a few colored strands in the hair?
Not necessarily. Full hair highlight refers to the method of highlighting hair in every section of the head from the nape of the neck to the hairline on the top of your head.
Highlights on full hair can allow a natural brunette to achieve the blonde beach look. They can lighten a person's hair, but also more edge into your appearance.
How to Do Full-Length Highlights – Step By Step
You can get the highlight on full hair in two ways, i.e. go to a really great salon where a professional hairstylist will give you amazing highlights, or you can do them on your own. Some people like to try and do something on their own at first, and if you're one of them, you'll appreciate the following step by step guide. Here's how to do full head highlights:
Step 1: Pre-section your hair using a tail of plastic comb. Take a center parting using the nose as a guide. Continue sectioning from the back of one ear through the top of the head all the way to the other ear. Use clippers to clip hair in order to get it out of the way. Make sure sections you make are no wider than a foil
Step 2: Take 1cm sections of the hair and weave into the preferred thickness
Step 3: Hold the woven section in between your fingers and the foil with thumb and finger. Put the tail of the comb at the bottom of the foil and bend the foil over and place it up under woven highlights
Step 4: Hold the ends of your hair and start painting sticking the hair to the foil. Apply the color to the root area. Fold the ends of your hair so that they fit into the foil. Fold the foil and repeat the same process on every section
Step 5: Set the timer for appropriate time per instructions provided by the manufacturer. Wash your hair
Following Video Shows The Step by Step Process of How to Do Full Foil Highlights on Hair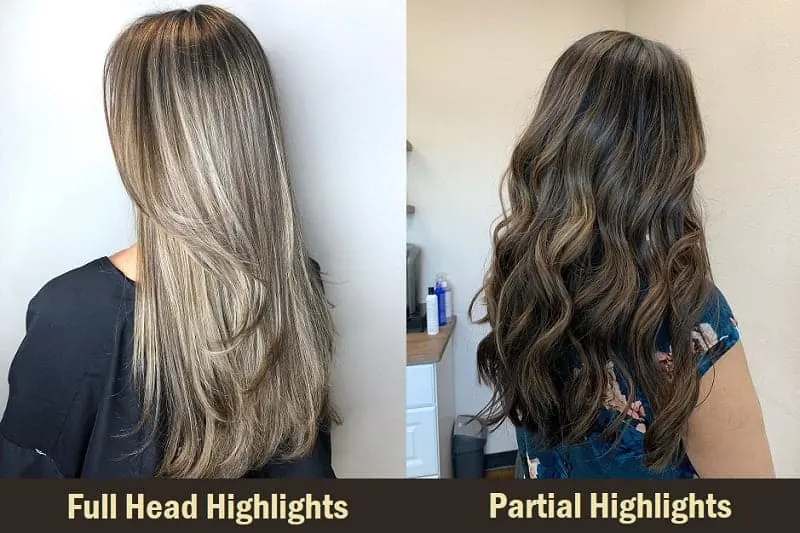 When it comes to highlights, you can either go for full or partial depending on the effect you want to achieve. Partial highlights are, as you can conclude by their name, colored strands of the hair while the rest remains intact.
On the flip side, fuller highlights cover your hair entirely. In most cases, partial highlights are located around the face to add more shape and structure.
Full-length highlights are more suitable for girls and women with darker hair. These highlights lighten your hair in a chic manner. Women with lighter hair can easily opt for partial highlights.
Unique Full Head Highlights Styles
Now that you know how to do full highlights let's see how to rock this popular hairstyle. Scroll down to see how to pull it off effortlessly.
How many times have you wanted to do something about your hair but didn't know what exactly? That happens to all of us from time to time.
Getting full blonde highlights is a great way to break the monotony and introduce freshness and sunshine into your hairstyle.
2. Full Honey Blonde Highlights
If you're not into super blonde looks, you can opt for a honey hue or light brown, a shade or few lighter than your natural hair. Girls with long hair can create long locks at the bottom for a bouncy look.
Curly dark brown hair is unbelievably sexy, but girls often think they can't do much to switch things up a little bit.
Curls are difficult to tame, but you don't have to do that in the first place. Full highlights in light brown will accentuate your locks and curls for a sensual look.
3. Purple Highlights
Are you a type of girl who enjoys trying out edgy hairstyles? Here's an idea; instead of "standard" highlight colors, you can choose lavender purple hair color.
Full foil highlights are such a breath of fresh air, and it's needless to mention they're romantic and give you a soft look as well.
4. Two Shades Lighter
A common misconception is that full head highlights should always be dramatic and very noticeable. It's not worth it unless you make a drastic change with your hair. Incorrect!
You can get subtle highlights that are only a shade or two lighter than your natural hair which is perfect for ladies who want to change a thing or two with their hair but still want to keep it on the darker side.
5. Icy Blonde Highlights
Channel your inner Daenerys Targaryen with icy blonde hair. This full hair blonde highlight style adds more color to your face, frames your facial lines, and adds a dash of elegance to your look.
These highlights are suitable for both formal and casual occasions, they work with different outfits, and it's easy to pull them off.
6. Lob with Highlights
Highlights are usually associated with long hair, but there's no reason you can't rock this hairstyle if you have shorter hair.
Bring more attention to your long asymmetrical bob haircut and give it more volume with fuller highlights.
For girls who don't like blonde shades, copper is a nice choice. This particular shade is elegant, chic, has a romantic vibe.
Differences between Balayage and Highlights
We finally have warmer weather, and it's a perfect opportunity to rock sandy full-highlighted hairstyle. Use a curler to get nice, big locks that will make your hair bouncy and sexy.
Add a girly and romantic vibe to your hairstyle through full head highlights with a pink overlay. You have freedom here to choose any shade of pink you like from softer hues to electric-looking striking colors.
Highlights in red are always in, on the full head type isn't the exception. These full-length highlights are chic, romantic, and it's entirely possible to find an ideal shade of red for every skin tone and natural hair color.
FAQs on Full Highlights Hairstyles
Can I do fuller highlights without using foils?
Yes, it's possible to do full-length highlights without using foils, but the best way to make it happen is to allow the hairdresser to do it.

Some hairdressers use highlighting strips and other innovative methods that eliminate the nuisance that comes with foils.
How often can I wash hair with highlights?
Once we get highlights, the goal is to keep them looking perfect as long as it's possible. That's why you need to care for your hair properly. To keep highlights looking freshly done and shiny, avoid washing your hair with hot water.

Use cool or lukewarm water instead. Make sure you deep condition your hair and avoid washing your hair every day, but two to three times a week.
Balayage and highlights; which one is healthier for your hair?
Balayage is usually considered a synonym for highlights, but that's not quite correct. You see, balayage is a technique where the dye is swept or painted into sections of your hair in a freehand manner.

Hair color is usually applied from the mid shafts down to the ends of a person's hair. On the other hand, highlights usually follow a more structured pattern.

Balayage is done faster and doesn't require frequent visits to the salon because it's not applied to roots. At the same time, balayage allows your hair to breathe more and doesn't require too much processing.
Full head highlights are a great choice for girls and women who want to give their hair more shine and structure. Take 11 suggestions from this post as a source of inspiration to go ahead and do the same. Keep in mind that proper maintenance is vital.