If you've ever looked at hair highlights, you've most likely gone down the rabbit hole researching the various options. Unfortunately, deciding which highlighting is perfect for your hair can be challenging.
Fortunately, we've got 18 gorgeous types of hair highlights for you. So whether you want subtle, drastic, or natural color transformations, we've got them for you.
What Are Hair Highlights?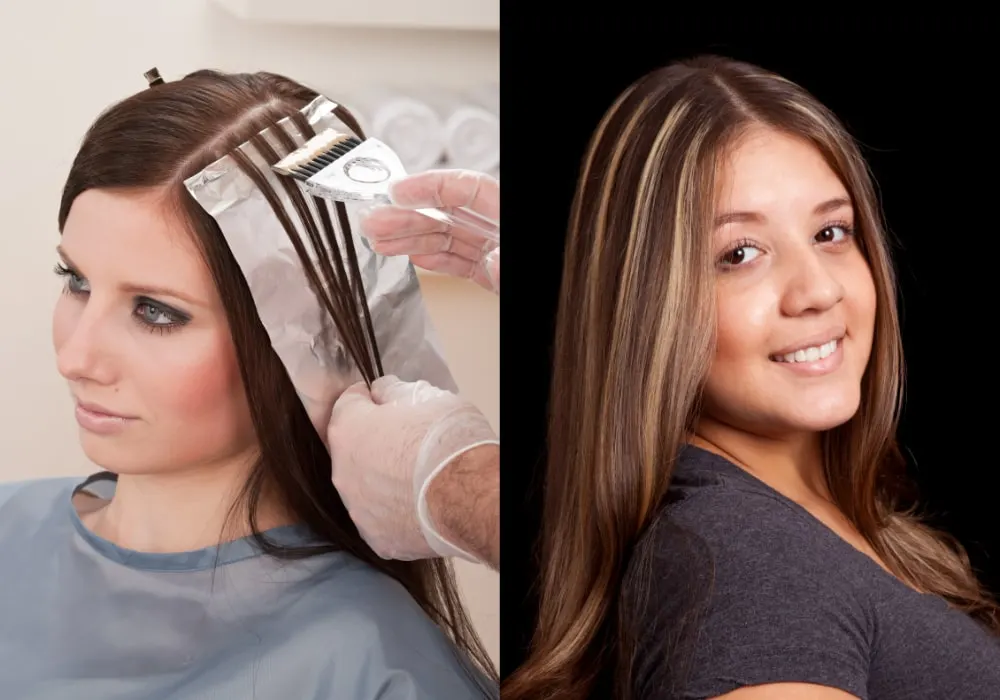 Hair highlights refer to adding coloring or bleach to hair strands. Typically, there are multiple shades and styles to compliment and change a person's hairstyle.
Highlights are pieces of your hair that are lighter than your base color. You achieve highlights by adding lightener, toner, or color directly to your hair.
There are several types of hair highlights, and there is a wide range of colors to choose from.
Why Use Hair Highlights?
Create a contrast between your natural hair color and highlights, adding dimension and depth to the hair.
Brighten up your hair color or make your hair look fuller.
Freshen up your hairstyle without committing to a full color change.
Experiment with trendy shades and colors.
Add some glamor to your boring short haircut.
Full Highlights vs. Partial Highlights: What's the Difference?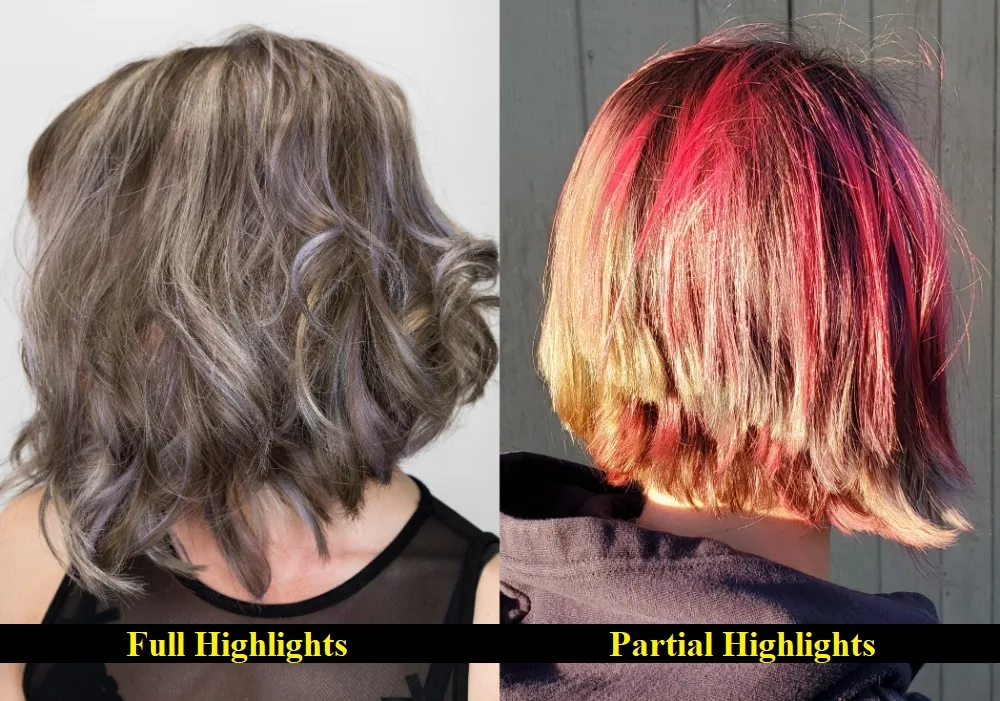 Full highlights cover sections of your entire head with highlighted pieces. With full highlights, you can expect consistency, especially if you're someone who wears their hair in a ponytail.
Partial highlights differ from full highlights in that they only include the front and top back of your head. As a result, the underneath of your hair remains natural, providing depth for people with finer hair.
You can read the differences between partial and full highlights here.
Classic Types of Hair Highlights
You keep your natural hair color for classic highlights and add blonde streaks to it. They are the most common hair highlighting options used by hair stylists daily.
The following are the classic hair highlights that never go out of style.
Traditional Highlights
Traditional highlights are the most popular highlights to add to your hair. You'll lighten strands from the root to the end to achieve these hair highlights.
Your natural hair color creates depth and dimension as the base of your hair remains the same.
Foil Highlights
Foil highlights are different from traditional highlights and balayage. This technique takes using aluminum foil to a whole new level.
Foil highlights stack the aluminum foil to separate the strands into highlighted sections.
This color melting of harsh lines contrasts your darker roots and the lighter shades you add.
Dimensional Highlights
Dimensional highlights offer a contrast for people with dark brown hair and light highlights. You're adding dimension with a hair coloring technique that creates the illusion of thicker hair. Natural waves or using an iron, this look is great with curls.
You can get dimensional highlights with partial highlights, full highlights, babylights, and peekaboo highlights.
Face-Framing Highlights
As you can tell from the name, face-framing highlights focus on lightening the hair that frames your face. It creates a sun-kissed look because it lightens the same parts of your hair that the sun naturally lightens.
It's a low-maintenance type of hair highlighting that looks natural after growing out, so you'll need fewer salon visits over time.
If you want a sun-kissed hairstyle with blonde highlights, then babylights are the perfect type of hair highlights for you.
The highlighting technique is the same as traditional highlights. However, it's more subtle and is a low-maintenance look.
Whether your hair is light or dark, the balayage technique allows you to create any shadow tone you'd like. Caramel highlights are most common with a balayage.
With the balayage method, you'll need fewer salon visits than traditional highlights.
Subtle Types of Hair Highlights
Some of the most beautiful hair highlights don't need to be drastic to look amazing. Sometimes a subtle change to your natural hair is all you need to get the right look.
The following are subtle hair highlights that will be perfect for anyone's hairstyle.
Ombré Highlights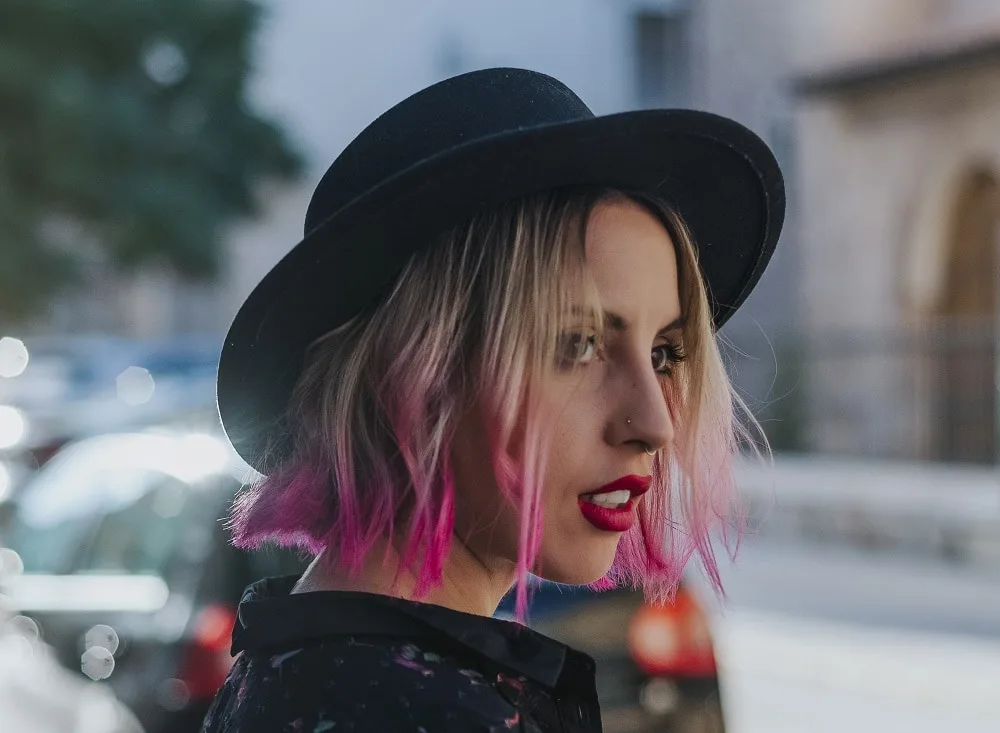 A classic ombré includes your natural color at the top, and then it graduates to a shadow tone at the bottom.
The difference between an ombré and a balayage is the highlighting process. This highlighting technique is a horizontal process, while a balayage technique is a vertical one.
Use funky color combinations to show off your creative side.
Sombré Lights
If you're looking for a subtle type of hair highlight, then look no further. The word sombré comes from subtle and ombré.
Sombré is a softer style that results in a more delicate look. The ends and the roots are almost the same color while adding hints of color without diverting too far from your natural hair color.
Smoked-Out Roots
Smoked-out roots are a subtle type of hair highlight because your roots remain darker than the rest of your hair.
This choice is an excellent option for curly hair highlights. These partial brown hair highlights add dimension and allow your hair to grow out easily.
Whether you have dark or light brown hair, it's always risky to lighten your roots. However, this technique allows you to grow out your hair.
Ribbon Highlights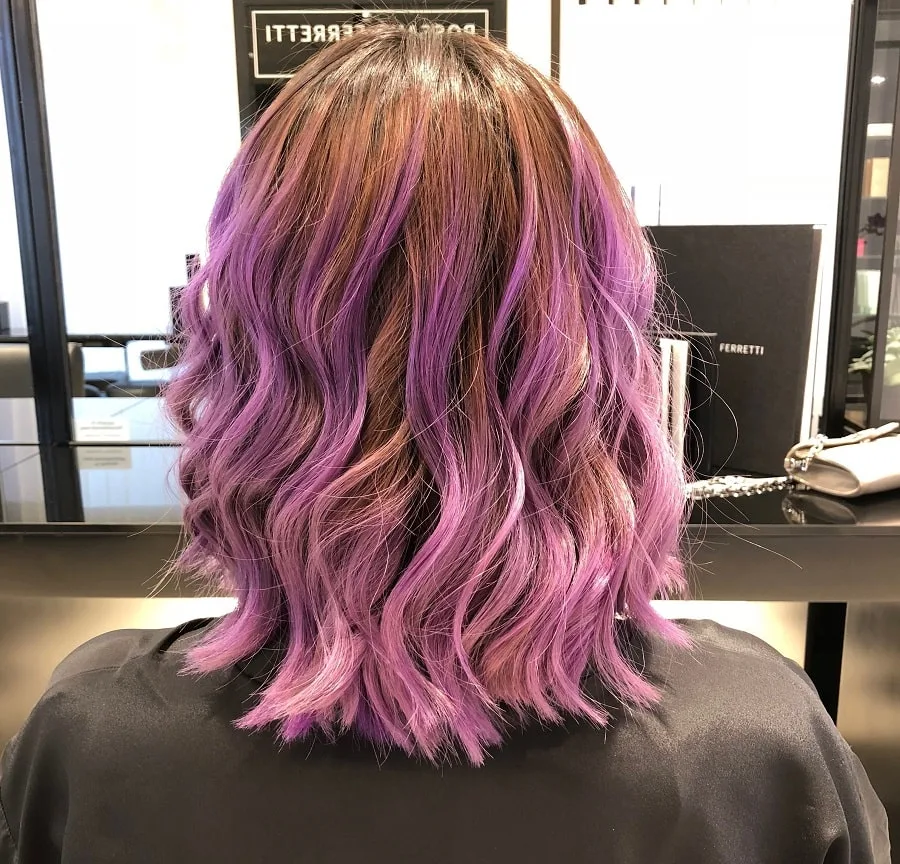 You begin with your natural color, then weave vibrant colors or natural blonde highlights throughout your whole head. Ribbon highlights come from lightening the strands like ribbons.
It's the perfect hairstyle for natural waves because ribbon highlights contrast the light and dark pieces.
Peekaboo Highlights
Peekaboo highlights get the name from the popular childhood game. This is because the highlights are on the inside of your hair. So no matter the color or shade, the hair highlights are never done on the top near your roots.
Whether you have dark or light hair, you can add a bright color for your peekaboo highlights.
If this appeals to you, you can do peekaboo highlights to your specifications. So whether you want subtle color changes or fun, bright colors, you can experiment with colors that blend seamlessly into your hair.
Trendy Types of Hair Highlights
These trendy hair highlights take your hair color journey to the next level. Whether you have gray hair or fine hair, you can achieve the best highlighted hairstyles with a stylish hair highlighting technique and hair dyes.
Here are the best fashionable hair highlights that will keep you stylish for years.
Foilayage
Foilayage takes place by wrapping dark brown hair into aluminum foil. For people with darker shades who want vibrant blonde highlights, it's a better option than the subtlety of a balayage.
This type of hair highlighting compares foiled highlights with balayage.
For those who want to achieve the balayage look, it needs to be followed by color melting. First, the darkest turn remains at the root. Then, the further down your hair you go, light toners blend into your hair's middle section.
The lightest tone gets applied to the ends of your hair.
Teasylights
Teasylights differ from other hair highlighting types because the stylist teases your hair in small sections. Backcombing is an unusual balayage method, but it doesn't create knots or cause breakage when done correctly.
Teasing just the right amount gives you softer and more vibrant foil highlights. Also, it's best if an experienced stylist does teasylights to your hair.
Money Piece Highlights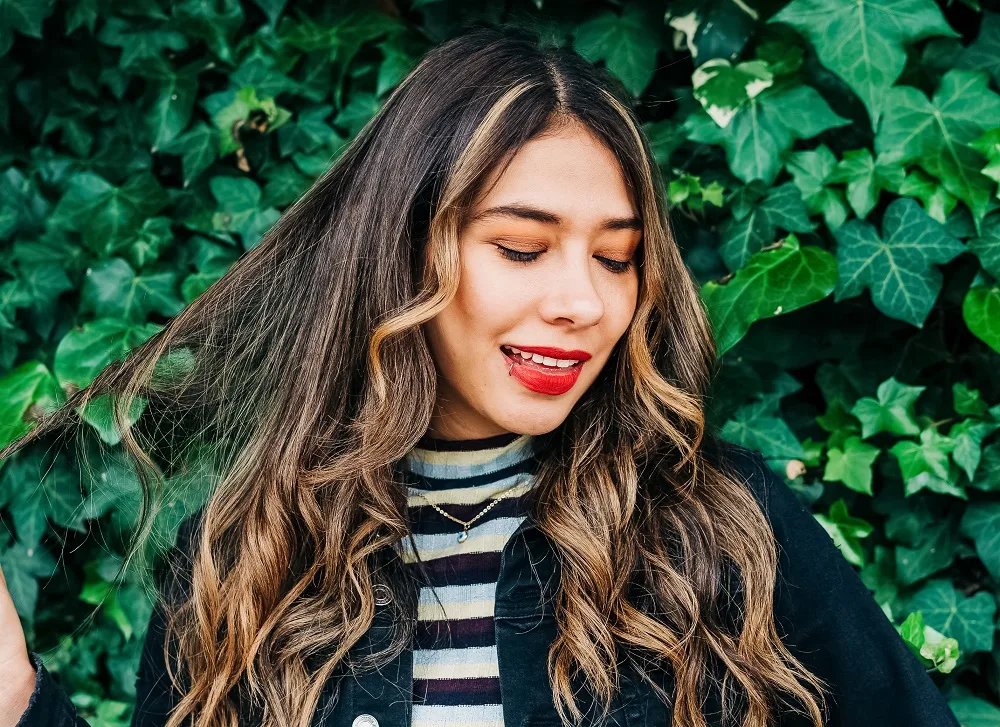 Money piece highlights are types of hair highlights that frame your face, making them ideal brown hair highlights. In addition, the pieces in the front that accentuate your facial features get brightened.
Whether you have natural blonde highlights or want blonde highlights, the shade at the front of your face is lighter than the rest.
Strandlighting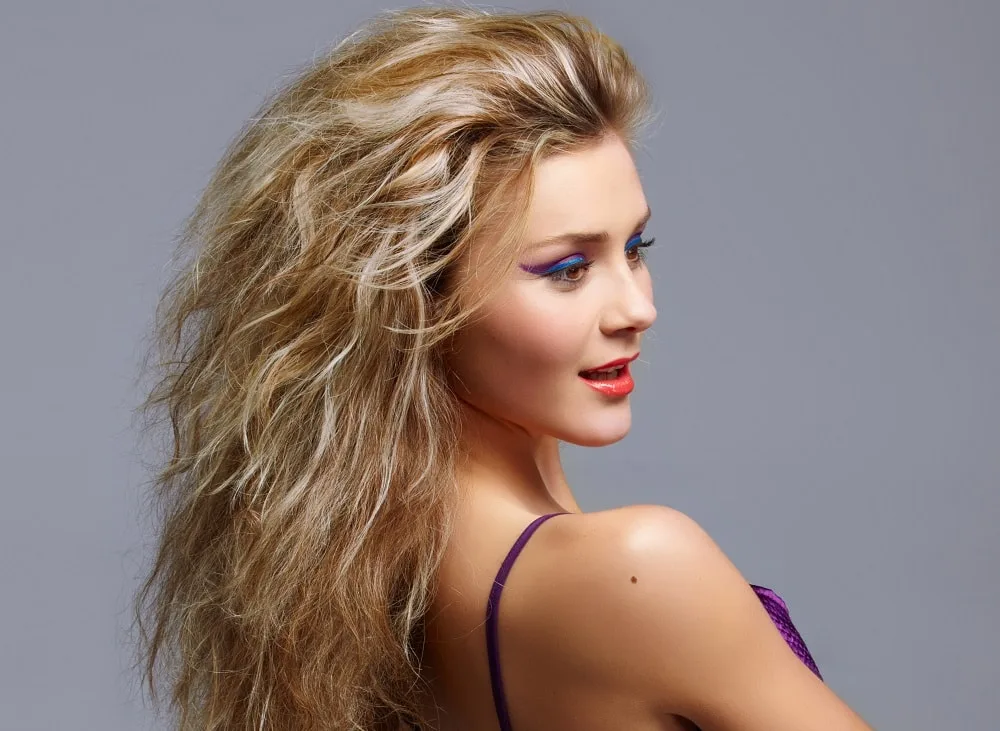 Strandlighting is similar to traditional highlights. However, the technique differs because you place the foils on small hair pieces.
These natural blonde highlights can be the subtle yet trendy change you've been looking for.
Strobing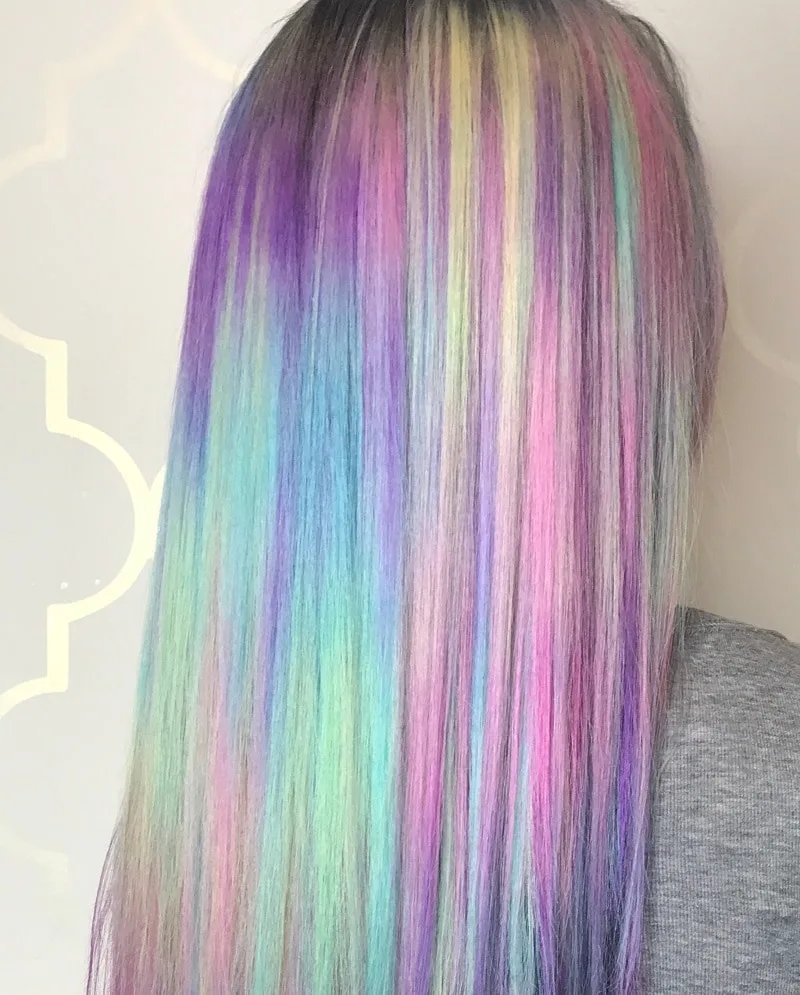 Strobing is a trendy type of hair highlighting tailored to each client. With most traditional highlighting, customers want uniform highlights placed throughout their hair.
For those who want artistic freedom with their hair, use the balayage method or foil highlights to apply the color. Deciding between these two techniques allows you to choose a brighter or softer effect.
Flamboyage Highlights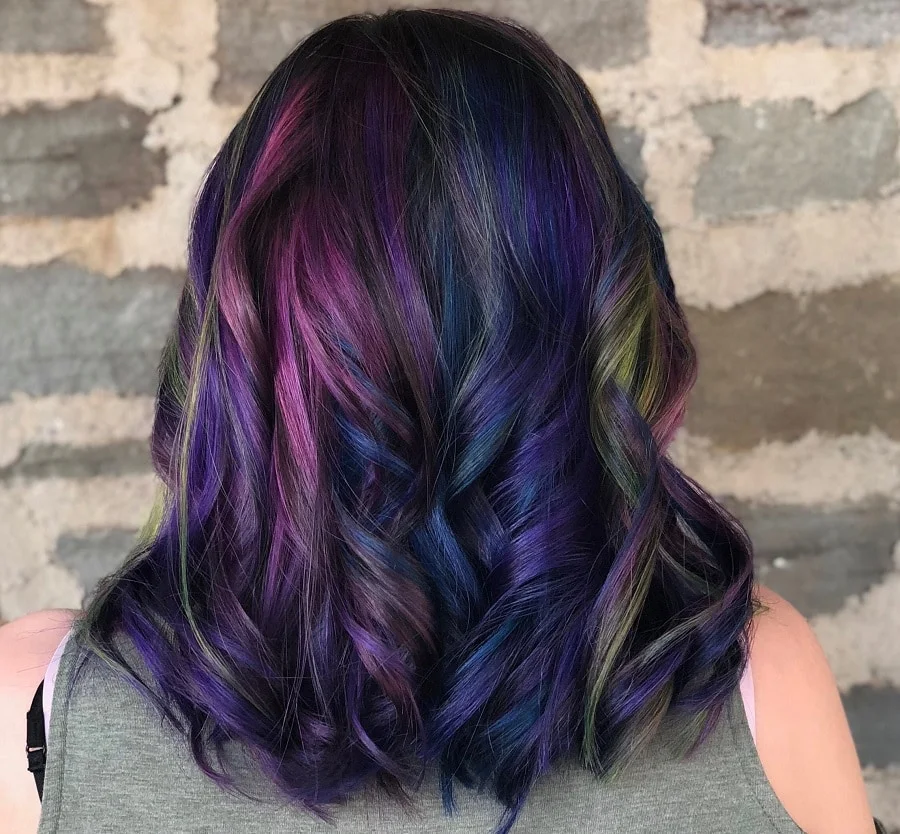 Flamboyage highlights combine ombre with balayage. You can create highlights with vibrant colors with this trendy type of hair highlighting.
Flamboyage differs from balayage highlights in that it doesn't involve free-hand painting. Instead, hair stylists use self-stick adhesive strips (in the same way as they would use foil) and meticulously pick the strands they want to highlight.
Also, the strip is clear, so you can see the process of your highlights developing to make sure it's the right color you want.
Frosted and Chunky Highlights
Frosted tips will throw you straight back into the 90s. It's a type of hair highlighting that adds dimension to your hair.
To get frosted tips on short hair, you dip the ends of your hair into a lightener. But for long hair, a cap is used. As a result, frosted highlights appear scattered throughout the hair.
Chunky highlights can be a seamless blend of any hair color you choose. But compared to your natural hair color, your chunky highlights tend to be big and bold.
Anyone with black hair could add a bold primary or secondary color to start their hair color journey.
Tips & Tricks for Achieving the Best Highlighting Results
The highlighting process can be tedious and overwhelming, especially if you're doing it alone. Here are a few tangible tips and tricks to help you through the highlighting process.
Choose a highlight that flatters your skin tone: Your hair highlights and skin undertones need to be in sync. As a general rule, if you have warmer skin tones, then you should have cooler highlighters. Cooler skin tones should go for warmer highlights.
Less is more: It's the unspoken rule that keeping hair highlights within four shades of your natural hair color doesn't make the color look too harsh.
Go to the salon with dirty hair: Whether you're putting color on blonde hair or using foils on darker hair, it's always better to use your hair's natural oils as an extra layer of protection.
Wait after coloring to wash your hair: You need to give yourself highlights time to settle in your hair before washing. The standard wait time is between 48 and 72 hours. Plan your trip to the salon accordingly.
Wash your hair in cold water: Cold water prevents your new hair color from fading. Also, cold water seals your hair cuticles and helps your hair shine.
Limit the heat to your hair: Limiting the amount of heat you expose your hair to will prevent the color from getting stripped. If possible, allow your hair to dry naturally. Doing this will enable you to maintain your new color and avoid causing split ends.
Final Thoughts
Your hair can make you look cute, chic, sassy, or sophisticated. However, changing your hairstyle can be daunting, especially if you're considering a drastic change. If you want subtle or natural dimensions on your hair, try getting hair highlights.
Try out any of these gorgeous types of hair highlighting techniques to give yourself a look that's sure to make you feel confident and beautiful.