Ponytails are fantastic hairstyles for little black girls because they will help her to keep her hair out of the way whilst she is playing. The hairstyles look neat and help to prevent her hair from becoming tangled up or knotted. Most ponytail hairstyles only take a few minutes to create.
Creative Ponytail Hairstyles for Black Girls
The equipment that you need for creating Ponytail hairstyles for African American little girls is just a few hair elastics. They should be strong elastics so that they can hold the ponytail hairstyle in place.
Although you can use plain colored hair elastics, some little girls prefer that you brightly colored ones or accessories with beads and bows.
1. High Ponytail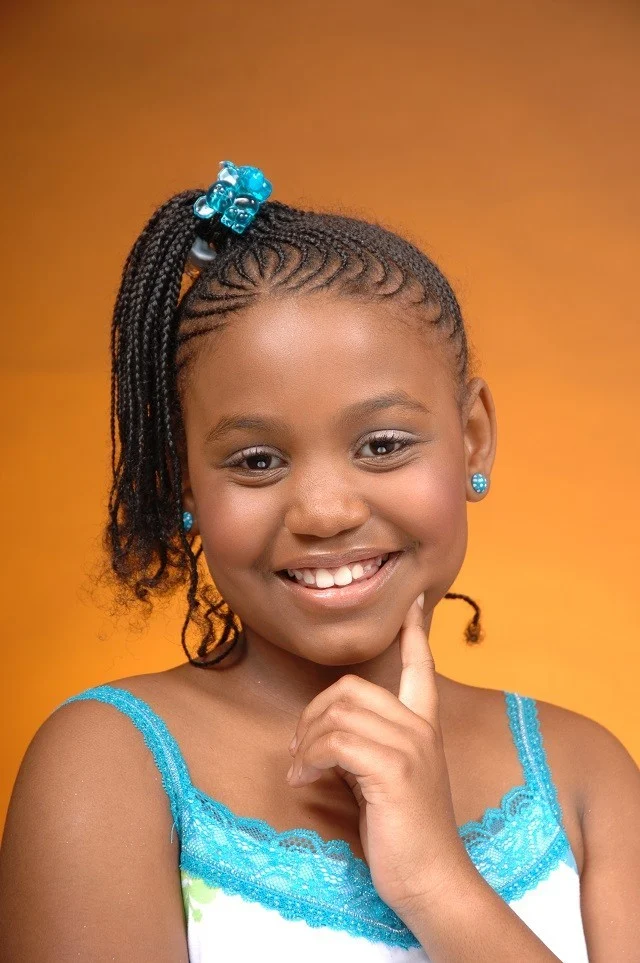 A high ponytail is quite a mature hairstyle to choose for an African American little girl. Grab her braids and pull them up to the top of her head. Secure tightly with the hair elastic and then allow the ponytail hairstyle to fall to whichever side is the most natural.
Short Hairstyles for Black Girls
2. Ponytail in a Bun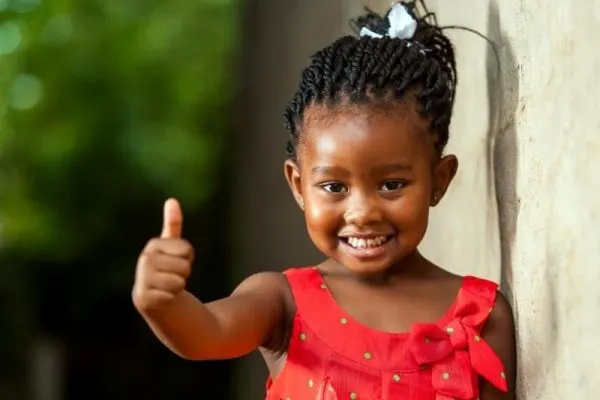 To give black little girls a neat ponytail hairstyle you should roll her ponytail up into a neat bun style. Fasten her hair into a normal ponytail and then roll it back onto itself and secure it again. This should create a neat chignon updo ponytail hairstyle for her.
3. Ponytail with Neat Cornrows
Use neat Cornrows to enhance little black girl's ponytails. The rows should all track backwards to the area where the ponytail emerges from. This can help to create a starburst effect in her ponytail hairstyle.
Long Hairstyles for Black Girls
4. Chunky Braided Ponytail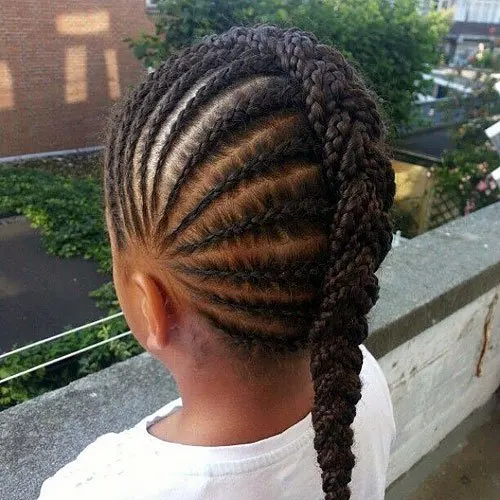 This chunky braided hairstyle looks fantastic as a hairstyle for African American little girls. The chunky braid should start high up on her head and then track her scalp downwards. It should leave her scalp close to the nape of her neck and then hang freely.
5. Ponytail with Sweeping Fringe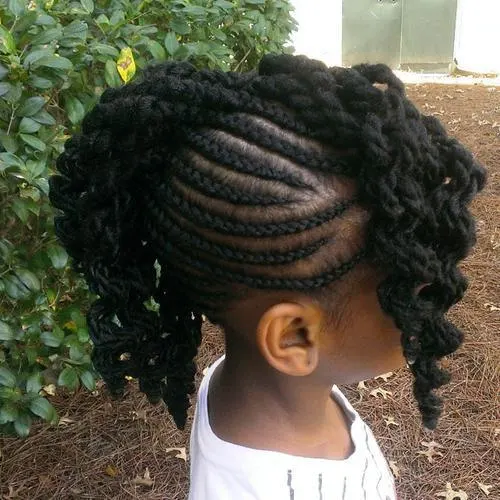 Adding a sweeping fringe to any ponytail hairstyle for African American little girls can help to create a real rockstar look. Pull some of her cornrows forward to create this cool fringe style.
6. Two Ponytails for Little Black Girl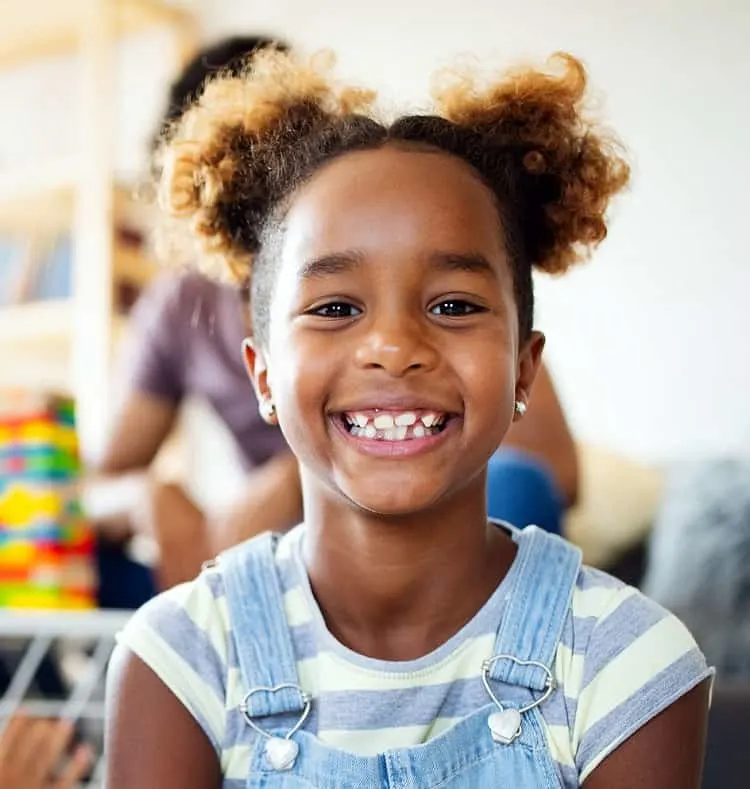 Every little girl has a spunky, fun side. Show it off by giving her two high ponytails. It's easy since you'll only have to smooth the hair back halfway, then leave the rest to poof out.
7. Short Ponytail for Little Black Girl
Encourage your little girl to show off and be proud of her natural hair texture by letting it go natural on a short ponytail. Secure it with a colorful hair tie or clips.
8. Side Ponytail for Little Black Girl
Work in some hair gel before combing your little girl's hair to one side and securing it with a hair tie. She'll love how her long hair looks draped over her shoulder.
9. Weave Ponytail for Little Black Girl
If your little girl's hair isn't quite as long as she'd like, try a weave to get a graceful ponytail hairstyle. Decorated with gold beads and curls, she'll feel like a princess!
10. Cornrow Half Ponytail
For the little girl whose hair is filled with cornrows, gather the top half into a high ponytail. Stack the ends with beads and secure the ponytail with with a beaded hair tie.
11. Sectioned Ponytail for Little Black Girl
This high ponytail for little girls is super low maintenance and perfect for picture day. Secure the hair in a ponytail before creating several sections down to the ends using black or colorful hair ties.
12. Straight Ponytail with Cornrows
Two curved cornrows decorate the scalp leading up into a high ponytail with straightened locks. Instead of a hair tie, wrap the ponytail's base in a section of hair.
13. Sleek Ponytail for Little Black Girl
Every little girl covets Ariana Grande's famous high ponytail, so give her one of her own! After securing it at the crown, fill the hair with curls. A gold hair tie will stand out beautifully against black hair.
14. Curly Ponytail
For special occasions, decorate a high kinky-curly ponytail with a jeweled headband. Smoothing down the hair will make sure this style is perfect for any formal event.
15. Cornrow Ponytail with Waves
Several tiny cornrows add major detail to what could normally be a traditional ponytail hairstyle. Wrapping the ponytail base in a section of hair and adding waves with a curling iron are the finishing touches.
16. Chunky Ponytail for Little Black Girl
Even little girls can have regal hairstyles. This high ponytail looks thicker with sections secured with colorful hair ties or string. A beautiful large flower tops it off.
17. Braided Ponytail with Curly Ends
The next time your little girl gets a braided hairstyle, leave the ends curly. When hair is gathered into a ponytail, use a pretty bow or ribbon to accent it.
18. Low Ponytail for Little Black Girls
Small criss-crossed sections of hair decorate the sides of a low ponytail updo. The end has one large curl that makes the hair look longer.
19. Ponytail with Baby Hairs
While ponytails often make little girls look older, you can embrace the part of her that's still your "baby" by brushing her baby hairs around the face. They'll look adorable with a curly ponytail.
20. Ponytail with Face Framing
Before tying up the ponytail, pull free two sections of hair right at the hairline. Curl them for sweet touches to a wavy ponytail and for beautiful face-framing.
21. Ponytail with Beads for Little Black Girl
If it's all about the accessories for your little girl, she'll love how different beads are placed on the face-framing tendrils of this curly ponytail. There's even a bit of color that peeks through on top of the head.
22. Twisted Ponytail with Cornrows
Thick twists fill this little girl's ponytail while different sized cornrows criss-cross on top of the head. Use gold beads to place throughout the hairstyle for sparkle.
High Ponytail with Micro-braids
Curly Ponytail with Cornrows
Jumbo Twist Ponytails
Braided Ponytails
Three Ponytails for Little Black Girl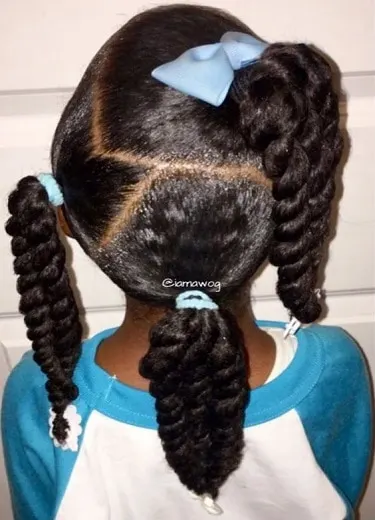 Twisted Ponytails with Blonde Color
Bun Mohawk with Ponytail
Microbraids Ponytail with Curls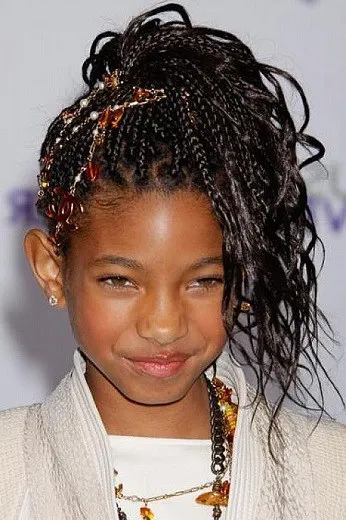 Ponytail Braids with Hair Clips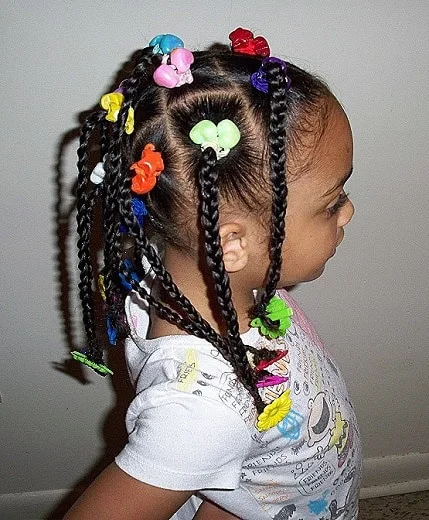 Cornrow Braids with Ponytail

Micro-twists on Wavy Ponytail
Three Ponytails with Stacked Beads
Curved Cornrow Ponytail

Backwards Braided Ponytail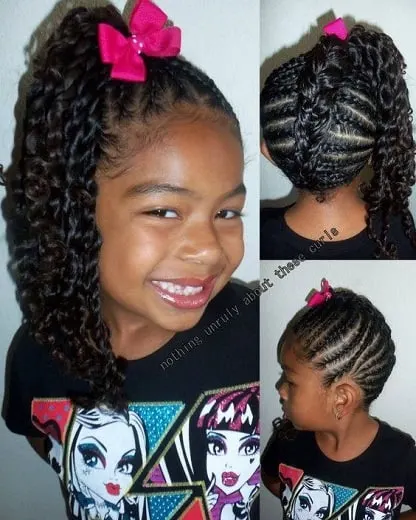 Twist Ponytail with Beads
Four Twisted Ponytails
Half Updo Ponytail with Waves

Jumbo Twist Ponytails
Side Braid Ponytail

Two Section Ponytails
Braid with Curly Ponytail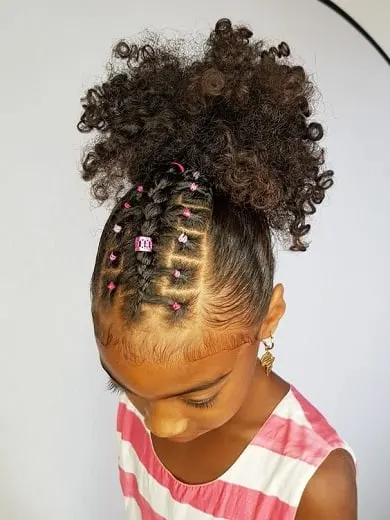 Side Braid Half Updo Ponytail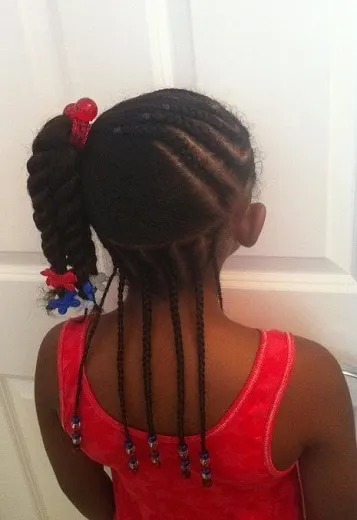 Long Twisted Ponytail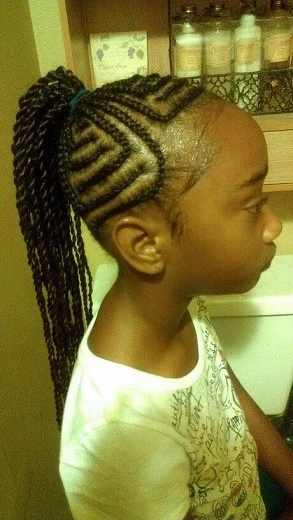 Braided Crown Ponytail

Twist Ponytail with Bun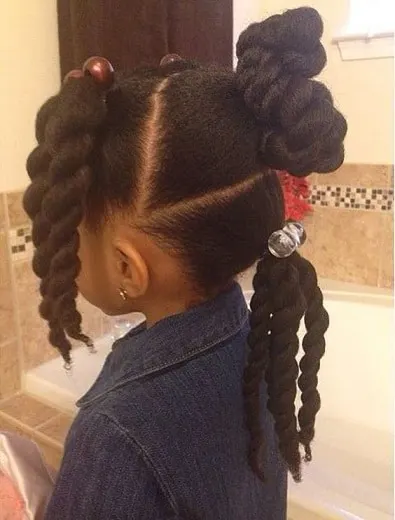 Two Ponytails with Cornrows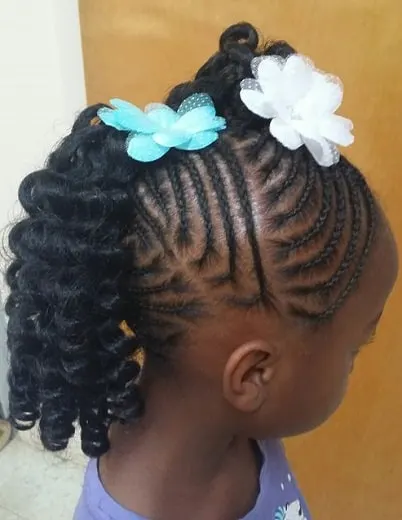 Ponytail Mohawk

Sleek Side Ponytail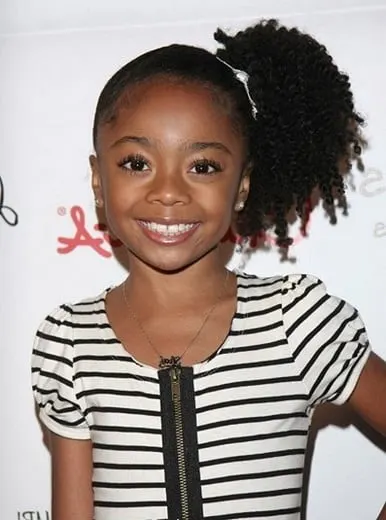 This is just a short selection of the best ponytail hairstyles for African American little girls. We hope that you will take inspiration from this collection and then use our ideas to create lots of little black girl hairstyles of your own. If ponytail hairstyle is not your thing, we have plenty of other hairstyles for black girls to check out.