If you're like most parents when Picture Day comes around, you want your child to look their best and have the cutest hairstyle. But contrary to popular belief, you don't need to wake up extra early just so your kid can have the perfect hairstyle.
Many hairstyles take only minutes, even less, to pull together! From bright bows for short curly hair to handsome side combed styles, there's no need to stress about finding the cutest look.
Fun, Easy Picture Day Hairstyles
Try any one of the below hairstyles for your kiddo's picture day and you're guaranteed to have adorable photos!
1. Space Buns
Every little girl looks adorable in space buns, so there's no reason not to use them for a cute picture day hairstyle. Simply comb hair all the way through, part it in the middle, then make two ponytails at the top and to the sides of the head.
2. Short, Side Swept
Little boys with short hair can wear their hair styled in a number of ways, but we think this side-combed look is super adorable. Use a little mousse to keep hair neatly styled up until the final photo hour!
3. Black Hair with Bow
For black curly hair, touch up that texture first by working in curl cream with your fingers. Part hair off center or just take a small section of hair and clip it back with a brightly colored bow.
4. Bob with Bangs
If your little girl is rocking a short or medium bob with bangs, simply neatly comb hair and give fringe a little trim before picture day so you're sure to see your child's beautiful eyes in her photos.
5. Braided Pigtails
Another winning picture day hairstyle for little girls is braided pigtails. They're peppier than low braids and even look cute on little girls with glasses. Just part hair in the middle and use a little hairspray to nix flyaways.
6. High Bun
Little girls look very sophisticated in high buns, but a looser version is sweet and innocent, perfect for photos. After securing the bun high up, brush tendrils and baby hairs smooth along the face.
7. Blonde Bob
A bob, whether blunt or A-line, is another sophisticated hairstyle for young girls. We love how the cut seen here highlights beautiful blonde tresses. Hair needs only to be combed and maybe straightened to be ready for pictures.
8. Afro Ponytails
For Black girls with long afro hair, make two ponytails at the top of the head, then another two down low to turn low ponytails into a style with a little more structure. You can also tease the hair up top to give it some volume before making the ponytails.
9. Blonde Curls
You'll want to remember when your little girl had long blonde curls this perfect, so keep them down for picture day. She can wear them neatly over one shoulder for easy style.
10. Long Straight Hair
Young girls with long straight hair have it easy – there's no fussing in this hairstyle that features only a small section of the hair pinned back to the side of the head.
11. Sectioned Pigtails
For Black little girls with really thick hair, make picture day hairstyling a breeze by combing in a middle part, making two high pigtails, and then sectioning them off with colorful hair ties.
12. Ponytail with Headband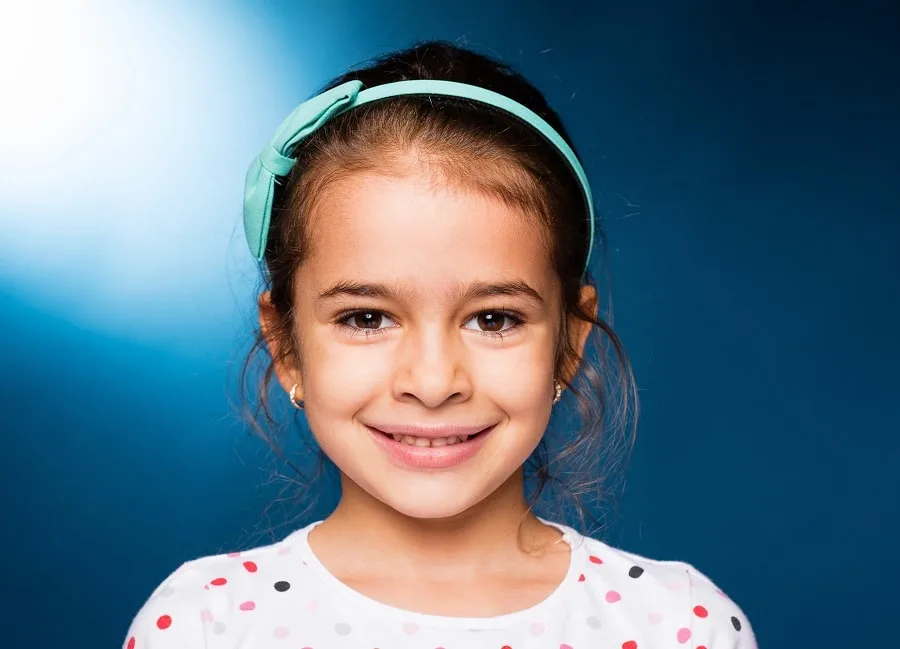 Does your little one love wearing hair accessories? Let her pick out a colorful headband to wear in her photos. This one livens up a simple low ponytail with loose tendrils over the ears.
13. Straight Pigtails
Sure, you could leave straight hair down and combed nicely, but pigtails are an easy hairstyle suitable enough for picture day. Secure them at either side of the head to be sure they're seen in photos.
14. Half Pigtails
For perkier ponytails, you can tie them off halfway to get a bun shape. It's a great hairstyle option for little girls with thin hair, since the shape of the half updo makes hair look thicker.
15. Ponytail with Twists
Twist braids are a common hairstyle for Black women and girls, so show your little one the ropes early and treat her to the special look for picture day. They can be gathered in a high ponytail and secured with a bow in a contrasting color.
16. Medium Hair with Bangs
Some little girls with shoulder-length hair only like to wear their hair down and don't want a fancy hairstyle. In that case, give hair a quick comb-through, making sure bangs are touched up too.
17. Wavy Half Updo
For the parents who don't mind taking some extra time to style their girl's hair in the morning, make this voluminous half updo for little girls. It features a half bun and gorgeous long spiral waves. You can even crimp the hair or throw in a few braids.
18. Crown Braid
Elegant hairstyles aren't just for older women. Little girls look absolutely adorable in crown braids that show off their long thick hair. To thicken it up, loosely pull it apart before pictures are taken.
19. Long and Loose
As we've mentioned, some kids prefer to wear their hair natural. If your kiddo is like that, you'll both love this low maintenance picture day look. We do recommend running a comb through first, however.
20. Wavy Hair with Bow
These long waves will be something you'll want to remember, just in case your child wants to cut their hair later on. Leave hair down, and consider using a pretty bow to pin back one side.
21. Side Ponytail
The side ponytail for little girls is super low maintenance. Gather medium to long hair into a ponytail at the side of the head and secure with a colorful scrunchie or bow. Brush down baby bangs to soften the style.
22. Thin Braids
Black little girls with some length to their hair will love how it looks in braids. Make lots of thin ones all around the head, using bright hair clips or ties to add a pop of color to their ends.
23. Blunt Bangs
Asian children typically have long straight hair that is pretty thin. You don't need to add any fancy waves for picture day though. Just add a bluntly cut bang and comb hair free of tangles.
24. Messy Updo
There's no reason you can't use a messy updo for your child's school pictures. These style features a messy bun, but you can also make a half ponytail, leaving some pieces loose alongside the face.
25. Messy Bob
Curls can be difficult to keep tamed on a young kid. A short bob will make it easier, and it's a great length for showing off natural curls. For picture day, just finger comb the hair.
26. Red Spiral Curls
Girls with naturally red curly hair will look their best in a sweet low updo, like a low bun with curls to frame it. Give it some texture up top by loosening sections and securing with hairspray.
27. Long Curly Hair
Extra long curly hair is an enviable sight on young girls. Picture day is the right time to show it off, so leave it down and brush through a curl cream to prevent frizz and flyaways.
28. Side Dutch Braids
Another beautiful look when you have extra time in the morning includes these two side Dutch braids that are gathered into a low bun. Older girls who will love the princess feel of braids.
29. Flowered Headband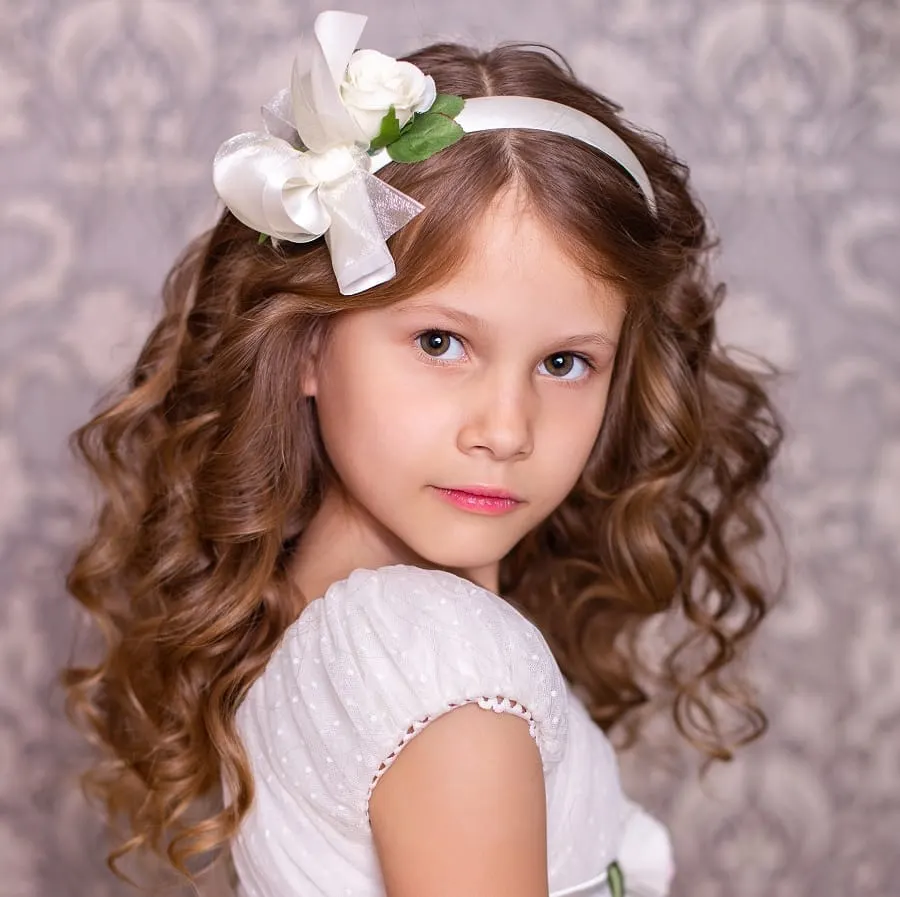 Long waves or spiral curls are beautiful without any extra help, but you can dress them up even more for a picture day hairstyle by adding a flowered headband in a contrasting color, such as white.
30. Crown Braid with Ribbon
Fancy up a crown braid in a unique way no one else will have on picture day by winding a pink ribbon through. Secure the back into an intricate rose-like coil.
Choosing any of the above picture-day hairstyles is guaranteed to make your little one look their cutest. Don't be afraid to let your child put their own touch on their hairstyle.
Little girls usually love ribbons or curls, while a boys haircut can be detailed with shaved in the sides.
Take a look at the styles with your kid and, if needed, practice before picture day to make sure those photos come out perfectly.