Black girls often have to deal with curly and unruly hair. That's why sporting long hairstyles and haircuts is already an act of bravery. Women know that long hair means a lot of hassle, frequent knots, long minutes in front of the mirror in the morning and a lot of hair products. However, all this pales when you see the results.
Almost all women look amazing with long hair. Black girls with fashionable long hairstyles appear especially impressive. It takes a while for women to get used to caring for long locks. However, it gets easier with time. Finding new ways to arrange beautiful long manes is always fun. There are some easy-to-make options as well as complicated and incredible ones. All it takes is some patience and positive thinking.
Long Hairstyles and Haircuts for Black Girls
Dealing with long hair is not an easy task. It is especially true for black girls who know all too well about unruly manes. Women with long and impressive locks always stand out of the crowd. Long hair allows them not to just look amazing, it also helps make a statement when needed. There comes a time when a black girl with long hair thinks she had enough of it and wants to get a short haircut.
If this is the case with you, take a look at this interesting list of long haircuts & hairstyles for black girls we prepared for just this occasion. Once you see how great all of them look, you will definitely change your mind and go to make one.
1. Long Natural Hair
Long natural hair with 4 A curl type is extraordinarily dense and is usually prone to dryness. To keep it always in the best shape possible, you need hair products that hydrate your coils and deeply moisturize it.
2. Long Black Curly Hair
You can get the best long crochet hairstyle for black women with a few packs of hair extensions. When buying, choose your favorite curl shape and get ready to knot the hair as close as possible to your scalp.
Trendy Medium Hairstyles for Black Women
3. Long Blonde Hair for Black Girl
If you are a black woman with a strong desire to become a blonde girl, we highly recommend you to use hair extensions or even a wig. A nest will cover your natural hair, and a long blonde wig can get you the look you wanted without damaging your hair.
4. Hairstyle for Black Woman Over 50
Black women over 50 can embrace their white threads and let them astonishingly blend with the black locks of hair. This way, they will get a highlighted effect that will define any curl. Straighten the hair and create waves only for the tips.
5. Long Black Mohawk
When you want to reproduce this hairstyle, you need to part your hair in four even sections and style a French bun for each part. Make the buns in the center of your head, and this way, you will design a fabulous mohawk for black women.
6. Low curls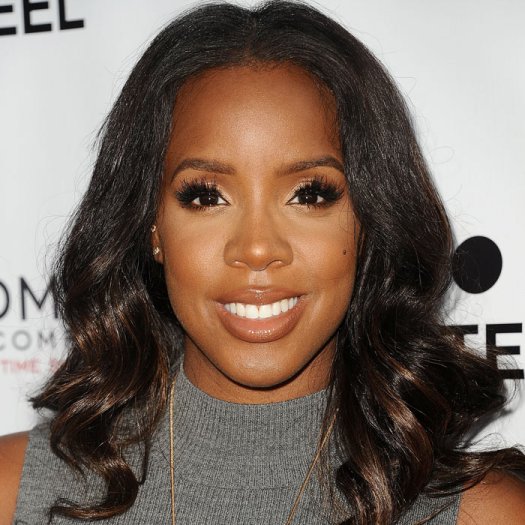 This is a great way to keep your unruly locks neat. You will need to straighten out the top part and make large curls on the bottom. Use your flat iron to do a good straightening out job and your hair will look great all day long.
Short & Natural Hairstyles for Black Women
7. The straighter the better
Curly hair is leaving you frustrated? Straighten it out! There is nothing easier than wielding a flat iron for about 15 – 20 minutes. As a result, you will get straight and neat locks. Don't forget that daily flat iron use is not recommended since it can damage your hair.
Black girls have dark hair and it can get pretty boring. Diversify your long hairstyle by adding some blond highlights. Your image will change right away and your hair will get a new and improved shine. Try different options, such as ombres and sombres.
9. Middle part
The middle part is often hard to achieve when you've got a voluminous curly mane. Straighten out your hair and make a middle part when it is completely straight. You can even straighten your locks out permanently if you like this neat style.
Magical Long Hairstyles for Black Women
10. Cornrows with a ponytail
Don't like long hair getting in your way looking all messy and frizzy? Consider getting cornrows. Black girls look amazing with these braids. In order to save time, you can make them just on top of your head and collect the rest of your hair into a high ponytail.
11. Long Black Wavy Hair
Waves always look regal. They are a much better choice than small curls for some women. If your hair is very curly, you can consider straightening it first. If curls are not too annoying, some flat iron strokes will do the job.
12. Black Long Weave
Love looking at girls with long hair but all you've got is a short or medium-length bob? As your stylist about hair extensions. A weave will look amazing on girls with dark hair. Make it as long as you wish to fully enjoy the experience.
Have a little princess? Try these black little girl hairstyles
13. Long side swept bangs
Black girls often overlook bangs since they require too much maintenance. Long side swept bangs will become a great addition to your hairstyle at any time. If they will annoy you then you can easily make a middle part and forget about them.
14. Lift it up
If your hair is long and heavy, then you probably have troubles with volume. Heavy hair straightens out under its own weight and it is hard to manage. Make large curls to get some volume around your face. You can even create long wavy bangs.
Cornrow braids are always a great choice for black girls. They allow women to have much less hassle with their long and unruly hair than they usually do. Cornrows take a while to make but the result is really worth it.
16. Straight Bangs
Asymmetry and contrasts are always in style. So, why not try waves and straight bangs? Cut your bangs short and straighten them out. You can go even further by making ragged edges. Since wispy fringe is hard to achieve with thick and curly hair, try blunt bangs.
17. Open forehead
If you have an oval or round face type, you can go for opening up your forehead. Your face will look a little longer and your features will be outlined. Lift up the hair on top with a blow dryer to get a high hair effect.
18. Side swept locks
If your hair is not too thick and you want to make a voluminous impression, side sweep it. Curl your locks starting from the chin level and then sweep them over one shoulder. The effect will be visible immediately. Use some pins and hair gel to keep this long hairstyle intact.
19. Get glittery
Long beautiful hair will look even more impressive with some glitter. Many black girls use glitter for special occasions. However, if you use it sparingly, you can apply glitter every day. Slight shining will do wonders for your image.
20. Straight and wispy
If your hair is not too thick, you can go for the straight and wispy image. Cut your hair just below your shoulders and create wispy ends. The bangs should be straightened and thinned out. This hairstyle looks amazing but is very hard for black girls to maintain.
21. Shoulder-length locks
If you like long hair but taking care of it is very troublesome, reduce your hassle by making it shoulder-length. Such length is a compromise between short hairstyles and long haircuts. You still get all the benefits of long hairstyle while reducing hair care.
22. Long Black Hairstyle with Bangs
If you are not afraid of challenges, make a blunt fringe. You will definitely love it. Long and wavy or curly hairstyles look amazing with short blunt bangs. You will need to straighten it out daily but fortunately it only takes a few minutes.
23. Eye covering side part
This sexy long hairstyle is great for a special occasion. You will need to straighten out your locks and make a side part as low as possible. The opposite side will be rushed over your eyes to create an alluring look.
24. Long Layered Black Haircut
Black girls might overlook layered styles since they tend to create volume. However, if your hair is not too thick and you are ready to straighten it out, a layered hairstyle is for you. As a result, you will get a great and neat everyday look.
25. High bangs
If you decided to straighten out your hair, you can get the popular high bangs with the least effort. Make a side part and lift your bangs up with the blow dryer. Use a lot of gel to keep it intact. The rest of the hair can be turned into soft waves.
26. Black Long Straight Hairstyle
Black girls with thick and unruly locks have a hard time getting a windblown look. In order to do it right, you will need some professional help. The hair will not just need to straighten out, it will need some thinning out as well.
27. Blunt and neat
Blunt and neat mane can be a way out for black girls whose natural hair is not too curly. Blunt bangs look very impressive but they require special hair car. If you like this hairstyle, you will need to spend some time learning how to make it.
28. Face-framing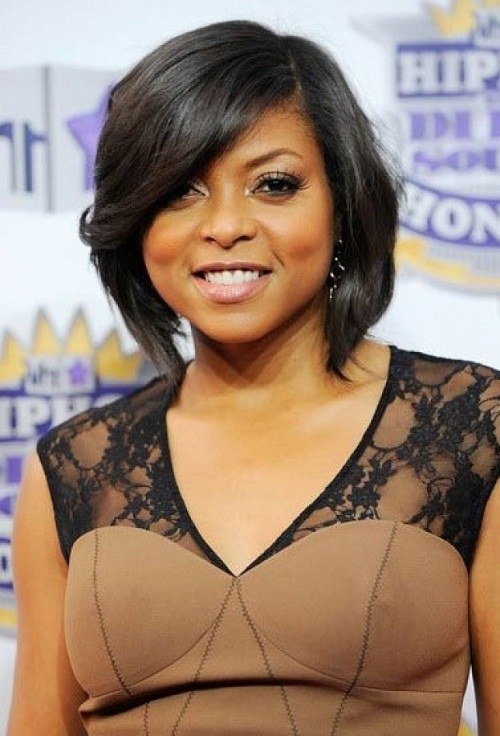 If you are ready to go for a layered haircut, you can still leave some waves to frame your face. This is a great idea for women with long faces who need to add them some roundness. Cut the frontal strands to reach just below your chin and style them to surround it.
Braids are always a great way out when you don't know how to make a neat long hairstyle. Learn how to make different braids. Braiding is a real art and requires some experience. Fishtail braids are not that hard to make but they look really impressive.
30. Go all out
There is no reason to always worry about styling your hair when it is already long and wavy. You can just sweep it over one shoulder and go. Natural-looking locks are always very popular. Flaunt your amazing mane at least once in a while!
31. Long Black Wedding Hairstyle
If you got tired of braids and ponytails, you must opt for elegant Updos with stylish hair accessories for a sassy look. It may take plenty of time in hair straightening and styling hair into a modish updo, but the end results will overcome the entire struggle.
32. Long Braids for Black Girls
Cornrows are one the most unique and ritzy hairstyles that black girls with long hair can wear for mesmerizing features just like Ciara. Divide hair into several sections and turn these sections into intricate braids that will add glamour to your overall look when touched up flawlessly.
33. Boho Box Braid
Does not it look pretty enchanting! Wavy long hair when combined with few box braid, they make a beautiful combination that no one can take their eyes off you.
34. Rihanna's Long Red Hair
Sometimes all you need is exciting color hair dye. Here Rihanna is assuredly giving some hair inspiration to black girls to try something out of the box in a bolder way. So, take a risk, wear a red long hair weave or dye your natural hair (If Long) to see how astonishingly it gives you a gorgeous mien.
35. Side Low Bun for Black Girls
Here is another delightful side bun updo hairstyle. It does not require much effort and time thus do not cause damage to your natural hair. A good quality hairspray is enough to hold the style into place. You can turn the front hair into finger curls for an ultrachic look.
36. Waist Length Blonde Hairstyle
Blonde hair works wonder on black girls. Choose the best suitable blonde shade for yourself according to your skin tone, as you can see platinum blonde long hair looks extraordinary charming on the tan skin tone.
37. Sleek and Straight Ponytail
Mid parted hair and sleek, long ponytail hairstyle look ultra-classy on black girls. It is ideal for oval, heart, and diamond face shape. You can achieve it very easily, and the best thing about the hairstyle is that it is easy to maintain and manage.
38. High Bun and Blunt Bangs
If you have long and voluminous hair texture, go for a high bun for chicly look. Wear the blunt bangs for face framing. It looks awesome on black girls who have oblong, oval and heart face shape.
39. Box Braid for Black Women
It is one of the trendiest and most loveable long hairstyles amongst black girls. Box braids are a unique way to express the charismatic personality of black girls who want to become a prominent highlight in an event or a casual gathering. You can keep the box braids as it is or can tie these braids into a half up hairstyle, the choice is all yours!
40. Half up Chic Bun
What can be most promising for black girls than a messy half bun hairstyle for their long, thick hair! Add more class to the whole hairstyle by incorporating golden highlights. Leave a few hair strands free at the front to add more life to your attire. Turn the upper half section of hair into a hair bun and leave the remaining hair free by sweeping the hair on both sides.
41. Go Natural
Going natural does not mean you cannot look sassy when you have such admirable hair texture and features. Just turn your long hair into loose waves and become the attention grabber in any event.
42. Waterfall Long Black Hairstyle
Waterfall braids are the alluring way to style the long hair that will make the black girls feel more like a princess. It is ideal for any face shape. Tie the front side swept hair into floral shape to add more charisma. Turn the layers into the loose curl for more artistic features.
43. Ponytail Braid and Cornrows
Ponytail braids are universal styles that are worn by every girl in the world, as it is easy to manage and style, you can carry a braid throughout the day without being messy at all. Club up the ponytail braid with the front cornrow style and slightly puffy top to achieve a gracefully stately look.
44. Nicki Minaj Chic Hair Weaves
Hair weaves are an immediate solution to wear for an outfit that requires long hairstyle to fit in best. Hair weaves may also be the best way to protect your natural hair from any damage that is usually caused due to hair dyes, hair straightener/rollers and excessive use of hair products.
45. Side Swept Hair with Highlights
Looking for natty hairstyle for your shoulder length hair? Side swept curls with dark brown highlights will make your overall look even more captivating. Take special care while applying the gel to loose curls, as excessive use can make your hair to look greasy.
46. Beyoncé Perfect Blonde Hairstyle
Every girl wishes to get the best compliment whether it's about their outfit or hairstyle even, Beyoncé layered hairstyle will make you the center of attention. Turn the asymmetrical layers into smooth waves to give texture to your locks. Golden balayage will give you more fascinating features.
47. Side Twist Long Hairstyle
It is a simple yet stylish long hairstyle look for black girls. Side part the hair and twist one side of the head while keeping the other side free. Turn the untied hair into soft waves for a graceful look.
48. Eccentric Long Hairstyle
It is surely a fabulous way for black girls with long hair to express their personality by adopting such an artistic hairstyle. Undercut and long wavy hair are becoming the trendiest combo that has been worn by many female celebrities including Rihanna. If you have guts to choose an eccentric look for yourself, you can absolutely opt for this one.
49. Half up Black Long Hairstyle
Crown yourself in the form of half up hairstyle. Keep the top of the head a tad bit puffy and tie the weave under the half up in such a professional way that it completely blends in and looks natural.
50. Beyond Perfection
We do not think so that there is someone exists who does not love long hair, apart from that some of the black girls find it to be a big issue when it comes to managing the long hairstyle. You can wear a long hair extension with a stylish hairstyle just like Rihanna is wearing in the above image .i.e. Blunt bangs and layered haircut.
Long hairstyles always look terrific on black women. Learning how to keep your hair neat and impressive might take a while but the results always exceed expectations. Don't rush to cut your hair short, thick carefully. Consider leaving your locks long and choose one of these styles to make them look impressive. Best of luck!