Black girls often have to deal with curly and unruly hair. That's why sporting long hairstyles and haircuts is already an act of bravery. Women know that long hair means a lot of hassle, frequent knots, long minutes in front of the mirror in the morning and a lot of hair products. However, all this pales when you see the results. All women look amazing with long hair. Black girls with fashionable long hairstyles appear especially impressive. It takes a while for women to get used to caring for long locks. However, it gets easier with time. Finding new ways to arrange beautiful long manes is always fun. There are some easy-to-make options as well as complicated and incredible ones. All it takes is some patience and positive thinking.
Long Hairstyles and Haircuts to Make Black Girls Look Amazing
Dealing with long hair is not an easy task. It is especially true for black girls who know all too well about unruly manes. Women with long and impressive locks always stand out of the crowd. Long hair allows them not to just look amazing, it also helps make a statement when needed. There comes a time when a black girl with long hair thinks she had enough of it and wants to get a short haircut. If this is the case with you, take a look at this interesting list of long haircuts & hairstyles for black girls we prepared for just this occasion. Once you see how great all of them look, you will definitely change your mind and go to make one.
1. Low curls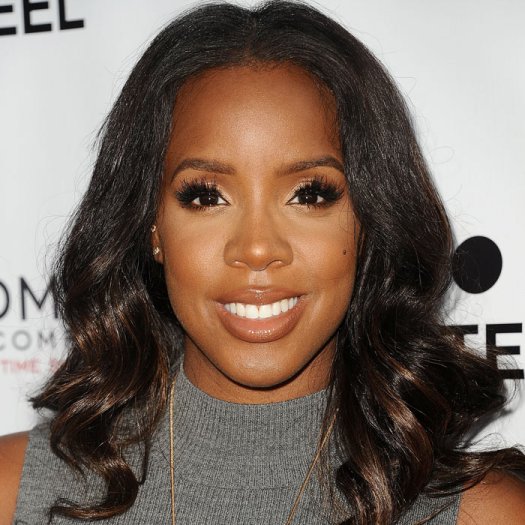 This is a great way to keep your unruly locks neat. You will need to straighten out the top part and make large curls on the bottom. Use your flat iron to do a good straightening out job and your hair will look great all day long.
Short & Natural Hairstyles for Black Women
2. The straighter the better
Curly hair is leaving you frustrated? Straighten it out! There is nothing easier than wielding a flat iron for about 15 – 20 minutes. As a result you will get straight and neat locks. Don't forget that daily flat iron use is not recommended since it can damage your hair.
3. Blond highlights
Black girls have dark hair and it can get pretty boring. Diversify your long hairstyle by adding some blond highlights. Your image will change right away and your hair will get a new and improved shine. Try different options, such as ombres and sombres.
4. Middle part
Middle part is often hard to achieve when you've got a voluminous curly mane. Straighten out your hair and make a middle part when it is completely straight. You can even straighten your locks out permanently if you like this neat style.
5. Cornrows with a ponytail
Don't like long hair getting in your way looking all messy and frizzy? Consider getting cornrows. Black girls look amazing with these braids. In order to save time you can make them just on top of your head and collect the rest of your hair into a high ponytail.
6. Large waves
Waves always look regal. They are a much better choice than small curls for some women. If your hair is very curly, you can consider straightening it first. If curls are not too annoying, some flat iron strokes will do the job.
7. A weave
Love looking at girls with long hair but all you've got is a short or medium-length bob? As your stylist about hair extensions. A weave will look amazing on a girls with dark hair. Make it as long as you wish to fully enjoy the experience.
Have a little princess? Try these black little girl hairstyles
8. Long side swept bangs
Black girls often overlook bangs since they requires too much maintenance. Long side swept bangs will become a great addition to your hairstyle at any time. If they will annoy you then you can easily make a middle part and forget about them.
9. Lift it up
If your hair is long and heavy, then you probably have troubles with volume. Heavy hair straightens out under its own weight and it is hard to manage. Make large curls to get some volume around your face. You can even create long wavy bangs.
10. Cornrow braids
Cornrow braids are always a great choice for black girls. They allow women to have much less hassle with their long and unruly hair than they usually do. Cornrows take a while to make but the result is really worth it.
11. Straight bangs
Asymmetry and contrasts are always in style. So, why not try waves and straight bangs? Cut your bangs short and straighten them out. You can go even further by making ragged edges. Since wispy fringe is hard to achieve with thick and curly hair, try blunt bangs.
12. Open forehead
If you have an oval or round face type, you can go for opening up your forehead. Your face will look a little longer and your features will be outlined. Lift up the hair on top with a blow dryer to get a high hair effect.
13. Side swept locks
If your hair is not too thick and you want to make a voluminous impression, side sweep it. Curl your locks starting from the chin level and then sweep them over one shoulder. The effect will be visible immediately. Use some pins and hair gel to keep this long hairstyle intact.
14. Get glittery
Long beautiful hair will look even more impressive with some glitter. Many black girls use glitter for special occasions. However, if you use it sparingly, you can apply glitter every day. Slight shining will do wonders for your image.
15. Straight and wispy
If your hair is not too thick, you can go for the straight and wispy image. Cut your hair just below your shoulders and create wispy ends. The bangs should be straightened and thinned out. This hairstyle looks amazing but is very hard for black girls to maintain.
16. Shoulder-length locks
If you like long hair but taking care of it is very troublesome, reduce your hassle by making it shoulder-length. Such length is a compromise between short hairstyles and long haircuts. You still get all the benefits of long hairstyle while reducing hair care.
17. Blunt fringe
If you are not afraid of challenges, make a blunt fringe. You will definitely love it. Long and wavy or curly hairstyles look amazing with short blunt bangs. You will need to straighten it out daily but fortunately it only takes a few minutes.
18. Eye covering side part
This sexy long hairstyle is great for a special occasion. You will need to straighten out your locks and make a side part as low as possible. The opposite side will be rushed over your eyes to create an alluring look.
19. Layered style
Black girls might overlook layered styles since they tend to create volume. However, if your hair is not too thick and you are ready to straighten it out, a layered hairstyle is for you. As a result you will get a great and neat everyday look.
20. High bangs
If you decided to straighten out your hair, you can get the popular high bangs with the least effort. Make a side part and lift your bangs up with the blow dryer. Use a lot of gel to keep it intact. The rest of the hair can be turned into soft waves.
21. Straight and windblown
Black girls with thick and unruly locks have a hard time getting a windblown look. In order to do it right you will need some professional help. The hair will not just need to be straighten out, it will need some thinning out as well.
22. Blunt and neat
Blunt and neat mane can be a way out for black girls whose natural hair is not too curly. Blunt bangs look very impressive but they require special hair car. If you like this hairstyle, you will need to spend some time learning how to make it.
23. Face framing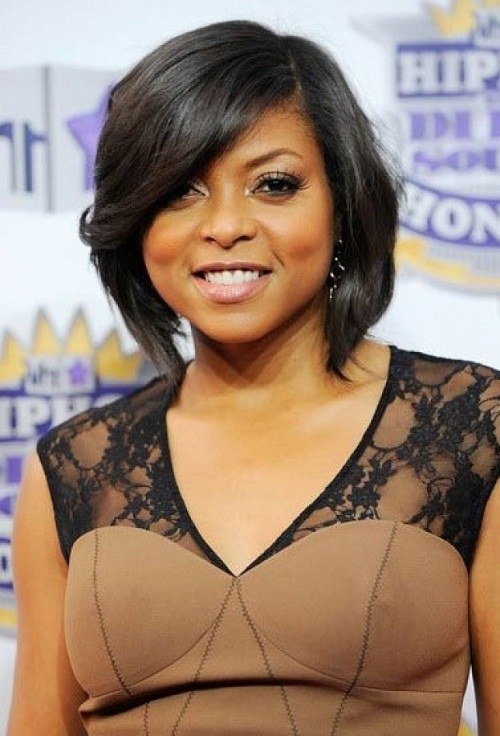 If you are ready to go for a layered haircut, you can still leave some waves to frame your face. This is a great idea for women with long faces who need to add them some roundness. Cut the frontal strands to reach just below your chin and style them to surround it.
24. Fishtail braids
Braids are always a great way out when you don't know how to make a neat long hairstyle. Learn how to make different braids. Braiding is a real art and requires some experience. Fishtail braids are not that hard to make but they look really impressive.
25. Go all out
There is no reason to always worry about styling your hair when it is already long and wavy. You can just sweep it over one shoulder and go. Natural-looking locks are always very popular. Flaunt your amazing mane at least once in a while!
Long hairstylesalways looks terrific on black women. Learning how to keep your hair neat and impressive might take a while but the results always exceed expectations. Don't rush to get a short cut. Consider leaving your locks long and choose one of these styles to make them look impressive. Best of luck!