Every little girl loves wearing ponytails. They are such a cute hairstyle that can be accentuated with a bow, headband, and many other accessories. In addition, the hairstyle is easily maintained because their hair is out of their face while the play at school. We have given here 7 amazing ponytail hairstyles for little girls that will take only a few minutes to create.
Most Lovable Ponytail Hairstyles for Your Little Angel
A ponytail gives a neat look to the little girls preventing their hair becoming tangled. We have chosen 7 ponytail hairstyles so you can pick the perfect hairstyle for your little princess.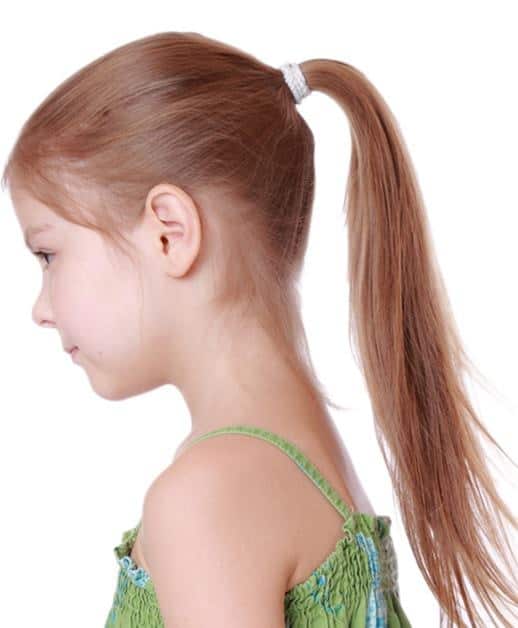 This is the easiest ponytail hairstyle for you to style. In addition, if your little girl doesn't like getting their hair combed then this is the hairstyle. In order to achieve it, you should gather her hair in the middle of her head. Next, secure the hair into a ponytail with a sturdy scrunchie or elastic band.
2. Curly Ponytails with Ribbons
This is a cute hairstyle for your little girl's first day of school. First, you should part her hair down the center so there are two parts. Then, place each part of hair into ponytails/pigtails. If they don't have curly or wavy hair, you can braid their hair or use a curling roller to achieve the end curls. Next, place their favorite ribbons around the ponytails/pigtails. And, voila an adorable hairstyle for your adorable little girl.
Cutest Braid Hairstyles for Little Girls
3. Side Ponytail with Ribbon
This is another cute ponytail hairstyle for them to wear to school. It is similar to the sleek ponytail; however, the ponytail is placed to the low side of your little one's face. You can place it on their best side or whichever side they prefer. Then, a ribbon is placed around the hair tie to cover it as well as accentuate her look.
4. Feather Side Ponytail with Bangs
Any hairstyle with bangs is chic! For this hairstyle for little girls, the bangs, as well as the feather side, gives texture to the look. The feather sides can be achieved once their hair is short or it has different layers. Also, ensure that their bangs are done neatly to frame her face.
5. Pom-Pom Pigtails with Fringes
It is similar to the curly ponytails with ribbon hairstyle. However, the differences are the fringes and the pom-poms. Once their hair is in the pigtails place pom-pom scrunchies or hair ties around it. As well as, ensure that the fringes frame their face features very well.
Angelic Ponytail Hairstyles for Little Girls
6. High Side Layered Ponytail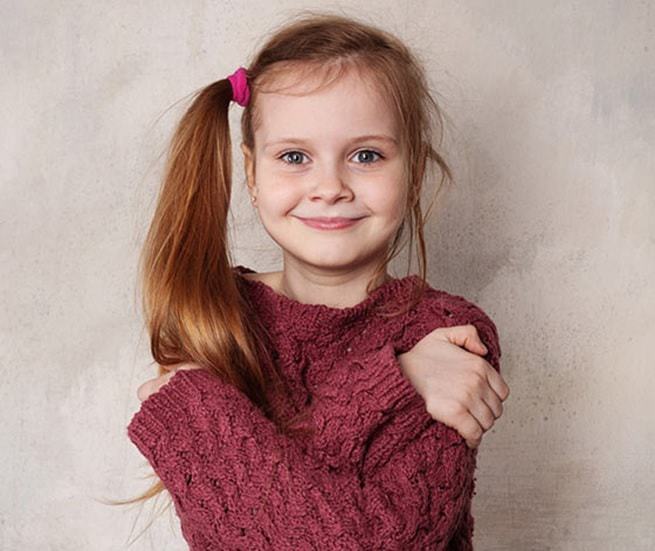 This ponytail is classy for every occasion. In order to achieve it, you would place their hair into a high ponytail towards one side of their head. Next, gently comb out the hair around the perimeter of their face to frame it well. In additions, it adds dimension and texture.
The seventh hairstyle for a little girl is this gorgeous two French braids with a low ponytail. The braids give the hair more depth and texture. First, you would part their hair along the middle into two halves. Next, French braid each one half down and use a sectioning clip to hold the braid into place while you do the next half. Once you're down with both, secure it into a low ponytail.
Watch the following video about how to do ponytail hairstyle for your little girl
We hope that our collection of ponytail hairstyles will inspire you to use some ideas to create your own unique hairstyle for your little angel. Just take your pick!