Ribbon braids are a cute, playful and comfortable hairstyle that got attention recently. These manes are created with the help of colorful ribbons placed in strategic ways.
Ribbon Braids
Most moms become instantly in love when they see these looks because they are perfect for fashionable young ladies. But, the good thing is that you can actually work the same hairdos as well.
Ribbon braided hairstyles bring variation to braided hairstyles for girls. Check these 8 ribbon braid hairstyles for your little girl's new look.
1. Classic Ribbon Braid
Sometimes a classic braid is the first choice you need to try before you do any other variations.
Ideal For: The classic ribbon braid is the simplest style that will look cute on everyone, especially little girls.
How to Style: All you need to do is put the hair up in a high pony. Divide it into three strands. Tie two different ribbons on the pony in a bow. After you finish braiding you can add the ribbon in between the braid and finish with a bow in the bottom as well.
Bow Braid Hairstyles for Girls
2. Pull Through Ribbon Braids
You will have so much time decorating a pull through ribbon braid.
Ideal For: It is a very chic and vibrant look that will be completely different from anything you've tried before.
How to Style: Go for two pull-through braids, with the hair being parted in the middle. When you finish braiding, you can add the ribbon you chose on each braid.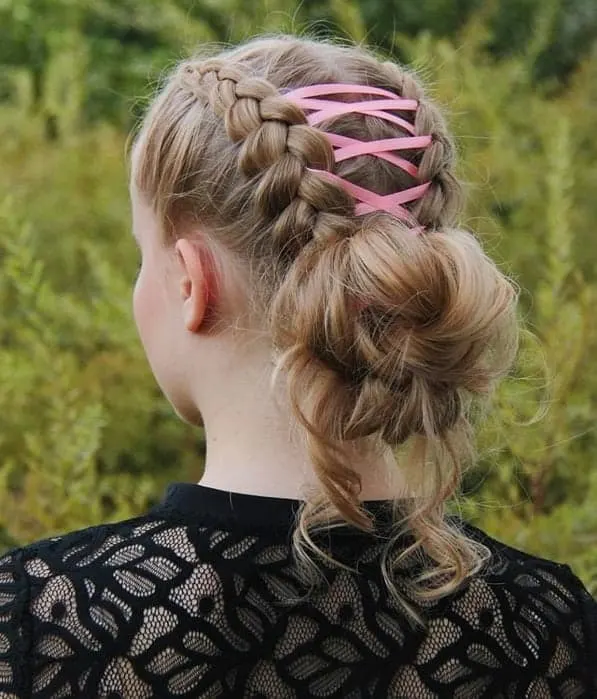 Nothing comes close to a beautiful updo for little girls decorated with the right accessories.
Ideal For: This is a very playful mane that can also be elegant if you do a black ribbon. In other words it's ideal for all sorts of events, including going out, a wedding, a party and more.
How to Style: Better start braiding, this updo is too pretty not to try. Do double Dutch braids in the top and finish off with a messy low bun. Connect the two braids with a ribbon. It's up to you which color you'll choose. Make sure it's a hue that will stand out.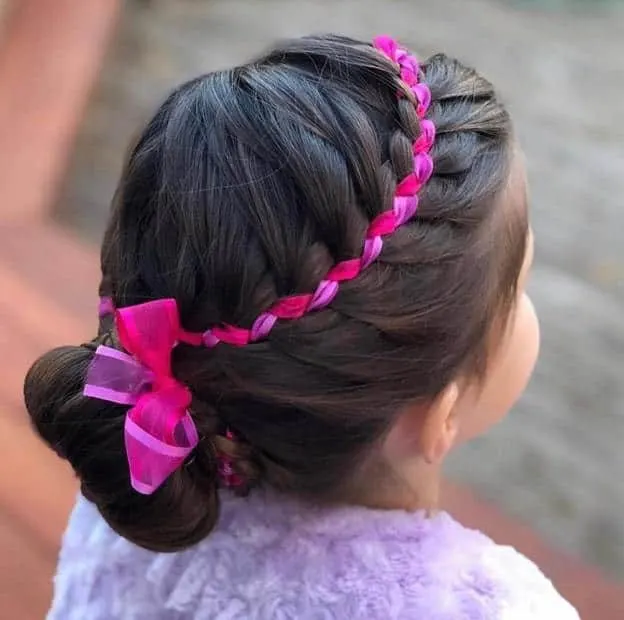 Upgrade that gorgeous crown braid with ribbons this season.
Ideal For: This hairstyle will work for all hair lengths.
How to Style: It doesn't matter if it's French, Dutch or lace, your crown braid deserves to be even prettier. Make sure to decorate it with a ribbon and tie a bow on the bun.
5. Quadruple Braids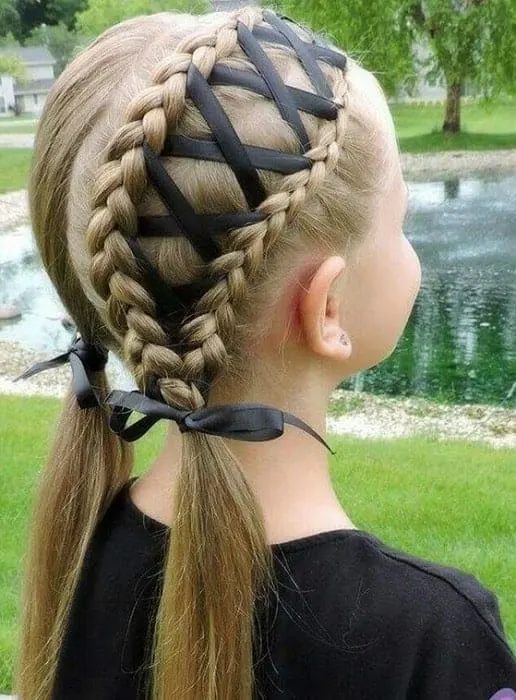 Do four braids, so that you can connect them two by two with a colorful ribbon. There are so many options to choose from when it comes to color.
Ideal for: Perfect for all ages, starting with your girls and even adults. Everyone is allowed to flaunt ribbons no matter their age.
How to Style: Start by dividing the hair into two halves with a middle part. First work on one half, where you'll do double French braids. Do the same thing on the other half as well. Decorate each side with a ribbon of your choice and finish with cute bows in the bottom.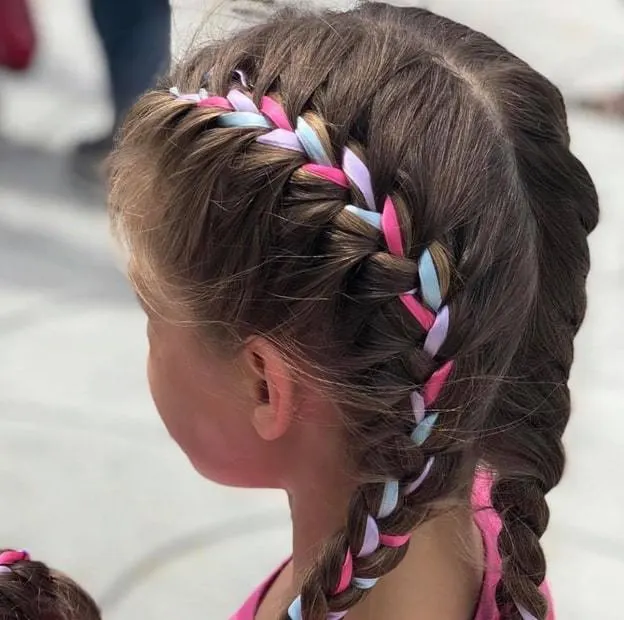 These are probably the prettiest French braids with ribbon you've ever seen.
Ideal For: The good news is that you and your daughter can match by flaunting the same hairstyle. It's so cute that women of any age can try it out.
How to Style: Begin by dividing the hair in half with a middle part that goes all the way down to the neck. Braid each half with French braids. Before you start braiding, you can add three different ribbons to each strand. That is how you get this colorful look.
7. Dutch Ribbon Braid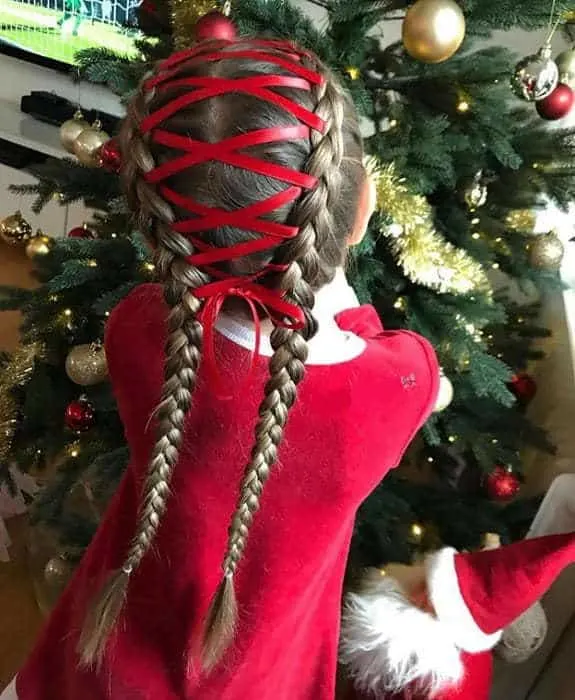 The beautiful double ribbon braids are connected with a red ribbon, which gives a very fun finishing touch.
Ideal For: This hairdo is perfect for long hair. It's easy to copy and great for the holidays. If your daughter loves it so much, but has short hair, it will still look beautiful and super-cute.
How to Style: Divide the hair into two equal halves with a middle part. Braid them in Dutch braids. Once you're done, connect the two with a red ribbon. If red doesn't match your outfit, simply choose a different hue.
8. Fishtail Ribbon Braid
Fishtail braids just became so much cooler thanks to ribbons.
Ideal For: Perfect for girls and women of all ages. It will look more alluring on long hair.
How to Style: This ribbon braid is much easier to copy than you think. You will need some extra time, but the process is very easy. First, you'll need to braid the hair in a fishtail braid. Continue by decorating it with a ribbon as shown on the picture. It's a lot of delicate work but it will be worth it.