Can we just unanimously agree that redheaded male actors are single-handedly carrying the HOT men department? From playing wizards to a gay dad – these actors have been playing with our hearts with their lush red hair and enchanting hairstyles.
Remember those times when red-haired actors were turned away from acting and modeling days? Thankfully gone are those days of absurdity!
Now, these red-headed eye candies are taking over the entertainment industry and we're here to witness it (and ogle respectfully).
Popular Actors with Red Hair
We're about to go down on the list of these redhead actors who have embraced their true fiery selves in all their naturalness.
1. Danny Bonaduce
Remember that pre-teen band member Danny Partridge from The Partridge Family who was known for his smart wisecracks and quick replies? Yes, that's Danny Bonaduce!
He is an American actor who has also dabbled in radio television personality, comedian, and signature sweeping sandy red hair and beard arranged in a slight protrusion on the front.
2. Domhnall Gleeson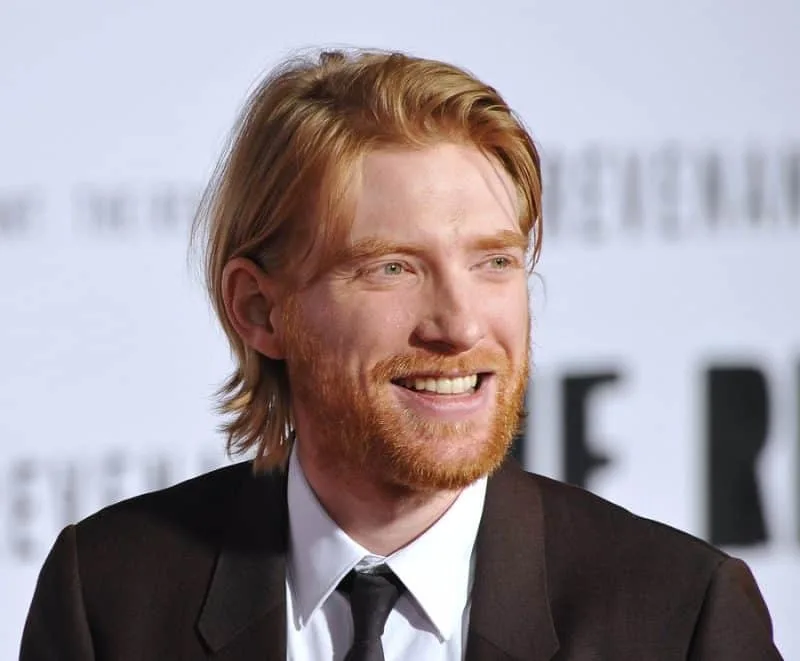 With his impeccable acting skills and unique hair shade, Domhnall Gleeson is reigning as one of the sexiest red-headed male actors. The Irish actor has appeared in several films and theatre projects.
As the oldest weasely he has always kept his long tresses free and into a side part. He has truly embraced that look and continues to adorn it, to this day.
3. David Caruso
David Caruso is a veteran of the Hollywood industry that took to winning hearts when red-haired male actors were still not seen in a positive light.
So, can we give some red hair hype credit to David? Of course, we will! He has kept his fluffy, crimson hair intact with a fluffy part.
4. Jesse Tyler Ferguson
Jesse is a red-haired icon for us as much as he is our gay king! Known for being an all-fuss dad in Modern Family and being featured in T. Swift's You need to calm down, Jesse has been winning in all departments, including the hair department.
His muted crimson hair has a life of its own and spreads wildly yet tastefully on his head. With some spikes accentuating his short hair, and more tamed sides.
5. Jimmy Bellinger
Curls AND red hair? Sign right us up! Jimmy Bellinger has been the living phenomenon of these attributes.
He plays his hair game rather safely with sleek back curls resting around his face.
6. Seth Green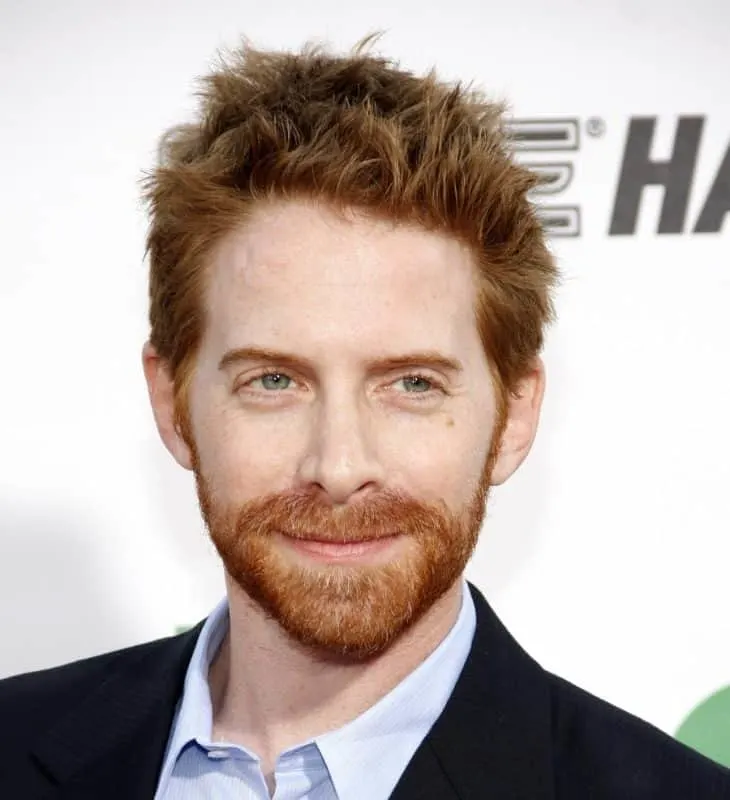 Seth Green with all his smoldering eyes, glory, and hair, has rightfully earned his place as one of the hottest male actors with red hair.
His youthful goes quite well with his light auburn hair styled in messy and fluffy spikes.
7. Robert Redford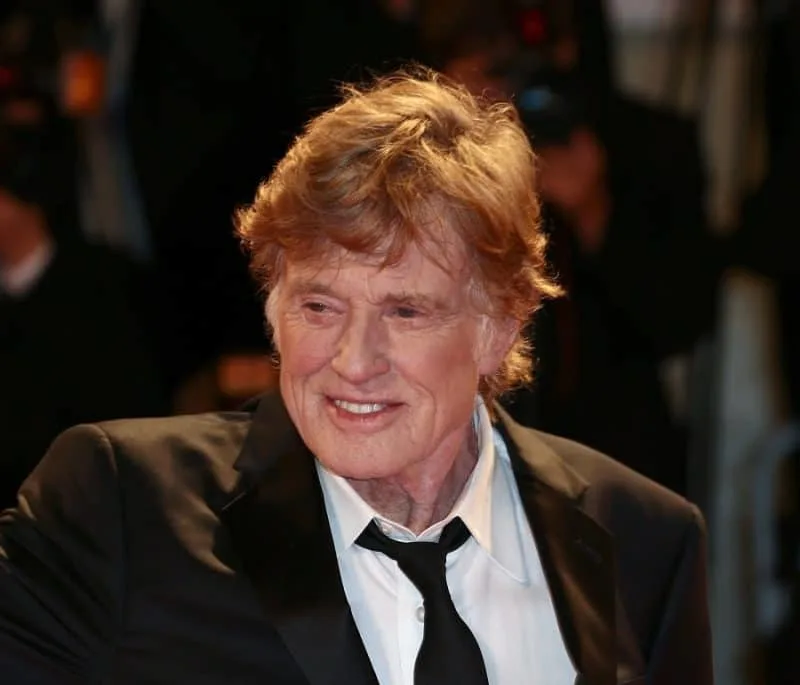 With his hot, rugged, and bad boy look, Robert Redford was one of the pioneers of the tousled red haired look in Hollywood. His blood-orange hair has been the statement of the industry for so many years.
He has been the recipient of a Golden Globe for the best new star for his movie Inside Daisy Clover starring Natalie Wood
8. Simon Pegg
Simon Pegg is one of the red-haired male actors who continues to make headlines with his amazing movies and equally amazing eye-hair combo.
He has always remained reserved with his look as reflected in his hair. He keeps his soft apricot-shaded hair in a crew cut with distinct forehead lines.
9. Scott Thompson(Carrot Top)
Carrot Top has been serving his flaming red locks in the comedic world and we cannot love him more for it.
Known for his long, wild, thick, red locks flowing around the face, his persona revolves around his excellent comedic timings and his wicked sense of humor.
10. Scott Grimes
Scott Grimes is our do-it-all red hair guy! He has appeared in prominent roles like Will McCorkle in Party of Five, Dr. Archie Morris in ER and so much more.
His natural, dark ginger has been kept in reserved locks with an Ivy League cut and long sideburns to join the short boxed beard.
11. Rupert Grint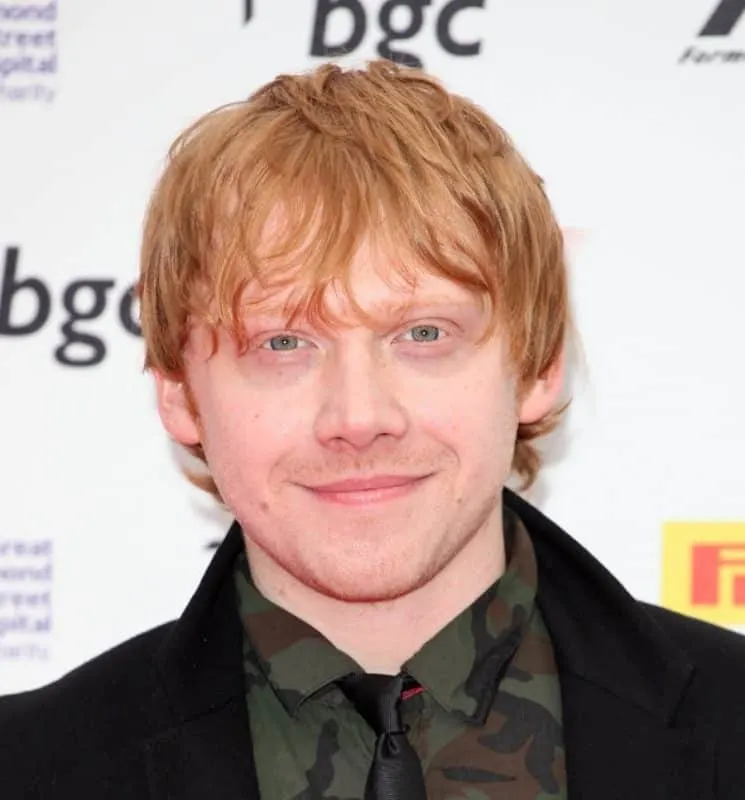 Ron Weasely or like we call him Rupert Grint has made the list for not just being ginger but portraying the role of ginger for 8 WHOLE movies.
He is biased toward the long dark ginger bangs that he has kept since his young days. Accentuating that front cut is nape long hair on the back.
12. Eric Stoltz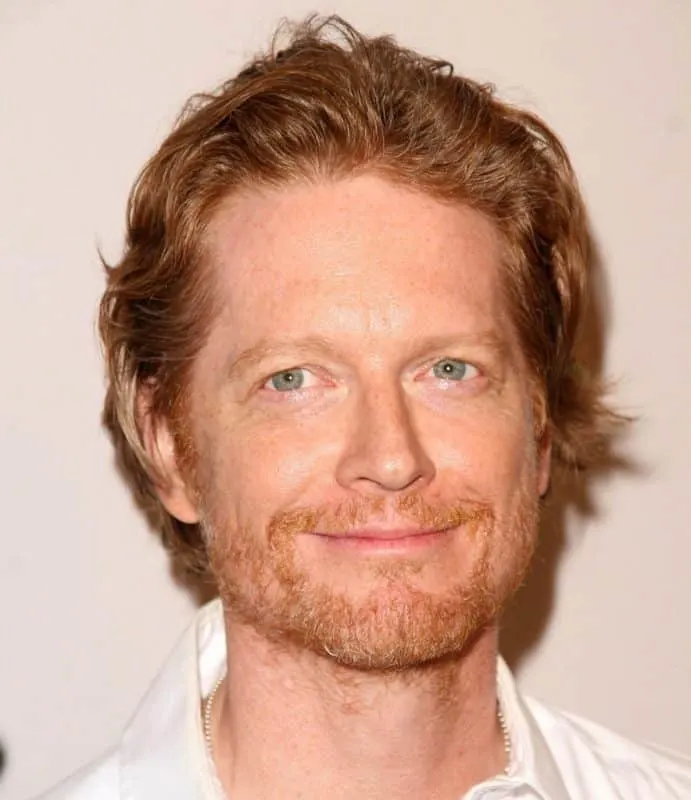 Eric Stolz is another red-haired actor who stole our breath away with his boyish, guy-next-door look. He has made quite a news with his Golden Globes nomination and theater performances.
For his go-to red carpet look, he prefers a more careless swept-back style with the tufts slightly sticking out on the top.
13. Nick Bakay
Nick has never failed to make us laugh from his endless jokes as a comedian or the voice artist of Norbert Beaver on The Angry Beavers.
But beyond acting, his red-haired look complete with a fluffy side part look has always managed to draw us in!
14. K.J. Apa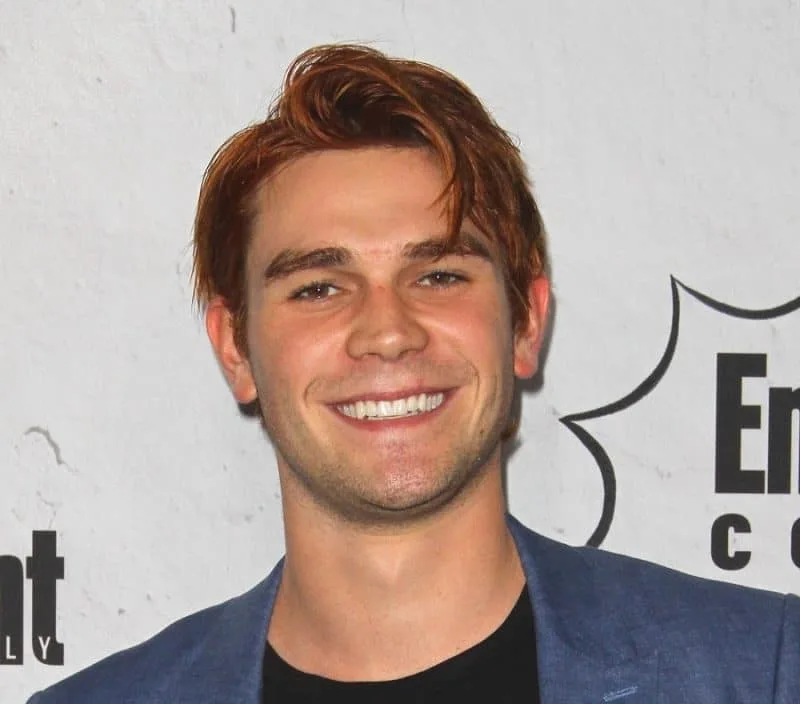 KJ Apa rules every teenage girl's heart with his dashing look and perfectly styled orange blood hair.
Famously known for his role in Riverdale, this New Zealandic actor has almost always fashioned a high sweeping fringe dropping tastefully on one eye.
15. Doug Jones
After a successful run as an actor, Doug Jones has now ventured into his one true passion – contortionist, and mime artist. He now hosts and panels several comic cons and events.
But of course, we can never forget his classic, golden-red hair shaped in close-cropped hair.
16. Zack Ward
For all his Canadian politeness, Zack Ward has played quite horror-sunk roles throughout his career.
This actor with red hair has made his presence known in the industry through famous shows like Titus and of course the gorgeous hairstyle. He goes with textured, tousled spikes in the middle with more tamed tresses on the sides.
17. Damian Lewis
Winner of a Primetime Emmy Award and a Golden Globe Award, Damian Lewis is one of our favorite English actors playing American roles, with perfect red hair for sure.
He sports a short side quiff with a subtle side part and a shorter cut on the sides.
18. Cameron Monaghan
If you haven't heard of Cameron Monaghan yet, then you're missing out on the best television shows that have graced the Earth.
Known for his iconic and show-stopping roles in Shameless and Gotham, his red-haired look has made him a household name, with fluffy side parts and long side fringe.
19. Myles Jeffrey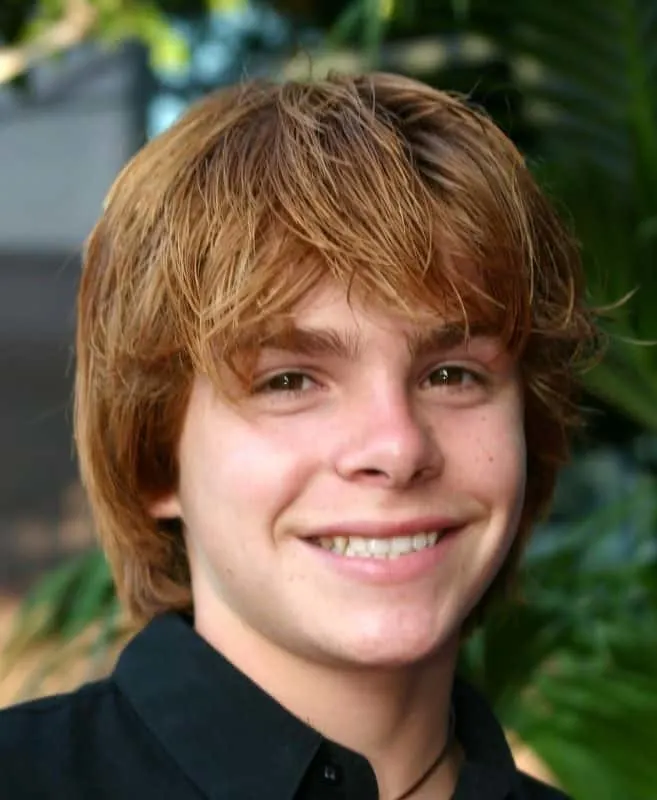 Look at Myles's face, framed by his tousled, long red hair with textured fringes, and tell us that it doesn't remind you of sunshine? Because it totally does!
Known for his roles as Henry in Early Edition and George in Stuart Little: The Animated Series, the actor has since taken leave from acting and ventured out of the limelight.
20. Bill Mumy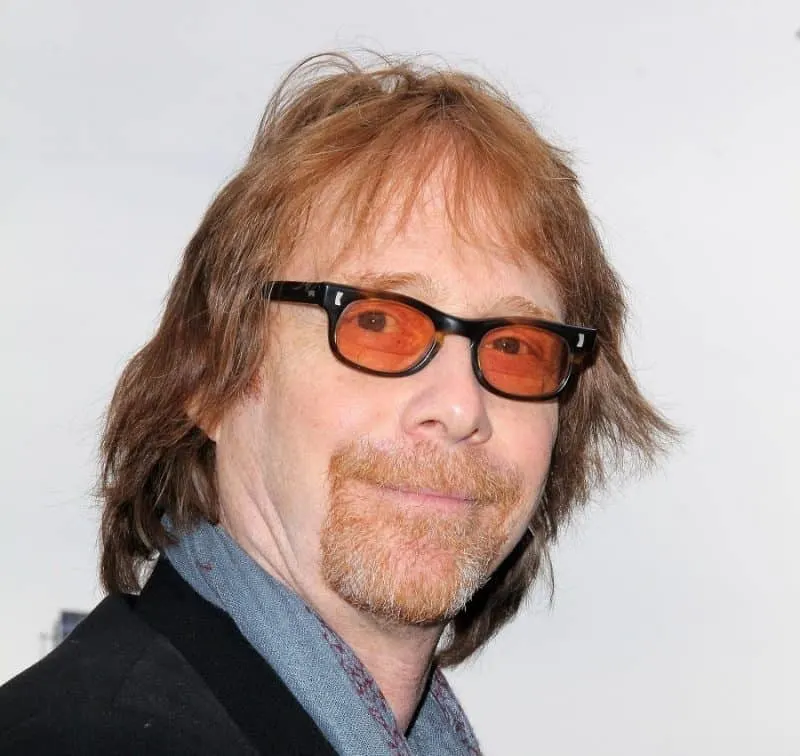 Bill Mumy is an American actor and writer who gives a classic boyband look with his stylish glasses and muted, red, long hair fashioned in long bangs and even longer back hair.
And why won't he! He has an impressive discography to support his ever-growing list of successful movies.
21. Adam Hicks
Adam Hicks used to be the star of the Disney channel with his enchanting voice and teenage looks.
A heartthrob of media, he has taken over the heart of millions with his angular cut, golden-red fringe sweeping across his attractive face.
22. Tucker Albrizzi
Where's the reddest hair ever possible? Tucker Albrizzi is the proud owner of one, of course!
The chubby, red-haired actor, with side sweep fringe and soft tufts on the sides, has cameoed and led several shows including Big Time Rush, Good Luck Charlie, American Vandal, and the list goes on.
23. Justin Tinucci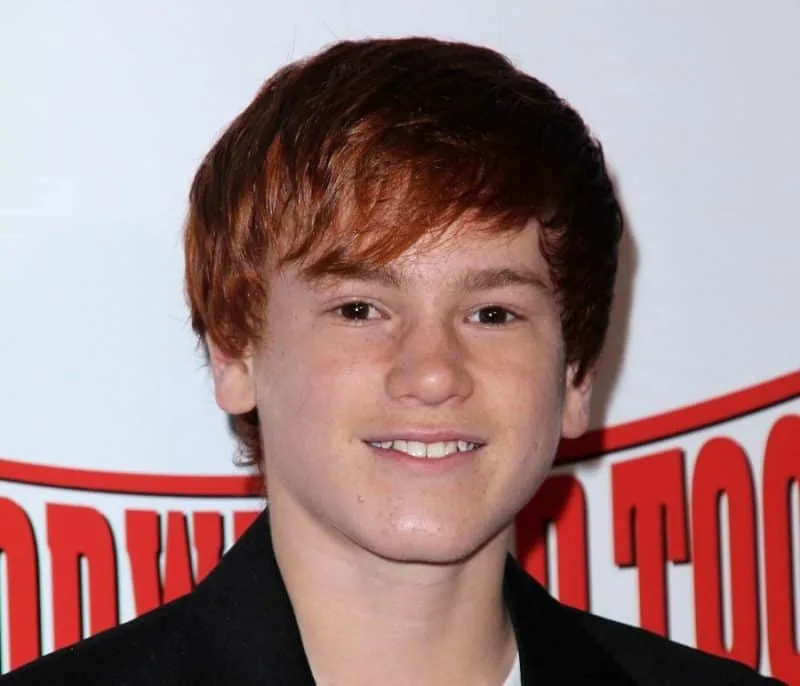 With his unfailingly young looks and dark red hair, Justin Tinnuci is an actor taking over the industry one movie and show at a time.
Embracing his adorable look, the actor has kept long fringes from one side, while keeping the other side flat.
24. Johnny Whitaker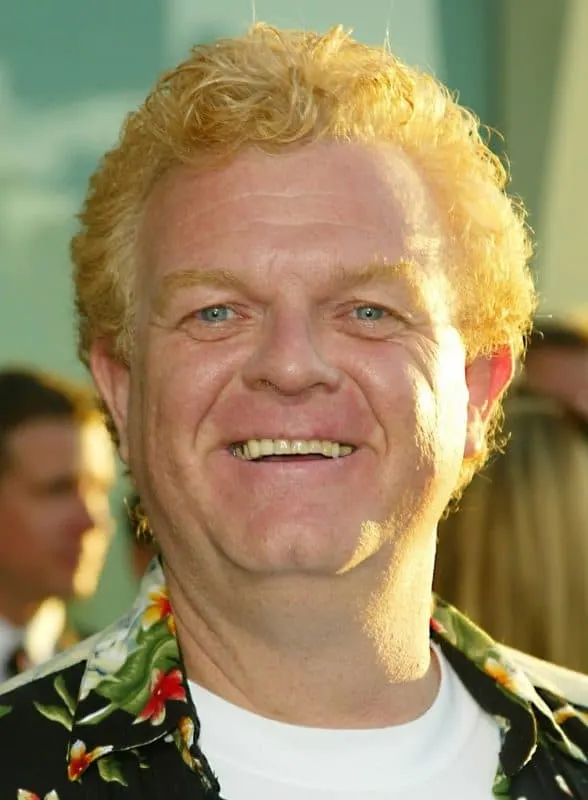 Unlike our other dark red-haired actors, Johnny Whitaker occupies the lighter spectrum of red hair, which he maintains in all its curly glory.
The short-haired actor has taken retirement from acting but his successful career consisted of Family Affair, Sigmund and the sea monsters, and a whole bunch of movies.
25. Thomas Barbusca
Thomas Barbusca is one of the youngest male actors with red hair to make our list at just 18 years old!
But despite his age, the young man has a fairly successful career ranging from The Mick to Middle School: The Worst Years of My Life. Equally successful is his hairstyle – with his brushed up, side sweep hairstyle, he knows how to keep it fresh.
Through our list, you must have got an eyeful of these red-haired beauties who have legendary personalities coupled with amazing hair.
From the shades of natural gingers to strawberry blonde and mahogany red – the spectrum of red hair is quite vast. And these actors have embraced their uniqueness to create a beautiful career out of it!