Looking to upgrade that tired old hairstyle of yours? The brush up is one of the coolest men's hairstyles these days. It's all about getting that volume and lift up front to take your style up a notch.
As the name suggests these hairstyles are brushed on top forward and upward so it stands up off your forehead a bit.
It works best if you've got a short haircut where the sides are tapered, faded, or shaved, and the top is a few inches long so you can brush it.
To style this haircut, most men scoop a little hair gel or mousse into one hand, rub their palms together, and work it through the hair where it's longest up top.
It varies from person to person whether you start at the back and brush the hair forward first to give it extra hold, or whether you start at the front.
Men's Brushed Up Hairstyles
If you're looking for a classy new hairstyle, consider the following 22 variations of brushed up hairstyles!
1. Brush Up Fade
On this brush up hairstyle, a side part works well with the short layered front. A taper fade keeps things fresh and clean while matching up nicely with a trimmed beard.
2. Blonde Brush Up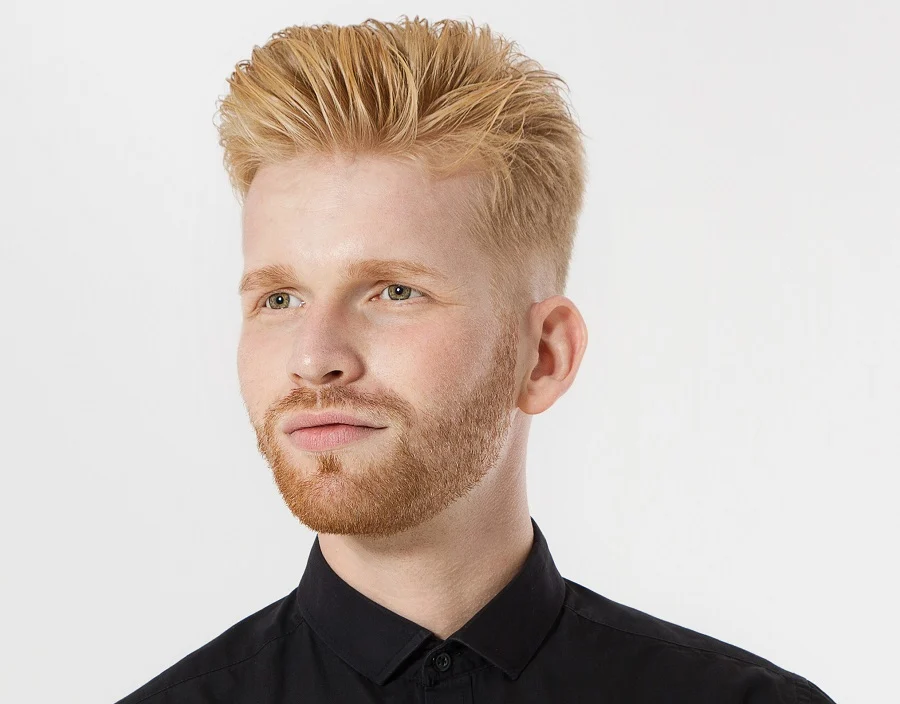 Struggling to style your thick hair lately? This blonde hairstyle will take your hair and shape it into something statue-worthy! This version is a bit more piecey looking, so it'll still show off the full body.
You can grow a short beard and mustache with this hairstyle. This combination will give you a rugged manly look.
3. Punk Brush Up
Give your hair some attitude and a punk twist by opting for a high fade and a bold color like silver or silvery blonde. Leave facial hair to a minimum, like a soul patch, so that all the focus is on your hair.
4. Thick Top with Undercut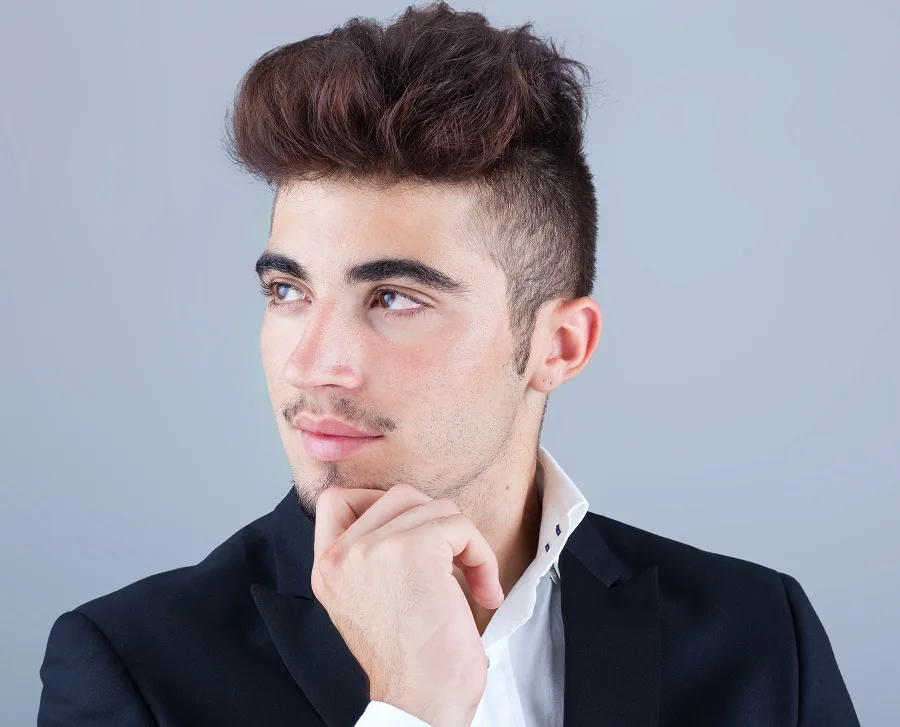 One other handsome option for men with thick hair is adding an undercut. It will help to cut down on styling time at the back of your head, while also providing an edgy detail.
5. Pompadour with Mid Fade
If you're going out and want a slicker look, definitely go for this short pompadour version with a taper fade.
Instead of a voluminous textured top, you'll end up with a sleeker shape that looks neater and more sophisticated.
6. Messy Brush Up
Messy haircuts can be super sexy on men when done right. For this one, use your fingertips to shape the spiked texture up top. For facial hair, leave some stubble to complete the 'just woke up' look.
7. Celebrity Version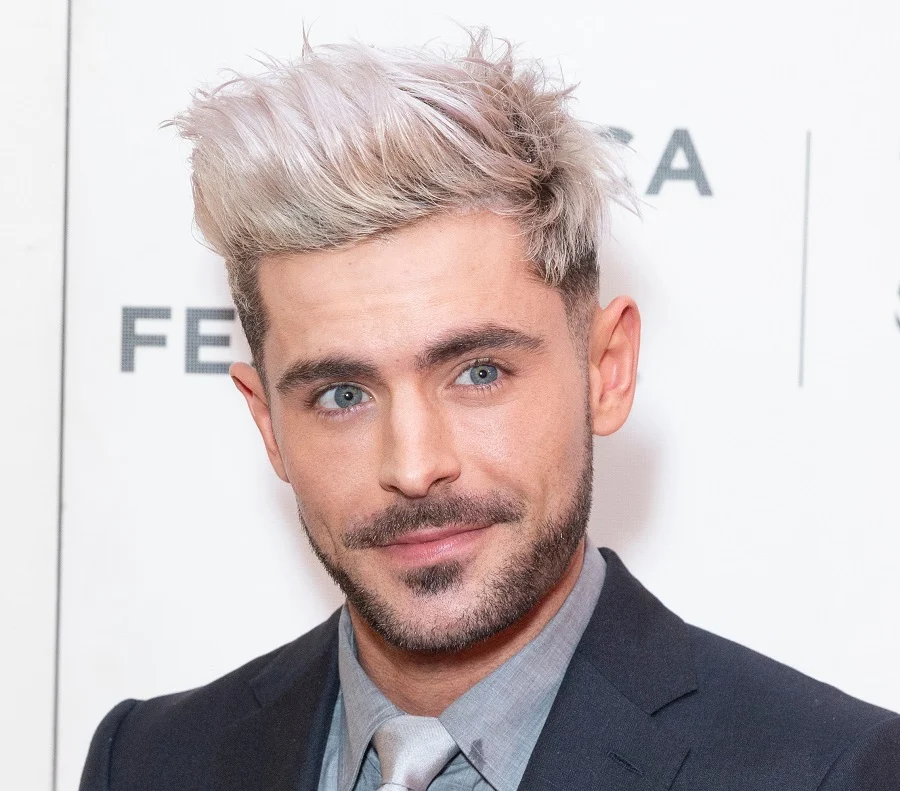 When the brush up hairstyle first became popular, actor Zac Efron was one of the first celebrities to rock it. We love his fluffed-up version, which he styled toward one side and wore with a mid-taper fade.
8. Smooth Side Part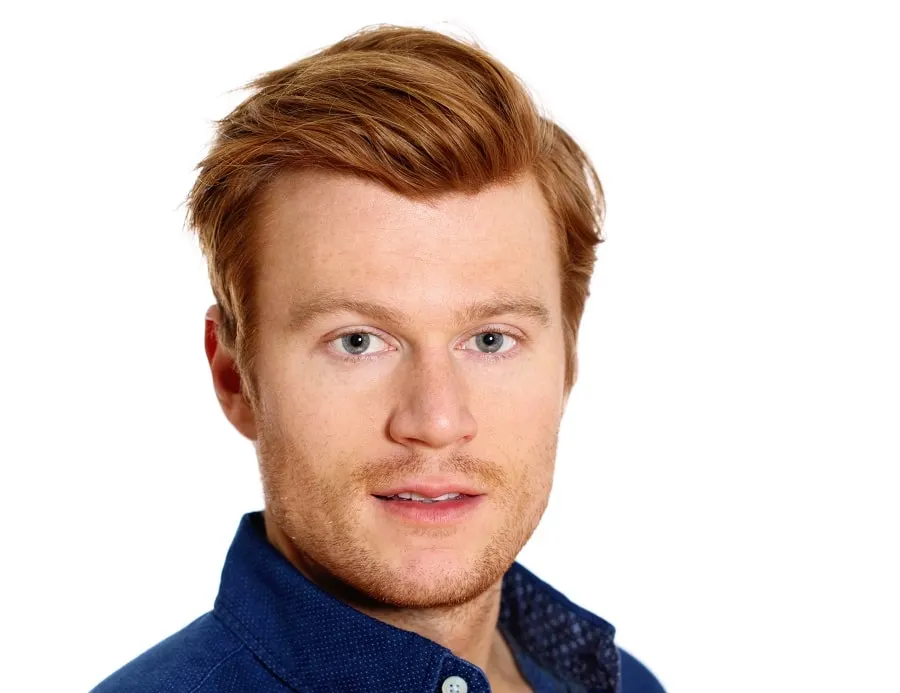 To wear your new hairdo to the office or for an interview, we like this professional version seen here on red hair.
Part the hair off-center before brushing it mostly flat and back away from the hairline. Smooth it with a little hair gel.
9. Dirty Blonde with Highlights
Is your hair a dirty blonde color? Try adding some blonde highlights for a light contrast and to draw attention to your new brush up haircut!
The highlights will really help to accentuate any natural texture you might have.
10. Flipped Front for Men with Glasses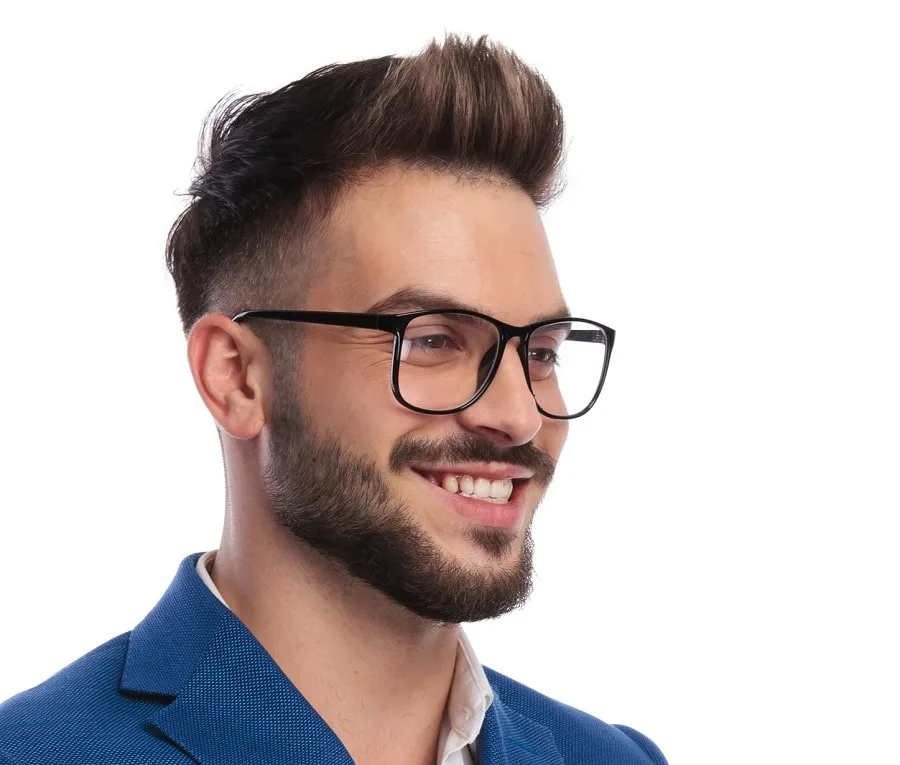 A longer brush up haircut works amazingly well for men who wear glasses. Since the flipped-up front draws the eye upward, it distracts from how glasses can make your face appear wider.
11. Colored Hair
Do you love bold hair colors? Try a mix of dark blue and light green on your new haircut. Between the textured top and shaved sides, this style is all edge. What more could you want?
12. Thick Hair with Heavy Highlights
The brush up meets surfer dude in this thick, highlighted style. If your hair is packing a punch of volume, this is the best version for you. Tame the locks with mousse to enhance waves or curls.
13. Brushed to the Side
While many brush up hairstyles feature the hair being brushed straight back and up, this one changes direction.
For men with a square or rectangle face shape, try brushing most of the hair to one side for a cool switch in dimension. Leave the sides shaved, not faded.
14. Wavy Platinum
Men who have a light or pale skin tone and wavy hair texture will like what platinum or really like blonde does for their 'do. Add a mid fade for extra definition if you have a round face.
15. Short with Hard Part
To create a business-like haircut, add a hard part. This style requires a bit more attention to detail since the sides gradually fade and blend into the beard.
Work in a bit of product up top to get the textured-spiky look.
16. Messy Thin Hair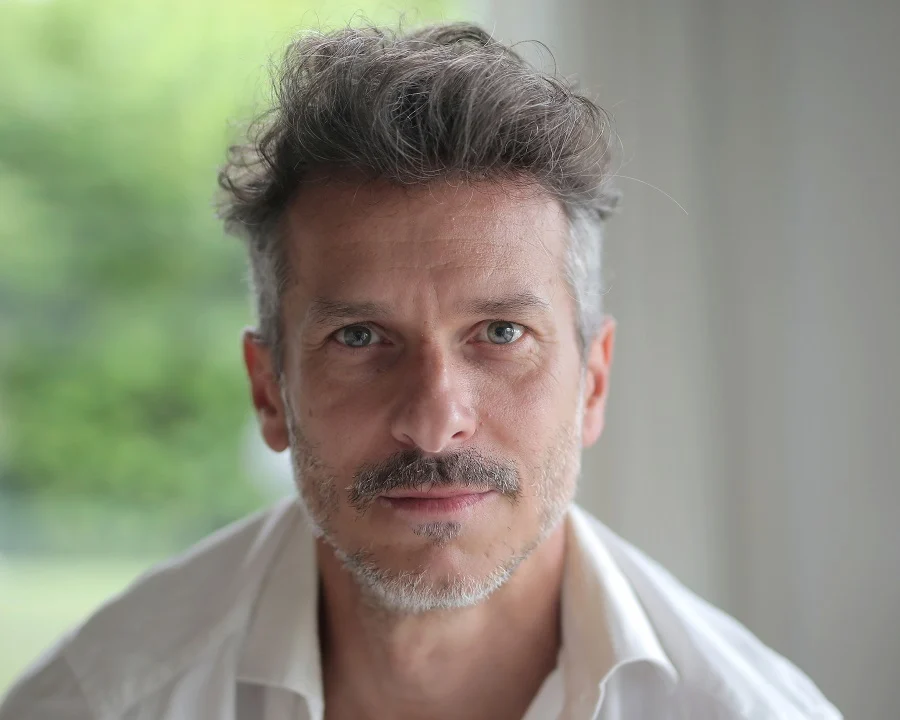 To make thin hair look thicker, finger comb in some mousse to make your brush up hairstyle messy looking. This is also an easy hairstyle for older men.
17. Slicked Back Undercut
For men with a round or wide face shape, we recommend a slicked-back brush up and an undercut for a fresh look. This style will lengthen the face, while the sides create the illusion of straight angles.
18. Young Adult Brush Up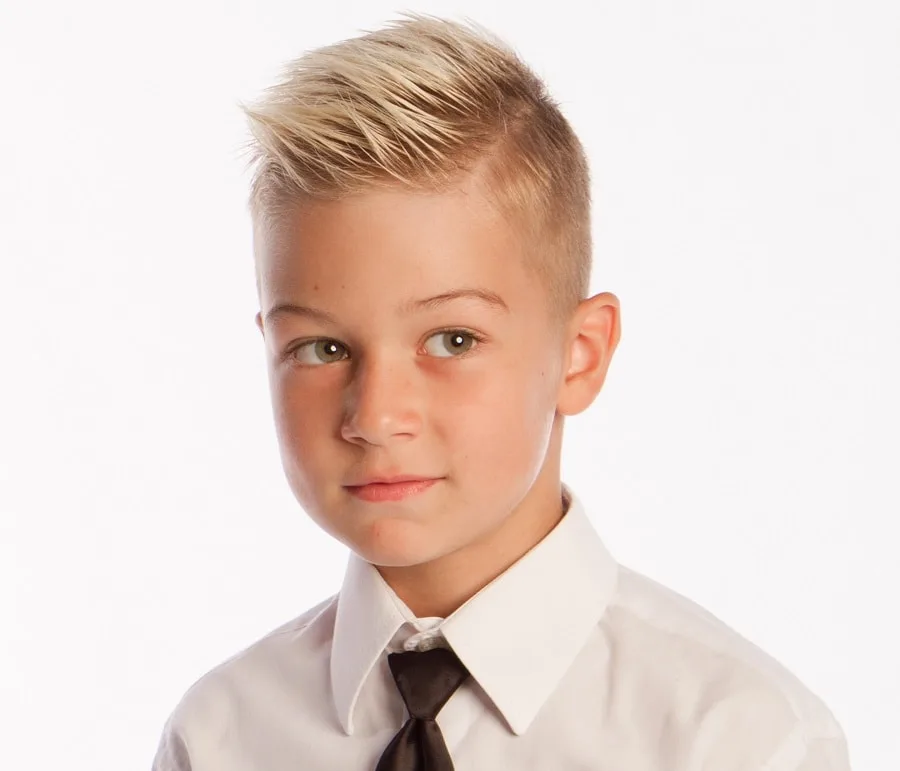 Do you have a son or nephew? Help them look just like their role model by treating them to their own brushed up haircut! The key for this one is in flipping up the ends of the longer hair.
19. Side Swept
Are you an Asian? Is your hair on the full and fluffier side? You won't need much product to finger comb it into a side-swept hairstyle. The sides for this cut are low maintenance since you can let them grow longer.
20. Blonde Undercut
Between the really light blonde coloring, the tapered hairline, and the edgy undercut, there's really no bad about this punk version of a brush up hairstyle.
21. Faux Hawk
Combine the best elements of a brush up with a faux hawk for a unique hairstyle. The full piecey front is very hot with a high fade and trimmed facial hair. You can even add a bit of highlighting for emphasis.
22. Colored Top with Slit Skin Fade
A slit above one faded side stands out handsomely with the help of bold magenta coloring and a skin fade.
To get the spiked texture, use your pointer finger and thumb to smooth out small sections of hair into the desired shape.
The men's brushed-up haircut has many variations to personalize it for the wearer. The key is in leaving the hair on top of your head long enough (between two and four inches) that you can style it with a pomade and fade or shave the sides to your liking.
Whether you rock a hard part, an undercut, or a unique color, your final result will certainly reflect your sense of style.