Bobs have been popular for ages. Many women have been choosing this hairstyle for its volume, simplicity and easy maintenance qualities. A layered bob is one of the more popular choices since it makes fine hair look voluminous and heavy hair easy to care for.
Bobs are terrific for women of all ages. Young girls choose them for their amazing style, while for older women, bob is the secret to looking much younger. There are several ways to create layered bobs. There are shorter and longer options. Whatever hair or face type you have, you can easily find the right layered bob to make you look fantastic.
What is Layered Bob?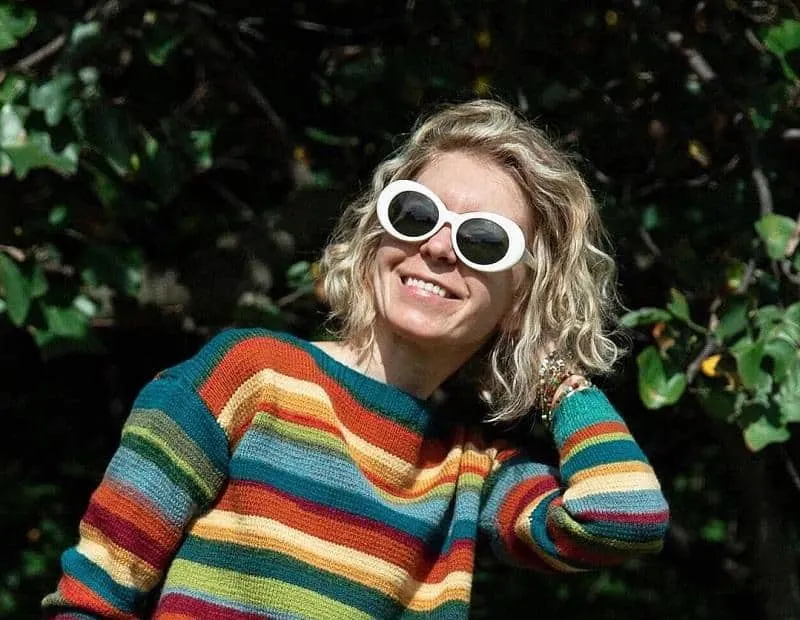 A layered bob refers to a haircut somewhere between ear-length and shoulder-length, consisting of multiple layers overall. That means that some parts of the hairstyle are shorter than other parts in order to achieve a textured look.
How to Cut Bob with Layers
Step 1: Wash and dampen your hair and work on wet hair from there.
Step 2: Section your hair out into as many horizontal sections as the number of layers that you want and use hair clips to hold the sections in place.
Step 3: Start from the lowest section that will determine the length of the whole hairstyle.
Step 4: Release the second layer and cut it evenly above the first layer.
Step 5: Repeat the process on the remaining layers.
Step 6: Thin your hair a little bit for everything to fall into place.
Step 7: Blow dry your hair and style it with a styling brush or a curling iron. We recommend straightening it first, though, because that way, you can see if there are any strands that you missed.
So, how to cut a layered bob? Watch the below video tutorial.
Which Type of Layered Bob is Best for Your Face Shape?
Bob hairstyles, in general, are one of those few hairstyles that suit everyone, especially if it's a layered bob, because they usually look pretty natural and asymmetric, and are therefore universally flattering. However, there are a few tips and tricks for each face shape.
Oval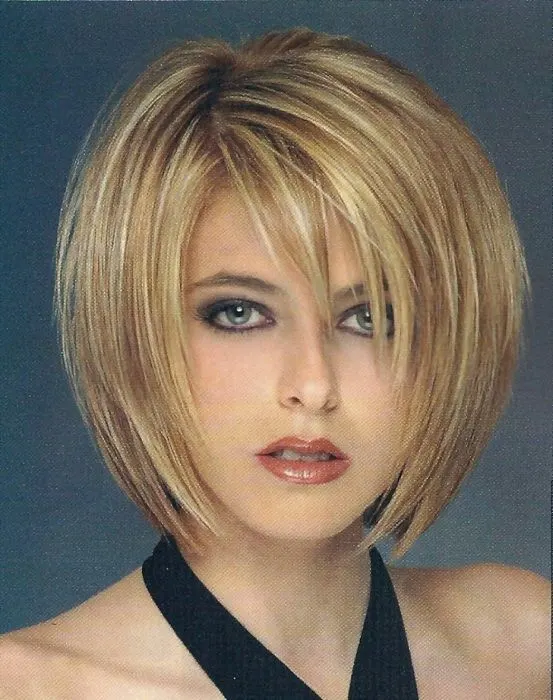 If you have an oval face shape, you are lucky because every type of layer cut bob will suit you. You can try experimenting with some subtle bangs.
Heart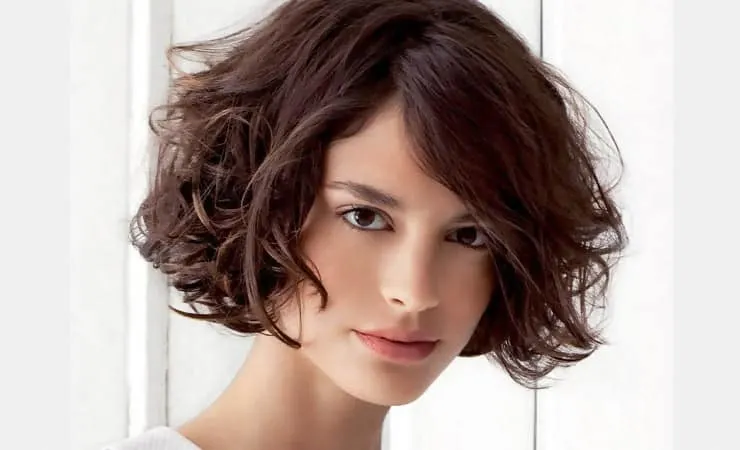 Flattering layered bobs for women with heart-shaped faces have some volume to them, so they complement a leaner facial stricter better.
Round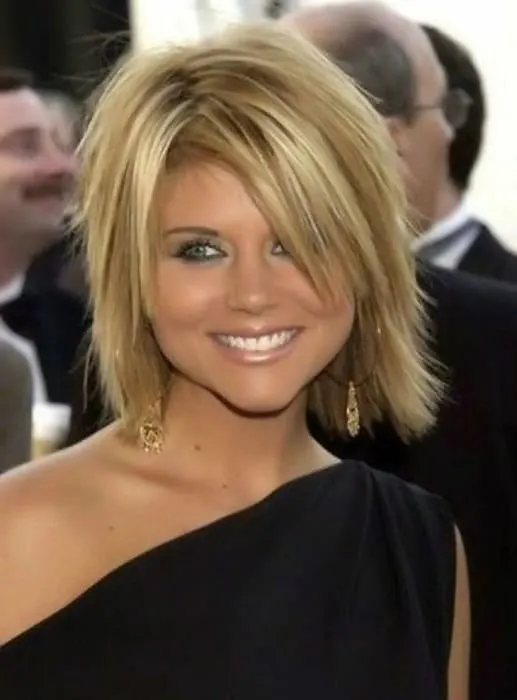 A good option for a round face would be a straight bob with a messy or spiky vibe and a harsher, more geometric structure to go well against your face's fine, round shape.
Square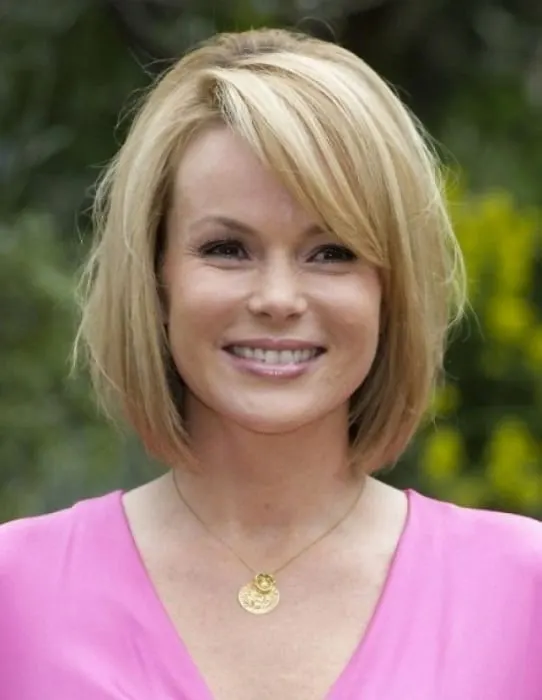 Opposite of the round face, an ideal layered bob haircut for a square-shaped face is a haircut that is soft and sleek, which would thereby softening the overall appearance.
Layered Bob and Graduated Bob – Are They Same?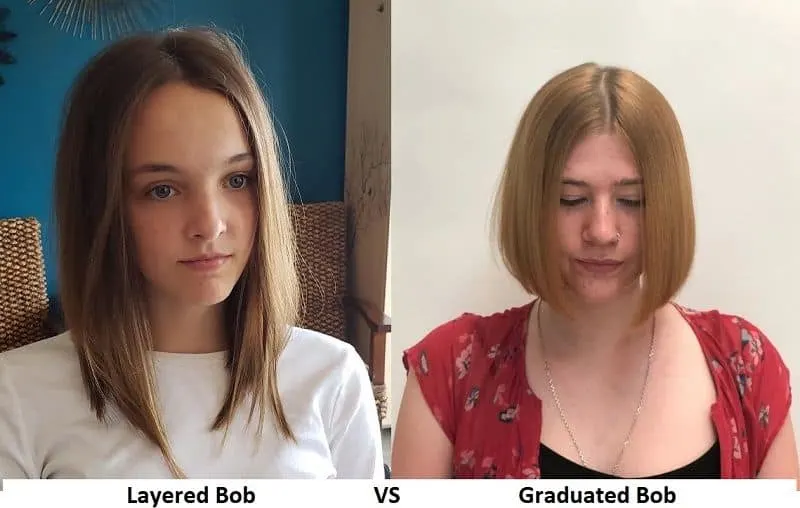 No, they are not. A graduated bob is a synonym for an inverted bob or an angled bob, meaning it is shorter at the back than at the front. That includes some layers at the back, but the hairstyle doesn't have to be layered overall.
Fashionable Layered Bobs Hairstyles for Women
Creating a layered bob in 2023 may be complicated. However, the result often exceeds all expectations. Experimenting with bobs can start from long layered ones and pick the shortest stacked options.
Choosing the right bob depends on the hair and face type. Longer bobs are great for oval and round faces, while shorter ones are perfect for oblong and triangular face shapes. Stacked bobs are a good choice for thick hair, while long layers suit fine locks.
Look at the bobs we have chosen to help you with your search. Think about how each will look with your face and hair type. You will surely find the one to suit you personally.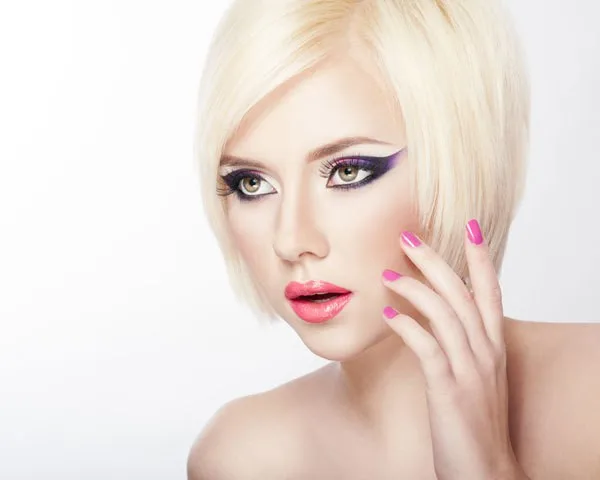 This bob is perfect for fine hair. The layers are not obvious, but they create a certain volume to make the hairstyle seem full. The side swept bangs are a great addition to any bob, especially if the hair is thin since they create even more volume.
2. Highlights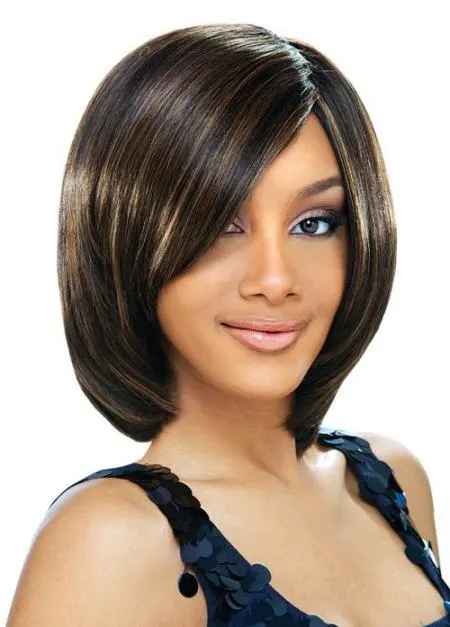 Highlights are a wonderful way to make any hairstyle seem brighter. This is true for bobs. Properly chosen colors will add brightness to your bob and make it seem special. No maintenance is needed!
3. Messy texture
This layered bob with bangs looks great on women with any hair type. It will increase your fine hair's volume and add some style to thick locks. The highlights and wispy bangs make this bob truly unique. If you go for this hairstyle, get ready to spend some time on styling it.
4. Long and windblown
Long layered bobs look especially well on women with blond hair. The messy or windblown looks are perfect for younger girls. However, the style can also be appropriate for older women if the locks are styled a little neater.
5. Angled and textured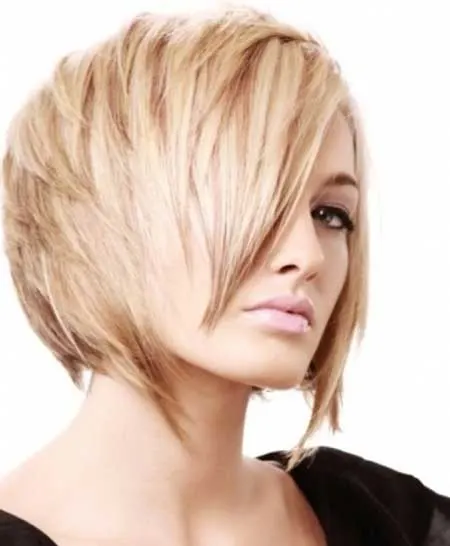 Asymmetry is the word! So, if you go for a textured look, consider making an angled bob. The layers are shaped chaotically to create a wild look, which can be a wonderful addition to any woman's style. No careful brushing is needed here.
6. Stacked and short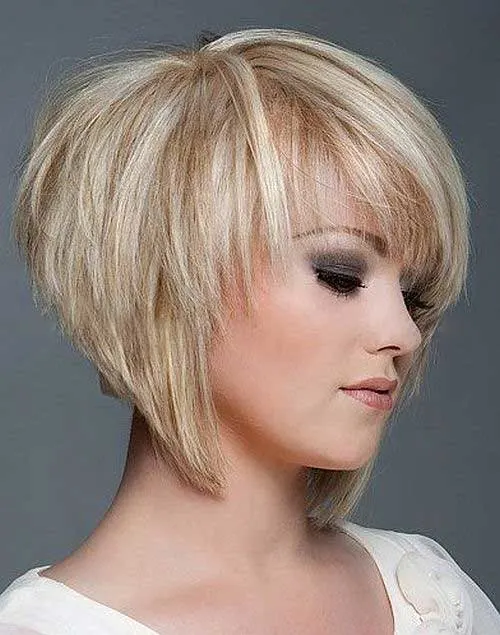 Stacked hairstyles look wonderful regardless the length. This stacked bob with layers looks unique due to the angeled strands on the sides and a cap layer on top. This hairstyle is quite tough to keep neat. But if you are ready to do it, you will truly look amazing.
7. Medium layered bob

Medium bobs are perfect for straight hair. Try this layered option with blunt ends. If the hairstyle seems too simple for you, consider adding some highlights. This style requires little maintenance and almost no hair gel.
8. Sexy auburn bob
If your hair is dark, choose this sexy auburn bob to keep some heads turning. Blunt ends add this haircut a lot of style, while layers in the back create upper volume. All you will need to do to look great is brush your hair on the regular basis.
9. Volume on top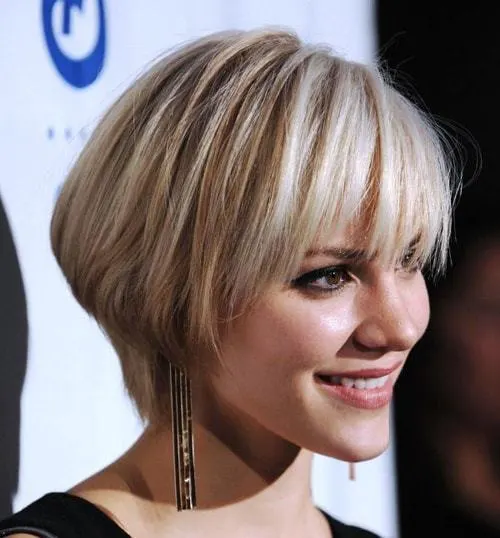 This mix of short and medium bobs is created by making layers on the top part of the head and leaving straight strands down the neck. It is perfect for women with oval or oblong faces. Make sure to keep your hair neat, otherwise, the top volume will be lost and the mix will turn messy.
10. Round bob with wispy bangs
This round layered bob hairstyle is great for women with square, oblong and triangular face shape. The stacked style in the back creates neat volume, while the strands in front surround the face. Wispy bangs are a great addition to this hairstyle, however, it would look interesting with blunt fringe as well.
11. Cute and simple
This bob might look cute and simple, but there is really much more to it. Long wispy bangs draw attention to the eyes. Hair is cut medium length in front, while the back is short and stacked. You can tuck your hair behind your ears to seem cute, or let it hang around your face for a more sexy look.
12. Creative bangs
This is another bob, which would have looked simple in front if not for the bangs. The top layers are brushed against the hair growth direction to make a creative look for side swept bangs. The back is slightly stacked to create volume.
13. Waves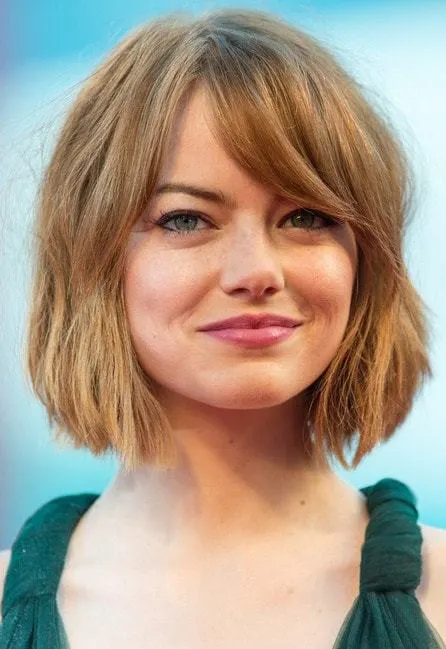 Neat bobs are hard to achieve when it comes to wavy hair. No matter how many layers you create, the waves will do everything they can to hide them. So, you can go for bluntly cut frontal strands and layered back for volume.
14. Long and angled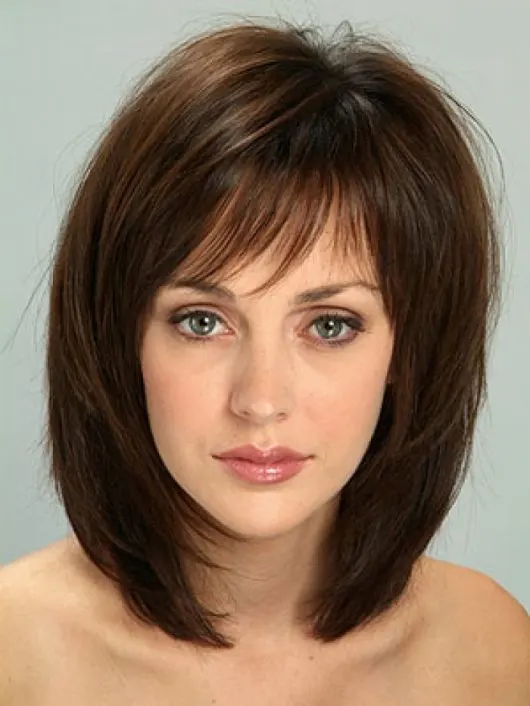 This bob is perfect for women with triangular and round faces. It visually elongates the face and makes a great stylish look. Layers serve the purpose of making the haircut look neat. The wispy bangs make the style seem complete.
15. Long layered bob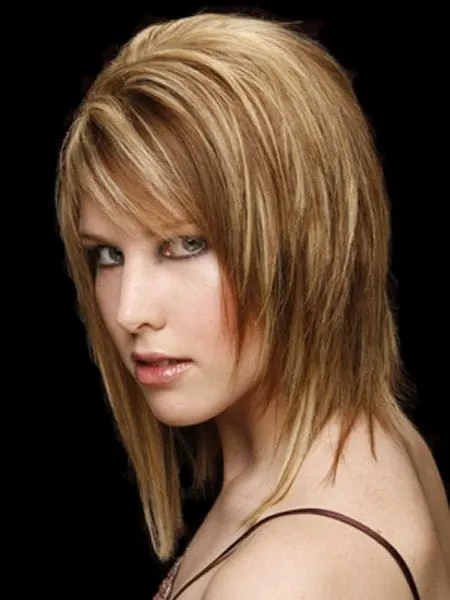 This bob is wonderful for women with fine hair. As you can see, the length is created by leaving out random strands both in front and in the back. The layers add this style volume on top and outline the angular strands on the bottom.
16. Asymmetrical layers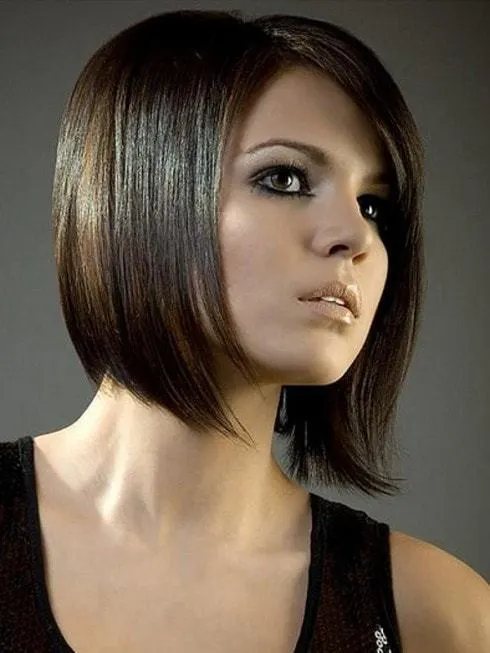 Asymmetry is very fashionable, so making differently sized layers on the sides will make your bob look amazing. Side sweep your bangs to the longer side to emphasize the asymmetry. Use some hair gel to make the haircut look sleek and neat.
17. Undercut
This layered bob for women is truly creative. You can make a hidden undercut or an obvious one on one of the sides. A hidden undercut can be fully covered by the layers, while an obvious one will always be open.
18. Criss cross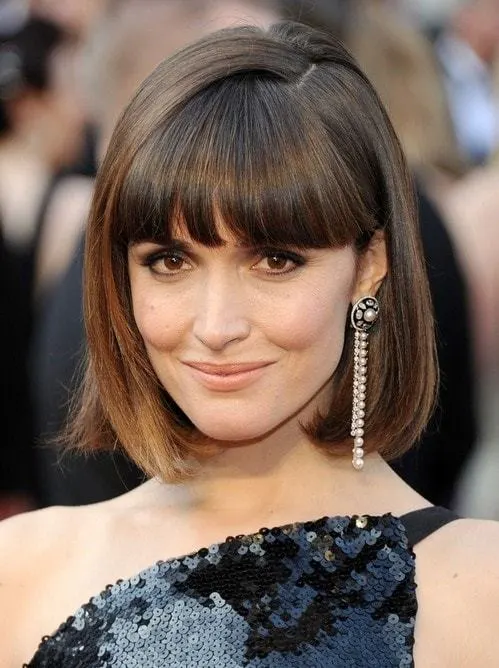 Want to diversify your simple bob? Go for criss-cross strands. They are easily achieved by brushing several strands against the hair growth and then securing them with hair gel. This creative hairstyle is great for emphasizing the full blunt bangs.
19. Short and fine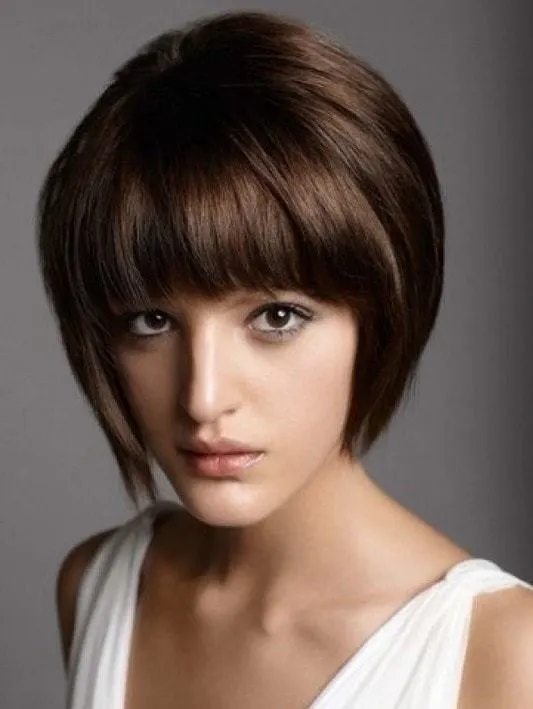 Layered bob haircuts are a real find for women with fine hair. If your locks are damaged and you don't want to dye them, this haircut is great for you. Leave your hair natural and style it into a short stacked bob. Add some thin asymmetrical strands in front to create a fashionable look. The style is perfect for women with triangular faces.
20. Windblown bangs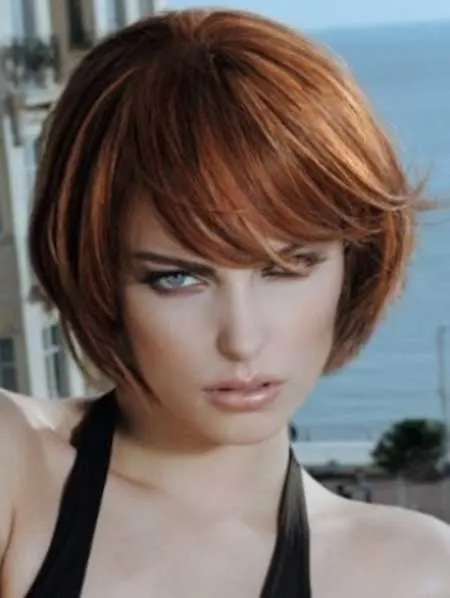 Windblown bangs will make any hairstyle look pretty sexy. If you are tired of your bob and ready for a change, play around with the bangs. Changing the bangs is the easiest way to create a new and improved hairstyle.
21. Straight and blond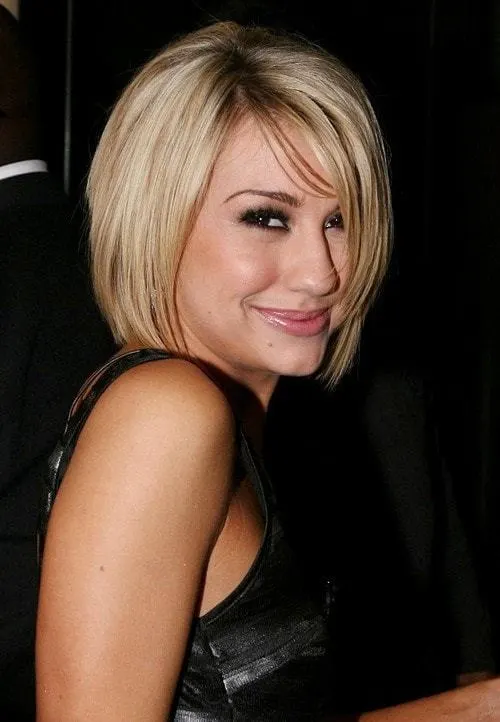 Straight and blond hair is what the stylists usually face when it comes to layered bobs for women. There is nothing simpler than creating a slightly layered hairstyle on straight hair. Long layers will not add too much volume, but the look will certainly be fashionable.
22. Side part
A round stacked bob with a side part can be considered a classic. This hairstyle is so all purpose, that you can change your style just by choosing the right wardrobe and proper make up. You can easily go from wild and sexy to neat and cute.
23. Neat waves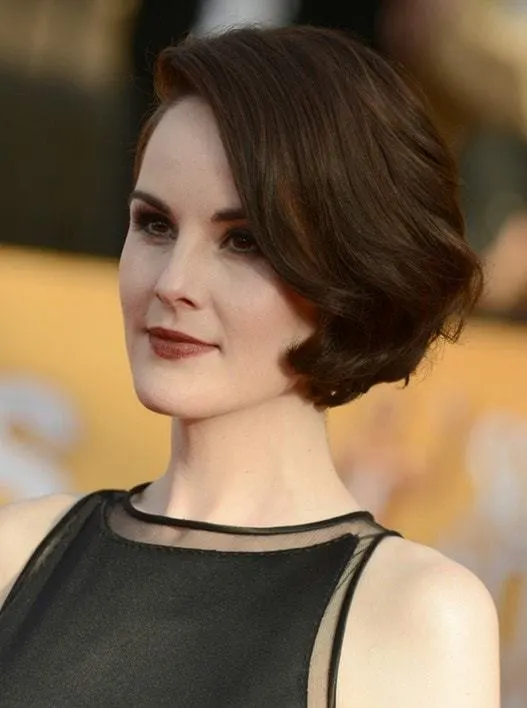 This hairstyle will really take some work. But the result will be no less than perfect. The layered hair is carefully styled to create waves on the side where the bangs are side swept to. Hair gel is applied to let the waves stay in place.
24. Layered and curly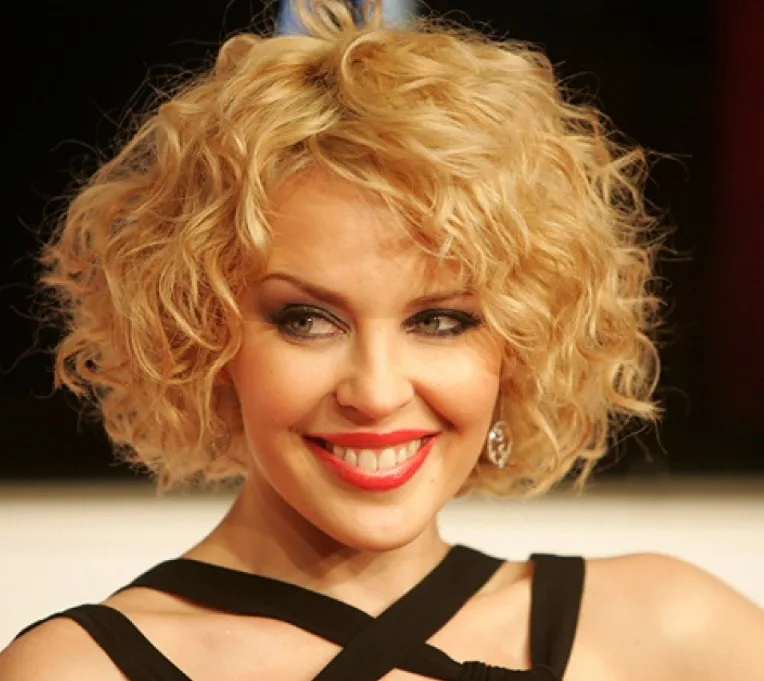 Curly hair looks amazing when layered. So, if you've got naturally tight curls or a perm, ask your stylist for a layered bob. It will look voluminous and fantastic and will definitely make you stand out of the crowd.
25. Natural and messy
This messy hairstyle is perfect for young girls. The hair is layered to create volume and left naturally wavy to seem messy. This style will look wonderful at any time of the day. No brushing is needed.
26. Free Natural Bangs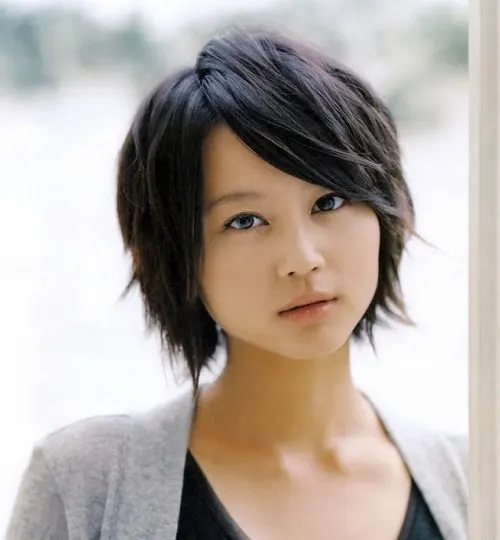 This layered bob has natural bangs swept to a side will have heads turning in your direction wherever you go. The sharp edges need professional trimming and significantly boost up your style and personality. You can go for hours without brushing it, just run your fingers through it and you are all set to go.
27. Sleek Blonde Waves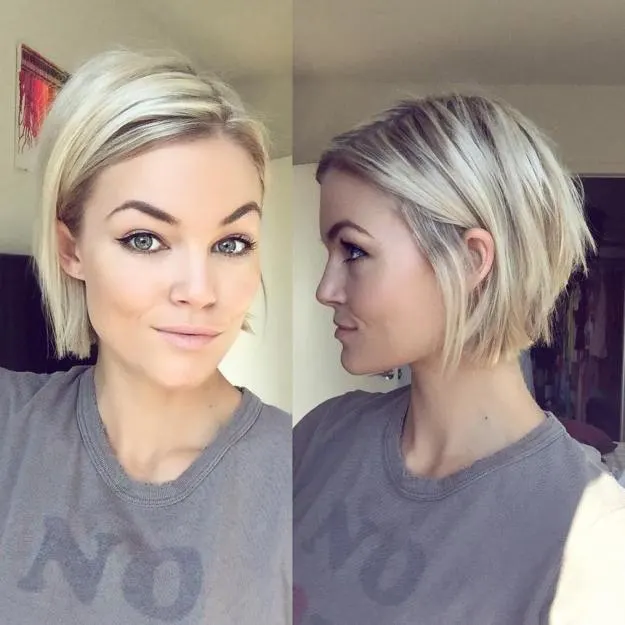 This one is a stylish and classy look which needs no products for maintenance. The natural styling goes a long way in impressing everyone with merely your looks. This style needs minimum time for brushing and taming and it looks great with all kinds of dressing up that you want.
28. Stylish Golden Layers
The layers are the one thing which makes this golden bob more attractive and classy. The layers are cut in every which way and the rough layers fall impressively around your head, making them look well taken of. This is a favorite layered bob of many.
29. Sleek Shoulder Touching Blonde Hair
If you want a bob, but do not want to cut your hair too short then this lovely hairstyle is totally your call. The hair lightly touches shoulders and has a very classy and chic look which ladies of every age can rock effortlessly.
30. Grey Ombre Bob
Grey ombre is hot in fashion trends nowadays and what better hairstyle is there to rock a perfect grey ombre than a layered bob? This one is as chic and sleek as a bob can get forming a circle of thick hair around your head.
31. Stylish Layering with Shorter Back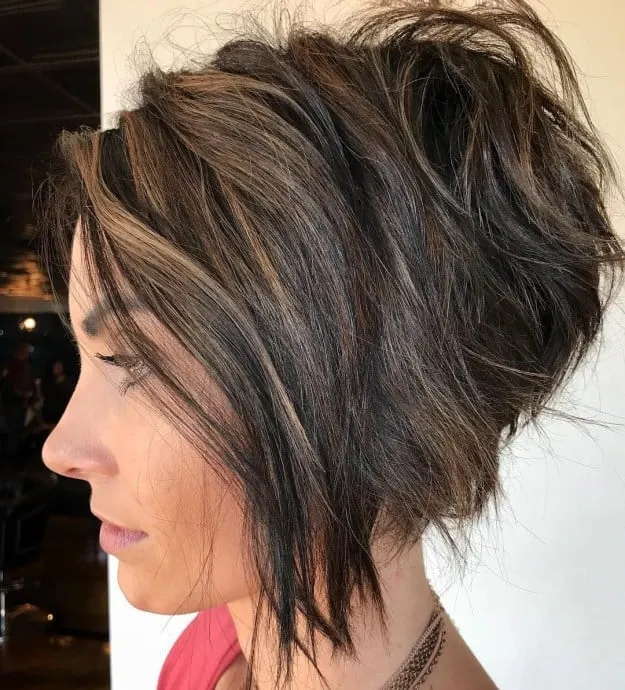 This one has very stylish and fine layering with hair getting even shorter going towards the back. The added low and highlights make it classy and more dramatic which instantly grabs the attention of everyone in a gathering.
32. Purple Ombre Bob with Grey Base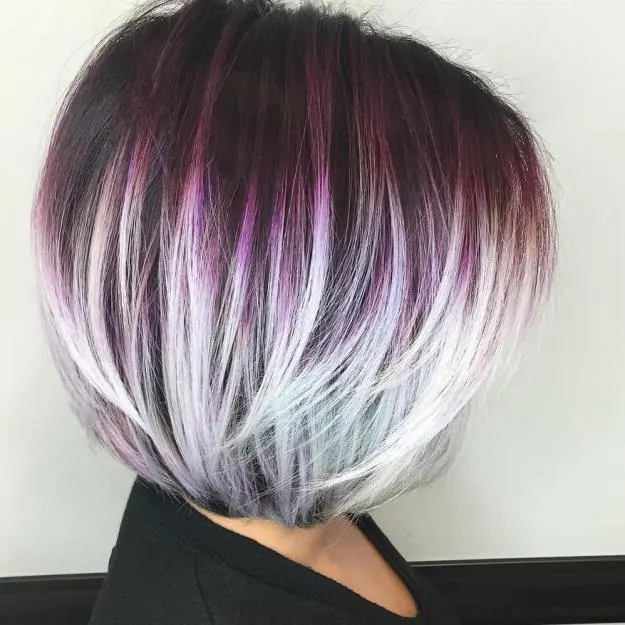 If unconventional and vibrant is your thing then you should then this epic layered bob. The purple ombre is exquisite and becomes more attractive and cooler with a grey ombre base. So, go all stylish and funky with this modern style this season.
33. Face-Framing Blonde Layers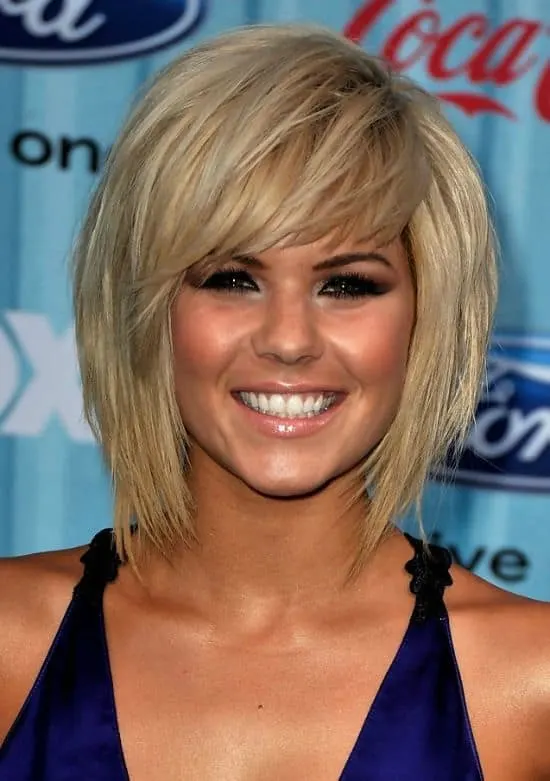 This one is a youthful and lovely style for young women who like to have short hair with loads of layers in them. The sharply cut hair frames the face perfectly and the short cropped hair at the front add fun and carefree energy to your style.
34. Golden Ombre Bob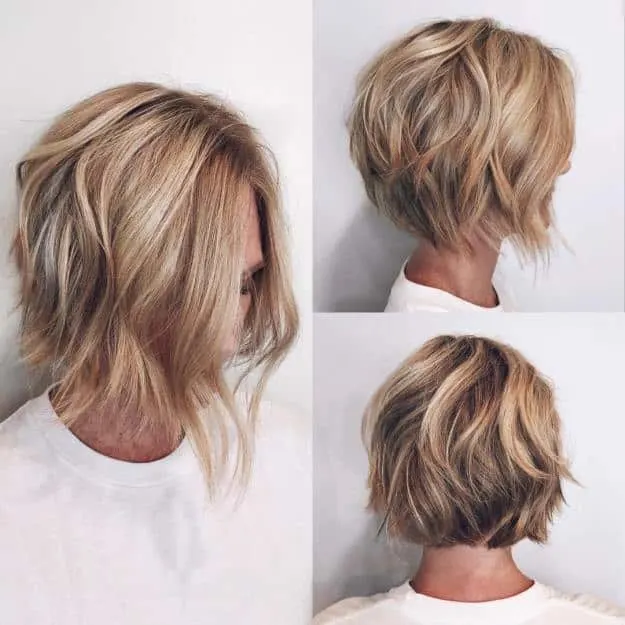 This one a thoroughly layered bob with changing length at different points. It goes longer towards the front and has other natural shades of hair too which brings out the ombre even more. It needs lesser styling time on a daily basis, so it is a win-win style for you.
35. Vibrant Red Bob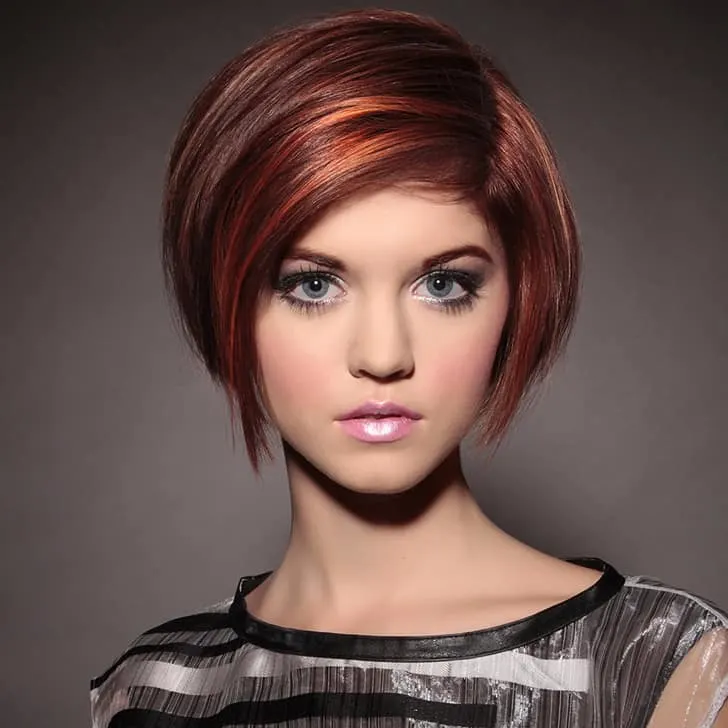 Red is totally your color if you are a young, beautiful and confident woman who knows how to play with style. The different shades of orange and red make this a fiery and attractive style, so it does not need much layering or length variations.
36. Easy Curly Waves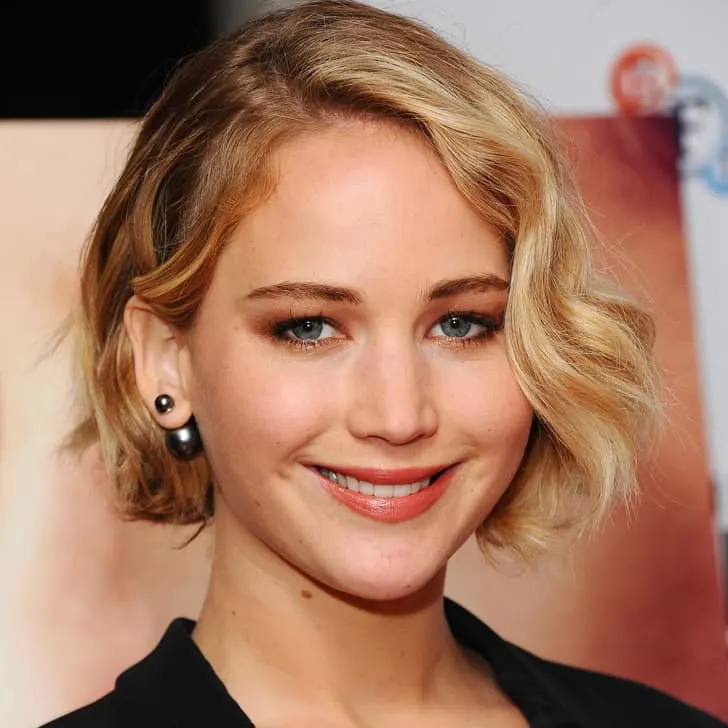 The ladies looking for classic and conventional fun waves can have this lovely and elegant style. The curls form loose waves around the head and fall nicely behind ears to give you a lovely chic look of a nostalgic cover page.
37. Long Blonde Waves
There are many variations of bob haircut with layers, but this one is a hand down winner for women who love their hair a lot and do not want to cut it too short. The easy blonde waves fall down and graze the shoulders, making you look and feel like a true Hollywood diva.
38. Straight Sleek Bob
For professional women out there, this one is that magical hairstyle which everyone adores no matter if they are in an office meeting or at a family gathering. You can never go wrong with this practical yet stylish bob.
39. Funky Black Layers
If you want to look chic, but do not want to change your natural hair color then this is the ultimate layered bob haircut for you. You just need to brush your lovely hair and you will be all set to rule the world throughout the day.
40. Stylish Golden Bob
This stylish golden bob is a favorite among the fashionistas around the globe as they look effortlessly trendy and modern with this. It needs minimum hair products to stay put in its place and the front flick is just too stylish to ignore.
41. Easy Cascading Curls
These natural curls cascade down the sides of your head and look exquisite, no matter which hair color you have or how you dye your hair. Curls are in fashion these days. So why not mix them up with a gentle bob and show the world who you really are?
42. Sleek Edgy Bob
This one takes Bob and layering to a whole new level as the edges are so sharp and well-shaped that you cannot help getting intimidated by them. The hair is longer at the front and shorter around the back which makes this look dramatic and modern.
43. Friendly Natural Bob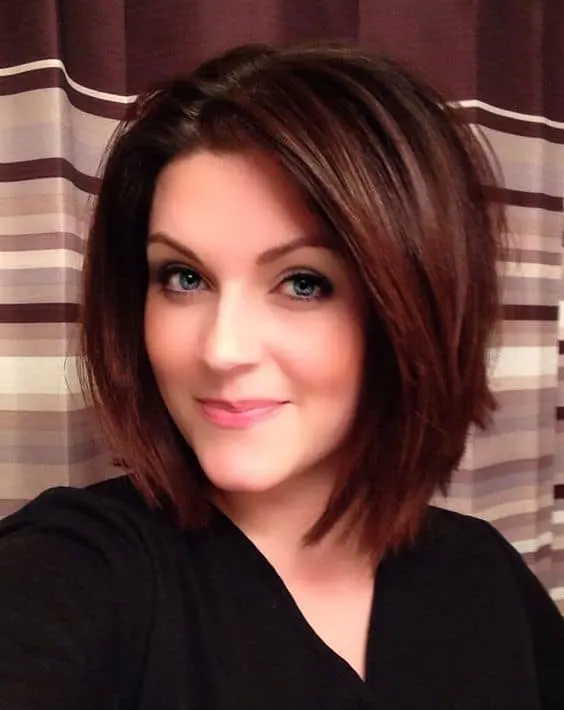 If you have a very easygoing personality and want it to show in the way that you carry your hair then a natural friendly bob is all that you need. The natural hair color shows that you can own yourself like the actual queen that you are.
44. Funky Edgy Layers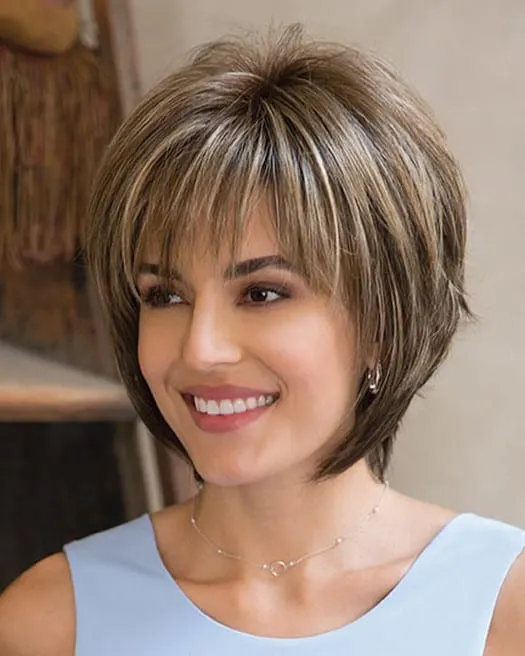 This layered bob is true to its name and has so many layers that you lose track of them. Only a professional hairdresser can pull off the layering and trim in this one. The overall look is stylish and sleek so you can rock it in official settings too.
45. Modern Layered Bob
This one is dream come true hairstyle for women who are bold and confident. They can have their hair as short as they want and look classy and stylish doing whatever it is that they do.
46. Stylish Curved Bob
This bob will have you fall for it instantly as the curls that run down your head are as stylish as they get. You can have them done occasionally or if you have natural curls that's even better. This one is the perfect hairstyle to fill your Instagram profile with.
47. Youthful Innocent Style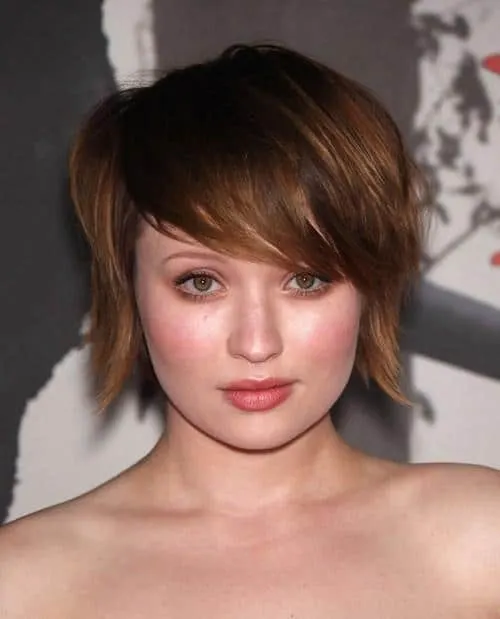 If you are not ready for an intense look, but still love short hair then a youthful bob like this one is best for you. The sharp layers and trimming make you look younger and carefree, so you must get this one.
48. Loose Beach Waves
The layered bob hairstyles get a whole new vibe with this easygoing and fun style. The loose beach waves are adorable and naturally enhance your style and charm many times. So you should consider it seriously before visiting your hairdresser this time.
49. The Hollywood Bob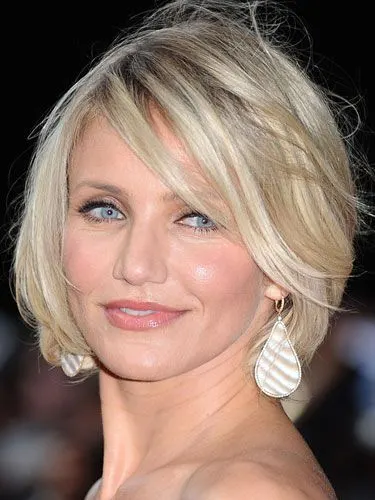 Many stars and divas have sported the Blonde Bob. It has now become an almost customary Hollywood style. The side layers are swept nicely and in a carefree manner which adds more class and style to it.
50. Electric Blue Bob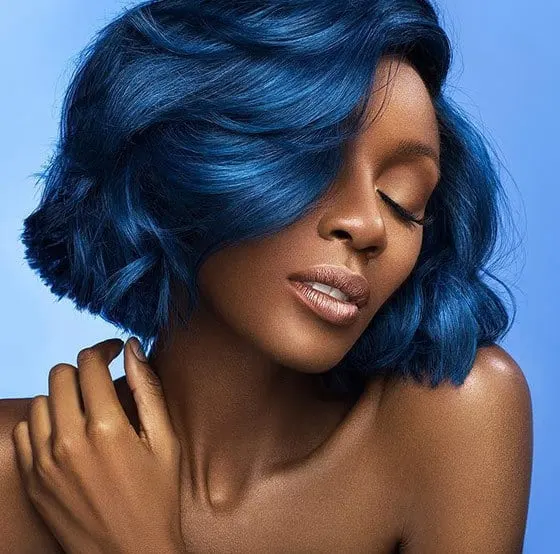 This is the style for confident and bold women who know that norms are not for them. The layers add it a dramatic and stylish feel that you can rock everywhere with confidence and charm.
51. Long Layered Bob
This is a simple yet elegant bob, which borders on the longer side of short hair spectrum. The back is long and the hair falls below your neck, but the front is covered in sharp layers and stylish trims.
52. Cool Compact Curls
You can have your bobbed layers curled up in a compact fashion, which makes sure that you never go unnoticed in any place that you go to. The style looks exquisite and lovely with the added low and highlights.
53. Gothic Black Style
This one is a really cool and intimidating style which makes you look like a Gothic character. The strand of blue in the front is an additional bit of fun and powerful charm that you need to look like a queen.
54. Wild Carefree Layers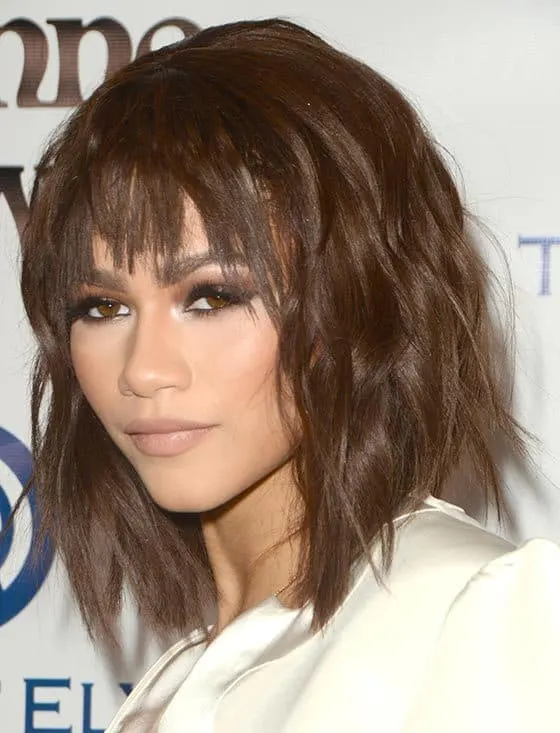 The wild and loose layers are the best option for you if you love a casual and stylish feel to your personality. This lovely layered bob is longer than usual bob haircuts so you can go for this one if you do not want to have your hair cropped short.
55. Sophisticated Layered Bob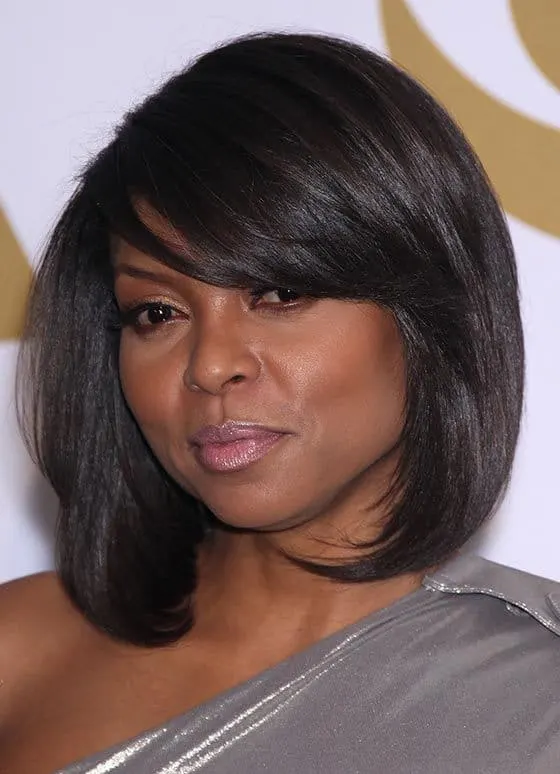 This elegant and sophisticated bob is the perfect style solution for middle-aged women who love to impress others with their fashion sense. This can be a permanent style option for you since it really is that good.
56. Lively Free Curls
If youthful free curls are your style then embrace this one whole-heartedly. We assure you that you will be glad that you chose this one since you are going to get so much praise for this one.
57. Wild Fun Bob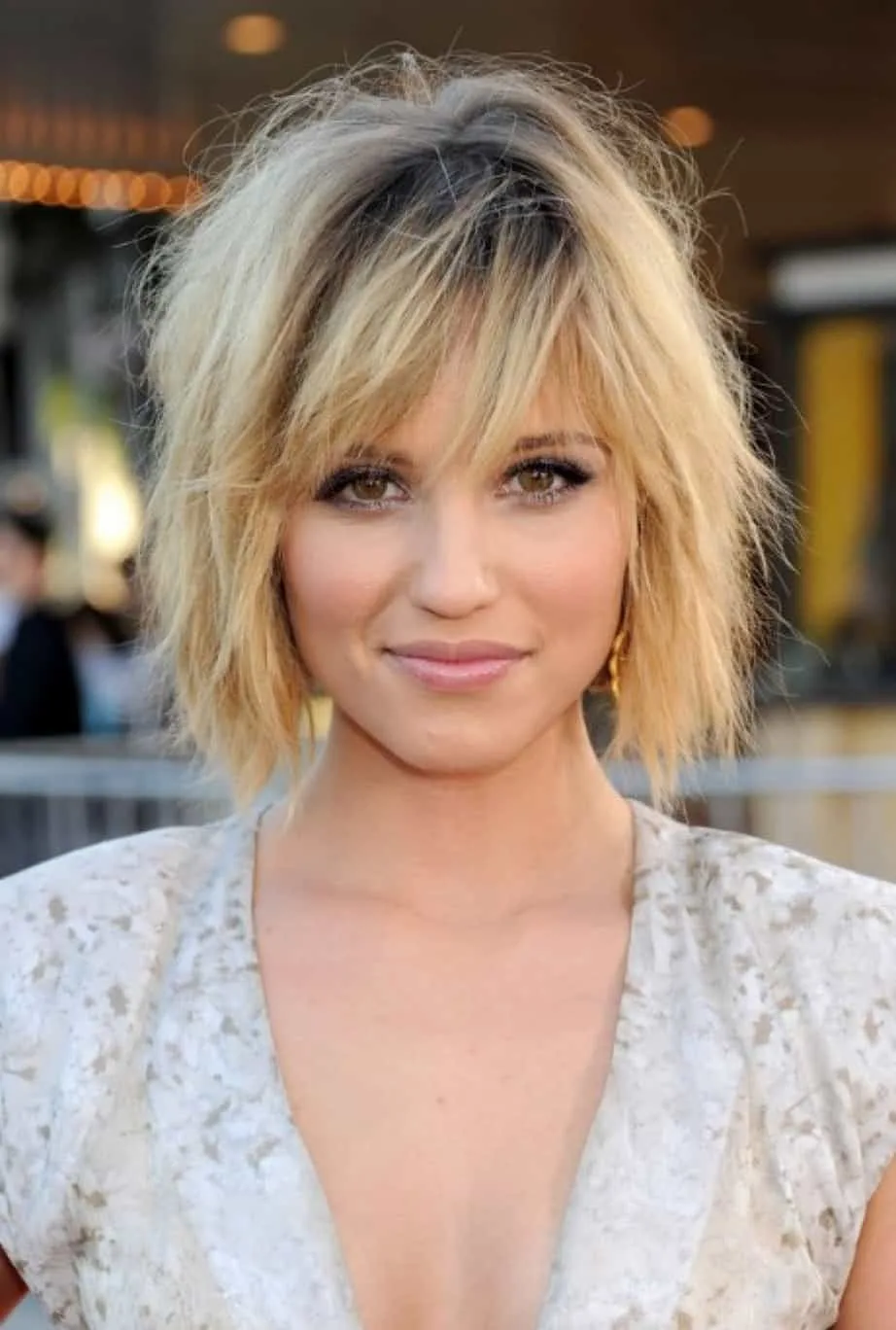 This one is the best-layered bob style for women who have an untamed streak in their personality. The easy and unconventional haircut is probably the ultimate style that you need to lift up your personal charm.
58. Sleek Grey Bob
This one is perfect for young women who love to experiment with different hair colors without having to cut their hair too often.
59. Easy Black Curls
This is the style, which you want if you have easy black curls and do not want to have your hair cut beyond a certain length.
60. Stylish Side Bangs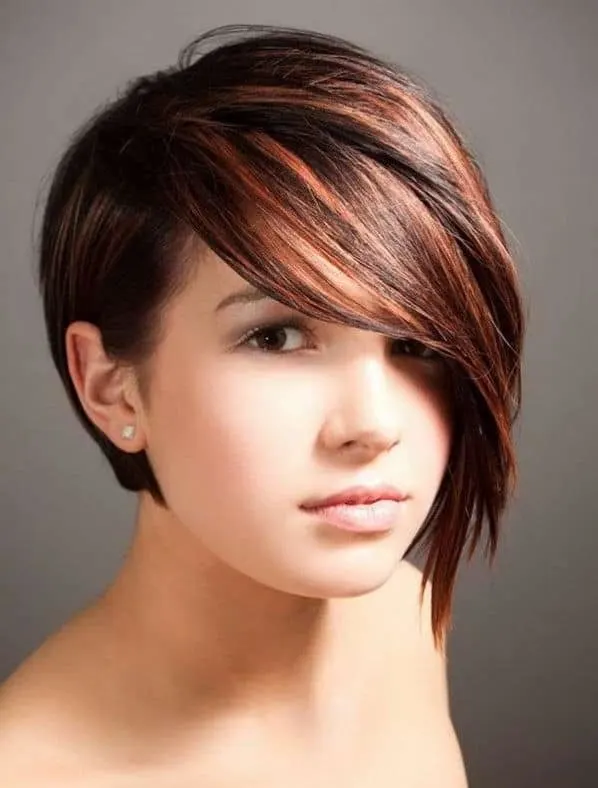 This stylish chic hairstyle is the fashion update that you need this season when you update your wardrobe.
61. Highlighted Curls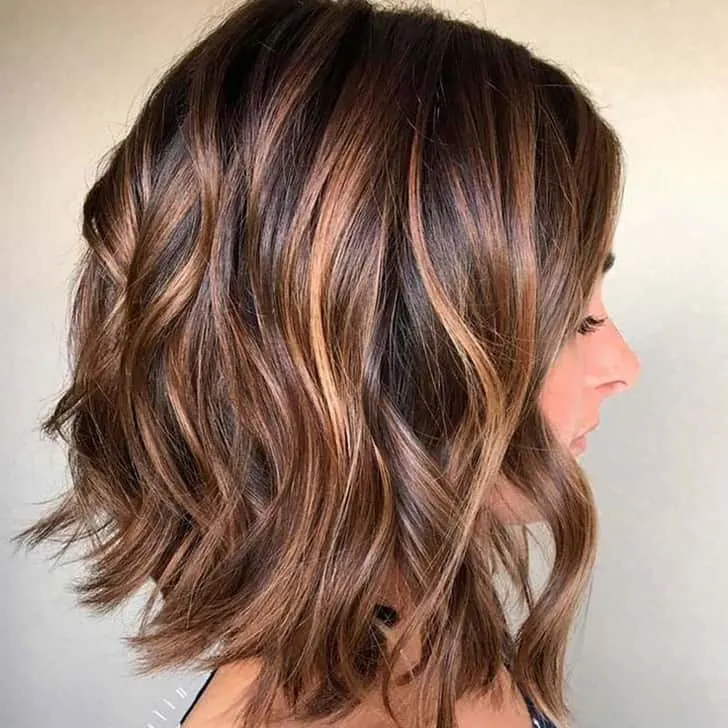 These lovely highlights and lowlights add all the right details that you need to look lovely and chic this season. So, go ahead, embrace this lovely style, and see how everyone starts liking you more.
62. Long Wavy Bob with Layers
One of the easiest ways to style a layered bob haircut is to create nice, messy waves. The most efficient way is to section your hair first and then curl each section with a curling iron. Then comb your hair gently, mess it out with your fingers, spray it with some hairspray, and you will be good to go.
A layered lob is a good base for something wilder and edgier. For starters, you can try combining it with some straight bangs that would match a rounder face beautifully and tone it with some gorgeous pastel toner such as this aquamarine one. Straighten your hair with a flat iron and wear it a little bit messed out.
64. Blonde Bob with Brown Highlights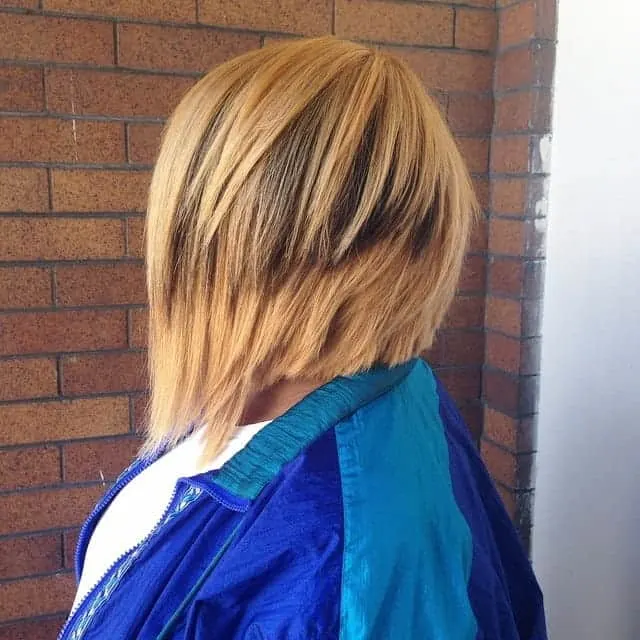 This bob with layers is longer at the front and shorter at the back and it consists of three layers. The base is colored honey blond, while the second layer has some interesting brown highlights. Then everything is straightened with the help of a styling brush and a blow dryer.
65. Lilac Bob
This lilac bob is so beautiful and unique because it consists of two slightly different shades of lilac hair color, one of which leans more towards blue, while the other shade is closer to pink. The two shades make for a gorgeous combination especially if they are styled into beautiful messy waves.
This asymmetric bob haircut with layers requires some heavy layering and thinning as the texture of it is very strongly emphasized. The pink color is applied in the formerly bleached and toned highlights on honey blonde hair. The hairstyle is straightened with the help of a styling brush.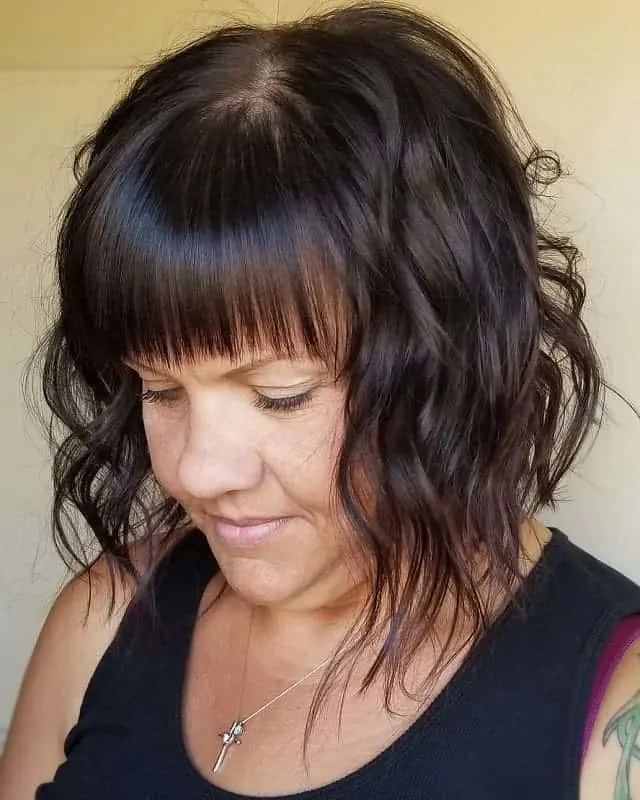 Styling thin hair into nice messy waves is a great solution. The hair should be shorter in order to not fall flat due to its length and weight. The waves are typically styled with the help of a curling iron, while the bangs are straightened with a styling brush.
Once this asymmetric bob is properly cut and layered, the top layer is lifted and bleach is applied to the middle layer in the form of highlights. The highlights are then toned with bright pink toner. After the whole hairstyle is done with the help of a curling iron, the highlights are just going to be peeking through.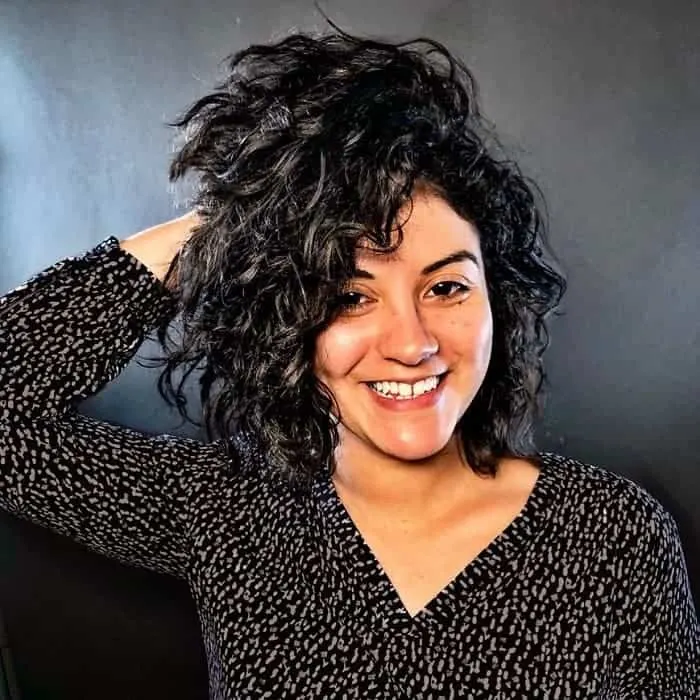 Layers are an absolute necessity on curly hair because while naturally curly hair does look completely stunning, it is also frequently more voluminous than you would like. That is why if you have curly hair, make sure you have some layers in your perfect bob in order for it to look cute.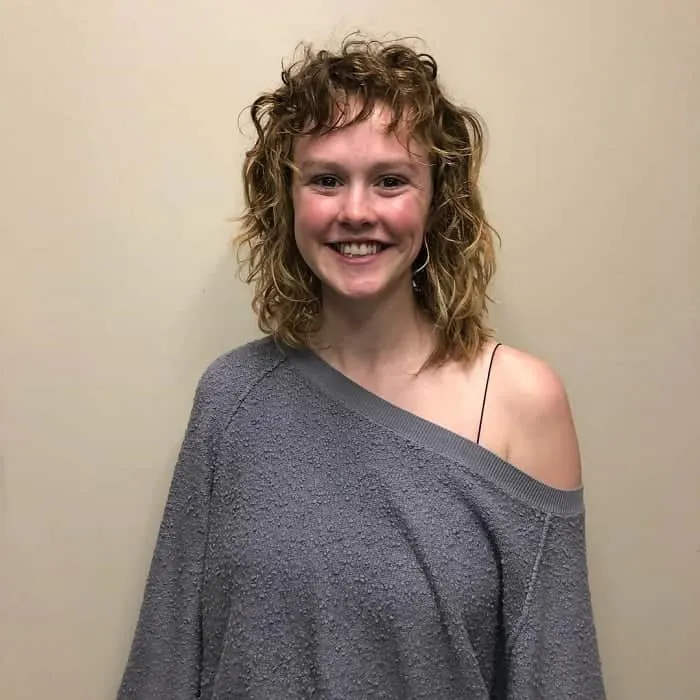 If you are free-spirited and low-maintenance, you should definitely consider this natural, curly, messy layer cut bob. Layers will help curls form better and with the help of just a tad of texturizing spray on your wet hair, you will always have a great hairstyle.
71. Asymmetric Afro Bob
As with regular curls, afro curls also require some layering if you want to wear a bob. Other than that, this haircut requires no styling.
A bob that is very heavily layered everywhere is great to make you look edgier, fresher and younger because it adds some geometry to the face. Plus, it is also great if you want to grow out your gorgeous short gray hair.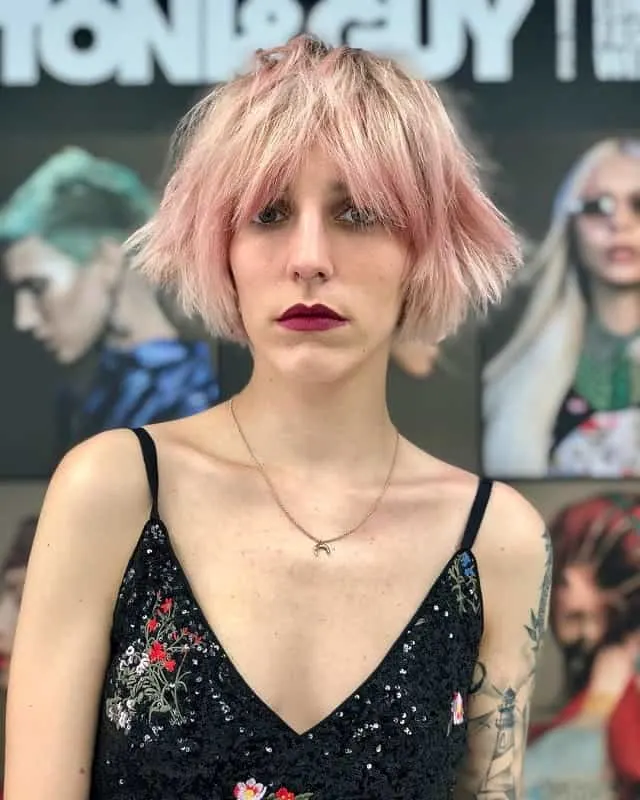 This look has a gorgeous, edgy, Japanese vibe. For this hairstyle, apply some hair mousse and keep messing your hair out while blow drying it. Pull some hair from the back towards the front and part the bangs in the middle.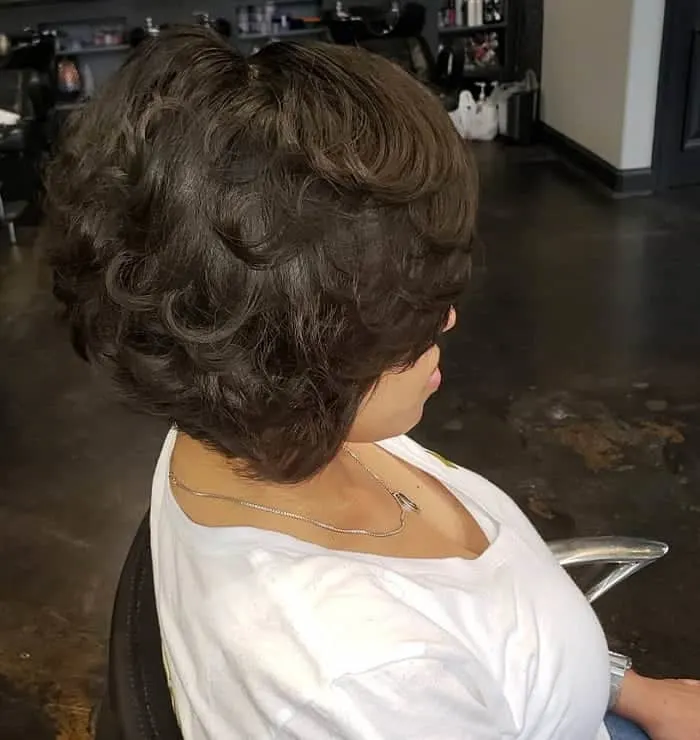 To create this hairstyle, you will need a thin styling brush. Once your hair is almost completely dry, take the thin styling brush and a thinner strand and curl it towards the back. Repeat that all over.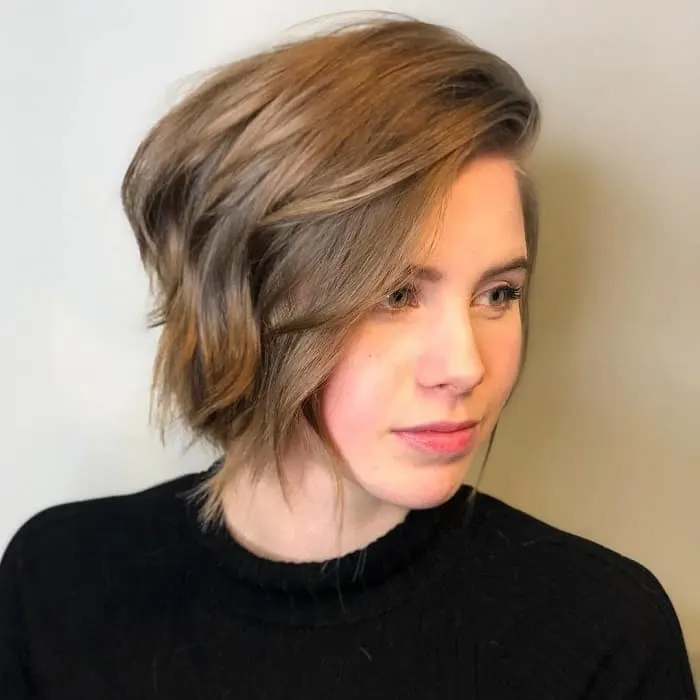 This relaxed, side-swept layered bob haircut looks very natural, yet very chic and modern. Keep in mind that this hairstyle is more suitable for girls with thinner hair. To create it, apply some hair mousse to your wet hair and keep squeezing the ends between your fingers while blow drying it for the loose waves to form.
76. Glamorous Bob
For a more glamorous occasion, you can take a wider curling iron and curl your hair towards the back for some elegant curls.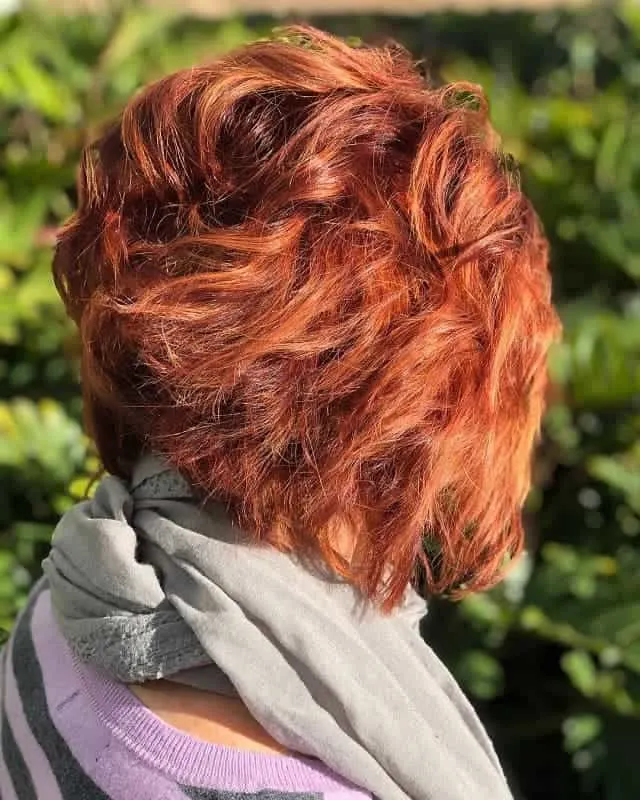 If your hair is layered heavily and to the point where the hair at the back is really short, the easiest way to style your hair will be to add some texturizing spray, blow-dry and mess out your hair, and optionally curl the top layer with a thin curling iron for some nice beach waves.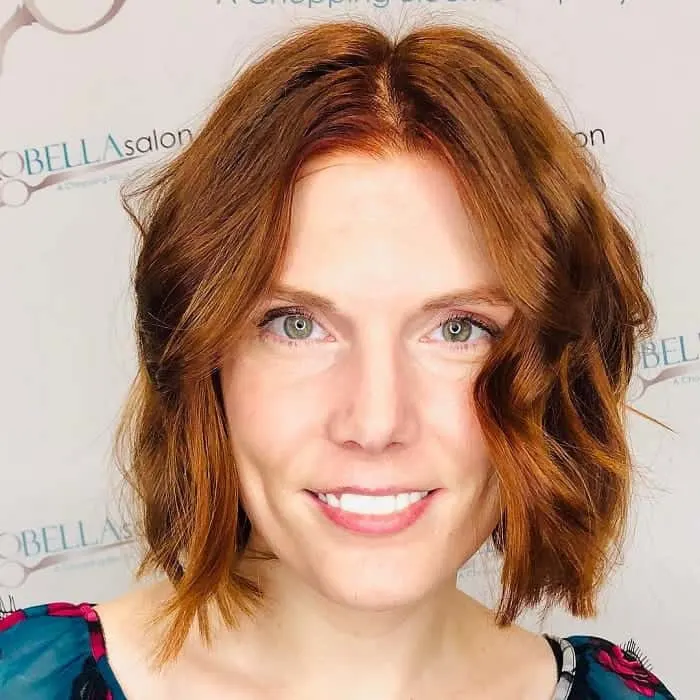 Oval and square-shaped faces go great with a middle part. For instance, if you curl your layered bob and part your orange brown hair in the middle, a bigger part of your face will be exposed and the overall look will seem brighter.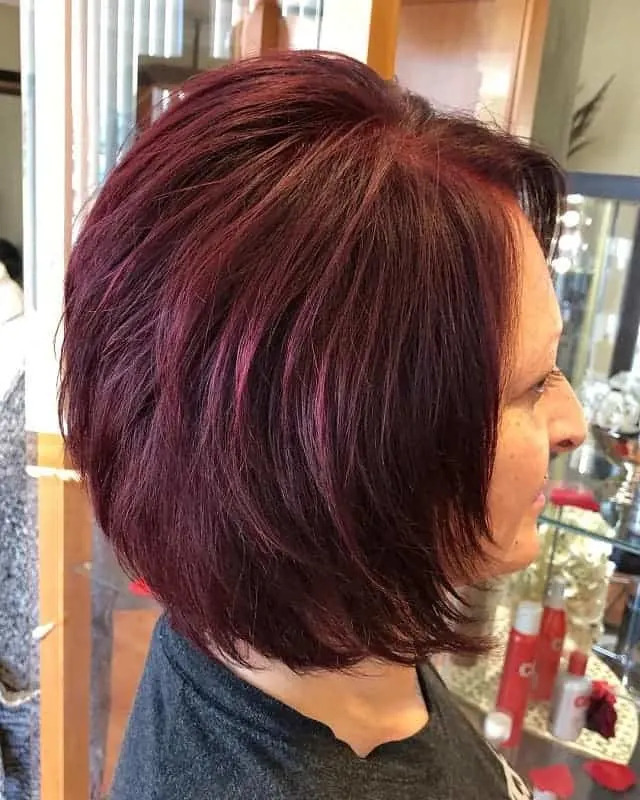 If you have a round or square-shaped face, the best thing to do is to add some dimension at the front too. So depending on the shape of your face, you can cut your bangs shorter and separate from the length of the other layers. Then style your hair with a styling brush.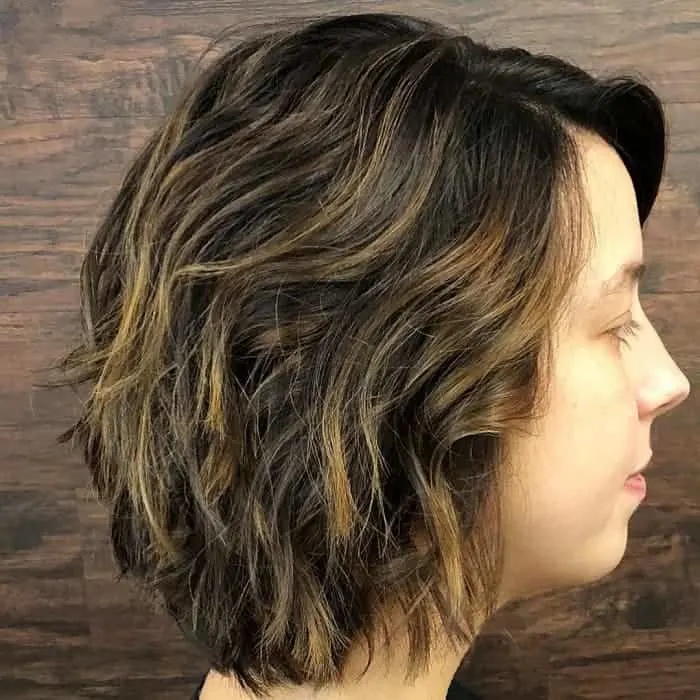 Highlights are great for emphasizing the texture of a layered bob cut even more. The best way to wear this combination is to use a curling iron to curl your hair and wear it side-swept.
81. Side-Swept Bob with Layers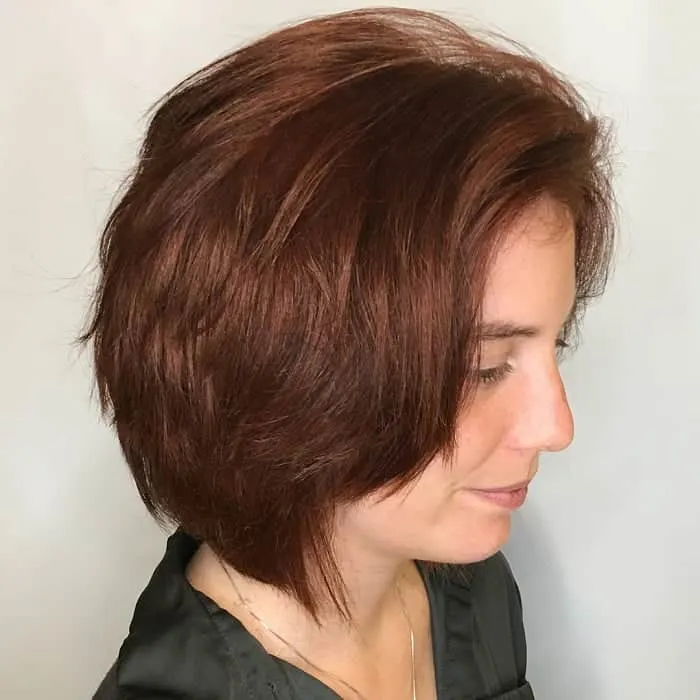 To create this natural hairstyle, all you need is to blow dry your hair almost to the point where it's completely dry, then take a styling brush and curl the ends inward. They don't have to be perfect, as some texture should still be visible. Wear your hair side-swept
Now that you've browsed these 81 layered bob hairstyles, you are ready to make the right choice. All these options are more or less easy to make and to maintain. So, give one of them a try. You can always change the bob if you don't like it.