The Boxed beard is maybe the most classic beard style of all. But "classic" doesn't have to mean boring. A Boxed beard works for nearly any man, and it says classy, stylish and aware. A Boxed beard reads as suave and sexy but not too fussy, a handsome look for any man.
What Is a Boxed Beard?
A boxed beard is a close relative of a full beard, but it is neatly trimmed with sharp lines along the cheeks to look like a box. This process usually leaves a small gap between the beard and the nose, so there is a small triangle or square of clean-shaven skin.
Other than appearance, short full beards are most different from boxed beards because they require almost no maintenance.
These can be short or long. Longer boxed beards are relatively hard to maintain, and if you don't do it correctly, your beard can look scraggly and unprofessional.
Short beards are popular because they don't require as many products as a long beard. To keep the beard looking good for work, you need to be on the ball with trimming your cheek lines.
Who Should Try Boxed Beard?
Boxed beards look great on any face shape but require a moderate level of grooming.
Only those who will take the time and effort to keep their lines clean should try a boxed beard. Otherwise, you should probably stick with a full beard.
Even though all face shapes are good with boxed beards, people with different face shapes might consider slight variations on their boxed beards.
For example, someone with a round face should ensure that the lines across their cheeks are longer and tapered to give a more angular look.
Someone with a triangular face might want straighter lines going down their cheek to add width to their jawline without distracting from the length of their face.
Trendy Box Beard Styles
No matter what your facial hair looks like now – it's easy to get a polished, updated Boxed beard. Here are 15 boxed beard styles we recommend.
#1: The Neatly Trimmed Boxed Beard
The Boxed beard is a relatively short, well-groomed style. Here we see a Boxed beard that is more closely trimmed than the classic. This beard style looks neat and clean. It works well for professional or formal occasions. This style works on many face shapes and disguises a weak chin or jawline.
25 Coolest Short Beard Styles of All Times
#2: The Short Boxed Beard

Here we see a version of the classic Boxed beard style done relatively short. This creates a particularly masculine look without being too "lumberjack." It's stylish and well groomed. This beard style suits men of any age.
#3: The Classic Boxed Beard, with Very Short Hair on the Cheeks

This look uses a Boxed beard style that shapes the natural jaw line. While most of the facial hair is trimmed to a uniform shape, hair on the upper cheeks has been allowed to grow in only slightly. You get a Boxed beard with a slightly grown out look. This gives you versatility: let it grow a bit for casual weekends and shave the cheeks, aside from the jawline for a more polished work on Monday morning.
#4: Curly Neckline Beard
This style is best suited for someone with a rectangular face shape, as the box shape of the beard will give the appearance of a more chiseled and angular face. To create this look, use scissors or clippers to trim the beard to a uniform length, then use a straight razor to define a straight line along the edge of the beard and below the jawline.
#5: Parallel Beard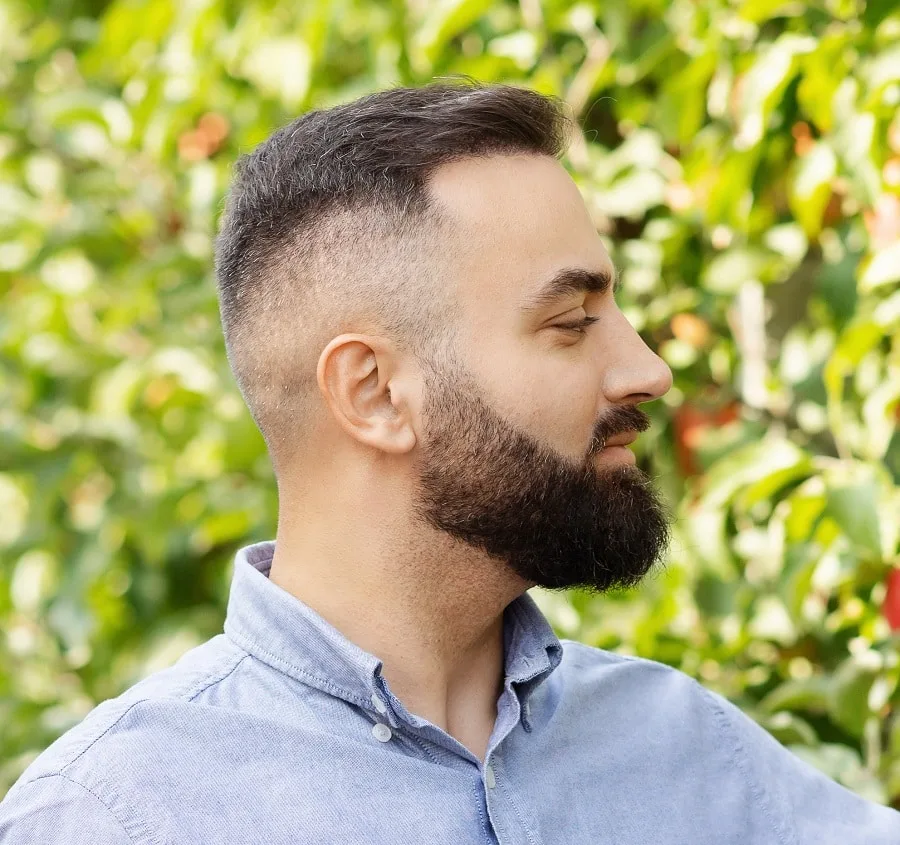 For this particular faded style, use a trimmer to shape the beard around the cheek and jawline, and then use scissors to create a fuller look on the chin. To finish the look, use a razor to clean up stray hairs and a curved line below the jawline.
#6: Grey Boxed Beard
This style requires precision to look its best, as the sides and bottom of the beard are trimmed and shaped to create the perfect balance between a neat beard and a rugged look. You may also create a distinct line around the facial hair.
#7: Trimmed Box Beard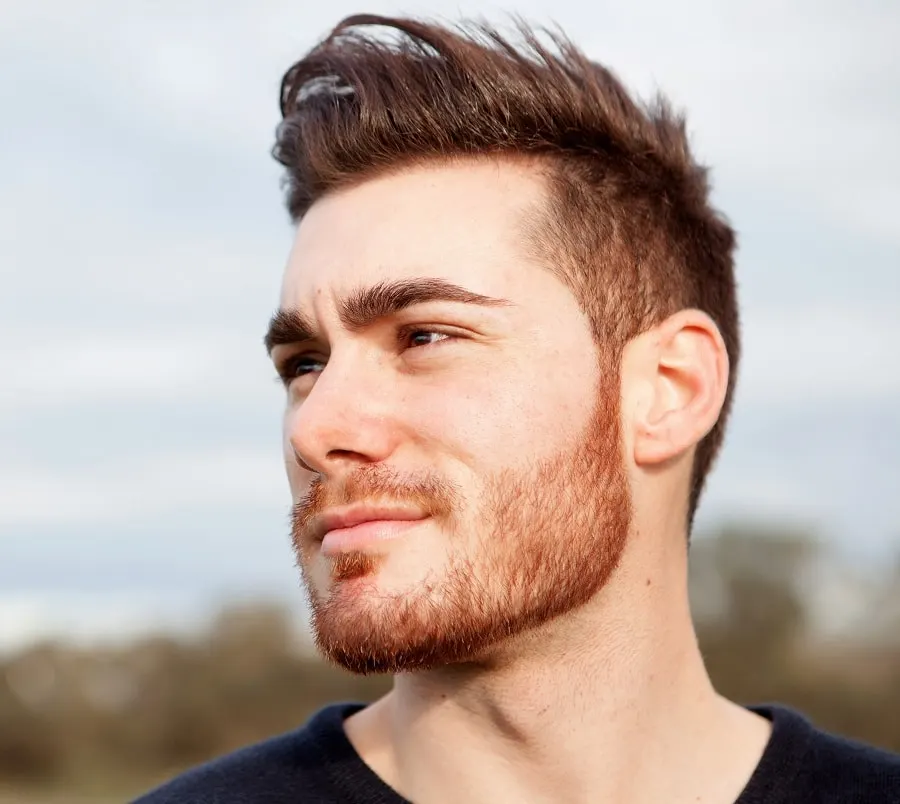 This short box beard is generally best suited for guys with strong, angular features. To achieve this grown-out bearded look, the facial hair should be trimmed to a uniform length, and the cheeks line should be slightly rounded, while the chin should be squared off.
#8: Stubbly Box
To begin with, trim the sides and edges of the beard while also using scissors to shape and create lines. Next, use a razor to clean up the neckline and cheek line. This boxed stubble beard is generally suitable for all face shapes, so anyone who wants to achieve a more masculine and rugged look can try it.
#9: The Classic Boxed Beard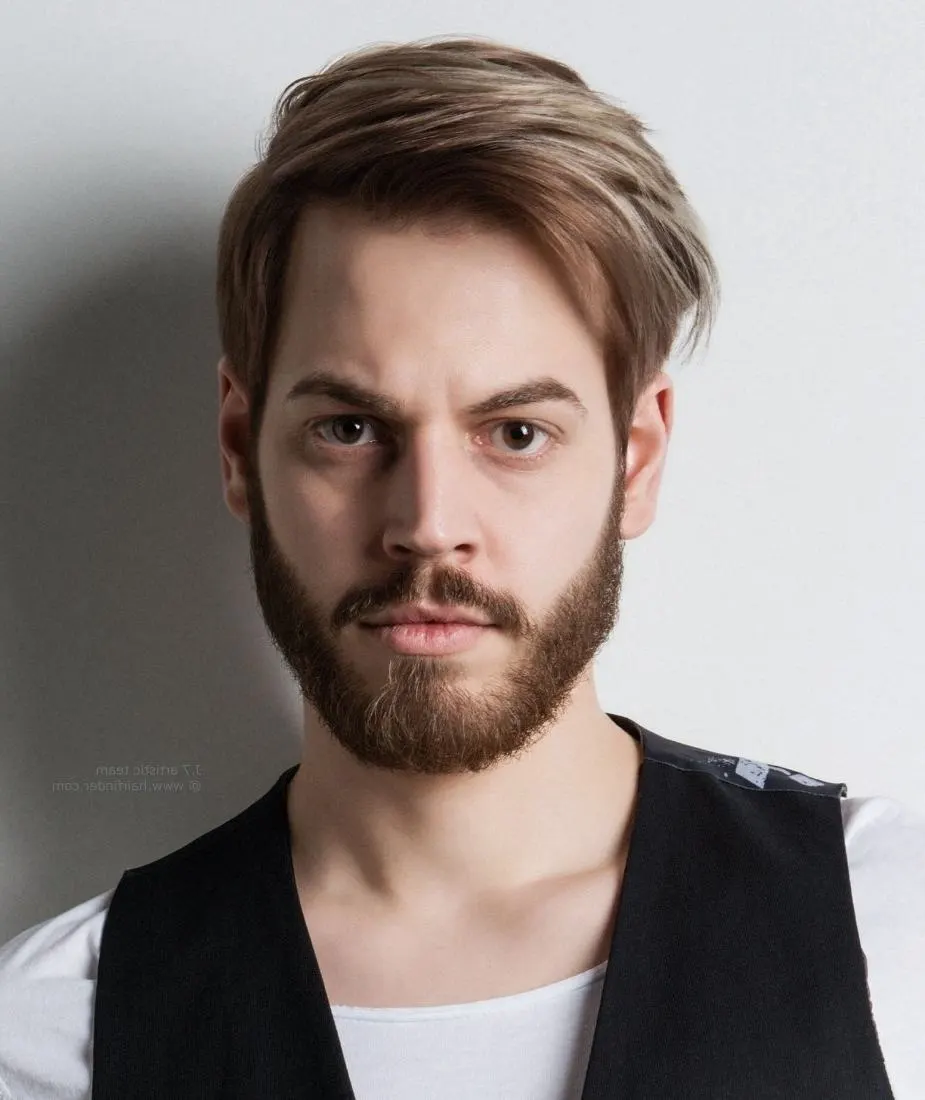 The classic Boxed beard will never go out of style. As you can see, it gives the impression of a handsomely square jaw and looks stylish but still masculine. This low-upkeep required make it a good choice for the busy man.
#10: The Sparse Boxed Beard
Finally, the Boxed beard style works well, even if you have relatively thin facial hair. As you can see here, even a sparse Boxed beard is still handsome and stylish, and as a bonus, it requires very little grooming.
#11:
#12:
#13:
#14:
#15:
Grooming Tips for Boxed Beard
You should consider several things when grooming and maintaining boxed beards. For example:
Use a precision razor to clean up the lines of your boxed beard every few days. Excess stubble will ruin the "box" shape and make it look like you have a full beard.
In addition to the cheek line, your neckline must be checked and cleaned regularly.
Ensure that you trim your beard every four to six weeks or as needed. Depending on the length of your beard, a good beard trimmer or a pair of short-bladed beard scissors are best. Boxed beards tend to look scraggly if they get too long.
You can't skip standard care just because your beard is short. You will need to wash and moisturize your beard frequently to keep the skin underneath healthy and dandruff-free.
Even with a short beard, beard oil or balm are good products to protect your beard.
Make sure that your razors and trimmers are clean and sharp. Ensure you replace your tools as needed.
Brush your beard daily. Boar bristle brushes are an excellent tool for brushing short beards.
The Boxed beard has long been a staple of men's style worldwide. This trend is likely to continue. Take your Boxed beard to a modern, updated place with one of these variations.