The trend of a growing beard never gets old. Every year we witness tens of the latest beard styles being introduced by the stylists. The dilemma is, many still do not have the slightest idea of how to grow a perfect beard.
People have their beards trimmed and cut only on speculation. In this detailed read, we are going to unravel some of the most amazing beard styles, and we hope you all are going to love them.
How to Choose A Beard Style
The shape of your face and chin determine the beard style you should choose. Here are some tips to choose the right beard look to boost your magnificence.
Round Face:
Round faces need to look longer, and a goatee can accomplish this need. Make sure that your beard style is highlighting your chin rather pointing out the rest of your face.
Square Faces:
Strongly defined jawline and equal width and length of the face categories in a square face. Pick a hairstyle that diverts the viewers' attention from your jawline. Short beard with a pointed chin and inward mustache are best beard styles for men.
Heart Shape Faces:
Heart-shaped faces have a wider look from the top that needs to be balanced. Grow thicker sideburns and opt for the bushy beard.
Oval Shape Faces:
They can choose any style as their face shape easily adjusts with all beard styles. However, pointed and bushy beards are perfect for them.
Short or Long: Which Beard Will Suit You?
• Short beards suit well on men having oval shaped thin faces.
• Also, the short beard looks delicate as a scruff on a man having a healthy face.
• Long beard style for men enhances the overall appearance of a healthy face.
• It should be grown by men having rectangular visages because it looks proportionate on such faces.
Ultimate Beard Styles for 2023
Most Popular Beard Styles for Men
Below is a list of our most favorite beard styles.
It's the most popular and easy to maintain beard style. The beard will give you an elegant look but not tidy. You can try different short beard looks on it and even it gives a complete look without any styling.
How to Style:
Don't shave for two to three days and let your facial hair grow. Trim it when it gets long and exceeds your desired length.

If you have thick facial hair, then don't miss the graceful look of a full beard. It never goes out of fashion and ideal to attain perfect manly appearance. It requires proper maintenance and regular cleaning.
How to Style:
the Full beard isn't for those men who have patchy and thin facial hair. Don't shave for five to six weeks and regularly trim to avoid the wild look.

Bring creativity in your facial hairstyle and make it look like famous actor Robert Downey Jr. Create an impression and get a style in your personality. It's perfect for men with a narrow chin.
How to Style:
The mustache is necessary for this goatee beard style. Don't shave for four weeks and leave a quarter of an inch gap between mustache and goatee.

Groomed beard style goes well with short hair and a square face. Extended mustache looks perfect with it. Men with blond hair and fair complexion should opt for this beard style.
How to Style:
Let your facial hair grow for six weeks and make sure your beard doesn't have patches. Wax your mustache to give them uplifted shape.
Combine your short trimmed beard with medium sized hair and add value in your personality. Both beard and mustache are same in size, and you don't need a professional hair stylist for it because it's very common and easy beard style.
How to Style:
Grow your facial hair and trim it after four weeks. Use a high-quality trimmer to get balanced and equal hair size.
6. Wild Beard
Are you fond of adventure and love expeditions? If yes, then don't hesitate to portray it from your beard. Get a wild and gruesome appearance to match it with your personality.
How to Style:
Forget shave and trimming for ten to twelve weeks and let the mustache and beard grow freely. Grow wild medium hair to get a real wild look. Cut hair from the mouth if they irritate you but better to leave them as it is.
It's a combination of a round goatee with gets combined with a mustache. Men with thin hair and small chin can opt for this choice and boost their appealing look. Go for it if you are a businessman or professional and looking for a stylish men's bearded look.
How to Style:
Circle beard is for round and oval faces. Grow your full beard and mustache and then go to a professional stylist to shape your goatee beard like Brad Pitt.
The blend of Balbo and round beard is called extended goatee. Goatee covers the major part of the chin while you can keep a slight gap in the middle of your mustache. Grow thin beard on your jawline and get Leonardo DiCaprio's Oscar award-winning appearance.
How to Style:
Shave the sideburns and let your mustache combine with a goatee. The width and length of law line hair depend on your choice. Prefer this hairstyle with beard if you have a square face.
9. Smart Business Beard
This is the choice of professional men who want a smart and sober look. You need to outline and trim the hair close to your face clearly.
How to Style:
Ask your hairstylist to make the equal size of all facial hair and emphasize on the chin by making a round shape to it.
10. Natural Outline
Give a completely natural look to your beard if you like the natural style of your beard. Never trim facial hair if they change the natural outline or just do some work on goatee to differentiate from remaining parts.
How to Style:
Make sure that your beard has uniformity and never disturb the natural outline. Avoid shaving neck scruff and let grow with mustache and beard.
Coolest Short Beard Styles for Men
Here are top 20 short beard styles for men you can try right now.
11. Stubble with Spiked Up Locks
It's not scruff but a bit longer than it. Men with spiked up locks should go for this style to get an ultimately sexy look. Blond hair and fair complexion support this men's beard style.
How to Style:
This style doesn't need much effort to attain, and even small care can give you the desired results.
12. Shaggy Short Beard Style
Shaggy beard style is perfect for thin and curly beard. It gives neat and clean looks while the maintenance is also very handy. Curly hairstyle and small mustaches make an ideal combination.
How to Style:
Don't disturb the natural shape of the beard and let it grow in its natural way. Trim hair one a week to maintain the actual size.
13. Patchy Beard
Show off your love with culture and traditions with the help of patchy beard. They become awe-inspiring when get matched with a handlebar mustache. Moreover, a patchy beard highlights the design of handlebar mustaches.
How to Style:
Daily waxing is required to transform your beard in handlebar shape while light trimming of facial hair gives you patchy beard style.
The thin beard can now be styled flawlessly. Match your taper fade hairstyle with a beard. Intense you appealing looks with regular trimming and never let the beard grow too much.
How to Style:
It's a very common beard style for guys that doesn't need much creativity. Ask your barber to make a thin beard and don't let him cut your hair from a certain limit.
15. Thin Beard with Fringes
Utilize a thin chinstrap beard in the best way by pairing it with extreme fringes. In this beard style, minimum facial hair is used, but it works wonderfully and improves your looks.
How to Style:
To make fringes, ask your barber to use two different trimmer levels and make sure you don't sustain any cut during the beard styling.
16. Van Dyke
Van Dyke beard style covers just chin part while you thick and extended mustache balances the overall look. The facial hair on the chin is slightly longer and highlighted. If you have long straight hair, then Van Dyke beard style is for you.
How to Style:
The beard style is best for thin facial hair that rarely grows on the jawline. Never shave or shave chin hair for two weeks and ask the barber to shave the jawline and sideburns.
17. Thin Chin Strap
If you have a small face, then bordered it up with thin chin strap. Minimal facial hair requires for mustache and jawline is the emphasized area. To get a complete look, get faux hawk haircut.
How to Style:
Ask your hairstylist to trim all facial hair except jawline hair. Decide the thickness as per your desire and trim mustache too.
18. Hollow Cheeks
Ryan Reynold's beard style adds value to your personality and makes it look thinner. Never shave your beard from the cheekbones to get the maximum effect. This beard style looks natural and elegant appearance.
How to Style:
It doesn't require creativity and expertise as all you need is a natural appearance. Maintain the beard style with regular trimming.
19. Pointed Chin Beard Style
Get a great beard shape by matching n shapes mustaches with a pointed chin beard. Thick hair is the main requirement of this beard. Dark hair and dark complexion support this beard style.
How to Style:
Grow your all facial hair and trim jawbone only to give a fade out look. Ask your hairstylist to make the pointed shape of the beard from the chin.
If you don't like a long beard or have some sort of allergy from the hairy face. Shave your beard in the morning, and the next day you will get this look. Barely There Beard style for men doesn't give the messy and tidy appearance.
How to Style:
Shave at alternative days and don't let your facial hair grow longer.
21. The Chin Dimple
Don't ruin the appealing looks of your sexy chin cleft and highlight it in the best way by getting 'The Chin Dimple' beard style. Grow your beard for three to four weeks get this style as it requires thick hair.
How to Style:
Ask your barber to make 'W' shape by extending chin hair to lips. It will make your chin prominent and highlighted. Keep mustache hair small to increase the appearance of a chin dimple.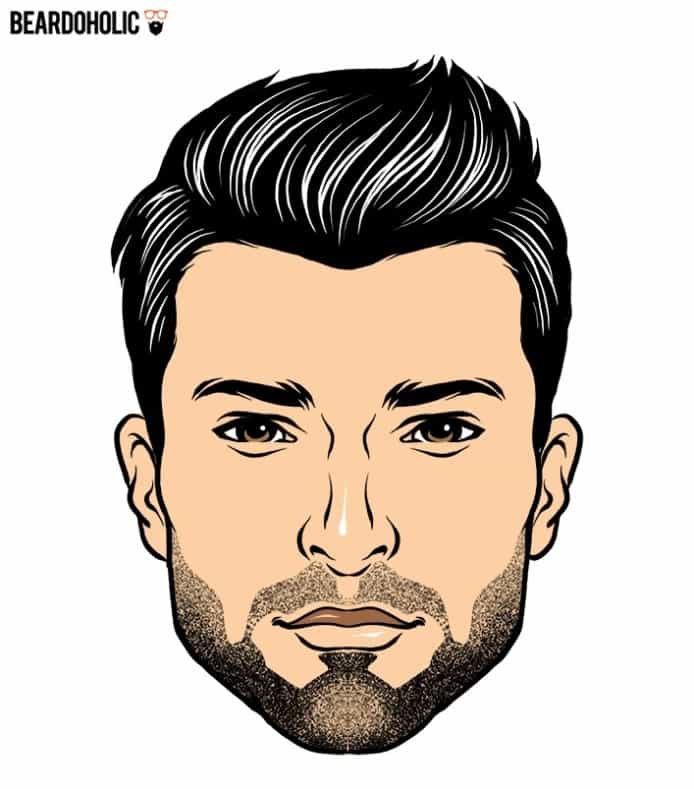 It's also known as French because of the full goatee. The mustache joins with the goatee and it's better to keep the high width of the mustache to hairy appearance. The beard style answers to need of both fair and complexions.
How to Style:
Shave the sideburns and cheekbone area. Just leave chin and mustache hair and get the complete bearded look by joining them together.
Chin curtain is the finest and minimalist look of short beard style. A thin line of hair starts from the sideburns and gets joined with Chin Curtain.
How to Style:
Grow your chin hair and ask your barber to make a thin line of hair and shave the remaining part. Even you need to shave your mustache to get this appearance. Make curves of the think hairline to elaborate the jawline.
24. Classic Goatee
Classic goatee beard style for men includes chin part and mustache. Thin hairline joins both while another thin hairline extends and meets to the lower lip.
How to Style:
Always go to an expert barber to get this short beard style as it needs precision and dedication. A clean shave is the outcome of even slight negligence. Ask your barber to shave the upper part of the chin in such a way that it prominent the central line.
25. Friendly Mutton Chops
This is a unique beard style with chin hair off. Grow your facial hair as much as you can and shave only the chin part. However, it's better to don't grow longer hair even on mustache and beard sides.
How to Style:
Tell your beard stylist to the shallow trim mustache, sideburns, and jawline and shave the chin part in such a way that it makes sharp edges. Shave hair from cheeks if you have any.
26. Soul Patch
Soul Patch makes an oval shape on your chin and while you can shave remaining facial hair. It's better to grow chin hair up to 2-3 mm so your soul patch can be viewed in a great way.
How to Style:
Instruct your barber to leave to 2 inches chin area and shave the remaining face. Ask him to make a leafy or oval shape on the chin.
27. Short Goatee
Patch Goatee covers only the lower part of the chin and has nothing to do with remaining facial hair. It's one of the bad beard styles that are easy to maintain and requires no effort to styling.
How to Style:
Grow 3 mm hair on the lower part of the china and shave mustache, cheekbone, and other facial hair.
28. The Patchy Goatee with Mustache
Shave your facial hair and enjoy the manly appearance by just growing patchy goatee and mustache. Let the soul patch to extend to the chin beard and shave the rest.
How to Style:
The beard style requires expertise so get the perfect beard shape.
29. Anchor Beard
Anchor beard comprises thin jawline hair and extended goatee. Keep longer mustache with it.
How to Style:
Precisely shave cheek hair and make a thin outline on the jaw bone. Highlight the line that meets patchy goatee with the lower lip.
30. Zappa
Thicker and square shape chin hair makes Zappa. You get a complete look with an extended long mustache like this.
How to Style:
Grow the chin hair and shave the rest. Define the shape of zapper with the help of perfect trimming.
Classic Men's Long Beard Styles
Below is our most favorite long beard styles trending this year.
This amazing beard style is a compact version of the long beard. It reaches high above the chest. The Polished beard looks more amazing when the bearer has curly and dense hair. It is prominent with any of the skin types but looks more prominent when the face is rectangular.
How to Style:
Allow your beard to grow without applying any oil or doing any trimming. Once it has grown to the fullest, trim it swiftly from the sides, and it is ready.
32. Boss Man
This is another most sought-after facial hairstyle being adopted by men these days. Constant shave leaves your skin with aging marks and blemishes. These marks can't be cured so leaving a beard on the face for some time is the best idea. The beard style for black guys is of moderate length and looks classy.
How to Style:
Just grow a beard and trim the sides so that it gives a proportionate look rather than a jungle having bushes all over.
33. Picture Perfect
This amazing beard style gives you a hombre look when it grows to the chest right from the sideburns. The roots turn from gray to white, and the ambiance proves as a natural color for it.
How to Style:
Keep on growing the men's beard from all sides. Makes sure to keep it combed with the oil to give it a funneled look and then trim from the sides and leave in the middle to form a cone.
34. Razor Sharp
The Razor Sharp is one of those beard styles which is adored by everyone but cannot be adopted by many due to its sharp edges. The handlebar mustache enhances the overall charm of the beard.
How to Style:
Leave the mustaches growing to their lengths but try to curl them from the ends. Also, give your beard a little trimming after having it grown properly.
Tired of scraggly beard styles? Adopt this latest Uniform beard style for guys which is of the same length as the mustaches. This whole natural style gives you a modish look, and you can adopt it irrespective of how your hair is.
How to Style:
Grow the mustaches and beard at the same length. When you trim, make sure to use the same number for both the beard and mustaches.
36. Woodsman
The faded sideburns and perfectly crafted length of the Woodsman beard style gives an exfoliating look to the gentleman. The identical color-do of the beard looks amazing and grants the face, a polished appearance.
How to Style:
Have your mustaches and beard grow. Trim the sideburns in a manner which extends the cutting line directly to the down neck.
This one of the easiest yet most difficult for many. The freshly trimmed and shaved outline is the key to having such a beard style. Clear out the excess hair using a tweezer from the cheeks.
How to Style:
Allow the beard to grow as it should and then comb the hair to the lengths and aid the straightening.
38. Bush and Coif
Featuring a cowboy type beard style whose elegance speaks for itself, the classy trimmed coif and a thick jungle of unruly hair makes the bush and coif style.
How to Style:
Maintain the beard as much disheveled as you can, and there you have it, the ultimate bush and coif.
About to be found in every movie having its origins from France, the Carefree beard style takes no time in styling.
How to Style:
Allow the beard to grow in a natural manner and after a certain time period, comb it once.
This is a combo of perfectly maintained coif but a disheveled beard. If you are in search for a natural beard style to be perfectly matched with your amazing hairstyle, go for the Burly Beard.
How to Style:
Allow your mustache and beard to grow. Once it reaches the chest, make a cone or trim from the sides.
We assume you know about the short-long beard we mentioned in one of our previous topics. This men's beard is more like a longer version of the mentioned version.
How to Style:
Trim the outline while retaining the grandeur of the fully grown beard and mustache. Be sure to cut the mustache a bit more than the beard.
42. Dare to be Bold:
This beard cut for old men holds the valor in every single manner. It features a goatee and a trimmed chin strap.
How to Style:
Shave the entire cheeks area while leaving a dense chin strap adjacent to the jawline. Allow the mustache and goatee to grow and then enjoy the new looks.
This facial hairstyle can be natural sometimes. Mostly, it is styled to give a two-tone shape. It is called two-tone as the beard is colored at the roots while gray from the middle and from the ends.
How to Style:
Growing a two-tone or lookalike is not difficult. Just let the beard grow and make sure to maintain the sides.
The faded style features a curled mustache and full grown lengthy beard which poses grandeur and elegance. You need to wax your beard if you are in search of this beard style.
How to Style:
In order to have a more modest curl of the mustache, trim it a bit more than the beard. Curl up the mustaches so as to give it the swagger looks.
45. Straight to the Point
This is undoubtedly the most ravishing beard style one could ever wish for. It is pressed to the extent that sometimes one can feel the pricks of the hair ends just like a needle.
How to Style:
Grow the beard to the chest. Comb it thoroughly to untangle the hair if any. Steam press the beard at 200 degrees Fahrenheit, and here it is.
46. Rebellion
This beard extends its valor to the hairline. However, it starts as a thin properly trimmed through sideburns and comes with a full exhibition of the beauty towards the chin, disheveled.
How to Style:
Trim the outline neatly because it is the key to this beard style for guys. Allow rest of the beard to grow and trim accordingly.
This facial hairstyle gives you the looks of an absconder on the run for years. It can be given tapered effect, but many leave it to the will of nature while growing this beard look.
How to Style:
Fully grow the beard, the mustaches, and the sideburns as well. Comb-out the sideburns and trim the sides.
The wave effect beard style features a goatee with a wave effect in it. It is simultaneous to a snake hanging from the chin. It is a time taking beard cut and cannot be adopted by everyone because it needs silky hair.
How to Style:
Trim the cheeks while leaving the goatee behind. Keep the goatee properly oiled and massaged.
Imbued with the natural essence of beard growth, is the All In beard style. Don't cut or trim even a single thing and leave the beard growth and see where it goes.
How to Style:
The only way to style All-In style is to let the beard grow.
50. The Hipster
The Hipster beard style is one of the most sophisticated beard styles one could ever think of. It is a neatly combed beard having a nicely maintained coif. Mostly, it is kept well when it is left carefree.
How to Style:
Allow the beard and mustache to grow and keep on maintaining the proper trimming from time to time because it will keep it from being disheveled.
Beard is a sign of manliness. It is something which is admired in almost every culture, race, ethnic group and nationality. If you ever decide to grow a beard, do so only when you can maintain the beard. Otherwise, a disheveled beard is an indication of a disheveled personality. Check these beard styles for men to take inspiration.