A short beard is a classic, timeless, and masculine look, and it can fit almost anyone. But with dozens of styles to choose from, you might be overwhelmed and unsure which will look good on you.
This comprehensive guide will answer all your questions, from what kind of face shape you should have to rock a particular style to your grooming concerns for maintaining a short beard. We are offering a lot of variety and styles that vary from thick or patchy to a closely shaved or stubble look.
Read on to learn about the different styles available, trimming and maintenance, and the answers to more frequently asked questions.
What Is a Good Short Beard Length?
An appropriate beard length for you depends mainly on personal preference. By most definitions, a short beard is a minimum of 5 mm in length, and the average is between about 5mm and 10mm.
Any shorter than 5mm is considered stubble or "five-o'clock shadow." Much longer than 10mm is pushing into a rugged, bushier look.
How to Choose the Right Short Beard Style
The style of beard that will look best on you will depend on several factors. The three most significant variables are your face shape, physique, and profession.
If you have a round or chubbier face, you might be a good candidate for sideburns as a style that will give the illusion of a stronger jawline. Thick, full beards may make your face appear rounder.
If you have a square or rectangular face shape, you may want to keep the sides trimmed short and have a little more length on the chin. This style will highlight your strong jawline.
The final consideration we will mention here is your line of work. If you work a blue-collar job, you can get away with a slightly more rugged, less manicured style. If you wear a suit and tie to your 9-5 gig, you may want to consider a look more appropriate for your professional setting.
It's important to remember that short beards are not one-size-fits-all and to choose your style carefully based on what suits you as an individual.
How to Trim and Shape Your Beard Short
To maintain a short beard style, you'll need to commit to trimming it every two to three weeks. How long you can go between trims will depend on your personal hair growth rate and whether the style you choose still looks good when it's a little more rugged.
Remember that trimming your beard is just as much about cleaning it up as it is about taking off some of the length. You'll want to even out hairs that are too long or outside the shape of your style. Generally, the goal is to smooth things out.
Investing in a high-quality beard trimmer is one of the best grooming decisions you can make, no matter what beard style you sport. They are easy to use, convenient, and will save you money on trips to the barber in the long run.
One of the great benefits of a beard trimmer is that most come with an assortment of attachments and guards, so you run minimal risk of nicking the skin on your face and neck. This also ensures that your beard style remains infinitely customizable.
Set your trimmer to between 5mm and 7mm, depending on your desired length. Always shave up and against the grain of your hair. Start slow and gradually take-off length. You can always return to an area to get a closer shave, growing back hair that you trimmed too short will take a lot longer.
Once you have gotten rid of most of the bulk, you'll want to go back in with a pair of scissors and clip any individual hairs that are sticking out. It can be painstaking to get everyone, but if you trim regularly, there shouldn't be many outliers.
Next, you will want to do a razor cut of areas outside the shape of your beard, including your neckline and mustache. You may want to use a shaving cream or lotion for this part, depending on how sensitive your skin is and the area of your face you need to shave.
The last thing you'll need to do after trimming is apply a bit of beard oil to hydrate your hair and skin. Shaving can irritate you, and this small step will help you avoid any itchy, painful bumps or marks.
Short Beard Styles
There are a great many beard styles to choose from. They vary in styles, cuts as well as the texture of hair. So, choose the beard of your choice from this list of some cool and stylish short beards that you can wear this year.
1. Short Patchy Beard
When it comes to styling a patchy beard, you can do a few things to make it look presentable. First, trim it neatly so that it is even length all around. Next, use a styling product to give it some life and hold. Finally, style it the way you want using a beard trimmer or scissors.
2. Short Chinstrap
Make sure your beard is trimmed closely around the jawline and below the lip. You may choose the style for you according to your face shape. If you have a round face, you may want to go for a more angular style. You can go for a more rounded style if you have a square face.
3. Full Beard
Having a short fuller beard can enhance your appearance. But make sure you regularly trim to keep your beard looking neat and tidy. On top of that, use good beard oil to keep your beard looking healthy and glossy.
4. Soul Patch
It is easy to style, flattering on most face shapes, and incredibly versatile. To achieve a soul patch, start by shaving or trimming your beard while keeping your hair under your lip. After that, use a beard trimmer to shape the soul patch style. You can go for a more triangular shape or a more rounded shape.
5. Goatee with Sideburn
To achieve it, start by trimming your sideburns to the desired length. Then, use a razor to create a clean line from the sideburns closed to the mustache. Next, trim the mustache and shape it however you like. Finally, trim the beard on the chin to have a goatee.
6. Short Mutton Chop
If you want to style your mutton chop beard in a cool and collected manner, aim to keep the facial hair tidy and low maintenance by cutting it shorter around the sides and top. This is a perfect short beard for those who want to have a rugged style that fits their personality.
7. Barely There
If you have a thin facial hair, there are a few things you can do to style it short. First, make sure your beard is cut properly so that it lays flat against your skin. Second, trim evenly to keep the beard short and styled.
8. Van Dyke
Van dyke beard styling can be difficult and need patience. Start by trimming the beard to a length that is comfortable and manageable. Then, a mustache wax to keep the hairs in place.
9. Thin Goatee
This short beard style is characterized by a very narrow, barely noticeable goatee line that runs down the chin, and it is popular among Asian men. To achieve a thin goatee, start by shaving the sides of your face and leaving hair on your chin. Next, use a beard trimmer to make it thin and gain your desired length.
10. Short Boxed Beard
This black beard is perfectly trimmed and styled to match its neat black hairstyle. Use a razor to shave in a soul patch shape to your beard and keep the sideburns trimmed to match for a consistent classy look.
11. Short Gray Beard
For a gray beard, there's a small tinge of black color throughout and on the mustache. These two colors are handsome for older men and should be embraced.
12. Short Neckline Beard
A neckline beard is just that: a beard that meets the neckline. This red beard is super short and great for men who need to look professional throughout the week.
13. Short Blonde Beard
For a medium-length blonde hairstyle, whether it's loose or in a man bun, a blonde beard that stops under the chin is handsome. Trim your beard hair daily for a kept look.
14. Short Thin Beard
Men who want a beard but have thin hair can still freshen up their scruff. The mustache on this look is disconnected from a sparse beard. But the trimmed style makes it look intentional.
15. Bald Man with Short Beard
If you're already bald, don't mess up your style by shaving your beard completely. Let a bit of hair grow so that it's short yet trim to balance out the emptiness up top.
16. Long Hair with Short Beard
A long thin haircut can pull off a short beard really well. The mustache on this beard curves downward instead of straight across. The rest of the hair is kind of scraggly and messier but works well with the long hair.
17. Short Beard for Black Guy
If you have really short hair, match it with a short beard. The one is styled so that the hair is a chin-strap. There is no mustache or soul patch so the focus is all on the jaw.
18. Short Beard for Round Face
On men who have round or oval-shaped face, the style looks better when a beard is short and not long, which draws the face down. Blonde and white combine on this beard with hairs brushed straight down.
19. Short Beard with Design
Lots of male pop stars have shaped their beard into this shortie. With its precise lines and shaved in details, it adds character to a colorful haircut.
20. Short Small Beard
On a men's slicked back hairstyle, a small and low-maintenance beard is complementary. Hair is buzzed or shaved around the cheeks, but shaped into a square at the chin to line up with a mustache.
21. Full Beard with Side Hairstyle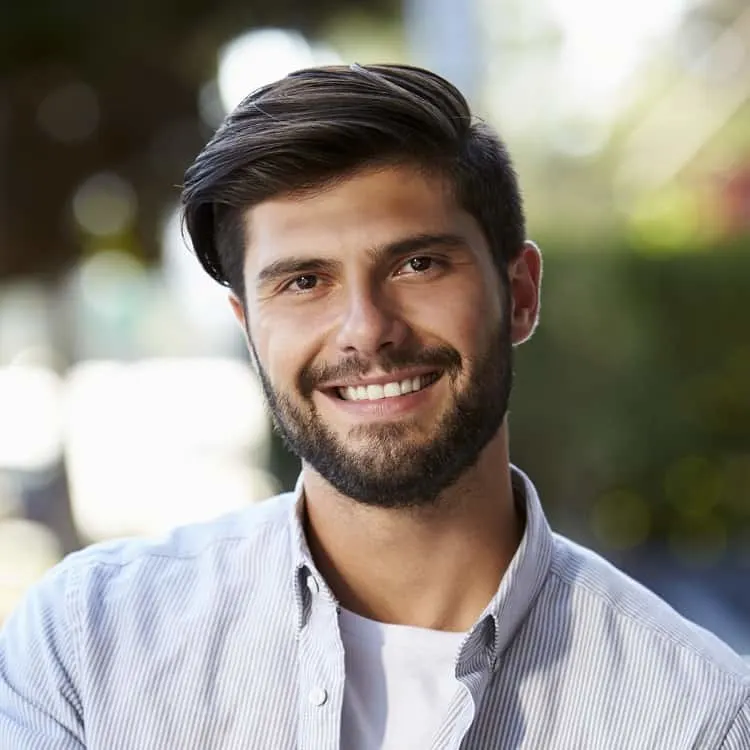 A hairdo for medium length hair features a deep side part while the beard is full and dark. The mustache is straight across, connecting with the short beard.
22. Thin Beard and Mustache
Prefer your beard to be short and narrow? This one features thin lines of hair from sideburns down to the chin where it gets fuller. The mustache is disconnected and very thin as well.
23. Goatee Beard and No Mustache
If you're a balding man or have very short hair, try a goatee with no mustache. It's super easy to maintain and is one of the best beard styles you can pair with a no-hair haircut.
24. Crown Out Stubble
Don't shave for a few days to get this sexy style of beard. It's attractive and simple, yet you only have to let your natural beard grow for a day or two to get this look. Again you don't need to shave any part of the face. Let it come naturally.
25. Thick and Full Stubble
This is another thick and full short beard style. In this short beard, you only need to touch up your beard enough to shape the cheek. If your beard is naturally thick, you can grow this effortlessly handsome look. If your hair is light, this look might not be suitable for you.
26. Classic Short Beard Style
The soul patch along with the handlebars gives this short style of beard a classic look and feel. Keep the strands of hair uniform throughout your face, and you're good to rock this look. Perhaps a little shave on the cheek to make this classic beard look neat and tidy.
Long Hairstyles With A Short Beard
27. Faded and Full
This is a faded style for short beard. The facial hair kept uniformly trim neat, and the faded design reaches up to the sides to the ear. The sides of the head just above the ear are also kept faded and trimmed to blend smoothly with the faded sideburns and the overall faded look.
28. Fuzzy short beard
Don't shave for some days to get this fuzzy beard. Then trim the beard uniformly throughout except the sideburns. As you trim the sideburns, trim them shorter as you approach head to give it a nice tapering look.
29. Medium hair short beard style
For those men who like to wear long mane can don this look for their short beard. The soul patch is kept thick to match the long mane. The handlebars are also left thick to give off a majestic look.
30. Chin Strap and mustache
In this type of short beard style, the hair is kept in the form of a strip along the jaw line. The sideburns join this thin hair strip and frame the face giving it a distinct look. The look is combined with a simple mustache for an overall attractive look.
31. Classic Short beard Style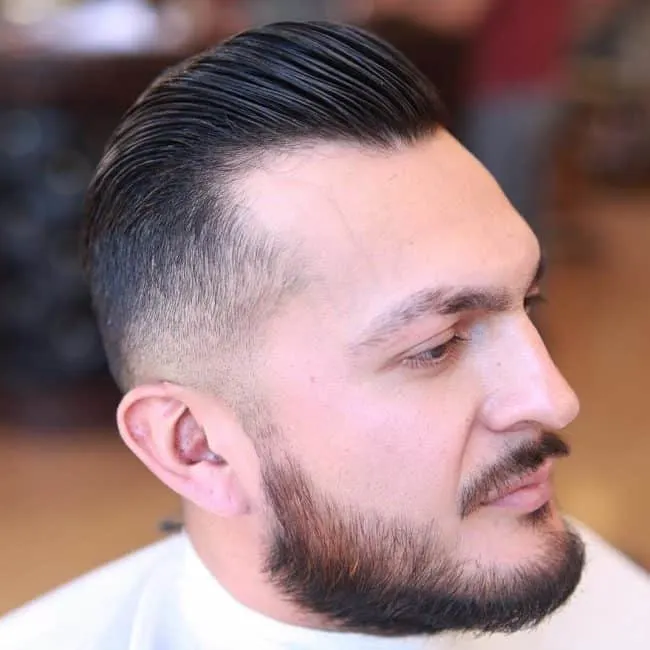 This short beard style aims to keep beard hair short and straight. For those who have long whiskers, when they trim their beard it has a bald fading effect. This effect is prominent near the ear to bring in a gap or a kind of disconnection from the head. The hair on the head is also slicked back to give the overall appearance an edge.
32. Slicked Full Short Beard
There isn't anything unique in this beard. This is a full beard naturally grown without any outlining. Instead of shaping the beard, just brush the beard down to create this simple yet attractive short beard style.
33. Sexy stubble
Stubble look is all about leaving your beard to grow in its own shape. To get a stubble look, you should not trim or shape your beard. This is a long stubble that you can get if you don't shave for a week or so. This look works its magic best if you grow a mustache to match it.
34. Sharp and detailed
If you like simplicity, this style for short beards is for you. This beard is short yet elegant with a chin strip that is shaved closely near the cheeks and a soul patch. This style rocks with a pair of mustaches to go with it.
35. Short Beard with Long Mustache
Trim your ginger-colored into this short beard and mustache that match a long messy hairstyle. The mustache isn't too thick, so it won't be overwhelming or too oldies for the style.
36. Smooth Chin Patch
The short beard comprises of a small patch of whiskers on the chin to give it a distinct prominence. The look is matched with a thin and small mustache. Shave the cheeks nice and smooth to finish off this short beard style.
37. Thick Wavy Beard
The beauty of this style is that it has a thick full beard that covers the entire chin. This beard is worn all over the face and gives a definition to your face.
38. Circle Short Beard Style
This is a stylish beard in which the mustache joins the goatee and forms a full circle around the lips. The cheeks are shaved closely to give the beard its characteristic shape.
39. Bold and Textured
This beard offers a bold look to your face and personality. Let your naturally textured hair grow for a few days. When they grow a few inches, you can trim them off uniformly to achieve this look.
40. Disconnected stubble
This is another cool short beard style. The stubble doesn't need to be trimmed for this look. Don't shave the cheeks as well. Your natural beard hair decides the shape of your beard in this style.
Maintenance Tips
Short beards are a classic and versatile look. However, they need to be maintained properly to look good. It's a good idea to get your beard professionally trimmed by a barber about as often as you get your hair cut.
In between, you will need to trim it regularly at home to keep it looking fresh and symmetrical. You might assume that because your beard isn't long, you can skip out on combing it, but this is not the case.
Using a boar bristle brush on your beard will not only help catch any early tangles but will also clean and exfoliate the skin underneath your facial hair.
Short Beard vs. Long Beard
Whether you go for a short or a long beard depends on the shape of your face, your haircut, your personality, and your style. Longer beards are generally more work to maintain and keep clean, and they are not always considered the most professional, depending on your work environment.
If you are trying to grow a short beard into a longer beard, we still recommend that you trim your facial hair regularly to keep it from looking unruly and overgrown.
FAQs
Here are some of the most asked questions about short beard styles.
How often should I trim my short beard?
Generally speaking, the longer you keep your beard, the less often you'll need to trim it to maintain that length. A short beard requires fewer trims than a clean-shaven or stubble look.

However, the maintenance requirements will be higher than a longer beard. At a minimum, you should trim your beard once every three weeks.
Should I trim my beard wet or dry?
You should always trim your beard when it is clean and dry. Wet hair stretches out and is longer than dry hair, which means you won't have a clear idea of how your beard will look if you trim it while it's wet.

It might be inconvenient to wait for your beard to dry fully before trimming it, but you will end up with a cleaner, more even cut.
Can I dye my short beard?
You can absolutely dye your beard. Whether your goal is to cover gray hairs, make your beard appear more full with a darker color, or simply change up your look, there are a few things you should keep in mind before putting on your gloves and going in with the dye.

You will need to decide between permanent, semi-permanent, and temporary dye. Because the hairs on a short beard are so close to your face, there is more of a risk of staining your skin than with dyeing a longer beard or the hair on your head.

Just be sure to keep some alcohol-based wipes on hand when you are working with hair dye in case you get any color on your skin.
Can I use beard oil on short beards?
Yes, you can use beard oil even if your beard is short. Beard oil will help to hydrate and moisturize both your hair and the skin underneath it, and is great for your facial health.

Shorter beards can also tend to be pointier and scratchier than their longer counterparts, so it's especially beneficial to add a little extra moisture to soften things up and limit skin irritation.
Can short beards be straightened?
Short beards can be straightened just like long beards! If you are going to go this route, you will need a few tools, the most important one being a beard straightener or a heated beard brush.

For short length, a heated beard brush may be the better choice. A flat iron straightener can be dangerous if you don't have the length.

One consideration to keep in mind is that over time, excessive use of heat to style your beard can damage your hair, causing it to become dry and brittle. If you choose to straighten your beard, make sure to use a high-quality beard oil to keep your hair healthy and moisturized.
Is a short beard similar to stubble?
A short beard is very similar to stubble but with a few key differences. If your facial hair length is less than 5mm, it technically falls into the category of stubble. Stubble is generally less full, with hairs that remain closer to the face.

Some people are opposed to stubble because the short length means that it is often scratchy or itchy. Many don't prefer the aesthetic of a less full beard, especially if you don't have an even growth pattern.

For others, a stubble look is a perfect balance between a beard and a clean-shaven face.
Should I style my short beard with or without a mustache?
Whether you choose to style your beard with or without a mustache is all about your personal preference. Some people don't like the scratchy feeling of any hair on their upper lip. Others don't mind it and enjoy the classic look of a beard and mustache combination.

Keep in mind that a beard without a mustache may make your chin area appear broader. Depending on the shape of your face and your figure, this could be a benefit or drawback.
With all of these short beards for men to choose from, we're sure you won't have any problem finding one you like.