Less breakage and more comfort are the best benefits you can get with knotless braids. The best part is it also works well on short hair, and we have lots of examples of short knotless braids with beads to prove that.
With knotless braids, you won't have to deal with the unwanted bulging of your hair on your scalp, so they look neater and a lot more polished than the usual box braids. This trendy hairstyle is often seen with hair beads, which are the perfect accessories for giving your hairstyle a personal touch.
Fashionable Knotless Braid Hairstyles with Beads
If you wish to flaunt your gorgeous braids and enjoy flat and smooth roots at the same time, here are some of the best ideas to try. Whether it's for that next big event or just a party, these short knotless braids with beads will have heads turning and folks wondering who the stylist behind that masterpiece is!
1. Chin-length Knotless Braids
The best part about short knotless braids with beads is it creates a cute and elegant long bob hairstyle that looks flattering on all face shapes. Accessorize the braids with a combination of metallic and transparent hair beads that will match the braid's classy look.
2. Magenta Medium Braids
With this bright magenta hair color, you can now say goodbye to dull and boring braids and hello to this head-turner. Opt for simple transparent hair beads instead of the colored ones to let the playful color be the center of everyone's attention.
3. Blonde Braids + Deep Side Part
If your personal style is on the edgy side, style your knotless braids with a deep side part. Begin with a middle parting when building your braid's foundation then just simply swipe your braided strands to the side once you're done.
Pair your look with wooden beads or with brown shades that will blend well with your gorgeous blonde shade.
4. Top Braided Ponytail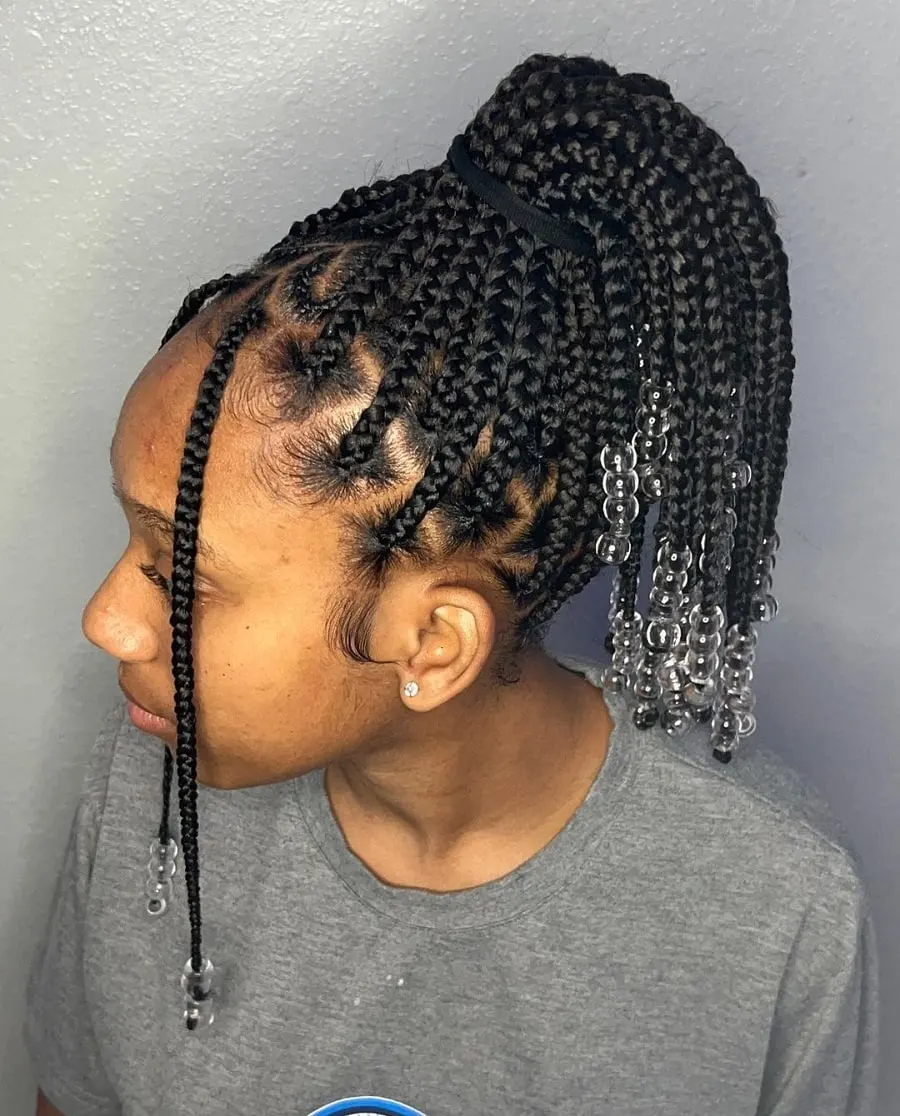 If it's about shoulder-length, you can pull your short knotless braids with beads into a top ponytail. This simple hairstyle pulls all the hair away from your face and is the perfect choice for days that you're on the go.
5. Braided Top Knot
But if you want a more attention-grabbing errand day hairstyle, go for a top knot instead of a ponytail. Since the knot keeps your face-hair free, you can simply leave a few strands out front to enjoy a few face-framing benefits.
6. Colorful Braided Pigtails + Heart Design
Show off your baby girl's fun and feminine side by dyeing her braided pigtails with different shades of pink and purple.
Take this look to a whole new level by making heart-shaped hair art at the top. You can create these by creating a loop at each side then pinch the middle of each loop and secure it with a hair elastic to form the shape of a heart.
7. Triangle Knotless Braids
Give your usual box braids a new and refreshing look with these triangle knotless braids. The good news is you can easily create this look by dividing your strands in a shape of a triangle instead of a box. The resulting triangular pattern creates a bolder and more glamorous look.
8. Half Braided Bun + A Pop of Red Color
If you can't choose between wearing your braids down or up, this braided half bun is your best bet. With this hairstyle, you can get the front braids away from your face while still enjoying the length of your hair at the back.
Add feed-in braids in a bright red shade into your braided strands to make them stand out.
9. Blonde and Black Braided Lob
Incorporating a few blonde strands into your look is a great way to determine if the color suits you without fully committing to it. This hairstyle is a beautiful example of how to do that.
Finish off your look with colorful hair beads to give the hairstyle a more playful look.
10. Center-parted Braids + Wooden Beads
Donning a center parting is one of the best ways to make your short knotless braids with bead work-appropriate. Since the braids are parted in the middle, the braids give off a well-balanced look which opens up the face and draws attention to the eyes and cheekbones.
11. Half Braided Pigtails
Get the pigtail's fun and playful vibe and the half updo's girl-next-door appeal with this braided half-pigtails. The half-do also gives you the perfect opportunity to play with colors, so take this chance to add a mix of blue and brown feed-in braids to liven up your look.
12. Blue and Violet Knotless Braids
With short knotless braids with beads, you're given the chance to jump into the mermaid or unicorn hair bandwagon without dyeing or coloring your hair, and you have two options to do it. For one, you can add colored feed-in braids like the blue strands. Second, you can opt for a hair color spray like the purple strands.
13. Short Braided Updo
Make your hair errand-ready with this short braided updo. All you need to do is gather as much strands as you can and pull them into a high ponytail. Don't worry about leaving a few strands at the bottom or in the front. They are all part of its charm.
14. Two-toned Braided Pigtails + Pink Hair Beads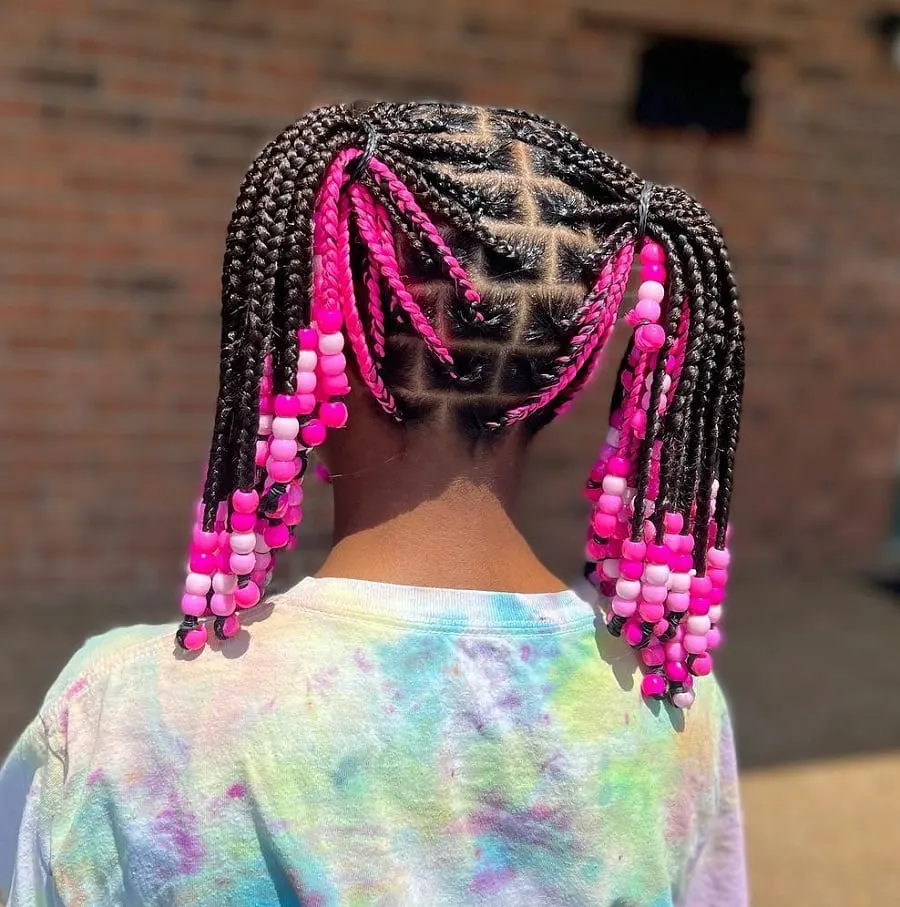 Now, here's a fun and playful idea for short knotless braids with beads that are perfect for little girls. Give your baby girl's hair a splash of pink color at the bottom to create this two-toned look. Finish it off with hair beads in different shades of pink to complete the Barbie-inspired hairstyle.
15. Knotless Braids + Curly Ends + Undercut
For the perfect mix of girly and edgy, try this amazing idea for short knotless braids with beads. Finish off your knotless braids with a blend of curly ends and pink and red hair beads for a feminine touch. On the other hand, the side parting and undercut give the overall look a badass touch.
16. Side-Parted Braids + Heart Design
Give your baby girls some love by creating a simple heart braid design at the side. To make this, you just need to part two sections of your hair in a C shape opposite each other. Braid each part in three-strand plaits until they meet at the bottom.
Just like that, you can already give your daughter a hairstyle she'll surely love.
17. Medium Braids + Middle Parting
Middle parting is the best option if you want a well-balanced look. This type of parting removes the braided strands away from your face and shines the spotlight on your best facial features. It's also the best parting for accentuating your jawline.
18. Bright Pink Braided Ponytail
With these bright pink braids, you can definitely stand out from the crowd. And, of course, there's no better way to accessorize them than with hair beads in different pink shades, along with a few white and transparent ones.
Give your look an edgy touch b pulling your braids into this practical yet stylish top ponytail.
19. Short and Small Knotless Braids + Colorful Beads
With these colorful hair beads, you can add a splash of color to your little one's hair without using hair spray or adding feed-in braids. The best part is the sky is the limit regarding this hair accessory. Aside from the wide range of colors, you can also opt for glittered ones which looks extra playful.
20. Medium Brown Knotless Braids
If you want sleek and elegant short knotless braids with beads, then it's best to stick with a classic brown color which is perfect for warm skin tones. Pair it with simple, transparent hair beads to let the rich, beautiful brown shade shine through.
22. Knotless Lemonade Braids + A Touch of Pink
Copy Beyonce's lemonade braids by simply swiping all the braided strands to one side. Make the braids look more striking by adding a splash of eye-catching pink shades to them. You can do this by incorporating feed-in braids or finishing the braids with colorful beads.
23. Double Braided Buns
Now, here's an edgy take on the playful space buns. The knotless braids incorporated a unique texture while the hair beads added a stylish flair. Style your baby hair in gelled waves and leave a few braided strands in the front for a unique look.
24. Sideswept Braids + Blonde Highlights
If you have always wanted to try blonde hair, adding blonde feed-in braids is the best way to test the waters. Create baby hair waves in the front that would match your blonde hair's elegant look. Stick with transparent beads to keep the focus on your blonde braids.
25. Shoulder-length Blue Knotless Braids
Blue is not the easiest hair color to maintain, but it's definitely one of the most beautiful hair color to try. For a classy look, we recommend going for a dark and subtle hue like this bluish-gray color.
You don't need to have long hair to enjoy fabulous braids. With these short knotless braids with beads, you can style your hair well and protect it at the same time.