Are you a fan of short hair and want to play with ponytail hairstyles? Girl, so what if your hair doesn't flow halfway down your back? Who cares that it barely brushes your shoulders?
Snag some hair elastic, grab a handful of bobby pins, and stock up on the hairspray because we're going to check out a few short ponytails together. You don't have to wait until your hair reaches a certain length to pull off a ponytail.
Bish, please. That's like saying you won't buy yourself new clothes until you lose 10 pounds—it's BS, in other words. Get your pony on, right this minute.
Stunning Short Ponytail Hairstyles
Are you under the impression that all short hair ponytails are messy, sloppy, and unattractive? Well, you should get out from beneath that particular misconception because it is built on a foundation of lies and it might fall on you.
Ponytails are not the domain of people with long longs, and short ponytails are not at all ugly. You just have to know how to style them, is all.
1. Short Sleek Ponytail
To get a smooth, sleek ponytail, you'll need to comb out the hair as you're gathering it into a ponytail. Comb each side so it's free of lumps, then secure it with a hair tie.
2. 80s Short Ponytail
The 80s were all about side ponytails. Take a trip back in time by gathering your hair together at one side and securing it so the hair falls over the shoulder.
3. Short Ponytail with Bangs
Is there anything cuter than a ponytail with bangs? Whether it's a messy ponytail or a bun, straighten your bangs so they look super chic with your hairstyle.
4. Short Half Up Ponytail
A half ponytail is great for when you want some of your hair out of your face, but still want to feel feminine and flirty. Use a colorful scrunchie to secure your ponytail!
5. Short Ponytail for Black Girls
Is your hair naturally curly or thick? Gather it up in this cute high ponytail that will look adorable if you leave your hair its natural texture.
6. Short Messy Ponytail
Messy ponytails are a go-to for women who are either on their way to the gym, running errands, or even hanging out at home! Finger comb hair, but not too carefully, so that a few lumps are present and tendrils fall loose.
7. Short Curly Ponytail
For women with naturally curly hair, a ponytail is just the style to bring all your texture to everyone's attention. Whether it's secured high or low, it's beautiful.
8. Short Low Ponytail
A ponytail gathered at the nape of the neck is another easy hairstyle to do. Make it look this pretty by braiding the hair overnight and unwinding in the morning or using a curling iron for soft waves.
9. Short Ponytail with Middle Part
Do you have curtain bangs? They'll look so cute with a low ponytail. Straighten them for sleekness or give them a slight curl to draw attention to eyes.
10. Two Short Ponytails
Put some pep in your step with a spunky two ponytail hairstyle. Simply use a hair tie to secure each one at ear level. You can even use a printed bandana to make the look even more fun.
11. Short Wavy Ponytail
Wavy hair is another texture that looks great as a ponytail. If your hair is layered, it'll look even better as the hair fans out in an effortlessly pretty way.
12. Very Short Ponytail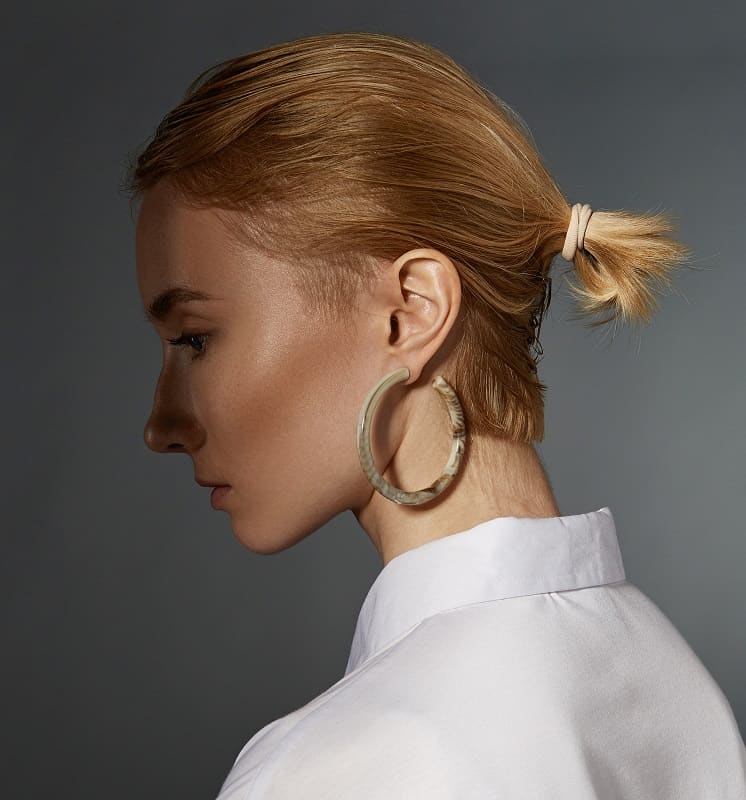 Even if your hair is super short, as in above the shoulders, you can rock a cute ponytail. To get it all in one hair tie, you'll have to gather it low and slick back the hair for neatness.
13. Short Undercut Ponytail
Adding an undercut to your hairstyle will not only give it a dose of edge, but make a ponytail look rocker-chic! Keep it buzzed to less than an inch to avoid it looking sloppy.
14. Short Ponytail for Thin Hair
To make a ponytail look its best on your thin hair, gather it low and loose at the nape of the neck. Use a printed scrunchie to match your outfit on office days or tighten it up when out running errands.
15. Short Bob Ponytail
For bob length hair, you could gather it all in a low ponytail or try this half updo. Use just a quarter of the hair for a style that looks perkier and hip.
16. Quick 5-Minute Ponytail
Ponytails, particularly short hair ponytails, don't have to be perfect. Messy, tousled ponytails with falling tendrils of hair are casual and sexy.
Scrape your hair back and secure your ponytail in the middle of the back of your head. Don't worry about any strands that escape your pony; just let them fall and frame your face.
17. Side Braided Short Ponytail
Simultaneously liven up your ponytail and secure your short tresses by weaving a side braid along your temple first. You can do it on just one side or on both. It will hold the shorter layers of your hair in place, plus it saves your hairdo from being boring or predictable.
18. Snub Tail
Don't underestimate the cute factor of a short, stubby ponytail. You might not have more than a handful of hair, but that doesn't mean you can't pull it back and pull off a funky style.
What you see here is what happens when you pull a bob haircut into a pony. You might need a few bobby pins, but that's it.
19. Librarian Chic
Softly waving tendrils framing your face, topped off by a short hair ponytail that barely sticks out of the elastic. There's something sweet yet casual about this coiffure.
It's ideal for girls who have wavy or curly hair because the pieces that fall out of the hair tie still have texture and shape.
20. High and Flirty
You know Cameron Diaz has the 411 on what looks good. This woman never has a bad hair day. So, trust her ponytail style, as well.
Even if your hair only touches the nape of your neck, you can pull it into a medium-high ponytail resembling Cameron's. Slick back all of your hair first, then spray some hairspray, and you probably won't even need bobby pins.
21. At the Crown
To make shorter ponytails appear longer, you simply have to secure them higher up on your head. It sometimes helps to hang your head upside down, then brush all of your hair smooth.
Hold it loosely in your opposite hand to gather it into a ponytail. Use hairspray or pins to keep any hair from falling in the back.
22. With Volume
Short hair ponytails don't always have a lot of volume because of the effort it takes to get every strand of hair in a rubber band.
Opt for a low ponytail secured at the nape of your neck, however, and you can create a retro bump of volume at the crown. Try this style if you have layers in your hair, as well.
It's almost impossible to create a side ponytail if you have short hair because the opposite side usually isn't long enough. Chin- and shoulder-length haircuts still count as "short," though—kind of. The point is, if your hair falls somewhere within that length, you can—and should—pull off a side pony.
24. Protective Puff
Ponytails are both practical and on-point when you're growing out your natural hair or simply giving it a breather. Show off your curls and coils with a short, puffy ponytail that also reveals how superbly laid your edges are.
25. Curly Tail
Are you a curly girl? Lucky! Short hair ponytails do best with curly hair. Instead of being stubby or sticking out awkwardly, the short pony is cute and curly. Pieces that escape just take the coif to the next level.
You might think that short hair ponytails are non-existent, but you can pull your hair into a ponytail even if you only have a few inches to work with—you might just need to get inventive. Will you wear your hair up when it's short?