Short cuts are the biggest hairstyle trend this season. They come in different styles, textures, and lengths, and it's easy to incorporate them in your total look. If you're looking for short hair outfits, scroll down for some cute ideas.
Suitable Outfit Ideas for Short Hair
You can rock short hair with almost any style you want. When it comes to outfits, it all comes down to our creativity and personal fashion sense. Here are a few examples of outfits with short hair you can try.
1. Tube Top and Pants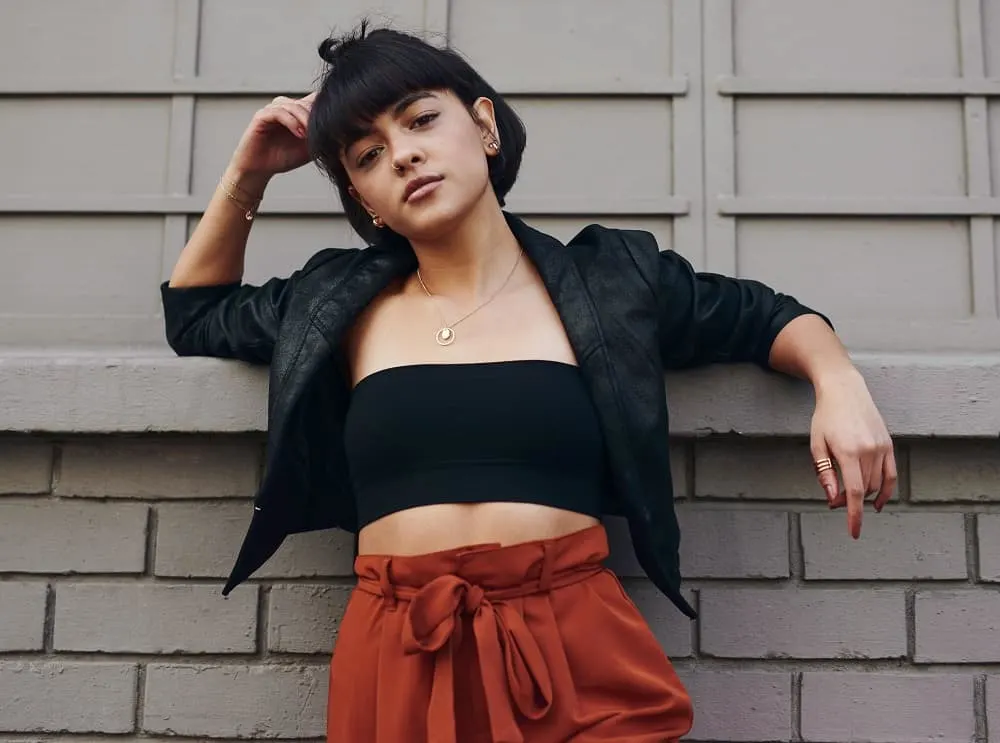 A short haircut will keep you cool in the summer, but so will a fun tube top and a colorful pair of pants! To dress it up for a date night, add an edgy leather jacket.
2. One Shoulder Dress
When date night or after-work drinks calls for a sophisticated outfit, make sure you reach for that little red dress. A one-shoulder style will nicely complement a short hairstyle.
3. Long Sleeved Dress + Hat
For a casual weekend out or a relaxing walk in the park, you can't go wrong with a long-sleeved dress and hat. The tennis shoes will keep your feet happy while short locks and a cute hat keep your head cool.
4. Fuzzy Sweater with Skirt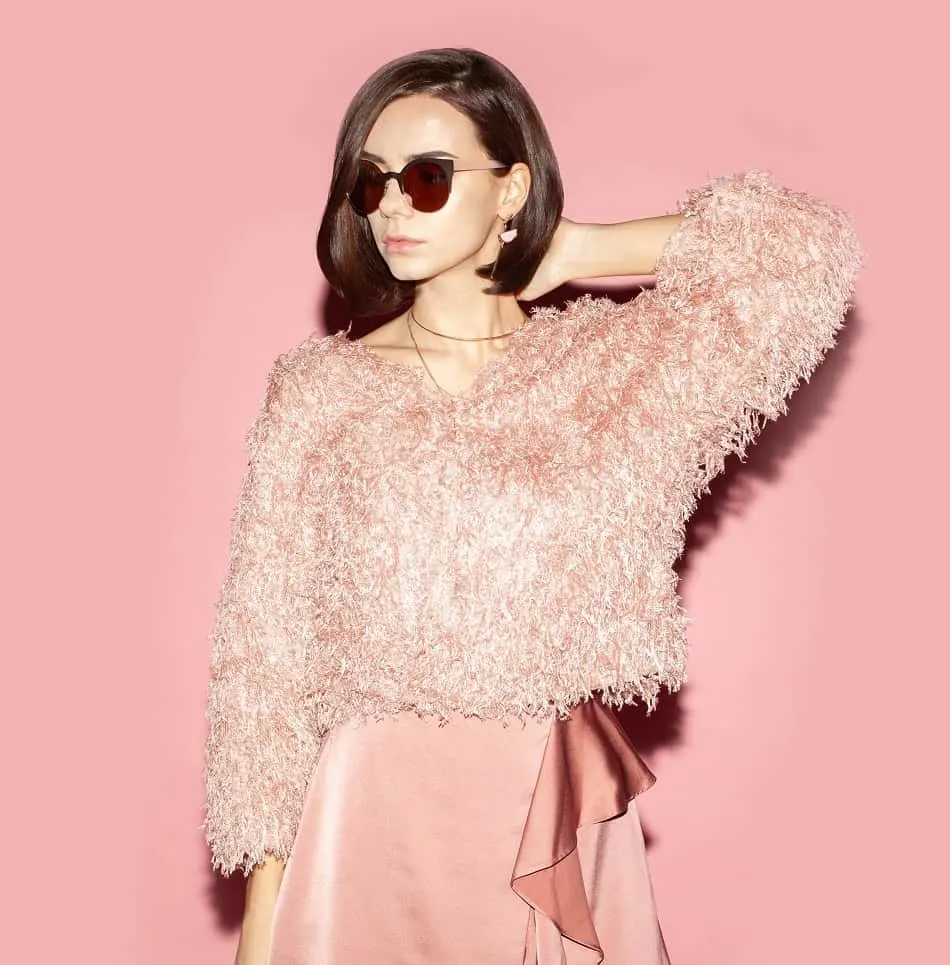 We love an outfit that mixes textures. Take a fuzzy wide-necked sweater and pair it with a silky ruffled skirt for a pretty holiday look or special occasion.
5. Off Shoulder and Headband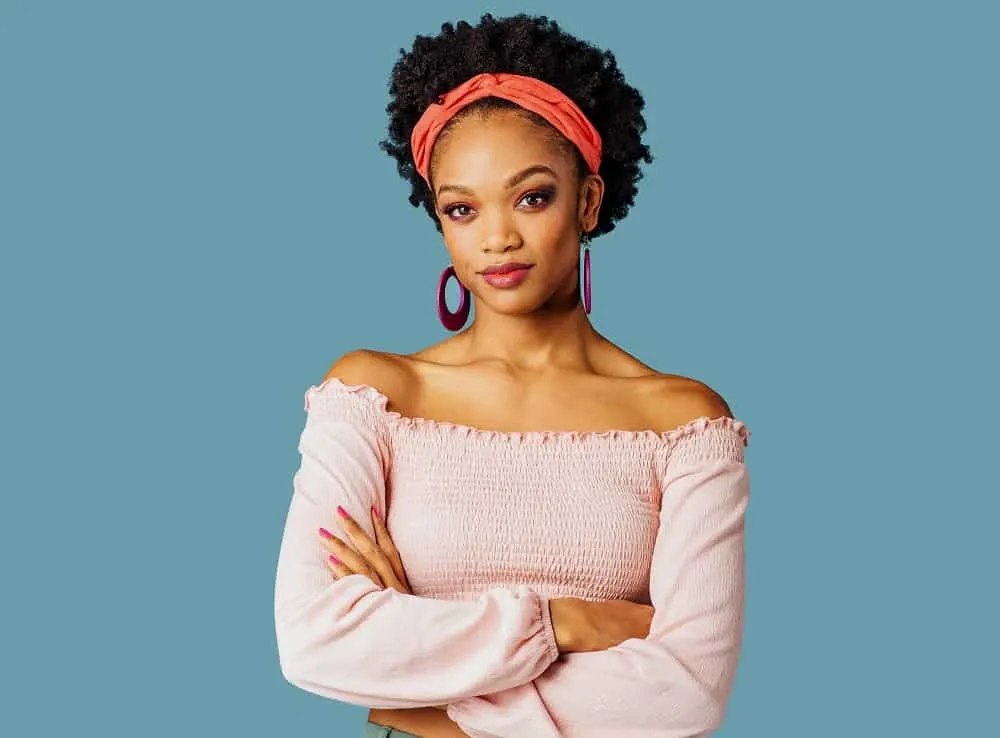 If your hair is shorter than your ears, you can easily gather it up and flatter your face shape with a bright bandana or scarf. Pair with an off-shoulder blouse to beautifully show off your neck and collarbones.
6. Bat Wing Dress
Heading out to a show or other special occasion? A dramatic bat-wing dress in a rich color like purple won't let you down. No matter your age, a short haircut will look beautiful with this outfit.
7. Oversized Sweater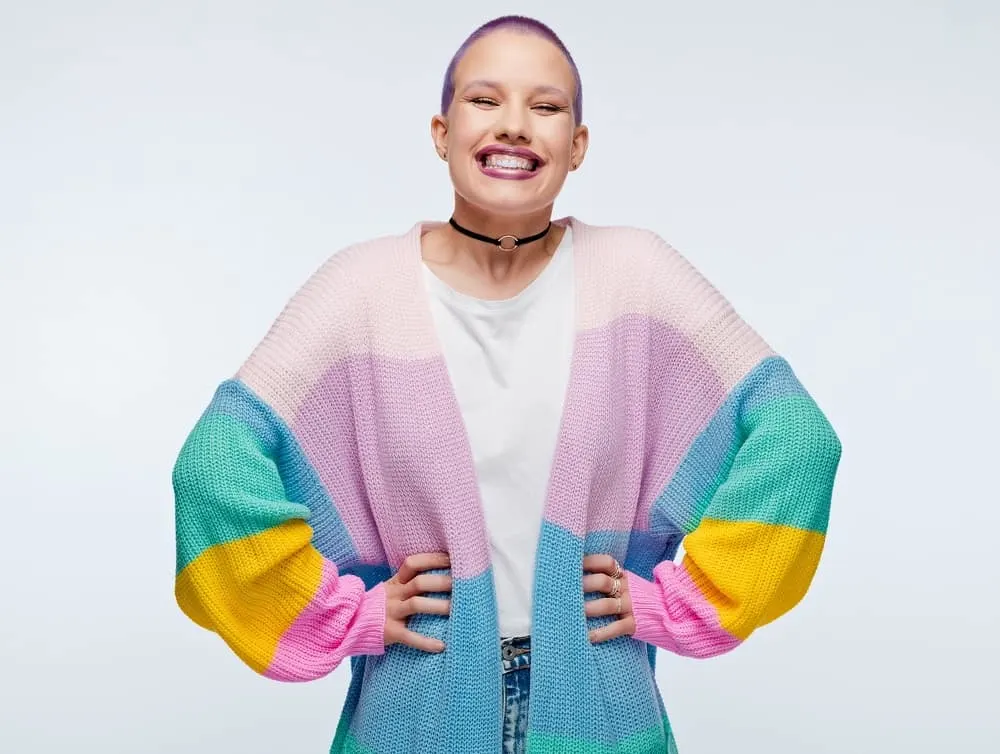 For the woman whose personality is peppy and colorful, let your outfit reflect that! This oversized rainbow-colored sweater will keep you warm even if you have a shaved head.
8. Bold Pant Suit
Pantsuits were once on their way out of the fashion world, but the style is making a comeback in fierce colors like red. Keep it approachable by choosing one with cropped pants. Top with a matching hat.
9. Cold-Shoulder Dress
The cold-shoulder dress flatters a multitude of women's body shapes. This thin, ruffled style will keep you cool in warmer weather and its unique cut-outs will draw attention up toward your cute haircut!
10. Turtleneck Sweater
In the fall, match your outfit to your hair color! This cozy orange turtleneck sweater tops a pair of dark jeans and nicely complements a blonde highlighted pixie.
11. Long-Sleeved Floral Dress
Florals for spring may not be ground-breaking, but they're still timeless and beautiful, especially on a dress. This short blonde pixie creates a soft vibe with a ruffled, pink dress.
12. Combat Boots and Tank Top
Mix colors and patterns from different outfit styles to create a look no one else will have. Here we see striped pants, thick black boots, and a simple black tank top. The dark colors lead the way to cute, light blonde waves.
13. Feathered Dress
Whether it's your prom night, wedding, or you just want to feel stunning for an evening, a dress with a feathered bottom and sequined top will accomplish that. Pin up your hair into a smooth bun or add curls and part it off center.
14. Cotton Romper
A vintage outfit isn't far away when you have this long-sleeved pant suit in your closet. We recommend it for women with a slender figure and short hair since the neckline is so rounded.
15. Sweater with Jean Skirt
A knee-length or shorter jean skirt can be paired with black boots and a chunky sweater for a classy fall outfit. Choose a turtleneck sweater to best flatter your hair.
Overalls or dungarees, call them any way you want, but it's impossible to deny their sheer awesomeness, especially for women who prefer a more casual style.
Combine overalls with a long-sleeved top put on a pair of sneakers or flats, and you're ready. This is a super cute and casual outfit style for your short haircut.
17. Jeans and Shirt
Pixie cuts look great with both elegant or casual outfits. For example, you can put on a white top and combine it with a long-sleeved shirt and jeans with fashionable results. This short hair outfit looks great without even trying.
18. Wavy Hair and Sporty Elegance
Is sporty elegance your style? Then we have an amazing idea for you. Pair your short and thick wavy hair with a nice sweater that you'll tuck in pants and finish off the look with sexy high heels. Pants shouldn't be too tight nor too wide.
19. Pixie Bob and Little Red Dress
As mentioned above, pixie cuts are easy to match with either sleek and sophisticated or casual outfits. If you're choosing an outfit for the night out, then you can never go wrong with little red dress for short hair or any other color for that matter. Pair your dress with high heels, and you're ready to go.
20. Checkered Bob Lady
The beauty of side-parted bob haircuts is that they come in different styles and flatter different outfit choices. For those times, when you want to look elegant and comfortable, you may want to choose checkered chic as your short hair outfits.
Checkered sweater and pants with high heels and that's it. You can opt for checkered clothes from head to toe or just one item, depending on your personal likes and dislikes.
21. Effortlessly Chic
One way to style your fine, short and straight hair is to put on a nice colorful shirt and neutral-colored pants. The choice of footwear is up to you. For an effortlessly chic outfit for short hair look, you can choose sneakers, but for a more elegant look, you may want to opt for ballet flats or heels.
22. Chic Dress for Short Hair
Here's one of the cutest short hair outfits you can rock – summer style dress which perfectly complements your elegant, wavy bob. Pair your dress with a stylish bag, and you're going to hit the style jackpot.
23. Summer Style
One way to resist the unbearable summer heat today is to opt for an all-white outfit. Combine white shirt and white pants for a cool new look with short platinum blonde hair.
Short hair outfits seen in this post are cute, feminine, elegant and also allow you to achieve the effortlessly chic look. Wear something that makes you feel comfortable, and your confidence will mark a significant boost.