Side ponytails are typically associated with the 1980s, the era in which they arrived on the hair scene. Now, those heavily teased and crimped days are over. Enter the new era of the side ponytail: one that is not only functional but chic.
Today, side ponytails are worn low at the nape of the neck, with soft waves, or smoothed into ultra-sleek styles. The '80s can still serve as your ponytail inspiration but our looks take only the best details from the decade and chuck all the teasing and hairspray. Are you intrigued about our beautiful side ponytail styles? Well, then let's take a look!
Side Ponytails
Have you ever wanted to go back to wearing all the clothing and hairstyles you rocked in the 1990s? Honey, all of us have that moment, but then we see someone younger wearing a tattoo choker or a pair of overalls unironically, and our nostalgia fades away for another day.
Once you see the updated side ponytail hairstyles, however, you're probably going to go digging for all of your old scrunchies. You can also browse these high ponytails.
1. Side Parted Side Ponytail
Side ponytails look pulled together with a side part. Whether you wear your side pony around the nape of the neck or behind your ear, a side part works with the natural gathering of the ponytail. Wear it sleek and straight or work with your naturally wavy or coarse texture.
2. Side Braid Ponytail
Side ponytails don't have to be simple. Braids are an easy yet stylish way to dress up any side ponytail. Braid the entire side high ponytail for a functional, sporty look, or create a protective French braid on the top of your head and leave your wavy ponytail loose. When it comes to your side pony tail and braid details, the options are truly endless.
3. 80s Side Ponytail
Don't worry babes, the '80s can still serve as your side ponytail inspiration! Instead of damaging back combing and teasing, the modern '80s inspired side ponytail works with your natural wavy texture. The placement of the pony is still high on the head, but there isn't a crimp in sight! Use your favorite scrunchie to tie it all up, or your favorite hair tie for a more subdued look.
4. Side Ponytail with Extension
If you have a long and luxurious extension or weave, then a side ponytail is the perfect hairstyle. Long hair in a high ponytail can look overpowering, but a casual side ponytail at the base of the neck is laidback and easy. Wrap a small section of hair around your hair tie for a pretty, modern feel.
5. Curly Side Ponytail
Curly- not teased- is ideal for the modern side ponytail! Hairstyles today are about embracing your natural texture, so there's no need to fuss with your curls and ringlets. To avoid unnecessary volume, try a stylish lower side ponytail. Grab your favorite scrunchie to protect and prevent pulling on your gorgeous curls.
6. Side Messy Ponytail
Nobody said that your side ponytail had to be perfect. A slightly messy look is youthful and gives a gracious nod to its '80s origins. To create this look, give your hair a tousle with texturizing spray before pulling it up. These styles sit high on the head, but messy lower side ponytails work just as well.
7. Wavy Side Ponytail
Soft waves are so trendy right now, so why not incorporate them into your side ponytail? The look is especially chic with a strand or two worn loose around the face. A wavy side ponytail is going for that 'done but undone' vibe we all love.
8. Short Side Ponytail
Yes, even short hair can rock a side ponytail! Lobs and bobs actually look super cute in a sassy side ponytail. Work with your natural texture and wear them higher on your head for spunky, playful mood.
9. Side Ponytail for Medium Hair
Medium length hair looks awesome in a side ponytail. High ponytails are just fine, but those that are lower look classic and chic. Try a sleek center part if your hair is straight, or a deep, swept-over side part on wavy, textured hair.
10. Long Side Ponytail
Long hair can rock a side ponytail any which way. Feeling a little funky? A high ponytail is perfect for showing off texture. In a more subdued mood? A low side ponytail with soft curls is perfect anytime, but especially for a more formal or serious occasion.
11. High Side Ponytail
High side ponytails give off a youthful vibe. Rock one yourself to show off your beautiful face and to tell the world, "I'm here to have some fun!" Make it work is lots of wavy, beachy texture. Don't worry about shine, either, this look is all matte.
12. Side Low Ponytail
Who doesn't feel more romantic with a low side ponytail? In this style, hair looks as if it was casually swept up. Try securing hair with a pretty accessory like your favorite silk scarf or a pretty colored scrunchie or clip.
13. Side Bubble Ponytail
Bubble ponytails are amazing because they look cute and are so easy to create. To incorporate this style into your side ponytail, pull hair to the side just below the ear. Secure with a hair tie and add one every two to three inches as you move down the length of the hair.
14. Loose Side Ponytail
You don't have to heavily fasten hair to create a side ponytail. For a look that reads casual, secure your ponytail in a loose and low fashion, preferably with a pretty scarf or scrunchie.
15. Side Pony for Black Girls
Whether your hair is sleek and straight or highly texturized, a side ponytail can absolutely be your new favorite style. A low ponytail is perfect with a center or side part while a high side ponytail looks amazing pulled back.
16. Invisible Side Ponytail
Hair fasteners aren't the only way to rock side ponytails. The invisible look is popular today and involves a small section of hair wrapped around the tie and secured with a bobby pin.
17. Side Twist Ponytail
Side ponytails are anything but boring, especially when you dress them up with details! Adding braids and twists in creative ways will make your side ponytail stand out, plus you'll look cool and modern while rocking the style.
18. Side Ponytail for Wedding
Side ponytails are perfect for the bride who wants to show off her glowing face and the beautiful texture of her hair. A low-side ponytail is most appropriate, especially with romantic curls and a soft side part.
19. Side Ponytail with Side Bangs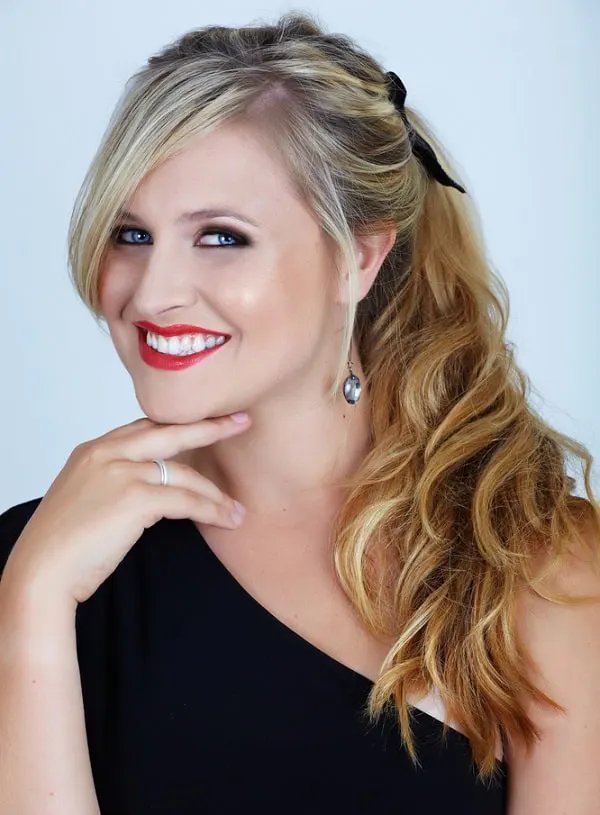 While this style works for casual occasions, it's perfect for formal ones as well. Long wavy hair is draped over one shoulder for flattering dimension while the side bang keeps it flirty.
20. Retro Side Ponytail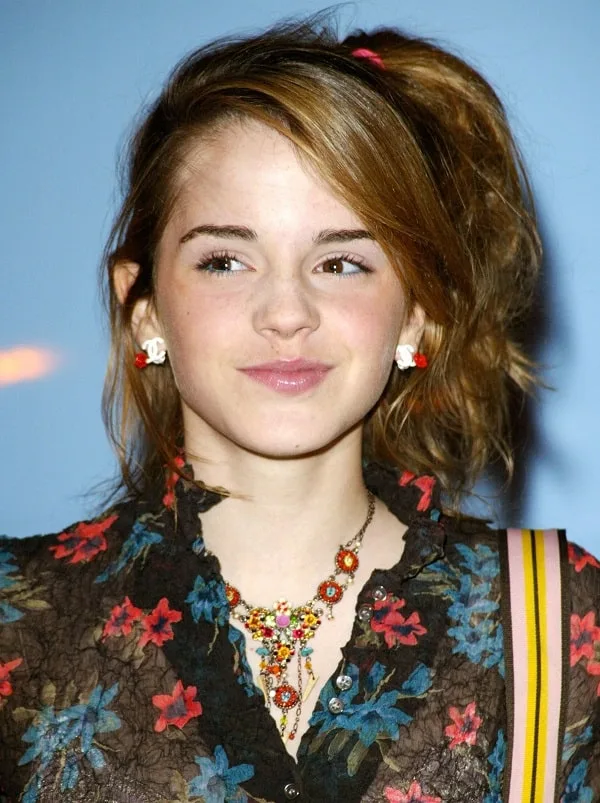 To get a fashionable side pony that nods to the 80s, keep it slightly messy and super perky. Use a fun colorful scrunchie to add to the style and don't be afraid of texture or volume.
21. Side Messy Low Ponytail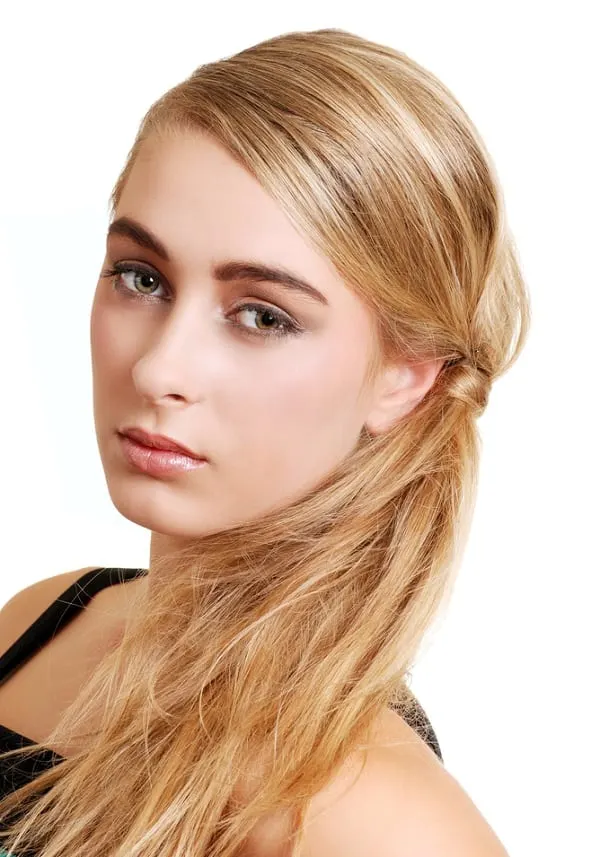 For this beauty, secure a side ponytail right at ear level. Make sure you smooth lumps and bumps for gathering the ponytail, but leave the end textured for thickness. A bold cat eye completes this style.
22. Side Ponytail for Black Girl
What better way to show off your thick natural hair than to gather it over one shoulder in this cute side ponytail. Smooth hair with product to nix frizz, then pump up the volume in your pony with curl cream.
23. Side Ponytail for Thick Hair
Side ponytails aren't just for fancy occasions. Wear a low-side ponytail when you're off to the gym to keep your hair off your neck while working up a sweat. You'll be hot, yet fashionable!
24. Middle Parted Side Ponytail
Dress up a simple center part with a braid to set your side ponytail apart from others. This ponytail is chic when hair is kept straight. Keep hair off the face and avoid tendrils for a neat, sophisticated style.
25. Side Pony for Thin Hair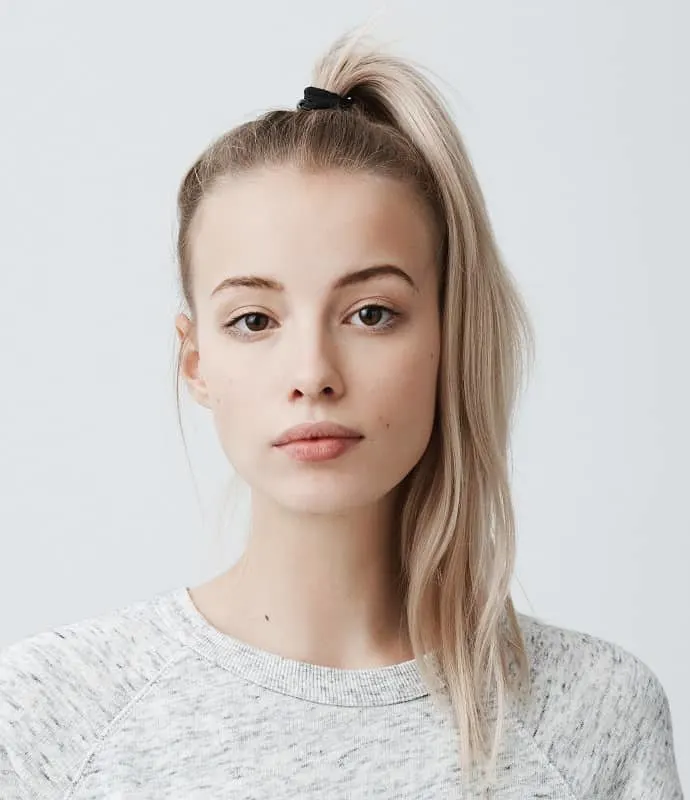 Women with thin hair will love the way this side pony flops over to one side. It's a perky, feminine look you can gather together in less than two minutes for great all day style.
26. Fine Loose Ponytail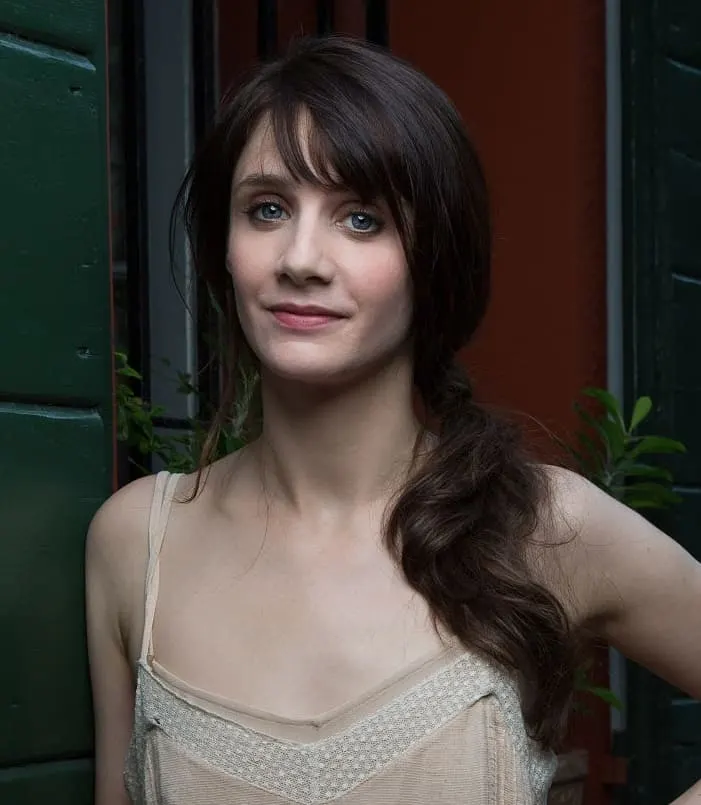 To avoid having your ponytail look too harsh or blunt, keep it loose. Gather it at one side below the ear and secure it loosely with a soft hair tie. Brush out waves and curls for delicate style that pairs well with your favorite dress.
27. Blonde Short Side Ponytail
Need a new hairstyle for work? Try this side ponytail perfect for short hair. Hair is parted above the eyebrow on one side, creating subtle volume for sophistication.
28. Side Puff Ponytail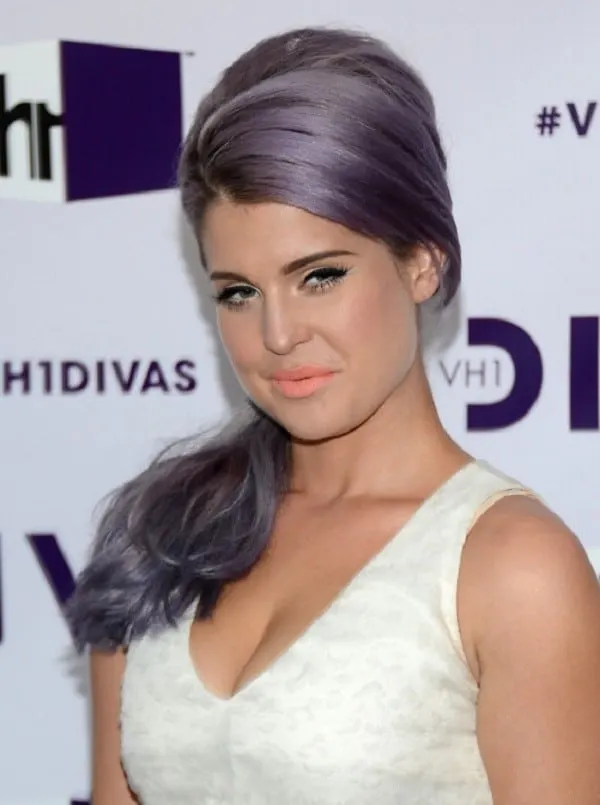 For a truly glam look, you should go for this colorful side pony with height. The hair is smoothed on one side and pulled around the other side with slight waves. It will help to tease the crown to get this level of volume.
29. Copper Side Ponytail
Side ponytails don't get more 1990s than this, although I don't recall anything quite this stylish. The classic pony gets a modern update thanks to the sleek execution and the wrap of hair that secures the base.
30. Low and Wavy Ponytail
A ponytail worn low and to the side is an excellent coif for informal functions and everyday wear. With the right ensemble, it's also the perfect date night look—those sculpted waves make all the difference.
Braids make everything better, don't they? Plait a few braids in your ponytail, and it goes from a throwback the '90s 'do to a modern Boho chic hairstyle. Even if you simply want to create a ponytail, then braid parts of the tail itself, this is a winner.
Ponytails for Black Little Girls
32. Straight and Sleek
A sleek, straight side ponytail hairstyle for girls calls the '90s to mind in a minute. This is a fun, flirty, TGIF hairdo if ever there was one, and it doesn't take a bit of effort, either. You can take or leave the bangs, though—that's all on you.
25 Best Long Angled Bob Hairstyles We Love
33. Thin Curly Side Ponytail
Here's another coiffure you have to add to your list of formal hairstyles. The side ponytail itself is beautifully curled and teased just enough to give it volume, as well as an artfully tousled appearance. The tiny twisted braid that begins right in front is the signature detail of this 'do, though.
34. French Braided Beginnings
Anytime you add a braid to a ponytail, you take it to the next level. Plait a thick French braid on the same side as your ponytail and weave it down to the nape of your neck. To make it twice as nice, you could braid the other side, as well.
35. Over-the-Shoulder Curls
A cascade of curls over the shoulder is a divine 'do for dress-up occasions. From prom to the office Christmas party, you can go for a simple but sweet style that exudes just the right amount of glamour—thanks to the curls, of course.
36. That's a Wrap
Wrapping a strand of hair around the base of your ponytail lends a touch of in-the-now glam to this classic retro hairstyle. It's also an ideal way to neatly tuck any tresses that aren't quite long enough to secure in your hair tie.
37. A Perfect Curl
There's actually a lot going on here, and I adore all of it. This side pony is multi-layered—it looks like a half-pony merges with a full ponytail, which trails down her shoulder in one stunning spiral curl. Anytime you need an updo or if you just feel especially goddess-like one day, here's your coiffure. You're welcome.
Granted, this is more of a side braid than a side ponytail, but fishtail braids are so eye-catching and whimsical that you can't really complain. You could always stop your fishtail braid at the nape of your neck, or just braid certain sections of hair.
Ponytail With Bangs for Black Women
39. A Side of Elegance
From the side-swept bangs to the curls falling over her shoulder, everything about this hairstyle is elegant. In fact, try a variation of this the next time you find yourself in need of a formal coiffure. Instead of wasting hours on a complicated hairdo, all you have to do is part your hair to the side, secure your ponytail, and add curls.
40. Retro Flair
Forget the '90s. This pony takes you all the way back to the mod days of the early 1960s. The extreme side part, which crosses over her forehead, is part of it. The main aspect of this ponytail is the bump of volume at the crown. Combine this 'do with dramatic eyeliner, bold brows, and a pale lip, and you'll be the envy of every other woman around you.
41. Boho Braids
It's amazing what a simple braid can do for a side pony. This goes back to the idea of creating the braid in the actual tail of your ponytail instead of beginning to plait at the crown of your head. The color is on-point, too—who doesn't love an icy platinum blonde?
42. Tucked Tail
In addition to being the decade of the side ponytail, the 1990s also brought us the Topsy Tail. 'member that? It was a little gadget that basically parted your ponytail above the elastic, creating a small hole through which you could tuck the rest of your tail. This is a much more modern and elegant version of that tubular 'do.
43. Flip the Script
See this? This is innovation. It's not complicated—a section of hair falls over the forehead and gets a twist right at the temple, and then everything else comes together in the side pony. However, it's a way to take your ponytail from plain to insane.
44. The '90s Edition
Women's high side ponytail hairstyle is the mark of the '90s. Brightly colored scrunchies are also evocative of that fun, colorful decade. This might be a throwback photo, we don't know. We do know that it is the epitome of every side pony that ever was or ever will be.
45. A Sexy Mess
Messy side ponytails are just as appealing and effortlessly sexy as messy traditional ponytails. You can, however, organize your mess by simply using a teasing comb after you pull your hair into elastic.
Blunt bangs modernize nearly any hairstyle. They work especially well with a pony because the blunt lines draw attention to your smoldering eyes. That alone turns the pony into something more sophisticated. Try these ponytails with bangs too.
47. Side Ponytail with Weave
This side ponytail hairstyle for black women has been very popular over the years. Her curls are so flawless, it hurts! Don't be afraid to secure your ponytail high up on the crown of your head, particularly if you're rocking long locks. Let's also take a moment to pay proper respects to this beautiful girl's brow game.
48. Half and Half
This side ponytail is positively avant-garde. The crown is sleek and shiny, but beneath the elastic, this ponytail goes crazy. Those curls are not playing around.
49. Medium Curly Side Ponytail
Opt for this style if you have shoulder-length hair. Keep the crown straight and curl the down hair and make a side ponytail.
50. High Blonde Side Ponytail
This high messy side ponytail looks amazing on teen girls. You can wear this style at any casual party.
As you can see, there is so much variation of style when it comes to a side ponytail. Whether you wear it low, high, braided, or silky straight, each day brings a new opportunity to play up your hair in a way that feels perfect for you.