If you have short hair, you might be upset about a certain lack of hairstyles due to not having enough length. Messy buns for short hair are often overlooked since some women believe the buns are out of the question.
Meanwhile, messy buns are a surprisingly fresh hairstyle that can make any woman look fabulous regardless of her hair length. Of course, if you have a pixie, this style won't work for you. However, if you have at least some length, such as from a short bob or a shag, you can create a fantastic messy bun.
How to Make a Messy Bun for Short Hair
Learning how to make a messy bun for short hair can help you enjoy a special hairstyle on any day of the week. Here are a few steps to make a fabulous bun.
i) Curl Your Locks
If you already have curly or wavy hair, you are in luck and you can skip this step. A messy bun involves adding your hair some texture. That's why you need to take out a curling iron. The best part about this step is that you don't have to make neat and appealing waves. Just make whatever you can. Don't spend more than 5 minutes doing it.
ii) Brush Your Hair
Give your hair a slight brush not to separate the locks but to make the hair somewhat more voluminous. Make sure to use a brush. A comb will create the opposite results.
iii) Tease Your Locks
Take the top strands and lift them up. Take a fine-toothed comb and comb the hair from the roots to the ends while holding the strand up. Make teasing motions to create more volume. Repeat the same with all the top strands.
iv) Make A Ponytail
Create a low ponytail. When you pull the hair together, make sure you do it tightly. This way, a small bump of hair will appear on your head. Don't worry if the ponytail is too small. Just make sure you can fold it in two. If you have a hairstyle that has more hair on top than the bottom, then you need to make a high ponytail.
v) Finish the Bun
Run the end of the ponytail through the elastic band at the root. If the hair is too short to do it, use bobby pins to secure the loose strands.
Best Short Messy Bun Hairstyles
Messy buns for short hair can make you look stunning whatever the occasion. Be it a bad hair day or a wedding, a messy bun can help you make a statement. If you know how to make such a bun and keep it intact, you are armed for any hair hardships.
These hairstyles are great for the times you don't have a minute to wash your hair and whenever you feel like creating a wild image. Some businesswomen enjoy wearing messy buns as well.
1. Ginger High Curly Bun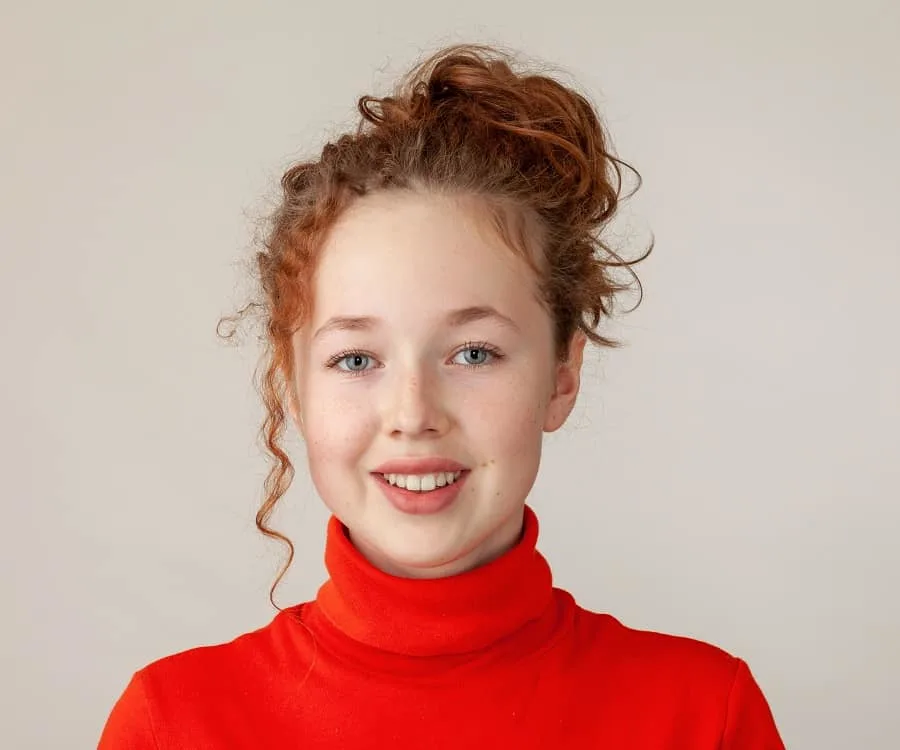 Do you want to keep your bun sweet and simple yet still stylish and sexy? Create a high bun! The good news is a high bun looks extra sexy when you have curly hair!
All you need to do is twist your hair and pile it at the highest part of your head and secure it with a ponytail. Since we're aiming for messy bun hairstyles, you don't need any hairpins to secure them!
2. Low Bun
How about something more formal and office-friendly? Go with the low bun which will give you a more sophisticated look. To create this, start with a loose ponytail then twist your hair into a bun and secure it with a hair tie.
3. Braided Low Bun
Torn between going for a messy bun hairstyle and a sleek and elegant-looking one? A braided loose bun combines the best of both worlds. Again, create a mid-high ponytail first then braid it before twisting it into a bun.
For the sexy messy look, don't forget to leave a few face-framing hair strands. If you're attending a formal event, a bejeweled headband will certainly be a nice touch!
4. Twisted Messy Bun
Do you find braids to be a bit complicated? Go for a version that's equally stylish yet easier to make– twists!
All you need to do is divide your hair into larger or smaller sections then twist two strands with one another and pull everything into a gorgeous messy bun. Don't keep the bun too tight to achieve that carefree vibe.
5. Short Bun with a Scrunchie
Aim for the ultimate "I woke up like this look" with the effortless messy bun. The key to this look is the simple and unassuming scrunchie accessory.
The best thing about this look is it doesn't have to look so perfect so you don't need a lot of hair tools and products like brushes, curlers, gels, and many more. It's the best choice for women with short hair!
6. French Braided Messy Bun
Did you think it's impossible for a messy bun to look elegant and polished? This french braided bun will prove you wrong!
Just create two french braids on each side of your head and twist the ends into a messy bun and you get an instant gorgeous hair update that's perfect for any occasion!
7. Messy Wedding Hair Updo
When it comes to bridal updos, the messier, the better! Gone are the days when brides wear sleek and polished updos and we have now entered the messy bun era and everyone's loving it!
To make your bun wedding-worthy, you just need to leave behind a few face-framing perfectly curled hair strands and wrap your hair with a whimsical and eye-catching hair accessory like the one in the photo.
8. Top Knot Bun
If the high bun doesn't cut it for you, go for the more eye-catching top knot bun. This messy hairstyle is the best option if you wish to keep your hair away from your face in the most stylish and easiest way possible.
The best option for you is to twist your hair around the bun before securing it with a hair tie.
9. Messy Top Knot for Short Hair
If you think that the top knot bun is not for short hair, think again! You can create a beautiful top knot even if you have short hair. The only difference is you can't twist your hair around your ponytail.
The best thing you can do is fold your short hair then secure the semi-bun with a hair tie or scrunchie.
10. Ginger Hair Bun
If you have short ginger hair and want a sweet and simple look for any occasion, go for this low messy bun.
Even though this hairstyle is quite simple, you can still be the apple of everyone's eye by teasing your hair a bit before putting it into a bun (to prevent it from looking too flat). Additionally, don't forget to cinch the bun with a gorgeous hair accessory like this beaded hair clip.
11. Undone Bun with Long Bangs
Do you want to take your messy bun to a whole new level? Don the undone bun which is the ultimate lounging hairstyle. The key is to create a loose bun and pull your hair downwards until it looks similar to the hairstyle in the picture.
On the other hand, leave your front hair that can highlight your pretty face.
12. Short Bob Bun
In order to make this messy bun shine, you'll have to brush all the hair upwards carefully and secure the top part with bobby pins. Since the hair is too short and thin to create a full-size bun, you'd need to create an outline of one. You can also check these bun hairstyles for women.
13. Smart braiding
In order to outline your small and messy bun even further, you can proceed to braid the hair top of your head. In order to make such a braid, you don't need too much hair length. Even a stacked bob is good for this hairstyle.
14. Pinned coils
If you are looking for a messy bun for short hair that can't even be tied in a ponytail, the bobby pins can help you do the trick. Brush the hair to make it have more texture and use the pins to arrange the lower locks into a faux bun.
15. Small and fun
It's time to stop thinking about a perfect and voluminous bun, if you have short locks, enjoy the small and fun little buns that you can make without too much hassle. Wrap the hair around and elastic band and voila!
16. Double trouble
If you can make one bun, why not make two? Two buns will look just as small on short hair as one. However, they add more volume and a fun Minnie Mouse appearance to your image. Look younger and be brave!
17. Go wild
This is a wonderful approach for women with pixies. Can you see how you can arrange a cute bun even if you don't seem to have enough locks for such a hairstyle? All you have to do is use your imagination and enjoy the result.
18. Mini ponytail
This is just what you see. A really small ponytail stuck into the elastic band to make a nice bun appearance. You can make this hairstyle without a mirror and a hairbrush. One of the quickest hair styling options ever!
19. Low braiding
Low braiding trick can help your messy bun appear great on short thin hair. Wherever you have enough hair, grab it and braid it. Then go on to make a small bun on the bottom. Braids and buns look fabulous together.
20. Hair extensions
If you are dreaming of a high and nice messy bun but all you have is a pixie, don't worry, hair extensions can do the trick! Tying the extensions to the ponytail is as easy as pie. In just a few minutes you can have the most beautiful bun ever.
21. Quick and stylish
If you have more hair on top than you do on the bottom, you can create this quick and easy bun on the very top of your head. This funny little bun is not a home keeper's style anymore, even glamorous girls are sporting them every day.
22. Closed eyes
Do you know many hairstyles that you can create with your eyes closed? This is one of them. Thank god, messy hairstyles are becoming a hit. You don't have to spend hours in front of the mirror anymore.
23. Loose strands
Tying loose strands together to create an appearance of a messy bun on short hair is a timeless trick. Just curl each strand well to make the hair look thicker and proceed to pin them up.
24. Diamond bun
Using accessories to create a bun is a smart move. The right headband or elastic band can turn your small and messy bun into a real diamond masterpiece. It can be a wonderful choice for a special occasion.
25. Up and away
If you have enough hair, try to make your bun as high as possible. This way the messiness of your hair looks especially voluminous. High buns are conquering the world. Let them inside yours.
26. Donut Bun
If you have enough locks for a small donut bun, use the opportunity to create a neat bun on messy hair. This is a great trick for short tresses. A small and neat bun always looks fantastic on teased manes.
Best Long Angled Bob Hairstyles
27. Low Messy Bun for Short Hair
Short hair styles up perfectly in this cute tiny bun secured above the nape of the neck, a small section of hair left loose on one side of the head. This 2-minute style is chic when dressed up with a dress or effortlessly cool with a t-shirt and shorts.
28. Half Up Messy Bun for Curly Hair
Another way to wear your short hair is by pulling up the top half into a bun or ponytail. Leave the bottom half your naturally curly texture or use a curling iron to get volume.
29. Messy Short Space Buns
Space buns may have only been for children in the past but you can make them more adult-like by straightening your hair and using small sections to frame your face. Use your favorite clips for accessories.
30. Messy Short Curly Bun
Sometimes all you want to do is gather your curly hair in a stylish updo and be done. This top bun with a few scattered lumps or bumps takes just a minute to get all day style.
31. Top Bun for Short Straight Hair
The top bun is a popular style for women because of it's effortlessly cool vibes. Gather your short straight hair into this small bun, leaving small sections of hair to frame the face or tuck behind ears.
Now you are armed with useful knowledge on how to make the most amazing messy buns on short hair. Short locks are not a problem for bun lovers anymore. Go out and give one of these a try!