If you are a woman getting ready to shine on that special day, you must have looked through some half up half down wedding hairstyles for brides. The obvious advantage of such hairstyle is that it serves two purposes.
One is keeping the hair out of your face for most of the day and the second one is allowing some of your beautiful tresses to flow down and look great on the photos.
Once your special wedding day has come and gone, you can still use these amazing hairstyles for special occasions. Most of such styles are easy to make. They don't require professional assistance and can be created in the comfort of your own home.
How to Do Half Up Half Down Hairstyles for Women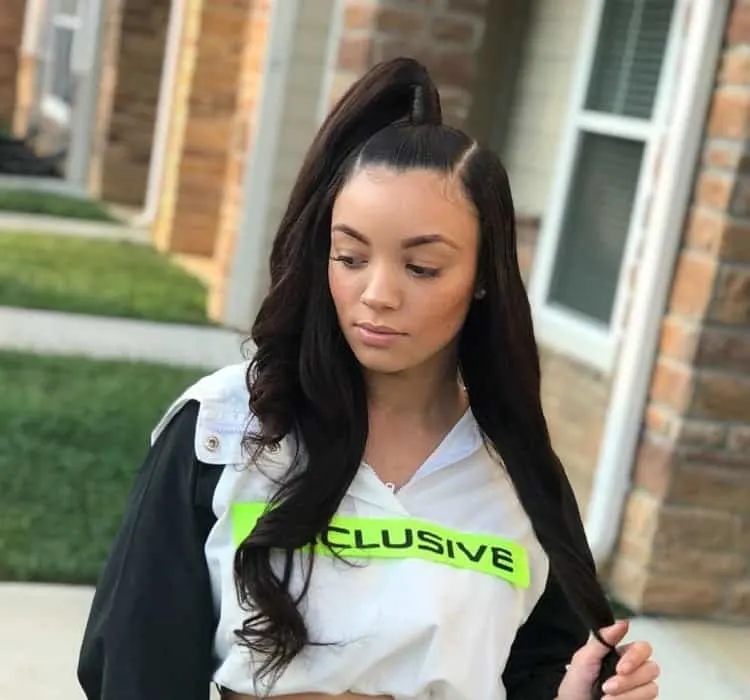 Half up half down hairstyles are super classic and elegant. These hairdos suit almost every face cut and make you look exquisite. You don't have to put much of an effort into getting one for yourself.
This hairstyle basically begins with you dividing your hair into two parts, one is the top hair part, and the other is the lower hair part. You can tie the top hair part into a bun, or a ponytail, or you can weave it into an elegant braid.
Leave the lower hair part flowing at your back. You can put curls, or waves in your lower hair or you can also keep them straight. It totally depends on what you like to do with your half up half down hairstyle.
You can also use beautiful hair accessories and pretty silk headbands on your amazing hairdo creation. Happy Good Hairstyle Day to You!
Amazing Half Up Half Down Hairstyles
Whenever you want a hairstyle that looks amazing and takes not too much effort to make, consider half up half down options. They are a great way to make your wedding hairstyle look amazing without being too complicated.
You won't need to spend too much time dealing with your hair. These hairstyles are especially useful for brides whose hair is rather long and needs special care.
Keeping it neat and out of the way is not easy. For women with long tresses who don't like long hairstyles, half up half down hairstyles can be a great choice.
Take a look at the 75 best half up half down hairstyles for your wedding day or any other special occasions.
1. Electric Blue Hairstyle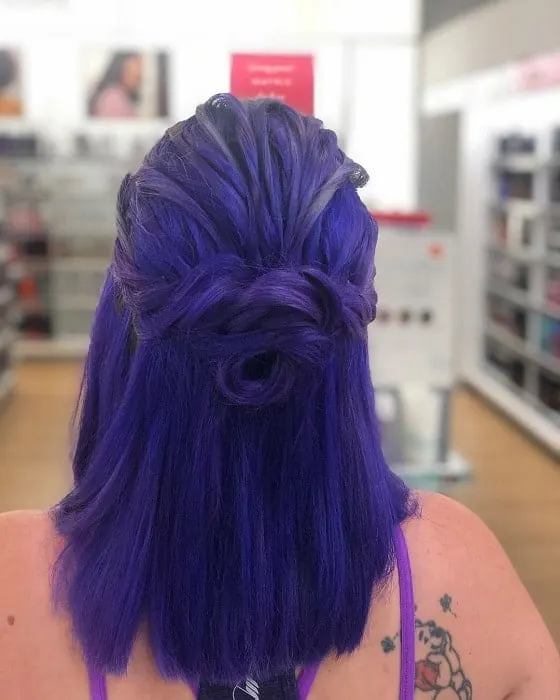 If you are into the punk culture, then it is highly likely that you will love this electric blue hairstyle. So, if you are planning on visiting a salon, then don't forget to get your hair dyed an electric blue shade.
Work your fingers through your top hair to bring them back and tie them there into a messy knot. Leave the lower hair down.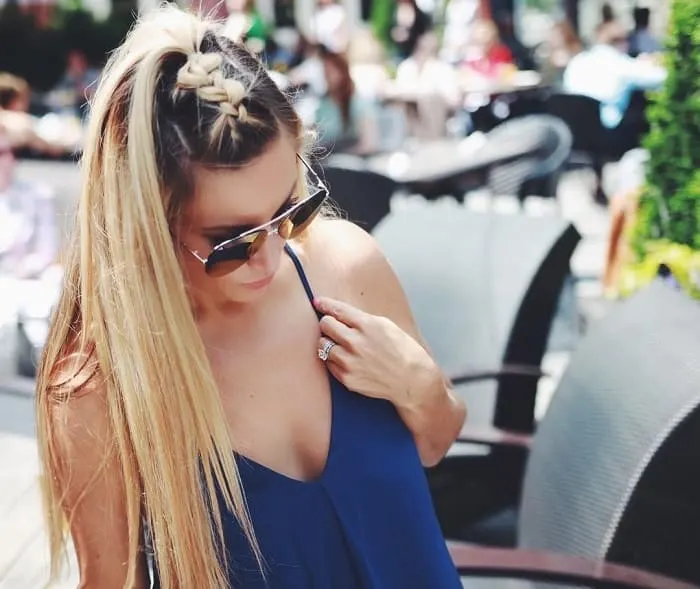 For an exotic look, go with half up half down hairstyle. Get your hair dyed and use a hair iron to straighten your hair a bone straight.
Take the top middle hair and weave them into a reverse French braid. When you reach the tip of your head, make a ponytail.
3. Two-tone Blonde Hair with Ponytail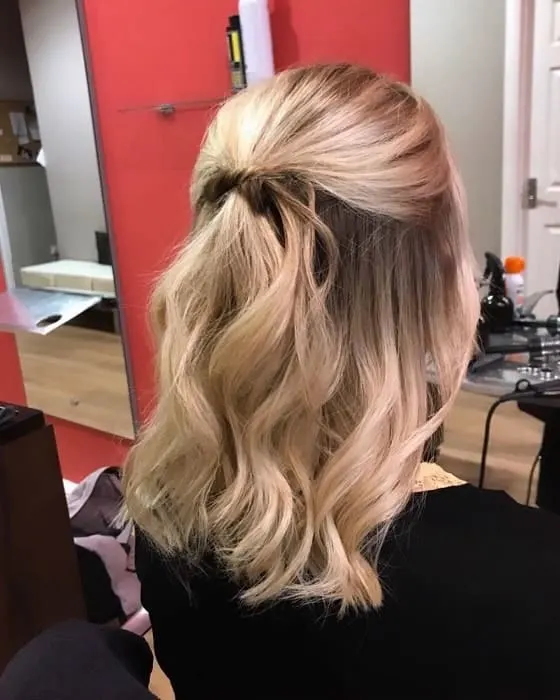 Twisted ponytails are in vogue. Mixed with two-tone blonde hair, twisted ponytail reaches new heights of glory. To achieve this hairstyle, take your top hair and tie them into a ponytail.
Twist the ponytail inwards for the twisted ponytail effect.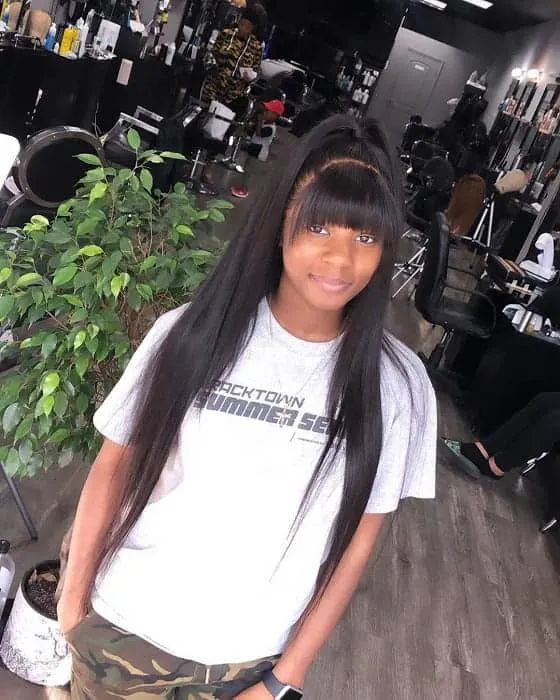 Long hair looks precious with half up half down style. This hairstyle, when combined with asymmetrical bangs, becomes more precious than ever.
Tie your top hair into a luscious half ponytail and leave the remaining hair down. Cut asymmetrical bangs for added perfection to your beautiful hair.
5. Cornrows and Topknot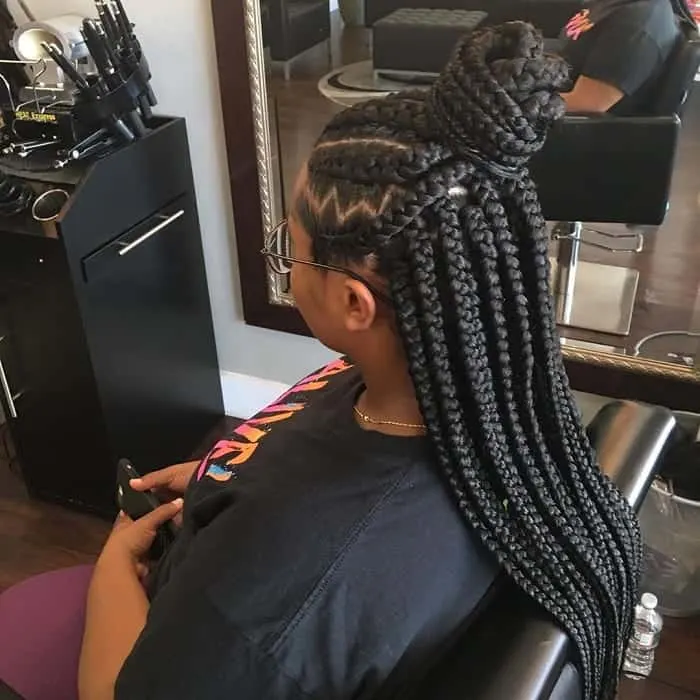 For a straight out of heaven hairstyle, divide your lower hair into various parts and weave them all into box braids covering your back.
But before that, don't forget to knit your top hair into cornrows connecting at the tip of the head to form a braided topknot.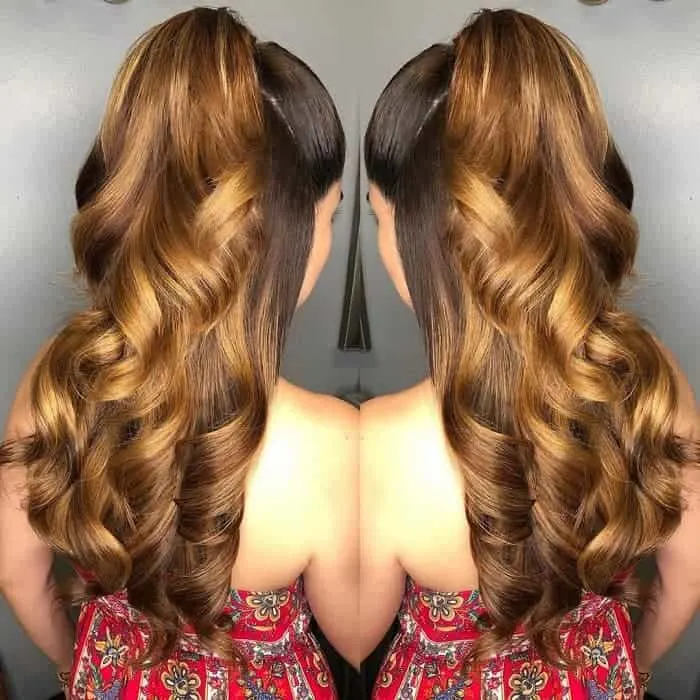 This half up hairstyle is for the ginger heads to get a new look. For this hairdo, divide your hair into two parts.
Tie the top part into a ponytail and the lower part into a loose waves to give you the half and half ponytail style. Cover the ribbon band with a strand of hair looping around it.
7. Soft Curls with Twists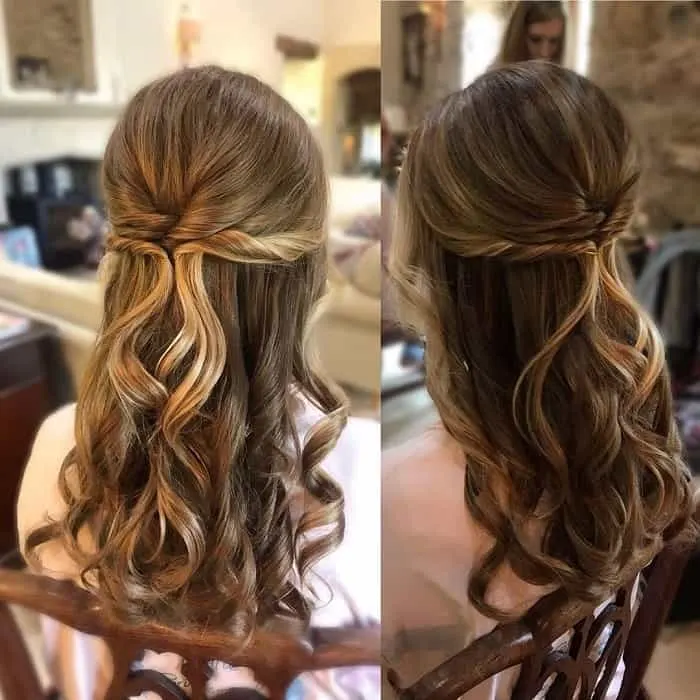 For a soft but trendy look this year, go with soft curls with twists hairstyle. Comb back your beautiful hair and twist them at the back of the head, securing them at one place.
Put soft curls into your hair and make the heads turn in an instant.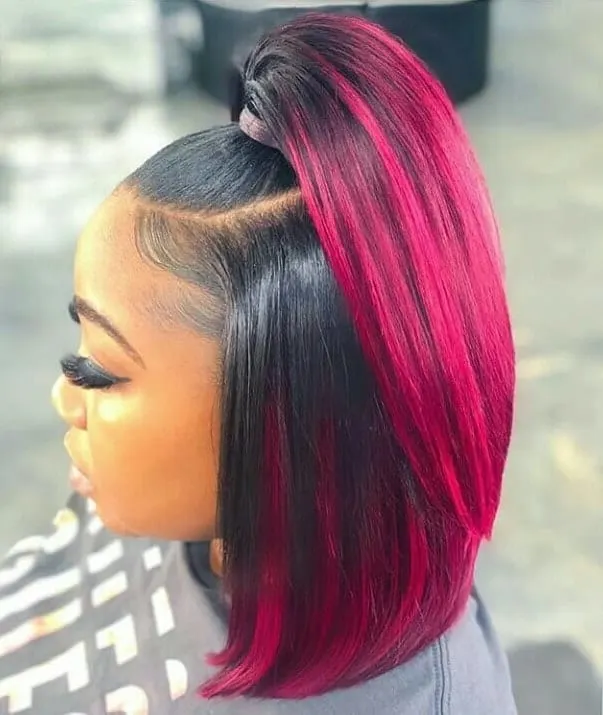 The hot pink hair color will give you the shine you have been craving for so long. Let out the punkster in you by getting a hot pink ombre to your sleek black hair.
Take the hair on the top and tie them into a high ponytail leaving the lower hair into a beautiful bob.
9. Braided Flower Bun with Waves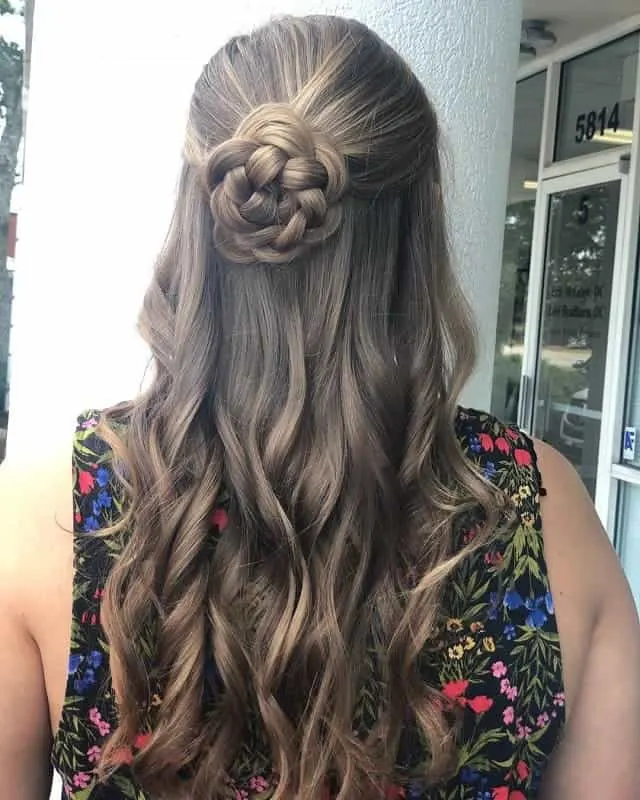 Style your dirty brunette hair by combing the top hair back and knitting them into a thick braid which eventually forms a flower bun.
Leave the lower hair floating on your back in the form of beautiful dirty brunette waves.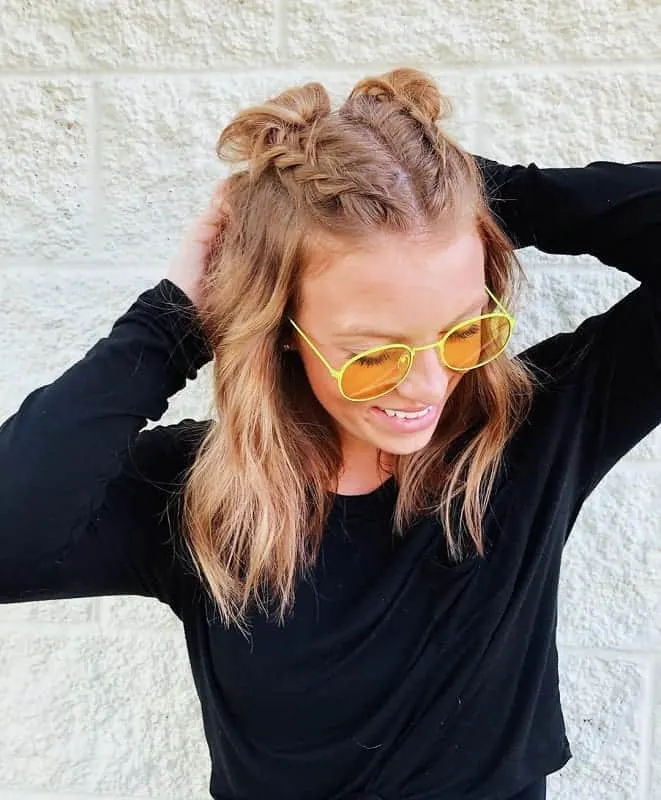 To achieve this half bun half down hairstyle, middle part your hair and French braid both the top hair sections which end on cute space buns.
Let your shoulder length hair fly around your head for a true sense of freedom and summer style inspiration.
11. Side Ponytail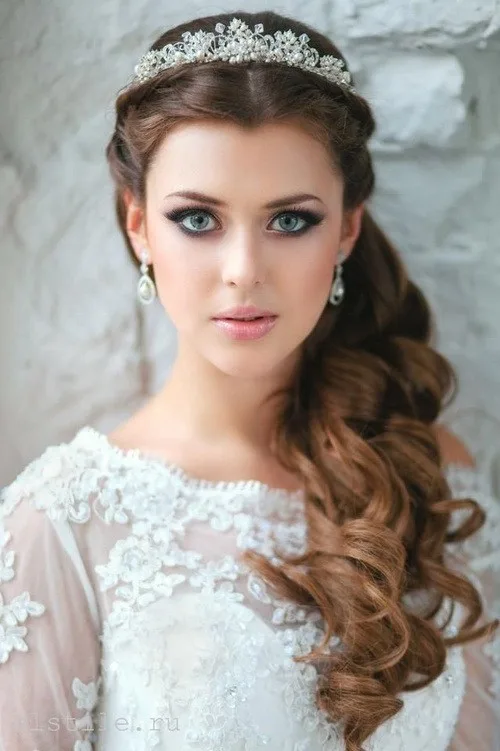 A ponytail might seem like an easy way out but it can really become an impressive wedding hairstyle. Sweep your tresses to the back of your head, tie them with an elegant elastic band and arrange it over one shoulder.
Braided Updo Styles For Any Hair Type
12. High hair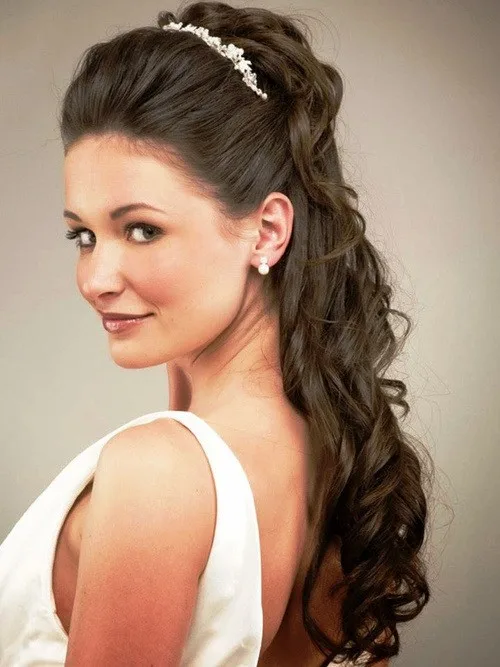 This half up high down wedding hairstyle will look amazing on the photos. Sweep your hair upwards to make a loose high ponytail. Create high hair on top and keep it together with a tiara.
13. Side strands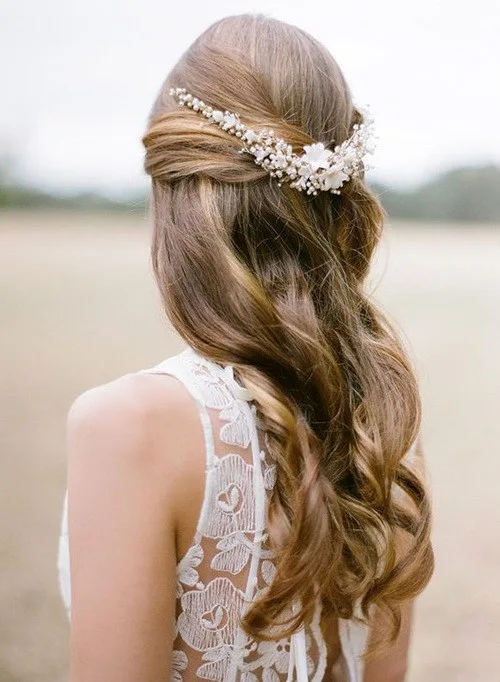 Another simple way to go about a wedding hairstyle is to take two side strands and tie them into a ponytail in the back. Glam up this hairstyle with some beautiful wedding accessories and you are done.
14. Curl cascade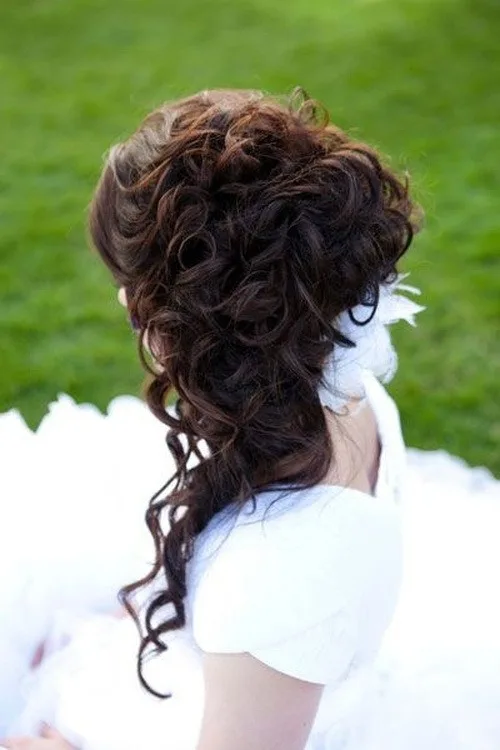 One of the most popular half up half down hairstyles. You will need professional assistance for this one. The hair is swept upwards into a loose bun and the strands are curled and allowed to fall down your neck.
Wedding Hairstyles For Brides With Long Hair
15. Curl arrangement
This is a great choice for girls with medium-length hair. You can leave most of it down and just tie the front strands in the back. Curl and arrange some thin strands to make circles that look like an accessory.
16. Braided coronet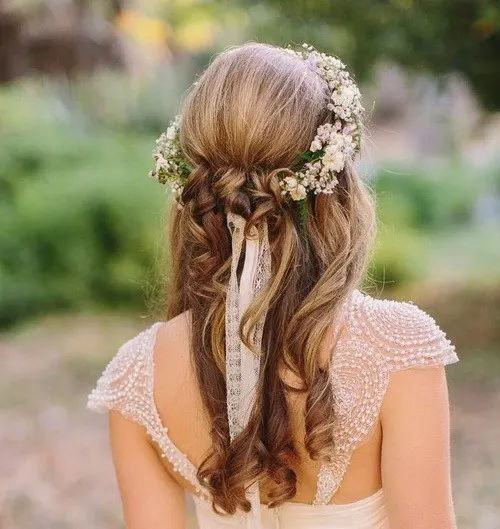 If you want to make a real soft and natural impression, consider getting a flower crown and braiding it into your hair. The locks in the back will look as if they are a natural extension of the coronet.
17. Simple twist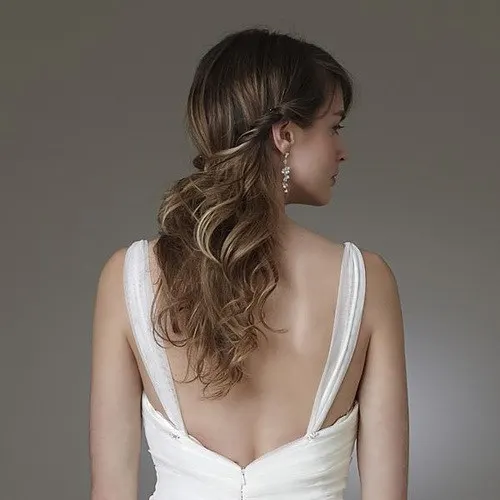 There is nothing more beautiful than natural simplicity. Don't go overboard with accessories. You can create your own half up half down wedding hairstyle by twisting two front strands and tying them in the back.
18. Asymmetrical braid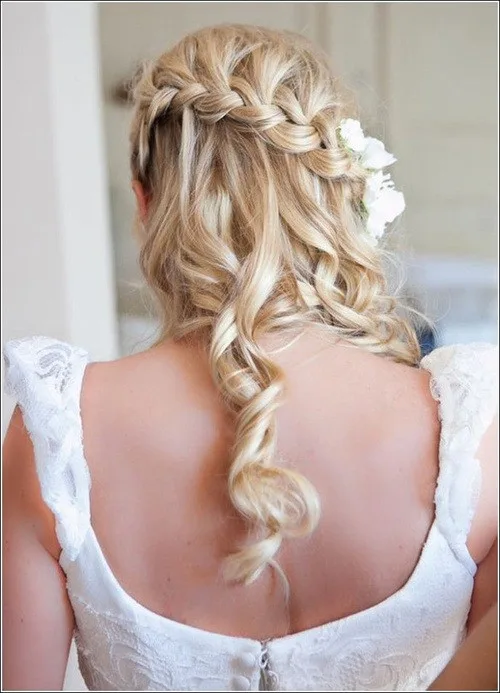 Simple braids are not a good choice for a wedding hairstyle while asymmetrical braids will do a great job making you look fantastic. Just one of these braids in the back of your head will make the guests sigh with awe.
Poetic Justice Braid Hairstyles You'll Love
19. Braid extravaganza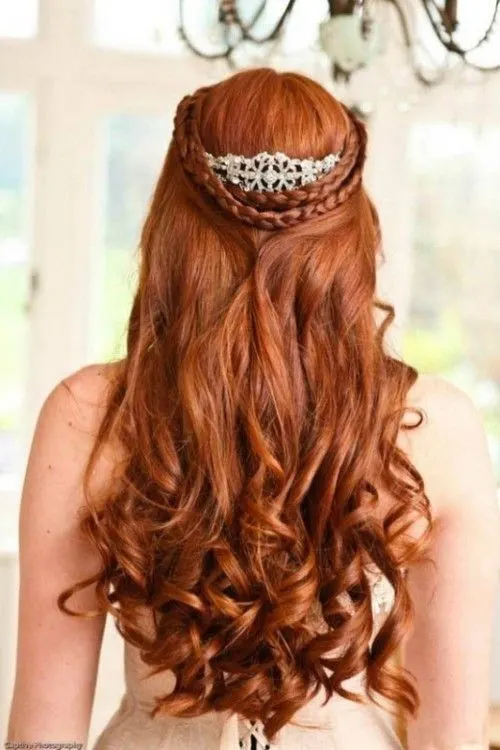 If you have thick locks, you can make several braids with the front strands and arrange them as a crown on top of your head. If your hair is thin, consider getting a weave. The effect will be the same.
20. Runaround braid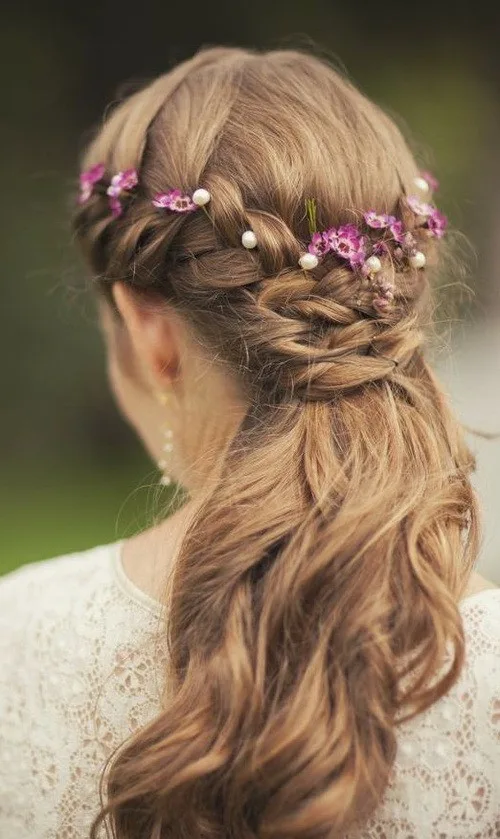 Runaround braid does a good job holding the half up half down wedding hairstyle in place. The rest of the hair is left to fall down your back. You can diversify this hairstyle with flowers and accessories.
21. Complicated braiding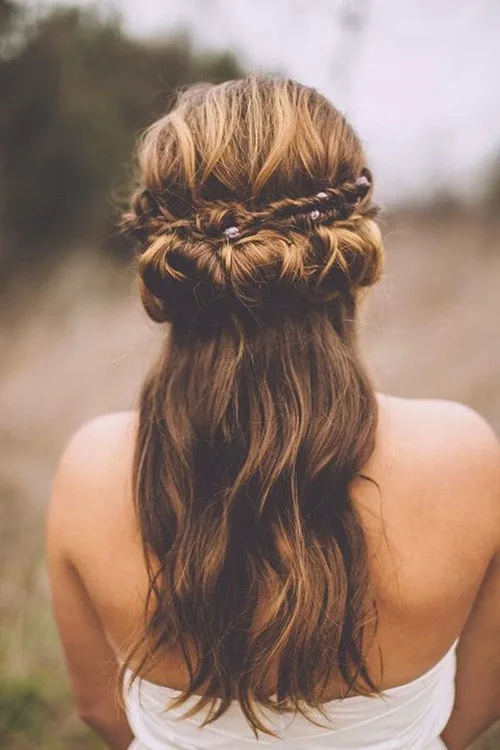 This hairstyle should better be trusted to a professional stylist and the result will exceed your expectations. It is a good choice for women with thick and curly hair that is hard to keep in place.
A beehive is a great choice for the top part of your half up half down wedding hairstyle. Create a small beehive on the top of your head and allow the rest of your locks to stream down freely.
23. Tiaras
Tiaras are your best friends when it comes to the half up half down styles. They do a good job holding your hair in place. Consider leaving two strands hanging in front. They will give your image a romantic look.
Related hairstyles:
24. Large waves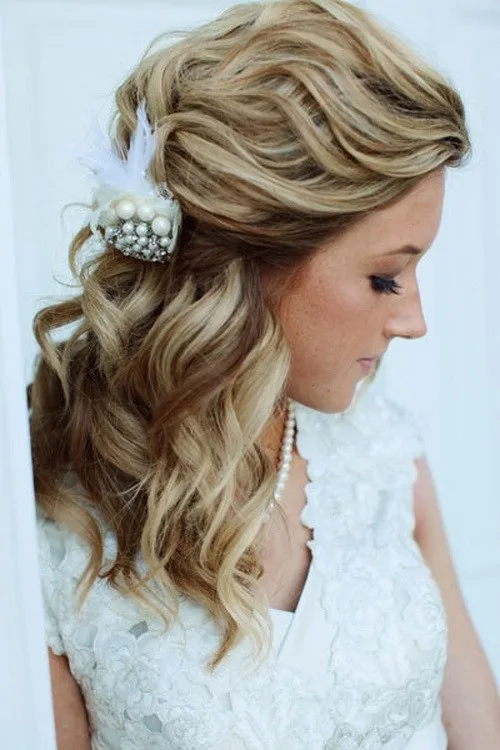 Curls and waves are a must-have part of any wedding hairstyles. If your hair is thick and unruly or thin and damaged, large waves will save the day. Tie to wavy front strands in the back to keep the hair out of your face.
Different Types of Braids With Weave
25. Comb over
Comb over is a great way to keep your face and forehead open while allowing the hair in the back to be loose. Make a comb over and tie it together with the frontal strands in the back.
26. Hair basket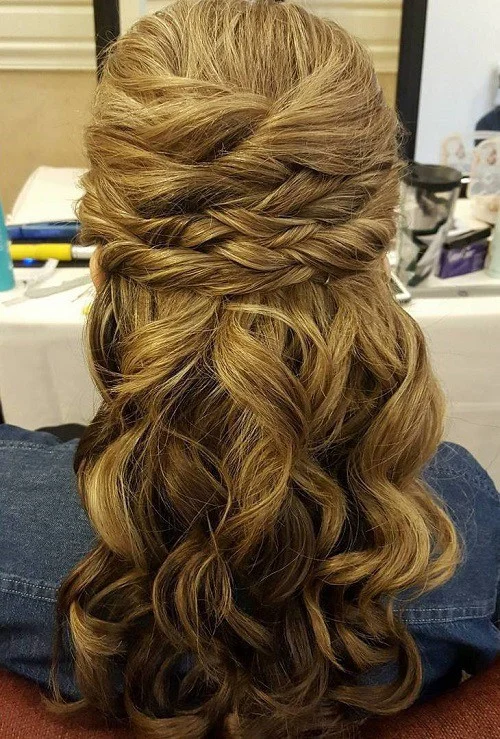 This is a hairstyle which is available to women with thick hair or to those brides who are ready for hair extensions. It looks really impressive and helps you flaunt your natural locks.
27. Special twist
Twisting your hair in the back so it looks special is a real art. If you are not sure you can achieve this half up half down wedding hairstyle on your own, ask a stylist to help you. Consider highlighting some strands too.
28. Impressive crown braids
Crown braids make a great "up" part of the mixed hairstyle. No matter how thick your locks are, you can make at least a couple of thin braids on top and then tie the front strands in the back to keep the hair neat.
29. Helpful accessories
You won't need to go to a hair salon to make your locks look fantastic if you know how to use the right wedding accessories. A well-chosen headband will create a great mixed hairstyle all on its own.
30. Use the veil
A veil will be a great help with you half up half down wedding hairstyle. Clip it to the strands that are tied in the back and your image will be even more fantastic. Leave some strands curled and hanging in front.
31. Hair ties
Making a wonderful wedding hairstyle without any visible accessories is a real art. A simple ponytail will turn into an extravagant mixed style if you hide the elastic band by the bow made out of your own tresses.
32. Bird nests
If you like special hairstyles, these bird nests are for you. You will need a stylist to help you arrange the back part of your hair to look like large and deep circles that resemble nests.
33. Twist and turn
Crown braids are fun but crown twists are even better. Keep the hair tied and arranged to one side with the help of well-twisted strands. You will need a lot of hair gel to make sure the twists don't fall apart.
34. Fun bun
If just tying the strands in the back of your head is not fun enough, you can go further by creating a bun out of them. If decorated with the right wedding accessories, this hairstyle will look very special.
35. Short hair idea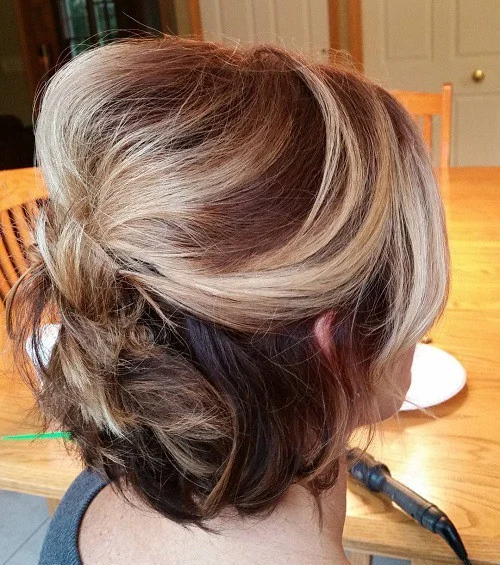 This half up half down wedding hairstyle is a good choice for girls with short hair. There is nothing hard about making a beehive on top and tying the front strands in the back. Well-chosen highlights will be a great addition to the style.
36. Braids and curls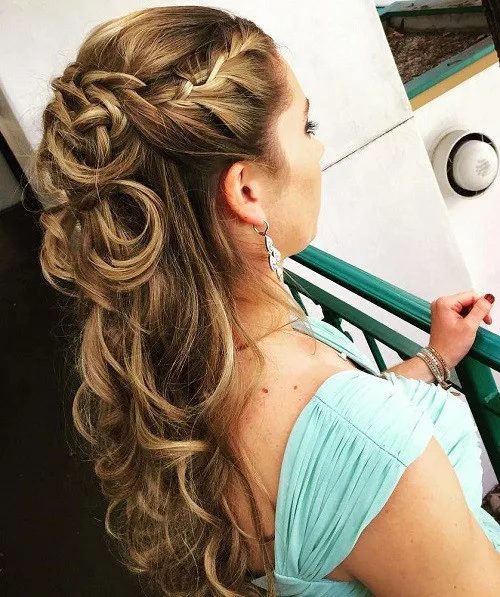 Braiding the front part of your locks is a good way to keep the hair out of your face. Then the braids can continue to form a large and curly ponytail. The more curls you make, the larger your hairstyle will look.
37. Back and front
When you sweep all your hair to the back, it won't be visible in the pictures, so the stylists recommend bringing at least some strands to the front and over one shoulder.
38. A weave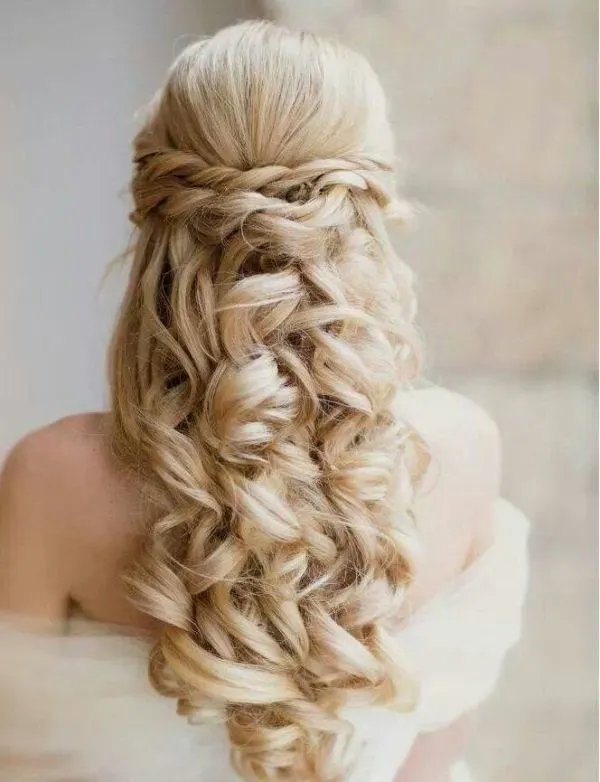 In order to make your half up half down wedding hairstyle look most impressive, consider getting hair extension to make the down part more voluminous. This way you can get such a hairstyle even if your hair is short.
39. Curly vs Straight
Curls and waves are a must for a wedding hairstyle. But it doesn't mean you need to curl all of your locks. Think about leaving the top part straight and curling the rest of your tresses. The overall impression will be fabulous.
40. Hair hug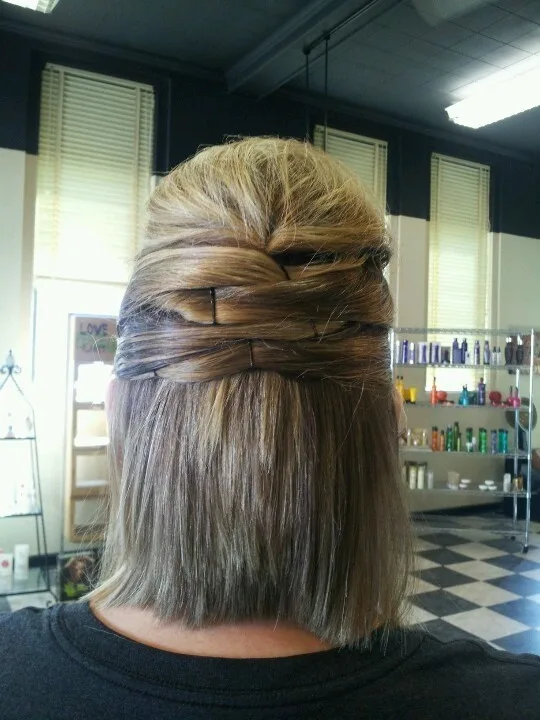 The "up" part of this wedding hairstyle is easily achieved by pulling the strands from one side of the head to another and securing them with pins. Since neatness is vital, ask your stylist for help.
41. Braids and twists
There is no reason to opt for just one hair arrangement. You can use both braids and twist to create the most amazing half up half down wedding hairstyle. Make sure your stylist understands what you want.
42. Just one braid
If you want to diversify your hairstyle, make a braid to support the "up" part of your hair. Don't be afraid to experiment with the strands you pull to the back. Simple braids look really cute.
43. Tough and beautiful
Looking for the most special hairstyle for your wedding? Bring your hairstylist this picture. It might take a long while to create this style but the results will be truly stunning.
44. Large accessories
If you are a fan of large accessories, such as headbands, consider this hairstyle. The headband will be holding your locks in place while securing your very special image.
Wedding hairstyles With Short Hair
45. Natural waves
If you have soft and natural waves, don't hide them. Enhance them with hair gel and make a simple braid to keep the front strands out of your face.
46. Bows and flowers
Flowers are a compulsory part of every wedding so why not get some into your hair. Large faux flowers will make any half up half down wedding hairstyle look very special. Give a couple of them a try!
47. Delicate jewelry
Large accessories have a certain charm, however, delicate jewelry is becoming the choice of modern women. Pick the most impressive hair clip to keep the "up" part of your hairstyle in place.
48. Jewels and ties
One of the most impressive ways to keep your hair up is to tie the strands to each other. Ask your hairstylist for this natural image and add some jewels to make it the most festive.
49. Double Strands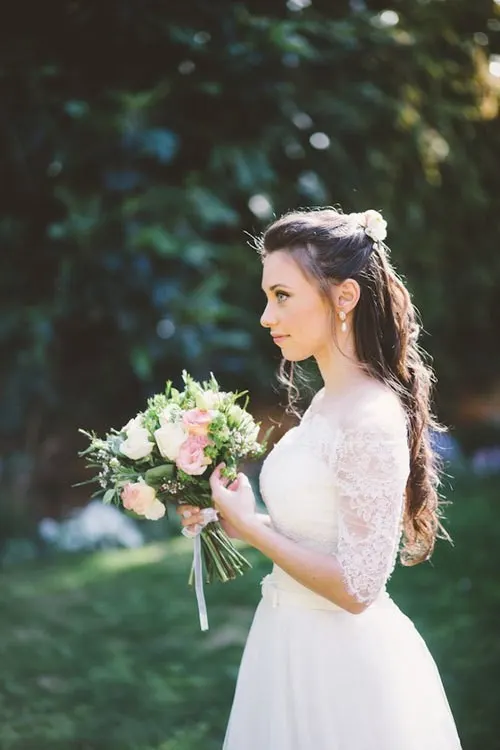 If you don't feel up to braiding, you can just twist separate strands of your hair and pull them back to make the mixed hairstyle. Tie the strands with a large wedding accessory to brighten up your image.
50. Neat curls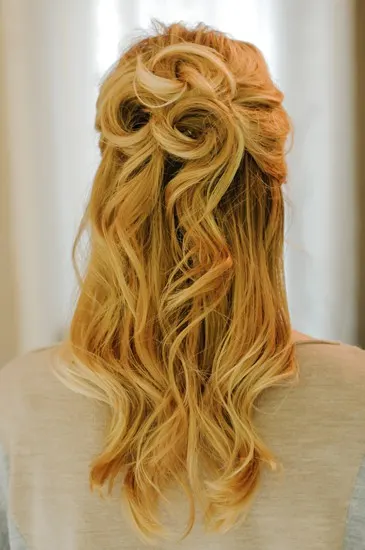 Curls are great material to play around with when you make a half up half down hairstyle for your wedding. Arrange your hair in circles and clip it to the rest of the tresses to make an amazing style.
51. 5-minute hairstyle
You don't need to be a professional stylist to create this amazing hairstyle. Pull the side strands of your hair to the back, tie them with an elastic band and attach a veil. Voila! You are done.
52. Rose clips
A loose half up half down hairstyle is achieved by attaching clips in a form of flowers to the hair and pulling it a little backwards. This hairstyle is easily achieved at home. Just don't forget to make curls.
53. Curl blast
Making curls on top of your head is always a smart move for a special occasion hairstyle. The more curls you arrange on top, the more voluminous your hairstyle will look. Leave some strands hanging down too.
54. Easy twist
Hairstyles with twisted strands might look simple at first. They are easy to make but hard to keep neat. You will need a lot of help from clips and hair gel to keep this wedding hairstyle intact all day long.
55. Natural brunette
Natural looks are becoming more and more popular at weddings. So there is no reason to go all out with curls or crazy braids and twists. Simple natural hairstyle will make your occasion just as memorable.
56. Matching earring
If you are making a half up half down wedding hairstyle, it is a great occasion to sport matching earrings and hair accessories. Your ears will be open, so opt for the most beautiful jewelry.
A circling French braid is a wonderful way to keep part of your hair up for the wedding. The "down" part of the mixed hairstyle will be falling over one should and visible from the front.
58. Curly hair extensions
If your hair is not long enough to create an impressive hairstyle, attach a weave to make your locks longer. Curly weave will make your image more impressive and a bit more romantic.
59. Clip the curls
If you don't know how to go about medium-length hair, go easy on it. Just make tight curls and clip them upwards to create an awesome wedding day hairstyle all the guests will love.
Handy Wedding Hairstyles for Black Brides to Feel Special
60. Lateral comb over
The lateral comb-over is another easy choice for a bride who is always on the run. This hairstyle will look great on girls with long and straight locks who plan to wear a veil.
When you sweep your hair backward to open up your face, you can use the strands to create a nice and long fishtail braid. Consider different braid types that will make you half up half down wedding hairstyle even more impressive.
62. Loop over Half Tied Hair
Loop over half tied hair is a hairstyle as elegant as anything. Comb your hair backward in a neat manner and loop each strand of hair over the other.
Secure the loop over the knot with a metal headpiece to complete your elegant look with style.
63. Middle Zigzag Part with Half Tied Brown Hair
For an elegant style, ask your stylist to dye your hair a beautiful brown shade, to begin with, the hairstyle. Then, part your hair in a middle zigzag style and tie them at the back of your head.
Leave the lower half hair down, to sum up, your majestically elegant look.
Though the hair texture of a black woman is quite unique, they can rock half up half down hairstyle just as beautifully as anyone else.
So, all the black women, get ready to give your kinky curls a beautiful style by binding them up into a half-up ponytail and leaving the rest of the hair down.
65. Twisted Half-Up Hair with Waves
To achieve a chic hairdo, twist your top hair and then comb them over to connect them at the back of the head. Put loose waves on the rest of the hair and stick a pearl bobby pin into your hairdo to complete the look.
66. Sleek Black Hairdo
If you have sleek black hair, then don't wait to get a sleek black hairdo. Backcomb the top hair to give them some height and secure them there.
Put some rough waves to the lower hair and leave them hanging on your back. Put a silver pin into your black hairdo for a magical night style.
67. Blue Braids Style
If you want to appear out of this world but in a breathtaking manner, then go for this exquisite hairdo. Ask your stylist to color your hair a steel blue shade with black underneath the hair.
Take hair from the sides to weave them into thin box braids on either side connecting with a middle fancy braid.
Ombre hair is the wonderful trend of this year. If you also want to be a trendsetter, then get your dark hair dyed into a brown ombre.
Put waves into your hair and use some gel to slick the top hair back and then tie them into a high ponytail. Leave the lower hair down for added style.
For an elegant and stylish look, style your front hair by middle parting them and then securing the remaining hair at the back of the head. Adding a pop of light brown color to your dark hair can enhance your look massively.
70. Blonde Brunette Hair with Waves
Blonde or brunette? Why not both? Achieve this half-up hairstyle by getting your hair dyed into two-tones of blonde and brunette. Put beautiful waves into your glossy hair and tuck the front hair, to sum up the look.
Transform your plain black hair by styling them into a half up half down hairstyle. Grab the hair from both the sides and knit them into a waterfall braid connecting at the back of the head.
This hairstyle will make you look pretty in an instant.
72. Half Tied Brown Ombre Hair
For an extremely elegant look, it is time to get yourself a pretty metal circle hairpin and use it to tie your top hair low at the back.
Add a brown ombre look to your hair, and you are all set to rock your everyday look with this amazing hairstyle.
73. Half Up Messy Ponytail with Scrunchie Ribbon
For a super cute and stylish at the same time look, give your hair some texture by running your fingers through them. Grab the top part of your hair and tie them up into a ponytail.
Secure the ponytail with a scrunchie ribbon and leave front flicks on either side of the face, and that is all.
74. Knotted Half Up Style and Bold Waves
If you want a refreshing style, then we suggest that you go with this backcombed hair with knotted half-up style and bold waves. Use some pomade to give a neat look to your combed back hair. Knot half hair and put bold waves in the lower hair.
75. Half Up Braided Hair
Dark roots with rust hair are a wonderful combination which gives you a super cool look without a lot of mess. Weave your top hair into stitch braids, eventually forming a high braided bun.
Tie the remaining hair into three-strands braids and let them loose around your head.
Half up half down hairstyles for brides are easy to make and look amazing. Pick the one you like best and try to make it on your own. You will love the way you look.