A bandana can make a woman look youthful. It not only helps during bad hair days but also gives a distinctive panache to every hair look. Just pick a bandana hairstyle to suit any occasion and grab the focus instantly!
Bandanas will enhance your look right away, whether you have long locks or short curls. Although this fashion is from the 90s, we have gathered the following 55 hairstyles with bandanas that still appear brand new.
What Is Bandana?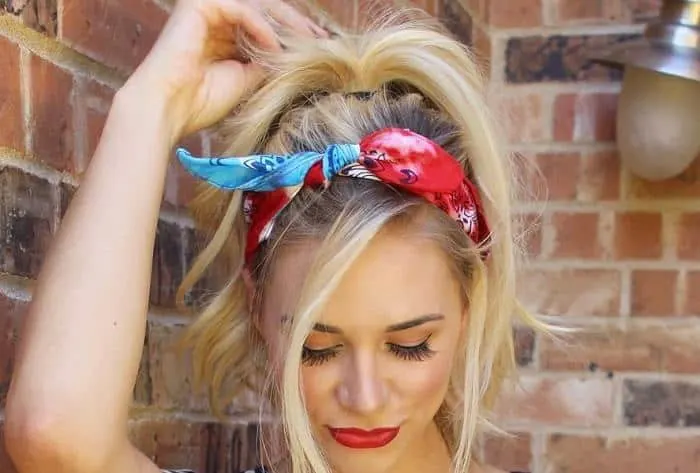 A bandana is a piece of clothing that you can tie around your head. Bandanas come in different fabrics, prints, and shapes which means that you can get one of your likings.
Bandanas are meant to tie the hair is a way that it is kept away from the face while making sure that there is no compromise on style or being fashionable.
A bandana can make you look cool, chic and aesthetical if you make the right choice of print and know how to put it on. Bandanas come in several sizes and shapes as you can find bandanas which are long enough to fall down your shoulders along with the hair. Also, there are bandanas which are just the size of a clip which is attached to your hair.
Where Did Bandanas Originate?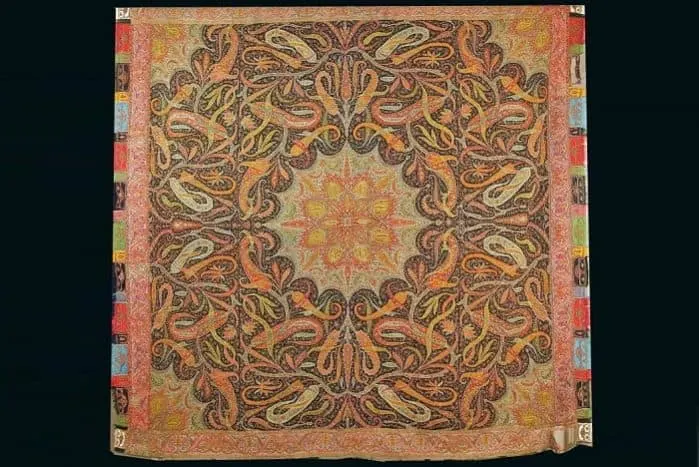 Skimming the pages for the history and origin of the lovely bandanas that we use today for bandana hairstyles has told us many things about it.
Bandana has been around for centuries and people as early as Ancient Egyptians used bandanas. From Sanskrit 'Bandhnati' which means to tie or to knot, it is evident that bandana has an origin in Asia (particularly Kashmir). The classic prints that we associate to bandanas trace their origin to the kind of prints common in Kashmir's culture.
Best Bandana Hairstyles for Women
A Bandana can help your hair look cool and unique. Women often complain about the lack of hairstyles and that's where the accessories come in. There are different hairstyles with bandanas that can diversify your appearance and make you look stunning.
The variety of hairstyles with bandanas for depends on your creativity. If you are looking for new ways to wear your bandana, below are some of the hottest short and long bandana hairstyles to try in 2023.
How to Wear A Bandana with Short Hair?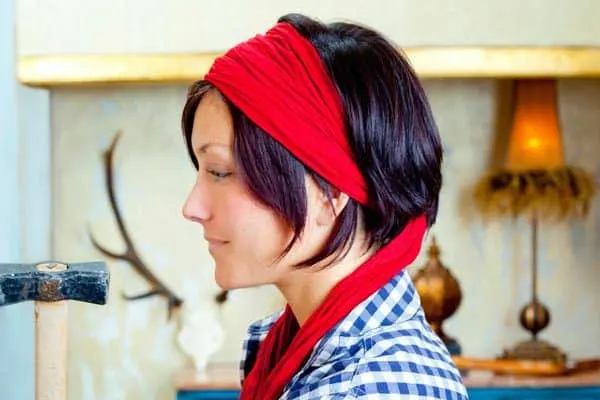 Bandana hairstyles are lovely for both short hair and long hair. They are a nice accessory for your hair which has a retro fashion vibe to them. Wearing a bandana around your head with short hair is quite easy.
It can be done in any of the three popular forms: skull cap bandana, traditional scarf style, and headband style. All of these are attractive and impressive in their own way, so choose the style which appeals you the most.
Watch The Following Video about How to Wear Bandana with Short Hair
Bandana Hairstyles
There are different ways you can wear a bandana with your hair. Without further ado, go through these styles and find the one that suits you best.
1. Cover the Hairline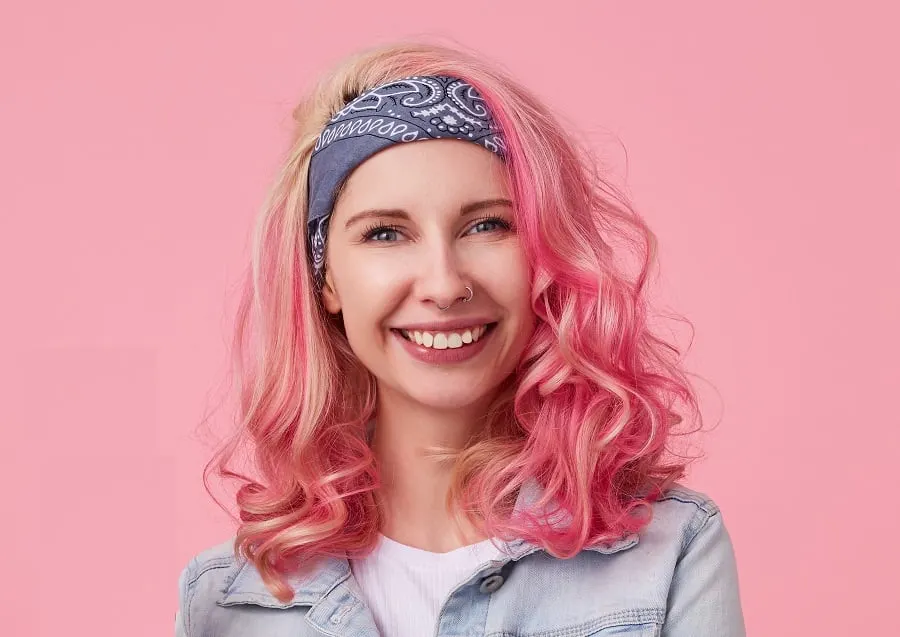 A simple bandana can give you a fun appearance. The curly shoulder-length hair is dyed in a bubblegum pink shade with rosy pink highlights. With a deep side part, the bandana is placed in a way to cover the hairline and half of the ears for a lively appeal.
2. Braided Pigtail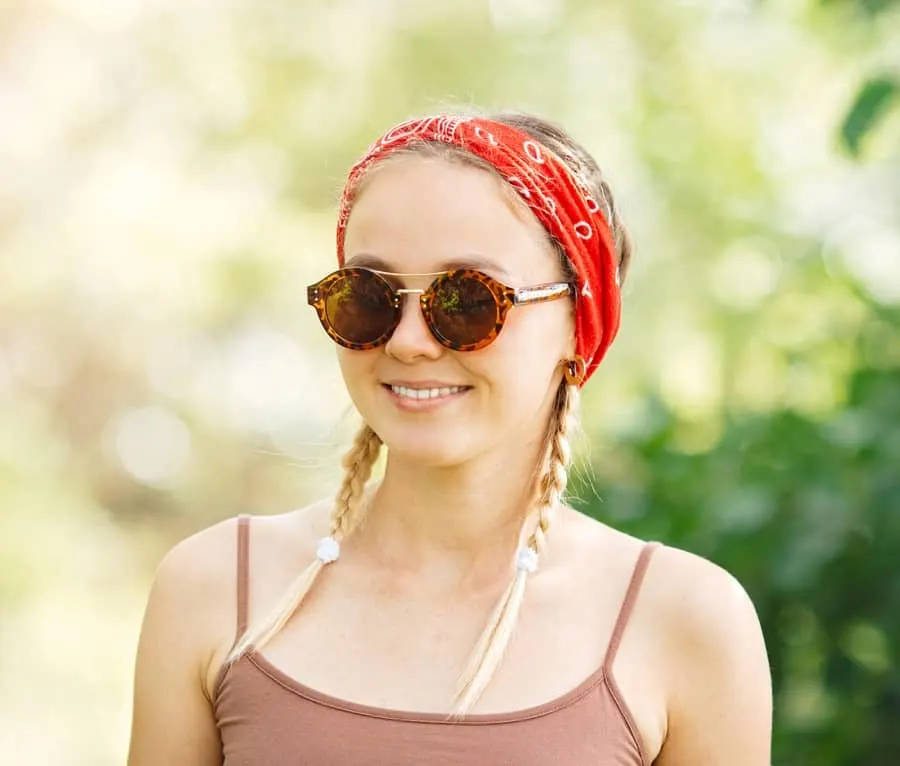 On busy days, a simple bandana hairstyle like this remains intact all day long. The middle-parted hair is styled into two pigtail braids with a head bandana that is pushed slightly away from the hairline. Rock some cute earrings on the exposed ear lobes to complete the look.
3. Bandana Updo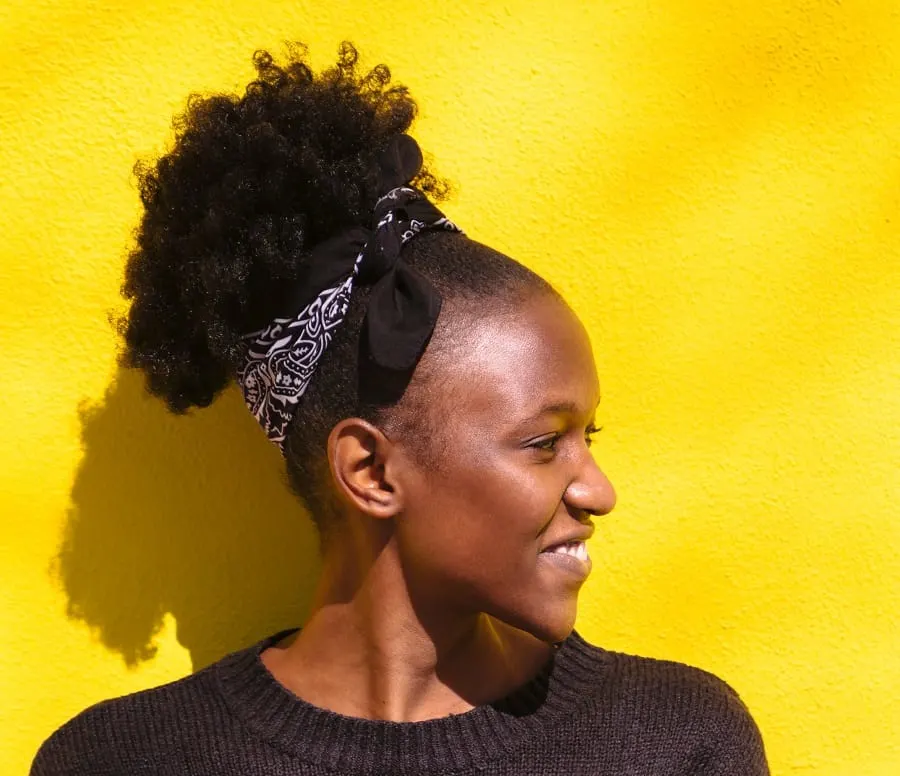 Afro curls can be styled perfectly with a bandana. Hold the strands away from the face by pushing them back and securing them with a bandana for a puffy updo. Keep the knot at the front for a chic finish.
4. Swept Back Braids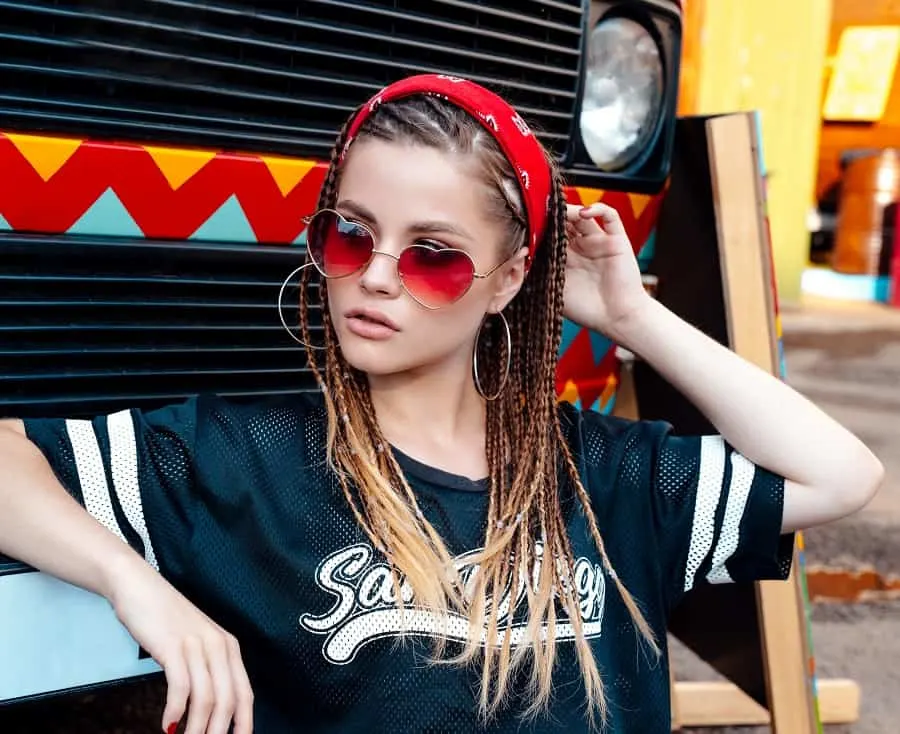 Turn around some heads with this punk look. The medium-length hair with a blonde ombre has a deep side part and is braided down all around the head. A printed bandana is used to push them back in a chic manner.
5. Deadly Dreadlocks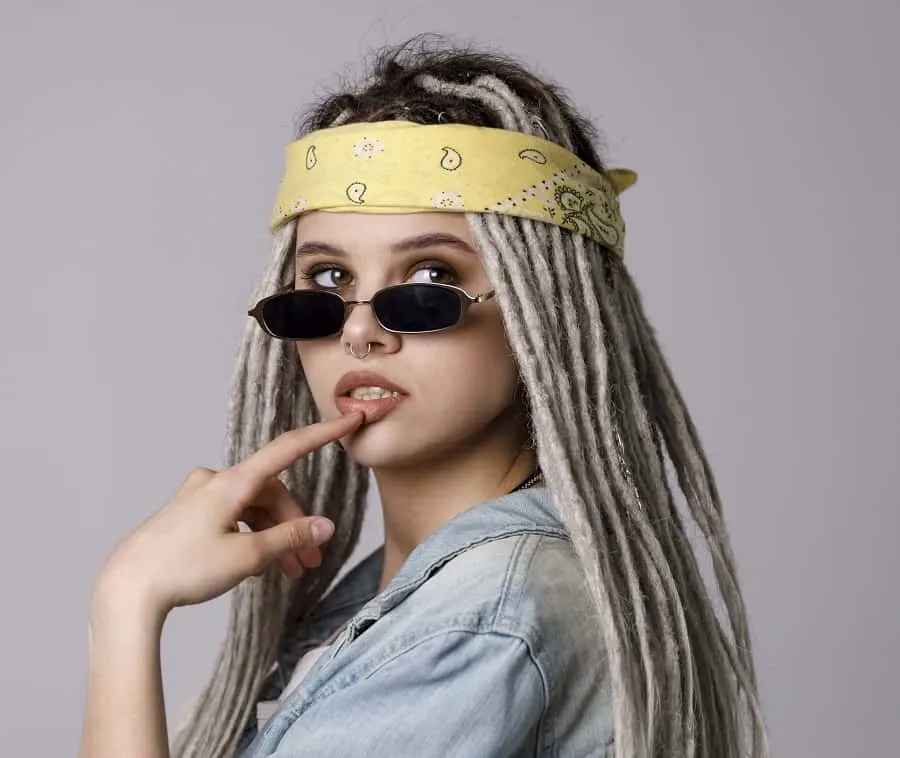 Looking for something to style your dreadlocks? Have a glance at these silver dreads where a bandana is tied in a way that it covers half of the forehead. Pair this look with sunglasses, and you are ready to rock the world.
6. High Jumbo Bun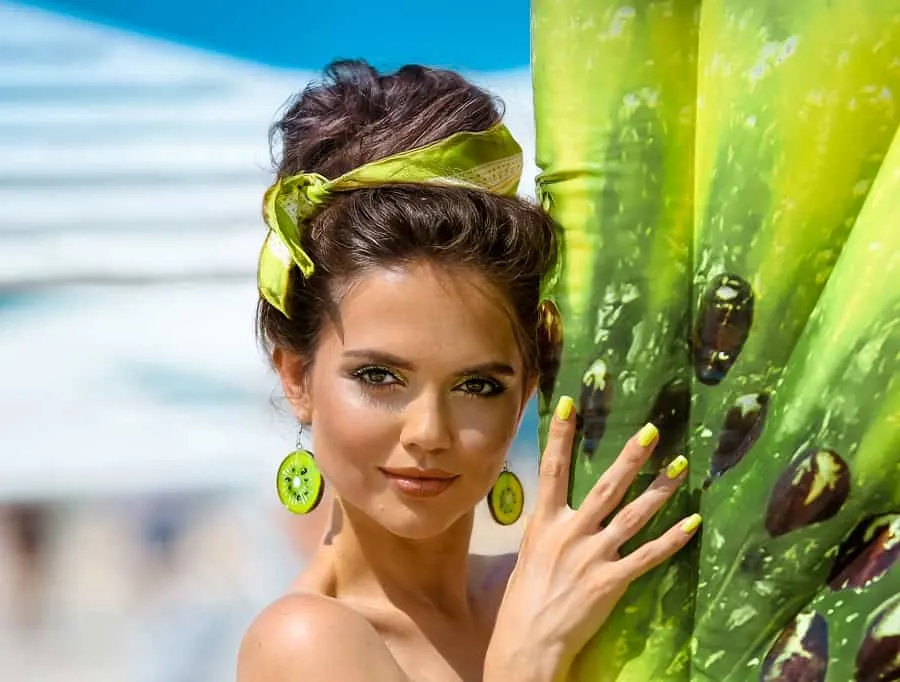 This chic look is ideal for the summer. The hair is brushed up and styled into an oversized bun at the top with a vivid-colored bandana matching the earrings wrapped around it. Don't worry about the flyaways as they accentuate the style.
7. Curly Fringe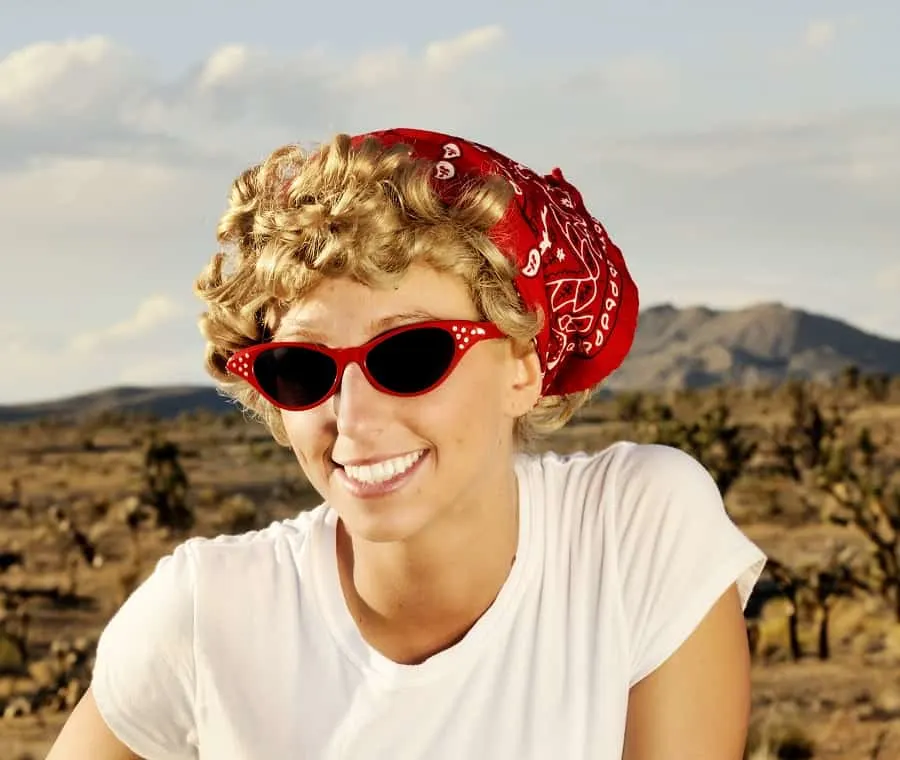 Instead of using the bandana as a headband, make it into a triangular shape and cover the head, leaving the curly fringe peeking through at the front. This look has a careless appeal and gives 90's-inspired vibes with matching sunglasses.
8. Vintage Bandana Style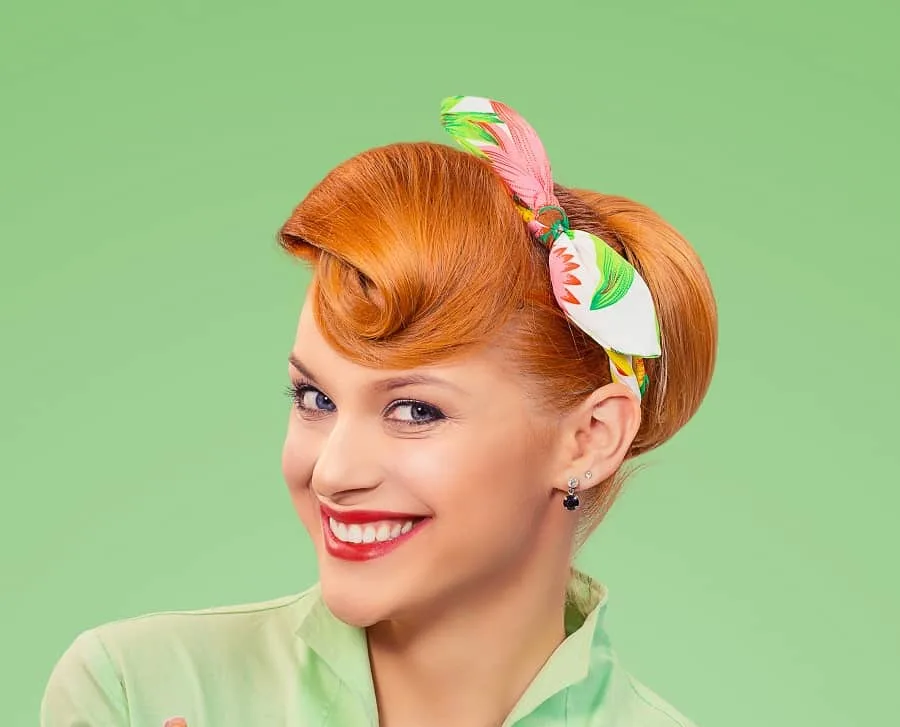 Rock a vintage look by styling the hair in a large bun at the back. The front is a puffy fringe that is curled inwards to cover the forehead. Top off this retro style with a colorful bandana having an oversized bow behind the front fringe.
9. Dutch Braids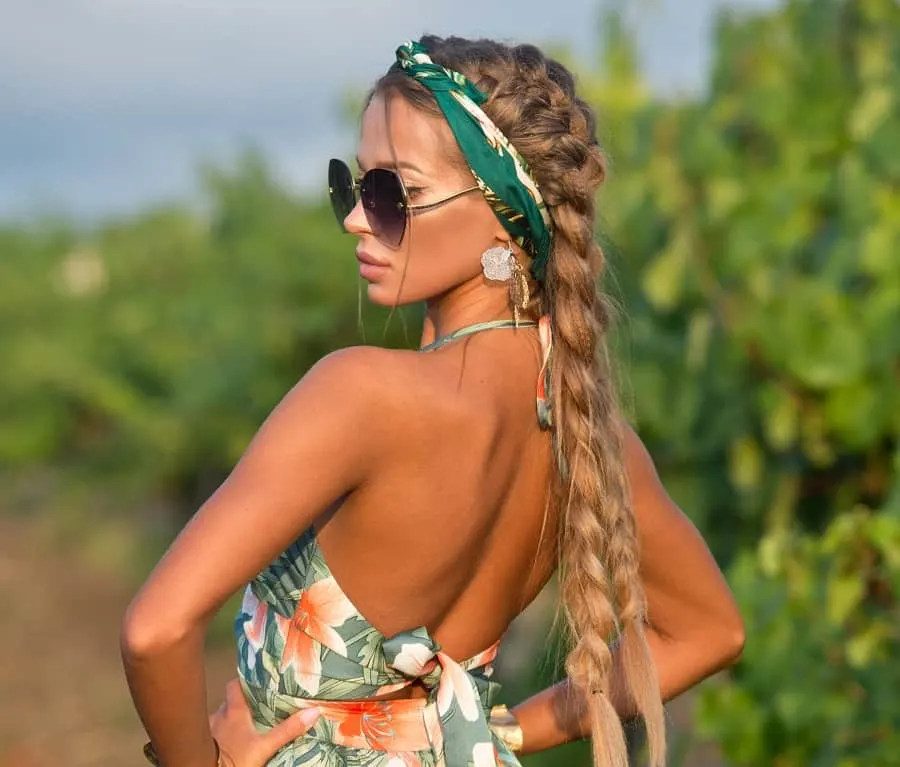 Dutch braids are elegant and timeless. This look is ideal for long hair where the strands are crimped and twined into two braids starting from the front. Two strands are left loose on the front with a bandana pushing back the remaining hair.
10. Adorable Look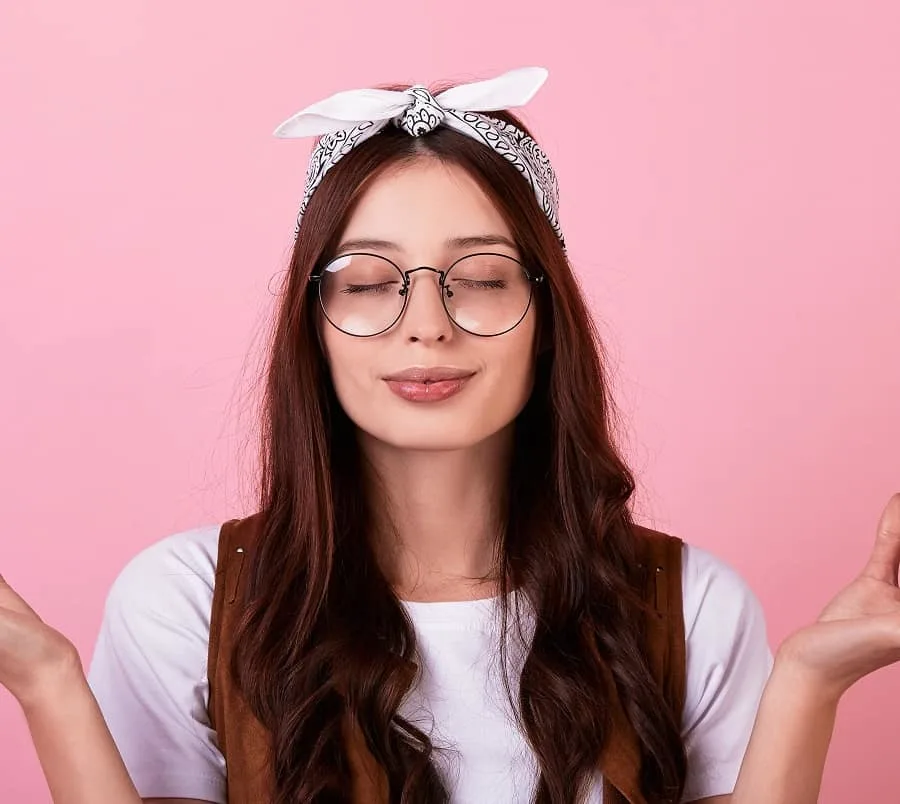 This bandana hairstyle is the best for long hair. It is knotted at the top for a cute girly appeal. Half of the chocolate brown locks lay on the front while the remaining sway at the back. Finish off the look by adding wavy curls midway to the ends.
Short Bandana Hairstyles
Your first step would be to go and buy several bandanas you like. Make sure to choose the colors that suit your wardrobe. As soon as you purchase at least 3 bandanas, you can start the fun experiments. Below are some awesome ways to wear a bandana on your short hair.
11. Beehive and Bandana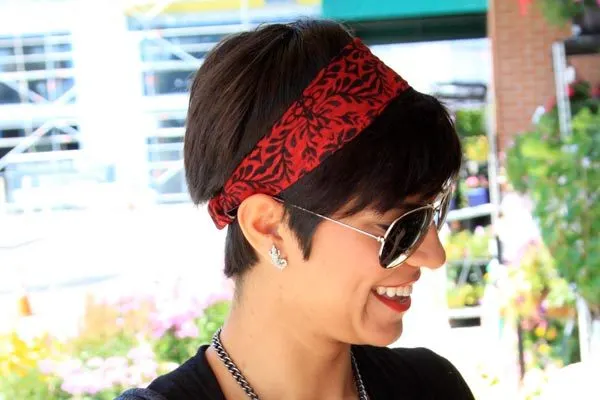 If you have a simple pixie, you can use a bandana to create some volume and a resemblance of beehive hairstyle. You will need to tie the bandana around your head and pull it up and backward with the hair.
12. Top Tie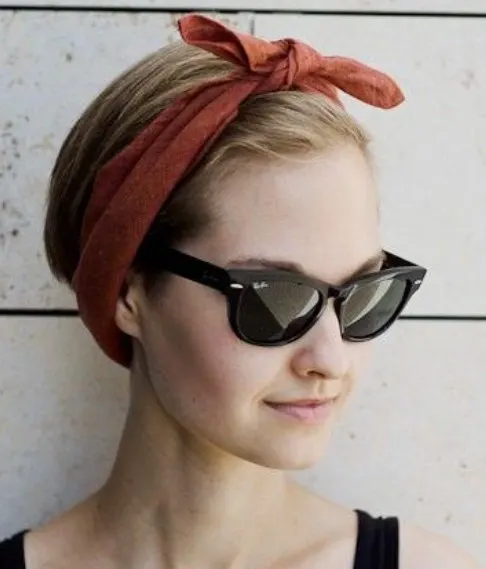 This is a great short hairstyle using a bandana that can keep your bangs out of your face. You'll need to brush the bangs backward and secure them with a wide bandana. The tie on top gives it an extra oomph.
13. Large Bow Bandana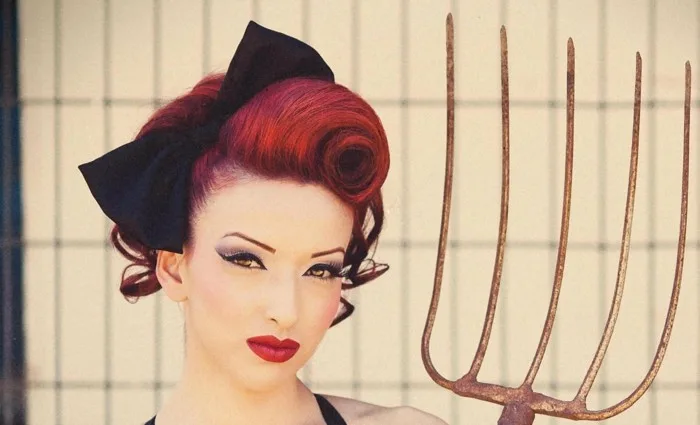 If you are looking for extravagant options and have already arranged your short hair into something extraordinary, add some beauty to the hairstyle by tying a large bandana into a bow.
14. Asymmetrical Tie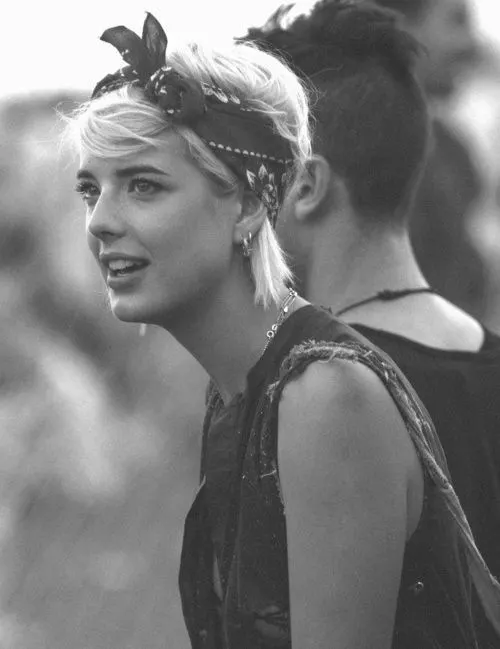 Asymmetry is conquering the fashion world and you can achieve it just by tying a bandana on one side. While an asymmetrical short hairstyle is not always appealing, such bandana arrangement is perfect.
15. Hide It
If you are tired of making a statement with women's mohawk or an undercut, you can use a bandana to hide it. Bandanas can turn you out of the ordinary style into something softer and more mainstream.
16. The Accessory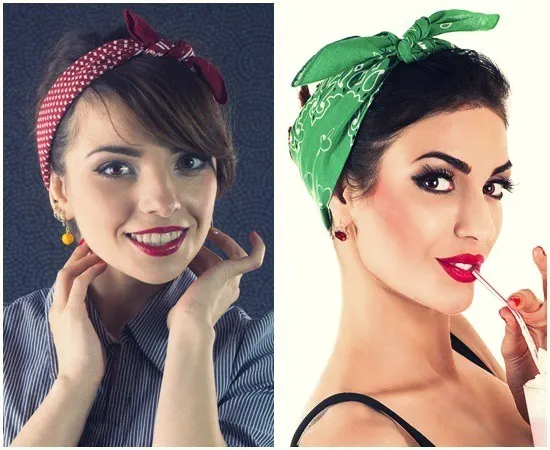 A simple yet clasy bandana hairstyles for stylish women. The bandana shouldn't always serve some hair tying purpose. It can just be a pretty accessory. Learn how to make a classic bandana tie and enjoy it!
17. Kerchief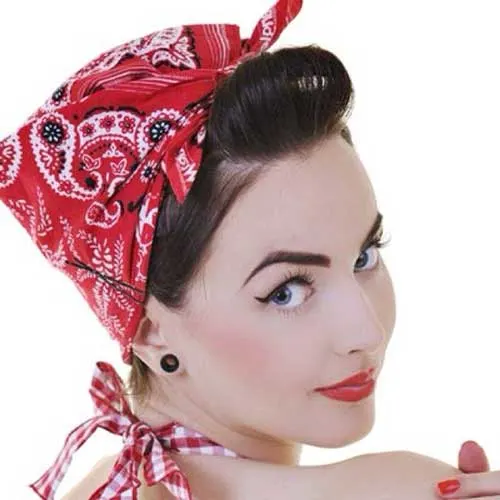 You can use the bandana to cover most of your hair. This is a great option for sunny days or cooking sessions. Another opportunity to use a bandana this way is when you don't have time to wash your hair.
18. Messy Arrangement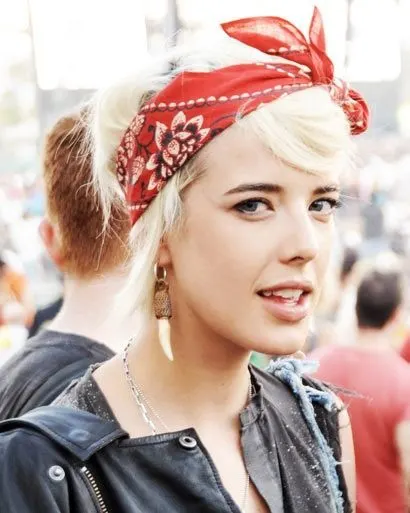 Bandana hairstyles for short hair don't always need to be neat. If you are into messy and windblown styles, you can arrange your bandana in a way to mess up your locks even more.
19. Scrunchie Replacement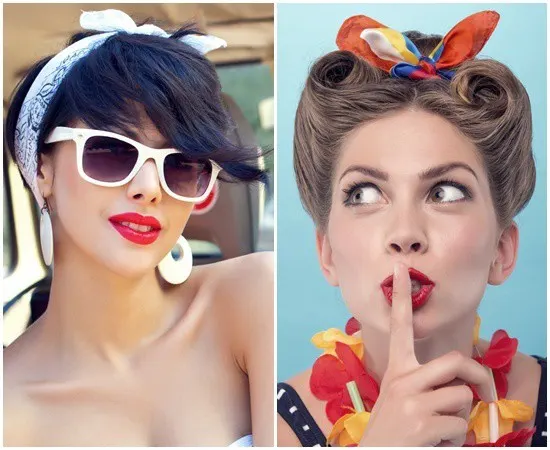 Some types of bandanas can be used as a colorful scrunchie replacement. Tie your hair with an elastic band and arrange the bandana around it to make an appearance of a bright bow.
25 Best Bohemian Hairstyles for Every Girl
20. Military Style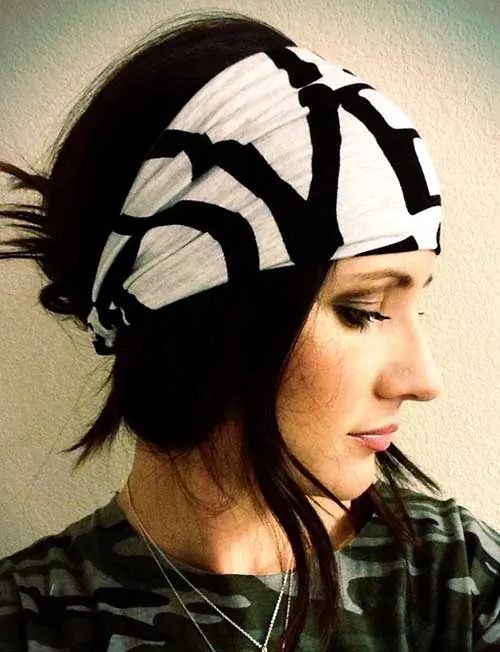 You can use the bandana to cover a part of your head including the forehead. This military style is appealing to the girls who want to either hide a hairstyle or save their heads from the burning sun.
21. High Contrast Bandana Hairstyle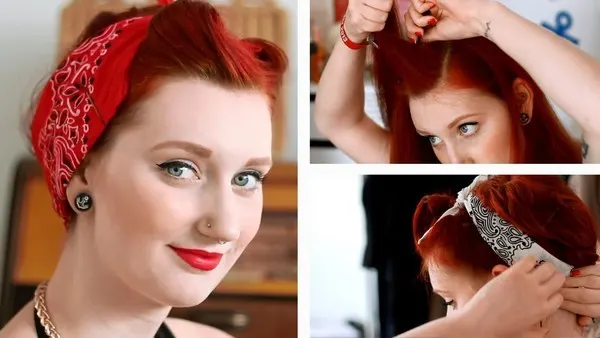 You can use hairstyles with bandanas to change a long haircut into a short one within minutes. Lifting your long locks up and arranging them under a bandana will make an appearance of short hair.
22. A Perfect Match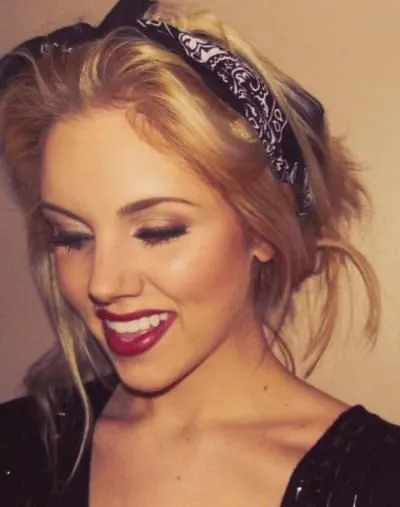 Most bandanas are created not to hold your locks or save you from sunburn. They are made to become a great accessory to match your wardrobe. Buy a few to suit your dresses, jeans, shirts, and skirts.
23. A Tousled Knot Wrap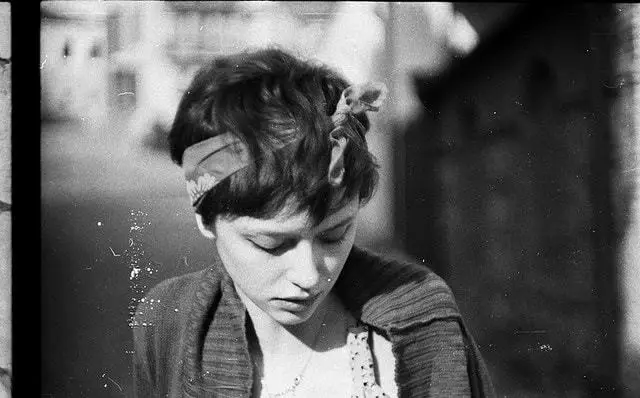 What's wrong with rocking tousled messy hair styled with a simple bandana wrap? Nothing. And what's right with this bandana hairstyle? Everything! Yes, you can simply run a brush through your messy short hair in the morning and tie a bandana around it to look stylish, well prepared and chic. You can be as lazy as you want to be with this magical short hairstyle up your sleeve to save the day for your hair.
24. Bandana with Voluminous Bangs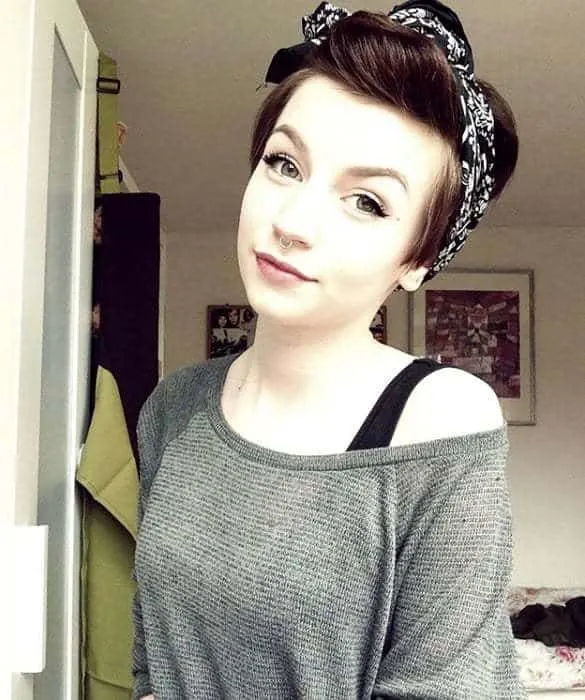 Voluminous bangs are stylish and youthful, so they are a favorite among women who go for short hairstyles. This style needs you to put some gel on the bangs and brush them lightly. Tie a bandana around your hair in a bow or knot and see how well you pull them off.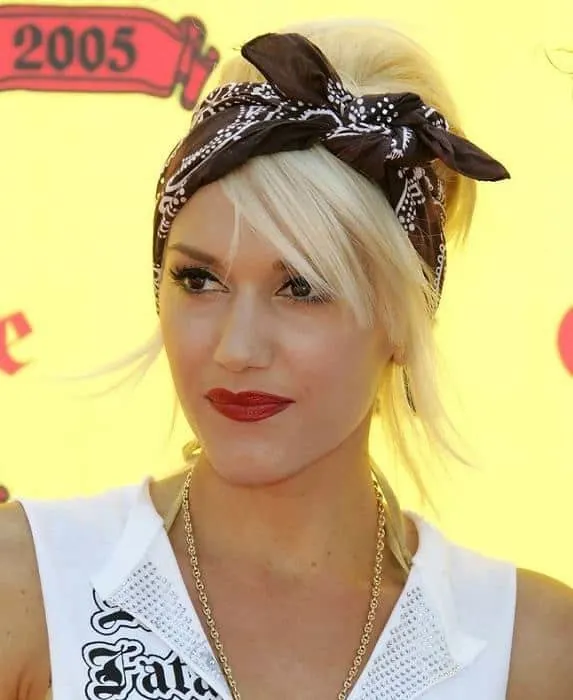 Inverted bob hairstyle is cool. Am I right? To make it cooler you can tie a bandana around it and impress everyone with the way you carry your lovely short hair with charm and style.
If you have side-swept bangs, then this is even better for you as you get to have the ends of your bangs tied under the bandana rather than flying around your eyes and forehead. This is the perfect party look this season, so do not miss out on it if you have short hair with side-swept bangs.
26. Pinup Hair with a Bandana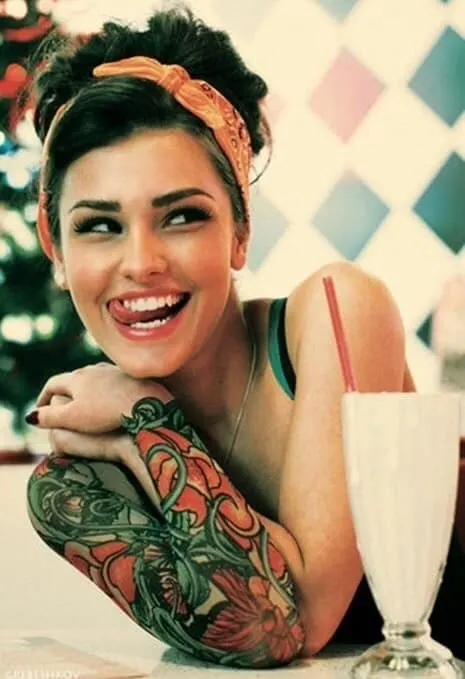 This bandana hairstyle is for you if you like to pin up your hair. You can pin up short bangs by twisting them in a stylish manner and then add some tousled waves to it. Finish off the look with a stylish fun colored bandana.
27. Vintage Bandana Hairstyle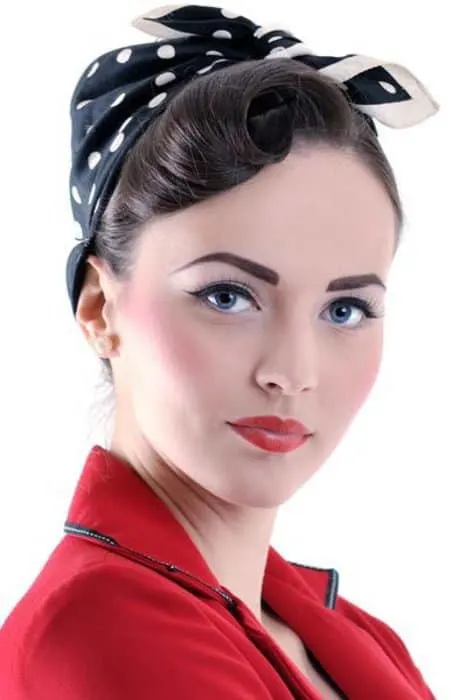 If classy, elegant and vintage is your thing then this can be your favorite bandana hairstyle. You need to pin up your hair in a neat and structured way and then tie the bandana to look gorgeous.
28. Back-Combed Afro with a Bandana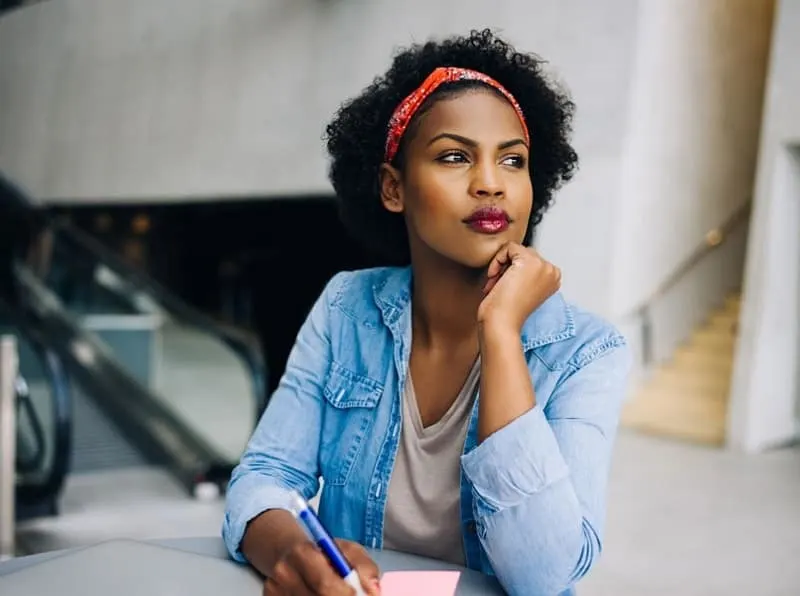 One way to make your afro haircut appear a bit sleeker and neater is to make it sleek at the front by applying hair to about 3-4 inches of hair starting from the roots and combing it to the back. To hold that in place and finish the hairstyle, tie a bandana around two inches behind the hairline.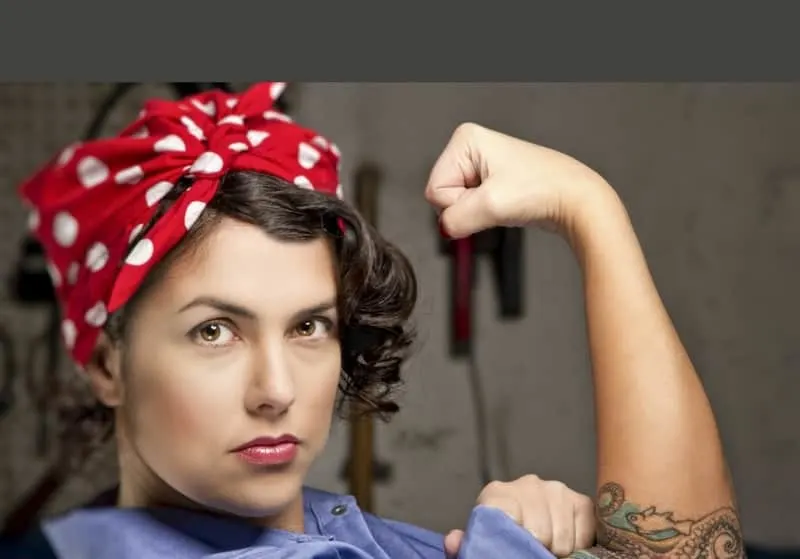 This hairstyle has become iconic thanks to the famous feminist poster. While the retro updo with a bandana does have variations, we suggest putting your hair into an updo and securing it with hairpins, then wrapping a bandana around the updo and tying it on the top. Leave the bangs outside the bandana and curl them.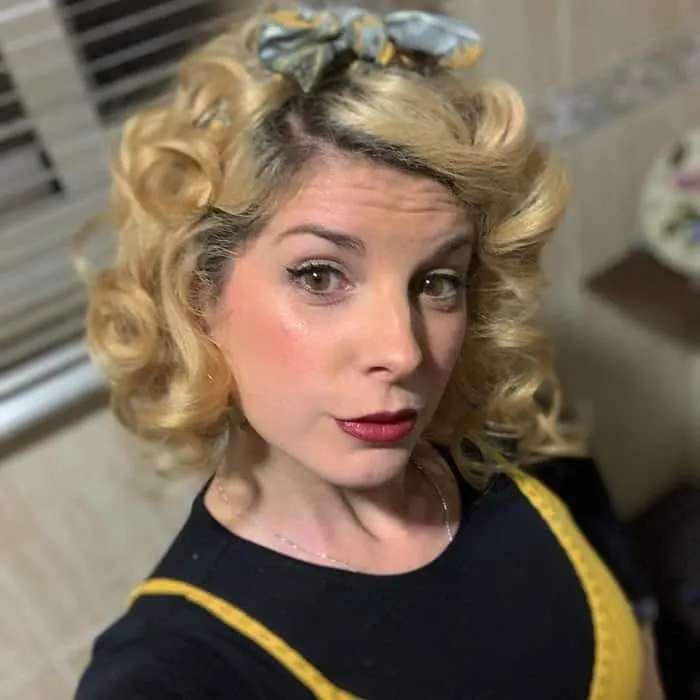 This is another simple, retro hairstyle with bandana that is very girly and adorable. If you think that the big curls that you love so much make you look older, choose a colorful bandana to spice things up and make you instantly look like a little girl.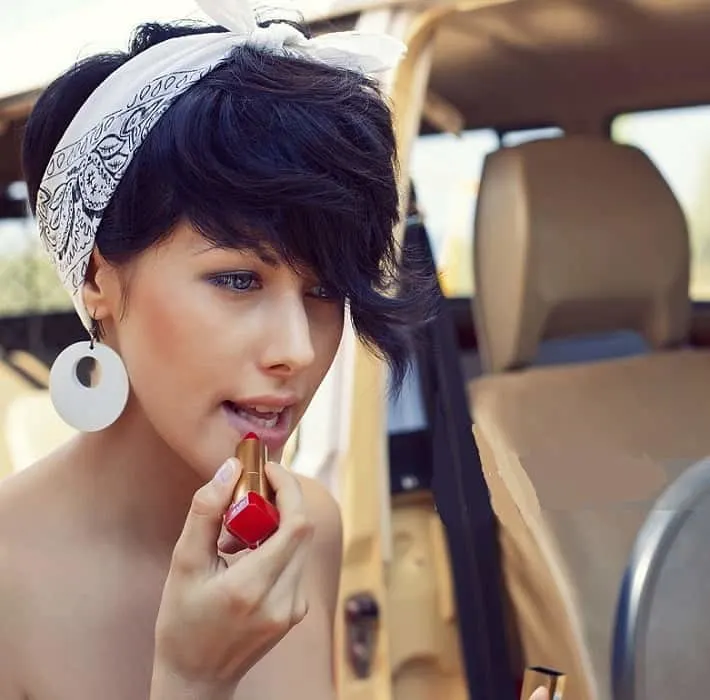 If you feel like your haircut is a butch haircut and you want to add a slightly more feminine note to it, then mess your hair out to look natural, sweep the bangs to the side and tie a bandana around your head as decoration.
32. Vintage Top Tie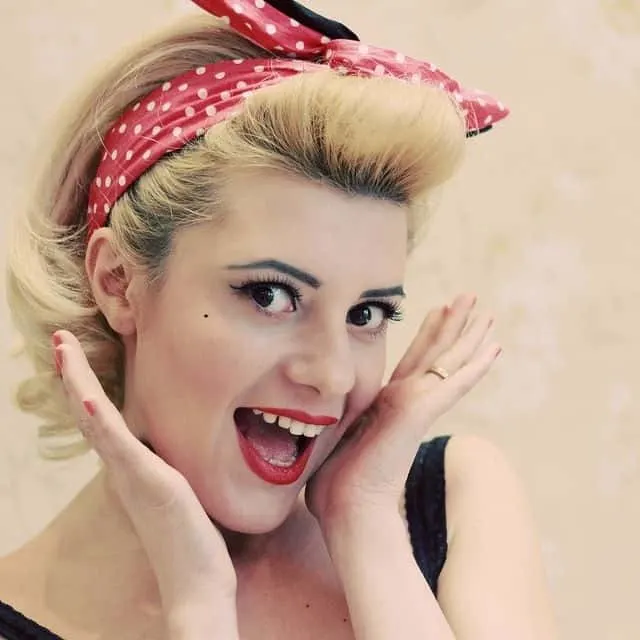 This pin-up bandana style looks way more complicated than it actually is. All you need is a curling iron to curl your hair. Use a blow dryer and a styling brush to style the bangs to have more volume. You can tease them a little bit too. Then just tie a bandana.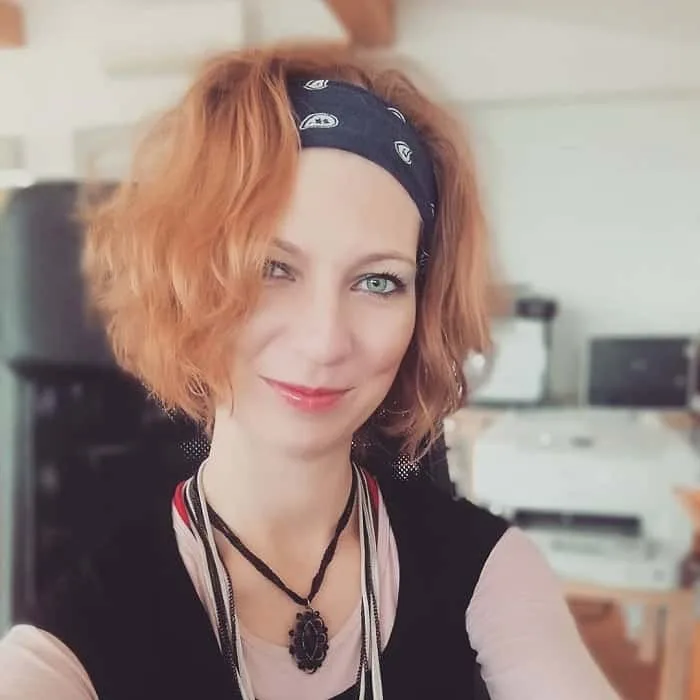 Bandana hairstyles don't only make you look girlier, but they sometimes achieve quite the opposite effect and can make you look like a true rock chic. Just spray some texturizing spray to add a bit of definition to your bob and tie a bandana right at the hairline for a rock 'n' roll look.
Bandanas for Long Hair
These are the most unique ways to wear a bandana with long hair for modern women! Sneak a peek to get inspired.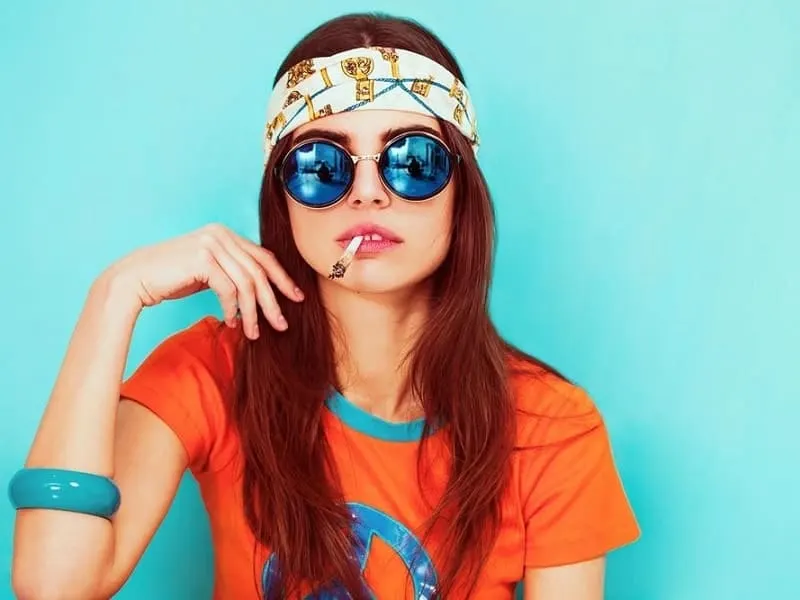 For a Janis Joplin vibe just blow dry your long hair without styling it and tie a bandana around your forehead. Pair the look up with some cool round sunglasses.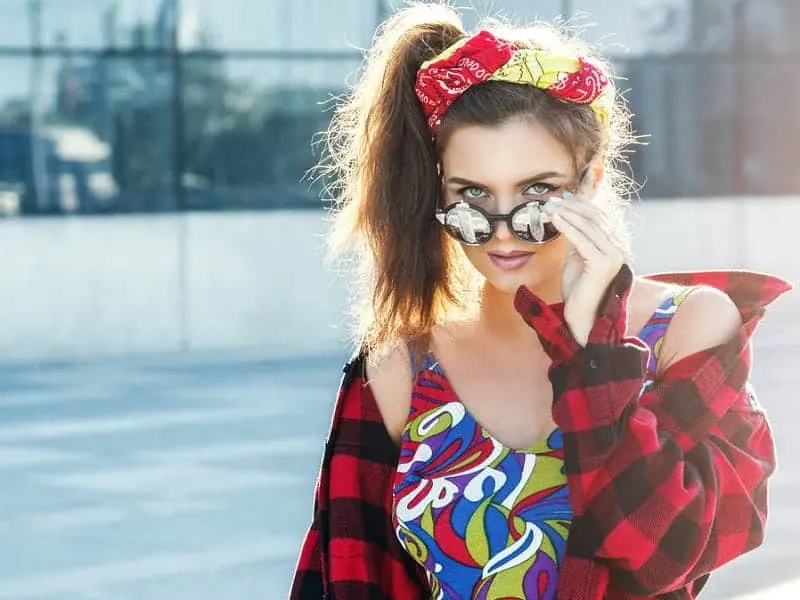 If you are someone who is young at heart and free-spirited, then you will love this high side ponytail with twisted bandanas. Just tie a side high ponytail and spray it with some texturizing spray. Then take two bandanas, tie them to each other, then twist them around each other and around the ponytail.
36. Long Twists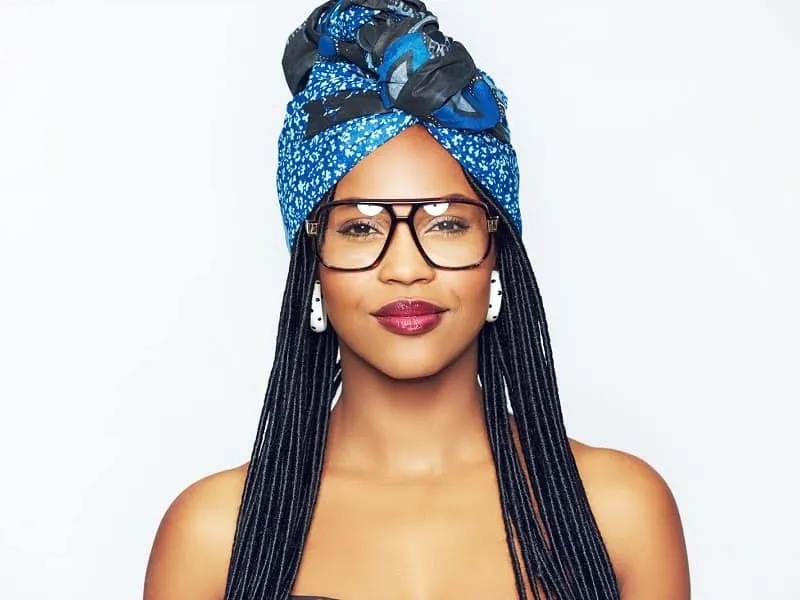 Long twists are a statement on their own, but with a bandana, they are even bolder and more emphasized. A bandana is not only a great accessory, but it can also effectively cover up the untwisted roots.
37. Big, Long Curls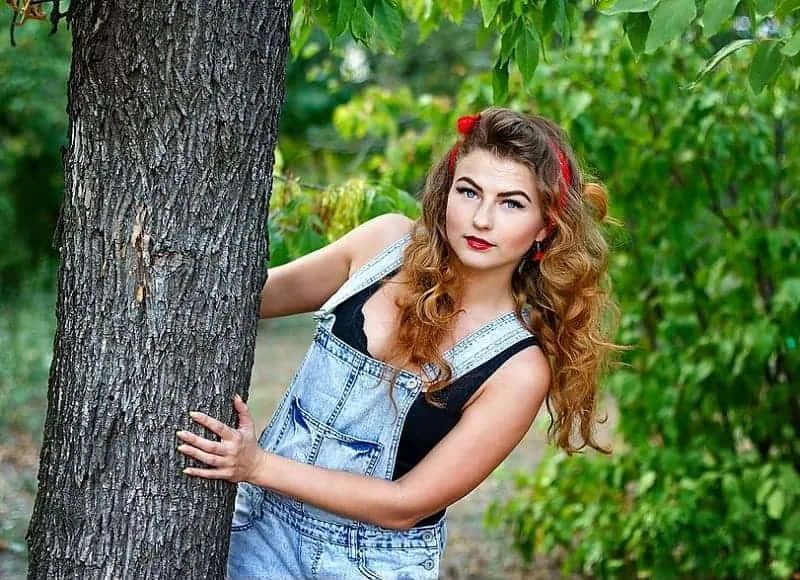 This bandana hairstyle for women with long hair is a definition of a fairytale look. If your hair is not naturally curly, use rollers to create those big, beautiful curls. Then tease the bangs for volume and tie a bandana a few inches behind the hairline.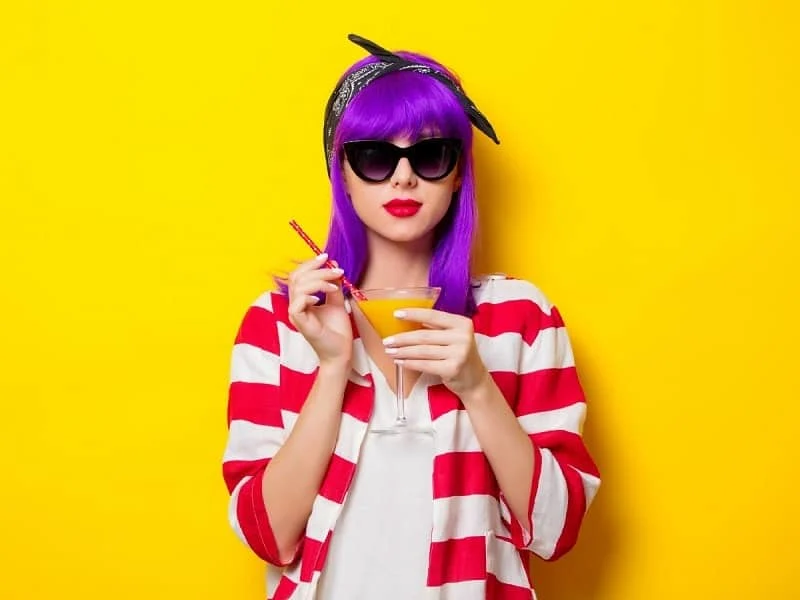 This is only an example of how you can combine a long hair bandana with absolutely anything, even a straight purple wig with asymmetric bangs. If you like wearing wigs, a bandana can also be a great tool to secure the wig in place.
39. Side Braid with a Top Tie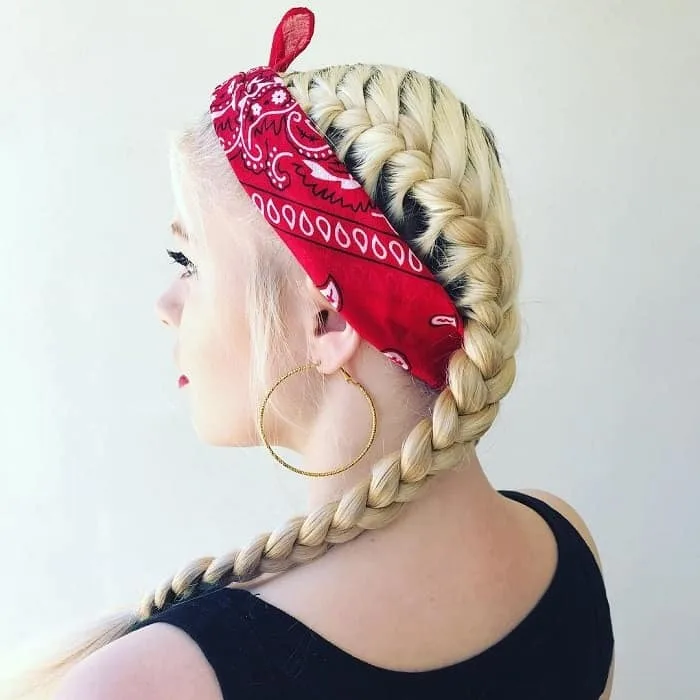 The combination of a side braid with a bandana for women with long hair is one of the more unusual combinations but it works beautifully.
On one side of your temple start braiding a French braid, first towards the back and then towards the side. Secure the braid with an elastic band and decorate the whole look with a bandana tied on the top.
It is very handy to take a bandana with you in the bag in case you need a quick, practical hairstyle. For instance, when you don't want hair all over your face, use an elastic band to tie a messy bun on the back, and then tie a bandana around the head to keep the bangs in place.
41. Jasmin Hairstyle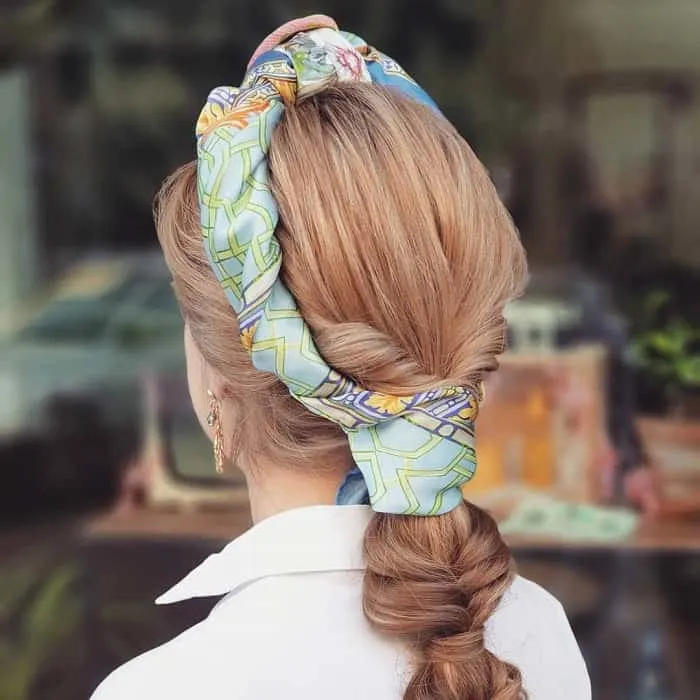 Girls have always admired the hair of Jasmin from Aladdin. The good news is that you can create a modern Jasmin hairstyle with the help of a nice bandana. Twist your hair on both sides and tie a low ponytail.
Then tie a bandana around the head and around the ponytail. Part the hair in the ponytail, braid it a little bit and secure it with an elastic band. Take a strand from underneath and wrap it around the elastic band.
42. Colorful Updo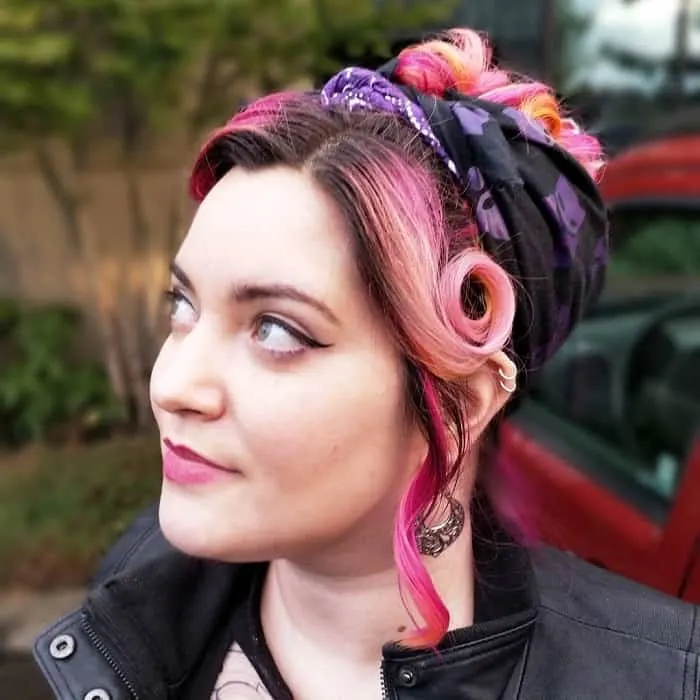 If you like to play with colors, you will love bandana hairstyles that include highlights of different colors, but you will love even more enhancing those highlights with the bandana.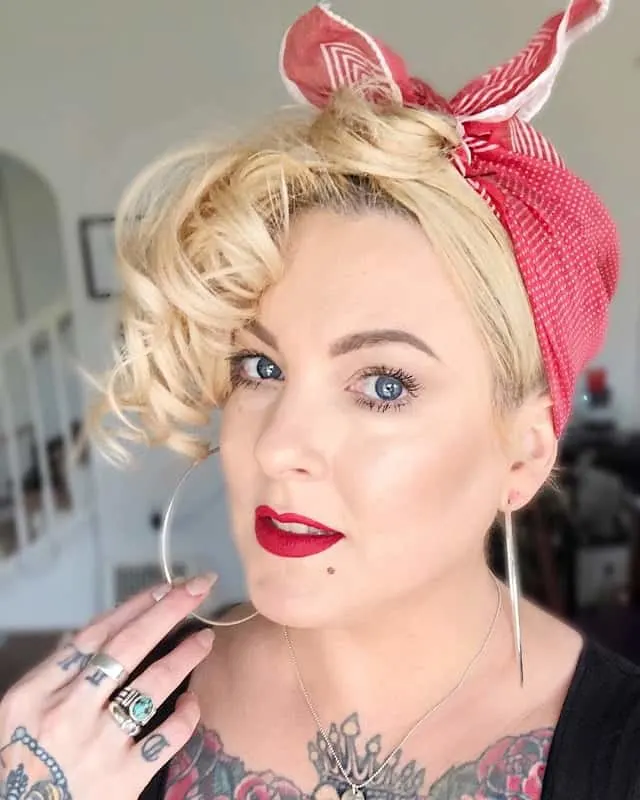 This pin-up hairstyle with bandana requires you to pick your hair up into an updo. The updo doesn't have to be perfect as the bandana will cover it anyway.
For the bangs, use a wide curling iron and spray them with hairspray. Finish everything off with a red bandana tied on the top.
44. Loose Side Braid with a Top Tie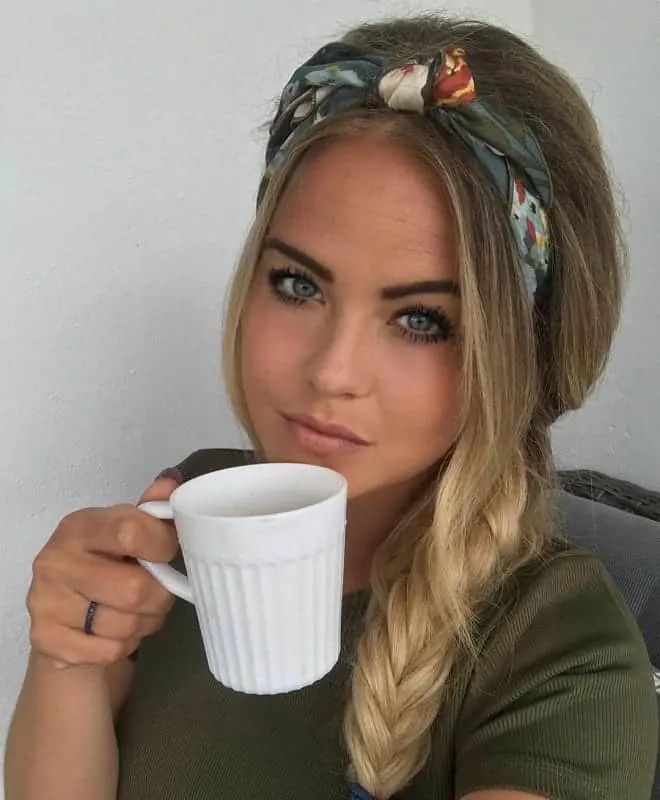 Braid a loose side fishtail braid and secure it with an elastic band. If the bangs are not already loose, pull them gently out of the braid. Take a colorful bandana and tie it underneath the braid and behind the loose bangs for a charming, boho effect.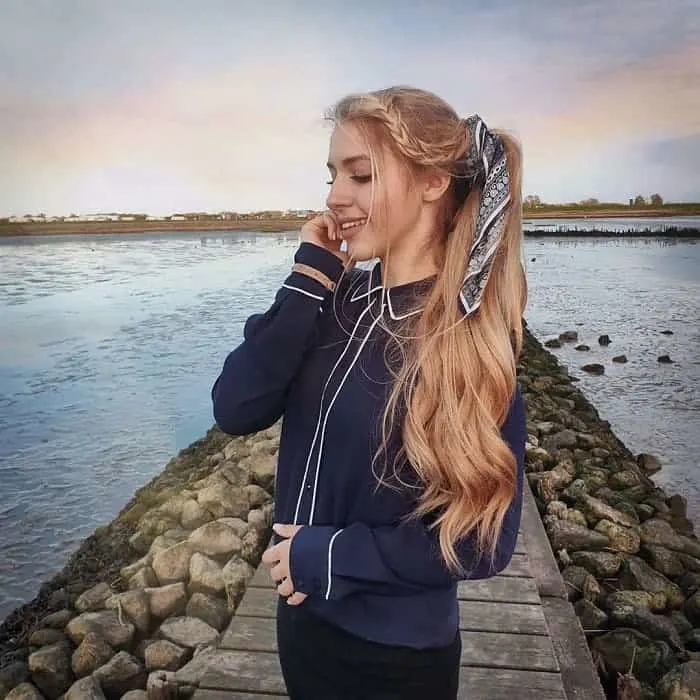 Braid a simple side braid from your bangs and secure it with an elastic band. Tie a medium-high ponytail and include the end of the braid in the ponytail. Tie a bandana around the elastic band surrounding the ponytail.
There are many different ways to wear a bandana, one of them being around the elastic band that secures your loose Dutch braid.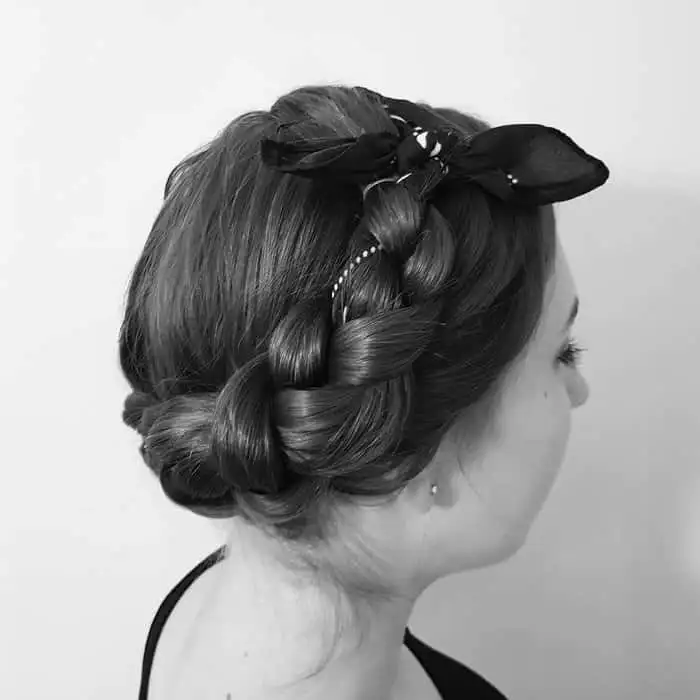 For this gorgeous hairstyle, first, tie a bandana around the head. Then start braiding a halo braid that almost completely covers the bandana, only leaving the bow on the top visible as a little pop of color.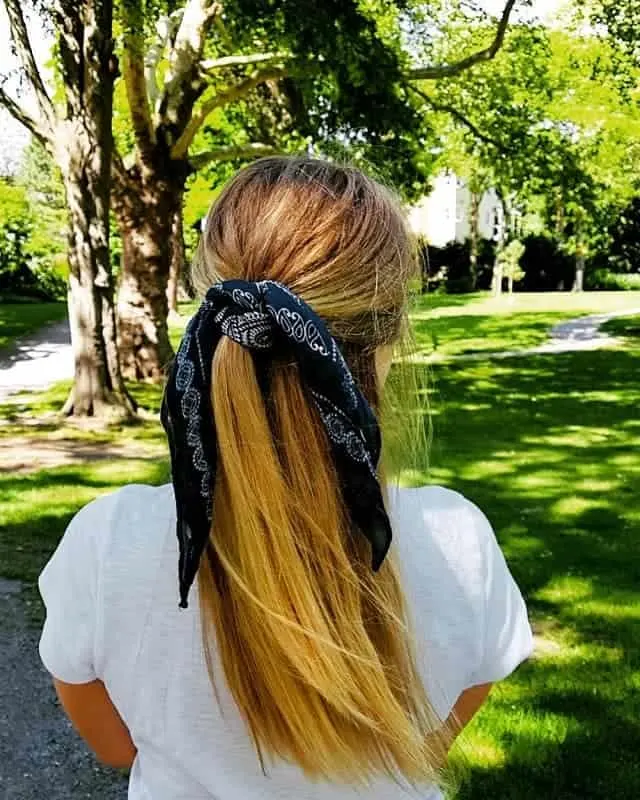 Part the hair in different layers and use a hair straightener to straighten each layer. Then just tie a medium-high half updo and secure it with an elastic band. Tie a bandana around the elastic band.
49. Long, Side Dutch Braid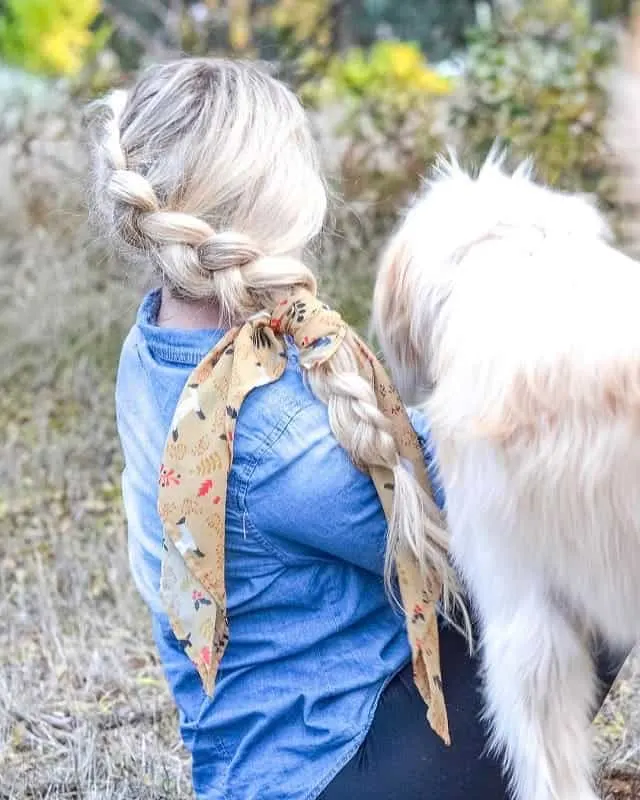 Comb your hair to untangle it completely. Start braiding a Dutch braid on one side towards the other side and secure the braid with an elastic band. Stretch the sections of the braid a little bit so that the braid appears bigger. Finally, tie a bandana somewhere around the middle of the braid.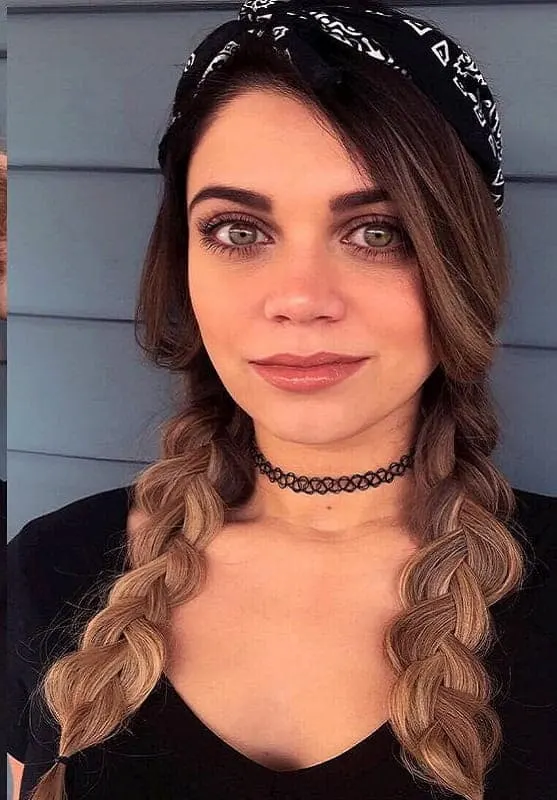 Even a simple, stretched double braid can be nicely decorated with the help of a pretty bandana. This bandana hairstyle for long hair looks just amazing!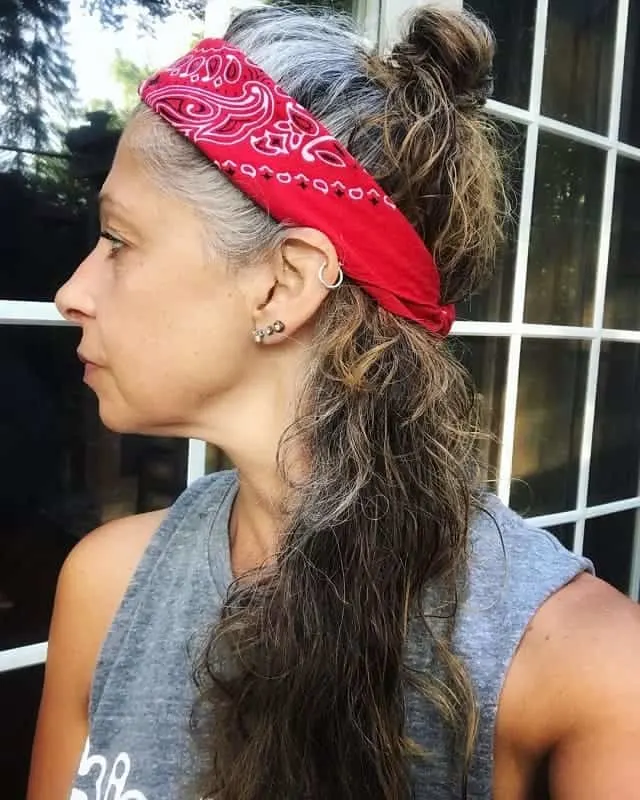 A samurai bun is not only popular among boys but among girls too. You can tie a high samurai bun carelessly, with the rest of the hair being loose. Then tie a bandana unconventionally – over the hair instead of underneath it.
52. High Bun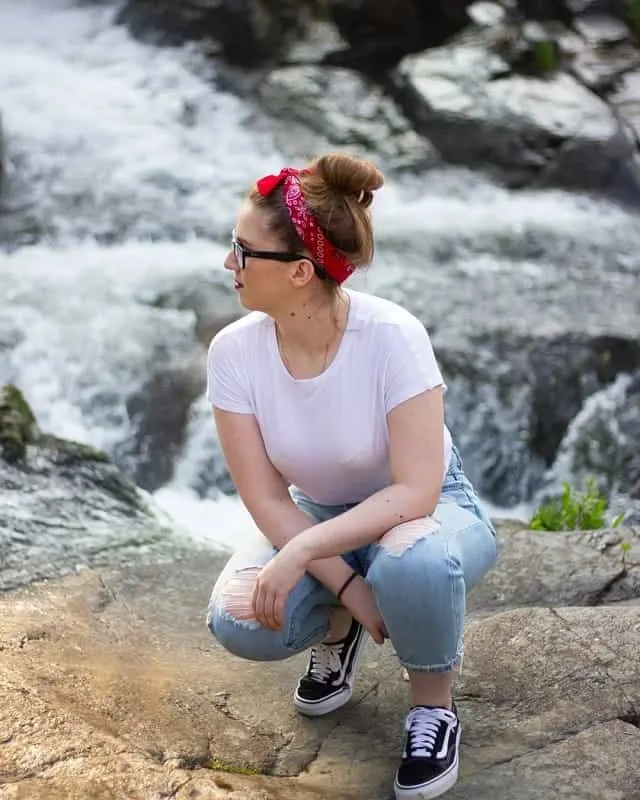 Similarly to the messy low bun, use an elastic band to secure a high bun and stretch the bun a bit for more volume. If the strands of the bangs are falling out, you can use a bandana to hold everything in place, or you can simply just use it as decoration.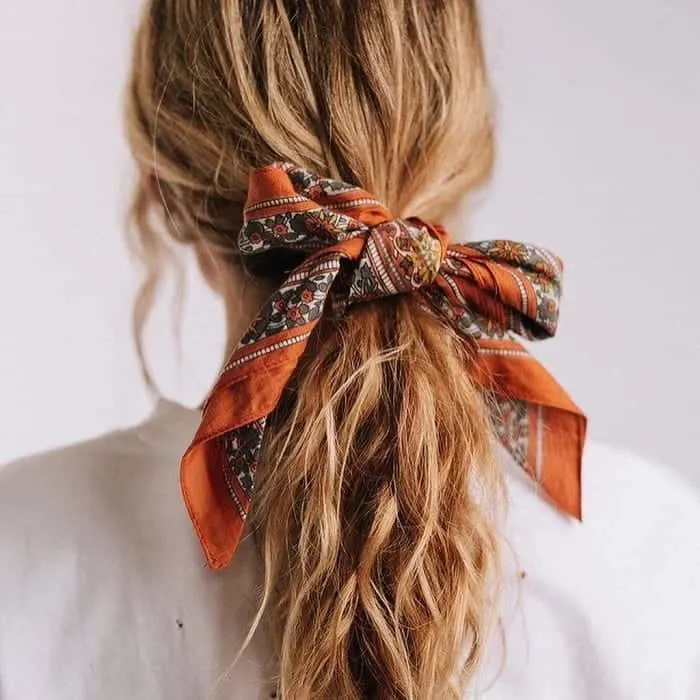 If you want a long hair bandana style with a beautiful boho vibe, just use a bit of salt spray to achieve the beach wave effect and tie your hair into a simple low ponytail. Then take a bandana and tie it around the ponytail into a bow.
54. High Afro Updo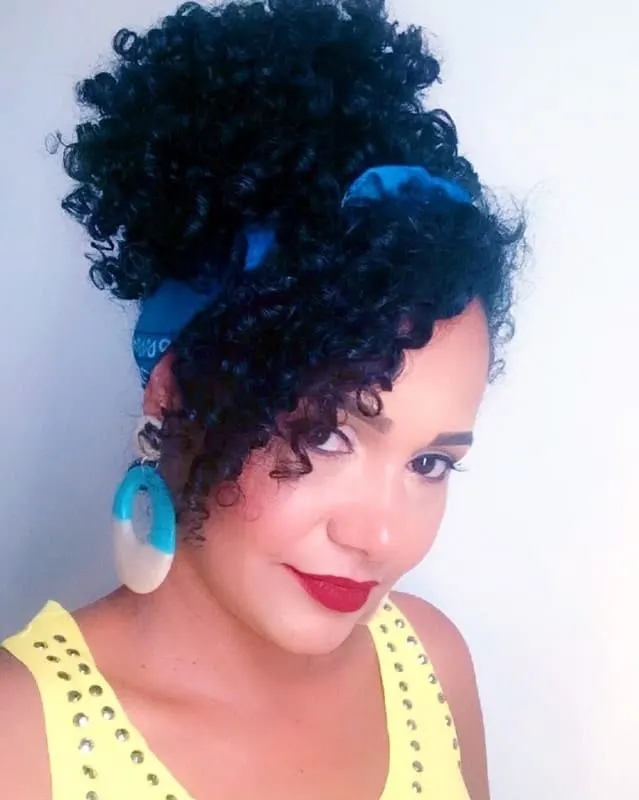 On this hairstyle, the bandana is used in a way more subtle way. The hair is lifted into a high, messy afro updo, while the bandana is tied around the head so that the pop of color is just peeking through beneath the blue curls.
55. Medium-High Half Updo with Natural Waves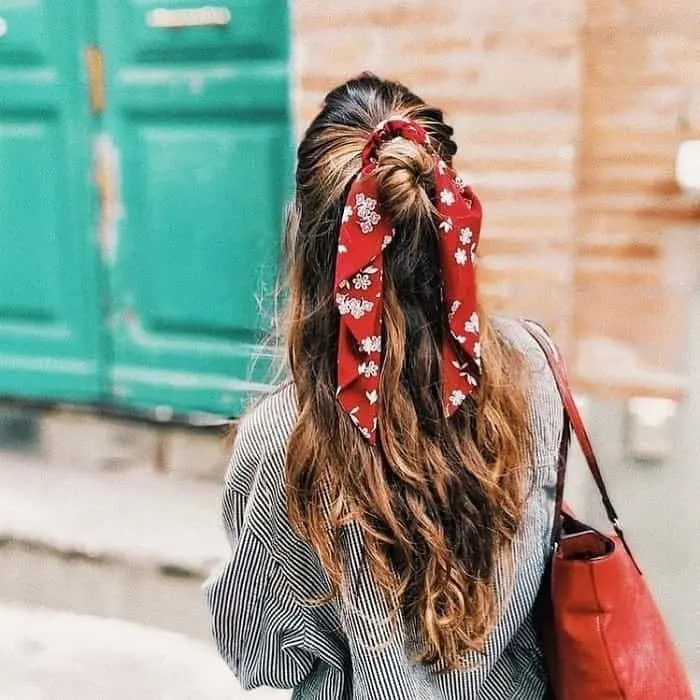 For this easy and charming hairstyle, use an elastic band to tie a medium-high half updo at the back with the rest of the hair completely loose. Decorate the bun with a colorful bandana tied around it.
Bandana hairstyles are a great way to give a playful look without any haircutting or dyeing. Every girl with short or long hair should have a bandana in her beauty arsenal.