Little children are awfully cute all on their own but when you add toddler girl haircuts, they can make you fall head over feet with admiration. Most of the time, little girls have fine hair which is not very long. That's why you need to spend some time coming up with a new hairstyle.
We considered all the pros and cons of each hairstyle we researched and came up with a shortlist of 45 best haircuts and hairstyles for toddler girls to make your search for the next hairdo easier. We know that not all toddler girls are ready to spend long minutes sitting quietly. That's why most of the below hairstyles are easy to make.
How to Keep a Toddler Girl Still During the Haircut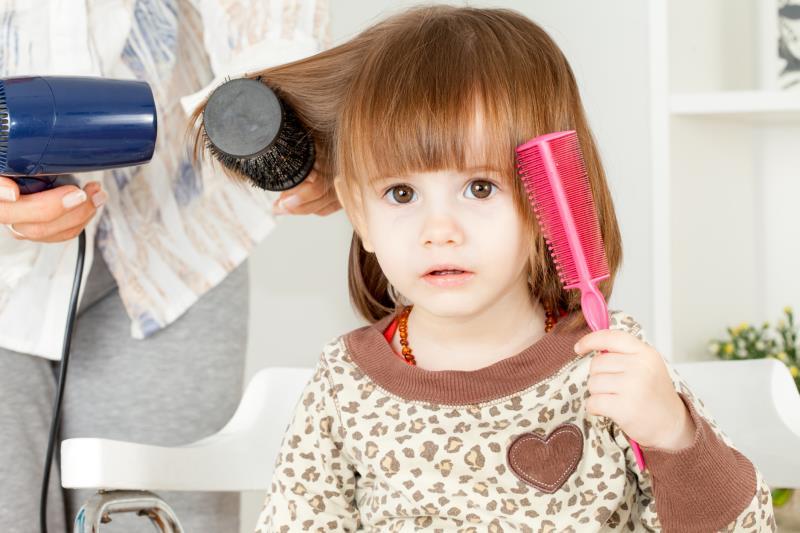 While some of these toddler girl haircuts might seem complicated, the toughest thing is to keep the kid still while you are making it. Many parents give up about two minutes into the cutting or styling, leaving the child with the simplest haircut possible. There is no reason to forget about stylish cuts just because your kid is impatient. Here are a few tricks you can take advantage of:
1. Talk a lot
A week or so before going to the barber shop, start explaining to your two or three-year-old about the process. Even if the kid doesn't talk yet, she understands a lot. Be patient when talking and remind the girl about the upcoming fun haircut every day. Explain all the reasons why it's necessary.
2. Give The Toddle Control
Before taking the little girl to the barber shop, let her be the hairstylist herself. Give her a comb and elastic bands and have the kid experiment with your hair. You can also show your child pictures of various hairstyles and allow her to pick one for herself.
3. Show a Cartoon
Toddlers love watching cartoons or playing games on tablets. Distract the child by bringing the cartoons with you. They usually sit still while watching so the barber can do their job without interference.
4. Offer a Prize
Make a deal with your kid. If she sits still and allows your preferred toddler girl hairstyle to be made, you'll reward her patience. A prize is a leverage you can use in the process when the girl is tired and the haircut is not over yet.
5. Sing songs
Children love songs. You can either play them from your mobile gadget or sing them yourself. The girl can sing along with you.
Best Haircuts and Hairstyles for Your Toddler Girl
Toddler girls don't realize how important it is to look tidy and striking. All they care about is keeping the hair out of their way. When contemplating toddler girl haircuts, we made sure that all of them don't just look wonderful but they are easy to wear. However, if you are planning a special occasion and ready to take the child to the beauty parlor, you can take advantage of the more complicated styles we have prepared for you below.
1. Bangs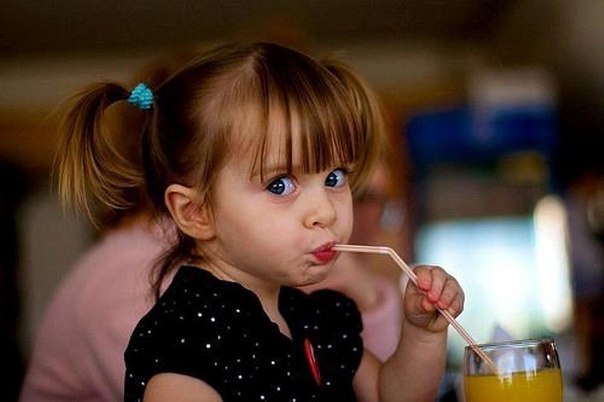 Bangs are a good option for toddlers since growing hair in front long enough to be swept into a ponytail is nearly impossible without making a girl uncomfortable. Make the bangs shorter in order to minimize the touchups.
Angelic Hairstyles for Little Black Girls
2. Side buns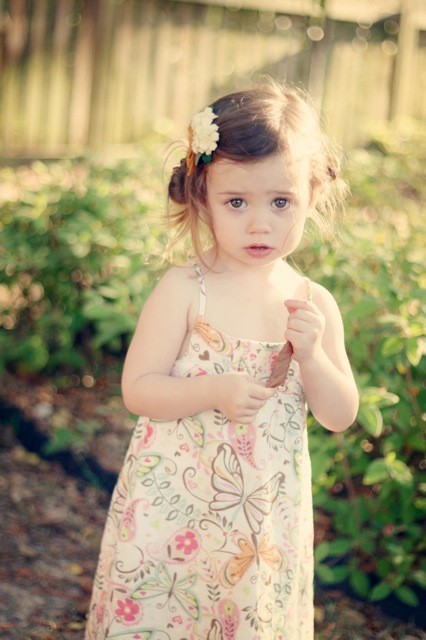 Buns are a good alternative to the ponytails since they stay intact longer and don't interfere with the kid's activities. If you didn't opt for the bangs, you need to use the hair accessories to keep the locks away from the girl's eyes.
3. Complicated hairstyle
If your girl has long locks and plenty of patience, you can try this cute toddler girl haircut. You'll need plenty of elastic bands and a fine-toothed comb. You can stop with the top ponytails or go on to make a side twist.
4. Just a bob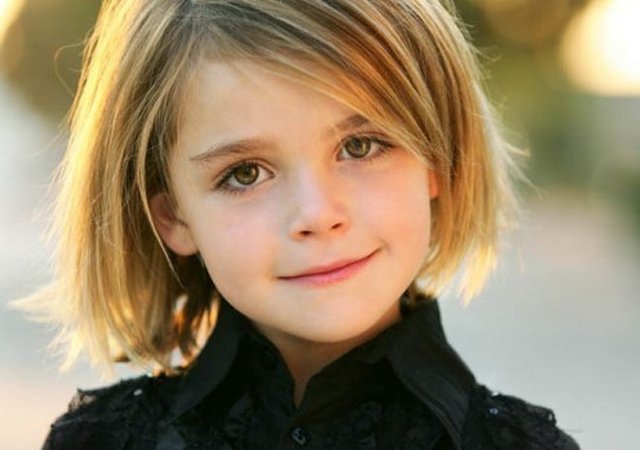 A short bob is one of the perfect toddler girl hairstyles you can come up with. It's short enough not to get into the girl's face and long enough not to seem boyish. Add some bangs to your little girl's bob hair, and the haircut turns ideal.
5. Cheek-length bob
If the girl has fine hair that lacks volume, which is very common for toddlers, there is no need to let it grow long. Keep the fine locks as short as possible in order for them to look thicker. A cheek-length bob is a great option.
6. Let it grow
The rate of the hair growth depends on your baby's genetics and many other factors. If the hair is growing slowly, don't rush to arrange it into some hairstyle. Just let it grow. Meanwhile, play around with hair accessories and headbands.
7. Round bob
Short round bob is a wonderful toddler girl haircut that is the best of both worlds. It's short enough to avoid frequent touchups and long enough to make your kid look cute and girly. Add some accessories and enjoy the image.
8. Asymmetrical bob
If you want your girl to learn how to follow the fashion trends ever since she is a toddler, you can go for an asymmetrical bob. Asymmetry looks just as great on kids as it does on the adults, so go for it!
9. Let them curl
If your toddler has soft yet impressive curls, allow her to flaunt them. In just several years, she'll be struggling to tame them. Enjoy the moment when they are easy to keep in check. Let them down.
10. Side swept bangs
A neat chin-length bob with side swept bangs is one of the most popular toddler girl haircuts in the modern world. You can opt for this hairstyle if your girl has straight hair. Curly cuties need to think of something else.
11. A little color
If you are getting ready for a special occasion, you can play around with temporary dyes. They are not as harsh on the hair as permanent ones and can make your little one look absolutely stunning in a matter of minutes.
Toddler Girl Gets a Cute Haircut – Source: Youtube
12. Fishtails
Not too many toddlers have long locks, but those of them who do have so many opportunities. Learn how to make all types of braids to allow your girl to shine. Fishtails look especially impressive when tied the way you see on the photo.
13. Grow the bangs
If you make a decision to get rid of the bangs and have the hair grow long, use hair clips to keep the locks out of the girl's face. You might need to struggle for several months but in the end, you'll get great grounds for hair experiments.
14. Blunt bob
A blunt bob is a good toddler girl haircut for kids with fine straight hair. Unfortunately, it's hard to keep such a hairstyle neat. Soon your girl will be running around with her hair fluttering and flapping.
15. Donut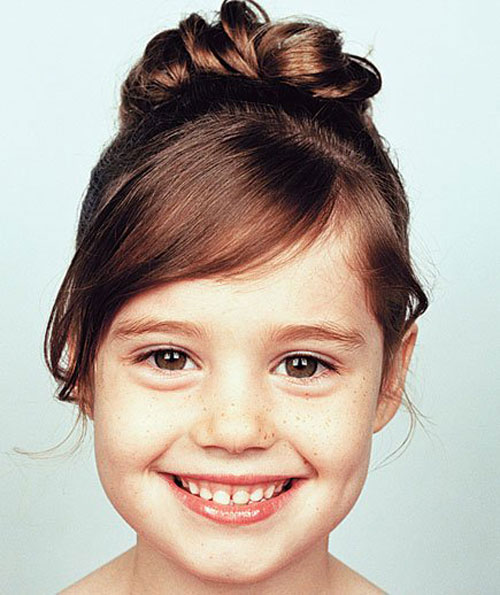 If your cutie has long hair, you can experiment with a donut. This hairstyle is easy to make with the right accessory and it stays intact for a long time. So if you want your little princess to look beautiful without too much hassle, a donut is a way out.
16. Side Parted
To create the illusion of volume for a little girl who has fine curls, a simple side part does the trick. Keep it intentionally uneven and tousled because, kids being kids, straight parts in hair left loose never last long. A sweet accessory, such as a flower or a bow, is the perfect touch.
17. Spiral Curls
Encourage your little lady's curls by letting them spiral and take shape. All you have to do is keep the hair out of her face—no one like's that. A simple barrette does the trick, or you can add a braid.
18. Lovely Layers
Layers are a tried and tested toddler girl haircut due to the fullness they create. This technique is also helpful if you're dealing with a toddler who discovers the joy and chaos of the self-inflicted haircut. That goes for any jagged bang situations, as well.
19. Blunt Cut with Bangs
The bob is an unquestionable classic, and it's clearly ideal for girls and women of all ages. A blunt line of bangs gives it a certain appeal that's just right for toddler girls. This is another cut that saves the day if your lass gets her hands on the scissors.
20. Side Pony
A side pony is out for women past a certain age, but little girls can still rock the style. If her hair's still growing out, no problem—add a bandana or pin the rest of her locks with bobby pins.
More Inspiring Hairstyle that Your Toddler Can Try
We hope these toddler girl haircuts inspired you to schedule a barber shop appointment. Managing your little girl's hair can be a hassle at first but you'll surely get to like it. Just don't forget that the hairstyle shouldn't just be beautiful, it must be comfortable to wear.