When it comes to the way you style your hair, there's never a bad time to wear a bow hairstyle. And contrary to popular belief, the unique look, which literally features a bow of hair, isn't that difficult to make at all!
When you're ready to move on from a traditional ballerina bun, a bow hairstyle will be ready and waiting to take your look up a notch! From buns to French braided ponytails, your mind is the only limit when it comes to how you rock a bow and whether you choose to make a small one for a tiny added detail or a large one for statement.
Bow Hairstyles for Girls
Putting a bow in your hair is a beautiful way to make your look fancy and feminine. Here are our favorite bow hairstyles for girls in 2023!
1. Thick and Slick Bow
A sleek hairstyle featuring a large thick bow on top will surely get you noticed. The secret is in the perfectly defined shape and its perkiness separated by a large knot. To add color to your bow hairstyle, you can tuck in a few flowers or pin a clip in back.
2. Bow with Long Thick Bangs
Instead of combing all your hair back, rocking long thick bangs with your favorite bow hairstyle will put a completely different spin on your final look. Be sure to straighten your bangs for a more polished result.
3. Half Bow Updo
This girl's bow hairstyle lets your natural locks shine a little more. The bottom half of the hair was braided and then combed out, while the top half boats a small bow. This is a beautiful style for girls with slightly frizzy or textured hair.
4. French Braided Bow Ponytails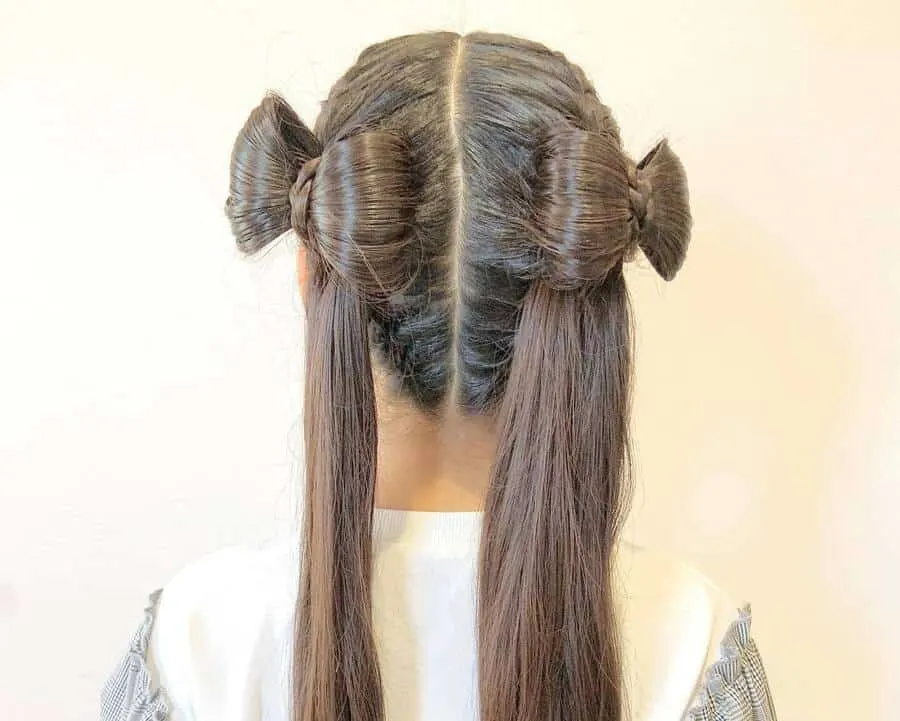 If you're a girl who loves being extra in her hairstyle, then you'll love these bow ponytails. This look only works if you have very long hair or plan to get extensions. French braids start at the forehead and neck hair line, feature a bow at the crown, and end with a simple ponytail.
5. Bow Braid Headband
If you're willing to have it professionally done, this mini bow hairstyle for girls can't be missed. The bows are braided together with brightly colored hair ties to form a headband that decorates long wavy hair.
6. Off Center Bow Updo
In addition to slicking hair back or rocking bangs, you can also try parting your hair off center before making a bow updo. Not only is this gorgeous look off center, it also uses a long side bang to switch up the face dimension.
7. Undercut Bow
There's no mistaking this girl's undercut bow hairstyle for anything other than badass. The undercut is a canvas where you can shave in a special design and the loose, twisty bow updo allows you to show off your favorite colors.
8. Upside Down Braid Bow
Girls with either very long hair or very thick hair should opt for this intricate upside down braid bow hairstyle. The braid and the bow are equal in size and beauty, so your entire look will be the focus of anyone's eye!
9. Curly Bow Updo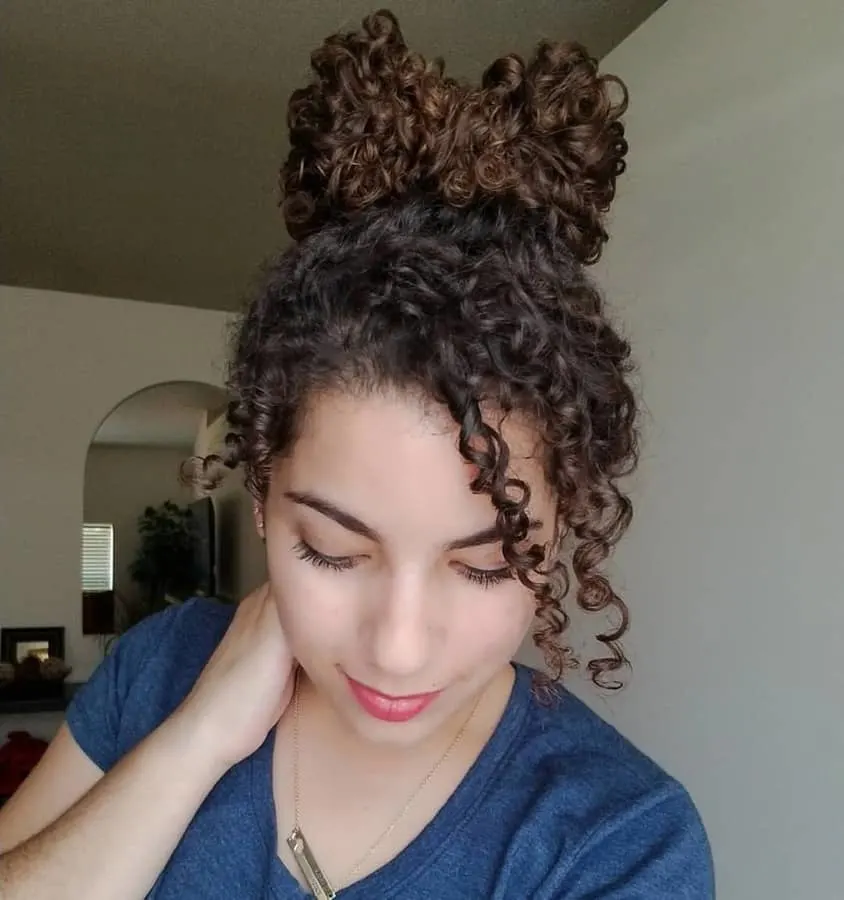 Kinky curls look their prettiest on a high bow with loose face-framing tendrils. Whether their hair is naturally super curly or they've gotten a perm for curls, girls will quickly and easily fall in love with this high curly bow style.
10. High Twist with a Low Bow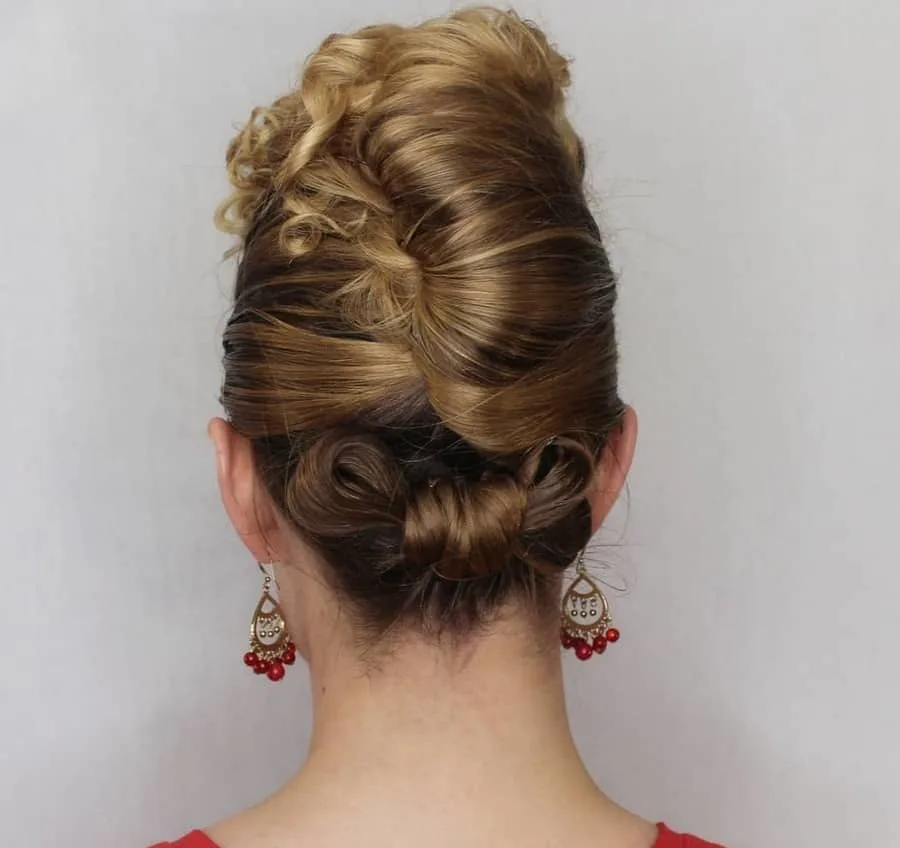 A thick, twisted chignon is just the girl's hairstyle to feature a little bow on. The knot is distinctly wrapped, which makes the bow even more delicate and elegant. Pair this bow hairstyle with your favorite dangly earrings for a knock-out look.
11. Thin bow
This thin bow hairstyle is one of the simplest ones to make. Take two strands from both sides and tie them in the back with an elastic band. Pull one part of the ponytail upwards but not fully out of the band. Pull this part with two hands to the opposite sides. Take one hanging strand and tie it in the middle. The bow is ready!
12. High bun with a bow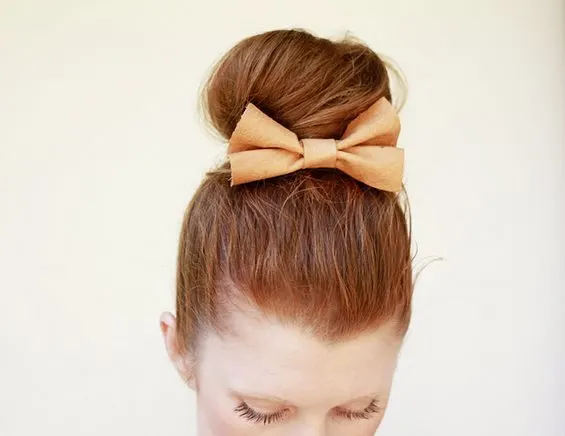 High buns look especially well when coupled with well-chosen accessories. Make a nice high bun on top of your head. Then get a large bun and clip it in front to make it look as if the bun is tied with this bow. It will look like an amazing bow hairstyle.
13. Bow weave
If you want a beautiful bow but just don't have enough hair to make it, opt for a weave. Bow weave looks very impressive and will be a great addition to any high hairstyle you choose. Just make sure to get the one that matches your hair color.
14. The bow on the side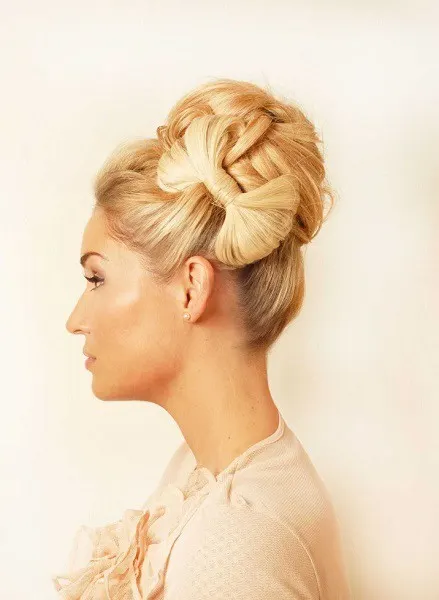 A bow will look great on the side of your bun. In order to make this complicated hairstyle, all you will need to do is leave one strand on the side when making the bun. After the bun is ready, use the loose strand to make a bow and clip it to the bun.
15. Large bow on top
This is one of the most popular bow hairstyles. It is very easy to create if your hair is long enough. Make the ponytail very high and follow the instructions for the regular bow. Use some hair gel to make it look neat.
16. Natural accessory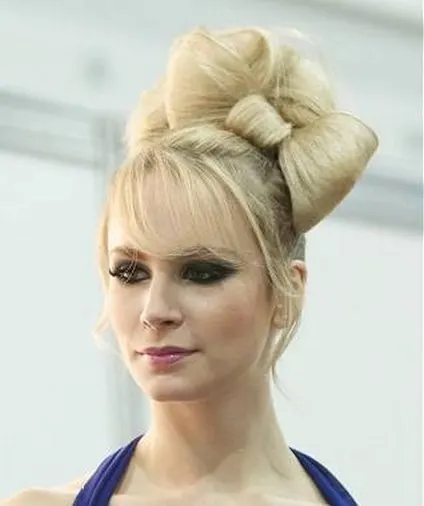 There are some accessories that will make your bow hairstyle look especially natural. You won't need to grow long hair to make this one. Just purchase a bow that matches your hair color. Attach it to your bun with one hair strand in the middle.
17. Loose bow
If your hair is not too long but you still want a large bow, make it loose. It will not look as neat as the other options but it will allow you to sport a fashionable hairstyle without much effort. Just make sure you clip it well so it doesn't fall apart.
18. Learning the basics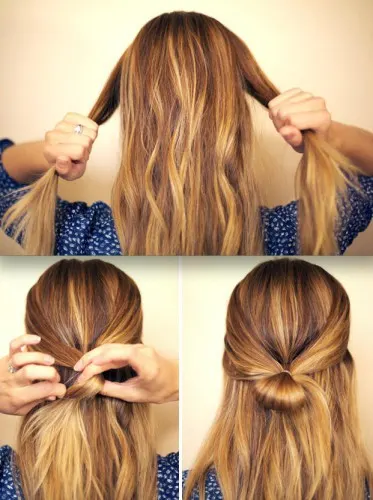 These are the first easy steps to making a basic bow. After you've done the first three steps, pull the hair apart to opposite sides to make two parts of the bow. Take one strand and run it through the middle. Your simple bow is ready!
19. Silk Bows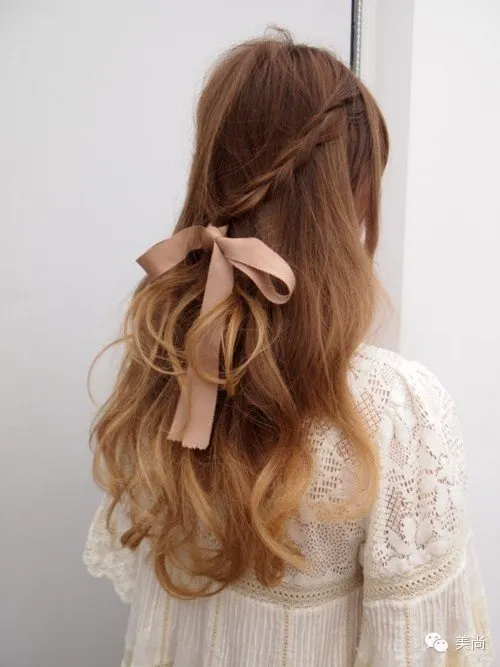 If you learn how to tie a silk bow into your hair, you will have a great number of bow hairstyle options available to you. Pink silk bows look especially romantic on long hair. Since silk bows are hard to keep tied, use elastic bands and clips to help you.
20. Fun bows
If you have short hair, it's no reason to forget about bows. You can make small fun bows on top of your head using the short top strands. If you want to get creative, make several of them on both sides. You will surely look stunning.
21. Bow on top
This large bow will look fantastic on any woman's head. All you need to do is get the right weave. Pull hair upwards and tie it really tight on top. Attach a weave at the place where your hair is tied. Apply hair gel to make your locks neat.
22. Bow and curls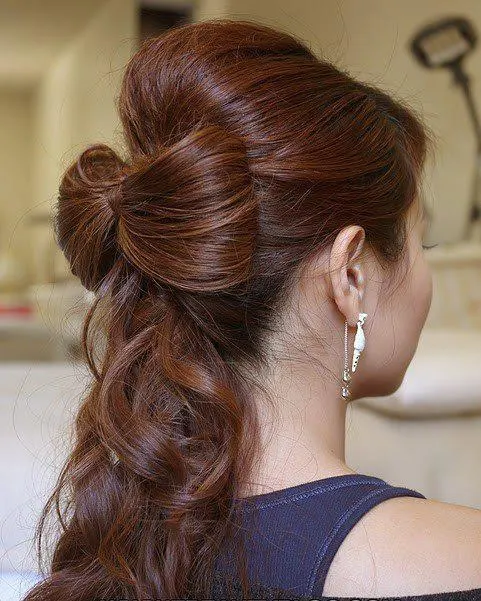 If your natural hair is wavy, the bow will be a little hard to make. You will need to straighten out the strands you will use for a bow in order for it to look neat. You can leave the rest of your waves intact for a voluminous appearance.
23. Weave headband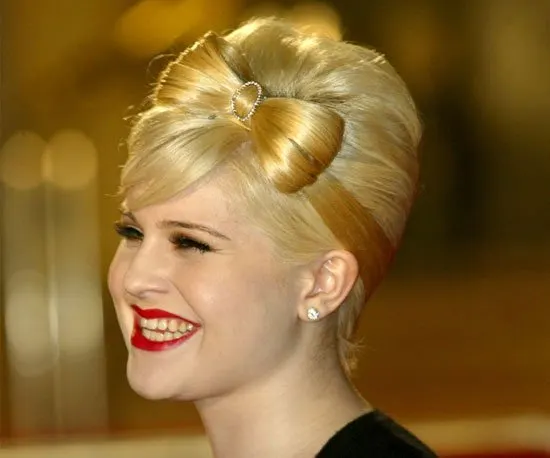 If you want to add some diversity, this bow hairstyle will surely help you make an impression. There are bow headbands made out of real hair. Try to find the one to suit your hair color best. Otherwise, it might look too unnatural.
24. Cute bows
Don't be afraid of looking young and foolish with bow headbands. In fact, girls look really sweet with nice bows that hold their hair. Even older women can find a bow to suit their image best. If you are still a little scared, go for thinner ribbons.
25. Keep it neat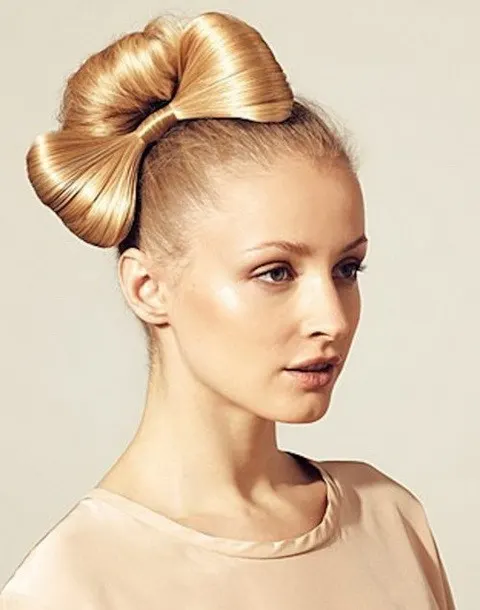 The worst thing you can do about your bow hairstyle is to leave it messy. Bows made out of hair look their best when they are neat and sleek. Make sure to apply enough hair gel to keep the bow intact for as long as possible.
26. White bow
White bows make us think about special occasions. They look very impressive on any hair type. However, they make the best contrast with dark locks. A nice simple bow will be a great addition to your wedding hairstyle.
27. Large bows
Large bow hairstyles look unique however, they don't fit all face types. If your face shape is round, try to avoid voluminous styles. If you still want a bow, go for smaller ones. You can make several of them if you wish.
28. Minnie bow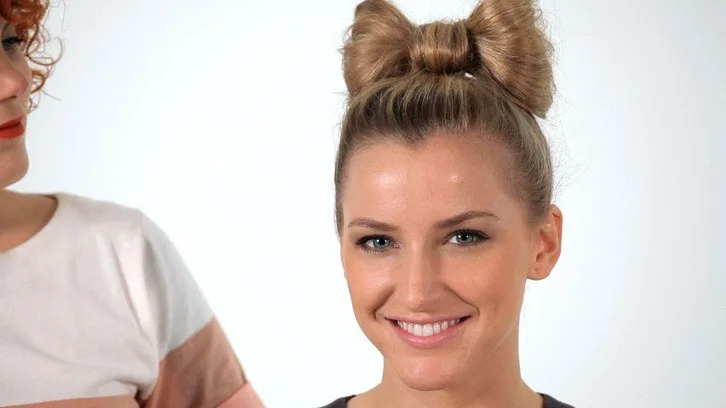 If you want a bow to look a lot like Minnie's, then you will need a large elastic band to lift up your ponytail as high as possible. The higher the bow, the funnier it will look. Just make sure it suits the rest of your style.
29. Find the right bow
If you have decided to use a bow as an accessory, you will need to spend some time choosing the right one. There are two simple rules: the bow must suit your color style and shouldn't be large. Never attach a large bow to short hair.
30. Be creative
If you want a really impressive hairstyle made for a special occasion, show your hairstylist this photo. You will doubtfully be able to create something like this on your own, so ask for professional help. The result will be unbelievable.
31. Side Bow Braid
This is the perfect way to create a standout look for every day. Create a few bows on the uppermost region of your side French braid. You can style this bow braid using a few hair accessories in pearl. Use them on the bow sections. It will give a touch of elegance.
32. Half Up Braid, Diagonally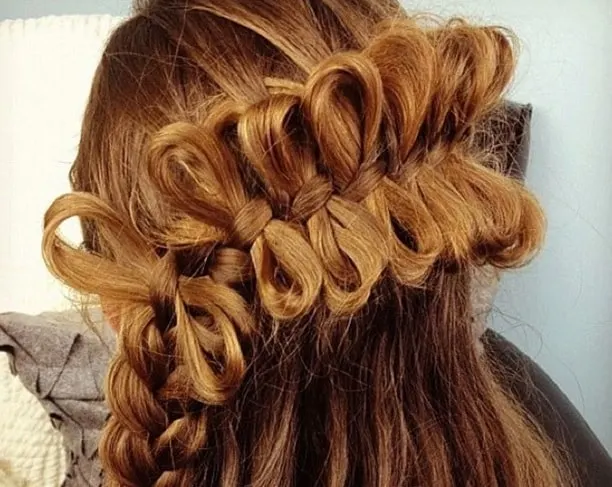 By now you how understood it takes a little extra effort and a pair of hands to create a stunning bow braid hairstyle. However, when you perfect the look, you can simply wear it to any occasion.
If you possess long tresses, give the half upbraid which will cover your head diagonally a try. This hairstyle will ensure that your hair never bothers your face.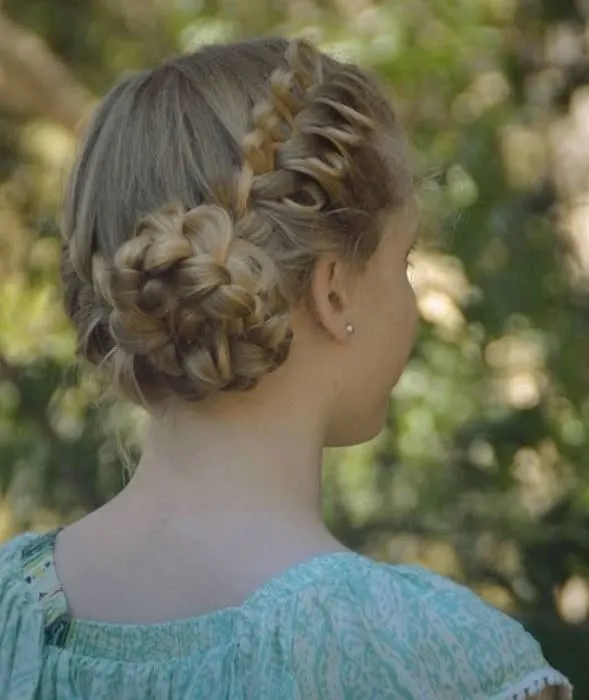 Time to effortlessly ooze out romantic vibes and look spectacular in the bow braid bun hairstyle. It should be on the top of your hairstyle list. In order to enhance the carefree element, add your favorite flowers through the braids.
Now, this is an absolute stunner. However, you need to have a little patience and put in a little extra effort. Part the hair into two sections and create the bow braids on either side. You can accessorize it if you like.
FAQs
Are zipper braids and waterfall braids similar?
You can say a zipper braid is a blend of a ponytail, a French braid, and of course some undeniable magic. It will take a lot of skill, effort, and patience to create a perfect zipper braid.

On the other hand, waterfall braids are simple and easy to create. It's simply a French braid that starts near your hairline.
On a scale of 1 to 10, which one is more adorable – bow braid ponytail or bow braid pigtail?
Bow braids are an excellent way of styling your hair. It looks great in a headband braid or French braid. They look stunning in a diagonal style created at the back of your head.

To enjoy a relaxed look, pick the bow braided ponytail look. Gather all the hair and create a low side ponytail.
These bow hairstyles will help you diversify your image and have fun with accessories. Never be afraid of making bow experiments. They always turn out to be impressive. The time has come to learn how to make a bow.