If your little girl is attending a wedding, don't forget to give her a cute wedding hairstyle. Many parents get busy with their own wedding hairstyle but forget the little girl who needs a fresh hairstyle too!
Cute Wedding Hairstyles for Little Girls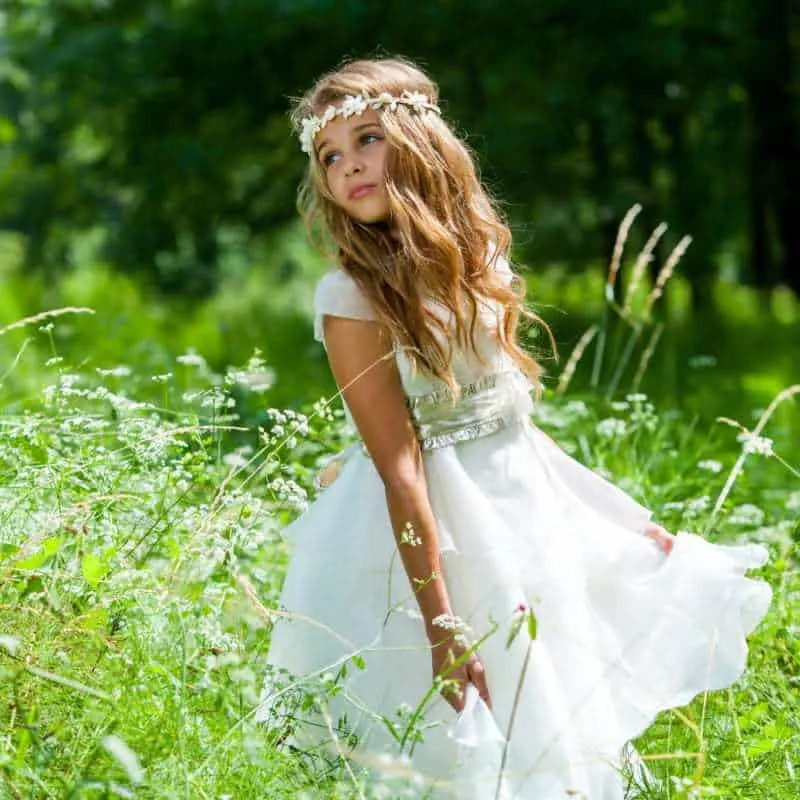 The end of summer comes bearing one joy, the start of wedding season. September and October are amongst the most popular months for weddings, and things are about to get busy as bride and groom to be's around the world start preparing for their weddings.
Amongst the chaos of choosing a venue, a caterer, a band, a dress, and many other things, however, many things get overlooked. One such thing is little girls' wedding hairstyles. We've compiled this list of 41 wedding hairstyles for your little girl to rock this wedding season.
1. Fishtail Braid With Flowers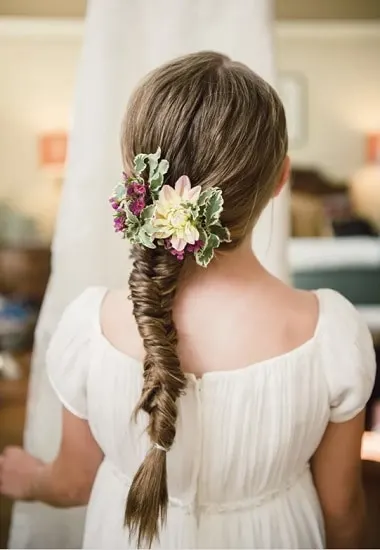 An intricate fishtail braid looks elegant on little girls and is also a great way to tame healthy hair that is hard to keep away from the face. This little girl wedding hairstyle is easy to do and doesn't require a lot of effort.
Fishtail braid tutorials can easily be found all over the internet as it's a wildly popular hairstyle. Topping off the look is a bunch of nice flowers that suit the wedding theme. Just attach them to the top of the braid with bobby pins and turn a normal braid into a stunning wedding look.
2. Braided Updo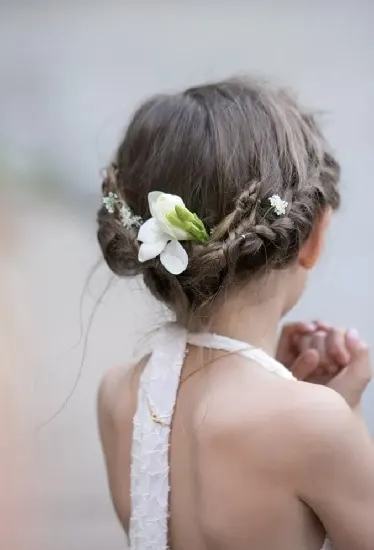 Another great yet simple wedding hairstyle for your little girl is the braided updo. This is fairly simple to do. Divide the hair down the middle, into two parts, and braid each part.
You can choose whatever style of braid you want, the one shown in the picture is a French braid. Once braided, the sides are brought to the back and pinned in the center. You can then pin an accessory or a flower over the area where the braids are pinned down, thus hiding it.
3. Classic Bun for Little Girls
The bun may seem like it's too casual to wear to a wedding, but it's really not. The sock bun, as shown in the picture, is a bun style that gives the appearance of a fuller bun. For an elegant wedding-appropriate look, wave the hair before putting them up into the bun. Pair it up with a cute ribbon or a flower crown.
The Little Girl Haircuts That'll Scream 'CUTE'
4. Braided Bun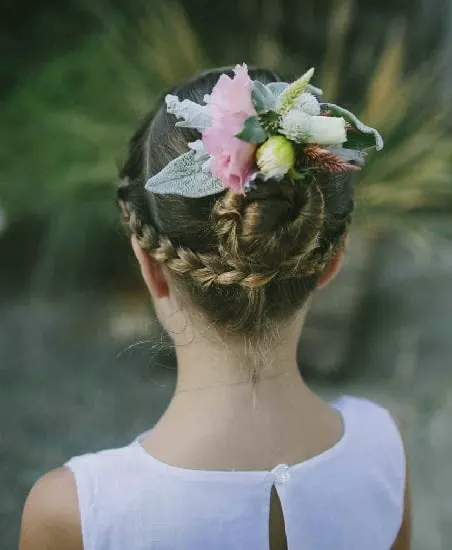 This little girl hairstyle is a combination of the last two hairstyles, the braided updo, and the bun. Similar to the braided updo, divide the hair into two parts and braid it. Bring the braids to the back and wrap them around the bun you've already made.
5. Flip Ponytail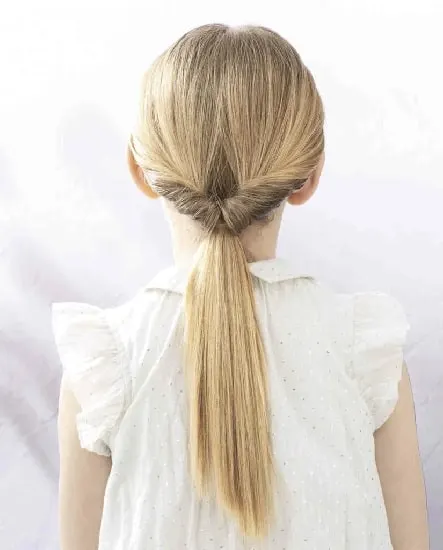 An easy wedding hairdo for little girls is the flip ponytail. All you have to do is make a low pony, divide the hair right above the hair tie, bring the pony back up and put it through the divide you made. It falls back down, creating a classy look.
6. Flower Braid
A flower braid is a type of hairstyle that looks cute on a flower girl! To create this perfect number, you just need to create a twist braid then roll the braid and let a few strands loose to form a flower shape.
Put on a few rhinestone hair accessories to make the flower braid pop out even more.
7. Curly Updo with Full Bangs
Curly updos are the go-to wedding hairstyles for little girls as they are quite versatile and easy to do. Add full bangs for a playful touch.
A nice white clip would be the perfect icing on top of this beautiful hairstyle.
8. Half Crown Braid
Make your little girl feel like a princess by having her wear a half-crown braid. Place the end of the braid strand at the back of her head instead of on top of her hair so you can still show off her gorgeous wavy hair.
9. Top Knot
Who says wedding hairstyles for little girls should always look formal? This top knot shows that they can be fun and playful too!
10. Decorated Pigtail Braids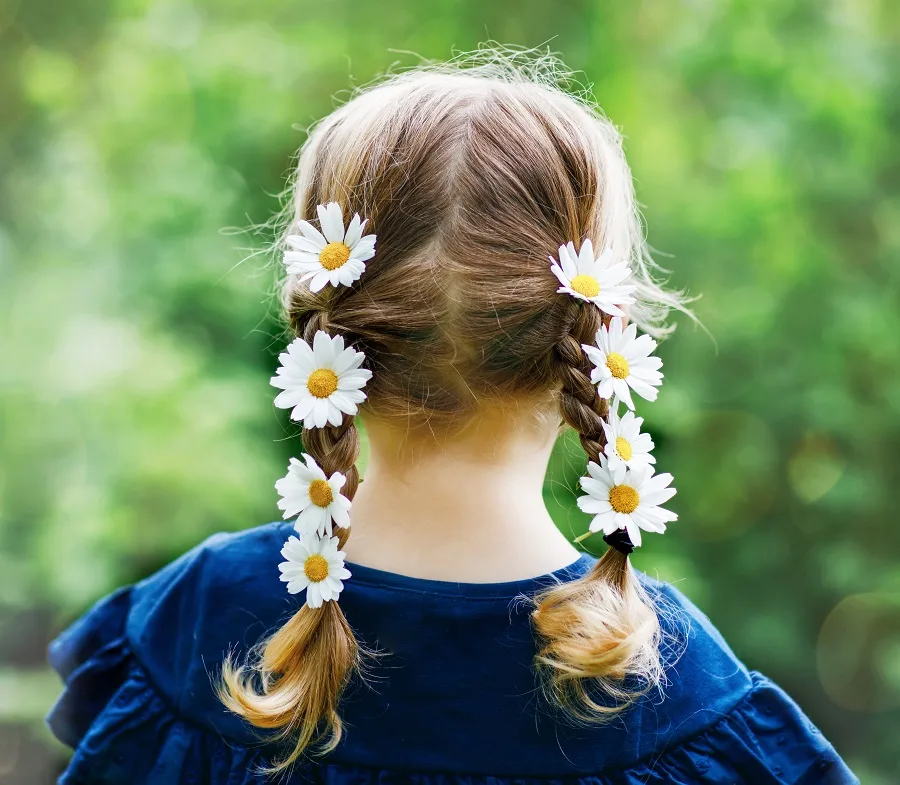 Take your usual braided pigtails to a whole new level by adding beautiful hair accessories. For a beautiful garden wedding, we highly recommend adorning your child's hair with these bright and cheerful daisies.
11. Flower Headband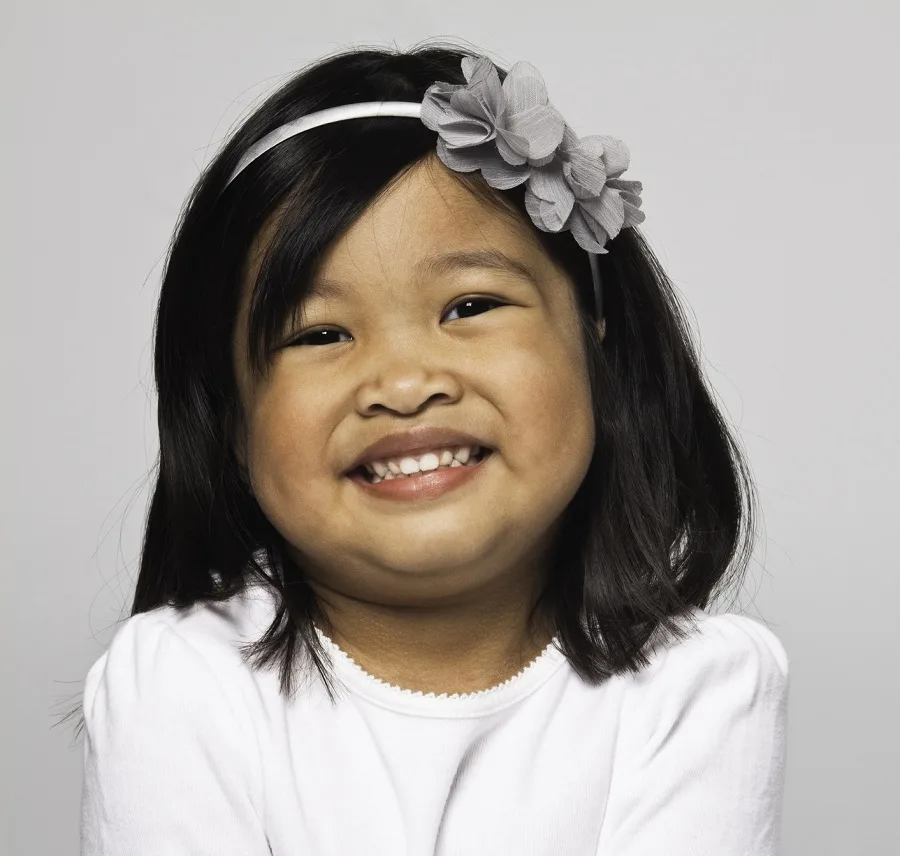 Or if you want to keep things sweet and simple, this pretty flower headband will do. It's great for keeping the girl's hair in check while adding a stylish touch to her overall look.
This hair accessory would be perfect for all lengths and styles of hair– from this lob and even for long wavy hair.
12. Cocktail Hat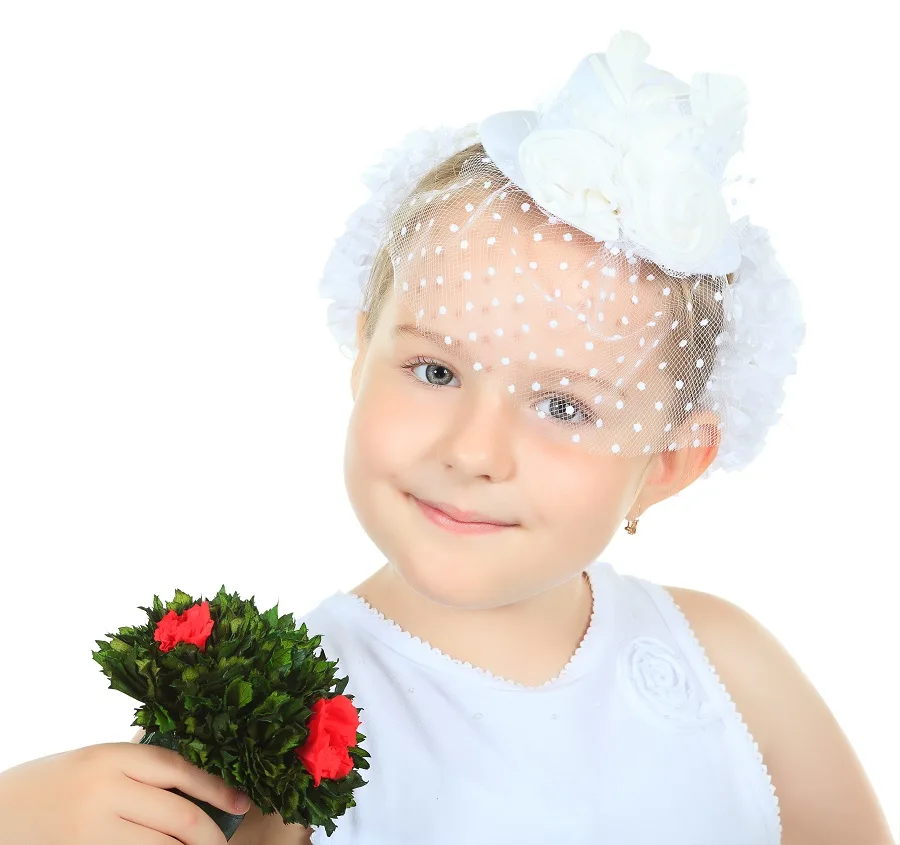 For a fancier hair accessory, go for the cocktail hat. This is the perfect accessory for making any flower girl outfit look more classy and elegant.
If you want the cocktail hat to be the star of the show, you can pull your child's hair into an updo before putting it on.
13. Messy Updo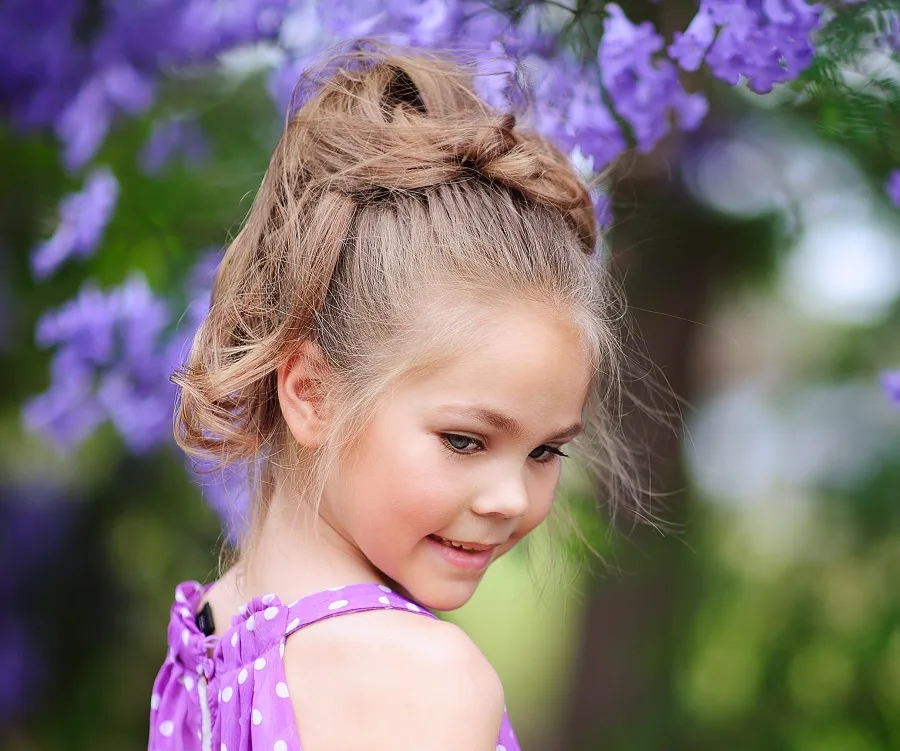 Updo's don't have to look on point at all times, especially if it's for little girls. For a fun and playful take on the classic updo, let your child wear this messy yet equally gorgeous updo.
14. Braided Chignon Bun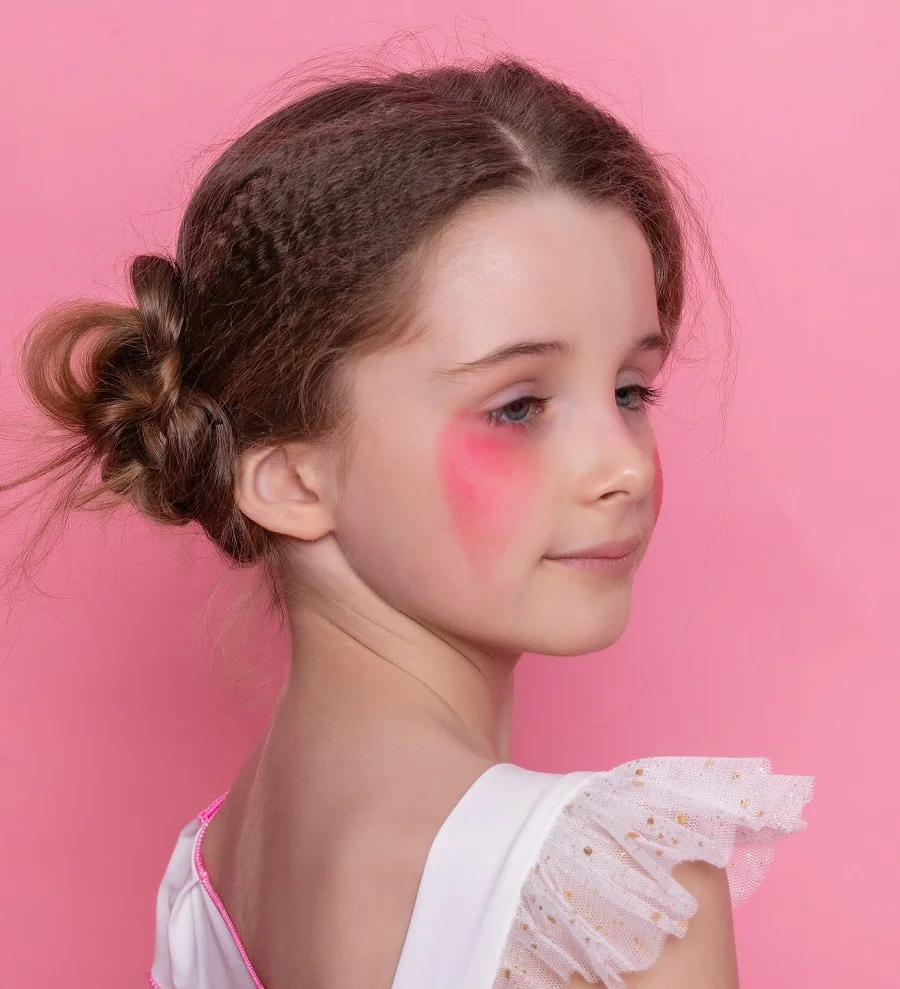 Now, here's a classic wedding hairstyle for girls — but with modern twists!
The braids introduced a youthful look to the classic chignon bun. On the other hand, the crimped hairstyle added texture to the overall look.
15. Messy Fishtail Pigtails
These enchanting fishtail pigtails will make any little girl look like a goddess. Make sure to leave a few hair strands loose for a wispy and more elegant look.
16. Short and Curly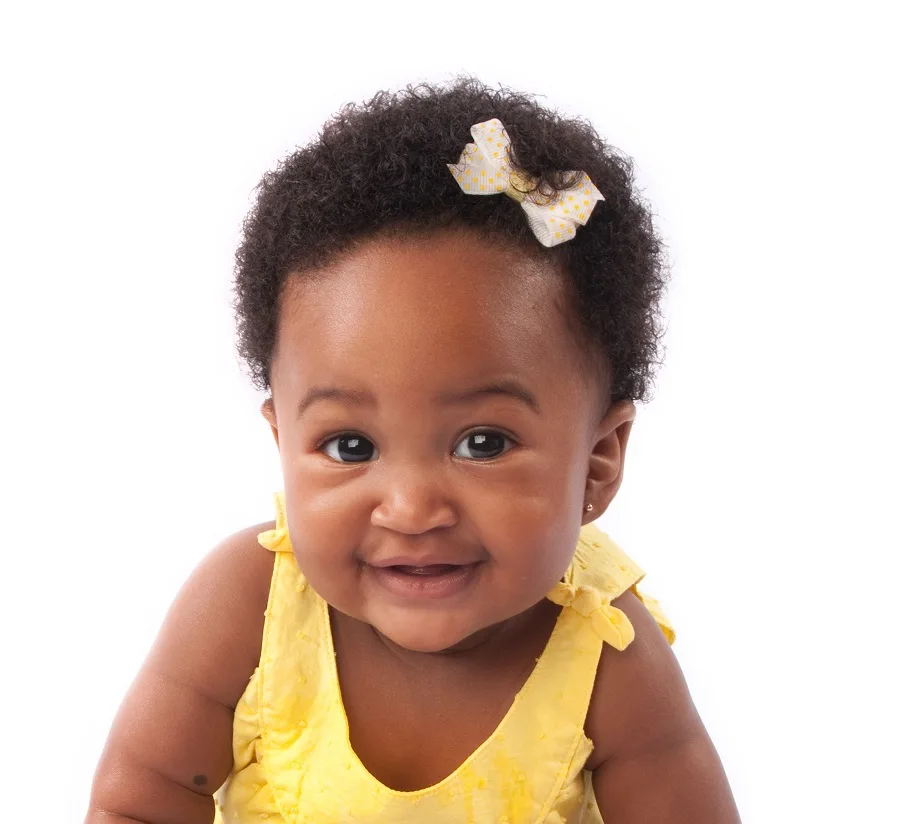 Short and curly hair may not be as versatile as long hair, but there are still plenty of ways you can style it.
For one, you can play with different hair accessories like headbands, ribbons, and hair clips. Among all of those, the little bow is our favorite,
17. Side Pony With Braided Tail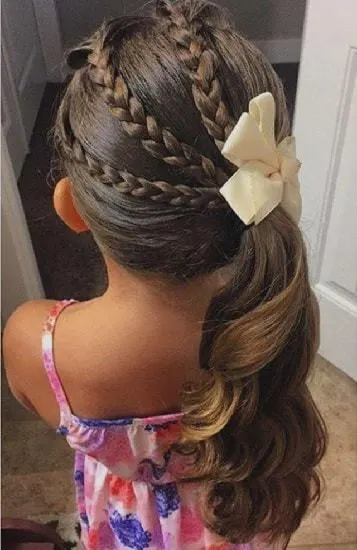 This is a great twist on the normal side pony. Just make a few braids from the hair at the front of the head. Then pull them back into the pony and tie it up. To make this little girl wedding hairstyle even better, you can curl the hair in the pony.
18. Waterfall Braid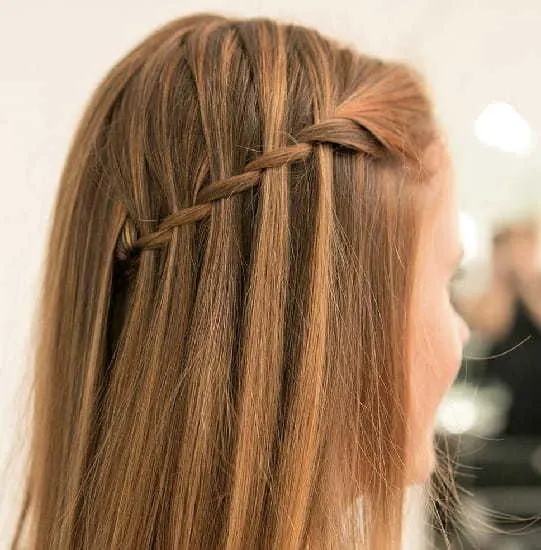 If your little girl loves keeping her hair open then this is a great way to style her hair. The waterfall braid shows the elegance of a braid while keeping the hair down. The braid itself mimics a waterfall because the strands of hair fall down and blend into the rest of the hair seamlessly.
19. Two Buns
Another adorable wedding hairstyle for your little princess is the two-bun look. This is especially useful for curly hair as it tames them down. Simply part the hair down the middle, and make each portion into a high bun. You can always accessorize with flowers to look more formal.
20. Free Fishtail Braid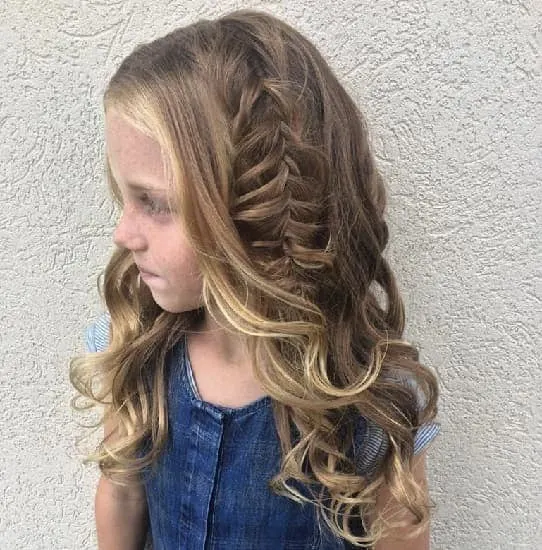 Another great hairstyle option is the free fishtail braid. This is as easy as it sounds! Just make a fishtail braid and let it fall freely. There's no need to do anything else to the hair! You can curl it or straighten it to make it appear more formal.
21. French Braid With Flowers
The last hairstyle for your little girl's wedding appearance is a simple French braid paired with beautiful flowers. This hairstyle involves placing flowers in the braid while making the French braid. The result is a sophisticated look which compliments all kinds of wedding themes.
22. Bantu Knots
Bantu knots are such a playful yet eye-catching wedding hairstyle for little black girl. They display a sweet face while keeping hair perfectly tidy for a lengthy big event.
23. Sweet Half-Up Style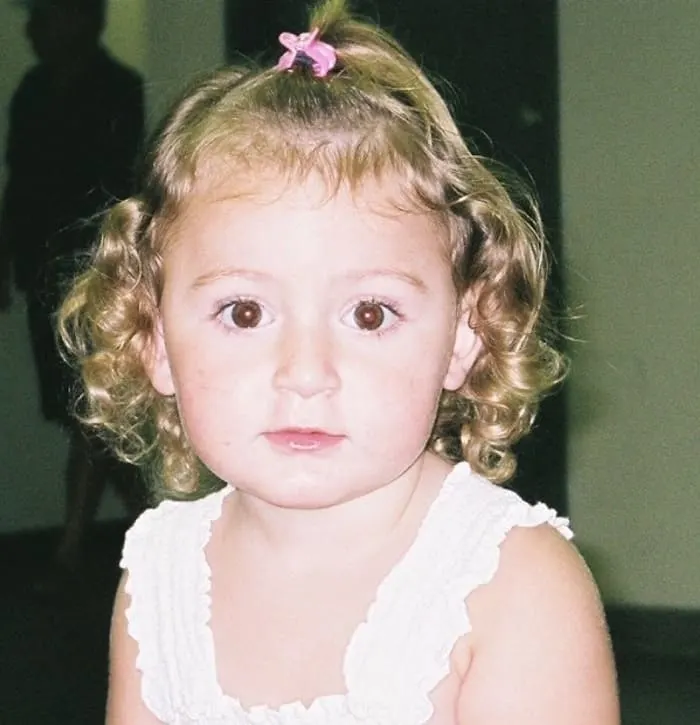 A half-up look is perfect as a short wedding hairstyle for little girl. With this look, you can still capture the sweetness of natural curls or your child's hair texture while pulling hair up at the top of the head to keep hair out of her face.
24. Half-Up Space Buns
What kid doesn't love cool space buns? Incorporating them into a half-up style is better for a formal occasion, however. Hair can still be worn down in a beautiful manner for the special day.
25. Pigtails with Side Bangs
Side swept bangs add a touch of romantic softness to contrast with playful pigtails. They make this hairstyle more wedding appropriate as well.
26. Long Hair with Long, Thick Fringe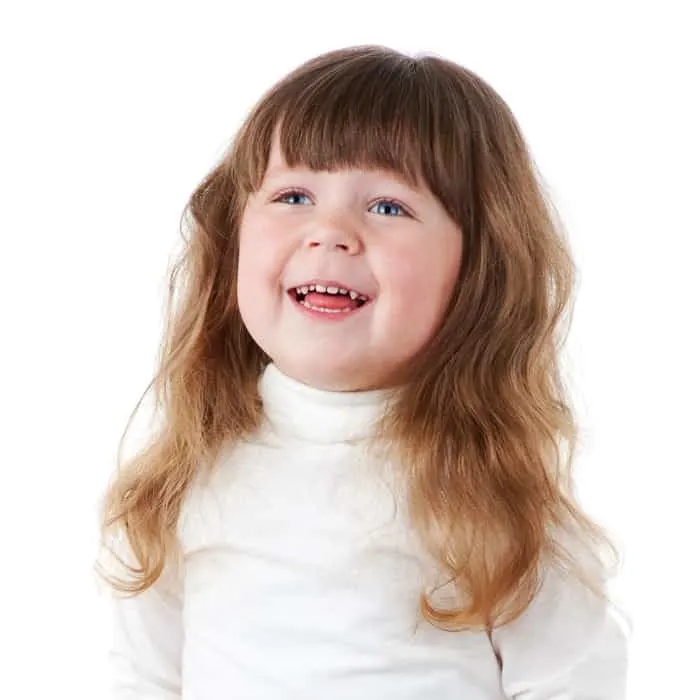 Wearing hair down and natural is never a bad decision! A long and thick fringe like this one has a face-framing effect that everyone can appreciate.
27. Wispy Bangs and Flower Crown
A sweet accessory like a flower crown is perfect for an earthy, natural vibe. Leaving hair down and straight, especially with wispy bangs, is perfect for a laidback, outdoor wedding and lets your little girl be a kid without any fuss.
28. Thick Braid Crown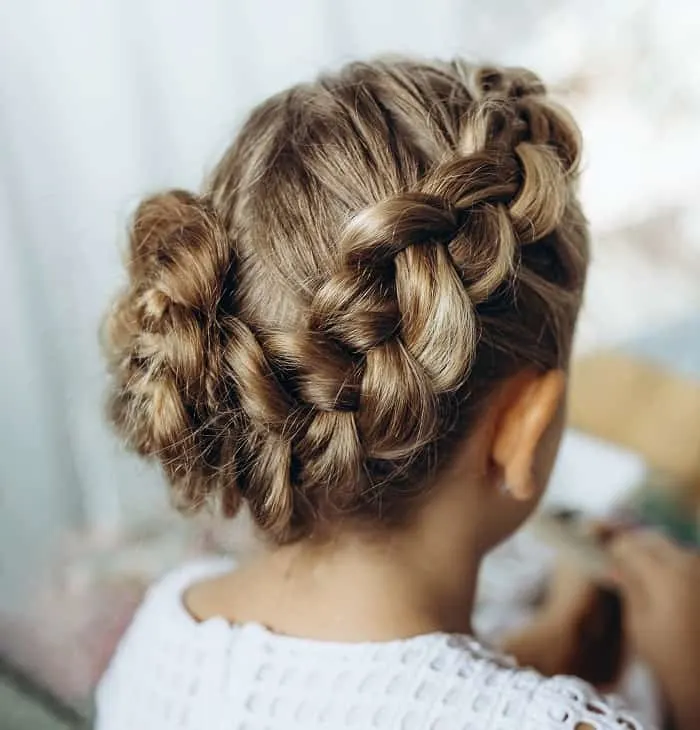 This gorgeous braided style is excellent for young girls with lots of hair. Braids are always beautiful, feminine and romantic, while being practical on top of it all. A crown is like this one is simple and sophisticated.
29. Half-Up Bun with Cornrows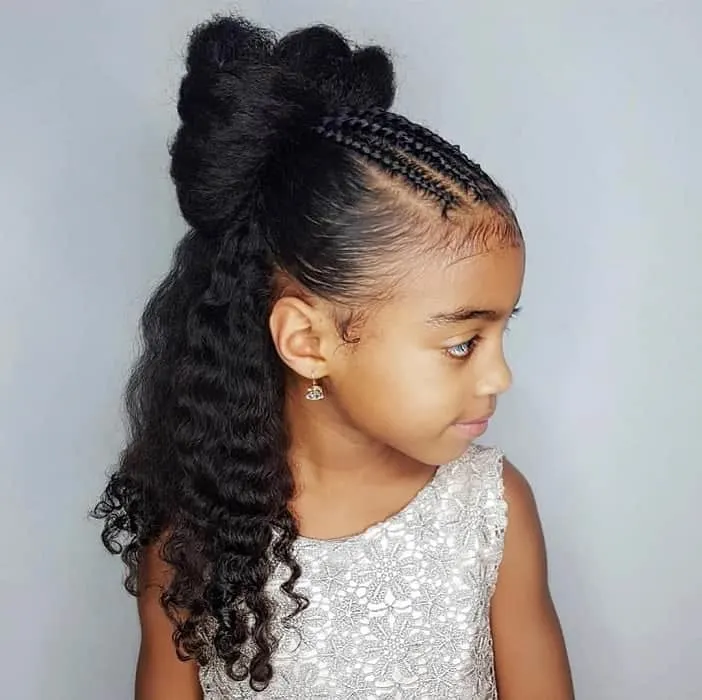 30. Elegant Chignon
31. Braided Up-do with Accessories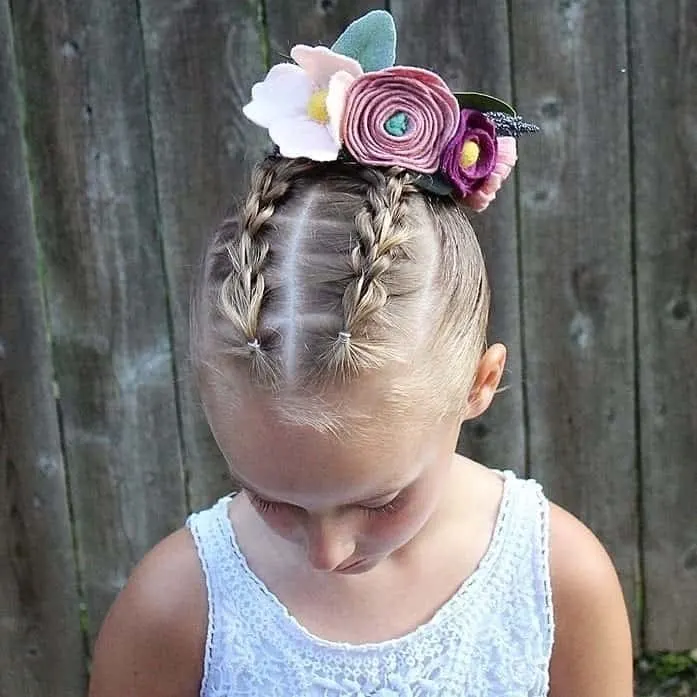 32. Curly Half-Up Style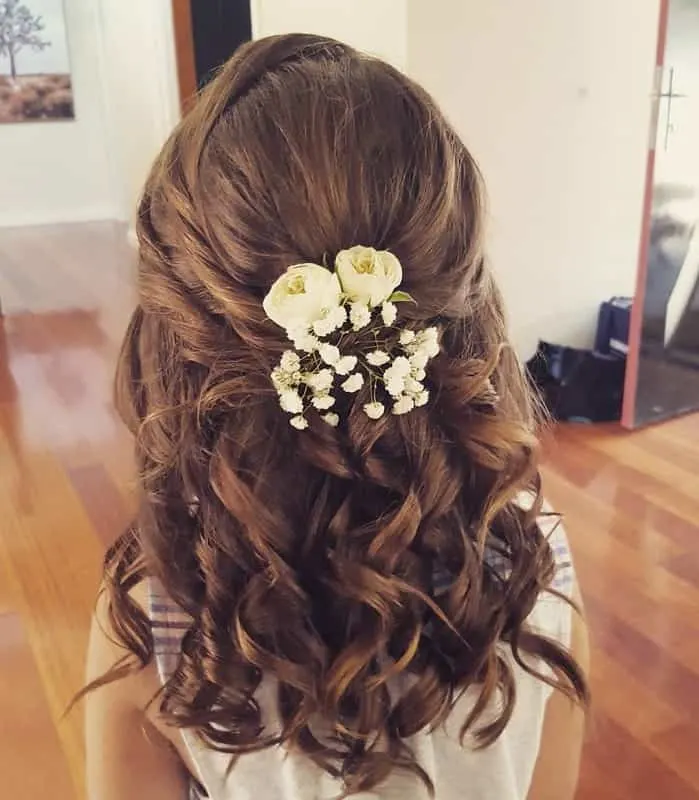 33. Wavy Bow
34. Sweeping Side Braid
35. Swirling Braid Crown
36. Delicate Waves for Long Hair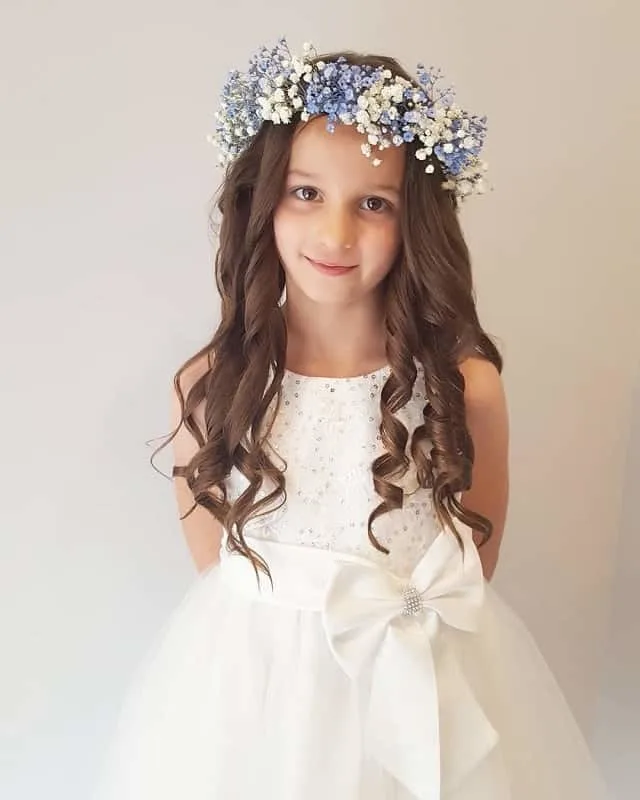 37. Pinned Back Look for Fine Hair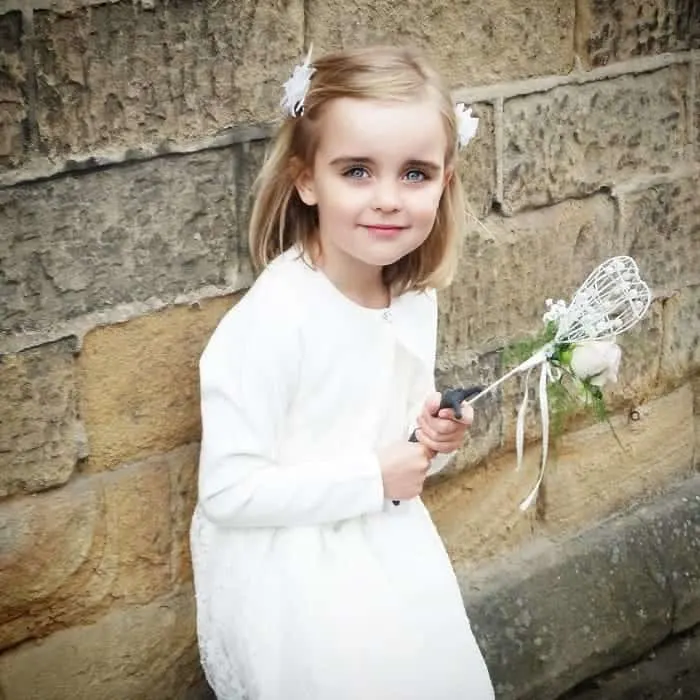 38. Puff for Natural Hair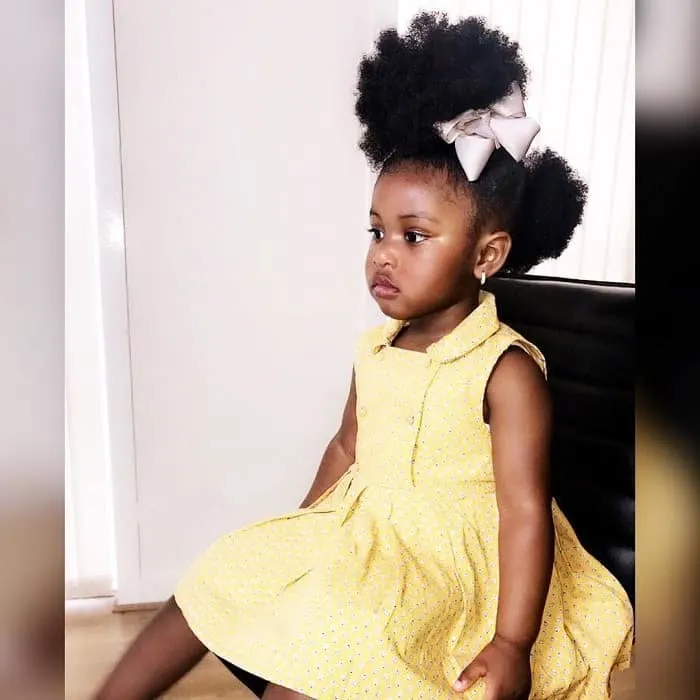 39. Low Pigtails with Clip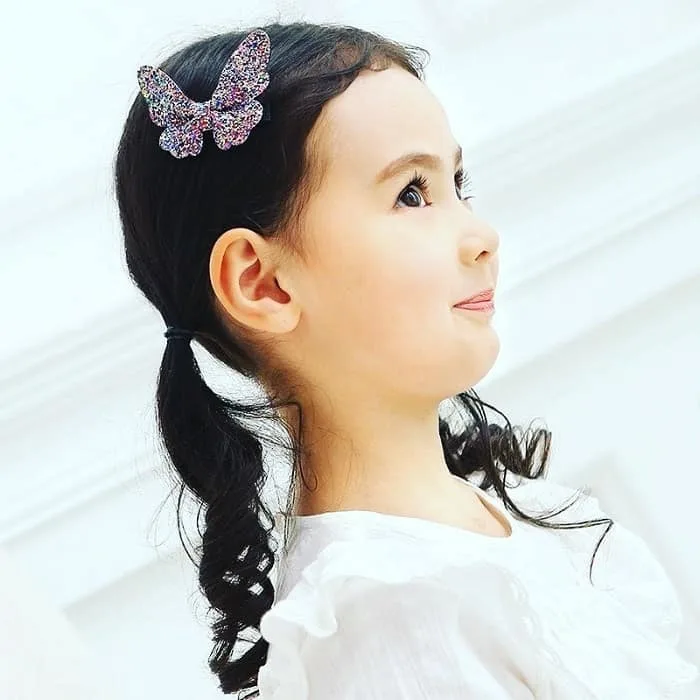 40. Curly Up-do With Braids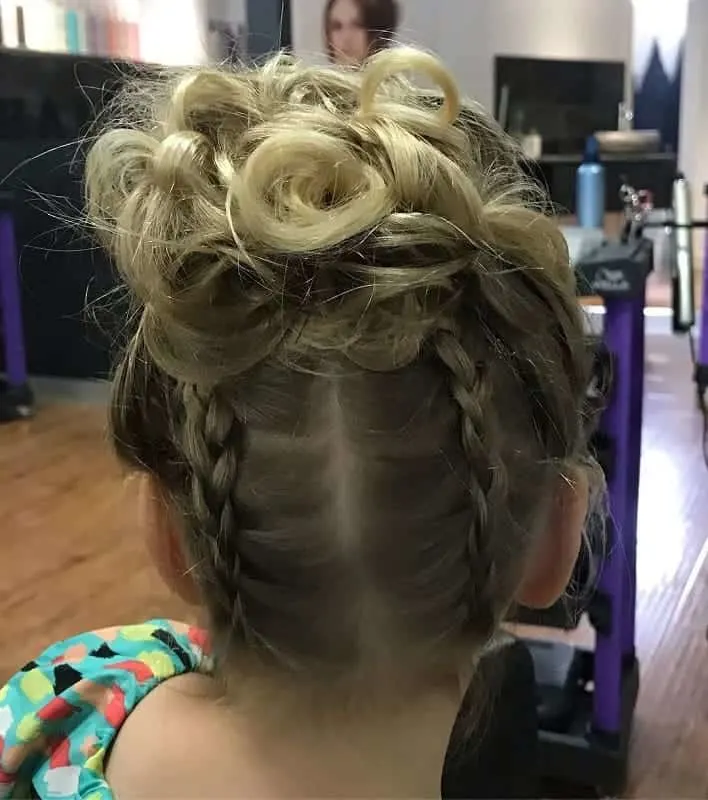 41. Swirled Up-do
Little girl's wedding hairstyles are an important part of any wedding. Little girls usually play the role of flower girls. Even if they're not part of the wedding party, who doesn't love little girls dressed prim and proper for a wedding? But we know how stressful it can be for parents to pay attention to their own wedding duties and their daughters' hairstyles. This is the very reason we made this list! We hope it helps you get your little girl ready for the next wedding.