Pixies have been popular for a long time. Hairstylists have come up with different interesting varieties. One of them is a long pixie.
Everyone knows that pixie means short. However, there ways to keep a pixie intact while adding some length. If you are tired of a short hairstyle, a long pixie cut can be your way out. Consider browsing different pixie hairstyles to find the long one which suits your taste.
Long Pixie Cuts
Long pixie hairstyles are an amazing way to diversify your style. Cutting your hair short is very fashionable, but sometimes you want to add some length. A long pixie will give you a chance to try out this amazing combination. In most cases, bangs are made to make a pixie longer.
Such a haircut is the middle ground between a pixie and a bob. However, short bobs usually require more care than pixies, so the latter is a more worry-free choice. Take a look at the below long pixie haircuts.
1. Asymmetrical with Layers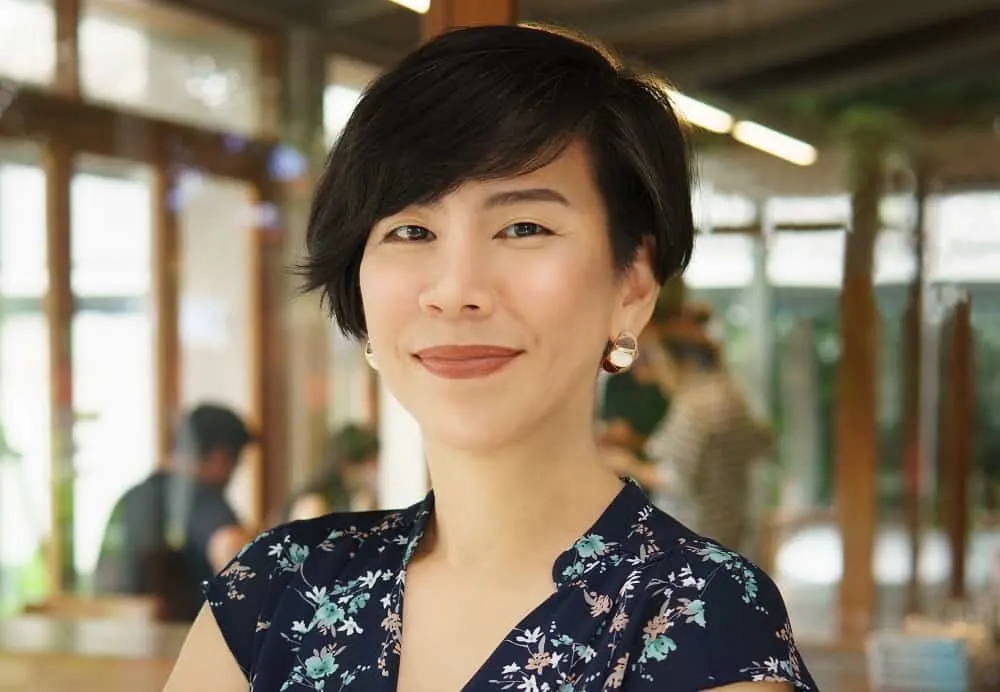 What do you get when you combine an asymmetrical long pixie cut with short layers? The perfect amount of body and shape! If your hair's texture is mostly straight and you have a smaller face, this hairstyle will look great.
2. Choppy Long Pixie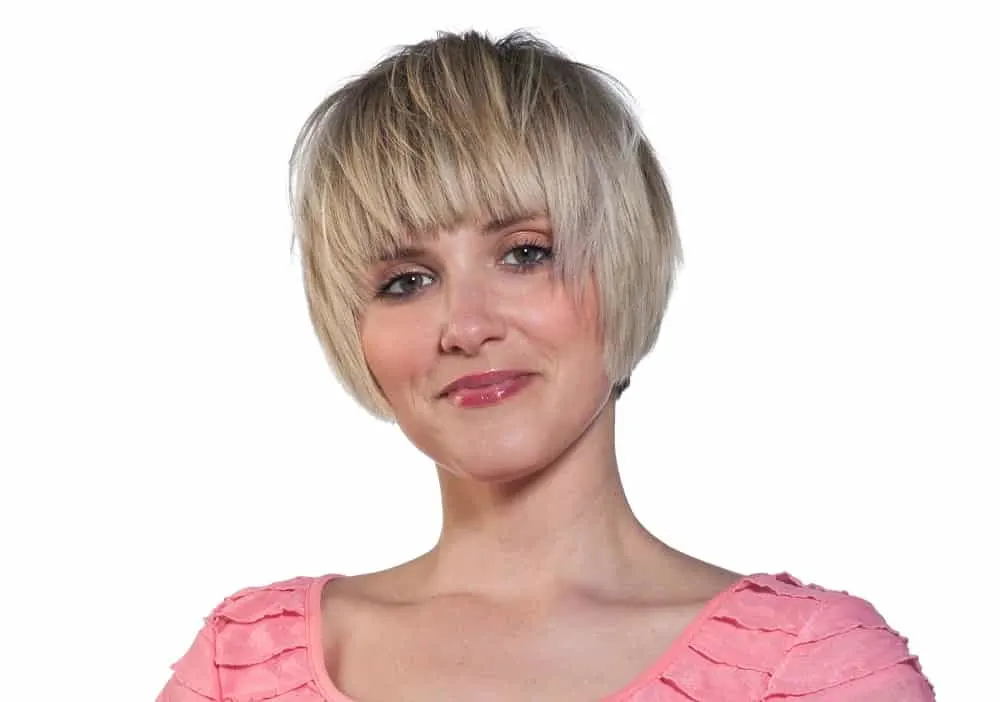 Bluntly cut bangs are the way to go if your hair goals are to draw attention to your eyes. To get this cute pixie, which is chin-length, ask your stylist for short choppy layers. A summery light blonde is just the shade to brighten up your face as well.
3. Long Pixie with Quiff
The bigger the hair, the bigger the attitude! Give a long pixie some character with a poofy quiff right at the front of your head. Tease the rest of the hair for texture and top it all off with bold makeup.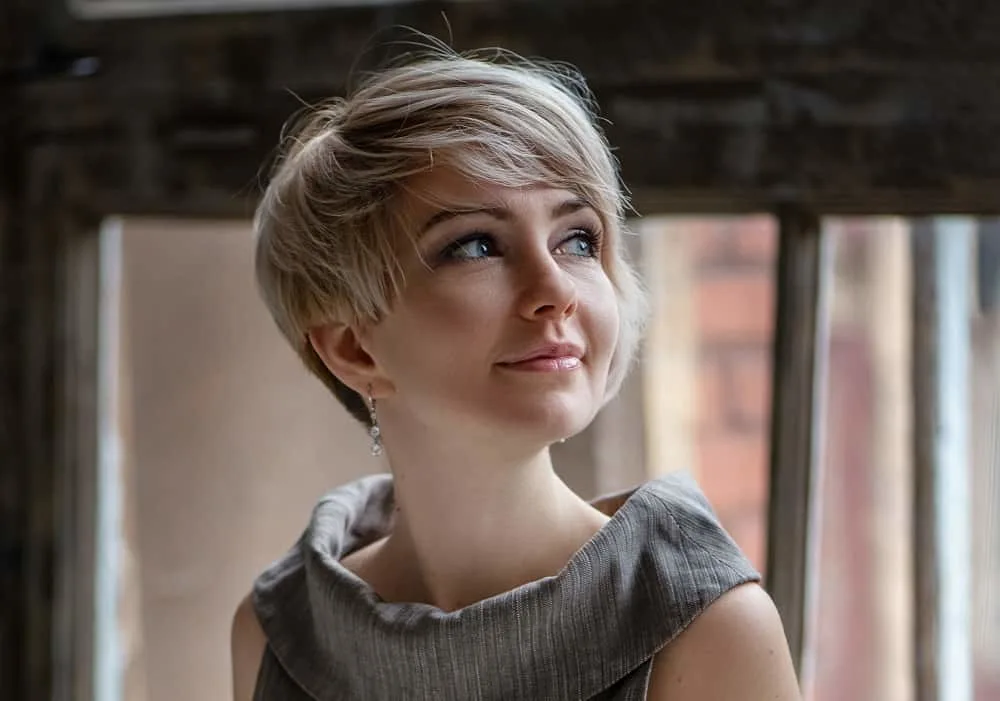 There are several layers to this long pixie, which makes it ideal for women with thin hair. The layers combined with a mix of straightened and wavy sections of hair work together to make a soft heavy side bang the star of the style.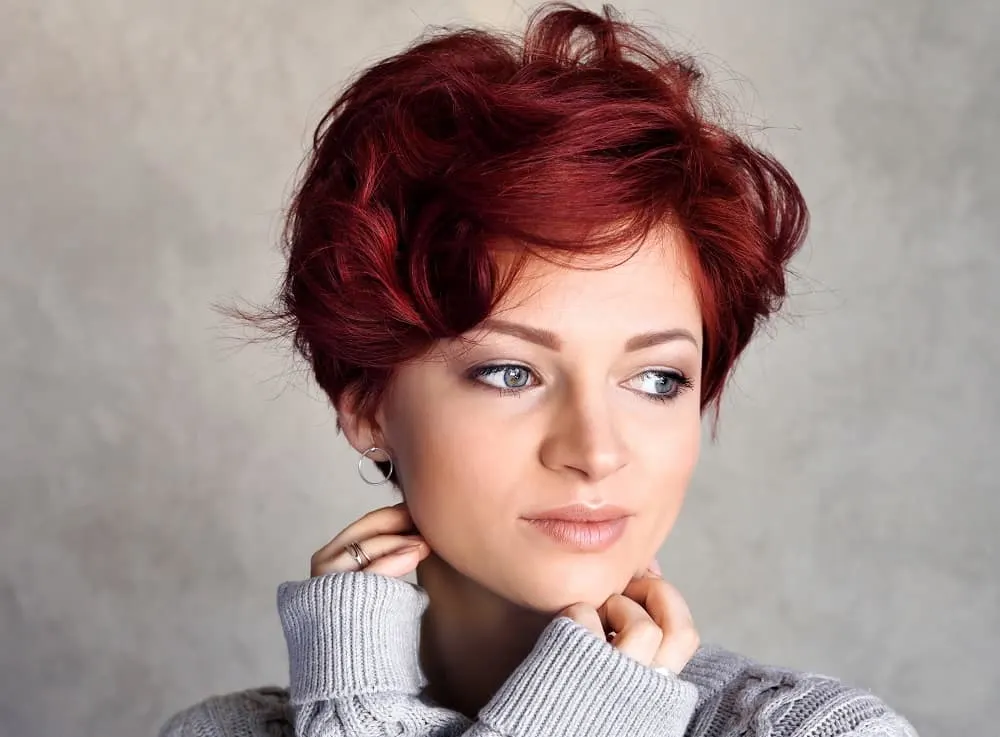 If you have an oval face shape, a stylish pixie cut will maintain a balanced face dimension while making you look amazing. Go bold with a dark shade that will draw attention to your curly hair and flatter light skin.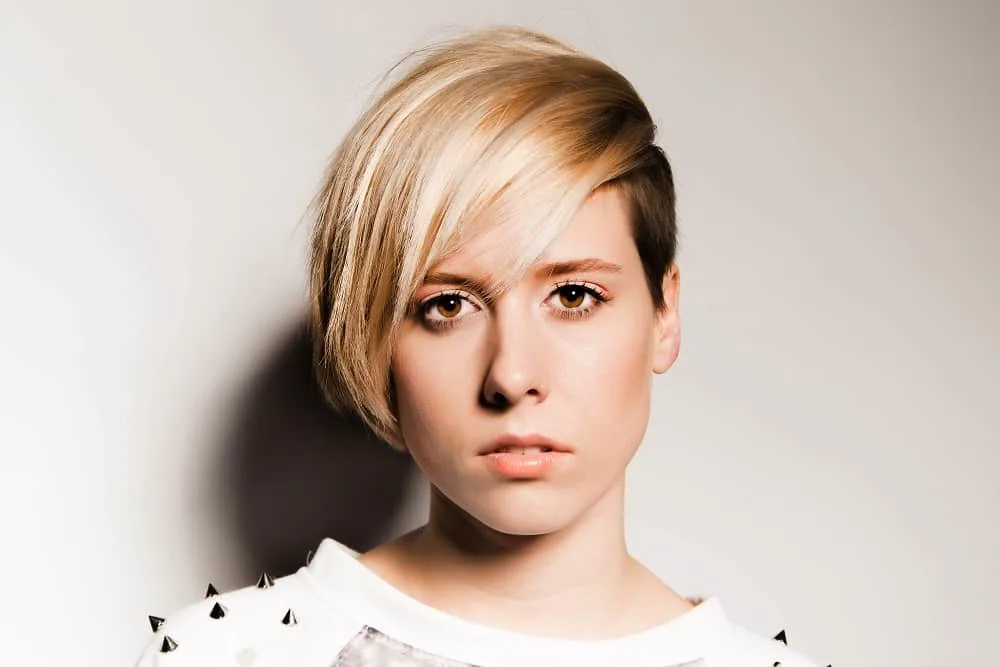 Be both feminine and edgy by rocking a long pixie with a medium or low fade. Finger comb the long side of your hair mostly flat or use a clip to pin it back. Of course, this cut wouldn't be complete without beautiful blonde highlights.
7. Eclectic Blue Pixie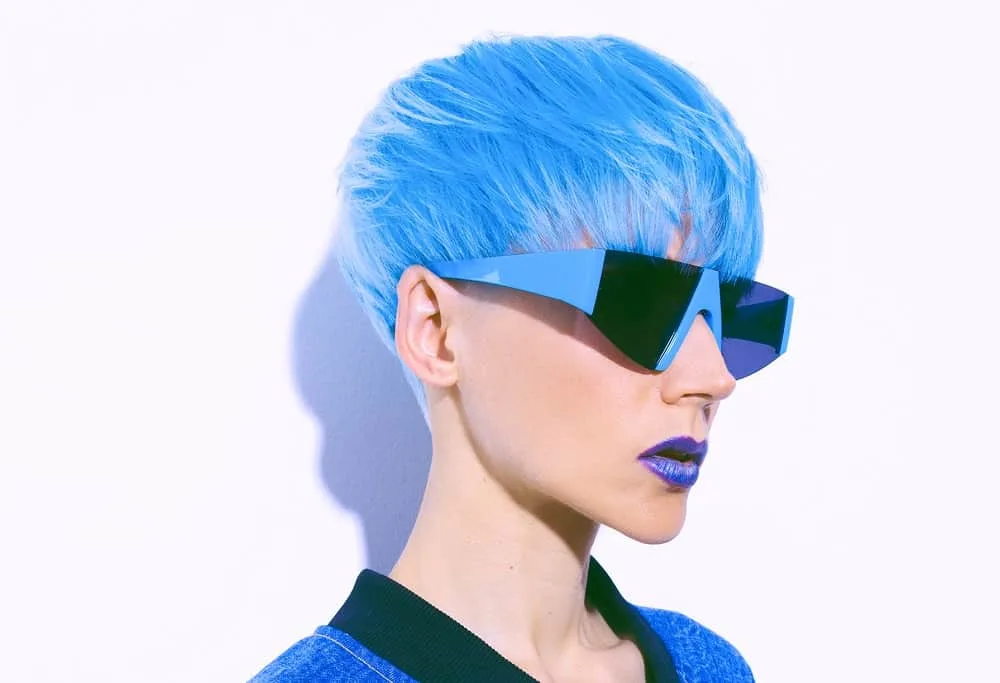 Do you consider yourself a fierce personality not afraid of bold styles? A bright blue long pixie was made for you! After your stylist cuts in short wispy layers, leaving extra long fringe to hang over your eyebrows, comb your hair forward as much as possible for styling.
8. Messy Platinum Pixie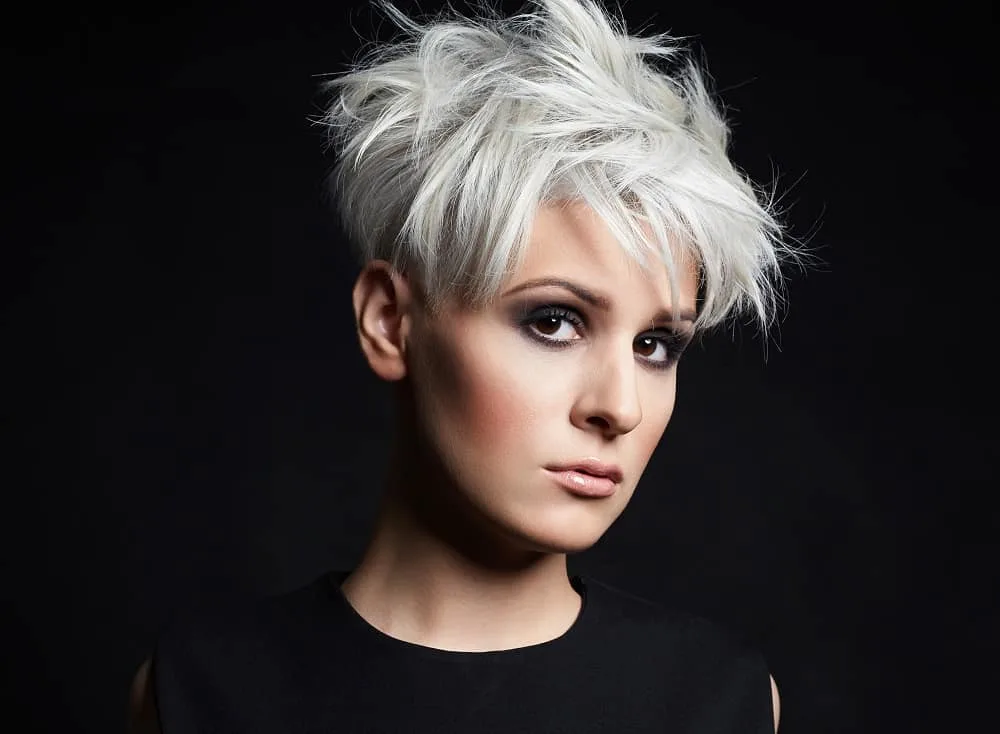 Bedhead will take on a whole new meaning when you rock a sexy long and messy pixie cut. You'll need to wear your hair straight for this style, and the key is in using a small amount of hair gel to shape small sections of hair in different directions.
9. Long Peachy Pixie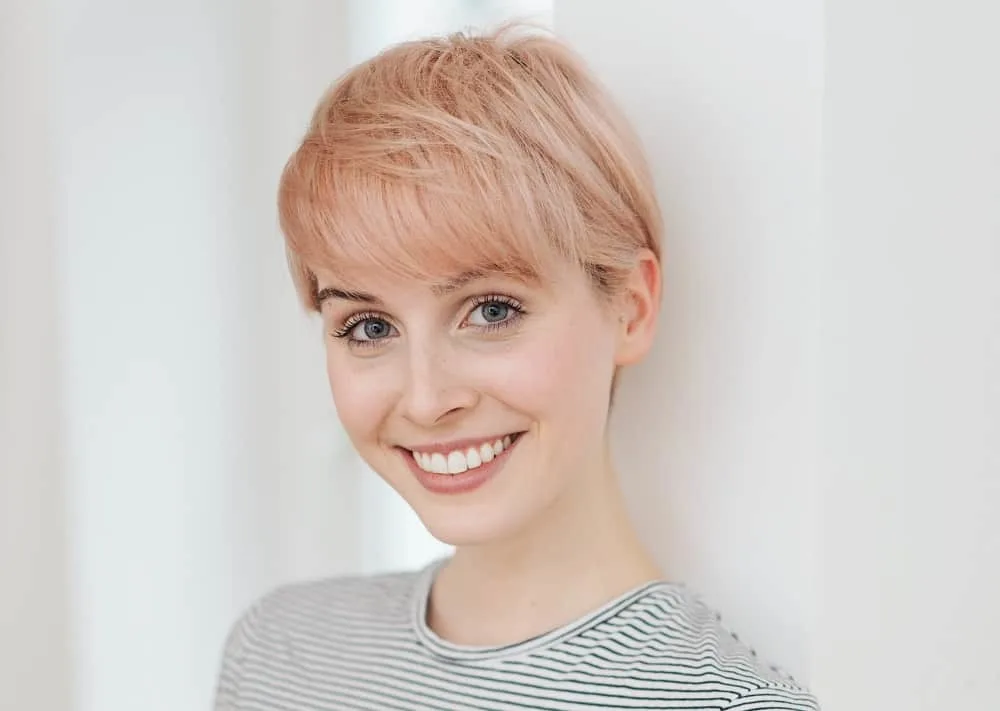 Thin short bangs and a peach-tone hair color make a long pixie soft and inviting. It's the perfect look for women who want to try a new color and cut, while still looking office professional. After combing your bangs, use your fingers to arrange the rest of the hair or tuck it behind ears.
10. Teased Messy Pixie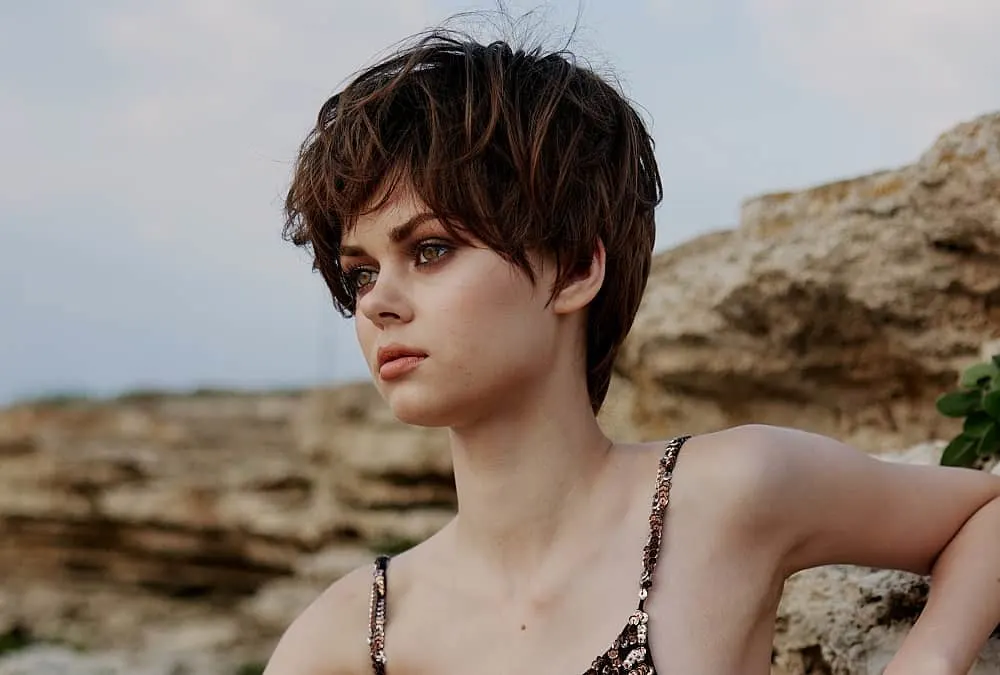 You'll never have to worry about styling your thick hair ever again when you change your look to a pixie with a purposeful teased and messy texture. Sea salt hairspray will come in handy with styling. If you're feeling color-brave, try adding light blonde or caramel highlights.
11. Long Asymmetrical Pixie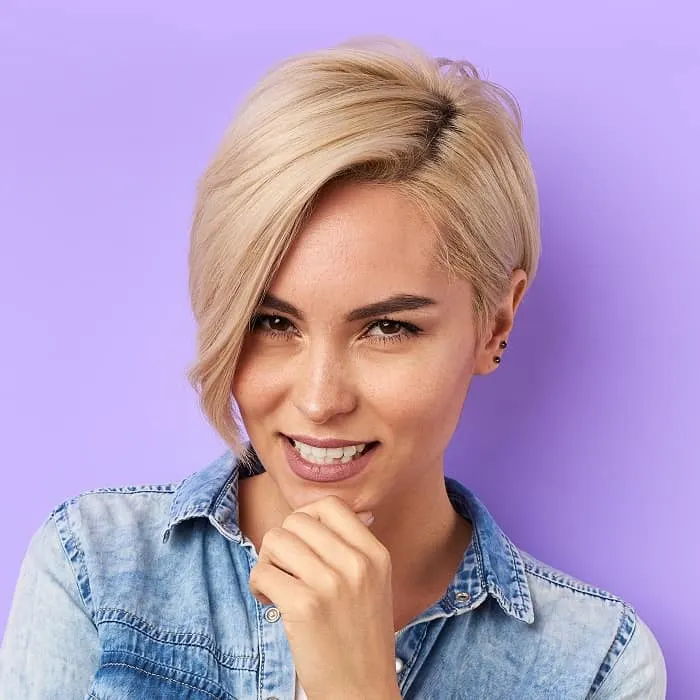 An asymmetrical pixie is especially flattering on women with oval-shaped faces. Pick a girly color like platinum or light blonde and add a little volume at the crown.
12. Long Braided Pixie
An A-line pixie with highlights is given a side braid to texturize the lookup. With waves and teasing at the crown, it's packed with volume.
13. Curly Pixie Bob
This long pixie stops at the cheek level and is also packed with volume. The tight curls can be shaped with your natural texture and product or with a curling iron.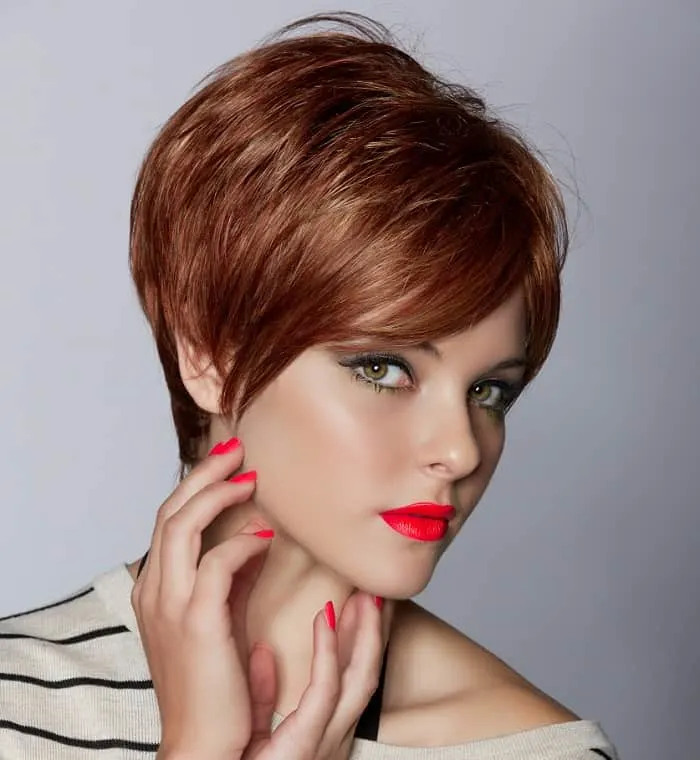 For a long pixie with side bangs, add in short layers to get sexy volume. A glowing color like burgundy or light red looks great on pale or light skinned women.
15. Long Ginger Pixie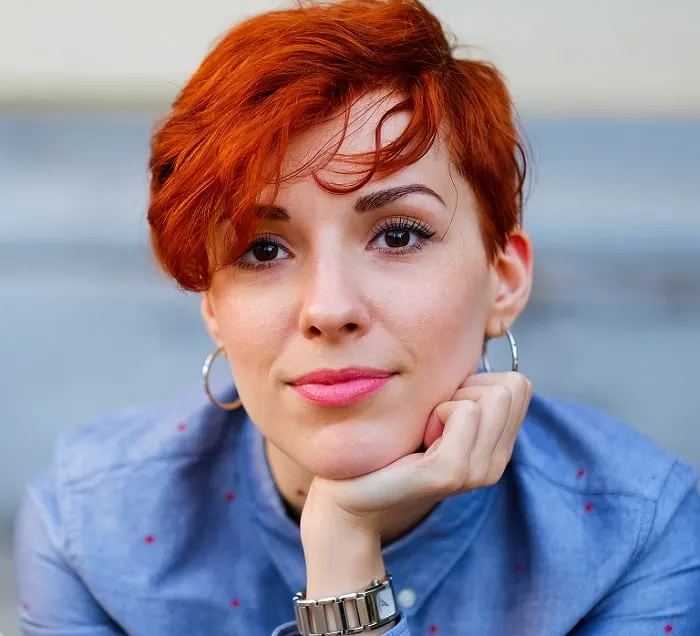 Prefer the bedhead look? You can get that vibe easily on a long pixie by using fingers to tousle hair into soft waves or curls.
16. Long Blonde Pixie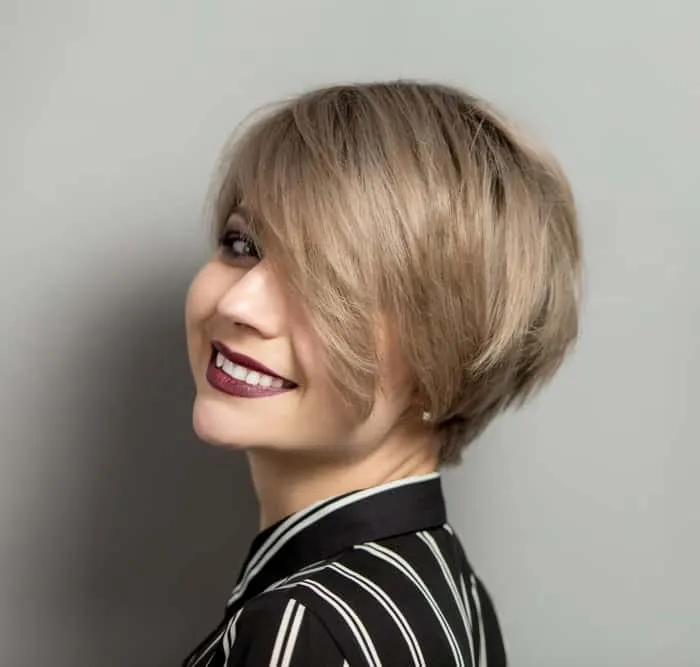 For a professional style you can feel confident wearing to work, opt for a long pixie in blonde. This style focuses volume at the back and is mostly straight locks.
17. Straight Pixie with Highlights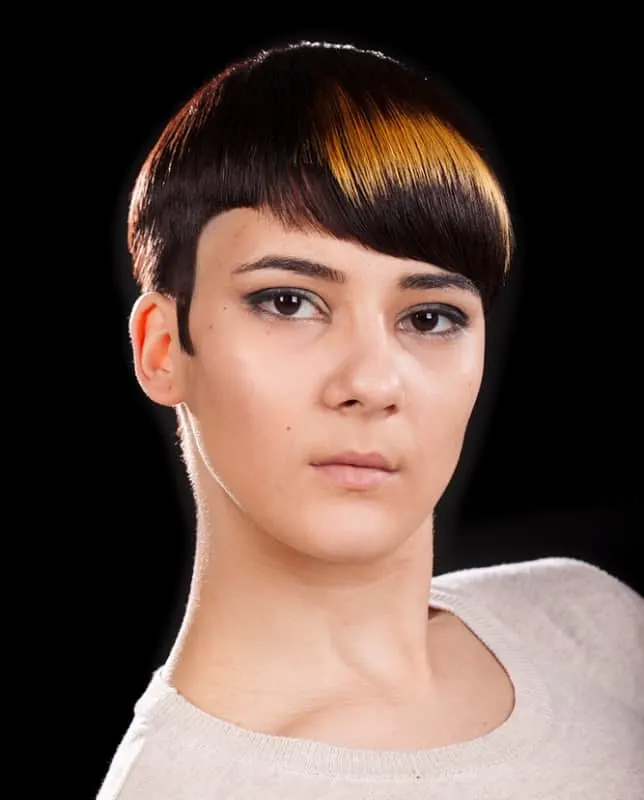 Here's an androgynous long pixie everyone will love if their goal is edge: a straight pixie with uneven bangs and stark blonde highlights. Sides get gradually shorter as they approach the ear level.
18. Long Pixie Cut for Black Hair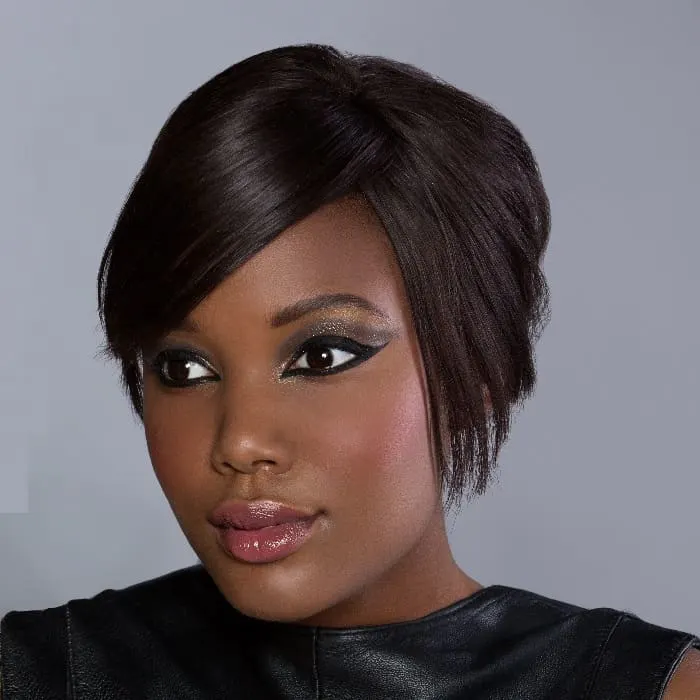 A long pixie is especially stylish on Black women because of its chic classic black color. Straight the hair before adding in an uneven part for volume. A bit of teasing will make the style even better.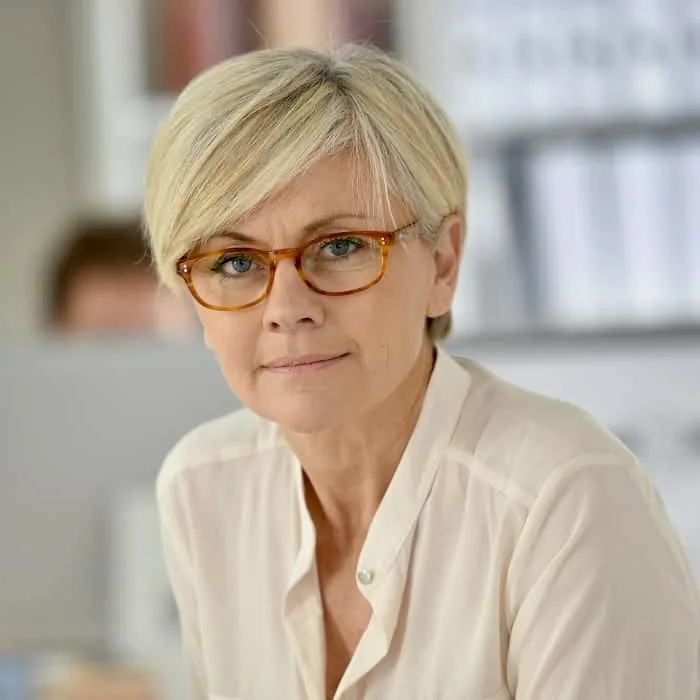 If you're an older women seeking a low maintenance style but still want a youthful look, a long pixie in blonde is for you. This one features a deep diagonal part and several shades of blonde.
20. Long Straight Pixie
If your hair is already naturally straight, consider yourself lucky. On a long pixie, all you need to do to liven it up is add in bold colors like pink and teal!
21. Long Pixie with Shaved Sides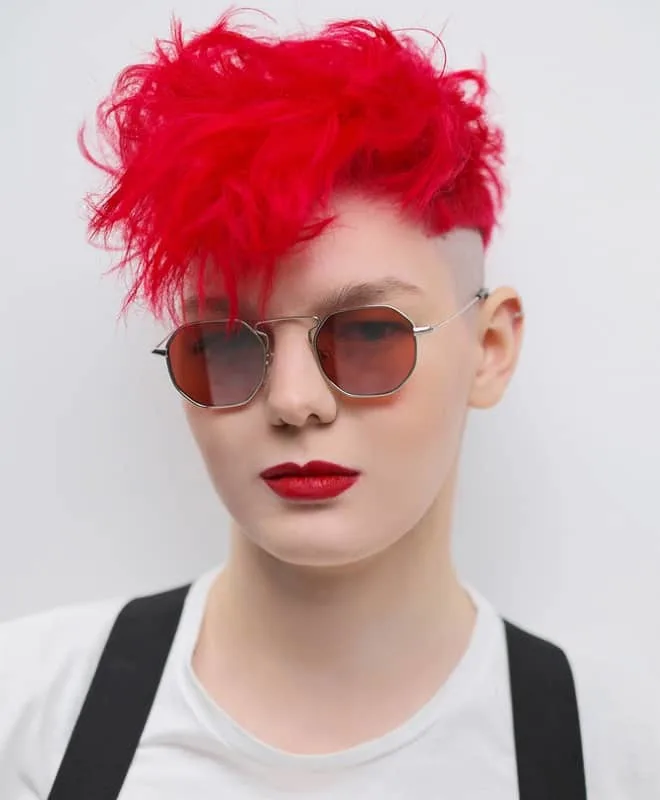 When you're seeking an edgier hairstyle, a long pixie can still fit the rocker in you. Just add a bald fade up to the temples and go for a bold color like bright red or electric blue. This style features thick fluffy waves up top.
22. Long Shaggy Pixie
From the front, this hairstyle appears to be long hair, but it's actually just a long pixie. Different layers in two shades of blonde make this look girly and flirty. The curtain bangs are just right to make your eyes peek through.
23. Long Tapered Pixie
Tapered pixies are great for women with thick hair. Not only will this style of a long pixie add shape, it will also make curly hair more manageable.
24. Thick Long Pixie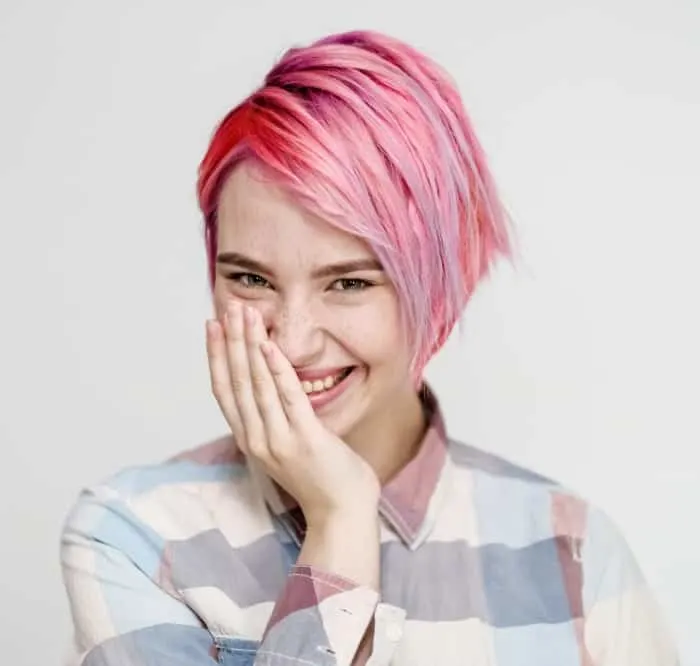 If your thick hair is frustrating you, chop it off to a long pixie. Straighten the hair and spritz in hairspray for volume. A side part and a fun color like baby pink ensure this is a look no one else will have.
25. Rainbow Long Pixie
With one side shorter than the other, texture stands out even more. Teal, green, blue and purple pair perfectly with colorful eyebrows; this is an Insta-worthy look!
26. Volume on Top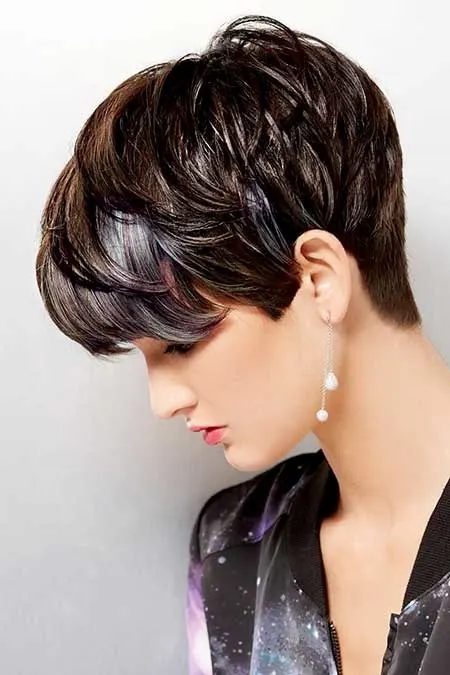 The length of this pixie is concentrated on the top part. Volume is created by making layers and giving the hair some texture. Long blunt bangs add some visual length, while the rest of the hairstyle look amazingly fashionable.
27. Pixie Haircut with Long Bangs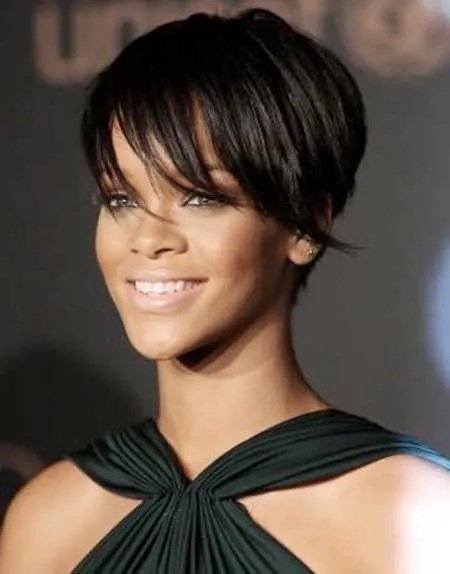 This pixie is elongated by the bangs. In fact, this is the most popular way to make a long pixie. Wispy bangs are added to reach the middle of your ears. The fringe is side swept to avoid getting into your eyes.
28. Wavy Strands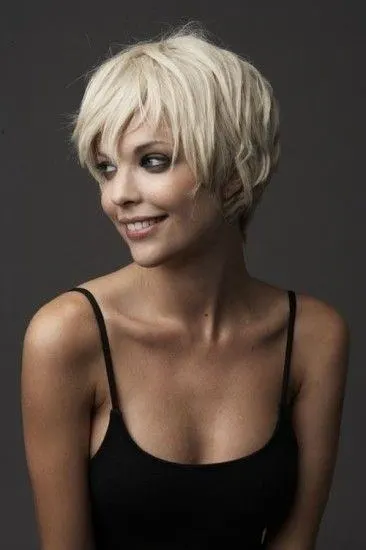 This long pixie haircut reminds a little of a bob. However, it has a pixie shape and the length is achieved by adding wavy strands in the back. The fringe is also rather long to create an impression of a longer hairstyle.
29. Hair Extensions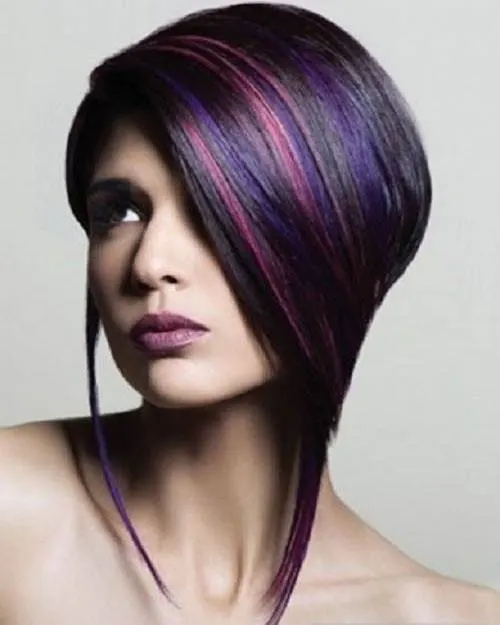 The easiest way to make a long pixie is to add hair extensions. Separating thin strands on each side of your head is a great way to create a fashionable asymmetrical hairstyle, which is bound to be unique in your neighborhood.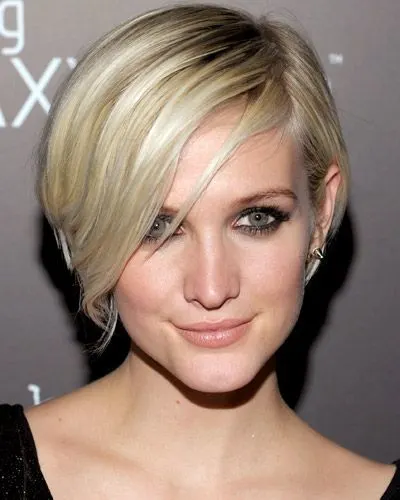 A long fringe is a worry free way to make your pixie longer. Grow your fringe as long as possible and side sweep it to create a sophisticated hairstyle which will fit a woman of any age or profession.
31. Messy and Textured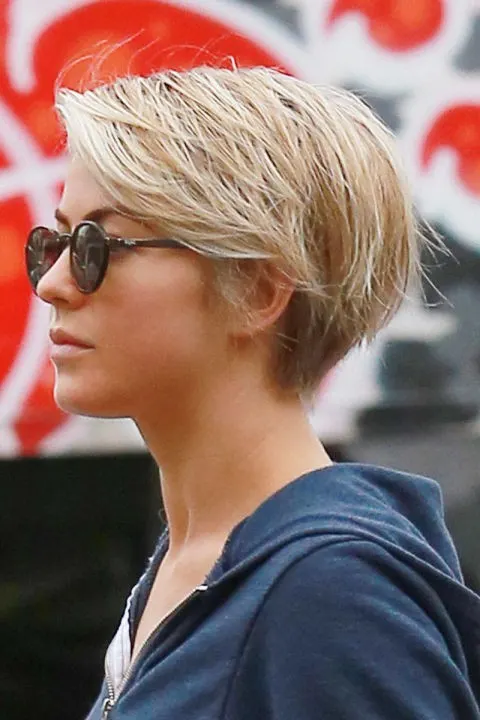 Messy styles are a great way to elongate your pixie. The volume on top is created due to textured long strands. Long fringe is swept side ways to create an impression of a crest on top. Make sure not to overdo the length. Otherwise, a pixie will quickly turn into a bob.
32. Voluminous Bangs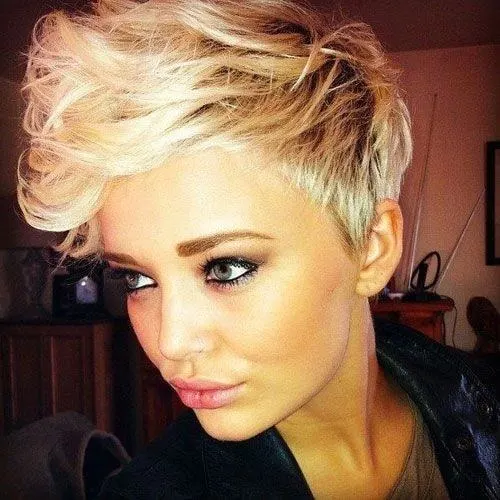 Another creative way to elongate your short pixie is voluminous bangs. Volume is created with the help of some gel and a hairdryer. If you don't want to bother with long procedures, you can turn this fringe into regular straight side swept bangs.
33. Over The Ears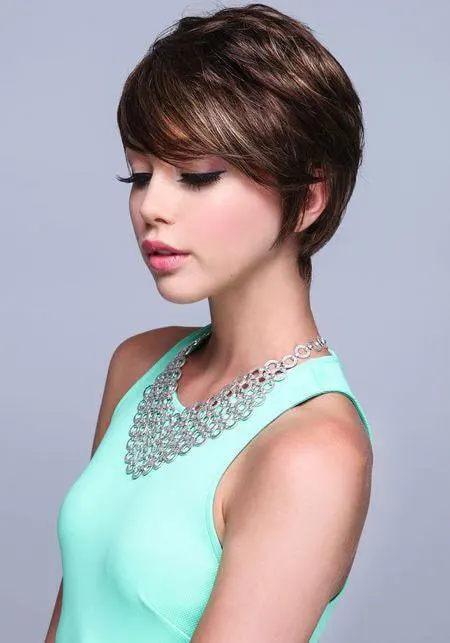 This glamorous long pixie hairstyle is created by arranging strands in front and behind the ears. This pixie is perfect for women with fine hair. It looks very neat and doesn't require too much maintenance.
34. Brush Them Over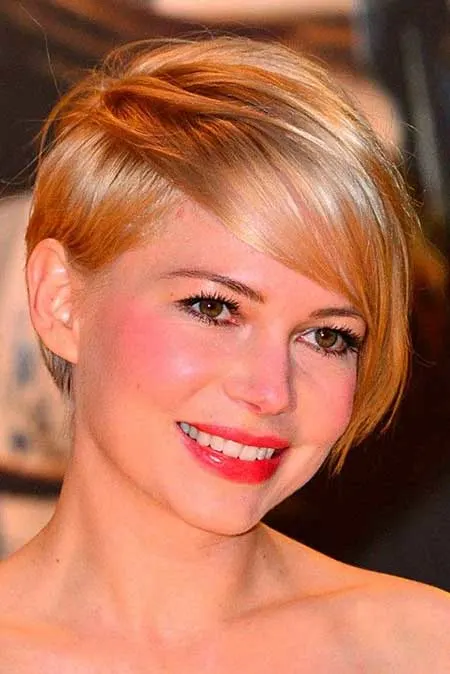 This stylish long pixie cut hairstyle is created by brushing the hair against the growth direction to make long side swept bangs. The longer the fringe, the more fashionable this hairstyle will look.
35. Eye-covering Bangs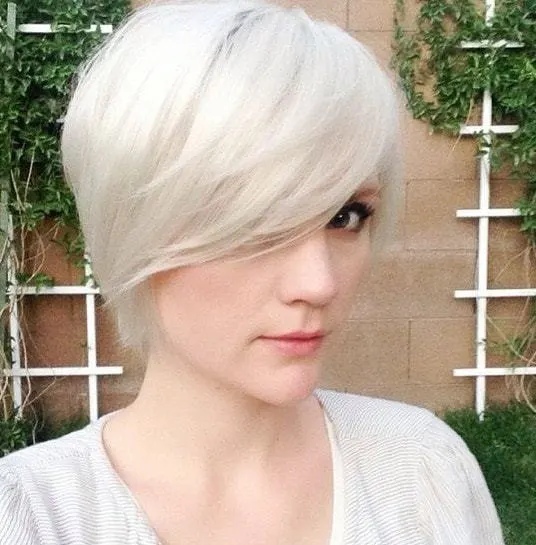 This sexy style is achieved by growing long eye-covering bangs. This hairstyle is closer to the bob than a pixie, however, it is rather short in the back, so it is still considered such. No matter what you call it, it creates an amazing look!
36. Gray and Great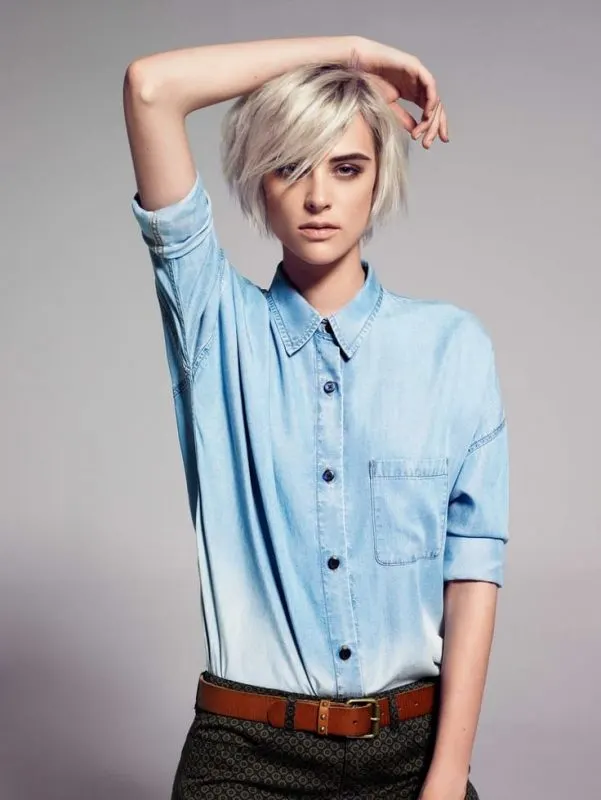 Gray and dusky blonde hairstyles are really in fashion. It is a fantastic color for a long pixie cut style to be worn by women with androgynous features.
37. Long Pixie with Faux Hawk
Undercut your pixie haircut to allow you to create a punkish faux hawk style. Comb upwards and forwards to give an amazing peaked fringe. Comb the style over your undercut when you want a more demure pixie style.
38. Sweepover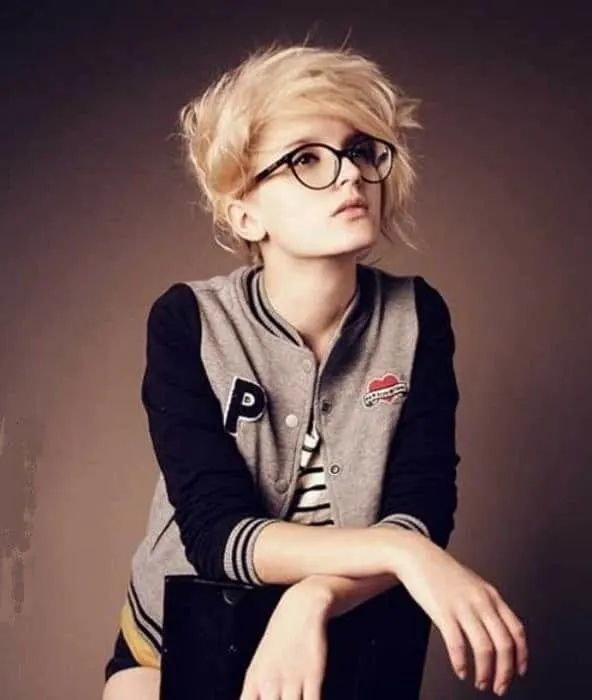 Use a comb and some loose hold hairstyling gel on a long pixie cut to sweep it all over from one side to the other. Backcombing the hair on the feature side of your head will help to give you a little bit of volume.
39. Long Crop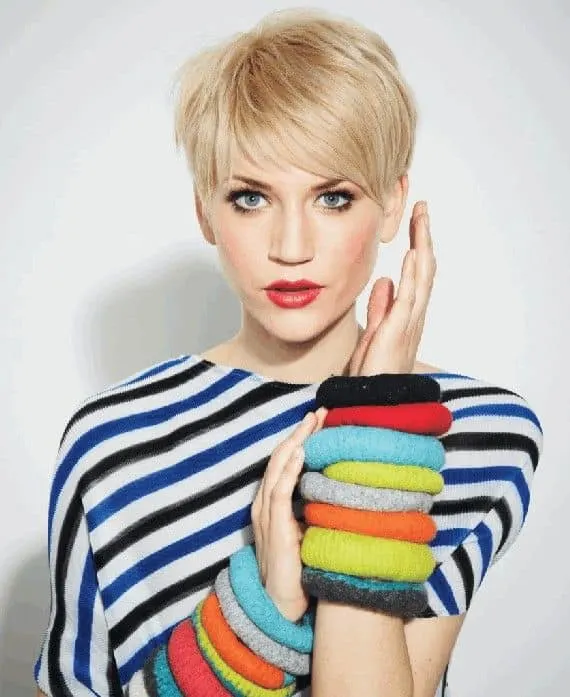 Long elfin crops are great for women with narrow faces. These pixie hairstyles help to accentuate high cheekbones to give women a really modelesque and fashionable hairstyle.
40. Too Cool for School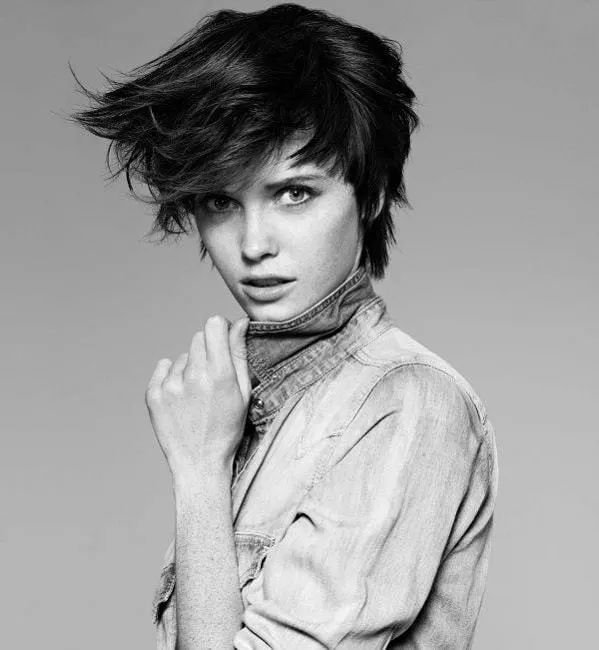 This type of stylish pixie haircut is based on messy teenage boy hairstyles. When the look is transposed onto a glamorous woman, the haircut looks so hot that it positively sizzles.
41. Long Pixie Crop with Side Parting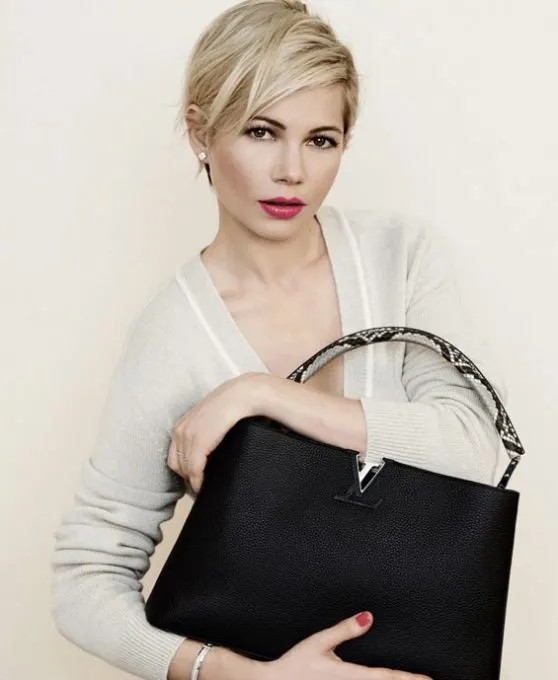 A long pixie cut is perfect for high flying business women when it is styled with a side parting. Part the hair on one side before cutting the pixie crop. Use a few clips to stop your hair falling into your eyes.
42. Voluminous Comb over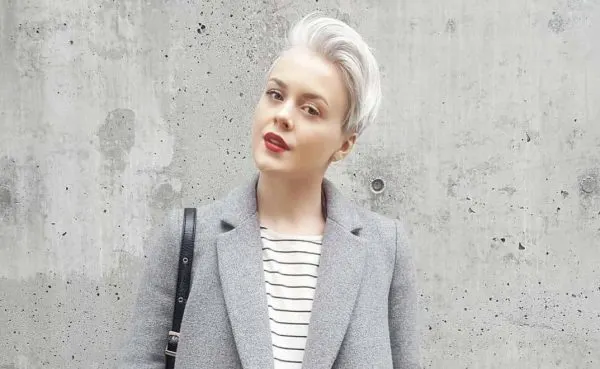 Give your long pixie hairdo an extra volume by combing upwards straight from the roots. Use your comb to roll your hairstyle over to create a punk-lite style.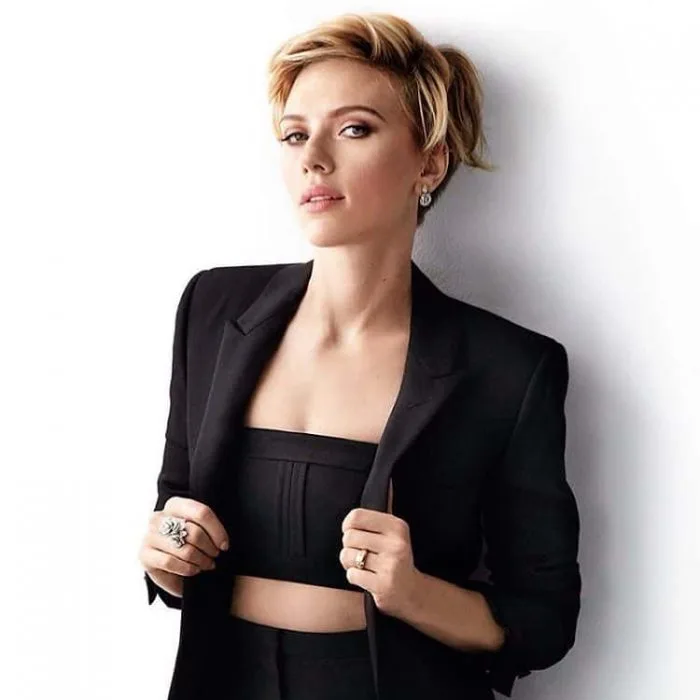 For a "just got out of bed" hairstyle which is really easy to create, you should try a long tousled crop hairstyle. Just put a little soft hold styling gel onto your hands and then run your fingers backward through your hair.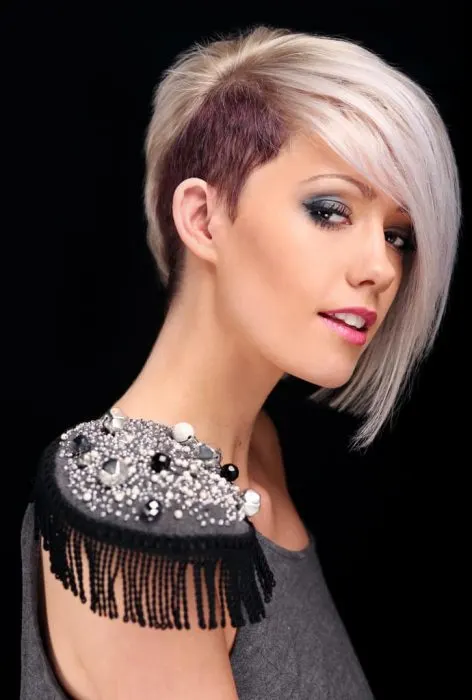 Give your long pixie an amazing style twist by integrating a signature undercut into your style. Shave a patch to suit your face shape and then dye the area a color which completely contrasts your natural look.
Bold Slicked Back Undercuts for Women
45. Complementary Highlights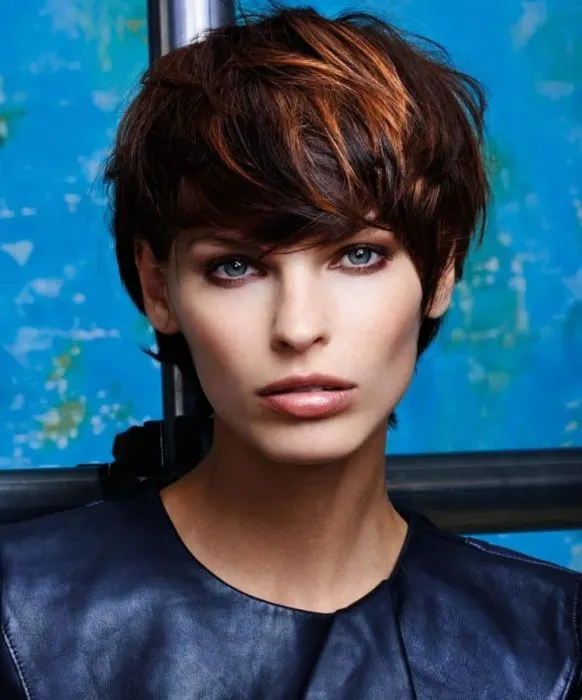 Give long pixie hairstyles more texture and depth by introducing highlights which complement your natural hair color. Copper color highlights look amazing with rich browns.
46. Strong Crown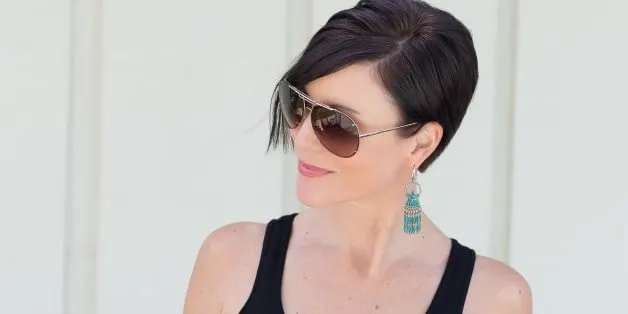 A strong crown and parting can help your hair to look like it is radiating from your head. Believe it or not, but a strong crown and parting can actually help a thin long pixie cut to look much thicker.
47. Thin Groomed Crop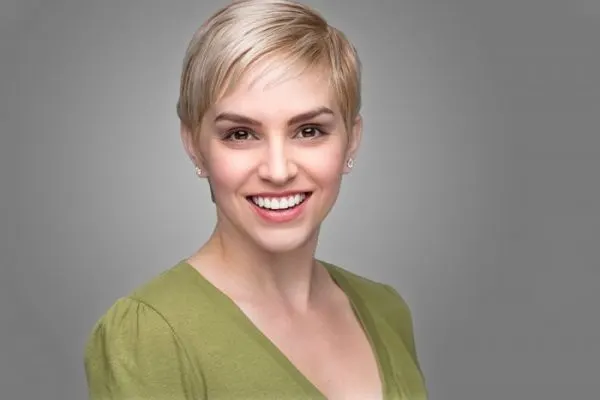 A thin groomed pixie crop is an excellent choice for women over 50. This stylish hairstyle is youthful and can help to flatter older faces. Ask your hairstylist for easy styling tips for this look.
48. Disheveled Long Pixie Cut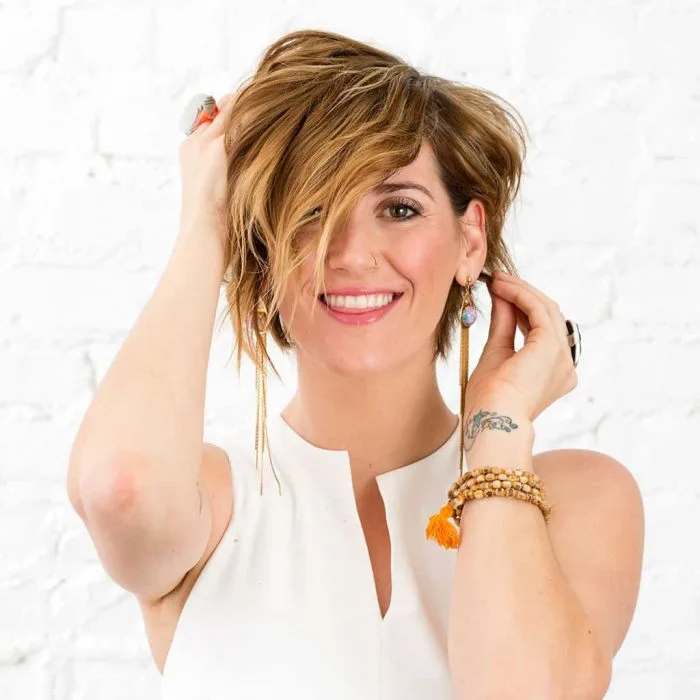 Try a long choppy pixie haircut for a women's hairstyle which looks great at the beach or at the club. Cutting in mixed length layers creates a really versatile style.
49. Sweeping Fringe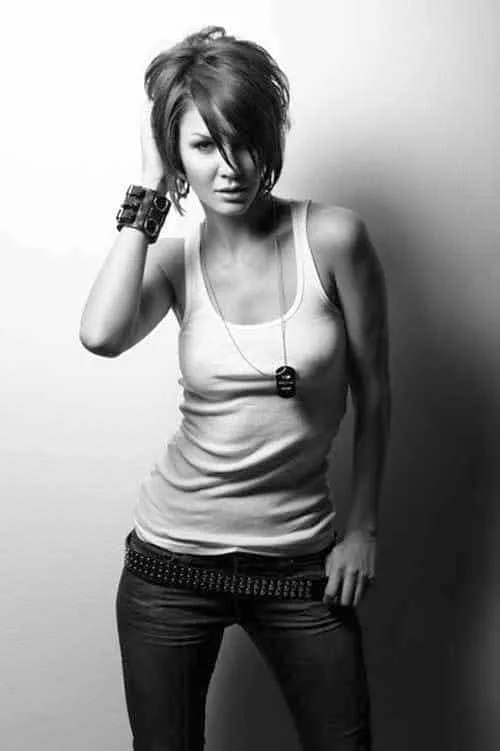 Add a mysterious element to your long pixie by putting in a long sweeping fringe which covers one of your eyes. This gives your look a punky twist.
50. Pageboy Bob
The Pageboy style is quickly coming back into fashion. It is cute, stylish and matches with the Danish concept of "hygge." Round off a bob to give a Pageboy long pixie style.
FAQs
What do we call a long pixie?
Most people call a long pixie a long pixie, but another name is a long crop-cut. People sometimes call it a short bob, but they are different haircuts.
What's the difference between a regular and long pixie cut?
A long pixie cut is often short on the sides and in the back like a regular one, but the top is longer than a traditional one.
Are long pixie and short bob similar things?
They are similar, but they are not the same. Long pixies are typically shorter in the back than a short bob, though the top and bangs are often very similar. The pixie can grow into a short bob and is a good transition if you try to grow it out.
Do long pixie cuts require high maintenance?
No, long pixies are reasonably low-maintenance. They are less high-maintenance than a regular pixie or similar short haircuts because they look better as they grow out.
Who should get long pixie cut?
Long pixie cuts generally look best on those with oval faces and fine hair like a regular pixie. However, the longer one is more forgiving than a traditional one and can suit a broader range of people.
We hope we gave you some useful assistance with making a choice. Browsing options is always a great help. So, take some time to contemplate your new haircut. Long pixies are in style! So give one a try.