New Ideas of Baby Bangs
As mentioned before, there are several options for baby bangs that can match the face format and personality of everyone. Next, we'll show you 10 styles that are a huge success in the fashion world:
1. Baby Bangs for Long Hair
2. Short Hair with Baby Bangs
3. Choppy Baby Bangs
4. Baby Bangs for Round Face
5. Baby Bangs for Fine Hair
6. Curly Baby Bangs
7. Uneven Bangs
This baby bangs haircut is perfect for those who like concept looks and it's wonderful in oval faces. It's easy to style, versatile and great for summer. All because these bangs are shorter in some parts and longer in others, and they can be clipped with accessories depending completely on the occasion and your creativity.
Hairstylists' tip is mixing classic and modern, like, for instance, going for the traditional channel with an uneven fringe. The result is a balanced look with a lot of personalities.
8. Straight Bangs
This style is especially recommended for women with round and square faces since it highlights the cheekbones. It's usually worn with a very short haircut, which means it suits people who are not afraid to take chances. To keep your bangs always beautiful and in place, specialists recommend frequently moisturizing the hair.
The reason for that is because the strands have to be always aligned and due to some bad habits that damage the hair fiber, like swimming in the sea or pool, or washing your hair with hot water, not moisturizing your hair can cause dried and brittle baby bangs. So, doing that at the salon or at home can assure a harmonic cut and make your locks beautiful and smooth.
9. Pinup bangs
This style suits oval and round faces, and larger foreheads, because it highlights chin and lips, making the face look elongated.
These bangs require constant maintenance every 2 weeks to cut the growing hair and keep it even. According to specialists, the eyebrows will also require special care, since they'll be in the spotlight and will have to be in balance with the face.
10. Shag bangs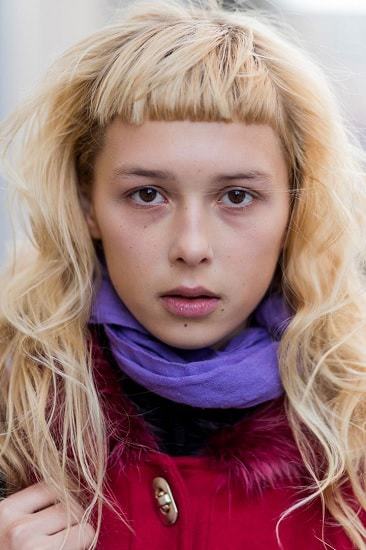 In this baby bangs hairstyle, strands are cut the same short length as the previous ones, but the ends are shagged. That makes it look lighter and "messy", that cool-scruffy type of hair, you know? These bangs are recommended for square and round faces with the goal of making it look more delicate.
Who Should Try The Baby Bangs?
Versatile, baby Bangs can be worn by anybody, regardless of hair type. The trend suits all kinds of textures, including wavy hair, which explains the boom of women with curly hair and baby Bangs in the 80's and 90's.
Hair length also doesn't matter, since what is really at stake here is the woman's personality. If you're not ashamed of showing your face, these are the bangs for you!
In general, baby bangs are ideal for younger women with an oval face and prominent forehead, but, since age is no obstacle when it comes to beauty, if you're as daring as you are mature, you can also embrace the hairstyle with no fear of change.
How to Maintain Baby Bangs
After choosing your ideal Baby Bangs style according to which one best suits your face and personality, you must learn how to care for your new haircut in order to make it look always neat, modern and charming.
The first step is keeping it moisturized to keep the bangs from looking dry and brittle. Then, you should touch up the haircut every 2 weeks at least, to keep the length and style of your Baby Bangs.
Women with straight hair who wish to keep their super short bangs always aligned and healthy should blow dry them. If that's your case, don't forget to use good thermal protection products to avoid damaging your hair, keep it from getting frizzy and maintain the haircut in place longer.
Another tip is going for dry shampoo. That is because the bangs are in constant contact with the skin, making that area naturally more prone to greasiness. In that case, the product will help keep the oily look away from the roots even the day after the blow-dry.
One last trick for those who joined the trend, regardless of hair type, is paying extra attention to the eyebrows, since they stand out with short bangs, helping frame the face. Go for full eyebrows, plucking just enough to design them. Use products that help to brush the eyebrows, or even fill in small flaws in them.