What are the trendiest short bang styles for women in 2023? It will continue to be a mix of new stylings and a few of our old favorites. Short bangs allow for a classy look but they can also accompany an edgy look.
Here are 65 trendy short bangs hairstyles we think you'll love to try.
1. Short Hair with Side Bangs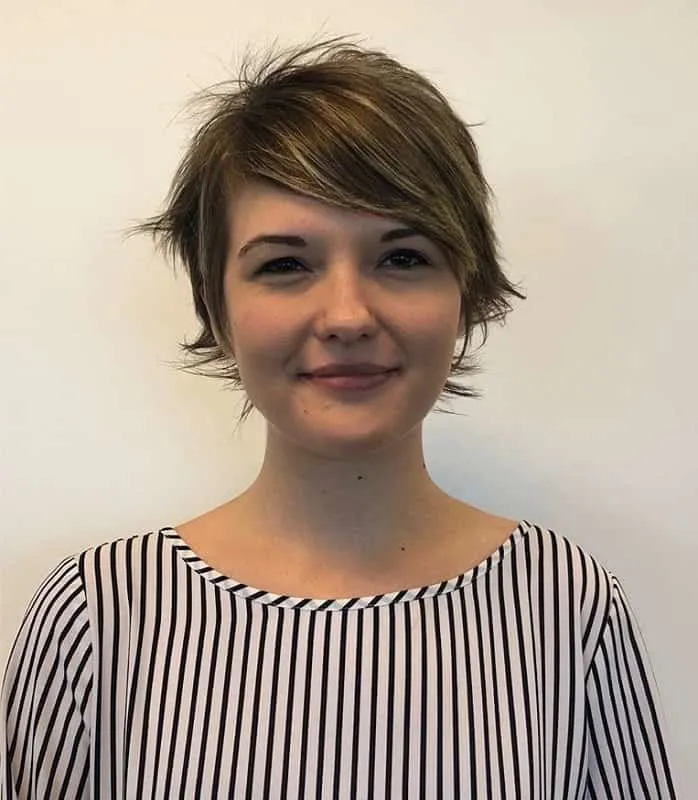 Get a rebel look that matches your personality by choosing a short haircut. For the nape area, style some spiky hair and toss your bangs on one side. Give your strands texture by creating some stunning blonde highlights.
2. Curly Short Bangs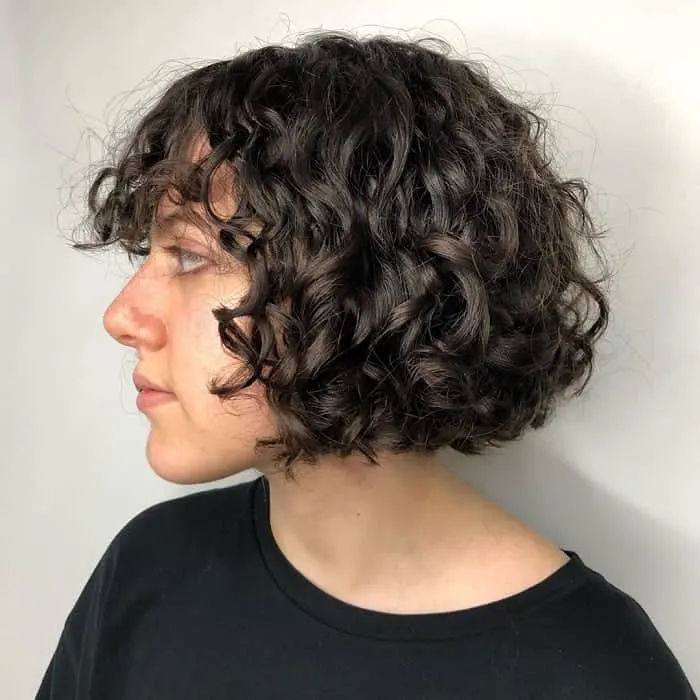 Framing your face was never easier if you have a curly mane. Get a straight bob and trim your bangs slightly covering the eyebrows. To avoid the triangle-shaped hair, you can also make some here and there layers.
3. Short Layered Hair with Bangs

A modern haircut can make you look fashionable and glamorous wherever you go. Get short bangs that cover only half of your forehead. Keep the back longer, and let the sides cover your ears.
4. Short Wispy Bangs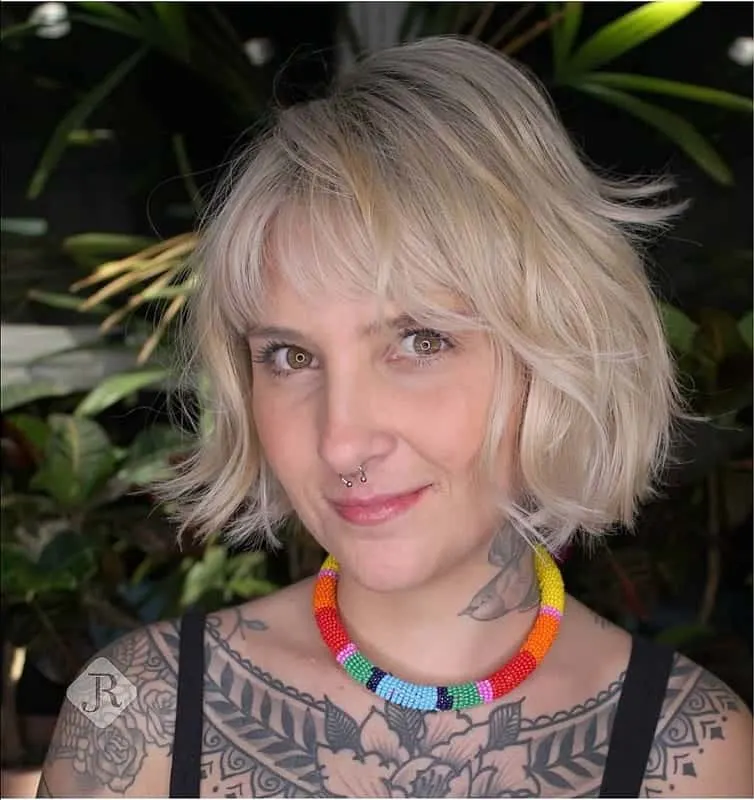 A sandy blonde nuance is ideal if you want a beautiful natural look. Go for a short bob, create loose waves and spread your wispy bangs on your forehead. Cut them short, one finger above the eyebrows.
5. Black Hair with Short Bangs
Get an impressive look by styling a short straight bob haircut. Keep the bangs in a round shape, with two longer pieces on sides. Take two thick stands from the temple area and pin them into a bun. If you don't want to cut your hair to get the fringe, faux clip-in bangs can help you get that look.
6. Short Brown Bangs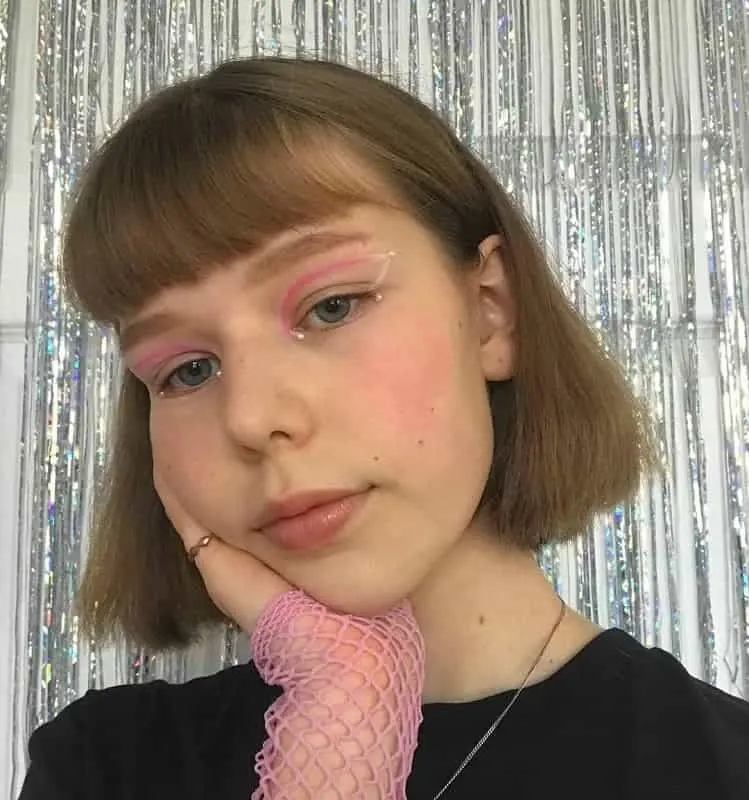 Anytime you want a gorgeous look, a short straight bob haircut with bangs will help you obtain a never to forget image. Keep the fringe above your eyebrows, and your facial features will be nicely framed.
7. Thick Short Bangs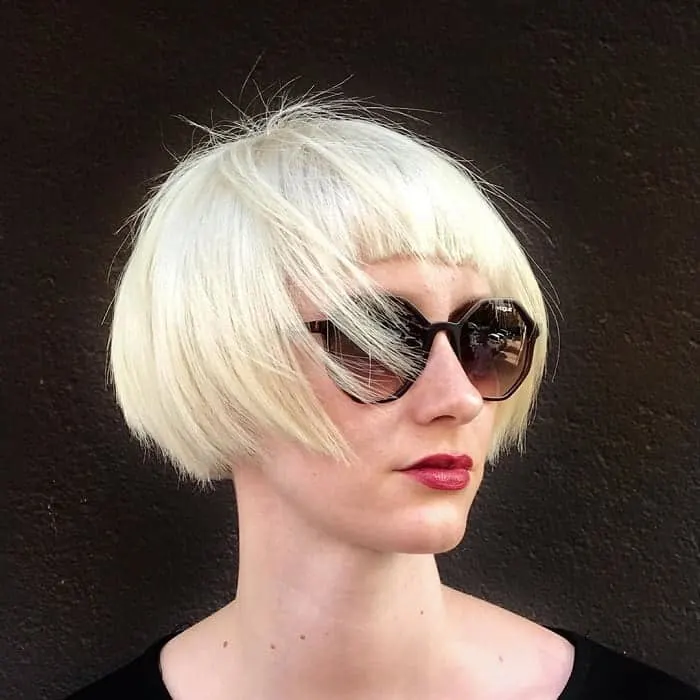 Thick short rounded bangs are extremely suitable for a pretty short choppy bob haircut. Layer the hair if you want to obtain more volume and give your locks texture.
8. Short Fine Hair with Bangs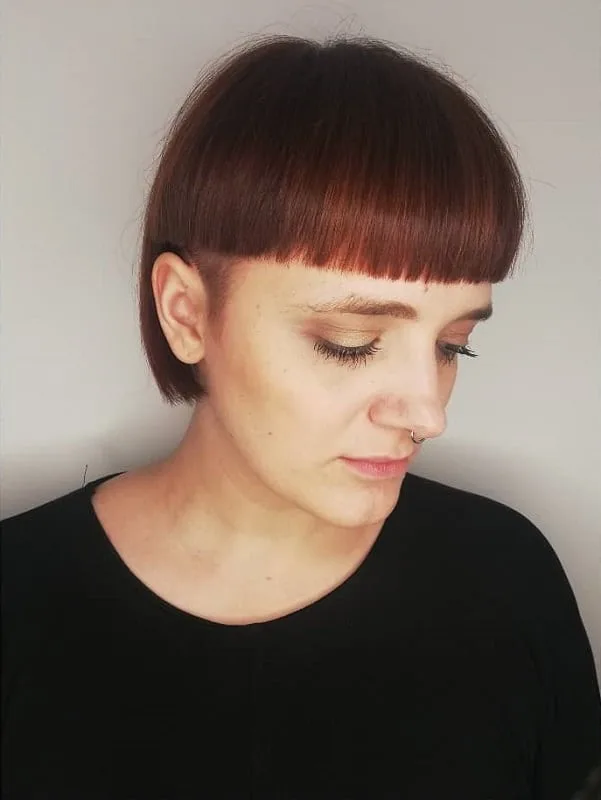 Take your bangs to a whole new level by extending the cut to the sides. Cut them short and use a trimming machine to shave the temple area. Keep the rest of your hair in a short bob and use a straightening iron to get a neat hairdo.
9. Korean Short Bangs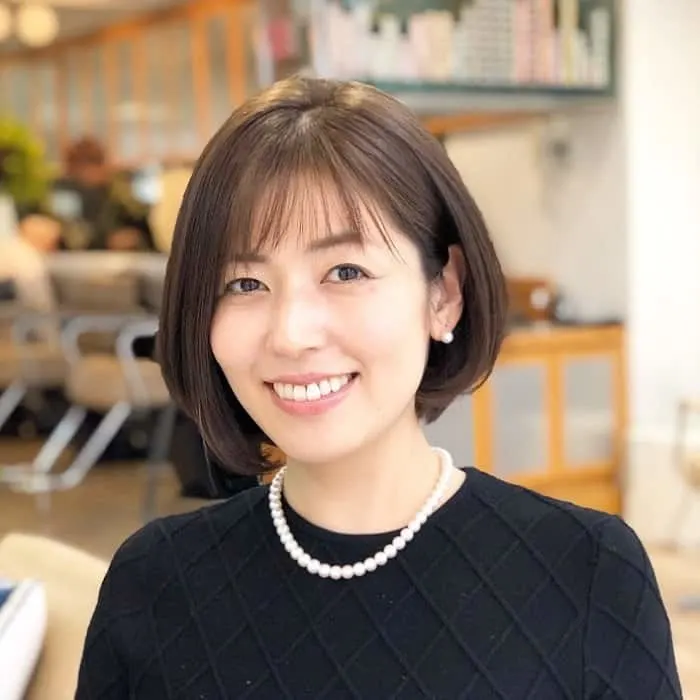 Short wispy bangs look fabulous and complete any asymmetrical bob haircuts. Your locks must be longer on one side, and the fringe looks its best if spread on the forehead. Suck an easy way to obtain such a sophisticated, elegant look.
10. Red Hair with Short Bangs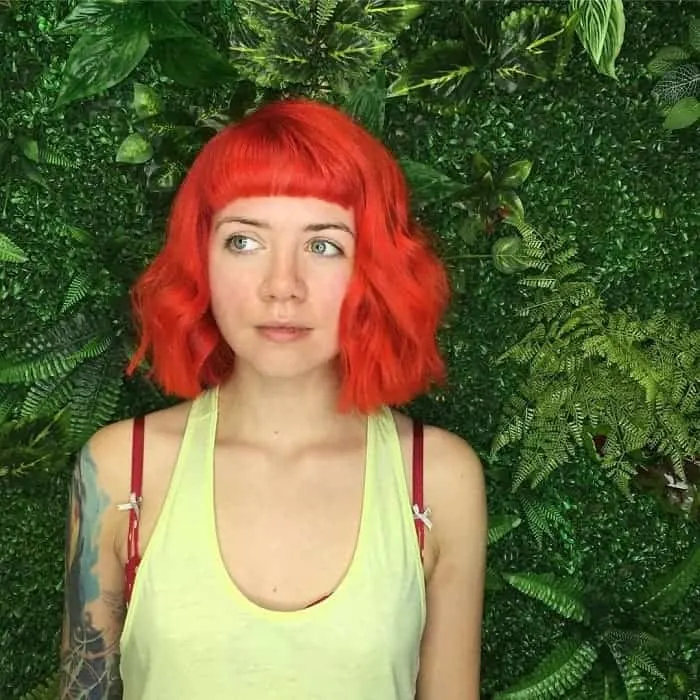 Your hair won't certainly go unnoticed if opting for a bright red color like this one! Style sort rounded bangs and get a wavy, straight bob. You will have a marvelous face frame, and if you have blue or green eyes, be sure they will stand out!
11. Baby Bangs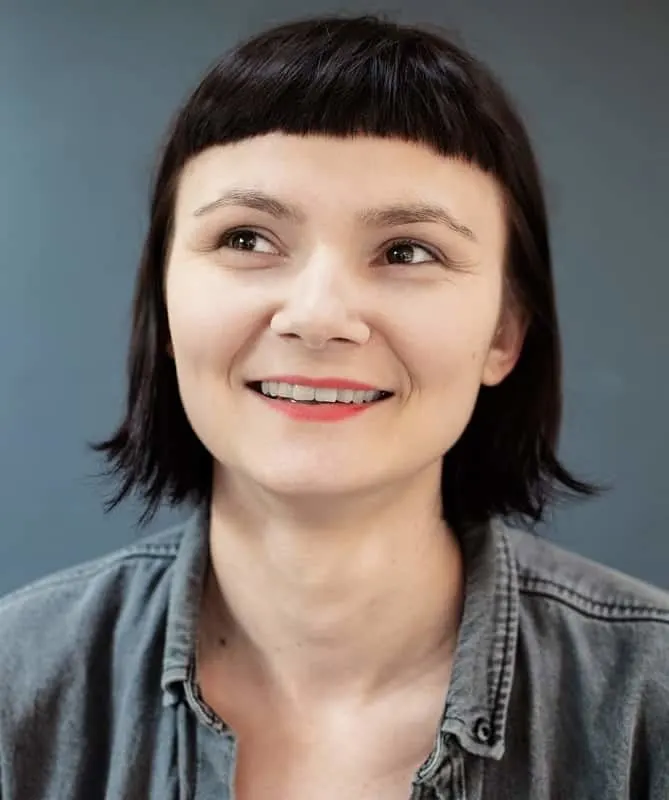 Baby bangs are very short, but they undoubtedly are attention grabbers. Get a black hair color for better face-framing and opt for a stylish short bob haircut! All you have to do now is smile, and you will look mesmerizing and confident!
12. Short Bangs for Chubby Face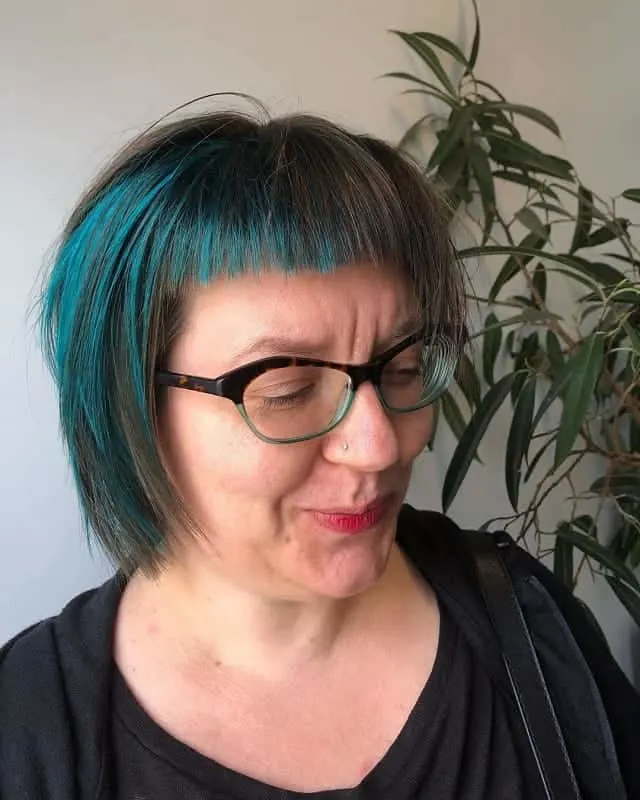 If you are a woman over 50, that doesn't mean that you can't adopt crazy vibrant hairstyles and play with eye-popping hair dye colors! Get a short choppy bob and opt for baby bangs. A teal shade will make a fabulous nuance for the highlights!
13. Short Curtain Bangs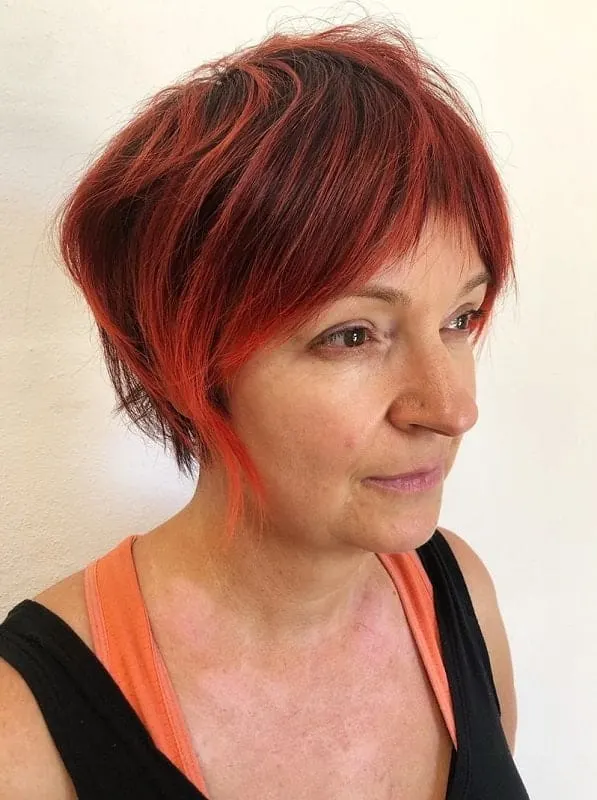 Curtain bangs are ideal for framing and complete pixie bob haircuts! Get an out of the ordinary look by dyeing the crown hair in an orange-red shade. You will look trendy and modern, even if you are a woman over 50.
14. Short Bangs for Round Face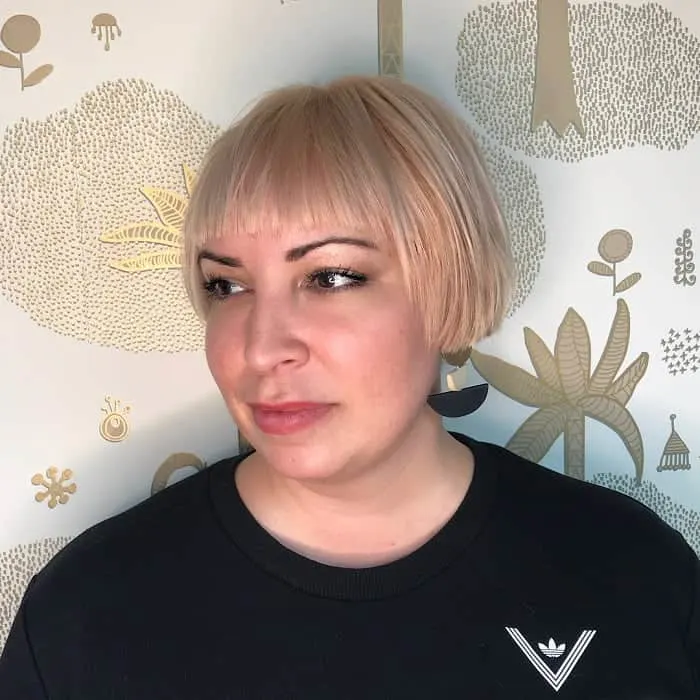 A short bob hairstyle that goes near your ears if the best way to frame your face. Short bangs that cover only half of the forehead are the perfect match for the haircut. If you have long hair, don't be afraid about this radical change, you will look amazing!
15. Short Hair Bangs with Glasses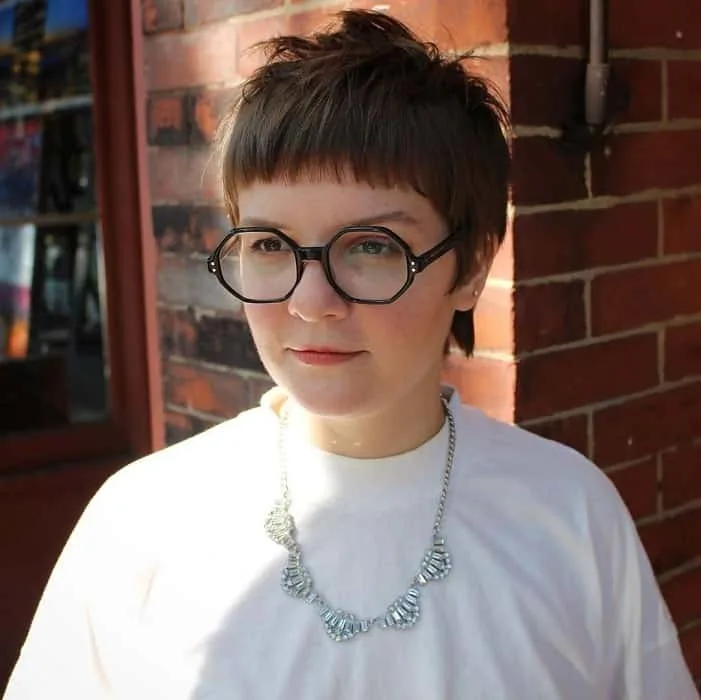 A pixie haircut is ideal whenever you want a fashionable modern look. Those short bangs look fabulous with hexagonal glasses, and they not only make a good pair but will also get you a lot of attention!
16. Weave Hair with Short Bangs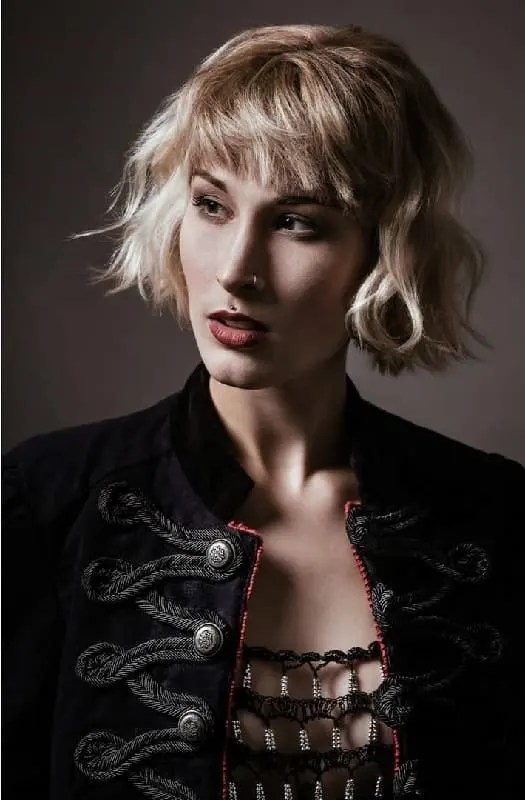 This impressive look reeks of sophistication and class! A sandy blonde ombre with waves can guarantee your hair texture, and the messy bangs will provide excellent framing! Give this hairstyle a try if you want a mind-blowing look!
17. Black Bangs with Short Hair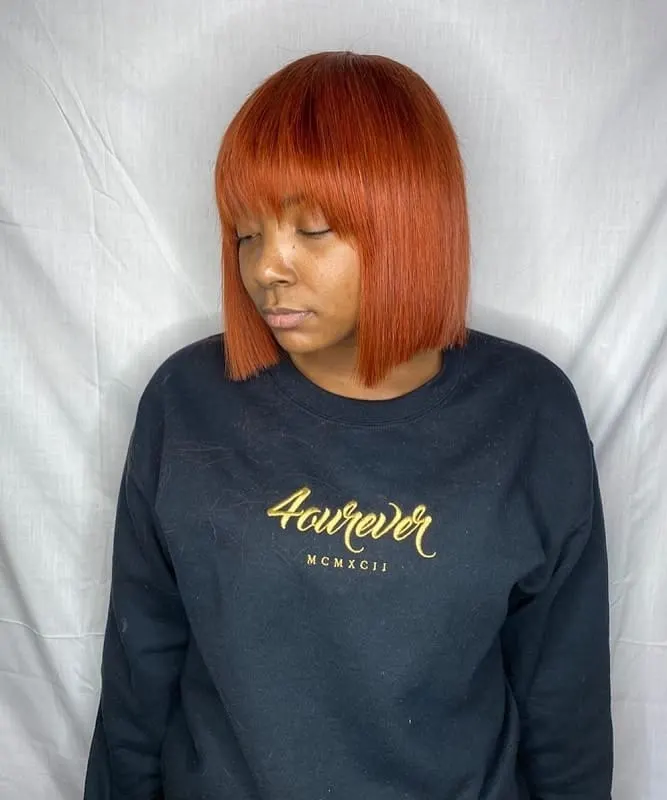 Short straight bob hairdos can look inspiring, especially if your hair has a vivid color like this fabulous red ginger shade. Slightly cover the eyebrows with the choppy bangs and get ready to be in the spotlight because you'll be a ravishing presence!
18. Gray Short Bangs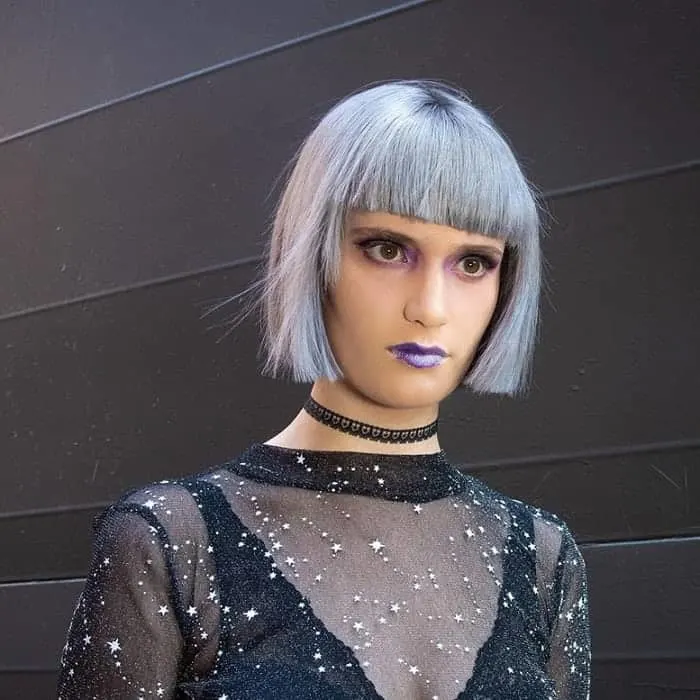 A straight short bob contours your face, but that eye-popping gray color with blue tints is the main key that makes this look so impressive. Choose short bangs and pick a metallic purple lipstick to build an irreproachable look.
19. Short Feathered Bangs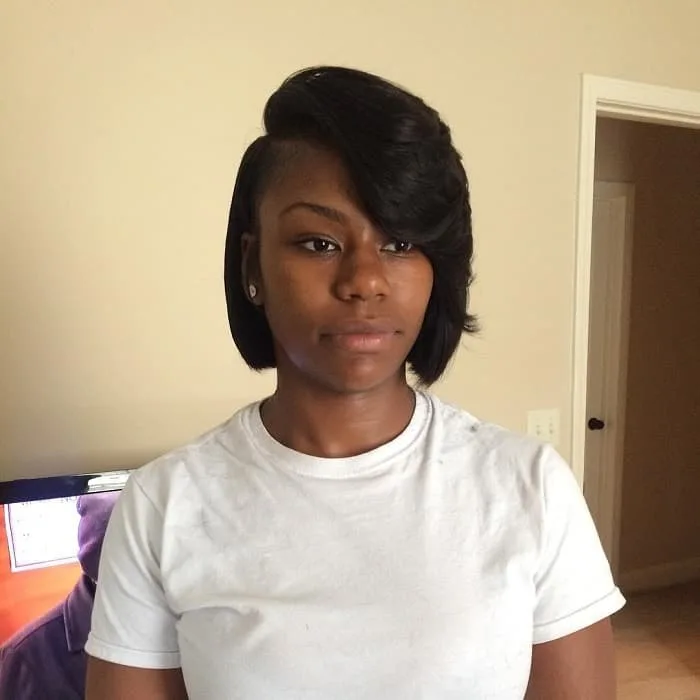 Feathered bangs give the hairstyle a lot of dimension to the crown part. Cut the rest of the hair in a short bob and make it look flawless by using a straightening iron. You will become more confident and elegant and will adore your new image!
20. Short Bangs for Over 50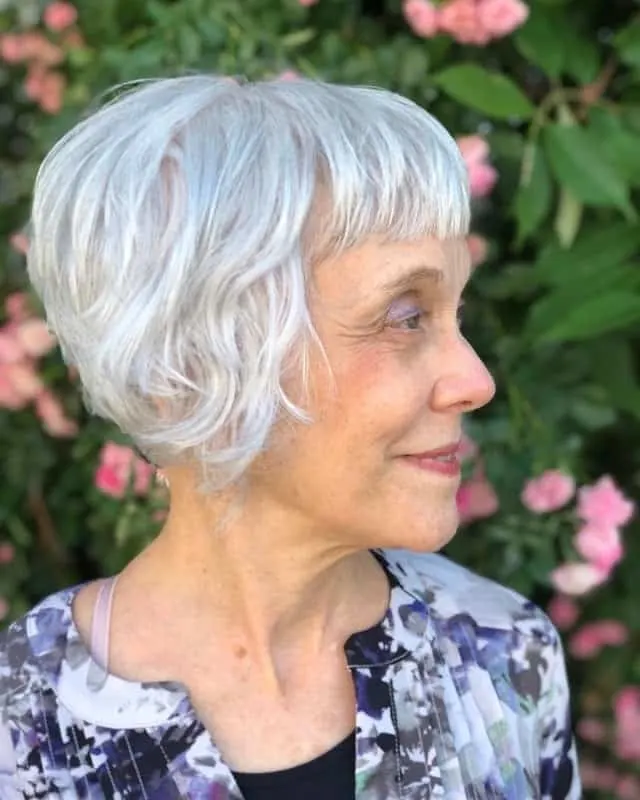 A stacked bob gives even fine hair volume and texture. Opt for short fringe and if you have white hair, use a tint of blue to spice up your hair color! This is the perfect recipe to make any young girls jealous of your hairdo!
21. Short Straight Bangs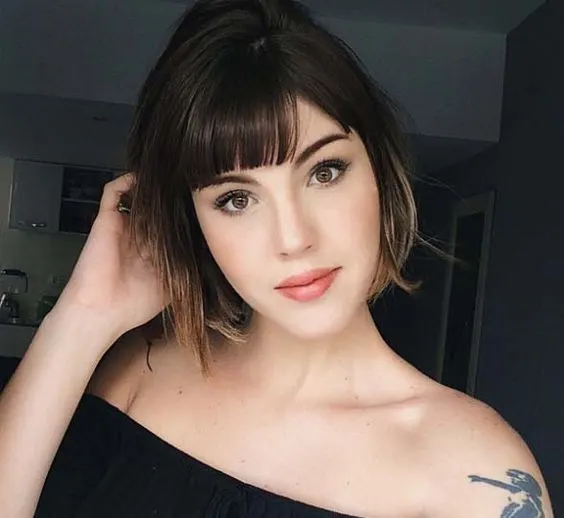 The classic bang hairstyle will continue to rule the style catalog of the short bang collection in 2023. Take note of the even, clean cut. In this short bangs hairstyle, the hair falls just above the eyebrow so that they do not hide the eyes but fall low enough to conceal the forehead.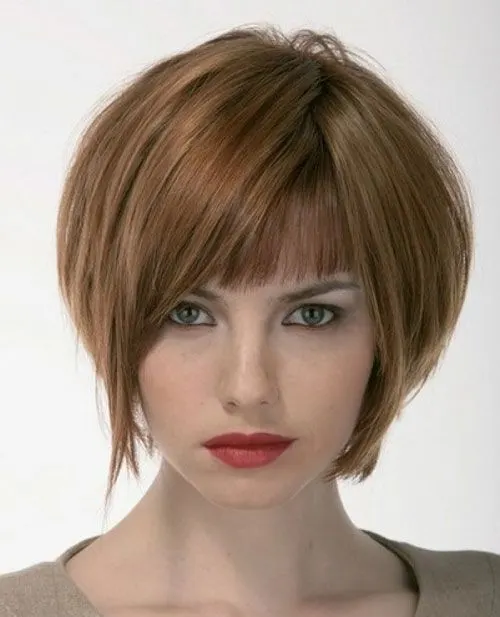 Bobs with bangs will continue in popularity. This hairstyle creates a multi-dimensional, clean look. Bangs with a Bob can be messy or they will be clean. Who says you have to follow protocol? Your bangs can even be asymmetrical.
23. Cool Girl Haircut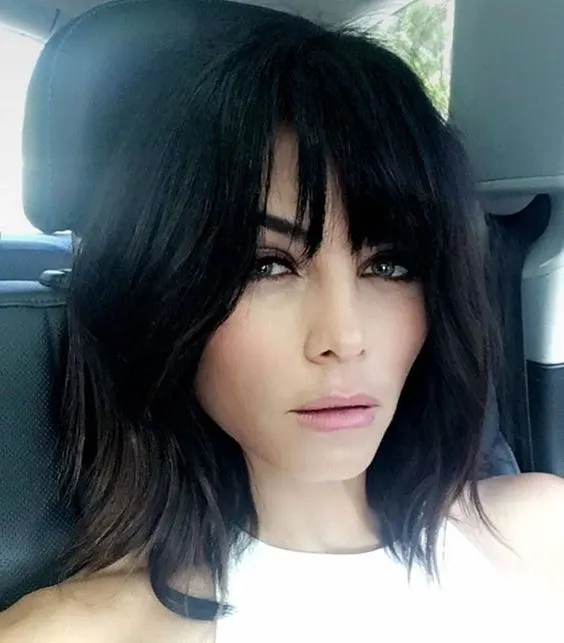 The cool girl haircut is making big waves all over social media and for 2023, it will be the cool style that features bangs as the star of the show.
24. Updo with Short Bangs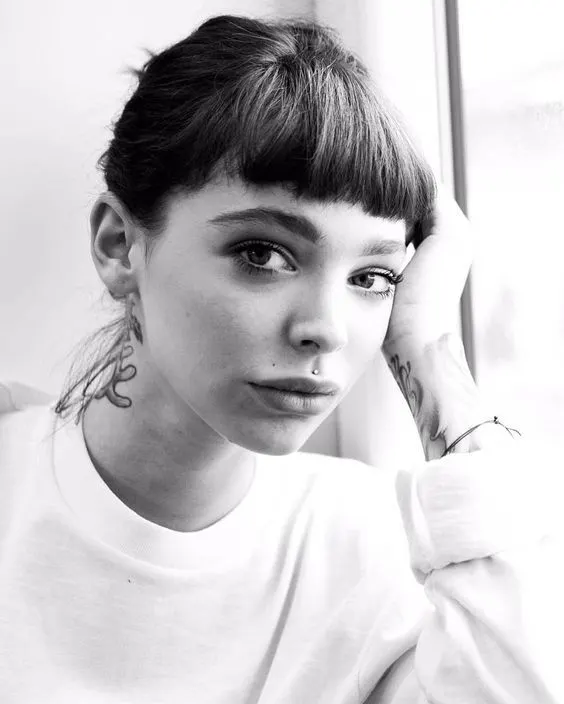 Updos with short bangs are a retro style that will remain trendy for 2023. This style is great for a casual errand or a night out with friends.
25. Page Cut with Bangs
Along the same vein of retro styles, this page cut with bangs is yet another style that will transcend into 2017. A simple go-to for those who want to keep a medium length with short bangs will find this style checks all the boxes.
26. Pixie Cut with Bangs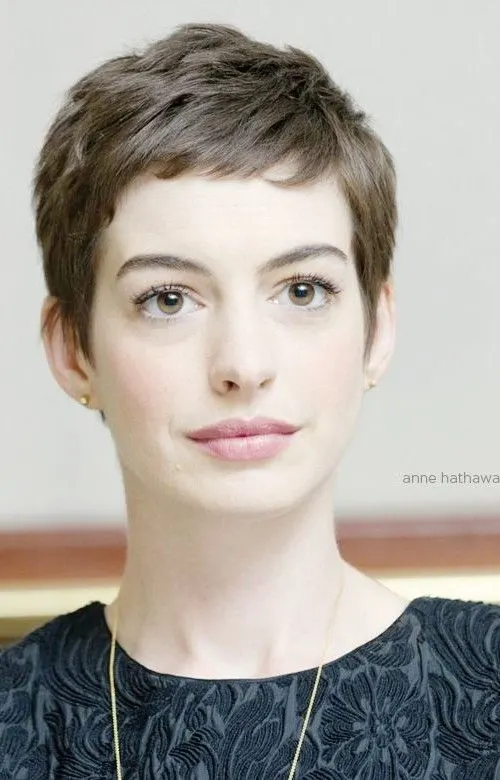 The pixie cut never gets old and for the gal who loves short bangs and short hair, this cut is perfect for her!
27. Messy Short Cut with Messy Bangs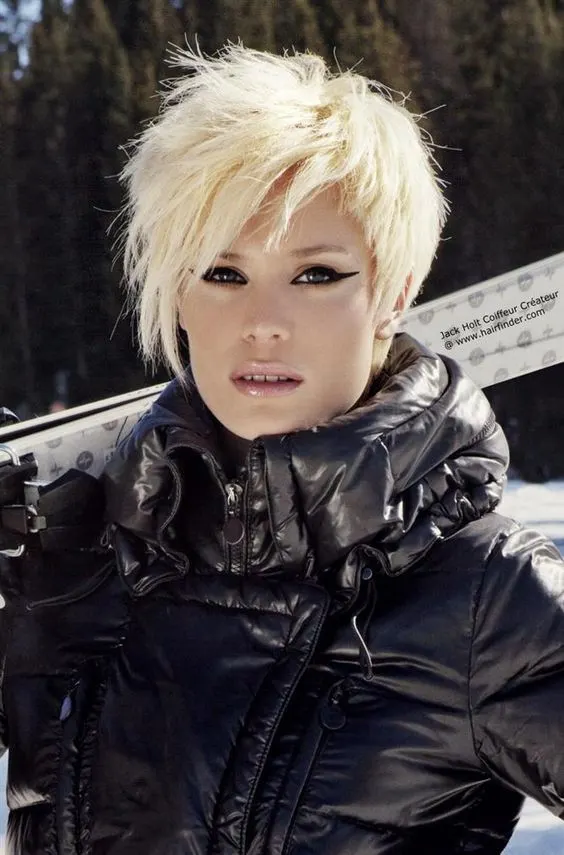 Bangs come in a variety of forms from classy to edgy and with a sassy, short cut like this one, bangs do not and should not follow the rules. Bangs can be raised and even tousled off to the side as seen here.
Dashing Feathered Bangs You'll Love to Try
28. Ombre and Balayage Hair with Short Bangs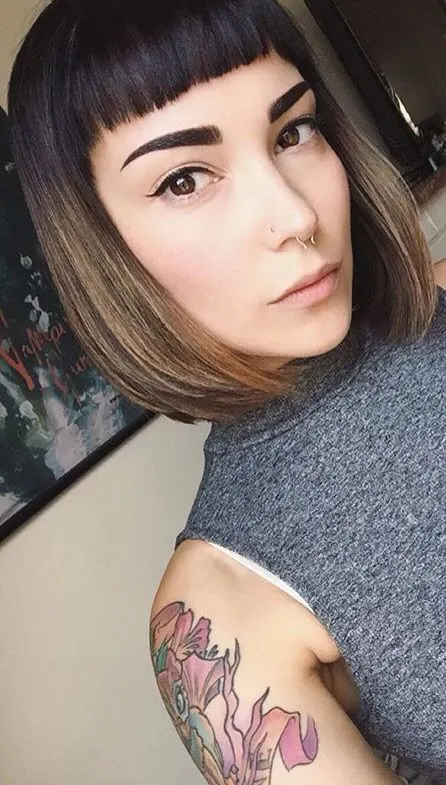 Ombre and balayage hair continues to reign supreme in 2023. This short bang style serves as a compliment to an already strong style. These bangs and ombre color are styles of inspiration.
29. Asymmetrical Short Bang Style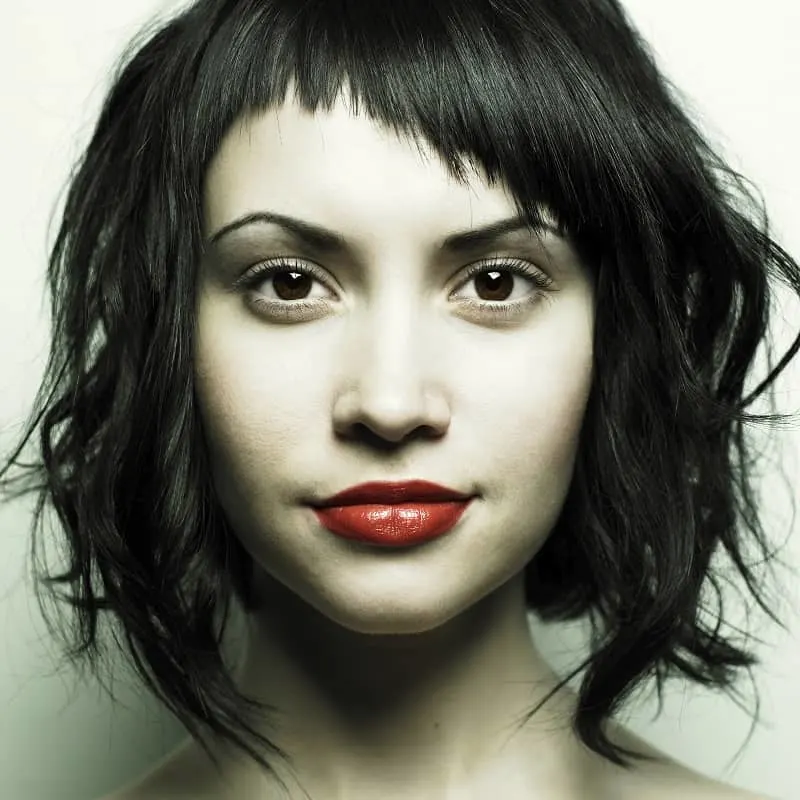 This asymmetrical short bang hairstyle has proven that even a short bang has versatility in the world of hairstyles. Hair is long but otherwise, falls into straight layers.
30. Short bangs, Voluminous Bob Hairstyle
Short bangs and Bobs are a wonderful pairing but give your Bob a bit of style and these bangs give this style new meaning. There's a sense of vulnerability with this look yet a wealth of opportunity to also make the style look fun!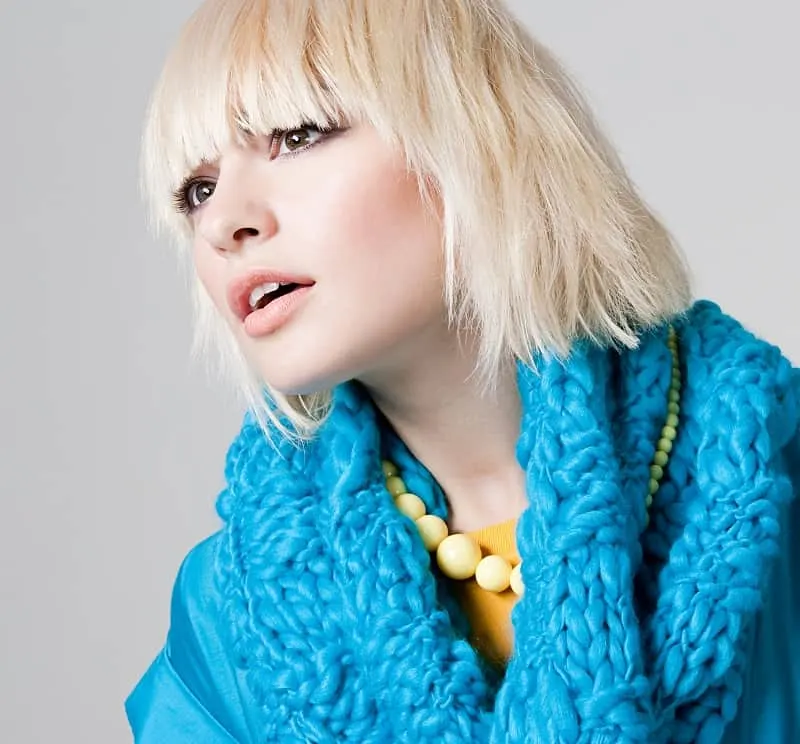 Shag layers and short bangs are great hairstyles for hair with length. It's a confident yet, free-spirited style for those with a carefree soul!
32. Short undercut with Bangs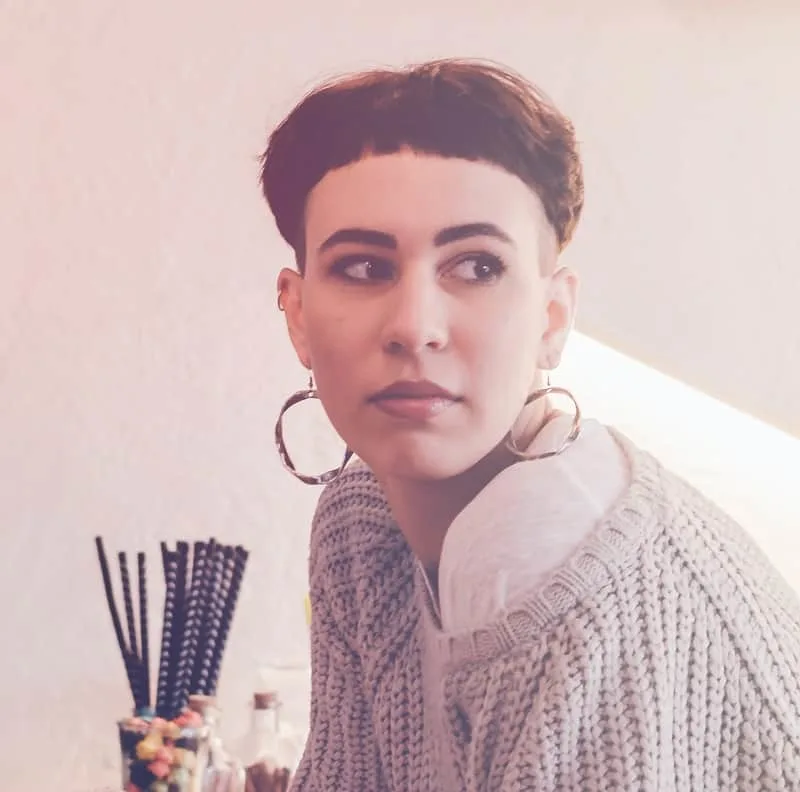 The women's short undercut with bangs is a modern hairstyle for the alternative soul who does not wish to conform to anyone's standards or expectations.
In-trend Short Hairstyles with Bangs
Short hair with Bangs was very popular in the 1960s, but there are plenty of styles that are very modern. Whether or not your hairstyle is retro will depend a lot on the other styling choices that you make.
For example, a heavy pageboy or Page girl cut with bangs will evoke a real retro feel. You can enhance the retro look by choosing to wear retro clothing. On the other hand, choppy and tousled styles look and feel really modern.
33. Short Half up Ponytail with Bangs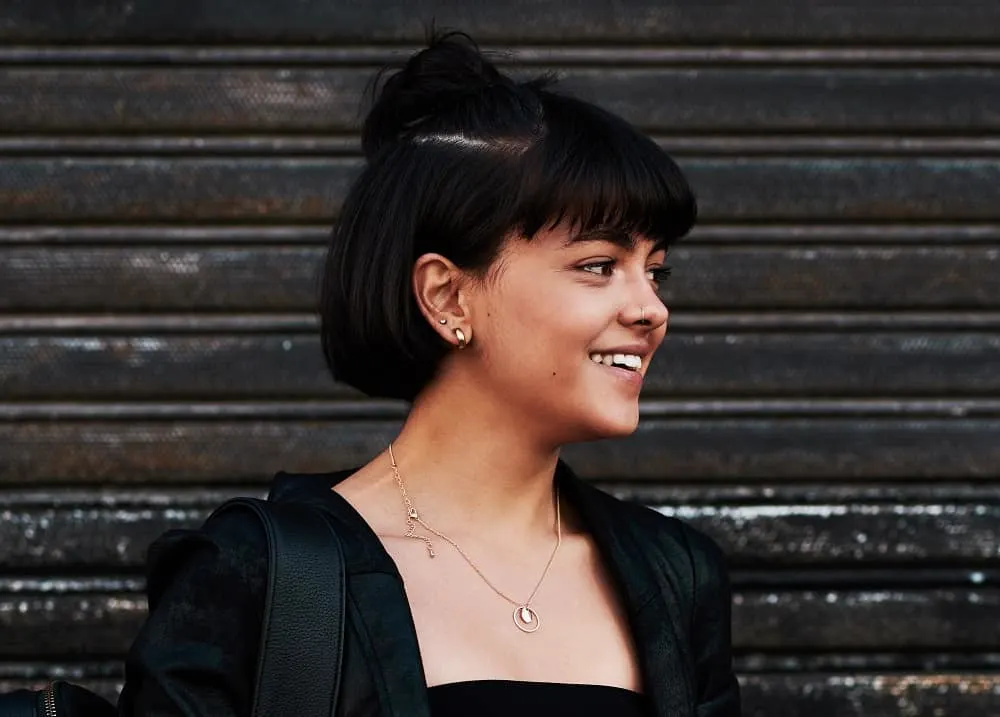 When you have a short bangs hairstyle with a bob cut, consider parting the top section and creating a ponytail. It will look stunning with your thick black bangs. Keep them just above your eyebrows to gain that stunning face frame.
34. Messy Thick Bangs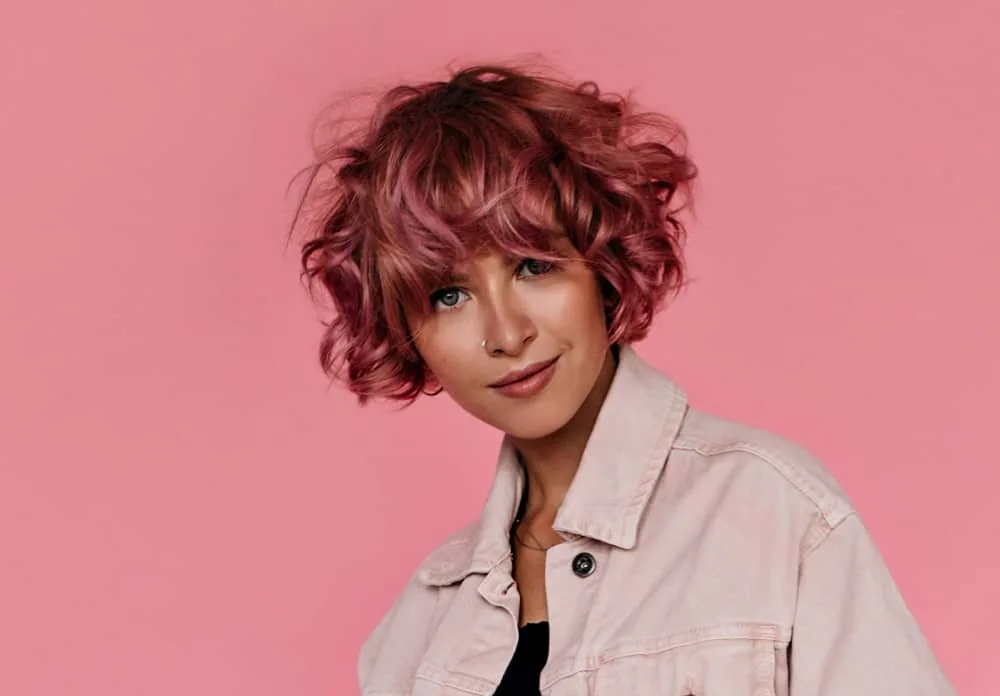 Messy thick bangs that are longer in the corners of your forehead are perfect for a curly bob hairstyle. Go for warm red-pink color and tousle your hair. Use a leave-in conditioner and a special shampoo for colored hair to get that shine and glow.
35. Short Mullet with Bangs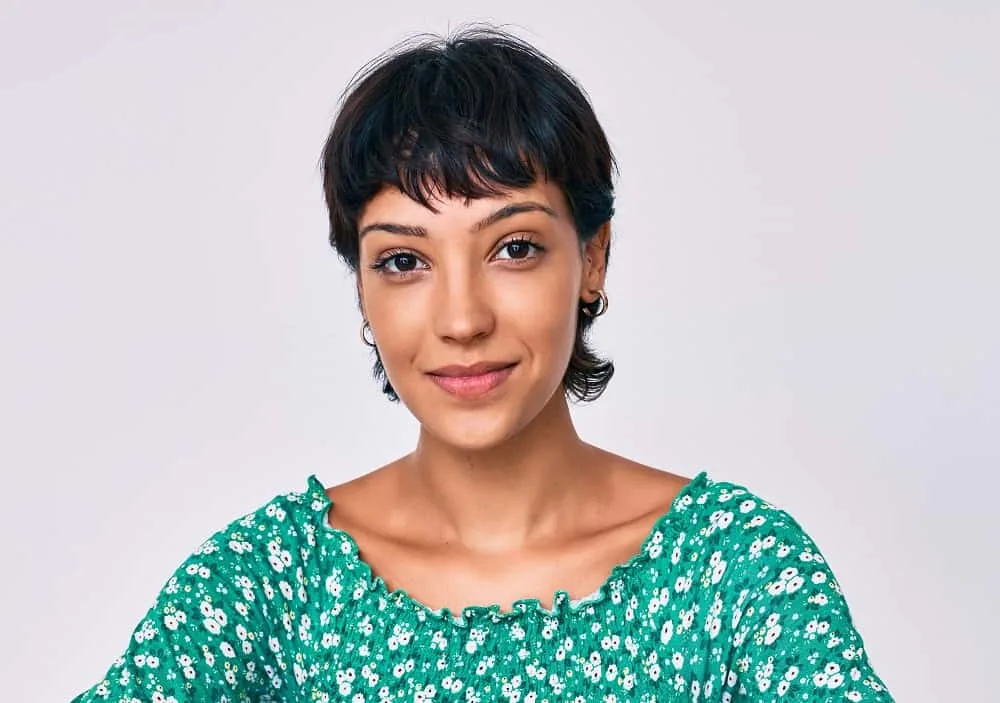 Even if they are old-school hairstyles, mullets seem to be back in trend. This hairstyle with short bangs has the top and the nape hair slightly longer than the sides. A short fringe that is one finger above the eyebrows and messily spread on the forehead will reveal your face and show a fresh touch.
36. Short Middle Part Bangs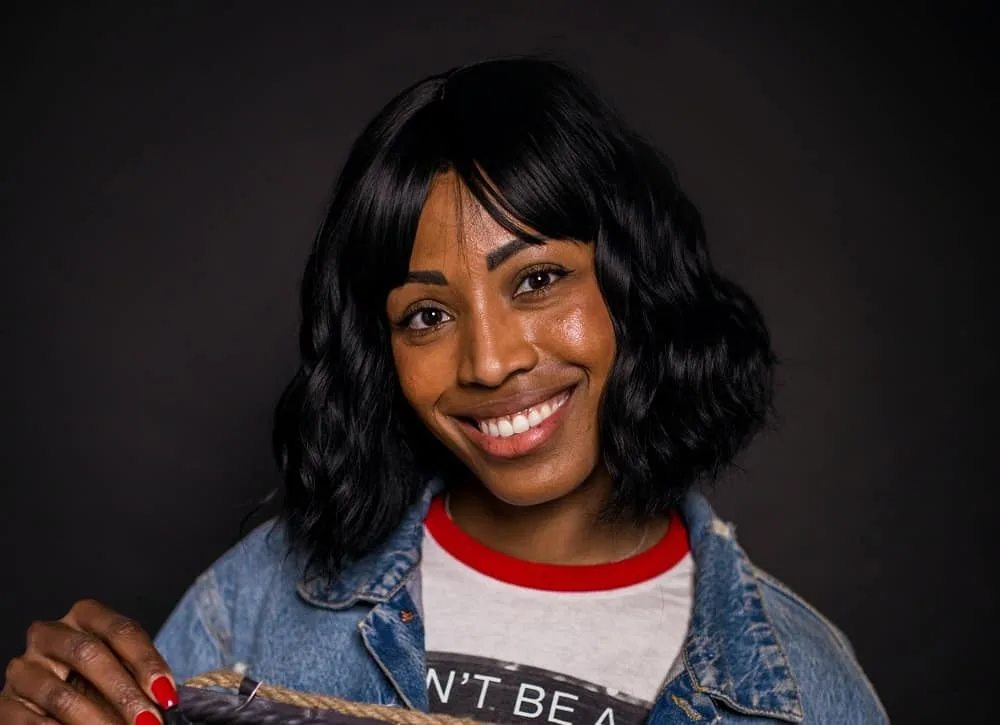 A wavy bob hairstyle that has thickness and a blunt cut will give your hairstyle more volume and dimension. Opt for a curtain fringe that you will straighten with a flat iron.
37. Blonde Bangs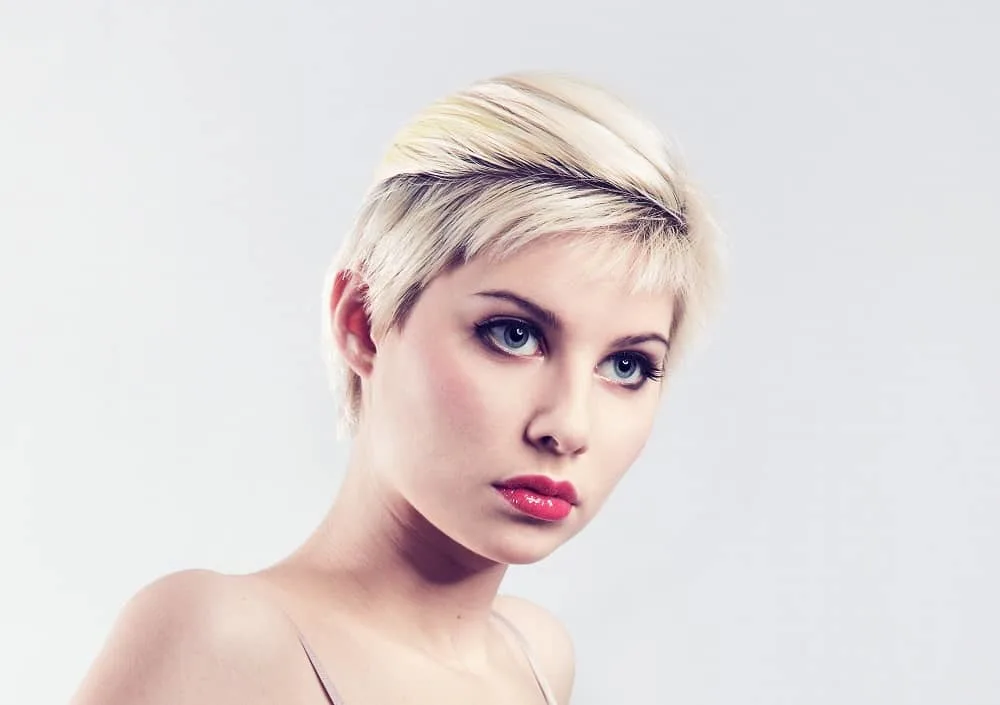 Using a comb, style a diagonal part. Comb over the upper section to build some height and volume. As for the remaining hair of your pixie cut, flatten the strand with a straightening iron. You will get a low-maintenance short bangs hairstyle that flatters you!
38. Short Vintage Bangs Style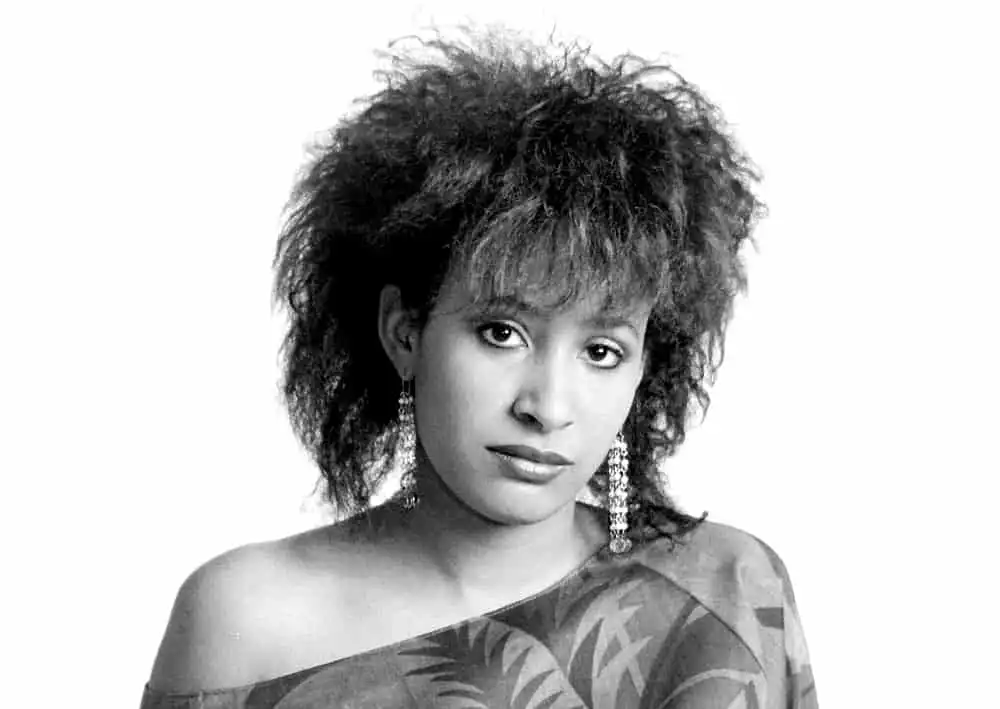 Vintage hairstyles with bangs were very popular in the 60s. Black women took advantage of their hair texture to build volume and at the same time, they created a hairdo that is quite low maintenance. The mane and fringe were layered, tousled, and messily styled.
39. Short Braided Hair with Bangs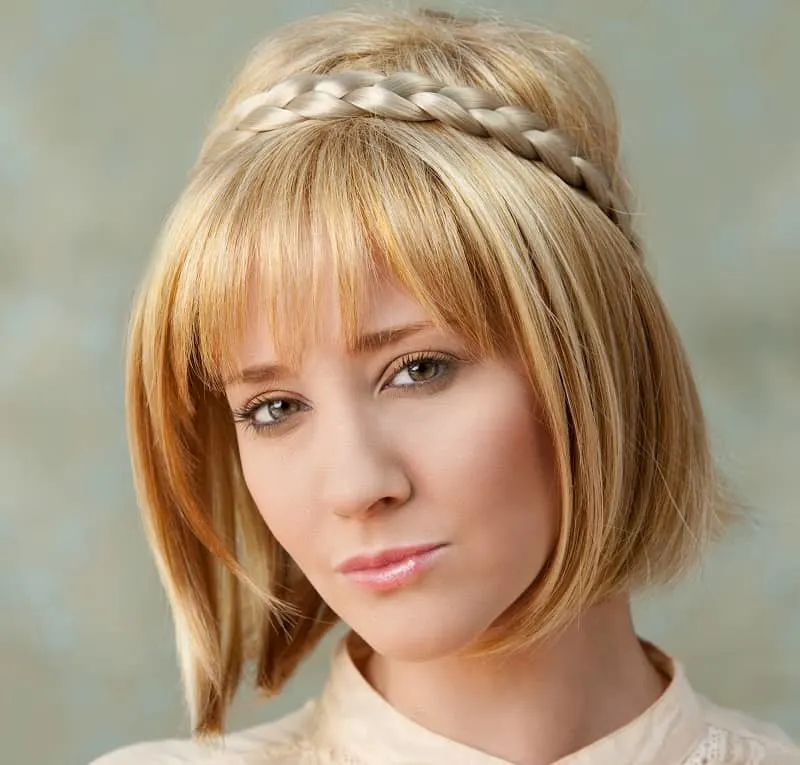 Wispy bangs are layered and longer in the corners of the forehead. They beautifully blend with the medium bob hairstyle that reaches the jawline. Opt for a warm blonde color and style even lighter highlights. Place a braided headband on top of your head.
Top Best Bangs Haircuts for Women
40. Chin Length Bob with Blunt Bangs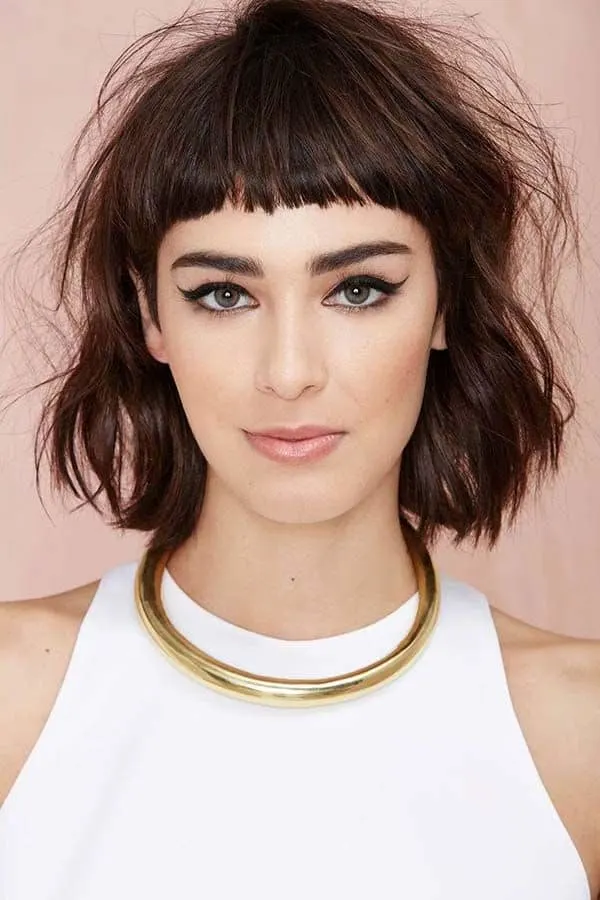 Short wavy bob hairstyles with bangs and layers will give you that fancy modern look that every woman wants. Go for short bangs that are two inches above your eyebrows, especially if you want a fresh appearance. If you're going to hide your age this hairstyle will make you look years younger.
41. Ombre Hair with Blunt Bangs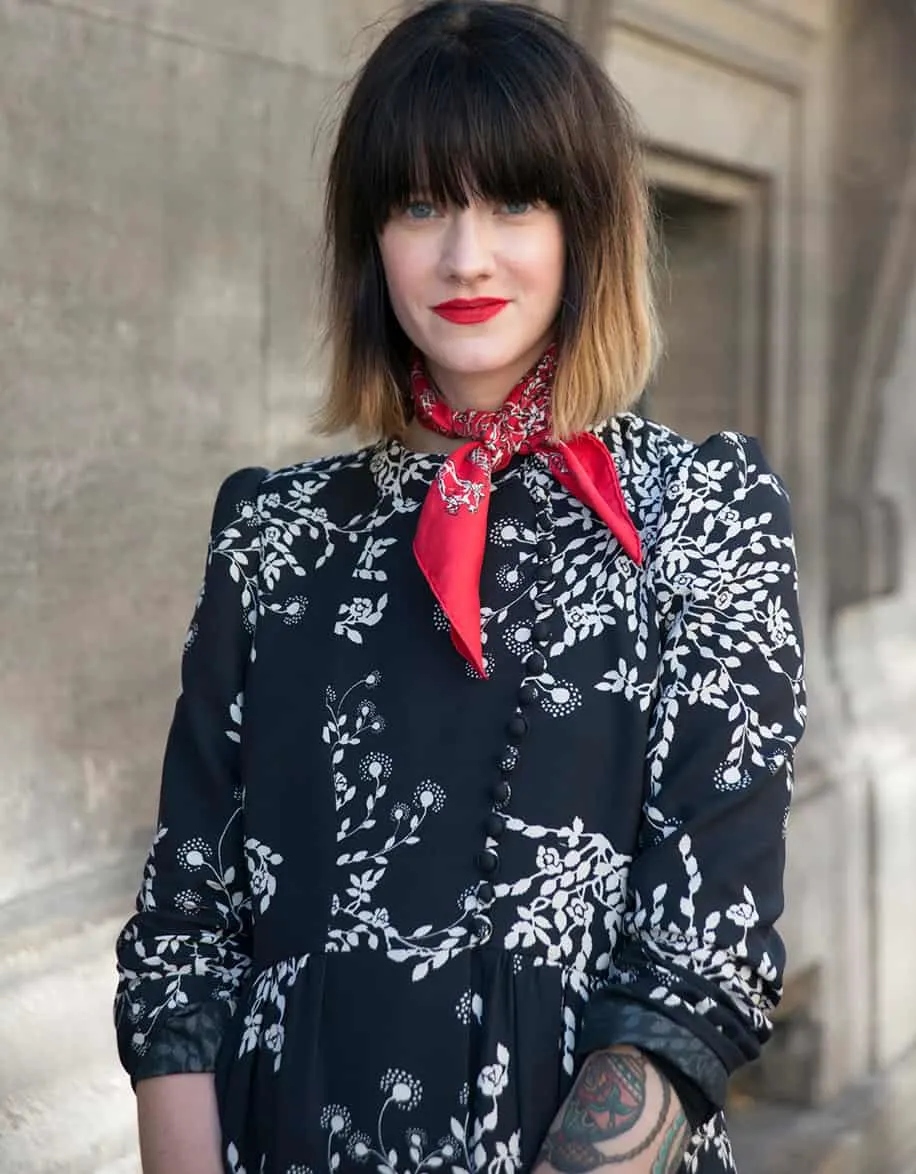 Hairstyles with straight bangs are ideal for a woman who have a large forehead. Style a blonde ombre and keep the hair just above your shoulders. The hairdo will highlight your jawline and mask the upper section.
42. Choppy Blonde Ombré Haircut
Choppy bob hairstyles are so fashionable and look sensational on women who like to keep up with the trends. Give your bangs a blunt cut in the middle of the forehead if you want to raise your styling score.
43. Long Scruffy Pixie Cut

This short hairstyle with bangs is a go-to look for women who don't like ordinary and dull looks. Choose a platinum blonde color, trim your fringe short, straighten your locks with the flat iron and mess up your hair. Use a strong hairspray to maintain your hairdo for the whole day.
44. Blonde Hair with Bangs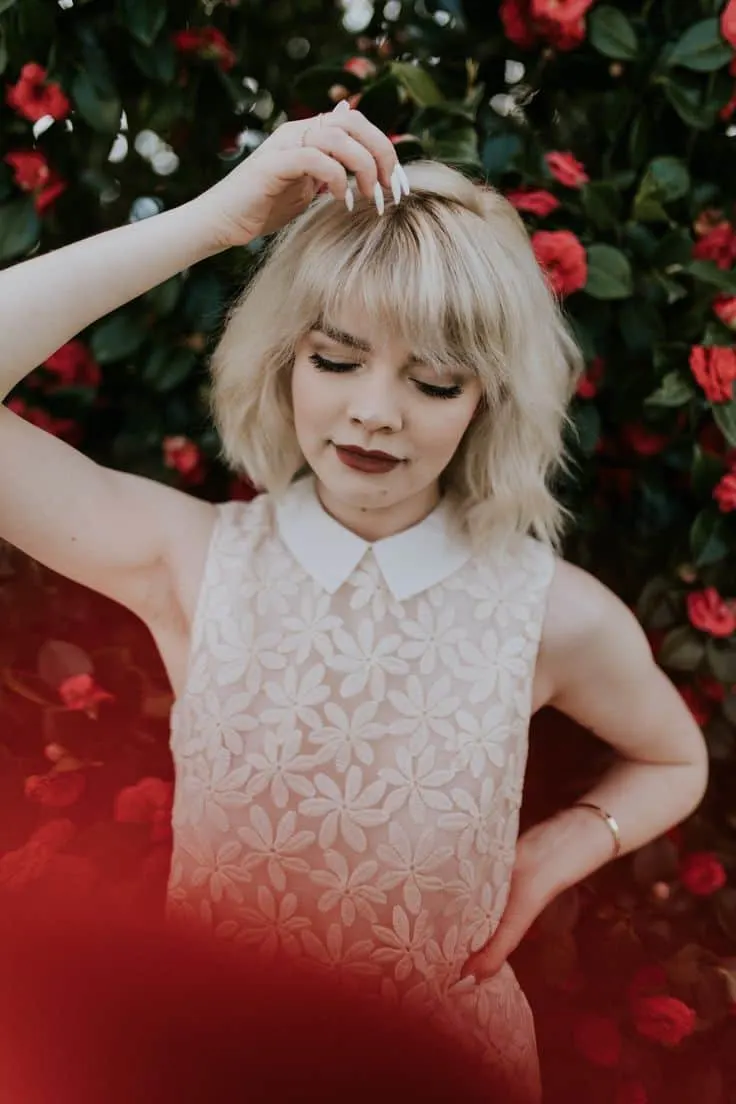 Platinum blonde hair colors are universally appealing for women with fair skin. If you choose a dark red lipstick and a thick black eyeliner, you will highlight your facial features. Also, to reveal them even more, go for a short fringe.
45. Wavy Hair with Side Bangs
Short bangs hairstyles have such a romantic touch and style. They are the ideal choice for women who love delicate, fragile looks, with subtle notes of elegance and simplicity.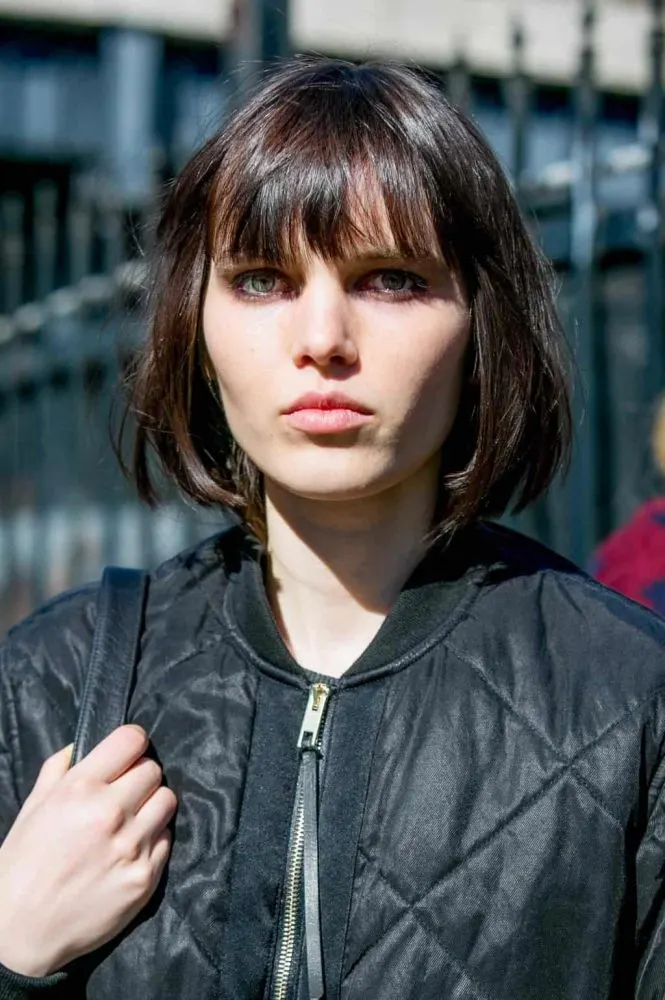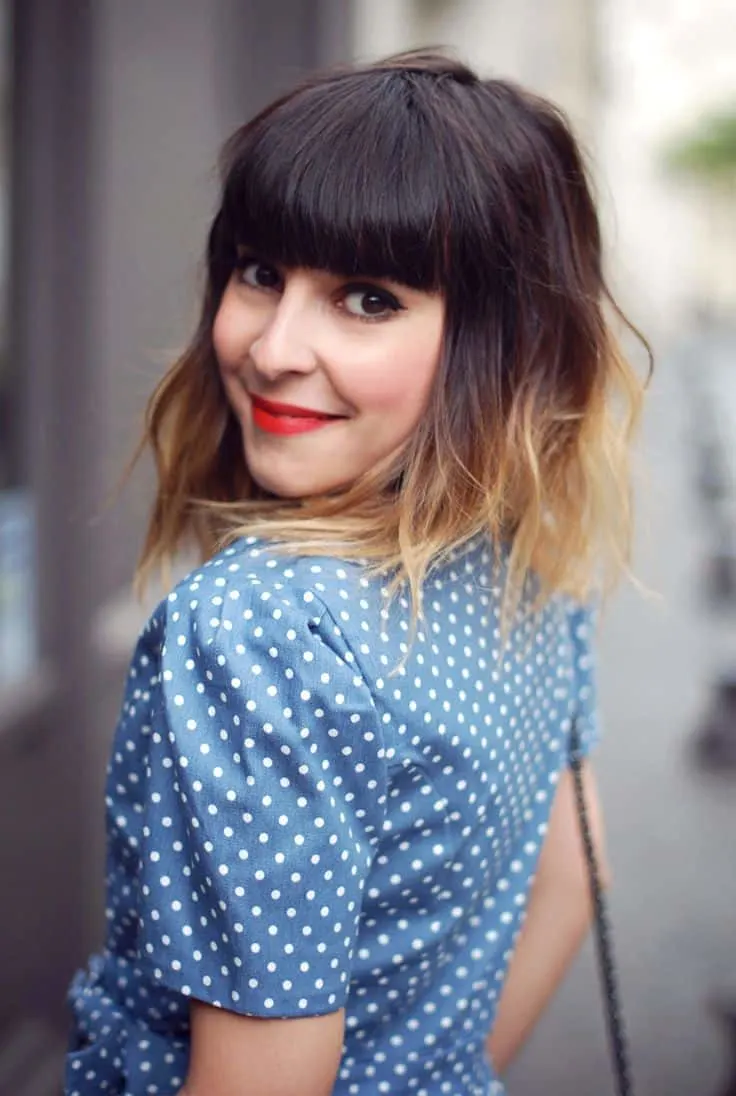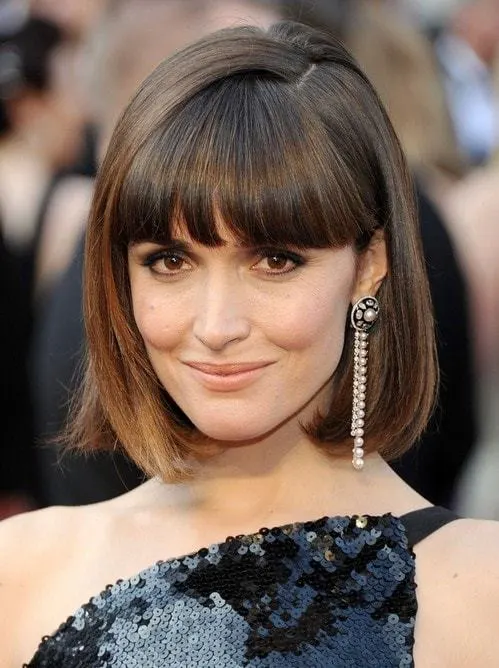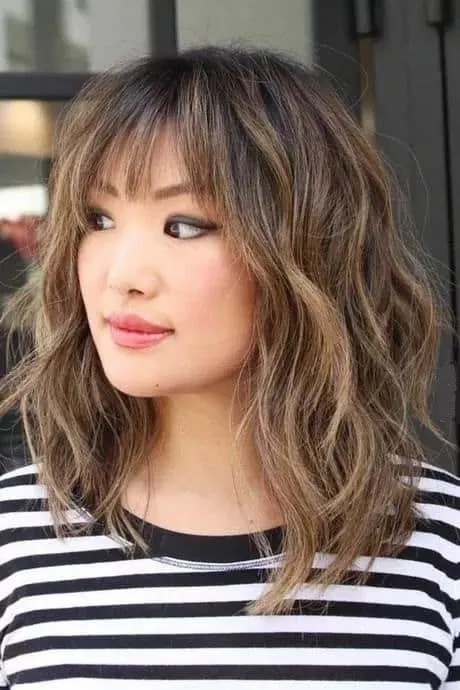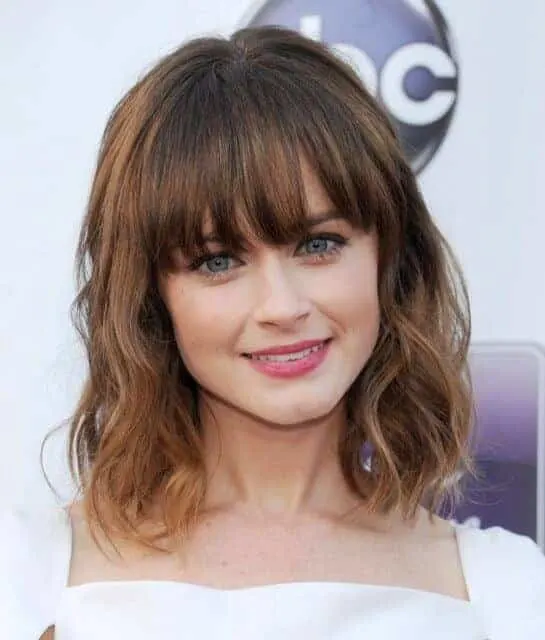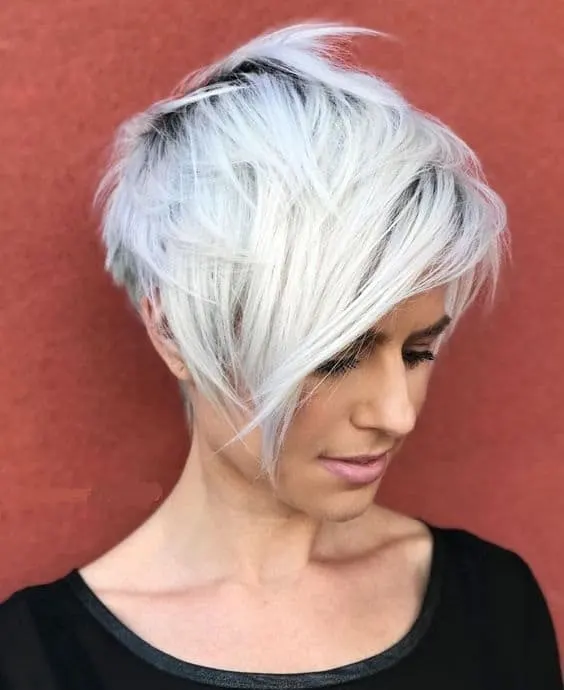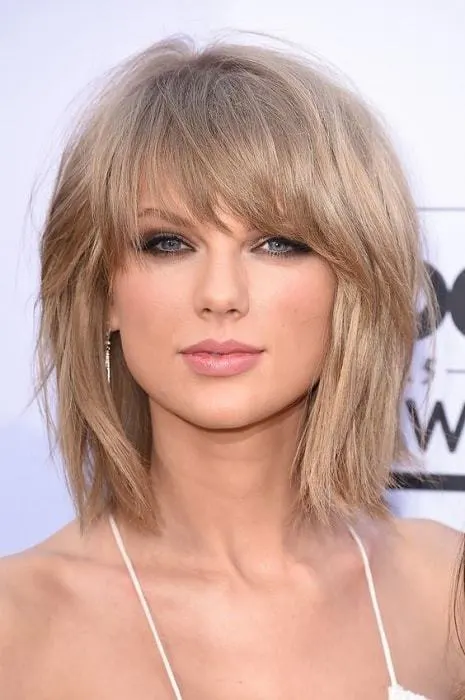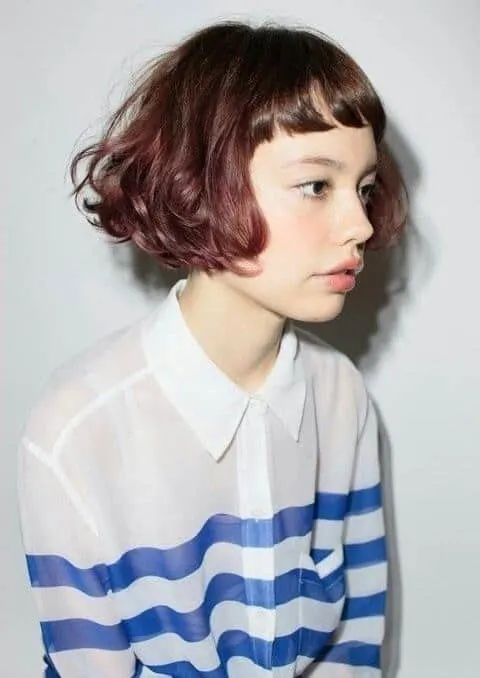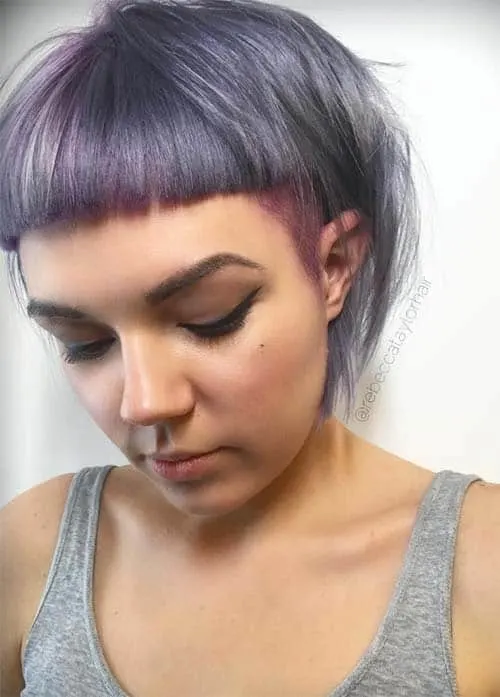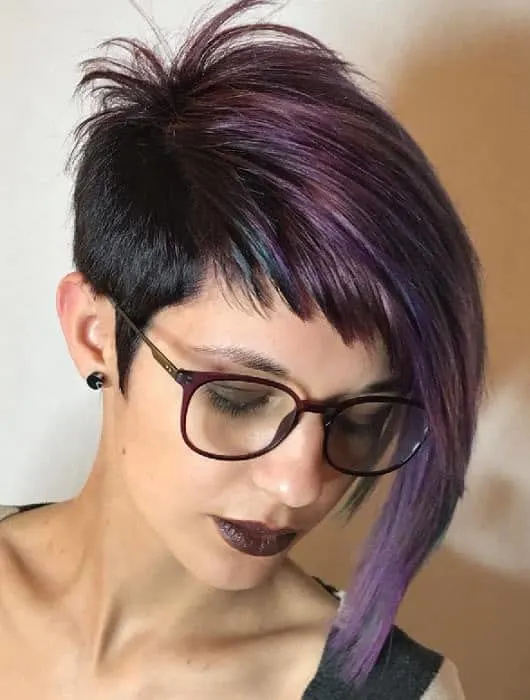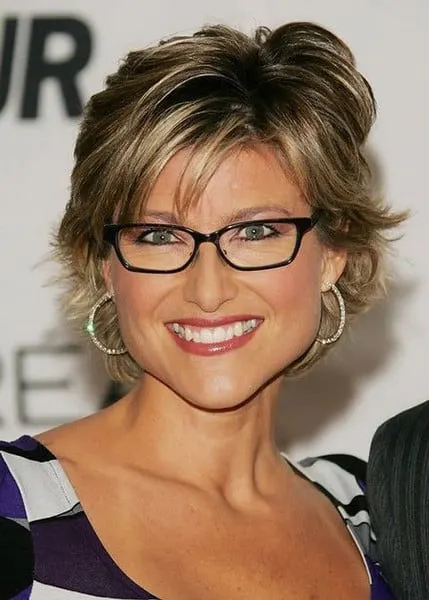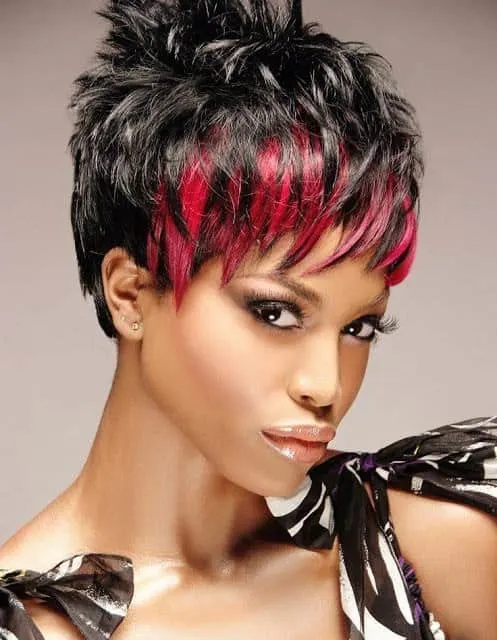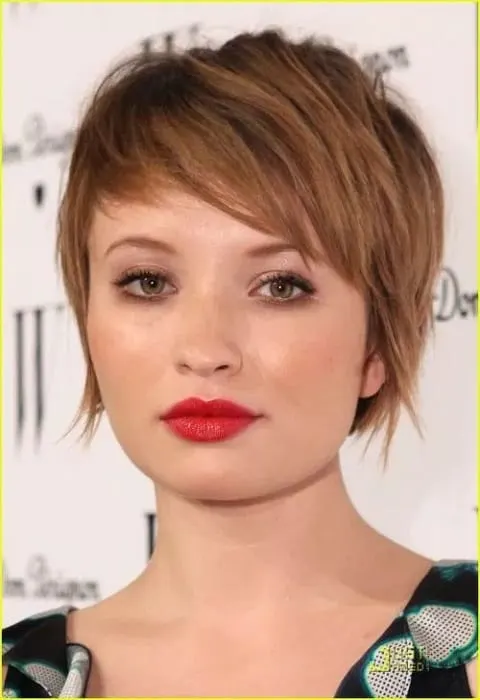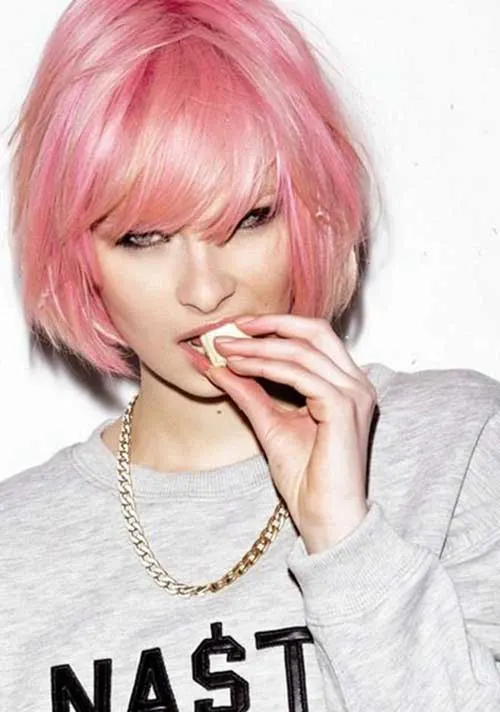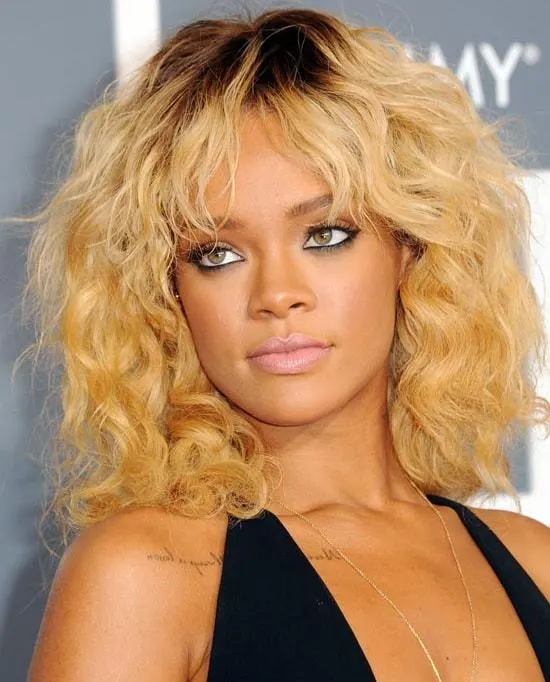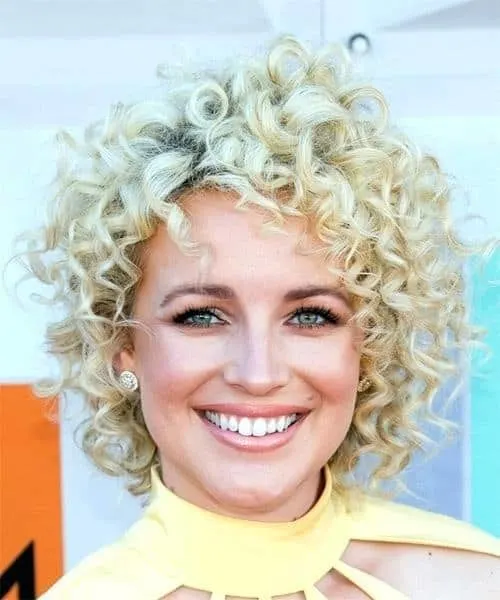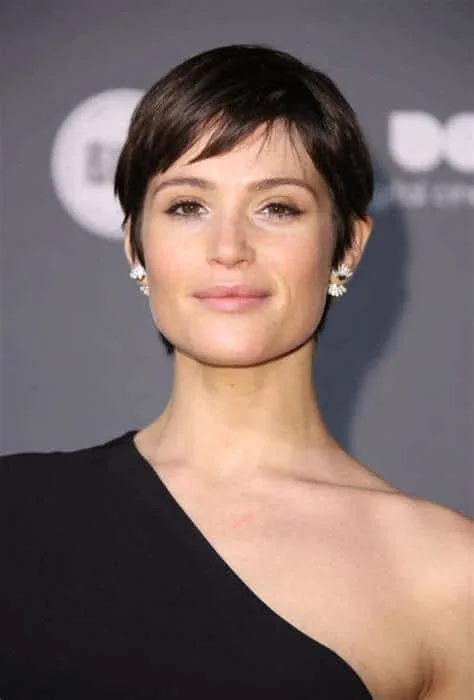 Short bangs can really help to transform a simple look into a classy refreshing new look. Short hair will sometimes need a drastic feature to help to make a big impression. Heavy bangs give the hair a really strong main feature and can help to draw attention to the face.