Everyone knows that the oval face is considered close to perfect. Girls with such face shape can try out any hairstyle they wish. However, that doesn't mean that they should forget about looking stylish. Yes, it is true – no hairstyle can make their face look terrible. But at the same time, there are some oval shaped face hairstyles that will make women look truly fantastic.
You can choose anything from the shortest pixie to the longest and curliest weave, but don't forget to keep it neat and well-styled. Make sure to consider your hair type and the amount of time you are ready to spend in front of a mirror in the morning. Once the parameters are set, you are ready to make your choice.
Which Hairstyle Will Suit An Oval Face?
Choosing a hairstyle for an oval face is very easy. You don't even have to worry about the style. You are free to focus on the hair type and shape of your forehead. The only thing you have to try to do is not to hide your ideal face shape!
Avoid long and very thick bangs and other face-covering hairstyles. Your perfect choice is an open face haircut that allows you to take advantage of your ideal face shape.
Suitable Hairstyles for Women with Oval Shaped Face
You have an oval face and want to look as perfect as possible? All the roads are open to you. Depending on your hair type and length, you can choose any oval-shaped face hairstyle out there.
Don't limit yourself to just one. You can try out as many as you wish. Experiment with length, color, and other options. You can try the low maintenance cuts or go for something more creative. Give yourself a chance to look fantastic every day.
Hairstyles for oval faces vary but the best ones are those that outline the shape. If you love short hair, consider these short hairstyles for oval face to make it shine. We have prepared a list of popular haircuts for women with oval faces. Whenever you are confused about which style to try next, the below oval face hairstyles list can give you a hand.
1. Blonde Curls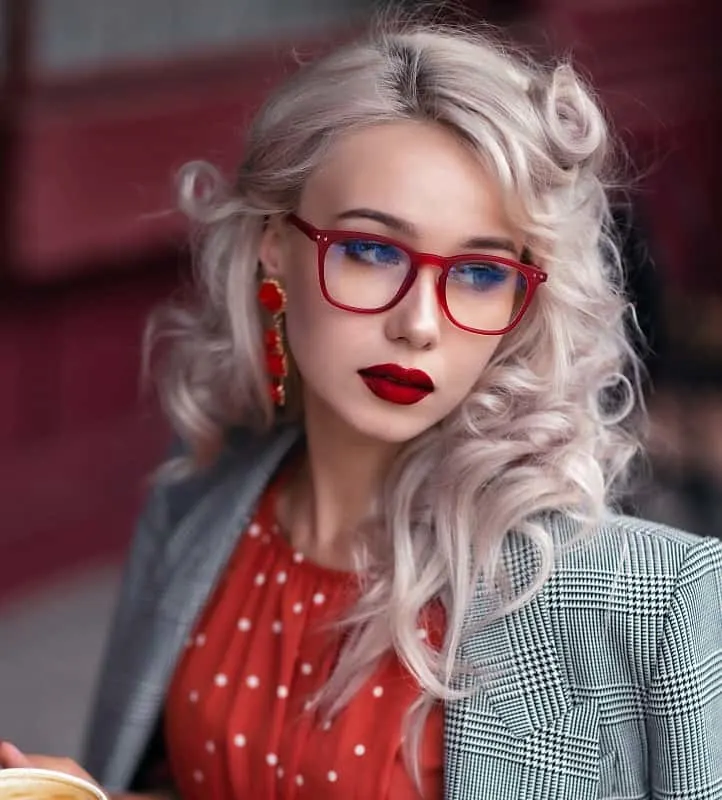 One of the best medium hairstyles a girl with an oval face can go for is platinum curls. Keep them shoulder-length and pin back front pieces in small spirals.
2. Kinky Curly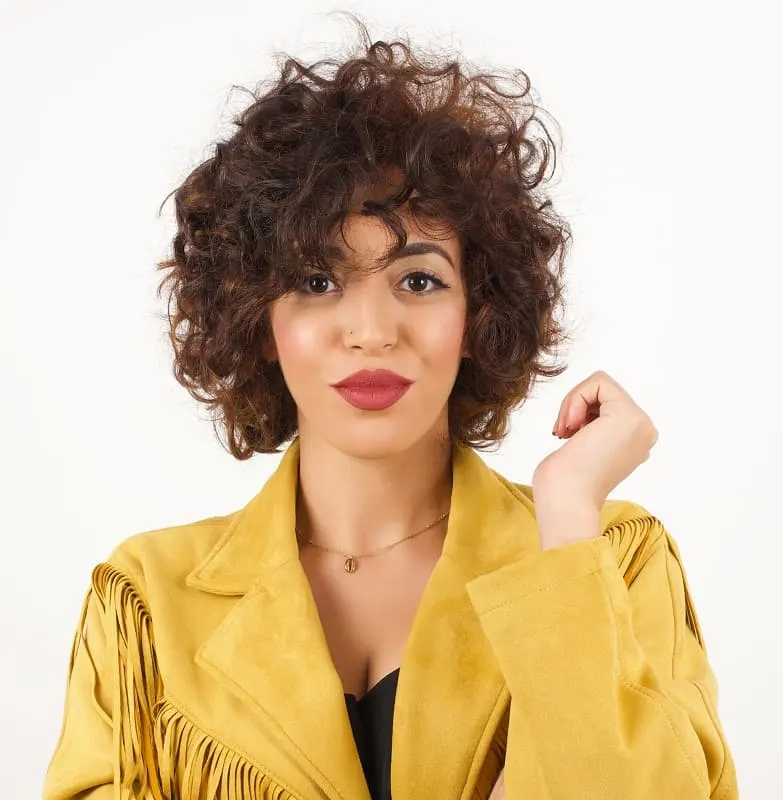 Just above the neck is a hairstyle full of kinky curls. The key to this oval faced hairstyle is rocking it with shaggy bangs and emphasizing texture with product.
3. Straight Ponytail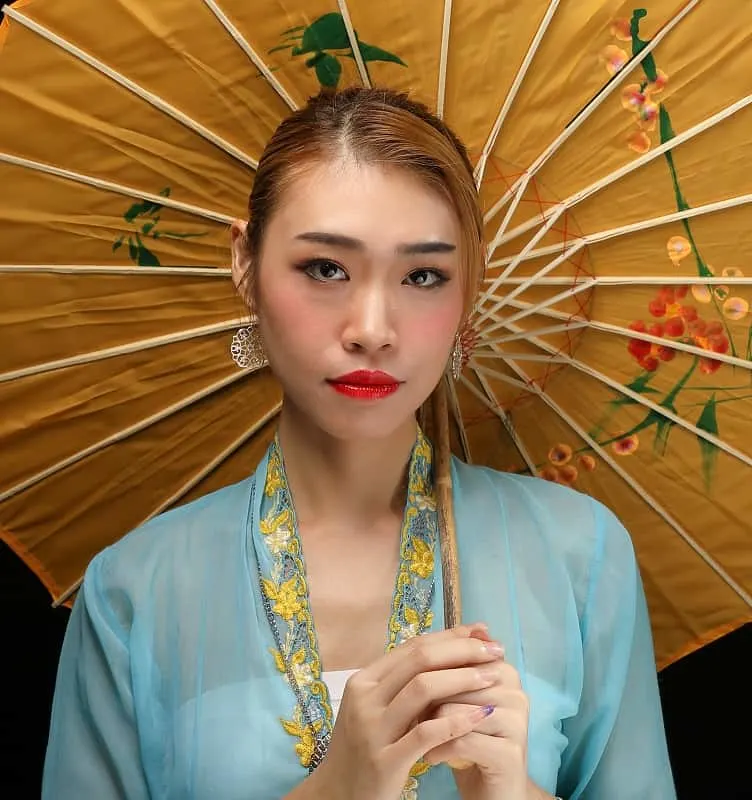 Many Asian women have oval faces and straight hair. They'll love how low maintenance a low ponytail with a side part and side bang is. Auburn highlights bring warmth to the face.
4. Long Waves
Women over 50 often think they need to go short with their hair as they age. But long loose wavy hair is a great style, especially for women with oval faces – just part it in the middle.
5. Twist Braids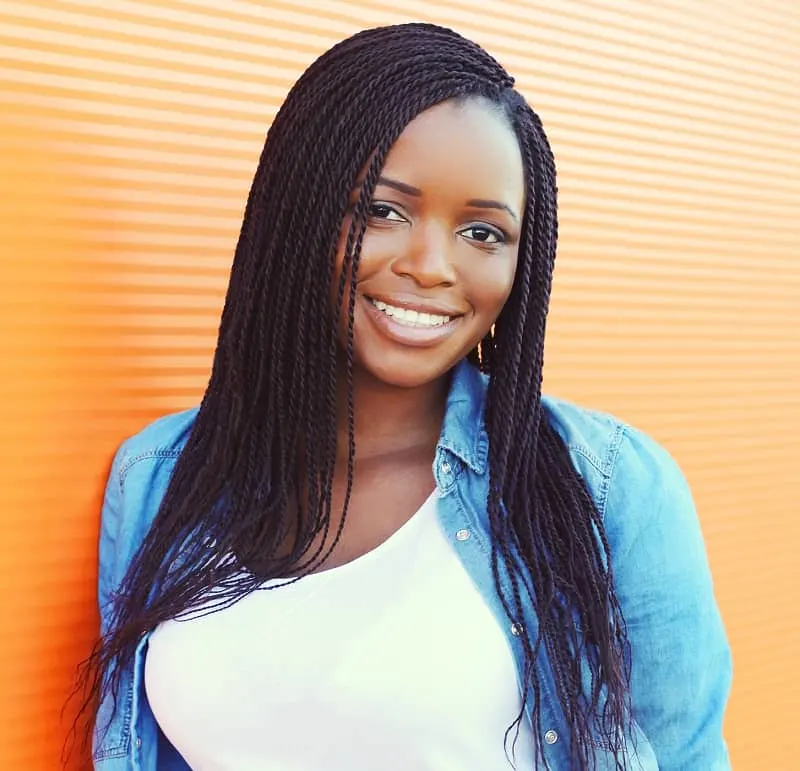 Searching for a great oval-faced hairstyle for your natural black hair? Long twists never go out of style and will keep your locks protected for several weeks at a time.
6. Soft waves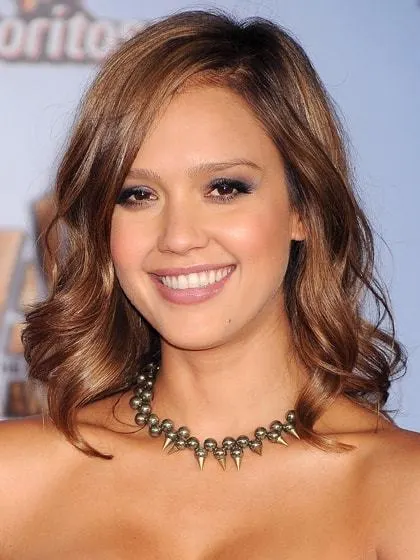 If you have fine hair, it will look terrific in waves. Straight thin locks will look neat only if you cut them short and use some hair products. However, if you want to keep the length, opt for some waves of curls.
7. Amazing ombre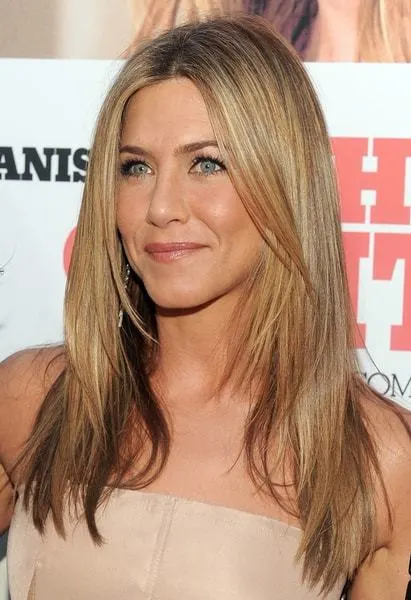 Like a long hairstyle, but tired of ponytails? Let your hair shine by adding an ombre. If your hair is dyed blond, make the ends your natural dark color. Experiment with different shade mixes. You will love the result.
8. Be natural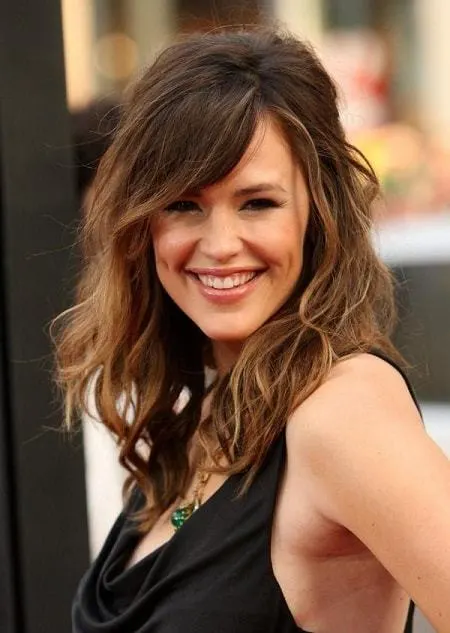 Your face is oval, so you don't have to think about styling your hair a certain way. If your mane is naturally wavy, let it be such! This oval face shape haircut will make you look fantastic all day long without any maintenance.
9. Go long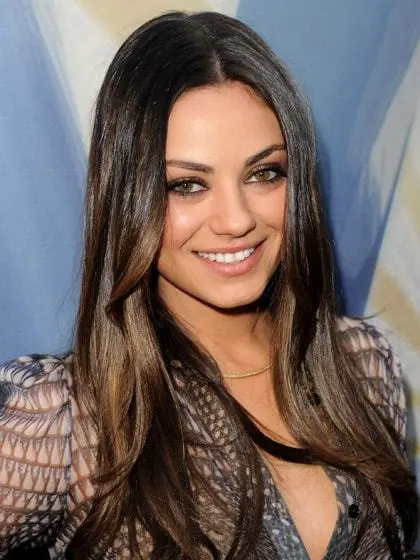 If your hair is thick, you can easily grow it as long as you wish. Thick hair looks perfect when it carelessly falls down your shoulders. You can experiment with occasional curls and waves or just leave it looking natural and amazing.
10. Middle part

Your oval face shape will allow you to choose between bangs or no bangs. You can easily go for the middle part if your forehead is not too large. This will allow your hair to fall on the sides of your face neatly and will prevent frequent fringe cropping appointments.
11. Crown Braid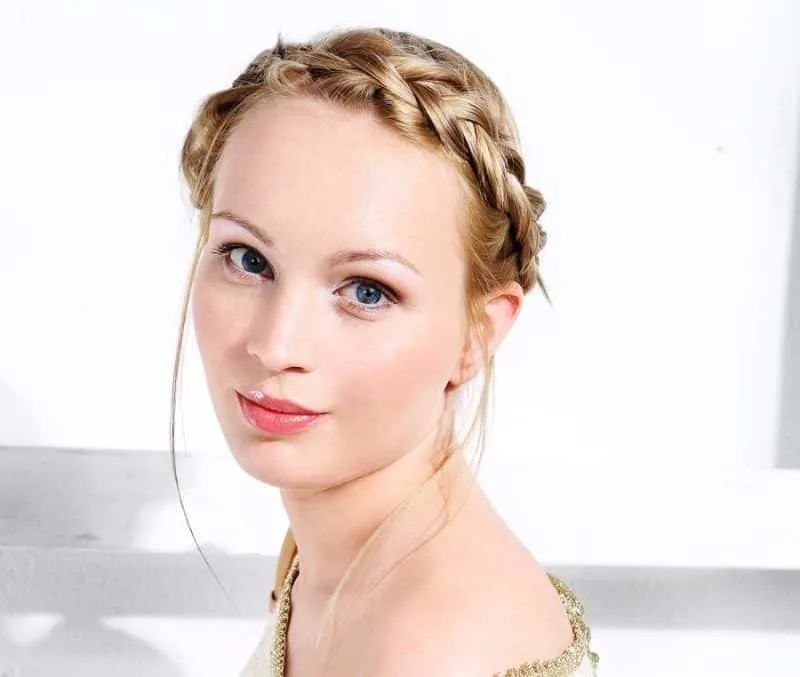 One of the best ways for women to highlight their oval face is with an updo hairstyle. A nice crown braid adds a lot of symmetry and sweetness to your look. It works on hair of various lengths and is delightfully simple to achieve.
12. Loose Curls with Bangs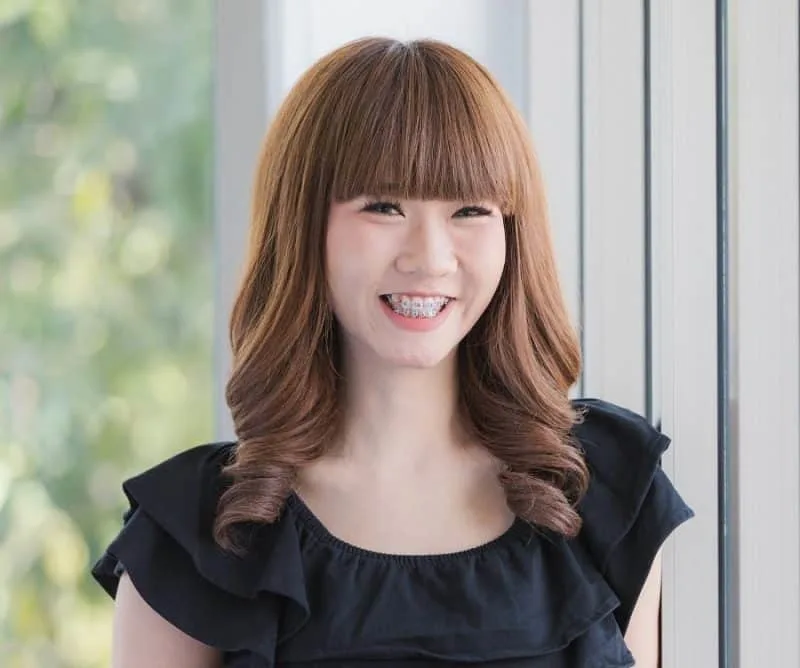 You can add some dimension and more shape to your face by having full bangs. These are very thick and sit across the forehead. They help highlight your lower features. Very pretty curls give a nice touch to the rest of the hairstyle. It's incredibly neat and lovely to wear.
13. Cute Space Buns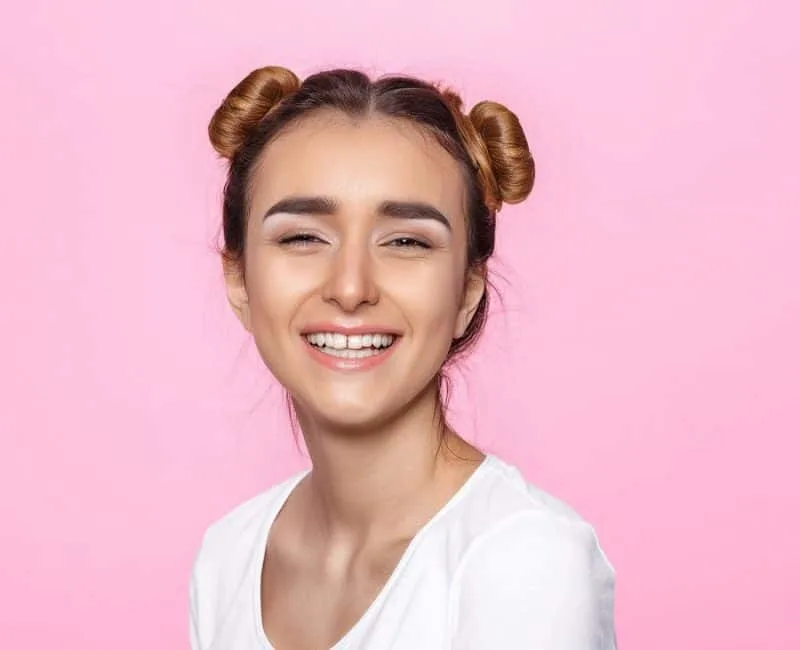 Bun hairstyles go well with the oval face shapes very well. This is because your face is very symmetrical, too. These small little space buns help show off your pretty features. They also create a funky look to wear each day.
14. Curly Updo for Black Women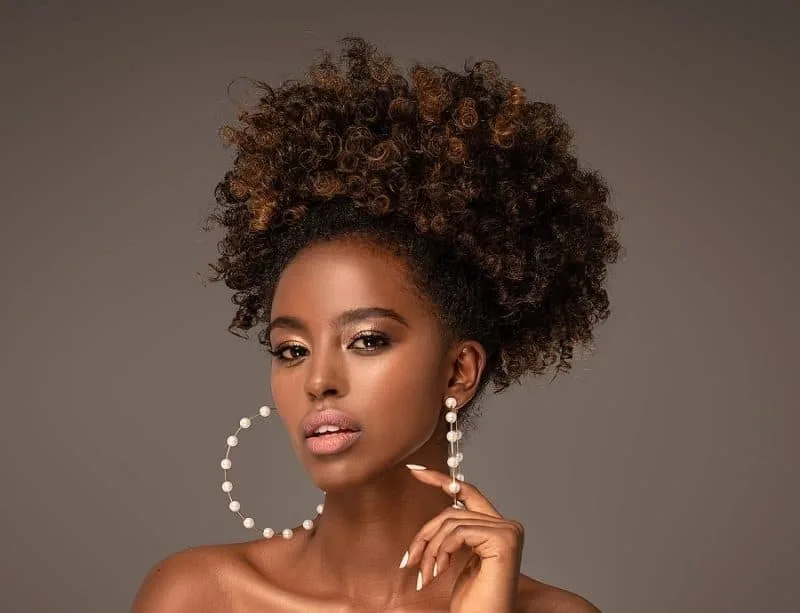 Black women with a wealth of natural curls can show them off with a look like this. The curls are all piled up on top of the head. The sides are very slick. You can make this look pop by adding some light brown highlights to the look.
15. Tight Lob with Full Bangs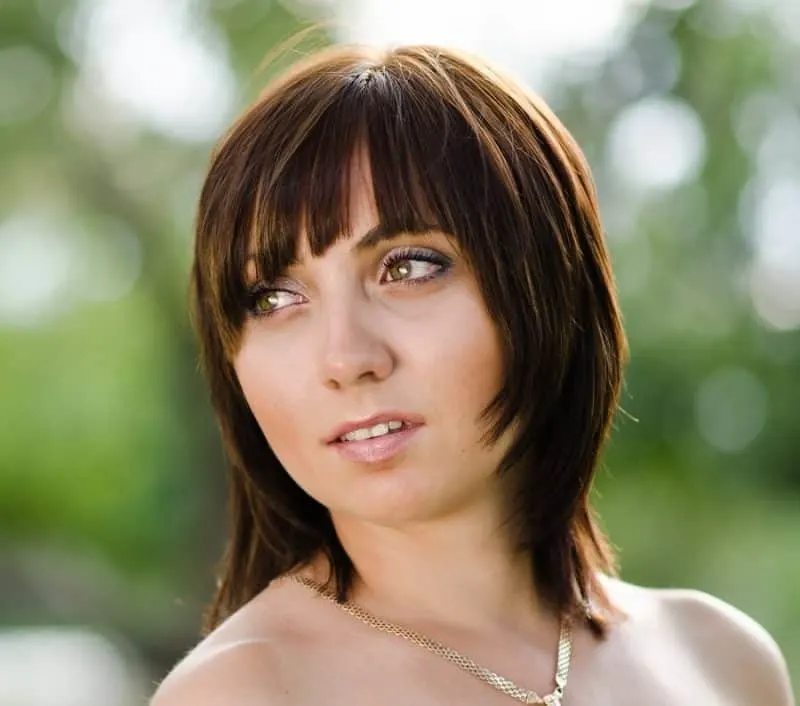 Having a hairstyle that clings to your face shape helps show it off a ton. The hair falls in a bob that's very tight to the head.
There are some light layers in it that make it hug your jawline so nicely. It works well for thin hair. It's also great for a chubby face. The sharpness of the haircut makes your jaw look more defined.
16. Style it
If your hair is long and you are tired of letting it loose, you can go for some creative styling ideas. Make some long side swept bangs and sweep one part of your hair backwards. Pin it with some accessories in the back to make one of your ears visible. Add a fashionable earning!
Have a heart-shaped face? Let's try these hairstyles
17. Highlights
Ready to look amazing? Try some bright highlights. Some say that bright hair color is perfect for the summer time, but we are sure that you will look great any time of the year. Choosing the right shade is 90 % of the fashionable hairstyle success.
18. Wispy bangs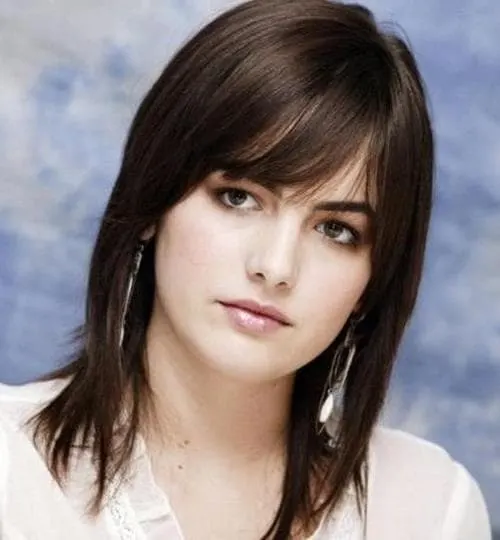 If your hair is not too thick, go for wispy bangs. They do wonders for making you look younger and adding a lot of style to your haircut. The rest of the hair should be kept neat. If you want to leave your fine locks long, get ready to do some maintenance.
19. Messy waves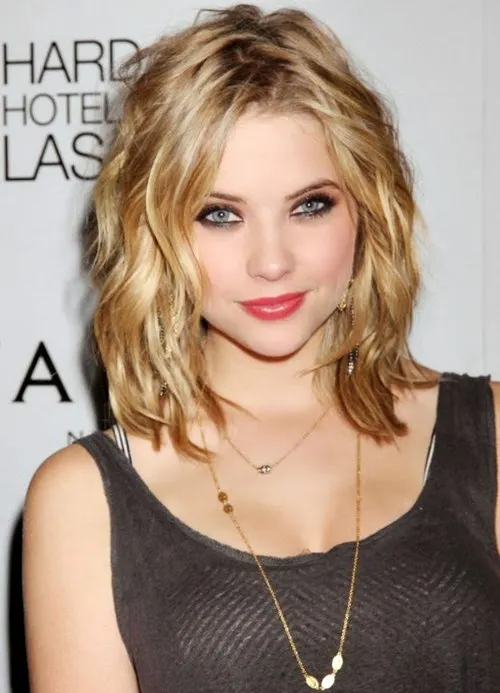 Don't want to use a flat iron? Make some overnight braids. When you undo them in the morning, you will get the most amazing messy waves that can last all day long. Messy haircuts are in style, so don't overlook them.
20. Long bob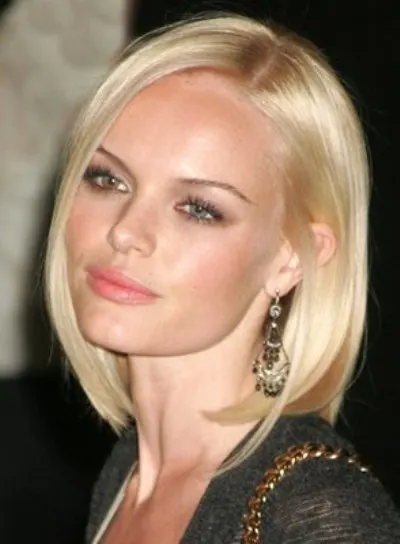 Girls with fine hair will appreciate short hairstyles. If you are not ready to go for a pixie, start with a long bob. It will surely look amazing together with your oval face type. Make sure to keep the straight hair neat.
21. A pixie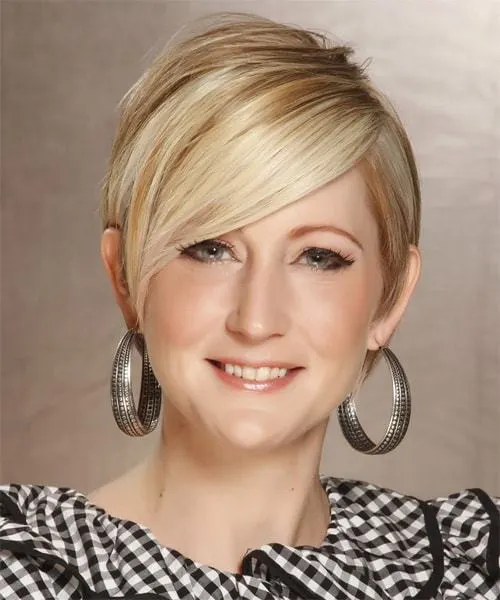 Short hair for the oval face can be considered almost perfect. You don't have to think about whether or not a pixie will make your face look too long or too round. Get the pixie you always dreamed of to make you look absolutely fabulous.
Check hairstyles for round faces
22. Become a redhead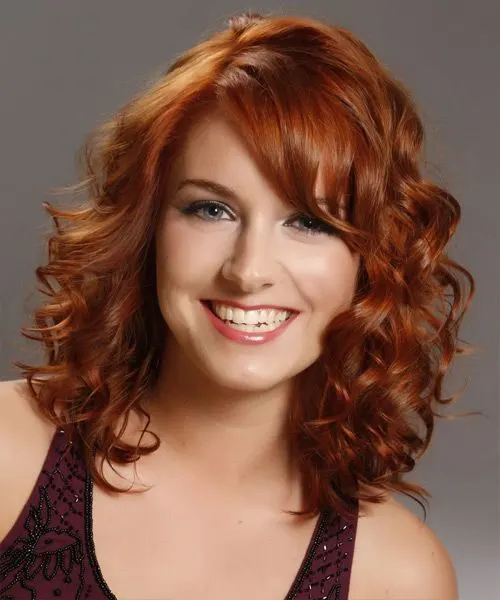 Redheads are considered sexy and fashionable, so why not go red? Your oval facial shape allows you to choose any hairstyle and almost any color. Consider your skin type and go for it. Your stylist will help you choose the shade you really need.
23. Long bangs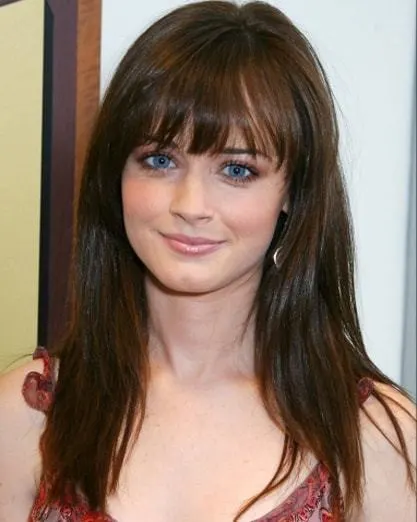 If you want to draw attention to your eyes, consider getting long bangs. This is another one of the oval face shape hairstyles which other girls will be jealous of. You've got it, so flaunt it! Make sure to get the fringe cropped every 2 -3 weeks.
24. The shorter – the better
This amazing pixie will be perfect for girls who are ready to try out the shortest hairstyles out there. Ever been envious of boys who don't need to care for their hair? Get a short pixie and forget about daily maintenance.
25. Straight and windblown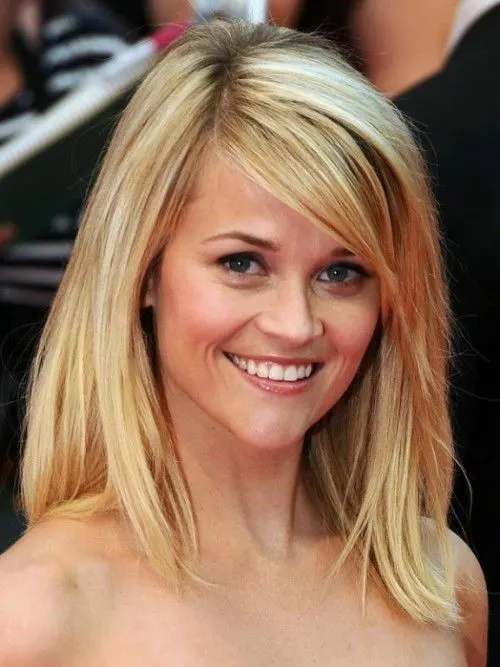 If you want some volume for your straight hair, no reason to get curls or waves. You can just blow dry it. Hang your head upside down and do the blow dryer do the job. Then brush it, apply some hairspray and you are ready to go.
26. Ombre Half Updo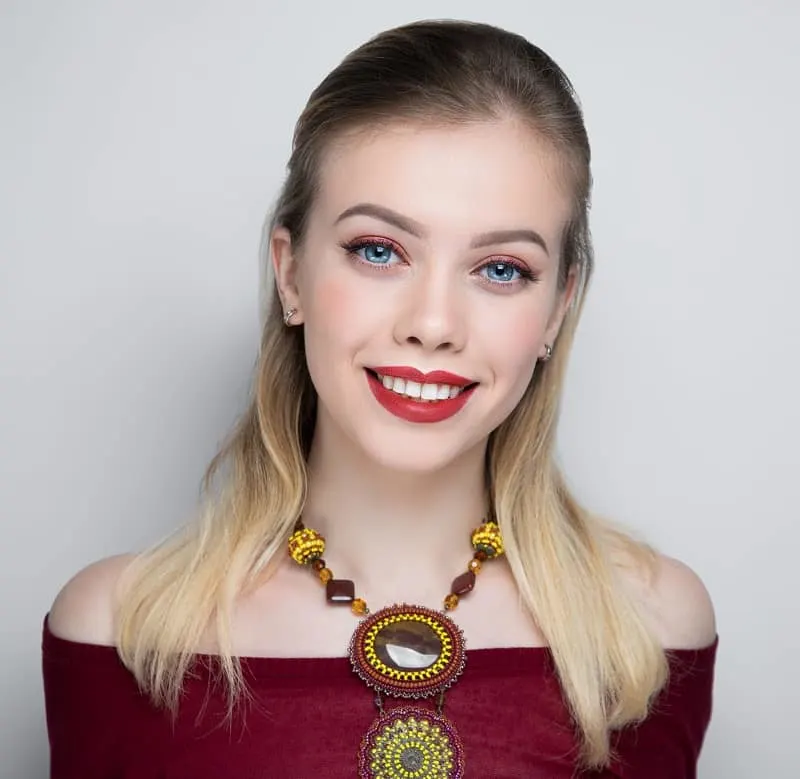 Bring warmth to an oval face with light blonde ombre. Then gather the top half of the hair into a low ponytail, leaving the body straight with subtle waves.
27. Crimped Curly Updo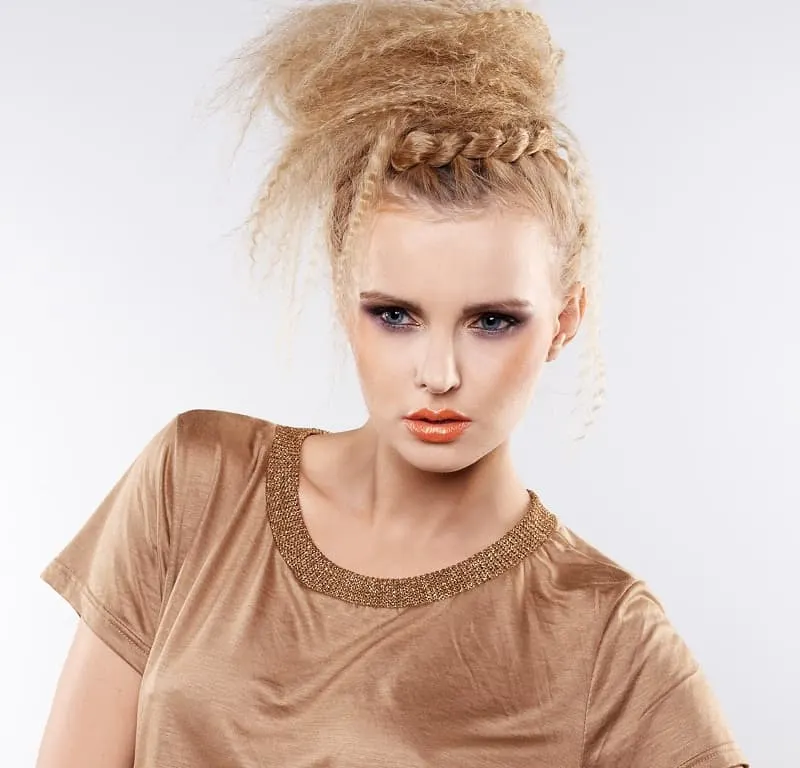 Models with oval faces often rock this high updo on runways. Crimp long hair and pair with a side braid for a truly show-stopping style.
28. Long Side Braid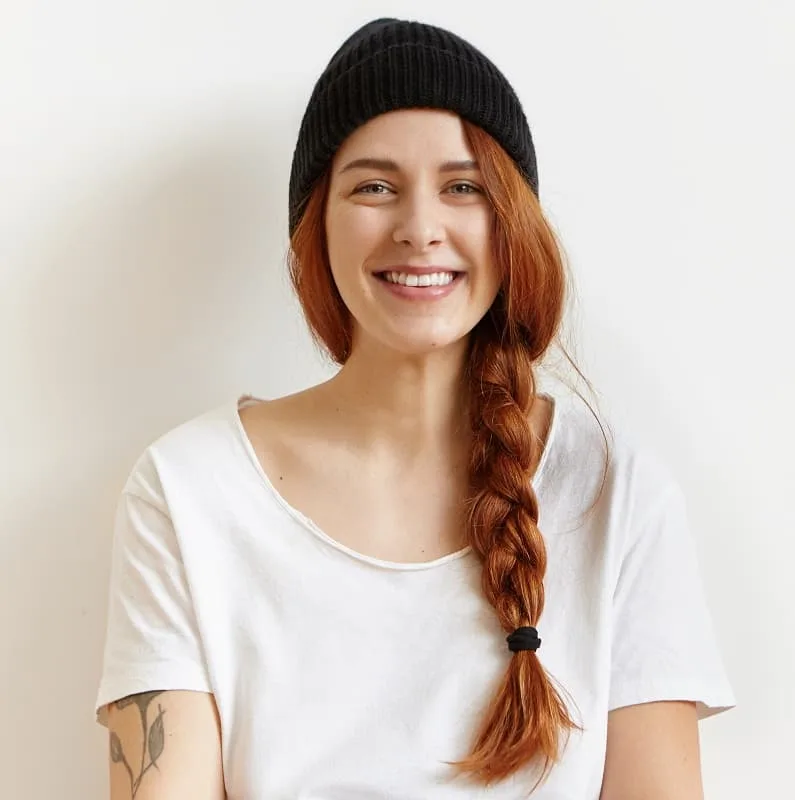 Ginger hair flatters pale skin tones and also looks classy when gathered into a loose low side braid. Top with a beanie!
29. Dreads and Glasses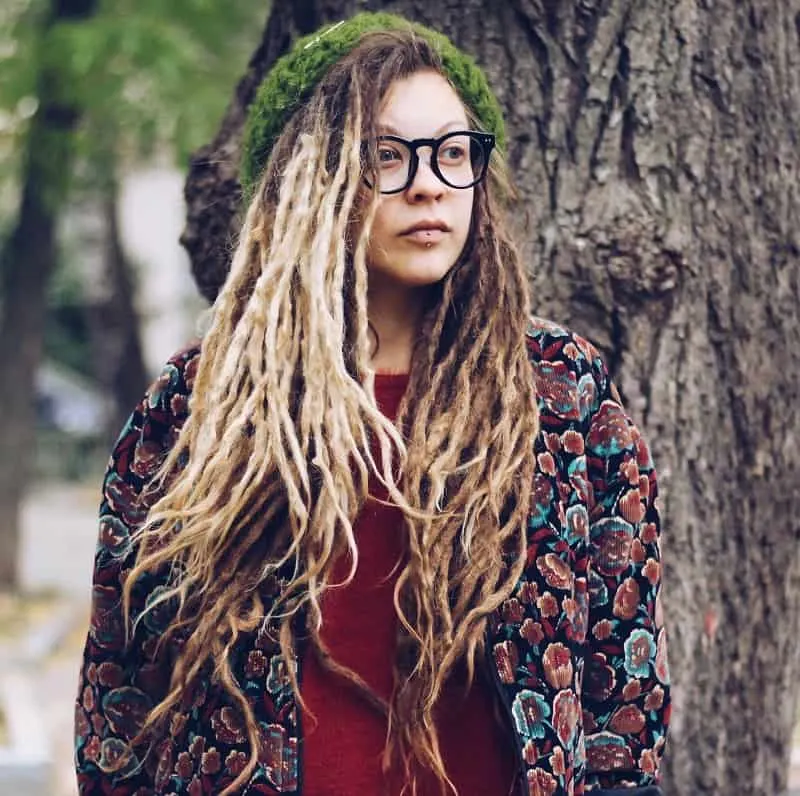 With or without glasses on an oval face, dreads are quickly becoming a popular hairstyle. These ones come past the shoulders and mix brown and light blonde.
30. Low Pony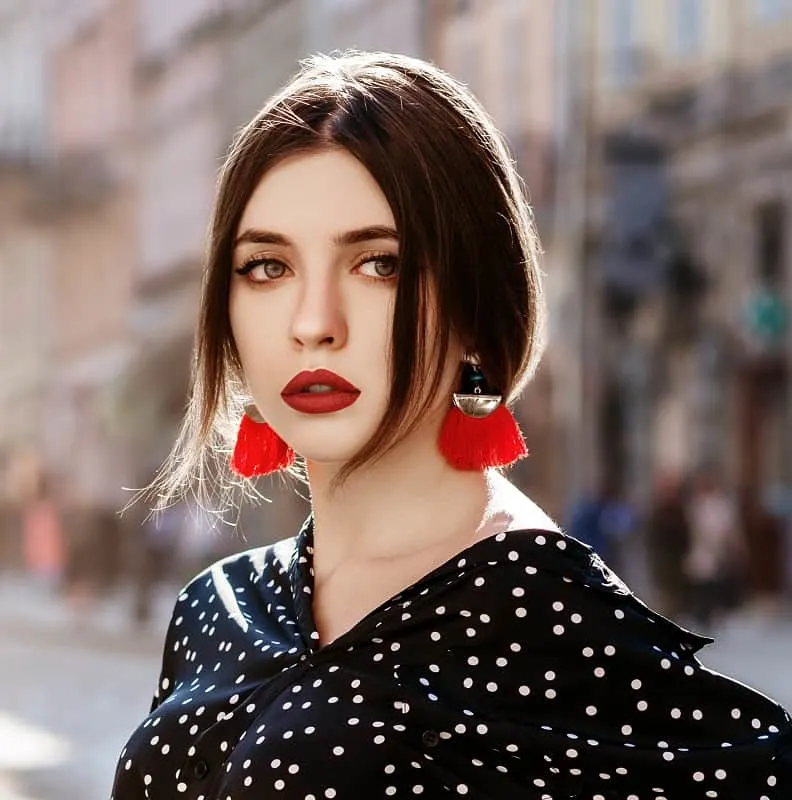 A low ponytail flatters many face shapes, not just oval faces! Try a chic style like the low ponytail secured at the nape of the neck for lunch dates and office looks!
31. Burgundy Braids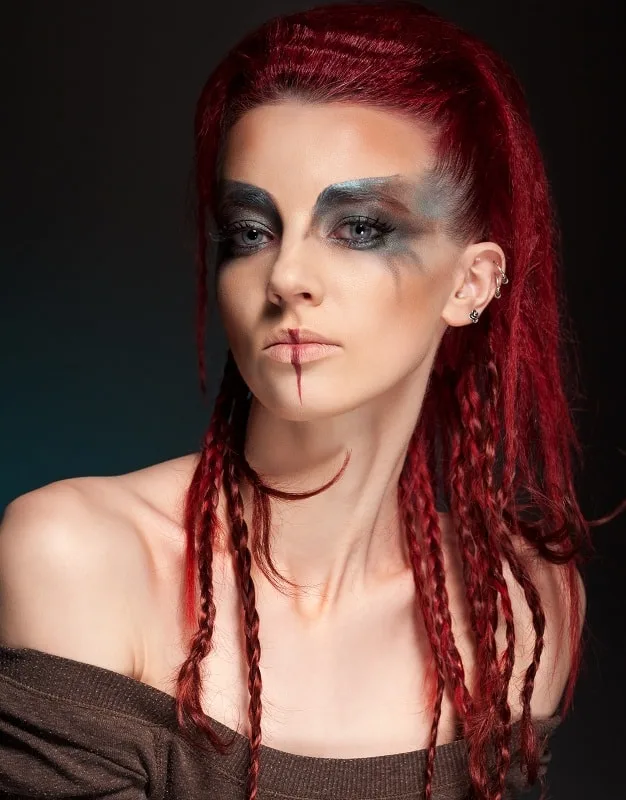 Take a half updo for oval faced women up to the next level by teasing the top half for volume, then filling the bottom half with braids.
32. Short Bangs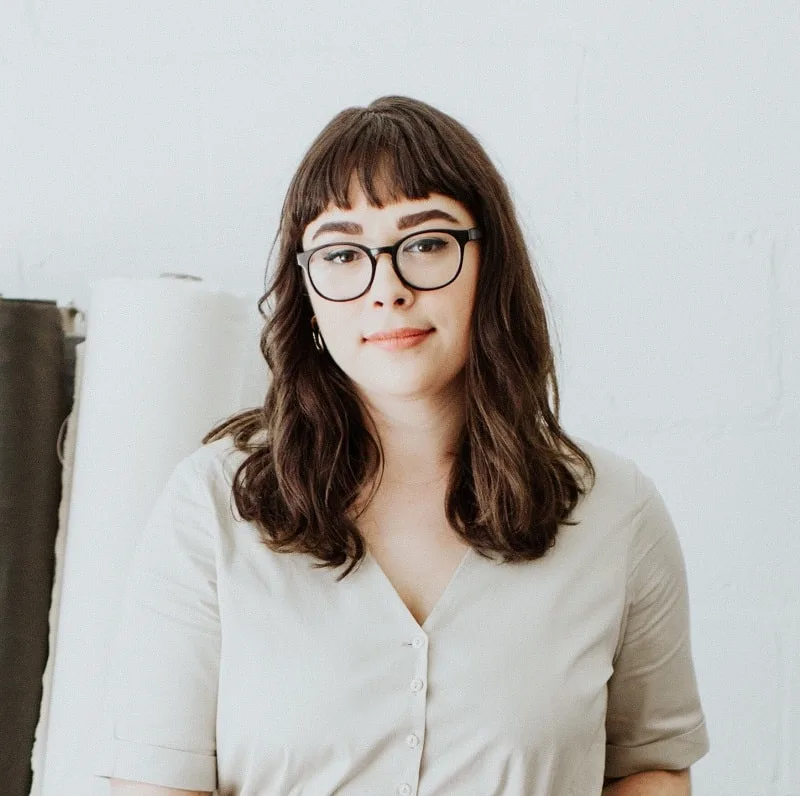 Do you wear glasses and have an oval shaped face? You can't go wrong with a shoulder length straight hairstyle with cropped bangs to put a square spin on your cheekbones.
33. Wavy Wedding Hair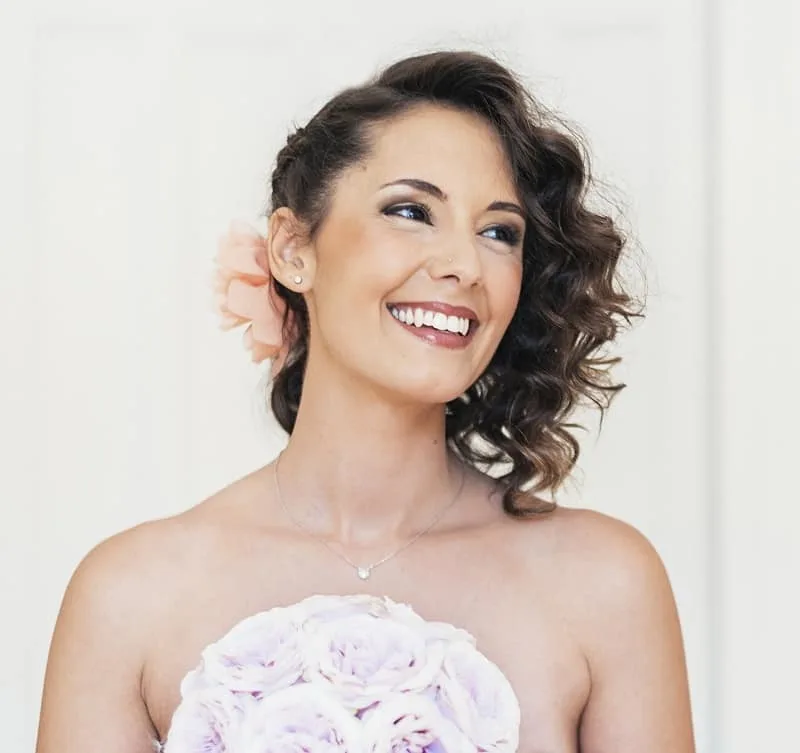 Your wedding hairstyle should be regal and make you feel like a princess. Get the look with luscious waves, pinning back one side with a braid and brightly colored flower.
34. Long and Thick
Add a side part and load up long thick hair with tight ringlets. You'll hardly notice the oval shape your face takes on with a stunning style like this one.
35. The Vintage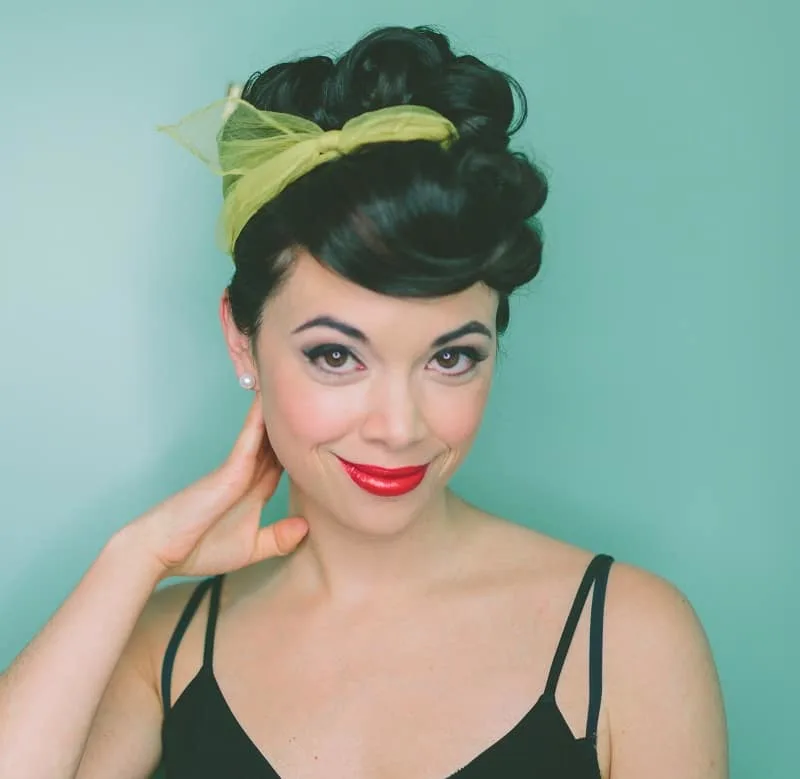 Love the way pin-up girl hairstyles look? Rock one for your self with a high bun full of tight curls and a swooped bang. Wrap the bun in a colored ribbon.
36. Asymmetrical bob with long bangs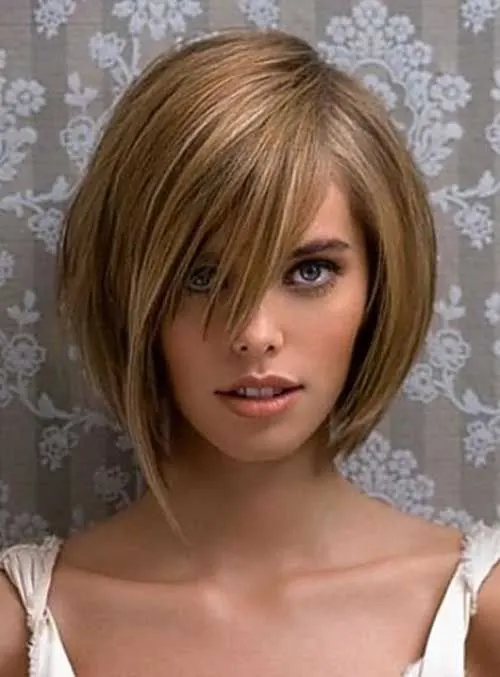 This is a truly stylish haircut which needs some hair care. If you are ready for daily styling, then get ready to look truly stunning. Ask your stylist for an asymmetrical bob with long and wispy bangs. You will get some heads turning your way on a regular basis.
37. Make it shine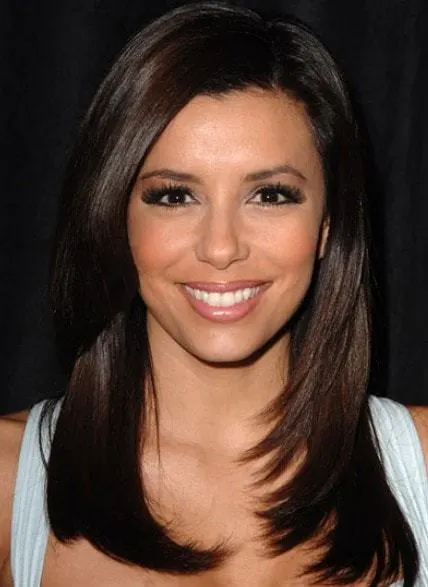 If you are straightening your hair, make sure to add some serious maintenance. In order to make long and thick hair sleek and shiny, you will need to browse a lot of hair products. Make sure to pamper your locks and they will look fantastic.
38. Spunky pixie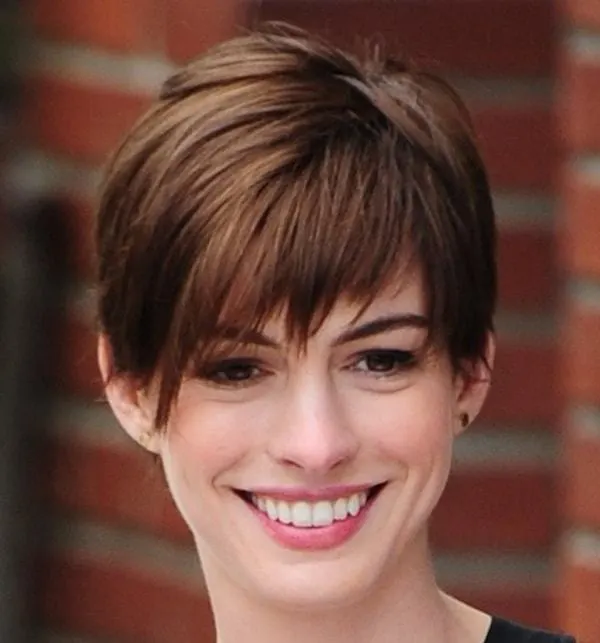 Want a spunky look? Go for this short pixie with asymmetrical bangs. You will almost forget about maintenance and will look absolutely incredible. Girls with triangular and oblong faces can't even dream about this, but you can easily flaunt it.
39. Be Boyish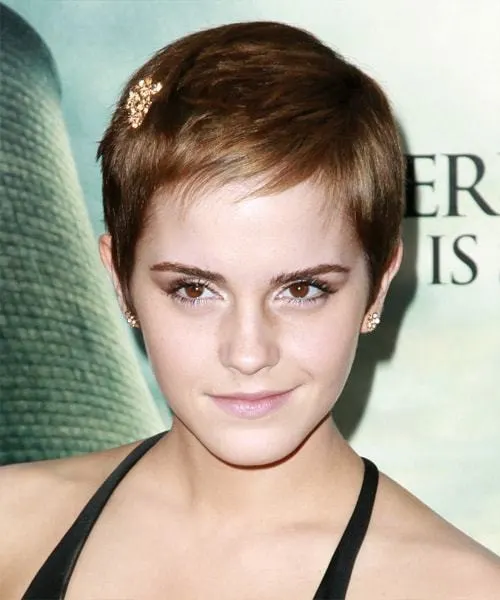 This boyish oval face shape haircut will look amazing only if you are not afraid to do it. Don't forget to keep it intact by scheduling regular hair salon appointments. Such hairstyles make women look younger.
40. Wavy bob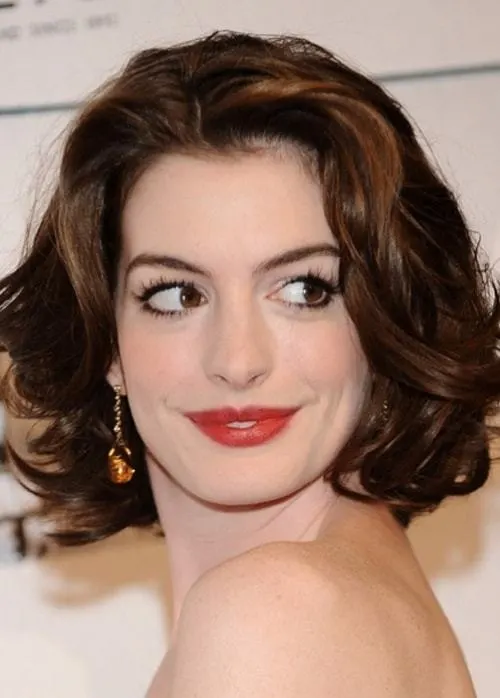 Waves are a great way to diversify any haircut. So, if you are getting ready for a special occasion or have just grown tired of your hairstyle, make waves! They do wonders for changing the picture and making you feel extraordinary!
41. Long curls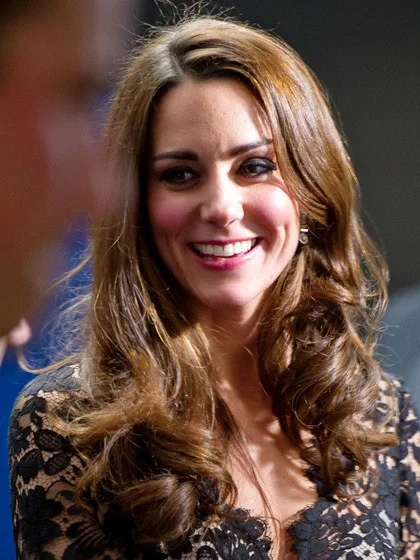 Many women dream of having curly hair. But if your natural locks are straight then wielding a flat iron every day can become a real headache. What you can do is just curl the tips of your mane. This way you can go easy on your hair and your time.
42. Amazing layers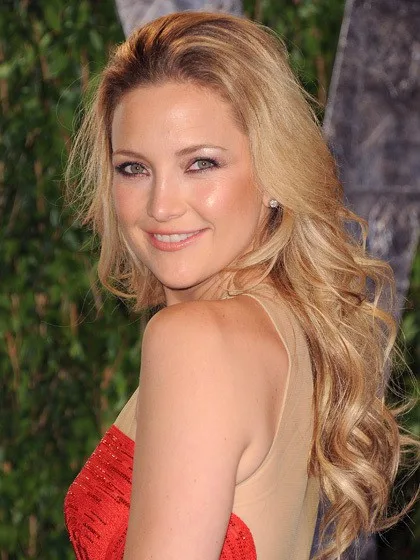 If you've got an oval face shape, you can easily allow yourself all kinds of experiments. Consider getting a layered hairstyle where the frontal layers will be much shorter than the ones in the back. It will help make the maintenance easier without stealing away any hair length.
43. Long bob with blunt ends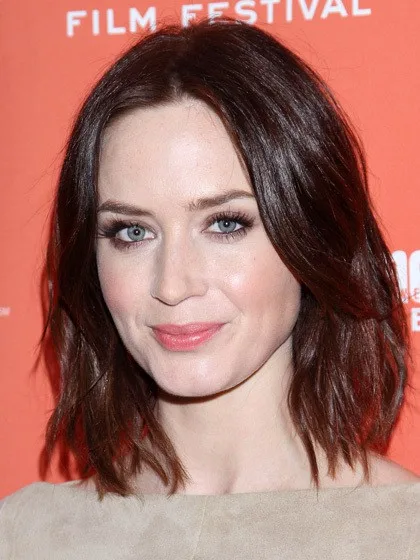 Modern women like experiments. Usually, they go for something wispy and asymmetrical. But blunt bangs shouldn't be overlooked. A simple long bob with blunt bangs will look amazing on any girl with thin and straight hair.
44. Long pixie
If you've got an oval face type, the pixie is a wonderful choice since you don't have to bother with making your face look longer or shorter. This boyish look will suit any girl who is brave enough to sport it. Remember, such pixies make you look younger.
45. Get a sun-kiss
Girls with dark skin look amazing with light locks. So if you are not afraid of challenges, you can ask your stylist to lighten up your mane. Consider going blond in several stages. One of them would be this wonderful sun-kissed color.
46. Get hair extensions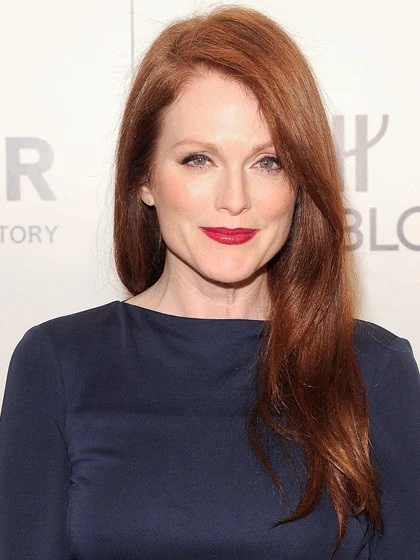 Your dreams about long locks are not coming true? Growing long hair is a tough job that not all of us have enough patience to do. The easiest way out would be to get hair extensions. They are attached pretty fast and will allow you to enjoy your new image for weeks.
47. Burgundy strands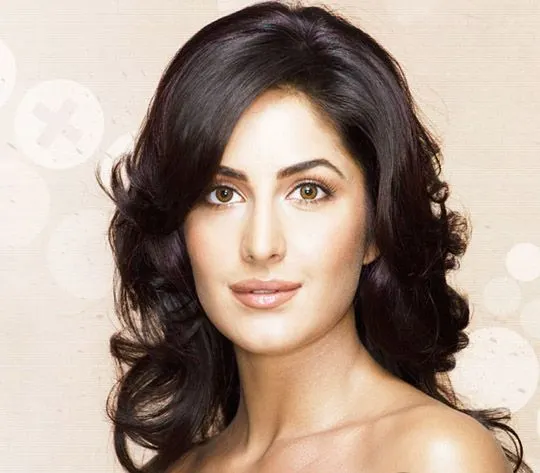 If you want to add your hair a little flavor, consider highlighting several strands with a certain color which is not much different from your own. If your hair is dark, then burgundy strands would be a great idea. You will really make an outstanding impression!
48. Stylish ombre choice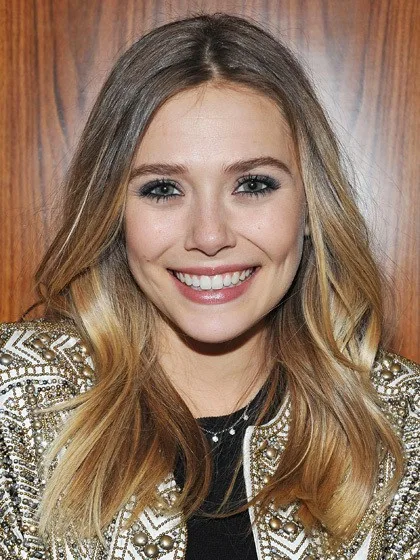 Women with oval face type can go for any ombre colors they wish. Consider dyeing the top part silver and the rest blond. This choice might seem a little wild but the result is really stunning. Avoid this hairstyle only if you are over 40.
49. Long and side-swept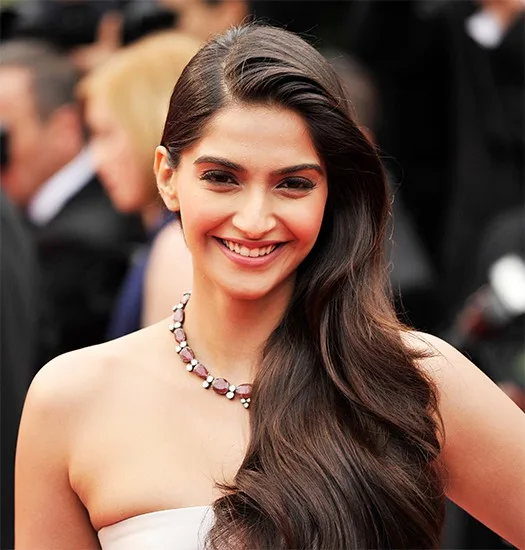 Want to flaunt your amazing long locks but it is very hard to keep them neat? Create a side-swept hairstyle by brushing all of your hair on one side and let it fall down your shoulder. This is a great look for photoshoots.
50. Dark and shiny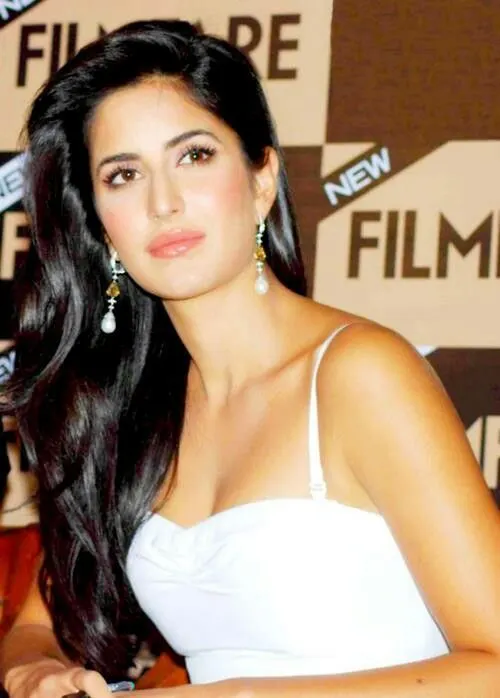 If you want to add your long hair some good shine, there are several ways to go about it. One of them is to keep it very healthy. This is not always possible, especially if you dye it. The other one is to use the right hair cosmetics. Ask the hairstylist for advice.
51. Curly weave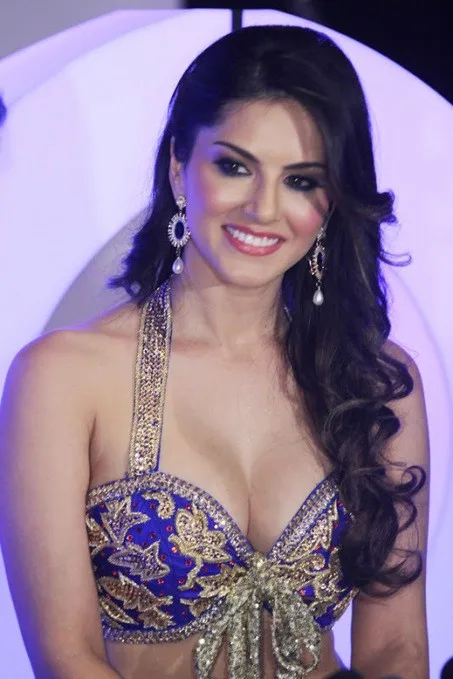 If your natural hair is straight and short but you are dreaming of long and curly locks, get a weave. Hair extensions come in all shapes and sizes and can help create the image you always wanted. They are very useful for special occasions and photo shoots.
52. Fashionable mix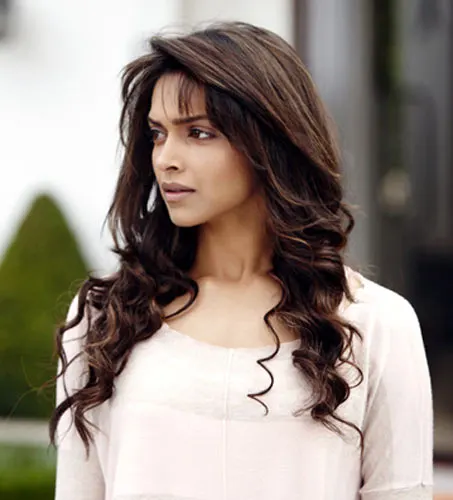 Girls with oval faces will appreciate this great fashionable hairstyle mix. The top part of your hair is styled to be straight and windblown while the ends are neatly coiled to create a pageant look. You will definitely turn some heads your way!
53. Windblown waves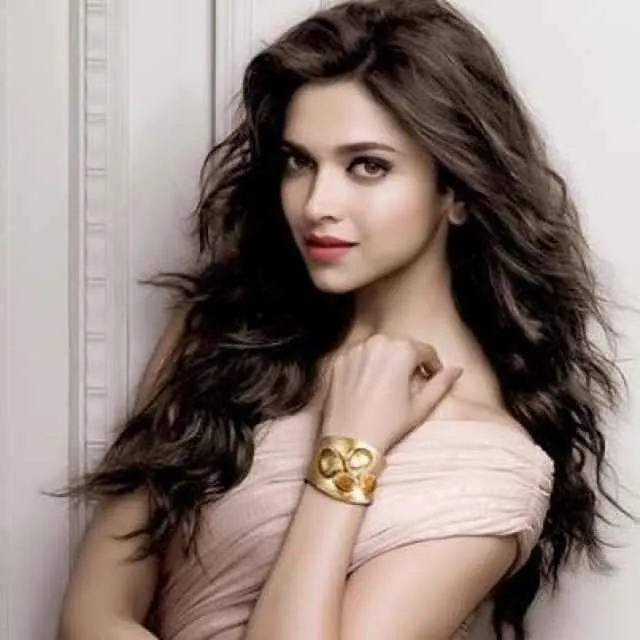 If your hair is naturally wavy, show it off! Girls with long and thick hair always look fantastic even if their face is not oval. Allow your locks to fall freely to create a stylish windblown image. However, keeping this hairstyle neat is a real hassle.
54. Eye-covering bangs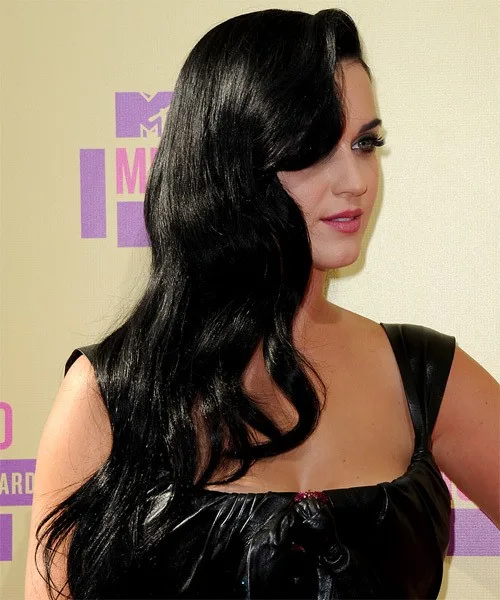 If you like sexy looks, you will love these eye-covering bangs. The fringe is side swept and arranged over one of your eyes to create an alluring image. This hairstyle is great for special occasions but is hard to wear on a daily basis.
55. Dark and beautiful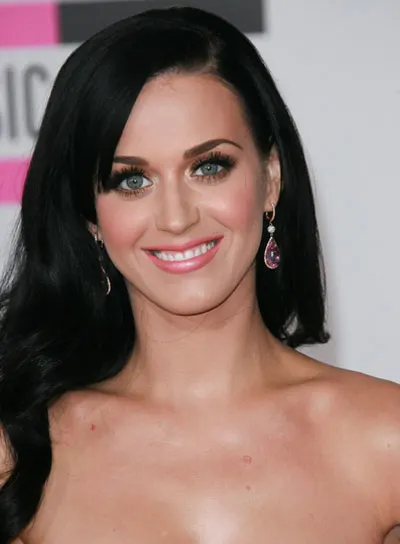 If you are ready for a change and love wearing dark make-up, consider dyeing your hair a very dark color. Such dark image automatically brings the focus to your eyes and lips and allows you to become a completely new person.
56. Bright accessories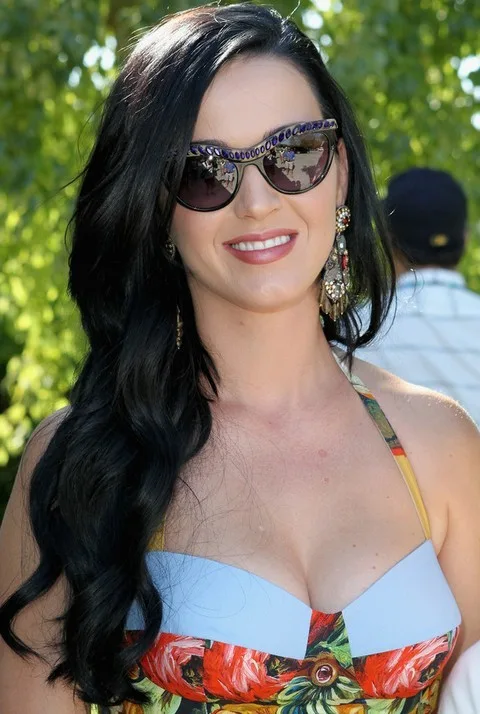 Any girls with an oval face know about the importance of bright accessories. If you really want to make a statement and shine your way through the crowd, learn how to accessorize. Consider getting large earrings and glittery sunglasses.
57. Asymmetrical bob
Asymmetry will make any hairstyle look unique and fantastic. If you've got fine and short hair, consider getting an asymmetrical bob. Make one side shorter than the other and side-sweep your bangs toward the shorter side.
58. High hairstyle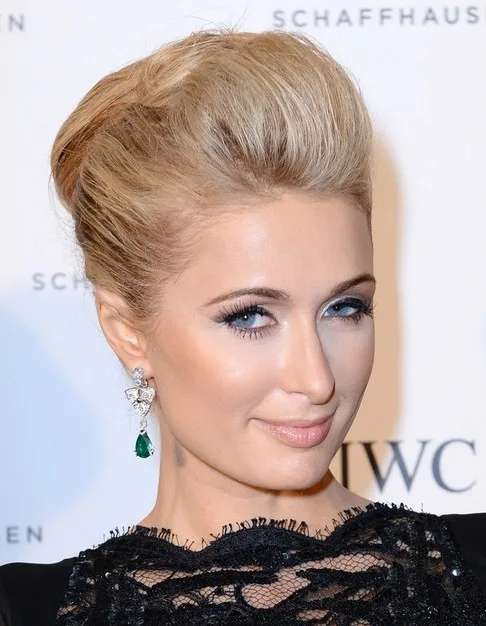 Girls with oval faces have no trouble wearing high hairdos. They don't have to bother creating them higher or lower to make the face seem less long or round. That's why women with this face shape have the greatest variety of haircuts and hairstyles to choose from.
59. Pink highlights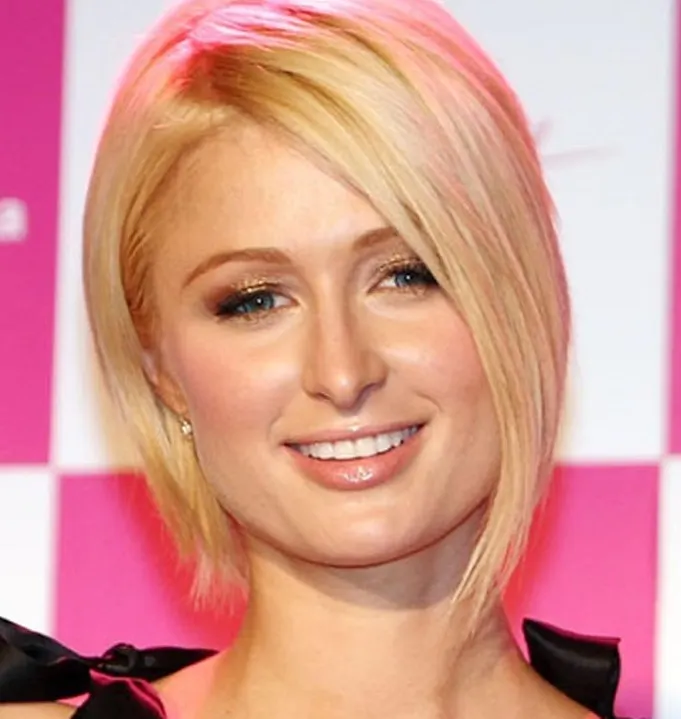 If you want to add a little spice to your old and boring blond hairdo, go for some pink highlights. You don't have to go overboard with outrageous colors. Just dye some strands pink and you will see how dramatically your image will change.
60. Keep it neat
Keeping long locks neat is not always very easy. Especially when you want to flaunt the length. One of the easiest and smartest ways to have your cake and eat it too is to take two side strands and pull them backwards. You can either tie them in a ponytail or clip them together with some beautiful hair clips.
61. Pump up the volume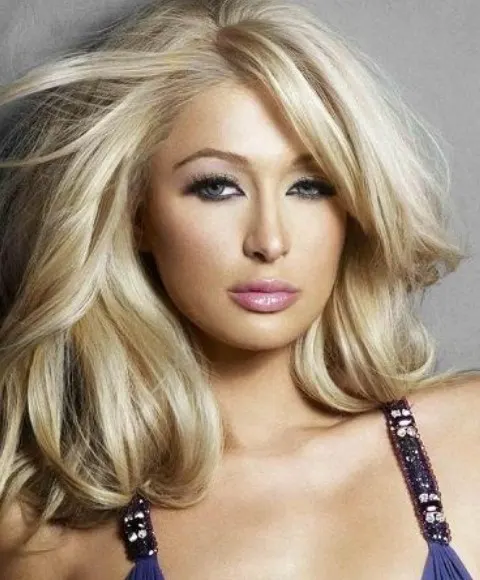 If you have long hair which is also thin and dull, you have to add it some volume. Style your locks into large curls and arrange them on your shoulders. You can also create long wispy bangs that will make a good contrast.
62. Neat highlights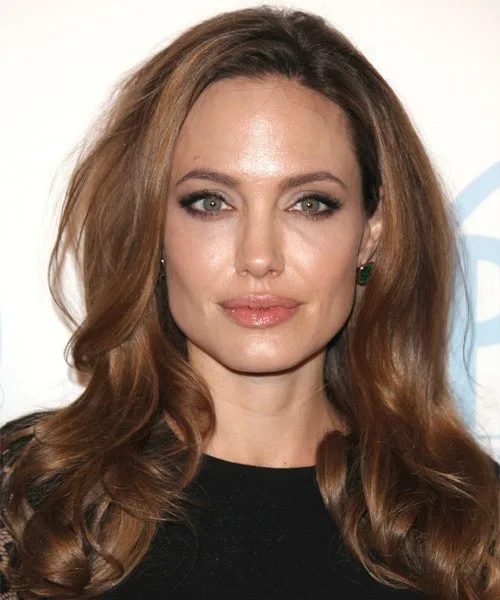 Making neat highlights is a hassle. If your hairstylist is a real master, your hair will look absolutely natural after highlighting. Consider changing the shades gradually to get the neatest and stunning look. Don't forget to touch up the roots on a regular basis.
63. High hair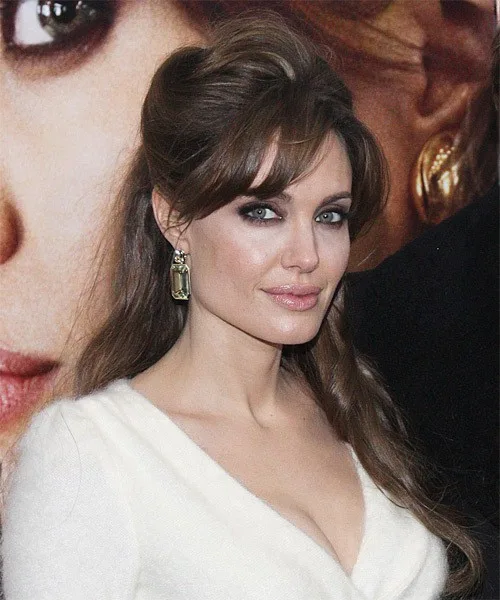 High hair might be a thing of the past but girls with oval faces can try absolutely anything. So why not get creative? Brush your hair up and down to create a beehive on top of your head. Keep it sticking up by collecting two side strands and tying them in the back below it.
64. Comb over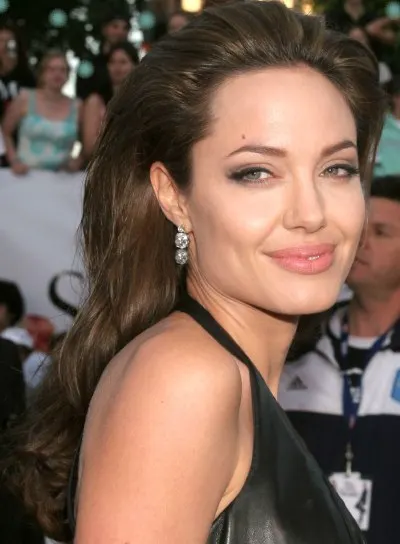 If you have an oval face then you don't have to be afraid of opening up your forehead. A comb over will look amazing if you know how to keep it neat. Use a lot of hair gel to keep your hair backwards and out of your face.
65. Side bun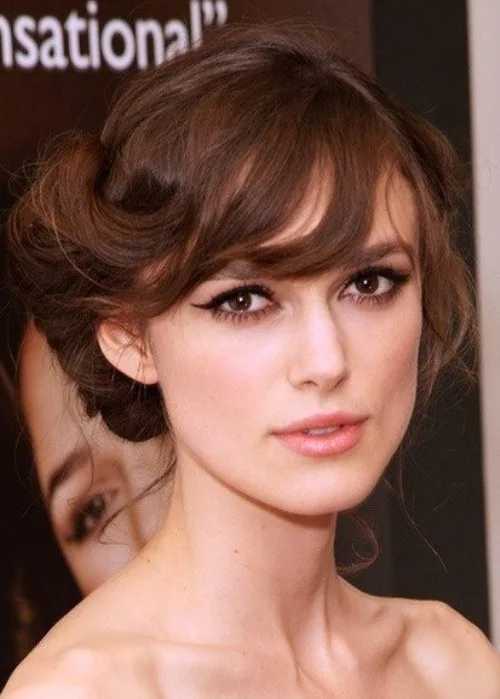 This really cute hairstyle is created by twisting your hair into a low side bun. This is a great choice for girls with medium-length hair. This bun makes it look as though you've got long locks. Add wispy side-swept bangs to look even prettier.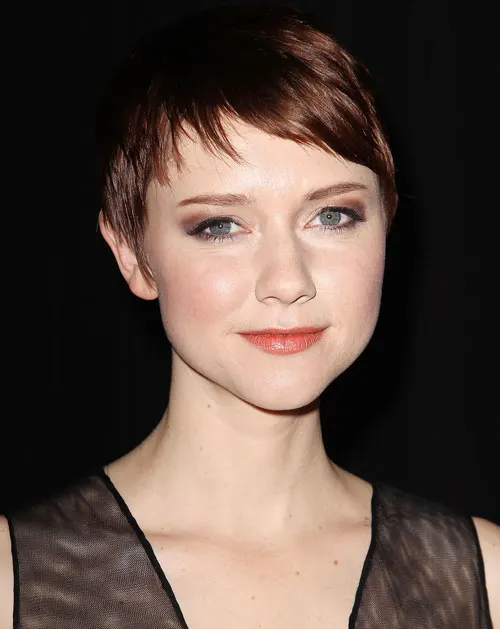 A short pixie is one of the smartest ways to outline your oval face shape. If you have fine hair and hate too much maintenance, this hairstyle can blow you away. Consider short wispy bangs to complement the look.
67. Curly and short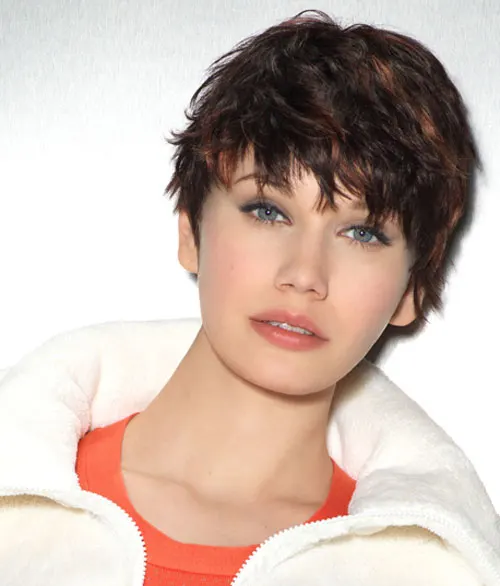 This mix of a pixie and shag is a wonderful choice for women with curly hair. You'd need to spend some time styling such a mane, but only the top part. The long bangs outline your eyes while the pixie shows off your oval face shape.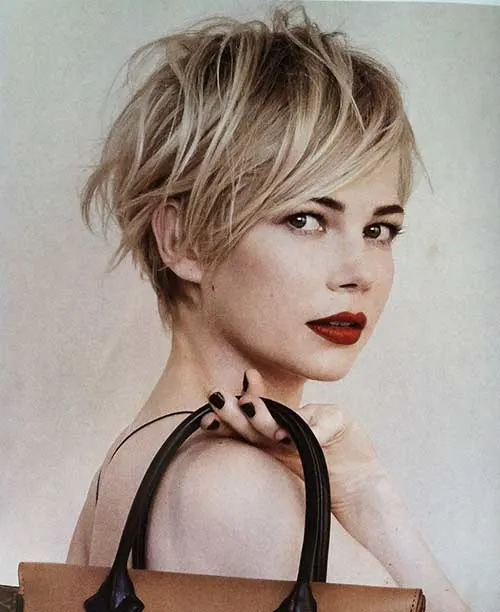 If you have straight hair and a wish to make a statement, this hairstyle for oval faces is for you. This short A-line bob improves the volume and leaves the strands on top long enough for you to create a wild look.
69. Shaggy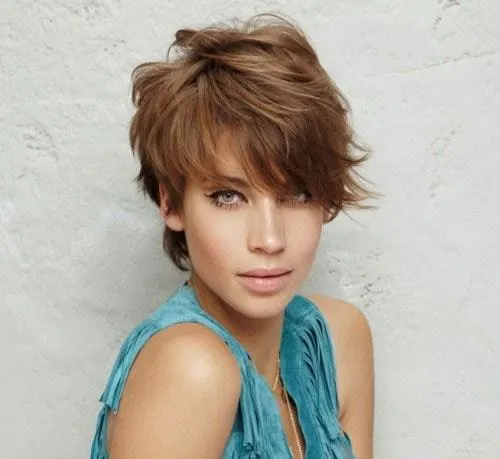 This hairstyle is not a perfect choice for an oval face shape but if your face is between long and oval, it can be a great pick. The shaggy feeling this pixie gives create a romantic and windblown look that can help you make a statement.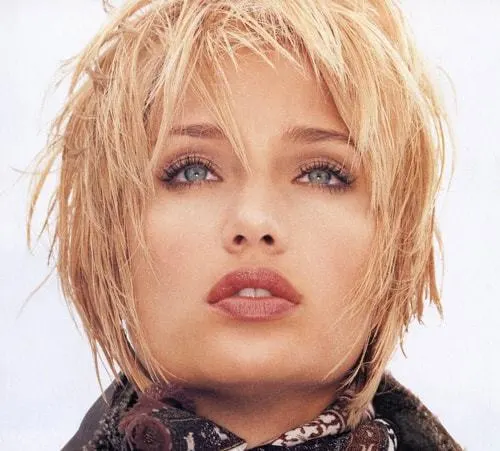 If your hair is straight, a chin-length bob can become a great tool to outline your oval face. The strands are falling nearly down the sides of your face, while the bangs are just long enough not to hide the shape.
71. Oh, those bangs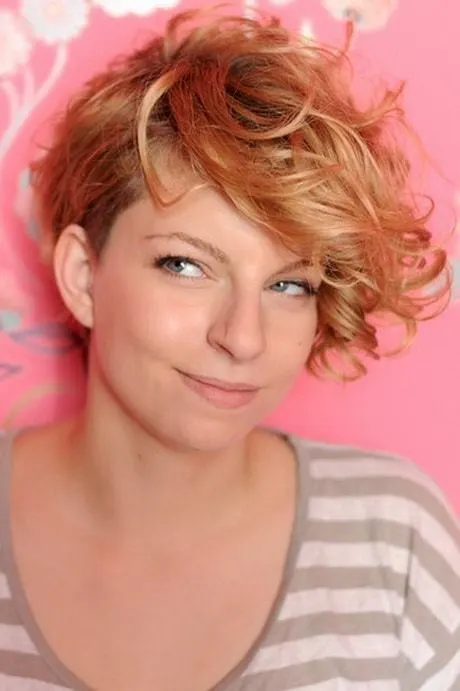 Fiery red bangs can make any woman look feisty and glamorous. No matter how long your hair is, you can play around with the length of the bangs as long as they don't cover your forehead fully.
72. Pixie star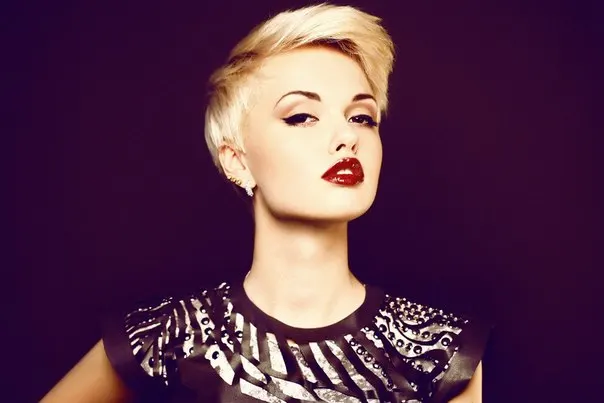 Open up your features with this hairstyle for oval faces. The face is fully open and bright while the bangs are lifted to create a stylish appearance. The shorter you make your hair, the more prominent your oval face is.
73. Curly beauty
If you have curly locks, you know all about daily maintenance problems. Many women with curly hair try to cut it as short as possible to create a tidy appearance. This hairstyle is one of the preferable choices for those who want to flaunt their curls without hassle.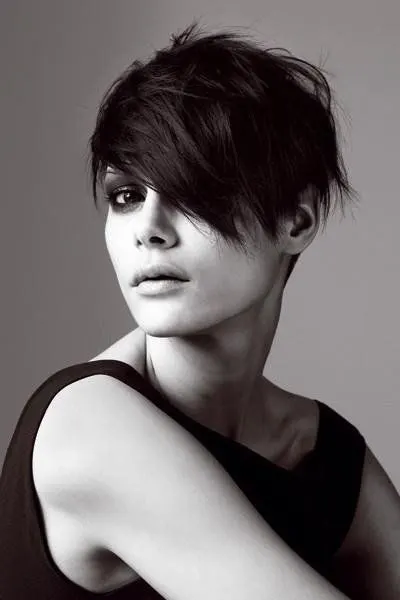 If you are a fan of long bangs, you risk hiding your ideal oval face shape in the process of styling them. The only way out for girls who love long bangs is to side sweep them. This approach can keep the bangs out of your eyes too.
75. Curly bob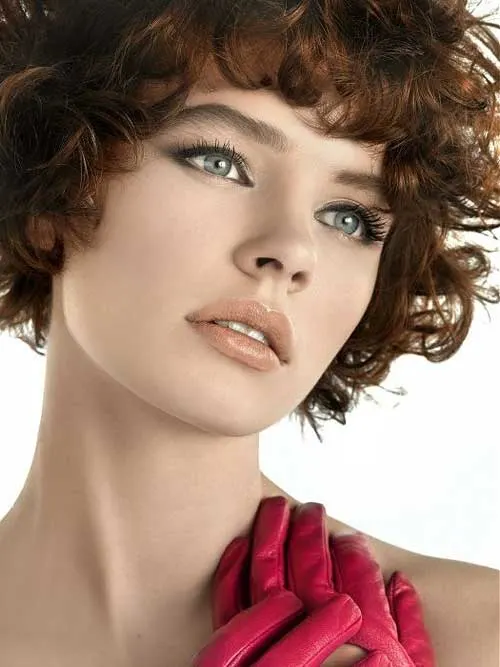 What is a better way to outline your ideal features to make a curly hairstyle that drapes your face? This approach can create a romantic and sexy look while taking some time to keep it this way.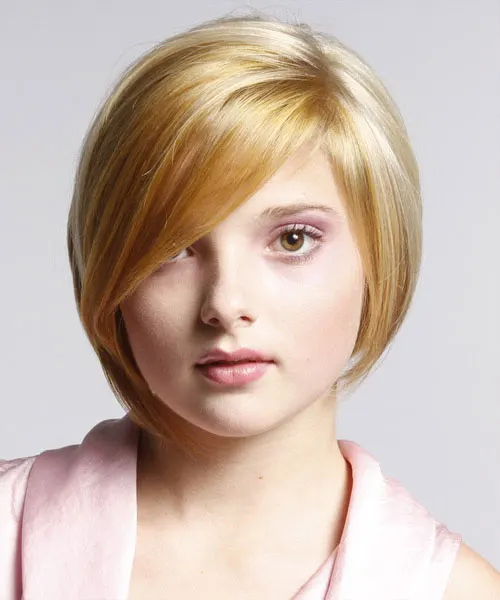 Asymmetrical hairstyles are conquering the world. Girls with oval faces can play around with asymmetry as much as they wish. Be it bobs, pixies or even fohawks, the oval face can make them all look good.
77. Lift it up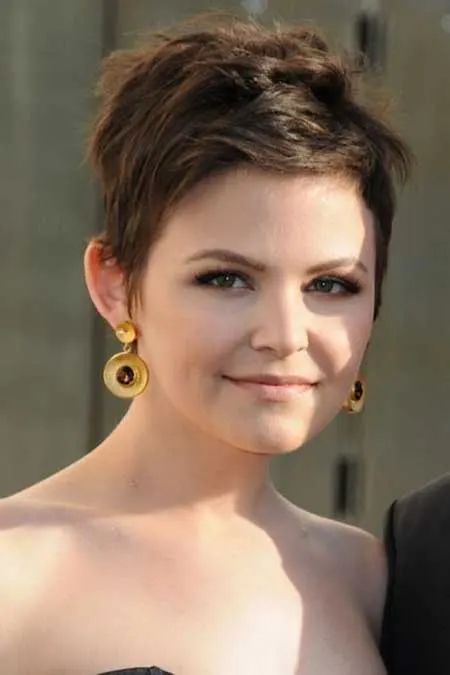 Lifting your hairstyle up is an awesome way to let your oval face show. A pixie with long bangs can turn into a wonderful updo with the help of some hair gel and imagination. This haircut is easy to style and easy to enjoy.
78. Keep it simple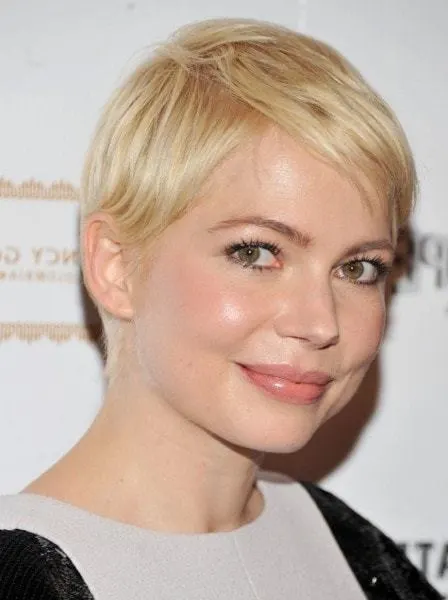 If you have fine hair and don't have the patience for daily styling, this hairstyle for oval faces is for you. The simpler you keep your pixie, the less often you have to think about it. Add the bangs for more style.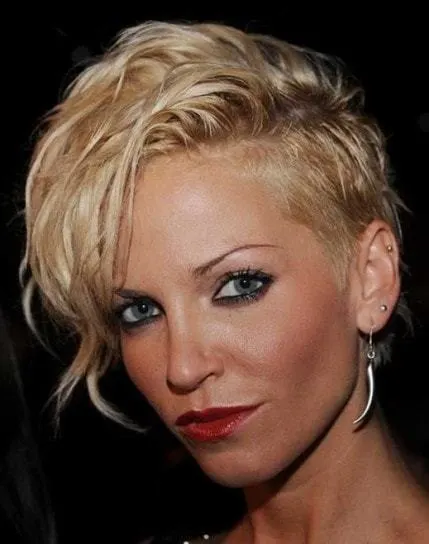 If you are into hair experiments, the oval face type is your ace or even a wildcard. Undercuts, fohawks, mohawks, and the like can look great on you. If you decide to add long and impressive bangs, keep them side swept.
80. Color experiments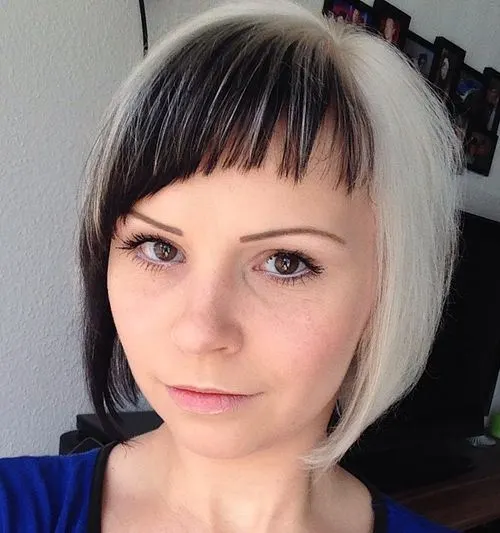 Some women use dyes to change their face shape. But girls with oval face types don't have that problem. You can make any color experiments you wish without looking back at the face shape.
81. Large curls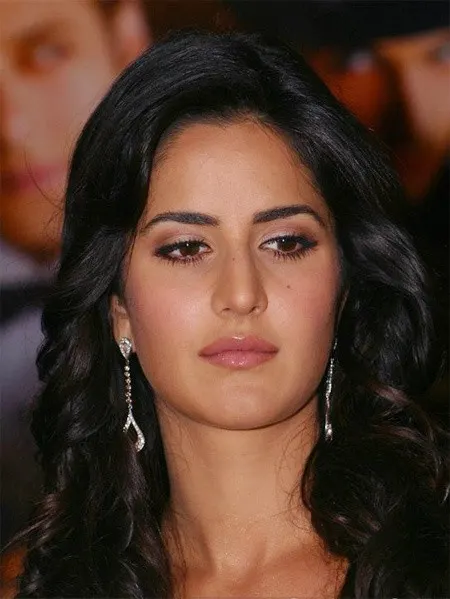 Over the years women with long and curly hair were considered to be the most beautiful. You can make different types of curls to look stunning. Consider creating large ones. They look impressive and take less time to style than small coils.
82. Dyed roots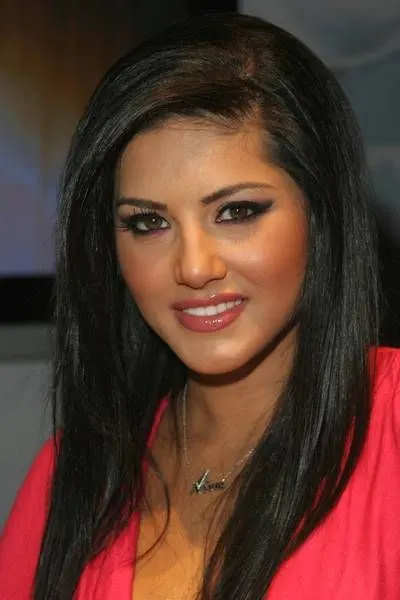 Women with dyed locks try their best to keep the roots the same color as the rest of the hair. There is another way to deal with them. Dye them a different color. Make the color dark so when your natural roots grow, the difference won't be too obvious.
83. Windblown layers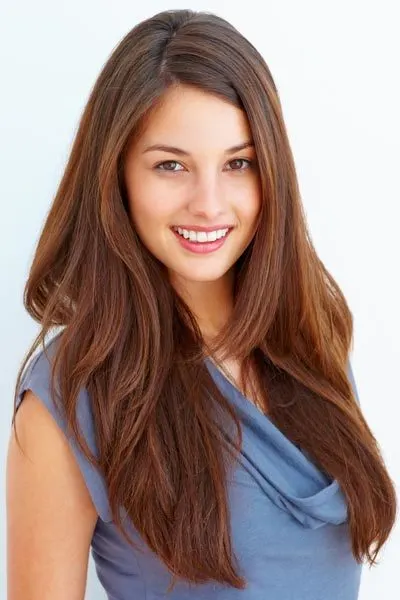 Long and soft locks look amazing but keeping them neat and healthy is very hard. That's why many hairstylists will offer you an option to make layers. Layers don't just make the hairstyle more voluminous, they keep the hair from dehydration.
84. Side part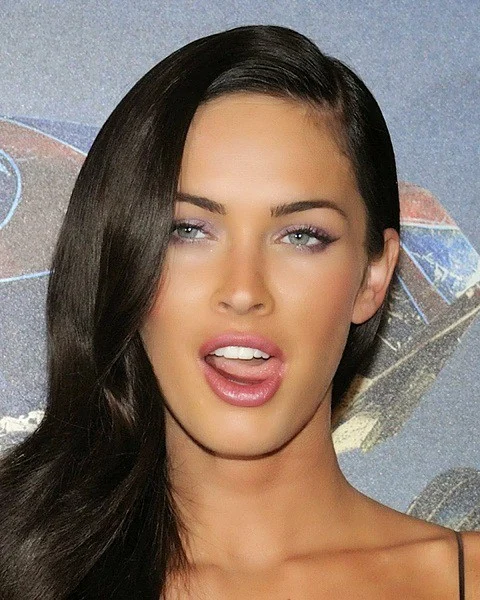 A side part might sound like a simple styling trick but there is much more to it than just sweeping your hair to one side. Taking care of your side part is imperative. The hair needs to "get used to" looking its neatest with a certain side part.
85. Blond and messy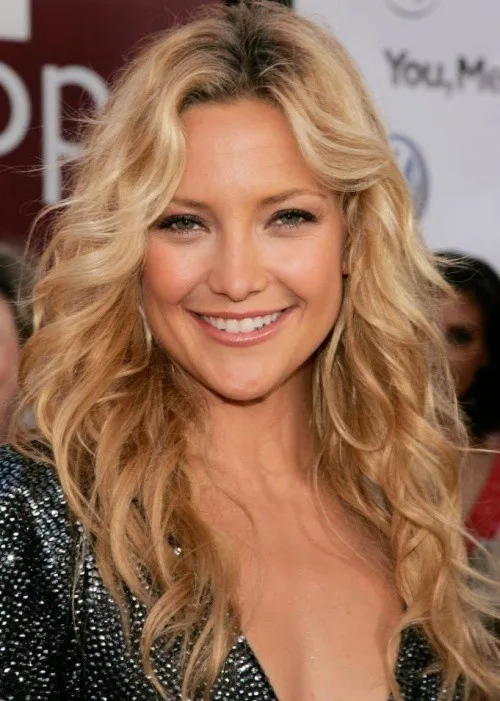 If your hair is naturally wavy, there isn't much you can do to keep it very neat except for loads of hair products. So sometimes you can allow yourself to just let it down and be messy. You'll be surprised to learn that your locks still look fantastic.
Now that you've browsed these wonderful options, you are absolutely ready to make a choice. We wish you luck on this fantastic journey where you will not just change your image but will become more confident of yourself and have a lot of fun on the way! Still confused? Go to a pro hairstylist to get the best style for your facial size and shape.