When you buy through links on our site, we may earn an affiliate commission.
Combs and brushes are essential for anyone lucky enough to have curly locks. These are important tools that not only make keeping curly hair looking great easy but also allow users to quickly style their hair without a lot of pain or frustration.
Unlike hair tools that are designed for straight hair, brushes and combs for curly hair are created to handle the unique needs of people who have curls.
Just like people who have curly hair know that they must use the right product for their hair to look and feel great, they must also invest in the best combs and brushes.
These are designed to help improve the health and beauty of hair quickly and easily.
How to Choose the Best Combs and Brushes for Curly Hair
As anyone with curly hair knows, choosing the right brush or comb is key to great results when detangling and styling hair. Unfortunately, there are a lot of options on the market that claim to be great for curly hair, but will only cause more snags and damage when they are used.
One of the most important things to remember when shopping for either a brush or a comb is that quality matters. It's time to skip cheap brushes and combs that are made from a brittle plastic that will easily break or tear through hair. Opting instead for a tool with high-quality bristles is a much better idea.
It's also a good idea to think about how thick and curly the hair actually is. People who have thick curls or ringlets will need to invest in combs and brushes with wider teeth, as these will cause much less damage when they are pulled through the hair.
There are brushes that are designed for detangling, as well as ones that are made for styling. Having both on hand and using them at the appropriate time will help to reduce damage to curly hair and will make the styling process much easier.
Should I Use Different Combs and Brushes If I Have Curly Hair?
Combs and brushes dedicated to curly hair are different from the ones that people who have straight hair generally use. Not only do the right combs and brushes make styling curly hair easier than ever, but they also prevent breakage and damage.
Split ends, broken strands, and lackluster curls are all products of using the wrong combs and brushes.
Why Use Combs and Brushes for Curly Hair?
Not only do combs and brushes for curly hair help to prevent damage to curls, but they also speed up the styling process. They are designed to allow the curls to move freely through the brush or comb, helping enhance the curl pattern with every stroke and making curls look healthier and more defined.
The bristles on these combs and brushes are designed to move easily through curls without catching and damaging them. They can handle thicker curls and the pressure that they will put on a styling tool without breaking.
What the Comb Is for?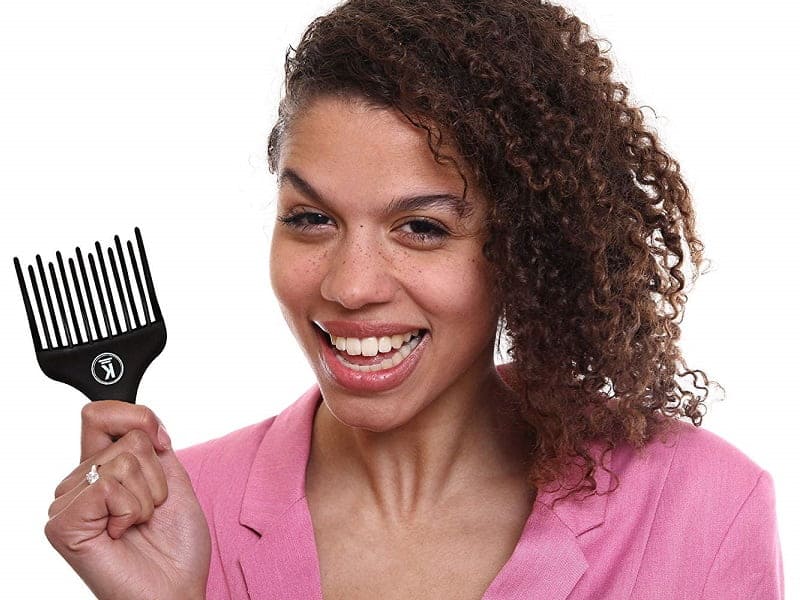 Combs for curly hair is designed to help prevent any breakage, and also make it much easier to detangle. Many people who have long curly hair find that using a comb on a regular basis is the best way for them to detangle their hair and reduce knots.
Since the teeth on combs are much thicker, stronger, and farther apart than the teeth on brushes, they are ideal for using on really thick hair or curls that are very tangled. If the hair is very snarled or tangled, then it's important to use a comb before trying to brush the hair.
What the Brush Is for?
Brushes are to be used after the major knots have been removed from the curls. They are a great way to add definition to curls and prevent them from being damaged. A great brush can also help to remove any fairy knots in the hair and keep the hair from looking frizzy.
In addition to helping control curls, brushes are great for stimulating the roots and improving blood circulation in the scalp.
While there are some brushes designed for detangling, people who have very thick curly hair will often find that using a comb for that step of the styling process is a much better way to keep hair looking its best.
Best Combs and Brushes for Curly Hair
Not only is this brush known to do a great job detangling curly hair, but it does so quickly, cutting styling time in half. It's a great option for anyone looking to quickly brush their curls without causing them to look frizzy.
It helps to define curl shape and does a wonderful job making any curls look thicker, fuller, more natural, and even healthier.
There's no hair that is too thick or too curly to be a match for this brush, as it has been designed to easily detangle curls while avoiding damage due to breakage or ripping.
The brush is perfect for use on both wet and dry hair but really shines when used in the shower, as it will move easily through any curls without leaving damage behind.
Natural boar bristles do a wonderful job not only moving easily through curls without pulling them but also help to smooth and soften hair.
This brush is great to use when preparing hair for styling and does a wonderful job spreading oil along the length of the locks. In addition, the wide paddle design is great for people who have thick curly hair and want to tame it easily.
Unlike other brushes that have ordinary bristles that will actually pull hair out of the head when they encounter snags, this brush does a great job detangling curly hair without damaging it.
It is able to do this thanks to the unique shape of the bristles, which are shaped like cones. They separate hair to the sides instead of yanking it down and out of the scalp.
This wooden comb not only feels great in the hand but also slides easily through hair without snagging and grabbing it, which can be painful.
Made from sandalwood, it does a great job spreading natural oils from the scalp all the way to the ends of the curls, helping protect them and ensuring that they look as healthy as possible.
This comb also does a great job eliminating frizz and flyaways.
Great for very thick hair, this comb is ideal for adding a ton of volume to curly hair and for carefully picking out smaller tangles and nests that may be missed by larger combs.
It's not a great option for use with very knotted curly hair, as it can easily snag, but it's perfect for perfecting curly hair and ensuring that any small tangles are removed before the final styling.
This comb has very small spaces between the teeth, which will remove any stress or yanking that can occur when detangling hair.
It's an ideal option for anyone with curly hair that is also very thick, as the teeth are designed to prevent damage to the hair and easily slide through thicker hair without pain. Additionally, this comb is great for styling while detangling at the same time.
Combing & Brushing Curly Hair – Tips and Tricks
Combing completely dry curls is not only difficult but also very damaging to the hair. While wet hair is easier to brush and comb, it can be really easy to accidentally break strands when the hair is completely wet.
Using a towel to remove as much water as possible from the hair and then allowing it to air dry for around 10 to 15 minutes before combing is key and will reduce any damage caused.
Hair that is really hard to detangle can be combed in the shower when it has been coated with conditioner. The conditioner makes it easier to comb and helps protect the strands from damage.
Just like with any other beauty equipment, cleaning a brush or comb is key to making sure that it will continue to work as desired. Hair tools need to be washed on a weekly basis to stay nice and fresh. Dirty brushes will leave behind dust and produces residue when they are used, which can make styling hair much more difficult.
Additionally, people who are lucky enough to have curly hair must use the right hair products in conjunction with their brush or comb for the best result. Adding a few drops of high-quality oil treatment to the locks will help to prevent the hair from being damaged during detangling and styling.
These seven great combs and brushes are perfect for anyone who has curly hair and is looking to style it without a lot of difficulties. Having the right tools on hand will make taking care of curly hair without accidentally damaging it easier than ever. It will also open up a whole world of new styles to try without fear of pain, getting the brush stuck, or accidentally causing split ends.
See What's Selling Hot: