Curly hair bun offers quite a lot of versatile aspects in terms of styling and grooming in recent fashion trends. Women with curly hair can easily rock any kind of hairstyle, especially braids and buns.
Having said that, big curls can sometimes be a little difficult to manage in a bun.
However, there are multiple ways by which you can not just make the perfect curly bun but also include variations and a number of trendy styles in your bun. This will not just have you turning heads but will also keep you at the top of your hairdo game.
How to Style The Perfect Curly Bun?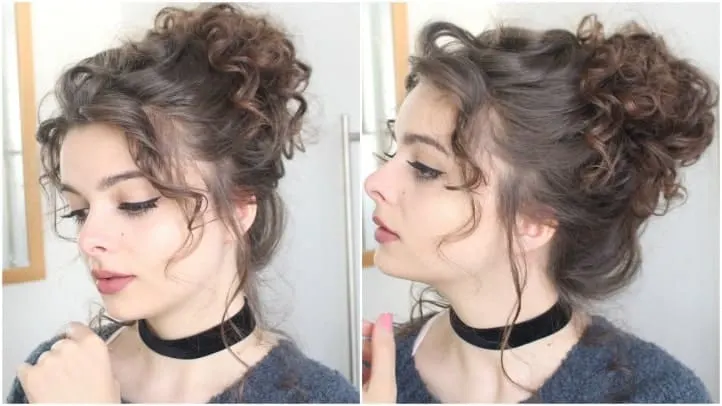 Curly hair can be sometimes difficult to manage especially if you have thick hair. Ensure that you use a hair tie and make a ponytail before you start creating a bun atop it.
Use plenty of bobby pins to secure the bun strongly to your scalp since curly-haired buns give away easily otherwise. You can add a few metal cuff hair ties, scarves, and beads, to complement your overall look.
Although heat styling and hair products work wonderfully well for curly hair, avoid using too much of it on a regular basis.
Instead, stick to your own natural curls and invest your efforts in making your natural beauty stand out in the long run.
How to Style Curly Bun with A Weave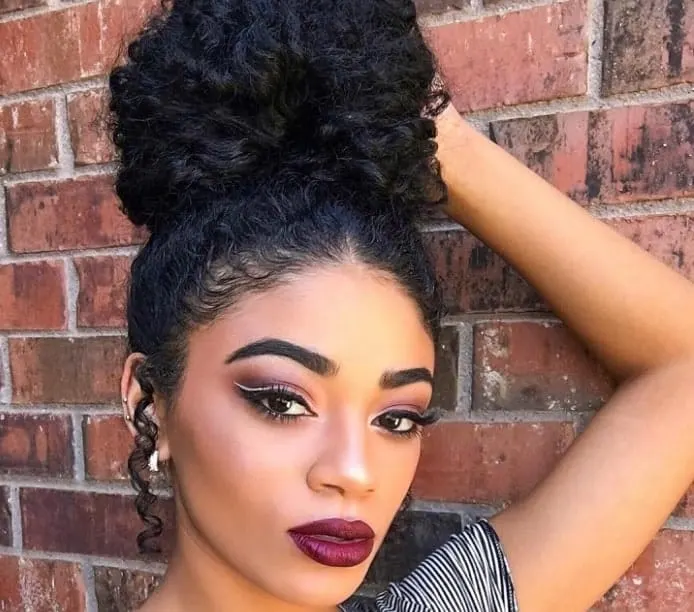 Weaves make a simple and plain curly bun stand out in the best possible way. In addition to imparting volume and fullness to your bun, they also offer a wide variety of styles to play around which is not quite possible with your natural hair.
High buns and top-knots work the best with hair weaves. Simply tie your bun high atop your head and wrap it with a hair tie. Post this, start putting on a hair weave around it until your bun is fully covered.
Weaves can be used in many different ways other than this too, like creating a messy look or a top-knot.
Amazing Curly Weave Hairstyles for Women
Curly Bun Hairstyles
We have handpicked super trendy bun hairstyles for curly-haired divas!
1. High Bun with Bangs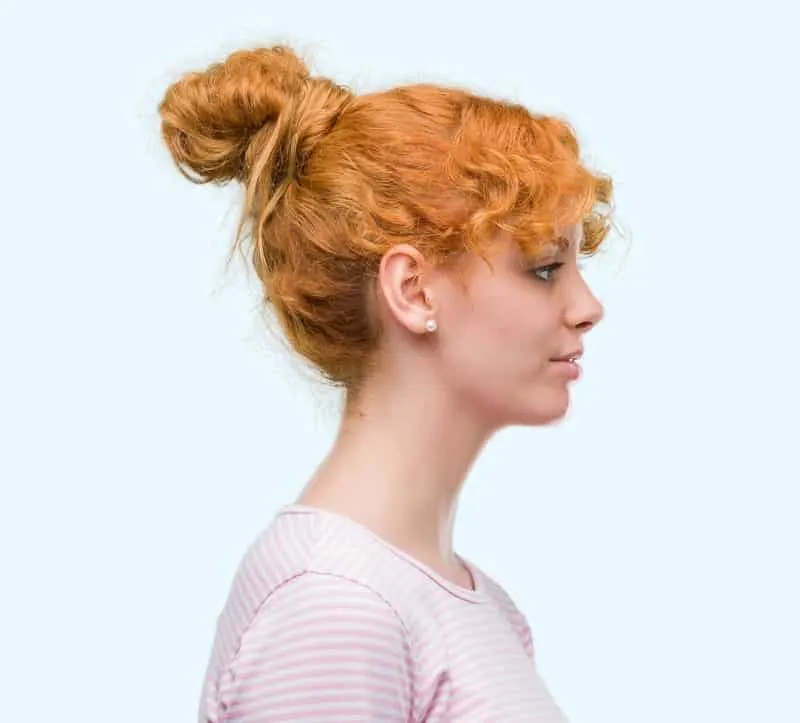 Tuck your curly tresses neatly away from the face with a high bun. Section the hair into two parts and twist them in the same direction before twirling them around one another for a knotted look.
Secure in place with pins while your bangs frame the face at the front.
2. Elegant Chignon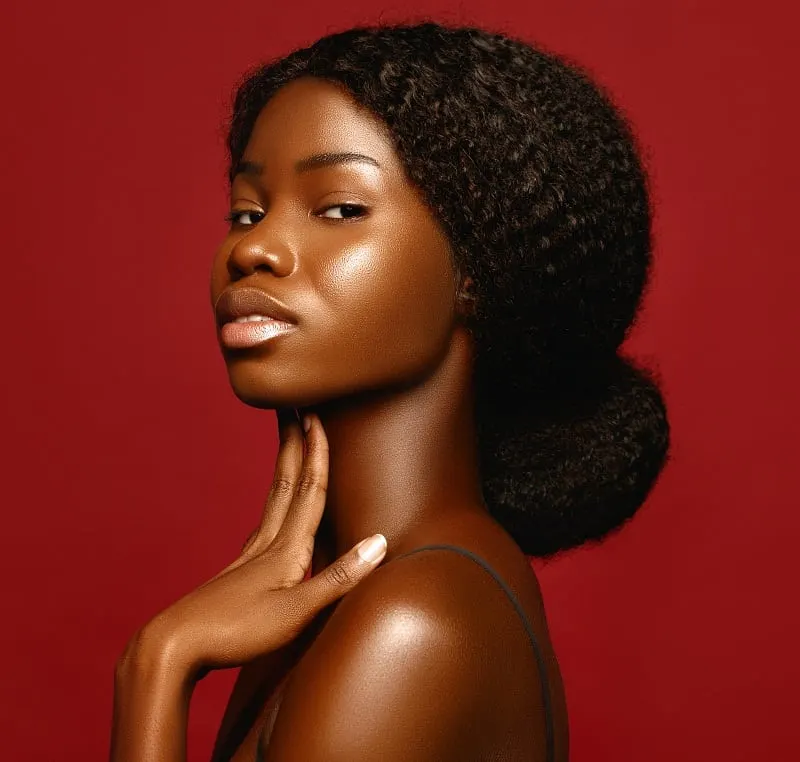 Low-lying chignons are one of the most elegant curly hair bun styles that are worth a shot at formal events.
Opt for a middle or side parting and gather the hair near the nape. Roll the strands inward or outward by wrapping them around your fingers. Add pins and voila!
3. Messy French Twist Updo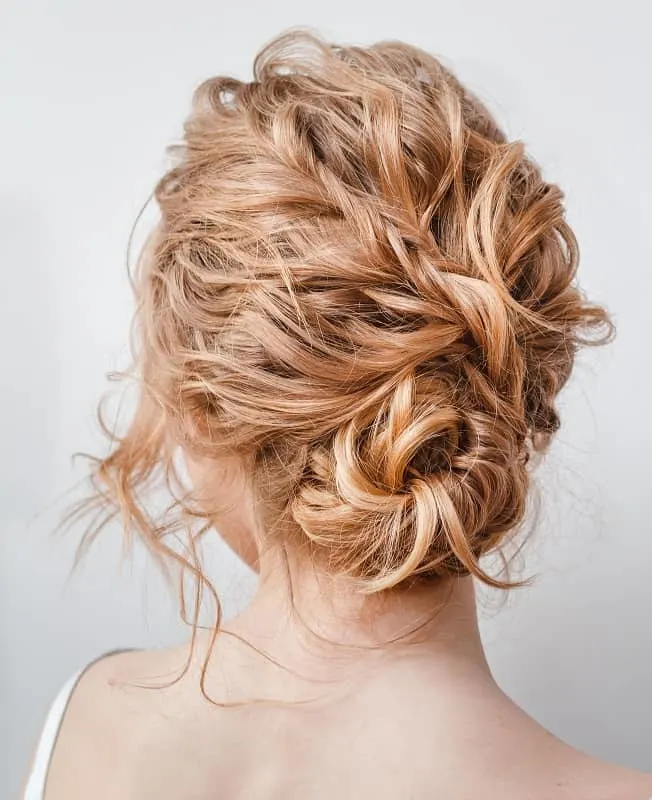 Make a style statement with a messy French twist updo to steal the show wherever you go. Add curls, if not natural, and twist the front chunks loosely towards the back while sparing some face-framing tendrils.
Assemble the remaining hair on one side of the head before swirling and folding it around.
4. Piled-Up Curls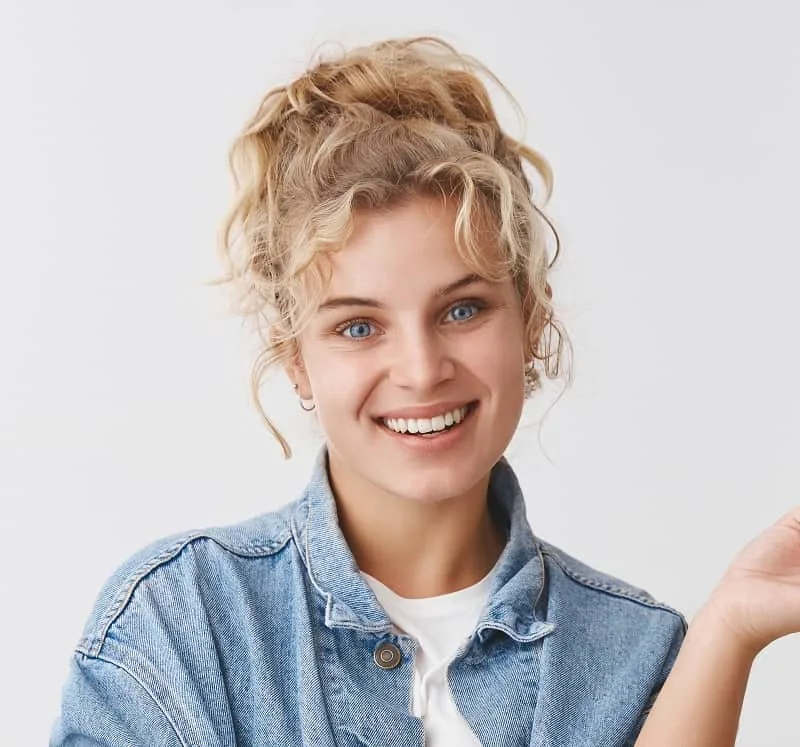 Pile up your precious curls on the top for a carefree appeal. Opt for a high ponytail and roll individual chunks into spirals around it.
For a more flared-out bun, repeat the same but without a pony. Tease and tousle the hair for a ruffled appeal.
5. Curly Bun for Thin Hair
Curly hair texture is a lifesaver for ladies with a thin mane. Fluff up the strands for your short pony to take the shape of a bun in case of short hair.
For medium to long tresses, wrap the curls in a simple updo leaving the ends free to dangle.
6. Over The Top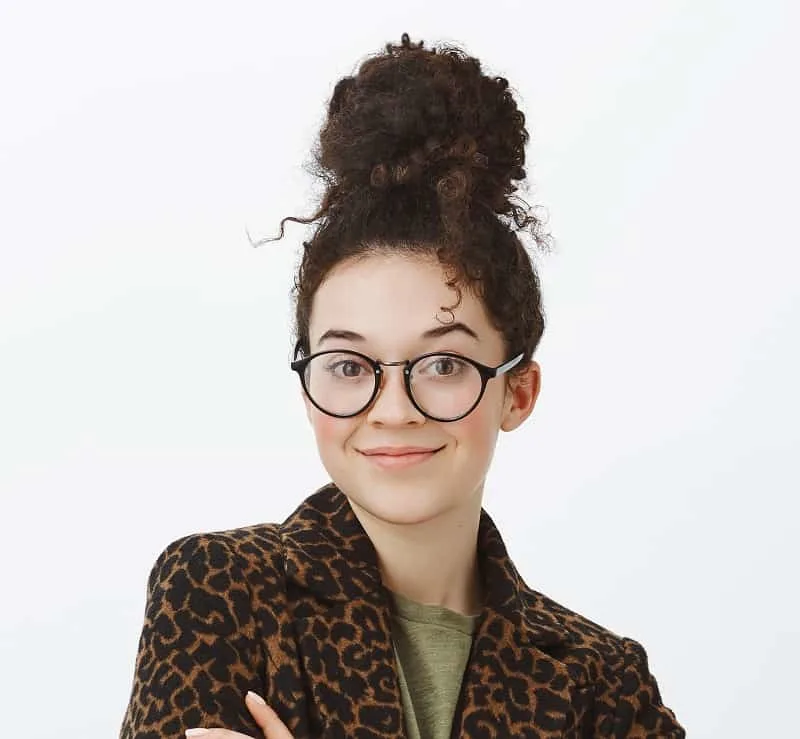 An effortless jumbo bun like this sitting on top of the head is sure to get you noticed from a distance.
Slip on a hair donut bun maker and backcomb the curls before wrapping them around into a perfectly round 'do. Spare some coils to sway with the wind.
7. Casual Knot
Get through an oily hair day with a casual curly bun hairstyle just like the one depicted here. Slick back all of the hair and roll it around.
Instead of using pins, hold the bun in place with a rubber band for an unkempt finish. Easy-breezy!
8. Loosely Rolled Bun
Keep it relaxed yet classy with a simple rolled bun. Tuck all of the hair in a thin elastic headband or go for a topsy tail and wrap the remainder into a roll.
In either case, use plenty of bobby pins to keep the style intact all day long. Try a chic side bun too!
A hint of braid in your hair works wonders, especially with a curly bun. It can be a side French braid making its way into the bun at the back of your head or a loose braid hanging down the side of your face.
A streak of brightly colored hue traveling within the braid will amp up this look by several notches.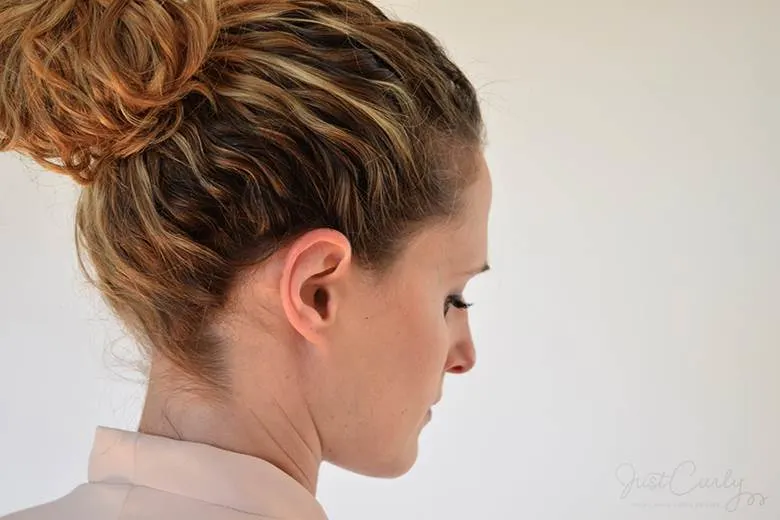 For this look, try not to secure your bun to the head very tightly with pins or hair ties. Also, refrain from making a neat and slick look.
Here, we are aiming for a slightly yet comfortable and cute messy look. A high bun works perfectly in this regard.
Hold your curly hair up in a high bun with only a few ties in place, leave out a few strands of hair down the sides, and you have a messy look ready. Remember to use a hairspray to keep your bun from loosening with time.
11. High Bun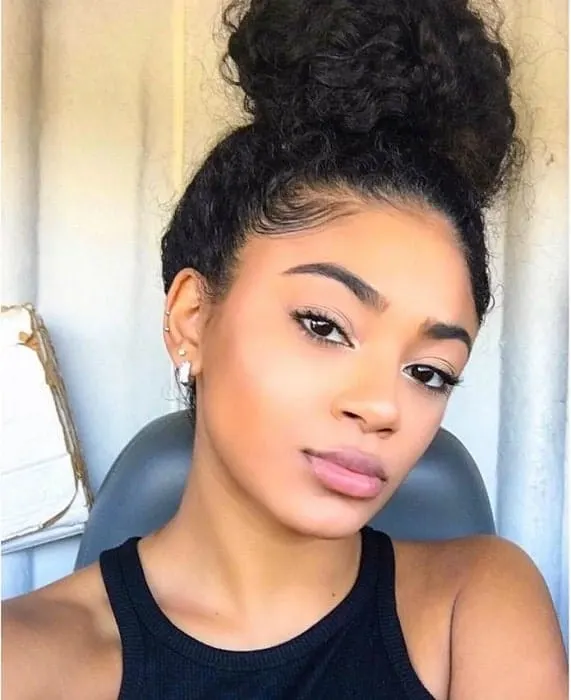 A high bun rests atop your head but not at the very center of it. This curly bun looks incredibly pretty if you have big curly hair.
But even if your hair is mid-length or short, you can still pull off this look by adding a few weaves to the bun.
12. Twisted Curly Bun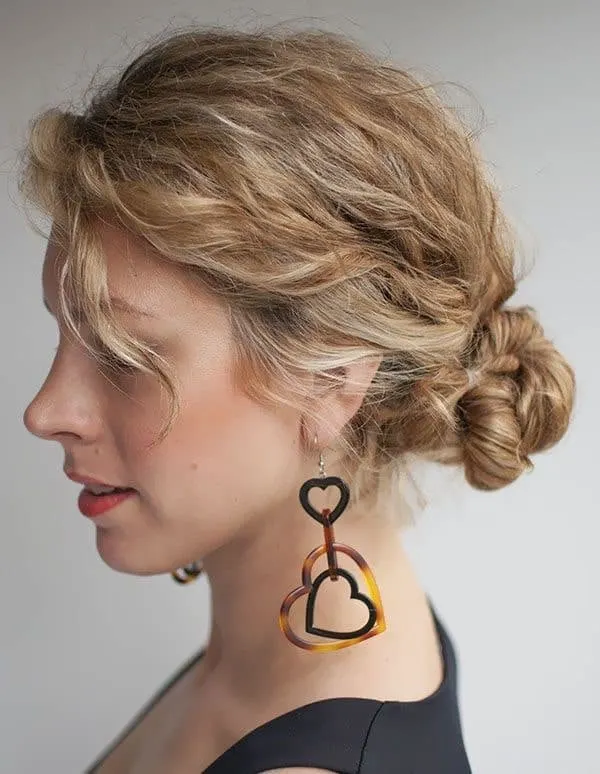 Twist never go out of style even if you decide to add them to a bun for curly hair. For the twisted bun look, tie all your hair in a high ponytail and twist it all down its length.
Now twirl this around the hair tie to make a bun, and voila! Your twisted bun is ready! You can even make two buns on either side of your head instead of one for a more carefree and outgoing vibe.
13. Triple Roll Buns
This curly bun hairstyle is a little over the top, but definitely worth the glamour and attention. For this, part all your hair into 3 different sections – top, middle, and bottom each.
Secure each section into an individual bun, voila! Your look is now ready! You can perfectly pull off this look at a classy party and turn plenty of heads too.
14. Space Buns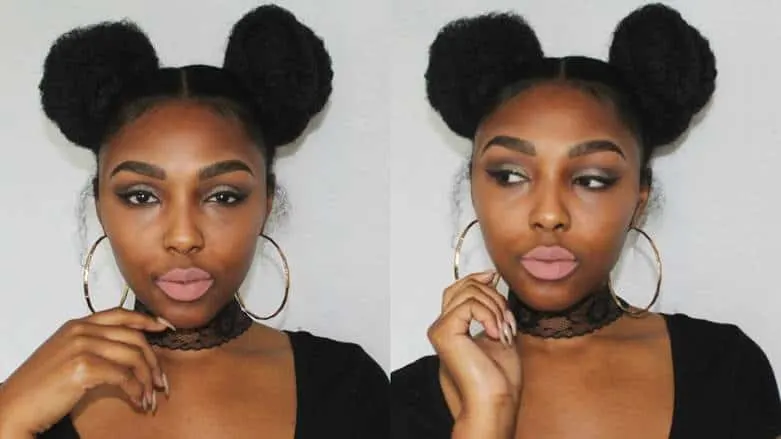 You can either go for standard or braided space buns for this look. Double buns are an exceptional choice for parties and get-togethers, though not recommended for formal settings.
15. Curly Top-Knot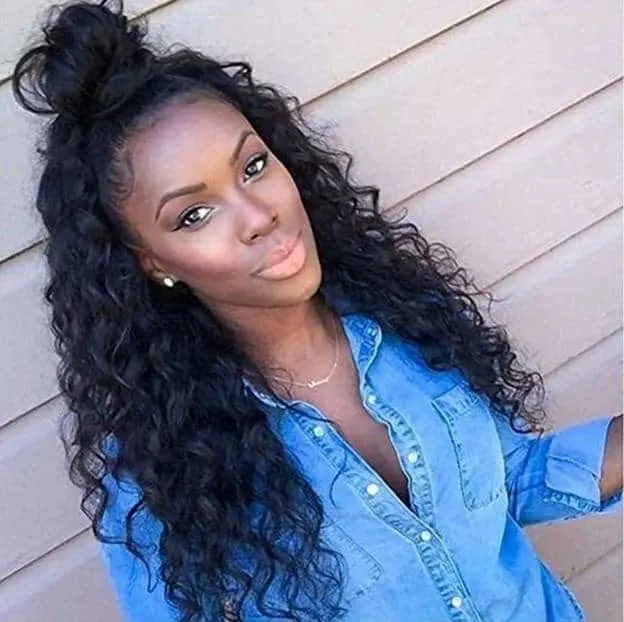 A top-knot is one of the most sought-after looks amongst millennials. Gather your hair right in the middle of the top of your head and twist it into a knot.
For the rest of the hair, you can leave them loose down your back. This curly bun is the bets for a casual and fun outing like a picnic or a day at the beach
16. Knotted Braids + Low Bun
Have your hair braided in knots from atop your head right down to the nape, and secure it with a bun at the end. If you have short hair, leave out a few braided strands for an added beautiful appearance.
Start braiding your curly hair towards form the nape of your neck right up to the top of your head. Once you reach the top, secure the end of your braid with a hair tie and wind it around to make the curly hair bun.
An upside-down braid not only holds your hair in place but also creates a wonderful look perfect for both formal and casual occasions.
Short or not, this hairstyle is one of the easiest and most convenient buns for curly hair. All you need to do make a half pony and roll it up into a small bun at the middle back of your head.
Leave the rest of the hair loose and flowy with perhaps a little hair spray and serum to prevent them from getting frizzy and entangled.
19. Scarf Bun
Hair scarves add instant charm to any bun, especially curly buns. For a scarf, bun look, create a braid with a thin strap-like hair scrap integrated into one of the 3 sections of your braid.
Post this, wrap up this braid into a bun for a beautiful and chic look. Preferably, colorful and funky scarves work better than monochrome ones.
In fact, scarves can up the look of any bun you decide to sport. Just wrap a hair scarf around any bun that you make, and you are good to go!
Cliche Wrap Hairstyles for Black Women
20. Turned-In And Pinned Bun
This bun style for curly hair only works on short length. Collect your hair below your head at the back, twist it towards the inside, and pin it up using bobby pins.
That's all! Your turned-in and the pinned bun is all ready to add a few brownie points to your overall look.
There are umpteen ways to style a curly bun apart from the 20 mentioned above. You can even mix and match two styles to create a hybrid of them and carry it with utmost elegance and beauty.
Curly buns can be worn high or low and work equally well for kids and young girls alike. Therefore, if you're looking to style your curly bun in the trendiest of ways, resort to these methods and sport a chic look at your next event!