You find it quite challenging to choose a curly hairstyle for women that makes your ringlets look stunning all day? Look no further! We know that luxurious curls, as gorgeous they look, as demanding they are. This is why we gathered here 51 examples of stunning hairdos for curly hair that will make your life easier.
When we're talking about coils,  you need a haircut that layers your hair and makes it easy to arrange and style. If your mane is hugely curly, you may also think about reducing the volume and giving your bouncy ringlets more space to shine.
Elegant Curly Hairstyles for Women
In this article, you will find plenty of hairstyles for curly hair that will allow you to channel your inner romantic side and fabulously transform your look. If your hair looked before like a cuckoo's nest, after this transformation, you'd flaunt your hair with any occasion.
#1. Curly Hair with Bangs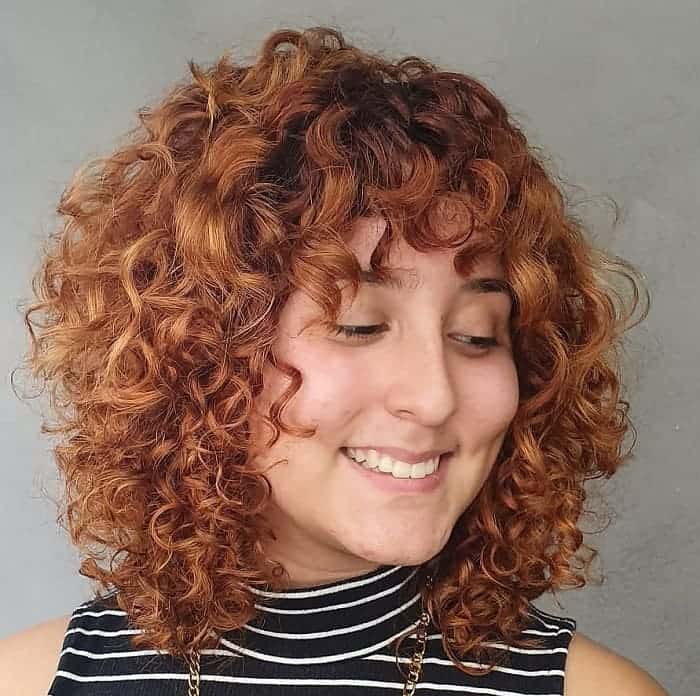 If you want your ringlets to be bouncy, a layered medium haircut is your new goal. You can also embrace some round bangs that are longer on sides and style a ginger brown color for your hair.
#2. Crochet Curly Hair
All women with straight hair now have the change to style sublime ringlets thanks to crochet hair extensions. Adopt some protective hairstyles and attach the ringlets. Adjust the length to create a stunning curly bob.
#3. Blonde Curly Hair
A mesmerizing ombre is precisely what you need if you want to achieve that sun-kissed hair color. A layered haircut is the best hairstyle for curly hair that you can choose if you want to avoid the triangle hair shaped effect.
#4. Natural Curly Hair
Afro American hair looks stunning, but it also has its downsides. It requires a lot of attention and needs plenty of moisturizers to keep it tamed. Gladly, this bob haircut for afro hair makes your locks fabulously arrange by themself.
#5. Braids for Curly Hair
Short hair doesn't necessarily mean that you'll look less feminine. Build several twists on one side and use hairstyling foam to create a wet look for your ringlets. The curls will stay tight all day, and you won't need to worry about fixing your strands every minute.
#6. Curly Hair Perm
If you are not among the women who were blessed with curly hair, you always have the perm hairstyle option. Nowadays, this technique is not as invasive as it once was so that you can style a perm with no fear of irretrievable damage.
#7. Updos for Curly Hair
Curly hair can transform into a stunning bun on top of your head in just minutes. Select a few strands from your ear area and let them loose to obtain a careless romantic look.
#8. Curly Pixie
Tired of styling your hair every day? That morning hair routine gives you a headache? Make a significant change and get yourself a pixie cut. Your Afro American hair will become so easy to style that you will never want to go back to long hairstyles.
#9. Balayage Curly Hair
Balayage is one of the trendiest procedures nowadays, and we have to admit that it does a fabulous job for your hair. Create a blonde grain ombre and style your top hair on one side. The final result will be spectacular.
#10. Curly Hair with Weave
Weaves are ideal if you want to change your hair color or if you want to change your hair texture. Of course, with a weave, you can get both! Create braids for your top head hair and attach the curly weave to get the look you always wanted.
#11. Red Curly Hair
Embrace your strong personality and show it to the world with stunning red hair color for curly hair. Keep your roots in a burgundy shade and flip your crown hair on one side. This way, you will get tremendous volume for the top.
#12. Half Up Half Down Curly Hair
Long curly hair gives you a lot of possibilities. Section your mane into two pieces and pin the top hair into a ponytail. You can also create some braids that will gorgeously interfere with the unknitted ringlets. Use cuffed beads to decorate your hairstyle.
#13. Ombre Curly Hair
Take your ombre game to the next level with an unusual color mix. Keep your roots in their naturally dark color and use a pale red shade to create the transition to ginger hair tips. Gain more volume by flipping your hair on one side.
#14. 3b Curly Hair
3B curly hair has all the volume you want, and you need a slightly layered hairstyle to make it look stunning. These types of curls need more attention because they tend to get dry.
#15. 3c Curly Hair
When styling, 3C curls have a lot of density, and you can amazingly style them with a round haircut and an ombre. Choose a light brown color for the ends to make these corkscrews look ravishing. Slightly arrange your bangs on one side.
#16. Big Curly Hair
Many say that if you have 3c coils, you can't get proper bangs. This fantastic hairstyle prooves everybody wrong! Keep your big hair long and create a middle part. Also, part your eyebrow length coils in the middle.
#17. Brown Curly Hair
Whenever you want to give your fantastic coils texture, choose a sombre. Keep your roots in their natural color and slightly brighten the intensity gradually, till you reach the ends. A layered hairstyle will definitely help you keep your coils tamed.
#18. Sew in Curly Hair
A platinum white blonde color is so hard to achieve if you weren't born with it. It involves a lot of bleaching procedures, and you don't want to do that to your hair. If you still crave for it, there is always a choice: curly sew-in extensions. Attach them on your natural hair, and you are ready to rock!
This fantastic ginger ombre looks so good in a side ponytail for women with curly hair. Pin all the hair on top of your head, and the color of your tips will gorgeously contrast your roots.  Also, a hairstyle like this is ideal for women with glasses.
#20. Frizzy Curly Hair
Frizzy, curly hair is hard to wear, but not if you find a great layered haircut that will fabulously arrange it. Create more volume on one side by merely casting your crown hair on one side.
#21. Curly Hair Bun
This eye-popping hairstyle for curly hair is so easy to reproduce. Keep your bangs to your eyebrows level and style a big bun on one side. Use a thin golden thread to wrap it around the bun.
#22. Thin Curly Hair
For this hairstyle, you need to keep your top hair slightly longer on top and shorter on sides. If you want to recreate the look, consider getting curtain bangs. That will accurately define your coils.
#23. Curly Mohawk
Use loads of moisturizer to make your sides look flawless and pin that hair into a mohawk. Extend that hairstyle to your forehead by leaving your rich bangs to fall on your eyebrows. Accessorize this hairstyle with a pair of big earrings.
#24. Curly Hair for Wedding
If you want a memorable appearance at your wedding, style a big curly bun on top of your head and accessorize it with a sparkling floral diadem. Pull out a few strands of hair from the sideburns and temple zone and let them loose.
#25. Mixed Girl with Curly Hair
Whenever you feel the need to adopt an out of the ordinary hairstyle for curly hair, shortly trim one side of your head and keep the other longer. You can go even further and make a bright brown ombre.
#26. Curly Twist
If you have long precious long hair, style beautiful twists like the ones presented in the image. Pick a few strands of hair from the temples and pin them in the back with a rubber band. Let your hair fall on your back.
#27. Middle Part Curly Hair
Use plenty of moisturizers to make your root hair straight and astonishingly style your baby hair. Create that stunning wet look that will make your coils look well defined with some hairstyling foam.
#28. 80s Curly Hair
Rebel girls will adore this 80s look for curly ladies. Create a lot of dimension in the top head area and style some messy bangs on your forehead. Use hairstyling foam to define each coil. Now get ready to rock and roll!
#29. Curly Hair with Shaved Sides
Pixie haircuts go hand in hand with curly hair. Style a gradually faded part on one side and use a razor to create a zig-zag line. Tousle your coils, and let's get the party started!
#30. Auburn Curly Hair
Auburn curly hair looks stunning if it's healthy and if the coils stunningly arrange themselves. A layered haircut will give you that effect and if you want to rock an 80's look, flip your long bangs on one side.
#31. Curly Hair for Round Face
#32. Marilyn Monroe Curls
When huge celebrities like the beautiful Marilyn Monroe starts to wear her hair in curls, the style becomes even more appealing. So, if you are a fan and you're dying to know her beauty's secret then, you will be surprised to know that part of it comes from the short curly hairstyles for women she tries on.
#33. Asian Curls
If your goal is to achieve the ideal curly hairstyles for women, then this is the right design for you.
#34. The Key To Elegance
When asked about the key to elegance, an expert answered with " an angled cut". So why not try and follow his helpful advice by going with a more dynamic look that shouts at the top of its lungs and grabs everybody's attention.
Check These Black Women Who Are Rolling Their Curls
#35. The Curly Afro
For black women, the afro curly hairstyles are a popular choice. Because it is fashionable, cute, effortless, as well as completely comforting if you ever get hit on the back of your head or something! After all, safety first, right?
#36. Layered Curly Hair
Both short and tall curly women hairdos offer you with layering options. However, the thicker your hair the less layering you can normally afford. So, instead of trimming your curly hair extremely short to be able to afford the charges, go with a half height solution and avoid all the trouble.
#37. Short Curly Hair
The bed head short curly hairstyles with a hint of bedhead hair are one of the latest hits out there. But why? Because nowadays laziness is a must and being energetic is practically extinct. So, the more effortless a hair design is, the more it ranks in the hairstyling world.
#38. Short Afro
The most important thing in this kind of short curly hairstyles for black women is making it clear to your stylist about how you expect your hair to frame your face. Moreover, this one looks best on girls who have naturally curly hair and want to rock that frizz.
#39. For Naturally Straight Hair Girls
For girls with naturally straight hair who seek a little more volume, here's a lifted wavy bob idea that you will fall in love with. The short S-shaped waves provide a lot of lift rather than a simple look. So, with the curling iron, you can add these S-layers on the upper layers of your hair.
#40. Chic Tendencies
Color accents in the women's curly hair have become one of the chicest tendencies lately. So, why not go and dye the whole thing with fresh and optimistic color to light up your whole look.
#41. Long Curly Hair
Many women are tempted to get their hair trimmed when the hot summer season knocks down on their doors. However, they tend to hesitate because women's long curly hairstyles cannot be resisted!
#42. Loose Curly Hair
If Hillary Duff was your idol when she was on Lizzi Mc Guire when you were young, then you probably tried to mimic her curly hairstyles from time to time. So, get inspired by the way she flicks her hair sideways in order to display her face while showcasing the curls on both sides.
#43. The Emma Watson Way
Following more celebrity trends, here's the lovely Emma Watson way where you get to have the best of both worlds. Because by combing the straight top and curly tips she was able to take advantage of the benefits of both hair types.
#44. Side Part Curls
Whoever said that only straight hair can make you look fabulous is totally wrong! Catch a glimpse of the beautiful and youthful Maddison Pettis and see for yourself that curly hair can make you look as stunning as ever. It all lies in the secret behind the perfect curls. And that's just a few blow drying minutes away using the diffuser.
#45. Curly Bob
So this is the kind of curly hairstyles for women to guarantee you a unique look and make you stand out in a crowd. So, randomly twist and turn your curling iron to create your own 3D composition using your hair strands.
#46. 3a Curly Hair
Moisturizing your hair is the key to maintaining your women curly hairdos in shape for a longer period of time. But, how can we actually do that? After washing your hair, apply a special serum which would be presented in any top hair product brand.
#47. Wonderful Waves
In case I don't want to go fully curly, then what should I do? You should use a smoothing balm, especially if you are dealing with damp hair. After that, blow dry your hair locks with a round bristle brush. Finally, apply a flat iron and voilà!
#48. Messy Curly Hair
Messy curly hair for women are very stylish these days. And the greatest thing about them is that they are completely effortless. Consequently, styling them takes up ample time. So, what is this secret technique?
Easily blow dry your hair after a shower using the diffuser attachment. Because the diffuser adds up a lot of volume to your hair and makes it look even richer. Especially, for people with thinner face shapes and sizes.
#49. Shoulder Length Curly Hair
Nourishing curly hair properly can be tricky. However, all you have to do is use shampoos, conditioners, and masks that are suitable for your hair type. Because these products can help moisturize your curled up locks instead of possessing stiff ones. In addition to that, it will help you control the frizz and raise your hair's obedience level by a factor of 10!
Apparently, even celebrities choose to shuffle between curly hair and straight hair. And we can all agree that the one and only Selena Gomez looks exceptionally stunning in her curly hair. So, go ahead and try some oil products in order to get the same glisten and glowing hair as Selena's.
#51. Lighter Hair Products
Another thing you need to keep in mind when you are dealing with curly haircuts and hairstyles for women is that curly hair is very porous. That means that they are full of loopholes. Consequently, to avoid weighing your hair locks down, you need to opt for light hair products including mousses and hairsprays for styling at home.
Long Kinky Curly Hairstyles
Asymmetrical Soft Afro Hairstyle
Medium Sized Caramel Kinky Curls
Sleek and Curly Mixed Hairstyle
Long Kinky Curls
Soft and Tight Corkscrew Curls
Large Soft Afro with Highlights and Lowlights
Mid-Sized Corkscrew Curls in Long Hair
Relaxed Afro Hair with Soft Waves
Big and bold kinks are a feature of Afro-textured hair. Stay true to your roots by showing off your kinky and curly hair.
Finally, when your hair gets the proper care, it would be way easier to end up with the perfect curly hairstyles for women you had in mind. So, there you go! Curly hair turns out to be a blessing and not a curse.