There is now a booming variety of different hairstyles for black boys with curly hair. Gone are the days of limited options between the buzz cut or the afro – the hairdressing world is finally paying attention to the needs of our little ones, which means we are now we are spoilt for choice with options.
So, if you are looking for a new and unique 'do for your tot, here are the top 17 toddler boy haircuts for curly hair. So, have a browse and see the must-have mohawks, far-out fades and high-style high tops!
Styling Tips for Black Boys with Curly Hair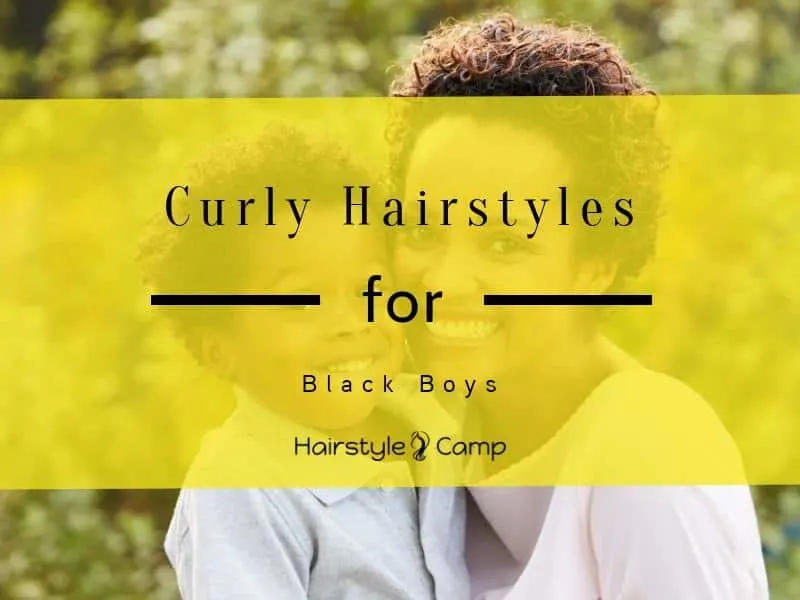 It's not always easy to care for any hair and it's even harder when you have an active little boy wanting to do something more fun than being preened!
Here are a few easy black boy curly hairstyling tips to help you keep their hair in tip-top condition:
Less Is More: Yes – keeping your kids clean is super important but shampooing frequently isn't the best move for keeping black hair in good condition. Frequent shampooing can dry out the follicles and leave the hair brittle.
Choose a sulfate-free product that contains natural oils and only shampoo the hair a maximum of twice a week.
Opt For Easy: If your kid really doesn't like having their hair done and is too active to sit still then the best option is to keep it simple. Choose a hairdo that is easy to style and maintain and it'll keep those tantrums at bay.
In Perfect Condition: Conditioning the hair isn't just for girls or for people who want long glossy locks. Conditioning is important for all hairstyles and hair types as the hydrating qualities make hair easier to style – which is ideal if you have a wriggly, impatient kid.
Beautiful Curly Hairstyles for Black Boys
Here are the top 17 hairstyles for black boys with curly hair. In case you are interested in other haircuts for your boy, find more styles here.
1. Curly Hairstyle with Dreads and Beads
The short dreads are one of the more classic styles for black boys with curly hair. It is possibly one of the easier styles to maintain once it's been done. However, getting them done involves patience! Ensure that you choose a good stylist who is highly familiar with the African boy or black boy hair. You may also want to check that their school will also allow this sort of style.
2. Long Curly Hairstyle for Black Boys
A super cute style that looks adorable on any kid! Make sure that you regularly visit the hairdresser to keep on top of the cut. A clever cut will ensure that the curls remain in great condition and fall nicely from the crown of the head. Depending on your child's hair type they may need a little styling product.
3. Toddler Boy Haircuts for Curly Hair: Sponge Twists
If you prefer for your kid to have shorter curly hair, then sponge twists could be a good option for you. Sponge twists work best on short hair and it is relatively easy to do. If you want to try it yourself to save a trip to hairdressers, then the hair sponges used to create such a look are available to buy online.
4. Black Boys with Curly Hair: The Part Fade With Design
A unique line hairstyle for black boys with curly hair. Fade design and temp fade hairstyles are everywhere now – and they look super cute on tots! Aside from being bang on-trend they are low maintenance in terms of day-to-day styling but do require regular trips to the barber to keep it cropped and neat. Consider adding some design into the fade for an extra cool and unique look.
5. African Boy Hairstyles: The Flat Top
If your kid likes to stand out from the crowd then the flat top is the way forward! For a flat top style, the sides need to be cut evenly, with the top being cut from front to back to create that unmistakable flat piece across the top.
6. Black Boy Curly Hairstyles: The High Top
Whilst they may look relatively the same, the flat top tends to be taller (an inch or more in length) whereas the high top is usually less than half an inch tall.
The high top haircut is a great option for a slightly more demure look than the flattop which may suit some kids better. If your kid's school has rules around appearance, then this may be a better choice than the flat top. Make sure you check first!
7. Black Boy Haircuts: The Frohawk
Despite some opinions, the frohawk isn't short for 'afro – mohawk' but it comes from 'faux hawk', meaning 'fake'. The frohawk is the milder, more gentle brother of the Mohawk as it doesn't often require the dramatic close-shaved sides and sky-scraping spiked center.
For a cuter black boy hairstyle consider leaving the top of the hair curly or adding lightened tips for a more unique look.
8. African Boy Hairstyles: The Buzz Cut
The buzz cut is a timeless style that is perfect for black boys who don't like having their curly hair done or are too impatient for more complex styles. The added beauty is that the buzz cut can be modified to add a more unique look so think about adding shaved lines or patterns. Check more curly haircuts for boys here, you may find something that'll suit you the best.
9. The Curly Mohawk for Black Boys
One of the coolest haircuts for black boys with curly hair. The mohawk is all about the drama – so if your kiddo likes to be seen then this may be the option for them! Unlike the frohawk, the sides will be shaved a lot closer and the top run of hair more pronounced. Consider having a burst fade effect cut in for a more unusual look!
10. The Curly Top
This black boy curly hairstyle is another great way to keep the hair naturally curly but add control by having a short-cropped cut and adding interest with some distinctive design elements. Consider a high fade cut or shaved sides with a design for a more unique look.
11. Short Coily Hair
Thick coils are hard to manage and going for a short curly haircut, you will save a lot of time when styling. As a black boy who also wants to look trendy, use a special sponge, and rub it on your hair to give your hairstyle more definition.
12. Long Curly Top
This curly haircut for little black boys keeps the sides a little bit shorter than the top. Makes sure that after washing your son's hair, you always use conditioner because it will help his curls form.
13. Afro Messy Hair
Giving your little man's hairstyle a warmer touch is a thing you can easily do by dyeing the tips in a lighter color. So if he has dark hair, go for brown tips or even blonde ends.
14. Twisted Braids
Your little man will look super cute with a mohawk haircut and twisted braids. Section the hair in small squares, deeply moisturize the hair and create a hairdo that he's going to instantly adore.
15. Mohawk
Even as young boys, they still want to look trendy and cool for school. Shave the sides and opt for a medium-wide mohawk. Moisturize the hair to maintain the curly shape and take advantage of that thickness to arrange the mohawk upwards.
16. Top Knot
Top knots have been highly popular in the past years and not only men love them, but also kids. They use their fathers as role models, so if his dad likes top knots, we are sure your son will want one too. Choose a subtle fade for back and sides and pin the hair on the top.
17. Super Short Cut
Buzz cuts are haircuts that really have stood the test of time, and men of all ages adore them. It is low maintenance and if you don't want to go to a barber, you can make this hairstyle at home, using a trimming machine.