Are you one of those boys with curly hair looking for suitable hairstyles? Those who just seem to bounce around perfectly one day and then, you wake up the next morning and your hair look like a bird's nest?
A Curly haircut might be a nuisance to handle, and you may feel as though you just cannot seem to manage and style it well. But you're wrong. Though curly hair is a task to maintain, it can be styled in a bunch many different ways. Curly hairstyles are often voluminous, bouncy and have a great scope to play around with.
Whether you opt for short curly hair or long curly locks, the haircut and styling possibilities for boys with curly and wavy hair are endless. If you know how to tame your hair, having curls in your hair can be of great benefit. It is versatile and looks as stylish as ever.
How to Style Curly Hair for Boys
Now that we have established that boys curly hairstyles are not as bad a feature to your body, it is relatively harder to maintain and style. We also understand that not all boys like spending hours and hours in front of the mirror. However, we have a few tips and tricks that will help all you curly haired boys style your tresses better. If you are a grown-up, feel free to check these hairstyles.
1. Tweak your shower routine
Boys tend to wash their hair every day. But, if you have a curly haircut that gets unmanageable at times, we advise you to wash your hair only twice or thrice a week. This avoids your hair from going dry and eventually frizzy. We also recommend you to use a moisturizing conditioner that adds a glow and cuts done on the frizz drastically. Once you have washed your hair, do not dry it by rubbing a towel vigorously around your hair. Instead, pat dries it gently. This allows your hair to form natural, free-flowing curls.
2. Use a high hold styling product
If you want to bring down the volume, we recommend you to use a high hold matte finish styling product in your hair. Use it in damp hair right after you've had a hair wash. Work the product from the root to the end of your hair. Make sure never to use this product when your hair is dry as it will add to the frizz. This product helps your tresses to maintain the curls, and it also adds a natural shine to the hair.
3. Use a sea salt spray
If you feel your curls are too flat, use a moisturizing sea salt spray. Using this product will keep your hair bouncy without adding any unwanted texture. All you need to do is, spray the product into your hair a couple of times. Run your hands through it and then let it dry naturally. We recommend Devines Sea Salt Spray because of its quality.
4. Use a diffuser
If none of the other tips help you get your curls into control, use a diffuser dryer. Using a diffuser helps the heat to distribute within the hair evenly. It adds a good amount of volume to the curls and avoids the hair from getting dry, frizzy and from having too many flies aways. We recommend the CONFU Lightweight Low Noise Blow Dryer as it has low noise and the performance is awesome. You can see the reviews on Amazon for a better idea.
Watch The Following Video to Learn about How to Style Men's Curly Hairstyle
Styling a boy's curly haircut is definitely more complicated and tedious than styling straight, smooth hair. But, if you take into consideration the above-mentioned tips, we guarantee you that you will see your hair in a different light. All you have to do is put in a tad bit of extra effort. Then, just watch your hair transform into a style you will want to pull off every single day.
The Best Haircuts for Boys with Curly Hair
Before you start to style your curly hair, it is important that you get the right haircut that suits curly hair. This haircut must ensure that no matter how you style your hair, it suits you. These are few hairstyles that older boys can choose for their curly hair.
1. Long curls all over
This look radiates carefree to the very last strand of hair. It is the perfect look if you think you cannot spend anything more than just a few minutes to rub in some hair product in the morning before you leave. It is natural, fun and lets out a rather wild side.
2. The really long springs
This boys curly hairstyle is for the rockers. If your curls are rather tiny, but more in number, then this is the look for you! It's not too long, not too short and will definitely make you stand out in the crowd. After a shower, all you will need to do is use a small dollop of a styling product and scrunch up your hair from the bottom.
3. The one for the soft messy curls
This look allows you to play around with your curly hair without using a hairbrush even. In most cases, you won't even need to use any hair product to set your curls. They're easy, natural and look great too! If you are a grown-up man, try these curly hairstyles for men.
4. The ever so famous – Afro
If you have the hair for it, you must! The afro is such a classic curly hair look. We love it, and if we could, we'd get every curly haired boy on the planet to get one.
5. The Prince Charming Haircut
A dashing haircuts for boys with curly hair. For all you boys who don't have curls, but waves instead, and waves for a slightly longer length, we guarantee this look will make heads turn. Effortless, yet so stylish.
6. The afro with a twist
If you like the idea of an afro, but just don't like having your hair all over the place all through the day, tie it up simple. A tied up afro looks supremely smart on boys with really tiny springy curls.
7. The one for the free-spirited
While this curly hairstyle for black boys might not suit everyone, it is one that represents the free spirit in every way. You may not be able to pinpoint it, but there's something about this haircut that makes you smile.
8. Loose curls undercut fade
This look is a mixture of multiple curly haircut techniques. It uses the loose curls to add a fun, voluminous element to the look, and the undercut fades add a great touch of sophistication.
9. Curly faded undercut
The bold boys, this one is for you. It best to keep the curls elaborate and the undercuts short to ensure a distinct difference between the two.
10. The mane
An amazing hairstyle for boys with long curly hair. To pull off this look, you need to have just the right type of cults and a length that won't make it look too big, neither short hair that will make it look like a small girl.
Hairstyles for Little Boys With Curly Hair
Aren't little boys just so cute? And they look even cuter when their small heads are covered with beautiful curly tresses. Get your little fellow to look as dashing as ever with these little boy curly hairstyles.
11. The long springy curls
Probably one of those looks that are so easy to maintain yet looks as playful as ever. You could add a small fringe too!
12. Curls and undercuts
This little boy curly haircut is sure to make your kid the star everywhere he goes. There's nothing cuter than a little boy sporting a haircut of the grownups.
13. The long flowy curls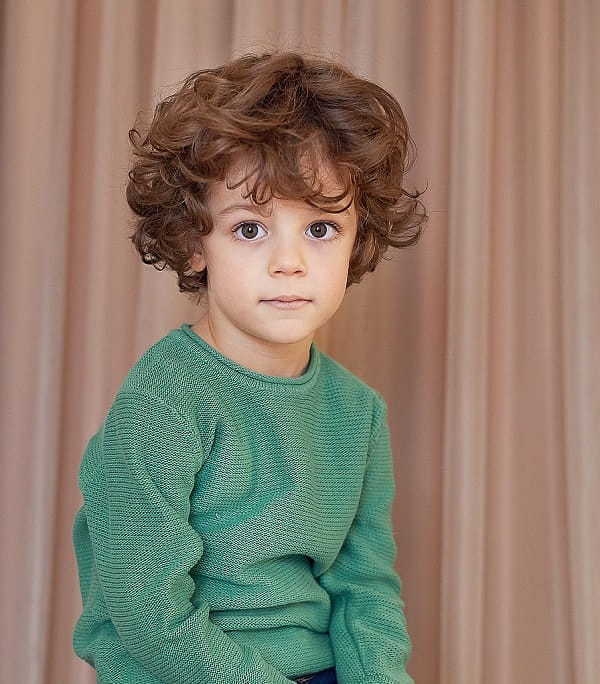 A great long curly haircut for little boys with curly hair. If your boy has big, flowy curls, then don't shy away from showing them off. Not everyone is lucky to have such amazing, natural and beautifully textured curls. This easy to maintain haircut is just right.
14. The real bouncy ones
The mid-range spring curls are most certainly a favorite. This curly haircut is literally cuteness personified.
15. The true Afro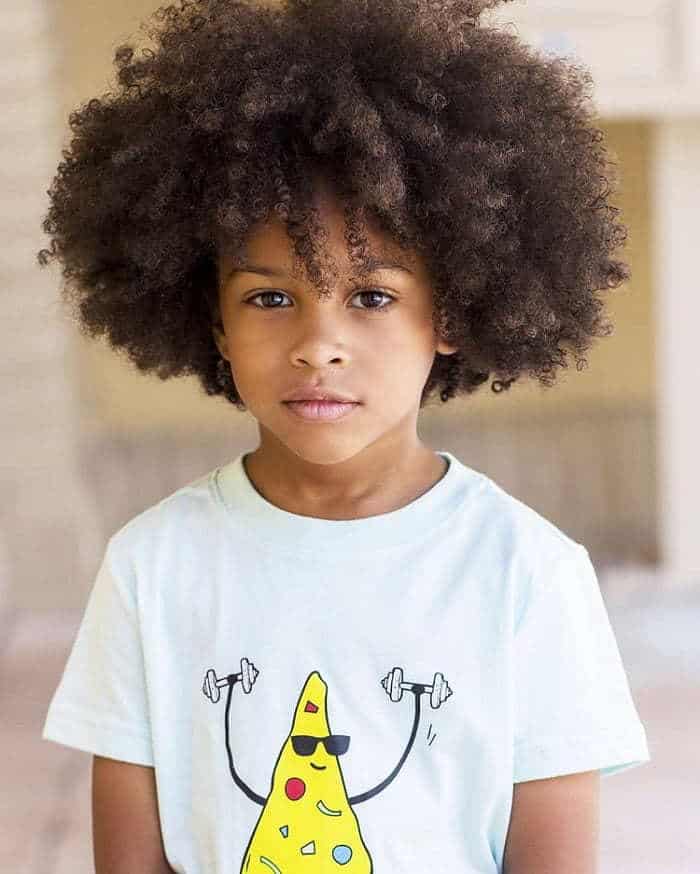 Just the fact that the size of the hair is much larger than the face is such a smile bringing factor when it comes to an afro. We agree it might not suit all kids, but sometimes, you just got to take the plunge!
16. The soft waves
One of the cutest medium haircuts for little kids. It's a good idea to go mid-length when this is what your kid's hair looks like. It's got a messy look, but can be set smartly when required.
17. The absolute stunner
If your lad has long, opened up curls that begin is mild waves, you must go for this look. It might take some patience to set, but we promise, it's worth the wait.
18. Short Crochets
This black little boy braided hair look is completely effortless. If your little boy has super compressed curls like this, it might be a good idea to have them set like they're drooping all over his head.
19. The Beach Look
We love this natural wavy hairstyle on little lads. It's super trendy, easy to maintain and it's a beautiful mess.
20. Caribbean Bundle
Let's be honest, however adorable this looks, it may not be as effortless to set. You will need to keep the frizz under control!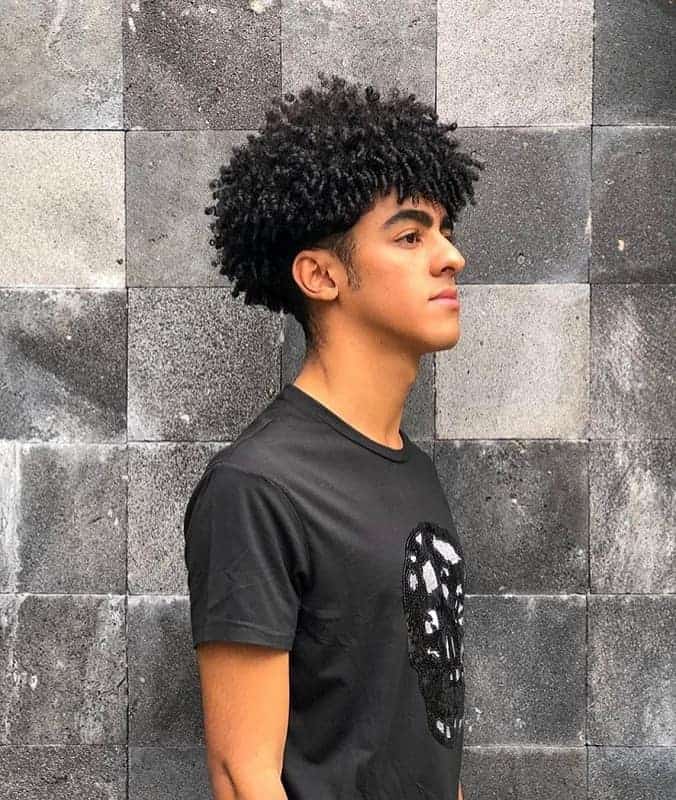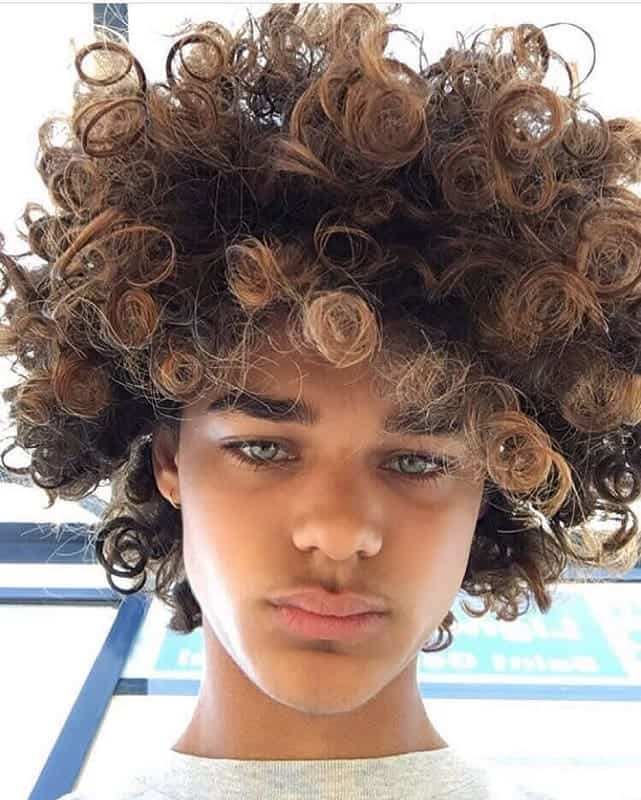 So, for all you boys and little boys who have curly hair, don't fret. Don't feel like you can do absolutely nothing with your hair. Remember, curly hair is super versatile. All you need to do is take a little effort to care for it.