Are you one of those boys with curly hair looking for suitable hairstyles? Those who just seem to bounce around perfectly one day and then you wake up the next morning and your hair look like a bird's nest?
A curly haircut might be a nuisance to handle, and you may feel like you just can't manage and style it well. But you're wrong. Though curly hair is a task to maintain, it can be styled in many different ways. Curly hairstyles are often voluminous, bouncy and have a great scope to play around with.
Whether you opt for short curly hair or long curly locks, the haircut and styling possibilities for boys with curly and wavy hair are endless. If you know how to tame your hair, having curls in your hair can be of great benefit. It is versatile and looks as stylish as ever.
How to Style Curly Hair for Boys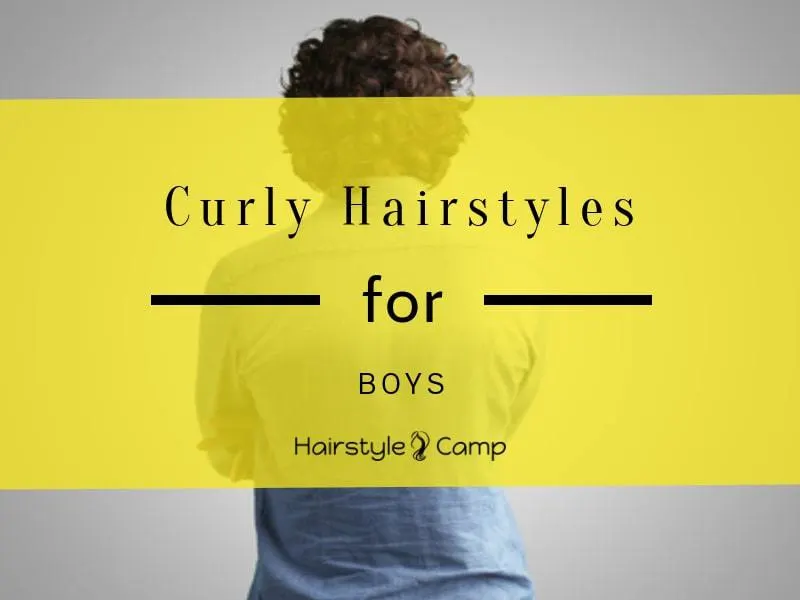 Now that we have established that boy's curly hairstyles are not as bad a feature to your body, it is relatively harder to maintain and style. We also understand that not all boys like spending hours and hours in front of the mirror. However, we have a few tips and tricks that will help all of you curly-haired boys style your tresses better.
1. Tweak your shower routine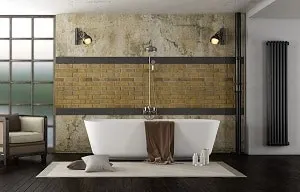 Boys tend to wash their hair every day. But, if you have a curly haircut that sometimes gets unmanageable, we advise you to wash your hair only twice or thrice a week. This prevents your hair from going dry and eventually frizzy.
We also recommend using a moisturizing conditioner that drastically adds a glow and cuts done on the frizz. Once you have washed your hair, do not dry it by rubbing a towel vigorously around your hair.
Instead, pat dries it gently. This allows your hair to form natural, free-flowing curls.
2. Use a high-hold styling product
If you want to bring down the volume, we recommend you to use a high-hold matte finish styling product in your hair. Use it in damp hair right after you've had a hair wash.
Work the product from the root to the end of your hair. Make sure never to use this product when your hair is dry as it will add to the frizz. This product helps your tresses to maintain the curls, and it also adds a natural shine to the hair.
3. Use a sea salt spray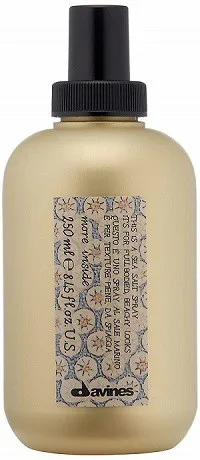 If you feel your curls are too flat, use a moisturizing sea salt spray. Using this product will keep your hair bouncy without adding any unwanted texture. All you need to do is, spray the product into your hair a couple of times. Run your hands through it, and then let it dry naturally. We recommend Devines Sea Salt Spray because of its quality.
4. Use a diffuser
If none of the other tips help you get your curls into control, use a diffuser dryer. Using a diffuser allows heat to be distributed evenly throughout the hair. It adds a good amount of volume to the curls and prevents the hair from getting dry, frizzy, or having too many flyaways.
We recommend the CONFU Lightweight Low Noise Blow Dryer as it has low noise and awesome performance. You can see the reviews on Amazon for a better idea.
Watch The Following Video to Learn about How to Style Men's Curly Hairstyle
Styling a boy's curly haircut is definitely more complicated and tedious than styling straight, smooth hair. But, if you take into consideration the above-mentioned tips, we guarantee you that you will see your hair in a different light. All you have to do is put in a little extra effort. Then, just watch your hair transform into a style you want to pull off every day.
The Best Haircuts for Boys with Curly Hair
Before you start to style your curly hair, it is important that you get the right haircut that suits curly hair. This haircut must ensure that it suits you no matter how you style it. These are few hairstyles that older boys can choose for their curly hair.
1. Long Curls All Over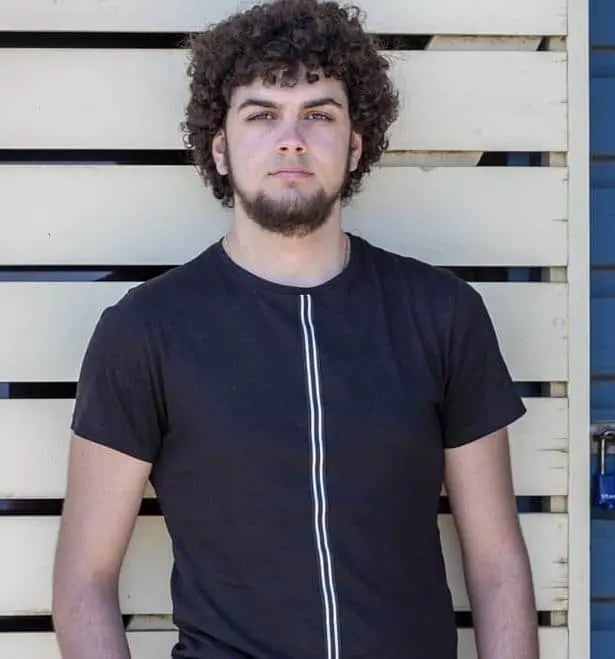 This look radiates carefree to the very last strand of hair. It is the perfect look if you think you cannot spend more than just a few minutes rubbing in some hair product in the morning before you leave. It is natural, fun and lets out a rather wild side.
2. The Really Long Springs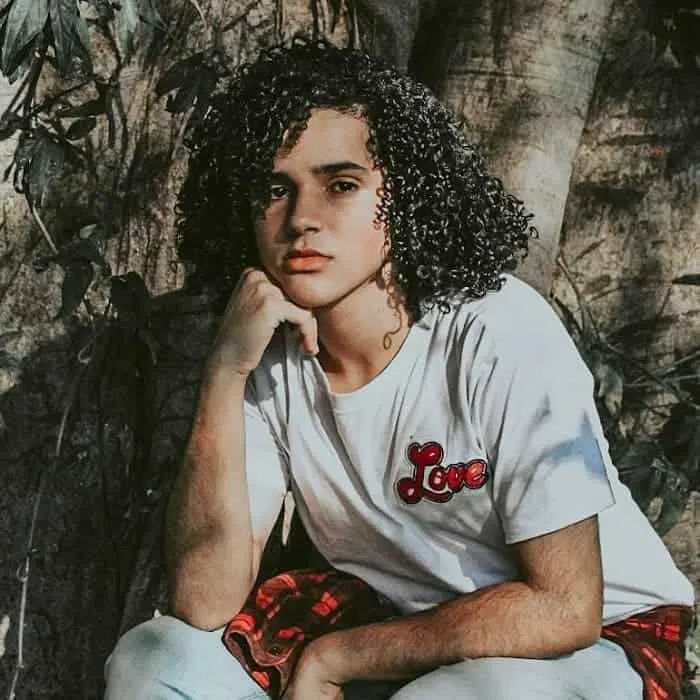 This boys curly hairstyle is for the rockers. If your curls are rather tiny, but more in number, this is the look for you! It's not too long, not too short and will definitely make you stand out in the crowd.
After a shower, all you will need to do is use a small dollop of a styling product and scrunch up your hair from the bottom.
3. The One for The Soft Messy Curls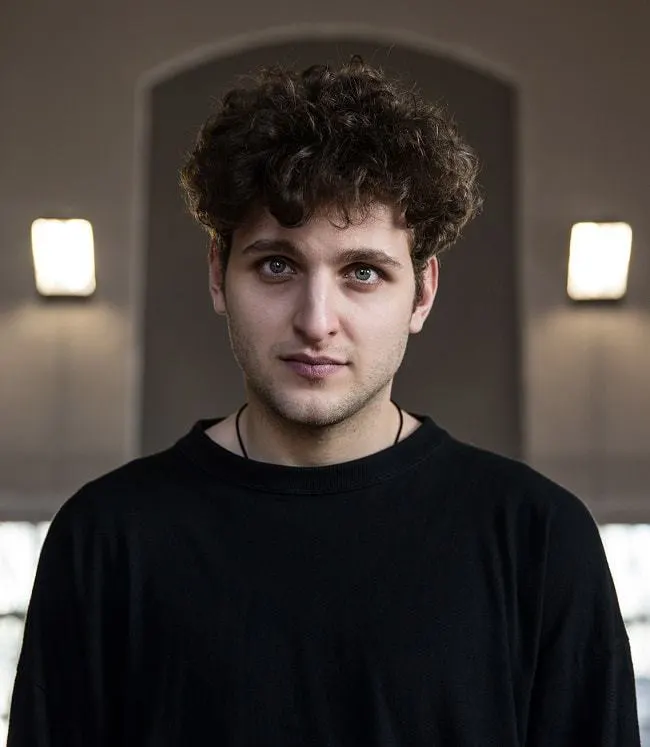 This look allows you to play around with your curly hair without using a hairbrush even. In most cases, you won't even need to use any hair product to set your curls. They're easy, natural and look great too! If you are a grown-up man, try these curly hairstyles for men.
4. The Ever So Famous – Afro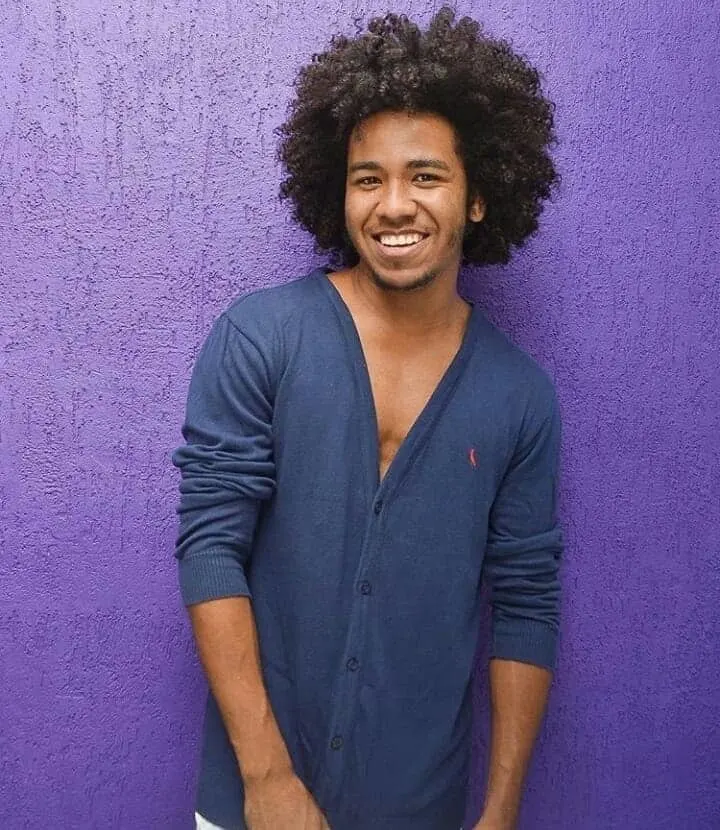 If you have the hair for it, you must! The afro is such a classic curly hair look. We love it, and if we could, we'd get every curly haired boy on the planet to get one.
5. The Prince Charming Haircut
A dashing haircut for boys with curly hair. For all you boys who don't have curls, but waves instead, and waves for a slightly longer length, we guarantee this look will make heads turn. Effortless, yet so stylish.
6. The Afro with a Twist
If you like the idea of an afro, but just don't like having your hair all over the place all through the day, tie it up simple. A tied up afro looks supremely smart on boys with really tiny springy curls.
7. The One for The Free-spirited
While this curly hairstyle for black boys might not suit everyone, it is one that represents the free spirit in every way. You may not be able to pinpoint it, but there's something about this haircut that makes you smile.
This look is a mixture of multiple curly haircut techniques. It uses the loose curls to add a fun, voluminous element to the look, and the undercut fades add a great touch of sophistication.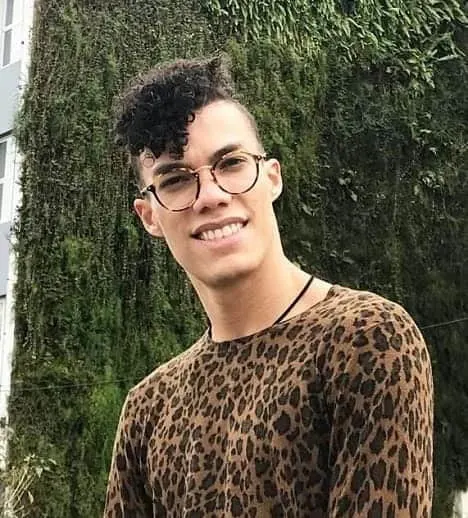 The bold boys, this one is for you. It best to keep the curls elaborate and the undercuts short to ensure a distinct difference between the two.
10. The Mane
An amazing hairstyle for boys with long curly hair. To pull off this look, you need to have just the right type of cults and a length that won't make it look too big, neither short hair that will make it look like a small girl.
Curly Hairstyles for Little Boys
Aren't little boys just so cute? And they look even cuter when their small heads are covered with beautiful curly tresses. Get your little fellow to look as dashing as ever with these little boy curly hairstyles.
11. The Long Springy Curls
Probably one of those looks that are so easy to maintain yet looks as playful as ever. You could add a small fringe too!
This little boys curly haircut is sure to make your kid the star everywhere he goes. There's nothing cuter than a little boy sporting a haircut of the grownups.
13. The Long Flowy Curls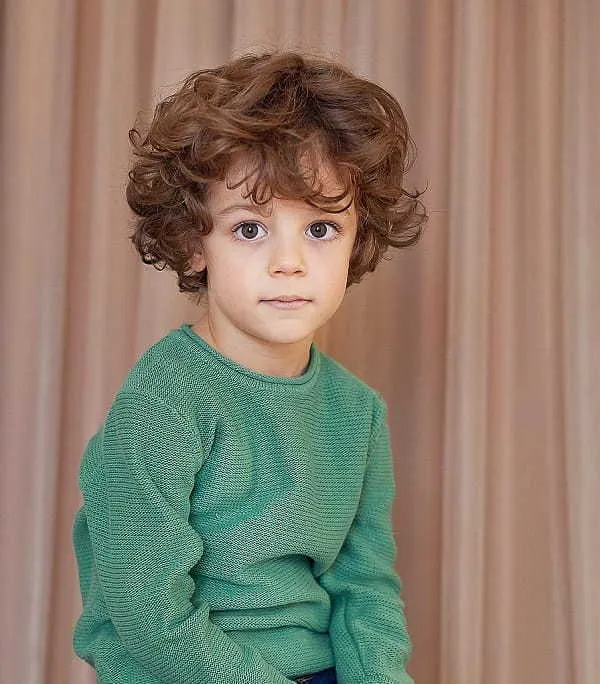 A great long curly haircut for little boys with curly hair. If your boy has big, flowy curls, then don't shy away from showing them off. Not everyone is lucky to have such amazing, natural and beautifully textured curls. This easy to maintain haircut is just right.
14. The Real Bouncy Ones
The mid-range spring curls are most certainly a favorite. This curly haircut is literally cuteness personified.
15. The True Afro
Just the fact that the size of the hair is much larger than the face is such a smile bringing factor when it comes to an afro. We agree it might not suit all kids, but sometimes, you just got to take the plunge!
16. The Soft Waves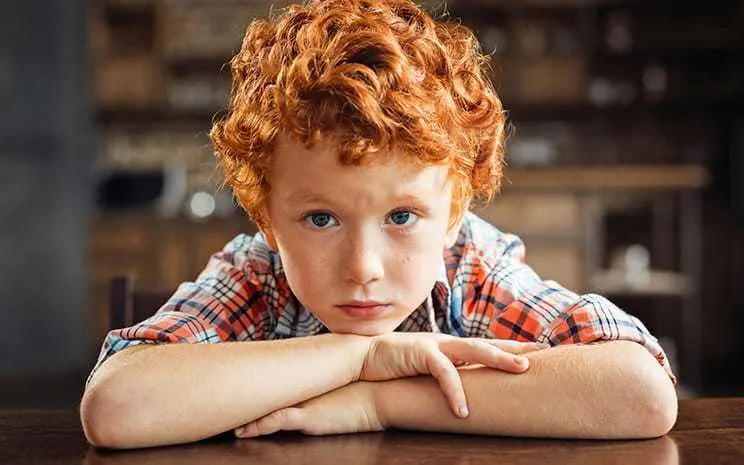 One of the cutest medium haircuts for little kids. It's a good idea to go mid-length when this is what your kid's hair looks like. It's got a messy look, but can be set smartly when required.
17. The Absolute Stunner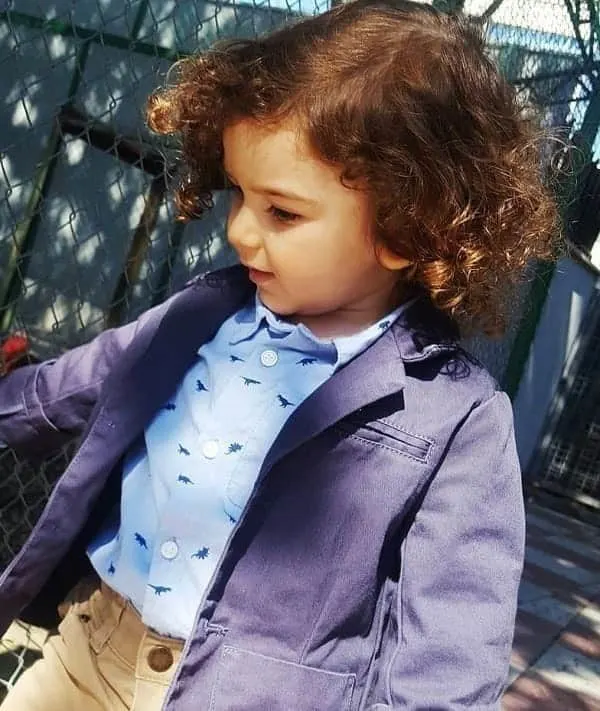 If your lad has long, opened up curls that begin is mild waves, you must go for this look. It might take some patience to set, but we promise, it's worth the wait.
18. Short Crochets
This black little boy braided hair look is completely effortless. If your little boy has super compressed curls like this, it might be a good idea to have them set like they're drooping all over his head.
19. The Beach Look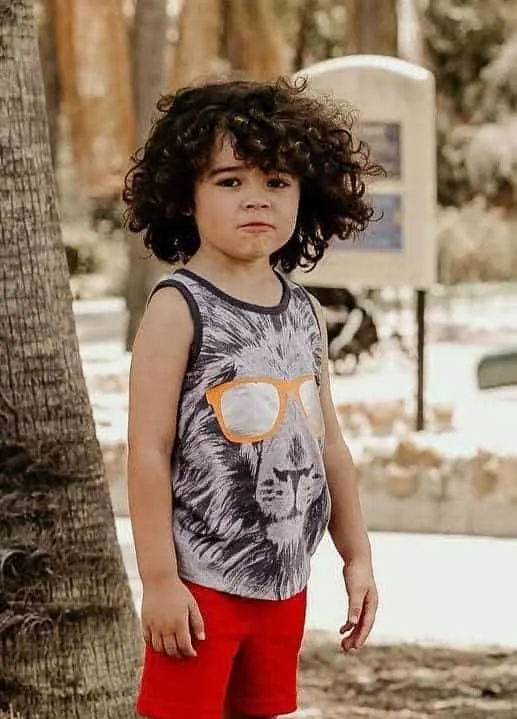 We love this natural wavy hairstyle on little lads. It's super trendy, easy to maintain and it's a beautiful mess.
20. Caribbean Bundle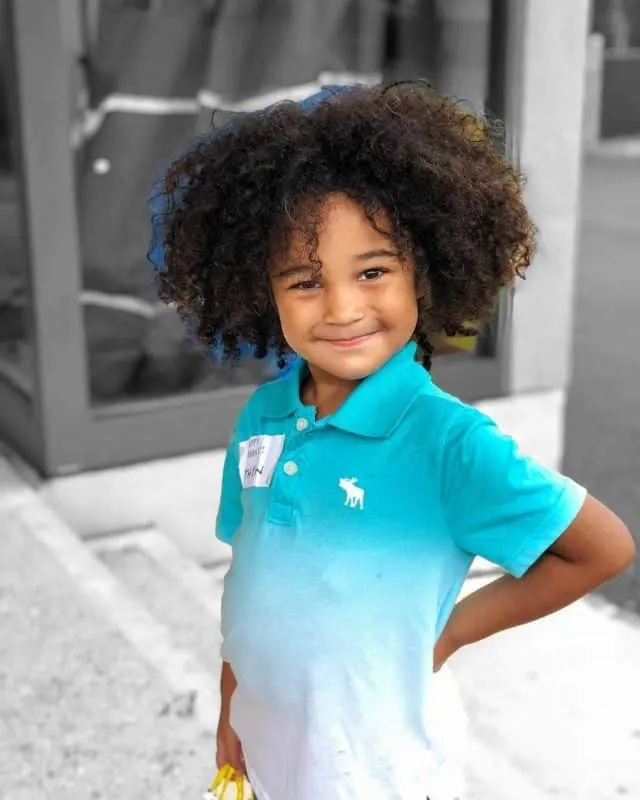 Let's be honest, however adorable this looks, it may not be as effortless to set. You will need to keep the frizz under control!
A great way to tame an afro, remove the hair from the face, while also finding a perfect curly hairstyle for boys is creating this high top long afro ponytail. Additionally, cut the hair on the sides short and leave the hair on the top longer and tied into a ponytail.
22. Long Loose Curls
There's nothing as cute as loose, long curls in a kid. They look so adorable and charming and your boy looks like a little model wearing them.
There is also a chance that his hair texture will change with time, so why not nurture those beautiful curls while they are still there?
23. Short Tight Curls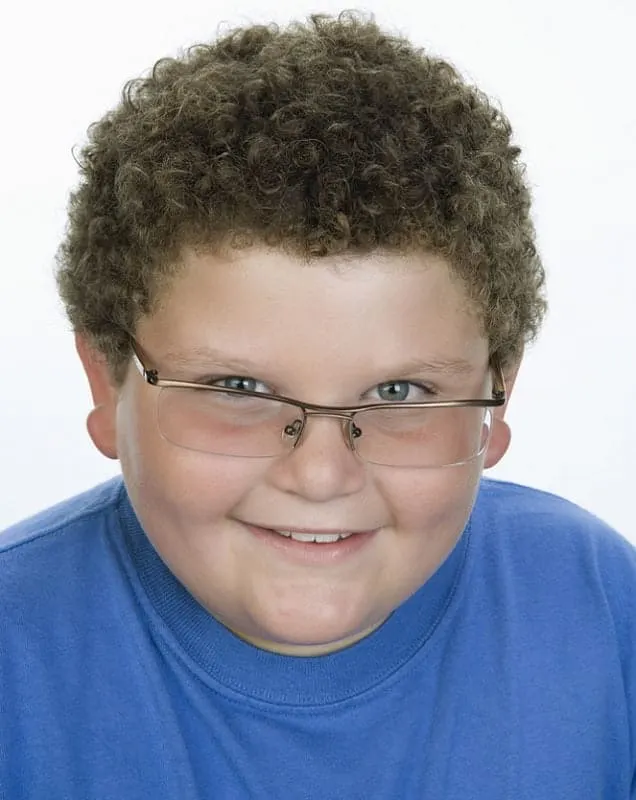 When it comes to short haircuts for little boys with curly hair, keeping it clean and simple is always a good way to go. If your boy has naturally tight curls, keep them simple and short so they don't fall all over his face.
24. Layered Afro
A natural afro hairstyle is one of the hairstyles that look good on everybody. But sometimes even those hairstyles require some styling.
This afro haircut is layered to prevent the effect of the face and the overall look looking to wide and unflattering. The bangs are also cut shorter so as to not fall all over the face.
A high top afro haircut is both extremely trendy, but it is also great both to show a hint of an afro and also smartly avoid a buzz cut but still keep it short and simple and very easy to maintain. Cut the hair on the sides and on the back very short and leave the hair on the top a few inches long.
There is no hairstyle that shows the true power of tight curls better than a classic, old afro. This hairstyle for curly hair should remain untamed and natural, bold and daring, but if you opt for this hairstyle, make sure your personality is big enough not to get engulfed by the hair.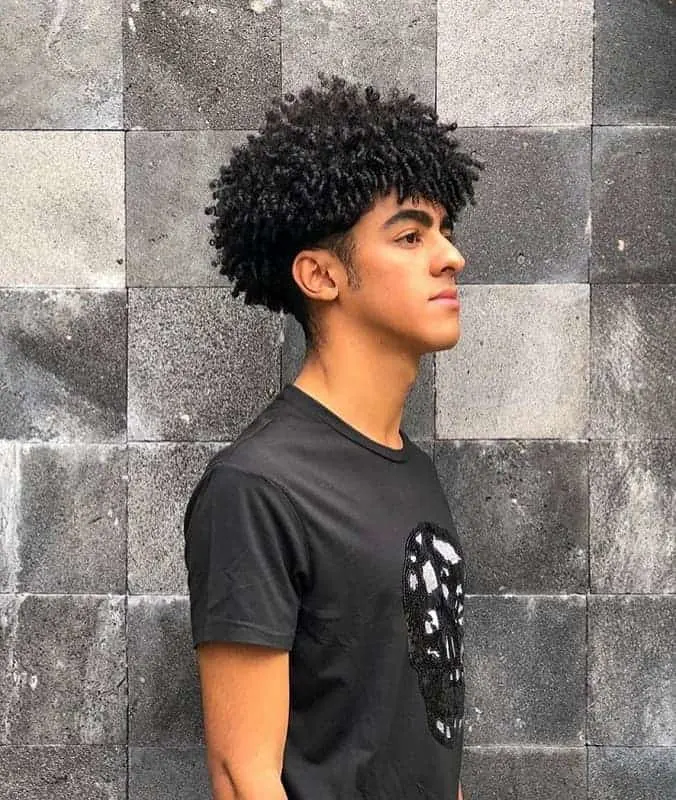 There are a lot of variations for a classic curly haircut for boys. One of them is cutting an inch above the ear as well as the sideburns shorter in order to visually lift the hairstyle and make it look a bit more elongating.
28. Long High Top
Boys with curly hair will most definitely enjoy an afro high top haircut as it will make their face look leaner and more geometric. But this haircut doesn't have to be styled as precisely and as frequently as you may think. You can let it grow out pretty long on the top and just maintain the sides short.
29. Short Waves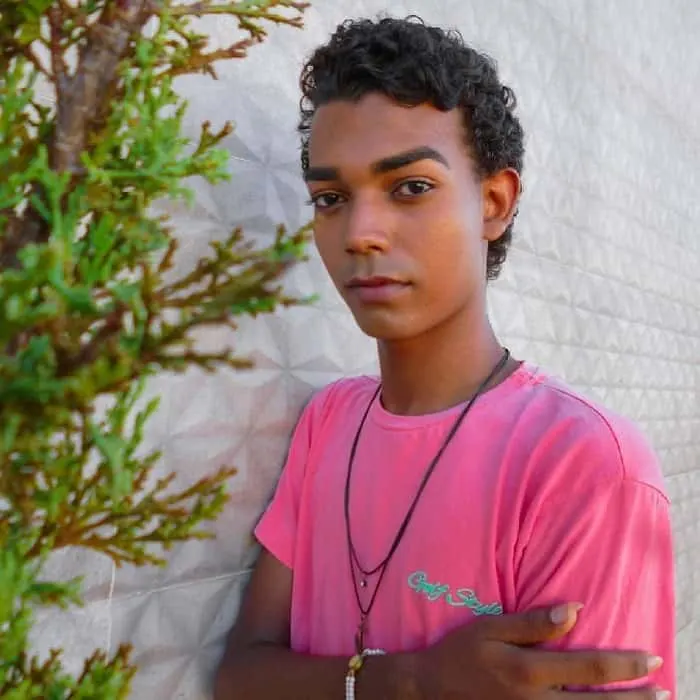 There is no way anyone can go wrong with short waves. They are neat, sleek, easy to maintain and require little to no styling at all. Depending on the shape of your face and your personal preference, you can cut it shorter on the sides or wear it side-swept.
30. High Curly Ponytail with Shaved Sides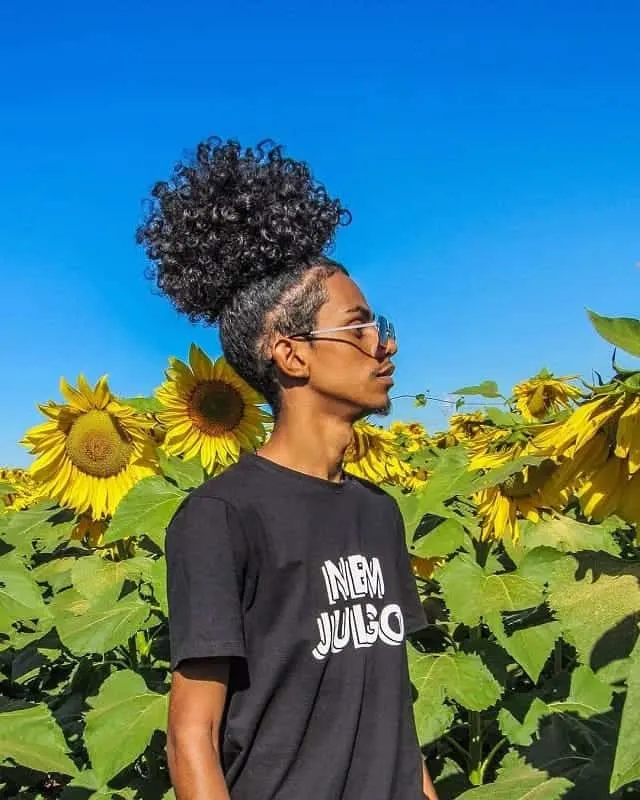 The best time to experiment is when you are young and adventurous and still in search for your own style. So if your hair is long and curly, shave it along the sides and tie it into a very high voluminous ponytail for a daring haircut for boys.
31. Simple Short Afro with Shorter Sides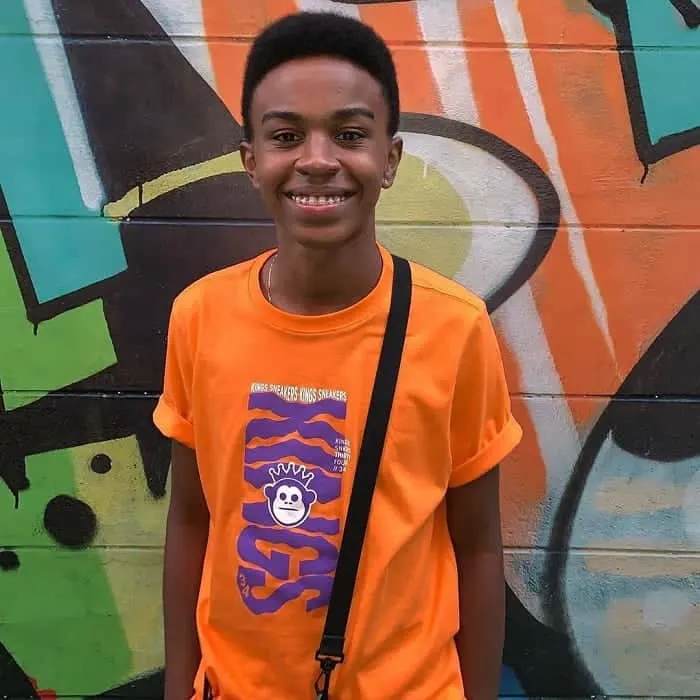 A simple afro with short sides is great for boys that don't like to draw a lot of attention with their hairstyle. Make the haircut a little bit shorter on the sides, also making sure that you shape the hairline properly. Maintain the shape every 3-4 weeks.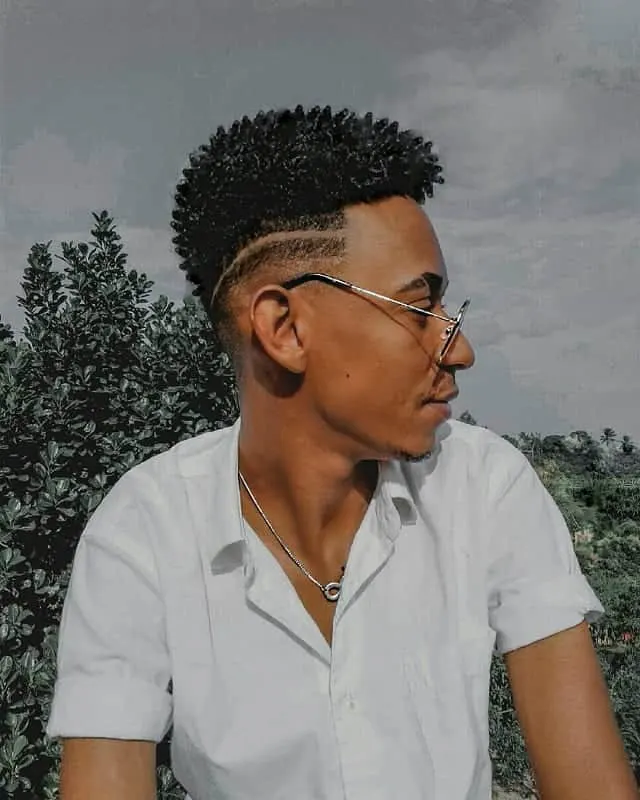 Twists are a very fun curly hairstyle for boys who like to have fun with their hair. Make sure the twists are neat and shiny and use clippers to shave the hair on the sides off and to shape a precise geometric line and the skin fade.
33. Big Curls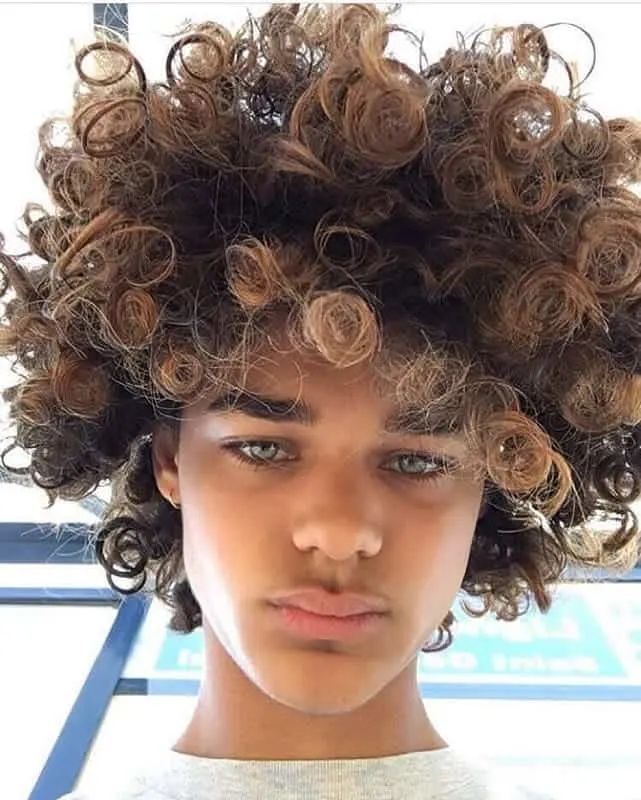 Just like the afro, the big curls also create a similar, voluminous shape that not everyone is a fan of, but that looks so authentic and beautiful that you should really give it a go. Just make sure your curls are regularly nurtured and the split ends are regularly trimmed.
34. Long Tight Curls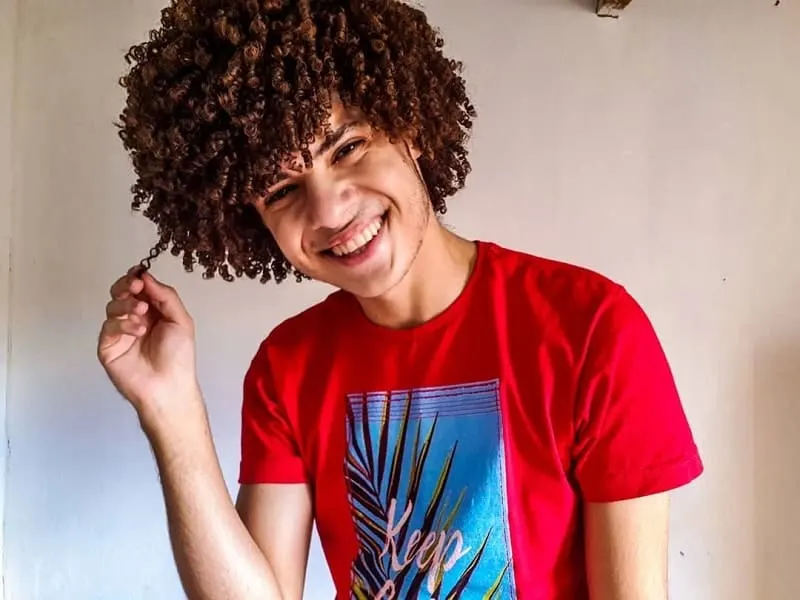 If the long tight curls go well with your personality, then just go for them. Nurture them with oils because curls tend to get dry. And even though it seems like your hair hardly changes and grows very slowly, trim the ends every couple of months.
35. Big Curls in a High Fade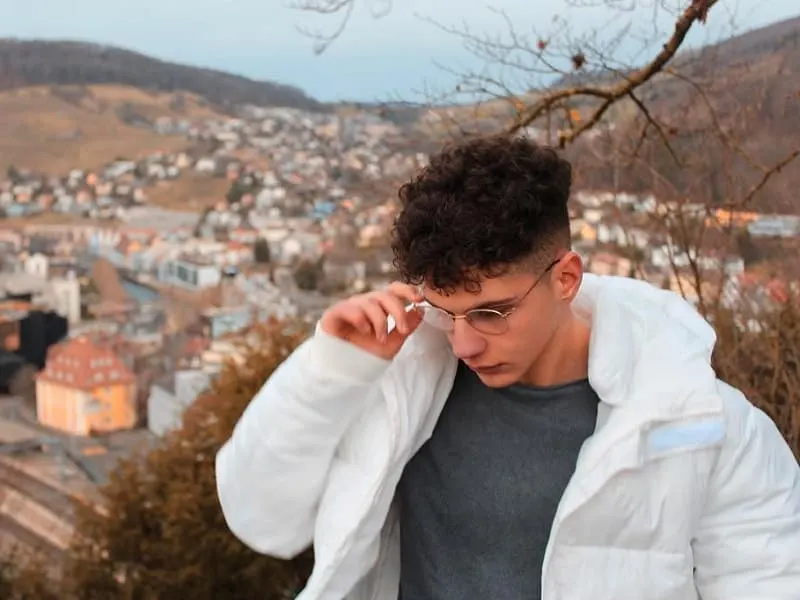 To give a geeky, curly hair boy look a modern twist, use clippers to cut the hair on the sides off and create a gorgeous skin fade. Use a little bit of hair wax to shape the curls and make them shinier.
Best Curly Haircuts for Toddler Boys
Often curly hair looks adorable without too much of styling. So the best approach while deciding on toddler boy haircuts for curly hair is to look for ones that manage to keep the natural fall intact.
36. Cute Long Curly Hair
This is exactly the type of toddler boy's long haircut that does justice to curly hair. You don't have to struggle too hard to achieve this look.
All you have to do is to make your little prince rock the look by making it a more uniform and well-combed variant. This will enhance the natural charms and add to their impish appeal.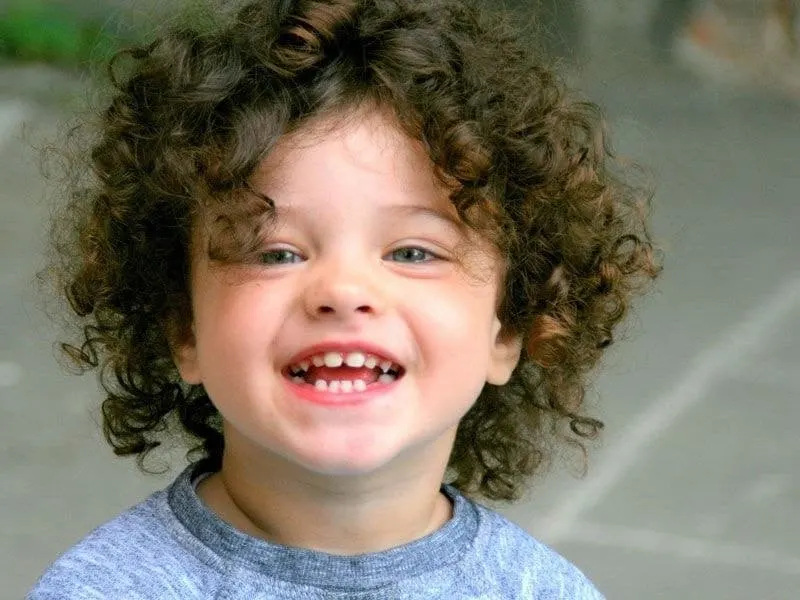 Any list featuring curly haircuts for toddlers decidedly needs to include the bowl cut. The beauty of this style is that it keeps the naturally curly mop intact and enhances the naughty, adorable appeal.
It is a no-hassle style that needs minimal styling too. All in all, this is the type of style that both moms and kids are happy with, and there is no compromise on the styling aspect too.
38. Crisp Curls
Here again, in this toddler boy haircut, you can see how the naturally crisp curls take center stage. All the stylist has done is bring in a bit of order in this curly chaos and then let the curls do talking for themselves. It is easy to create a style that is also equally easy to maintain.
39. Top Knot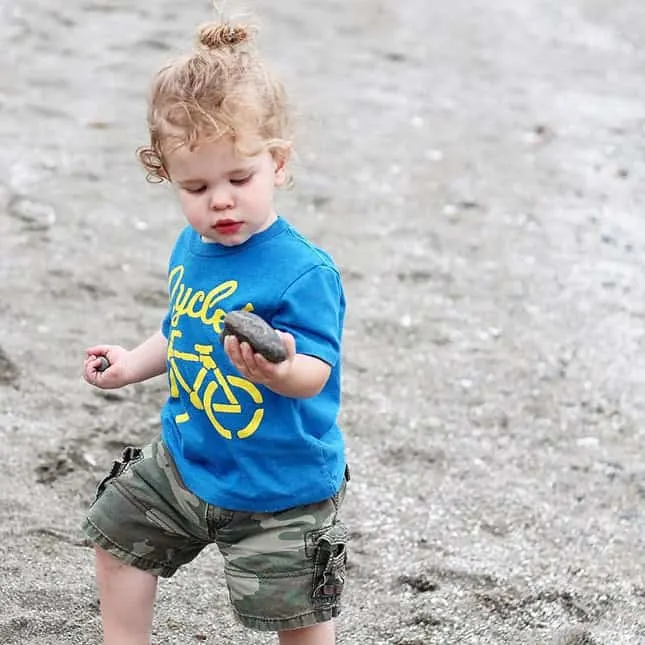 But what happens if your little prince finds the load of the curls too much to handle? Well, a bun is a solution, of course.
This adorable style for toddlers is all about convenience and comfort without compromising the style element. Needless to mention, it also takes the cute quotient to an absolutely different level.
40. Naturally Curly Mop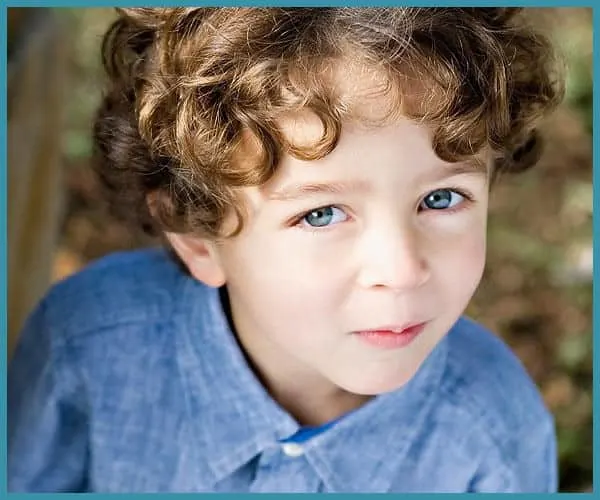 This naturally curly mop is perhaps one of the best representations of the appeal of natural curls. There is absolutely no special cut or twist. All it does is keep the natural mop intact, and that undeniably creates a stunning charming hairstyle for your adorable toddler.
This is the type of style that truly celebrates the brilliance of naturally curly tresses.
41. Loose Curly Waves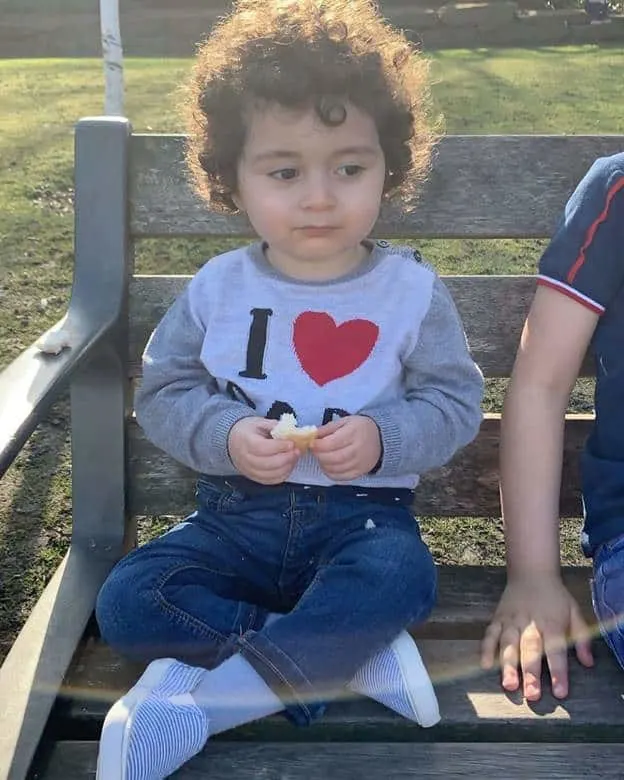 Unruly, naughty, mischievous, wild, adorable, hyperactive…there is absolutely no end to the adjectives you can associate with this curly hairstyle, and funnily, they all seem to fit.
This is the type of haircut for toddler boys that absolutely match their personalities. It is all about keeping the toddler element intact with this hairstyle.
42. Mohawk + Artistic Designs
But if you are really keen on getting a rather curious and creative style for your child, this will not disappoint you. It is funky, creative and cool and invariably makes a lasting impression.
This is the type of style that is also timeless and comes across as an age-appropriate curly haircut for your toddler. This is the type of style that will easily win attention and admiration.
43. Temple Fade with Curly Top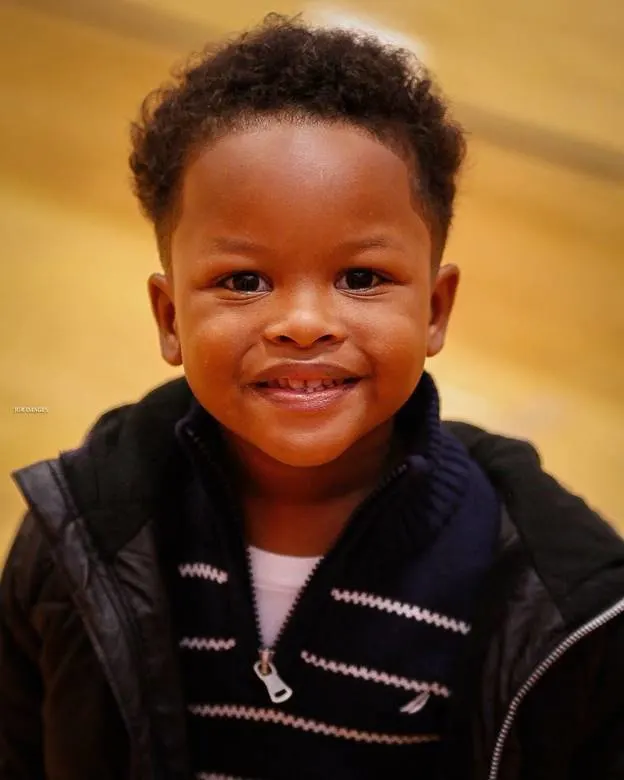 There is nothing complicated about this curly hairstyle. It easily comes across as a low maintenance style that makes a distinctive and daring impression. It is also a type of style that keeps your munchkin comfortable while they are out for a long duration.
44. Curly Ivy League Style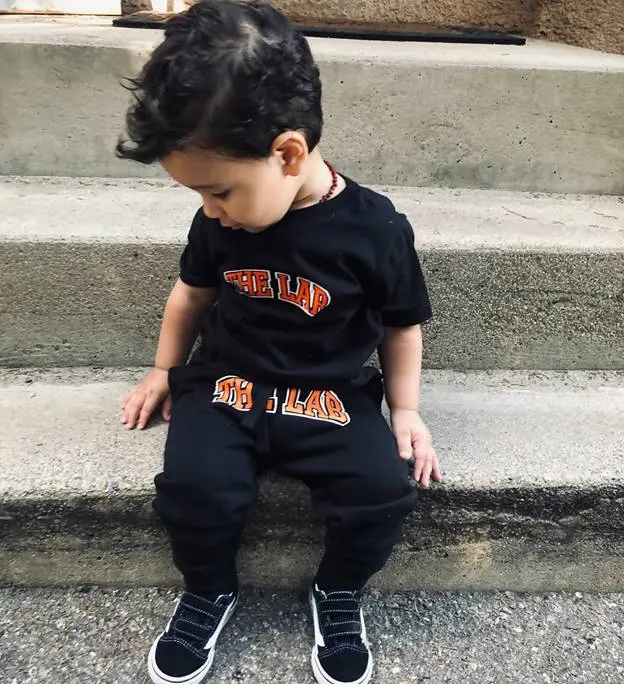 Short, simple and sweet, this hairstyle is just as you see it. In this curly haircut for toddler boys, the attention is on details of how to achieve the best possible look without adding complexity to the look. This style fits the brief completely and brings out a rocking impact.
But if you feel that you are better off with something simpler, go ahead and gather it all in a simple man bun. This haircut for toddler boys is all about keeping a simple approach and optimizing the cute and adorable element.
46. Messy Blonde Curls
This is an attractive, free-flowing and rather adorable curly haircut for your toddler boy. It is easy to maintain and does not interfere with your little toddler's comfort either. The naturally blonde shade introduces a distinct degree of softness that is rather hard to ignore. It enhances the cute quotient by many degrees.
47. Fade with Short Curly Hair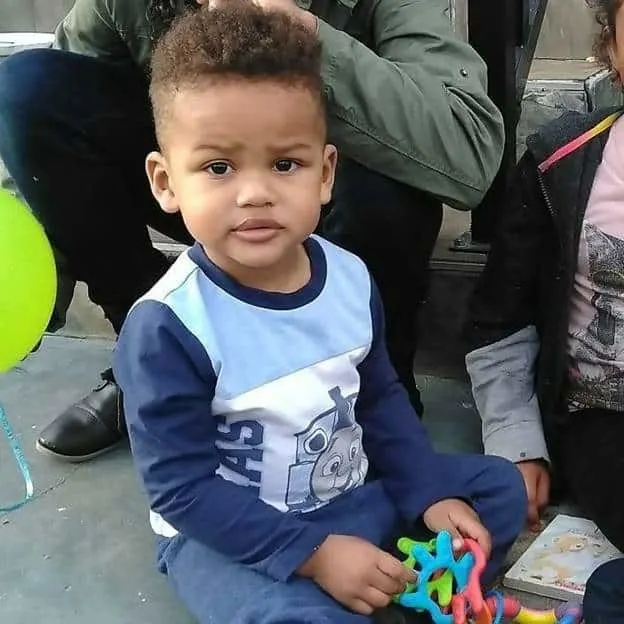 This curly haircut for toddler boys is especially for moms who like to keep it neat and straightforward for their little prince. This is a no-nonsense, hassle-free and extremely manageable style. It emphasizes on the comfort factor and makes sure there is very little styling chaos for your little one.
48. Curly Frohawk
Ever wondered how a Frohawk can work for a toddler. After all, that is a style we associate with edgy punksters keen on making a statement. But here is a curly haircut for toddler boys that actually heroes the frohawk in an intelligent fashion and the result is striking. Your little star looks poised, confident, and oh so, adorable.
49. Curls with Plateau Top
In this toddler boy haircut for curly hair, the plateau top brings the much-needed variation and makes this a striking and admirable option to choose. It keeps the hair manageable and at the same time, gives a stylish edge to the overall haircut that you choose.
50. Cornrow with Man Bun
Now if you are keen on fashionable toddlers who can carry their style with panache, here is a wonderful example. This curly haircut for toddler boys combines both comfort and style in a symbiotic way.
It is cool, convenient, and makes the hair very manageable. But you have to make your little toddler sit still for a while to get this going though.
So, for all you boys and little boys who have curly hair, don't fret. Don't feel like you can do absolutely nothing with your hair. Remember, curly hair is super versatile. All you need to do is take a little effort to care for it.