Flat top haircuts gained popularity among men in the 1950s. Essentially it's a way to arrange one's hair to have a flat top. Such an approach makes the hairstyle look square. Nowadays, you will probably see older men wearing such hairstyles.
However, as time passes, old things become new again. The same is about to happen with flat top hairstyles. Modern stylists are taking a new approach to flat top cuts and making them look improved and fashionable. If you want to sport a unique cut that's about to gain popularity, this hairstyle is worth your consideration.
What Is A Flat Top Haircut?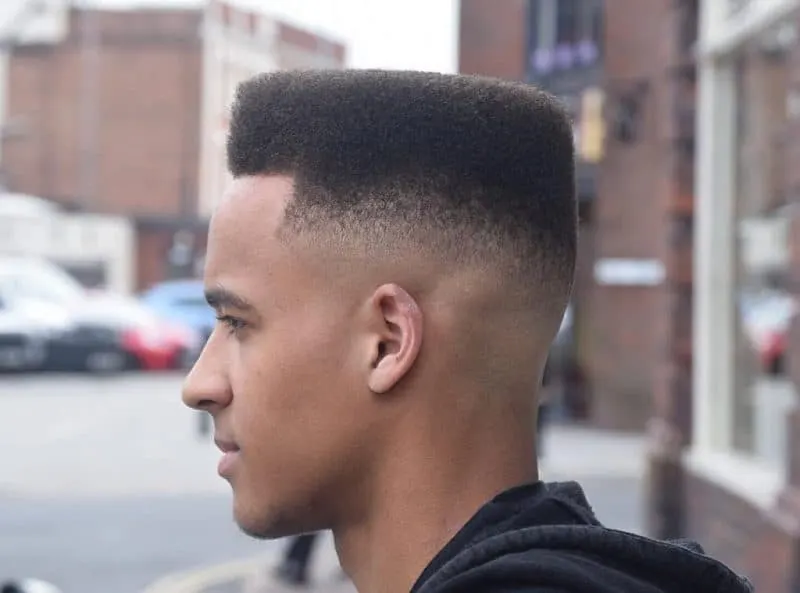 The term "flat top" refers to a short haircut with hairs on the top of the head typically made to stand upright and cut to form a flat-looking deck. The deck may come in levels or assume a downward or upward slope. The flat top haircut is popularly known for its flat hair layer across the head top.
It typically has sides with high skin fade, and the top takes a box or rectangular shape depending on how high you wish the hair to be on top. Such designs have made the flat top hairstyle take other known names like box fade and high top.
The flat top usually represents two types of cuts, the longer hi-top fade, and a short flat top. Its angular cut regularly makes it stands out, irrespective of its modern use.
Coolest Flat Top Haircuts
When it comes to men's flat top haircuts, there are a few things you have to consider. If you have curly or wavy hair, this haircut might need a lot of maintenance. Only guys with thick and straight hair can have a natural flat top that won't require too much styling. The rest need to get ready to buy some hair gel.
Overall, a flat top is not too high-maintenance. It can appeal to guys of all hair types, face shape, and age. Below we prepared a list of 90 modern and cool flat top haircuts for men with every taste.
1. Tall Flat top Crew Cut
This flat top haircut for white guys goes from simple to attractive when you add a little height. Stick that hair straight up and slightly to one side for a fresh, preppy appeal. Specifically, this look works best on thicker hair.
2. Natural Hair Flat Top
Bring out your inner Fresh Prince of Bel-Air with a flat top haircut for Black men. Playful and stylish, this tall and flat style balances out the lower half of your face and puts that gorgeous natural texture on display.
3. Flat Top with High Fade
Everything about this flat top fade haircut is clean cut. The sleekness of a high bald fade is mirrored in the perfectly placed strip of hair at the top of the head. Create a small faux hawk with the hair at the front of the forehead for an extra touch of style.
4. Flat Top Mullet
Business in the front and party in the back defines the iconic mullet style. However, this variation involves a flat top haircut for long hair that looks more pulled together than the longer variety. A short and straight mustache completes this look.
5. 80s Flat Top
This highly stylized 80s flat top haircut uses several different elements to create a retro vibe. Thick sideburns are a must and a thick mustache is a plus. Hair should but cut shorter up top than it is on the sides of the head in order to create that slicked back look at the temples.
7. Spiky Flat Top with Design
An electric mohawk makes this flat top haircut with design really stand out. Add fiery red-orange color to the tips of hair to match the intricate pattern on the fade portion along the forehead and at the temples. Circles and round swirls soften this edgy look.
7. Flat Top Fade for Boys
A fade adds an element of true beauty to this flat top haircut for boys. This fade is so gradual you hardly notice its effect. To keep this look cool, hair length should run on a slight decline from the forehead to the back of the head.
8. Medium Flat Top Fade
A medium fade with a flat top has an elongating effect on the face, so it's perfect for a weaker chin. A gradual fade will add softness while a hard fade is a little more extreme and balances out a square jaw.
9. Flat Top Coils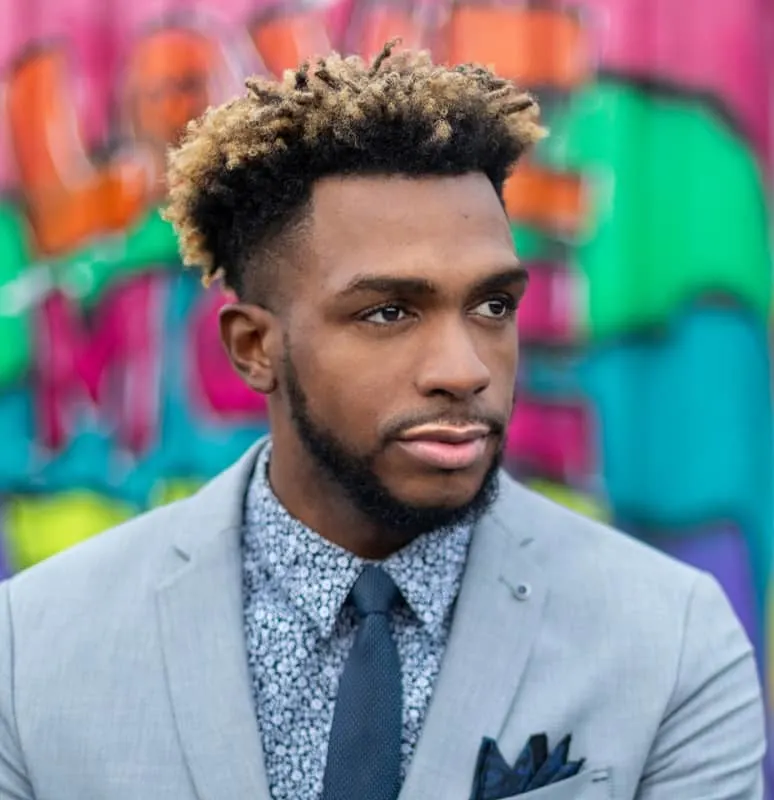 Curly throughout, these finger coils skim the surface of this flat top for truly stylish flair. Gold tips pick up the warmth in skin that has yellow and golden undertones. A medium fade accompanies this look and adds a clean-cut edge.
10. Flat Top for Older Men
This flat-top crew cut looks great on all guys, especially mature men. This no-fuss look keeps you cool in warm weather and looking fresh and clean. A short bald fade hides any hair loss in a clever way.
11. Flat top high taper fade
One of the main difference between a modern flat top hairstyle and an old school one is the one the sides are styled. A modern style usually involves tapering and shaving on both sides to create a higher impression.
12. Military style flat top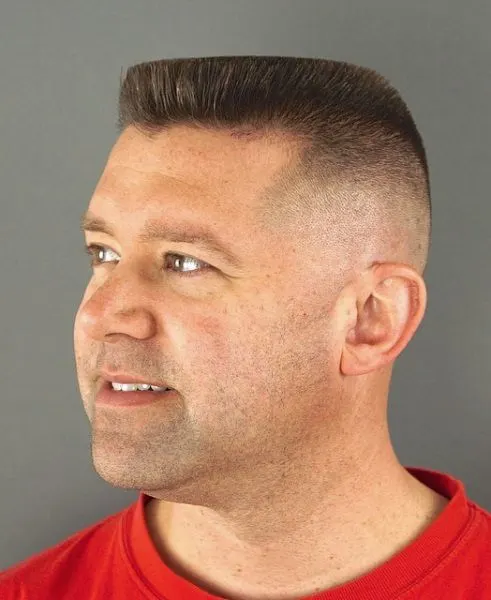 A modern short flat top resembles a military hairstyle. Most of the hair around the head is shaved off and only a short top is left. The top part is styled to be square in order to reduce the maintenance hassle. You can also check military burr cuts.
High drop fade is what can turn a simple flat top haircut for men into something modern that resembles a mohawk. As you can see, the top part is not styled to be an exact square but still keeps a similar shape.
14. Wild variety
The hallmark of the flat top hairstyle is the square-shaped top. However, the modern cuts are often styled to be wild and windblown. This is square-shaped haircut turned into a modern spiky style just by tossing the hair a little.
15. Flat top for black men
This flat top haircut has been popular for many decades. Black men have a slightly easier time creating a prominent flat top than white males do thanks to their very thick hair. The sides are decorated with hair design.
16. Outrageous choices
If you are ready to go for a flat top cut, why not go through with some experiments? Take a look at the way a simple flat top is made into a statement-making style with just a few scissors moves. Give it a try!
17. Curly top with designs
Flat top haircuts for men are great for taming curly hair. This hairstyle is shaped up with a medium taper fade on the sides. In order to make this haircut more stylish, the hairstylist created a few impressive designs.
18. Highlighted square
If you want to give your flat top a more prominent appearance, consider creating highlights. If you choose striking colors that create a contrast with your natural hues, the overall result will be truly impressive.
19. Old classics
This is a hairstyle you'll probably see older men with. You can add it a little extra twist by shaving the sides completely or creating a scissors fade. The top can be left short for easier everyday styling.
20. Scissors fade with a flat top
This scissors taper fade creates an impression of volume while taking away the "old" flat top look. The hair on top is styled to resemble a square, however, the back part is slightly curved for a modern appearance.
21. Short spikes
Once you create a flat top haircut, you can enjoy different variations. One of the popular ones, for example, is to create a few spikes. Keep the shape of the top intact, but pull out a few strands for spikes.
The most famous variation of the flat top hairstyle is a modern high taper fade and a pompadour. The difference between a pompadour and a flat top is that the former is a little more curved. Play around with the shape when styling.
23. Ronaldo top
A flat top can be fun when you experiment with it. Consider the option created by Ronaldo, where the spikes are shaped to face one direction. This haircut can easily be styled into a flat top and back in a matter of seconds.
24. Lateral arrangement
Another modern approach to the flat top hairstyle for men is the unusual arrangement. If you take a look at the picture, you can see that the flat top is created on the sides instead of the middle.
25. Short crest
If you are getting tired of the flat top style, you can change it in a matter of second by creating a short crest. By smoothing the hair down, you can go back to the flat top hairstyle whenever you want.
26. Long comb over
The classical flat top haircut is created by making the hair short and square. However, you can create a square shape with long strands on top. Just apply enough gel and create a combed over square.
This is a simple modern flat top variation. The hair is arranged into an undercut by cutting the sides short and all the same length, while the top is long and ready to be arranged into any shape you desire, including the flat top.
28. Side flat top
Arranging a flat top one one side will allow you to experiment with shaved parts of your head. You can come up with interesting patterns or create an impressive taper fade.
29. Mohawk
You can create a flat top hairstyle by shaving the sides and leaving hair on top just like you would in a mohawk. Then the top part of your mane can be styled to create a flat top with or without spikes.
30. Flat comb over
This is another modern mohawk with the hair left long enough for experiments on the top part. The comb over is created to make an impression of a flat surface, however, some curved elements are present.
31. Long and flat
This haircut is never going out of style. Shorter hair on top is brushed back to create a curvy appearance while the top part is short enough to stand up and reduce the amount of maintenance.
32. Asymmetrical crest
This asymmetrical crest is a mohawk variation of the flat top haircut for men. The hair is spiked a little and shaped to face one direction. By adjusting this crest a little, you can get an impressive flat top.
33. High hair
This is another example of the classic flat top haircut for black men. The longer the hair on top is, the harder it is to style, and the more striking it looks. The sides can be decorated with various patterns.
34. Go low
This flat top haircut for black men is closer to what a modern hairstyle looks like. The sides are arranged into a high taper fade while the top part is left to be just a few inches long.
35. Impressive flat top
This impressive flat is wider on top than it is on the bottom. While the shape is not square, the top is flat and this hairstyle deserves your attention for being a statement-maker.
36. Fohawk flat top
The main concept a modern flat top can be used for is a fohawk. It looks great as a top part of a fohawk hairstyle and can be decorated with different hair designs. The higher the top, the more impressive it looks.
37. Faux flat top
This flat top is not close to the classics. It's achieved by doing the right styling. Short flat tops that come from undercuts are great for active men who are into sports that require short hairstyles.
38. Mohawk flat top
Shaving all the hair on the sides and leaving enough on top to make a striking flat top hairstyle for men is always a great idea, especially if you don't like dealing with hair getting into your face.
39. High-maintenance top
No matter how thick your hair is, it's hard to create an easy-maintenance flat top with straight locks. This hairstyle is great for special occasions but you'll hardly be able to sport it on a daily basis.
40. Asymmetrical style
Asymmetry is in style and an asymmetrical flat top can conquer the world. Take a look at how suitable such a haircut is for men with receding hairlines. The asymmetry compensates for the lack of hair.
41. Short and simple
This short flat top haircut is easy to make and to maintain. The sides are cut a little shorter than the top. The top is shaved to create an appearance of a flat surface. Add a few drops of hair gel and you are ready to go!
42. Spiky flat top
If you manage to mix the popular spikes and a classic flat top, you'll get a hairstyle worth an award. This haircut is easy to make but needs some hair gel to be kept intact. Give it a try!
43. Bristly top
This high taper fade with a bristly top makes a wonderful flat top hairstyle for men with all types of hair. Men with thin locks will especially appreciate this approach since the hairstyle appears voluminous.
44. High and windblown
This undercut is a great way to flaunt your thick and long hair on top. Depending on the amount of gel and imagination you are ready to use, you can create a high flat top with a few appealing spikes.
45. The rising sun
This is an undercut-styled flat top haircut. The hair in front is a little longer than the hair on the back of your head. The rest of the hair can be styled any way you want. You can even create a spunky mohawk.
46. Curly approach
If you have curly hair, it's often hard to create a short flat top. You can get as close to it as possible by keeping the locks either too short or very long and styled. The short version is low-maintenance.
47. The slide
Another modern variation of the flat top is the slide. The hair is arranged to create an attractive angle. This hairstyle is good for special occasions but daily styling can be hard labor.
48. Asian flat top
Asian flat top haircut for men involves cutting the hair short enough to make it take the shape you want it to. In order to achieve this style, you need professional hairdresser assistance and slight daily touchups.
49. Flat and impressive
Whenever you decide to sport a mohawk, you can be sure you'll make an impression. A flat top mohawk is not too easy to make if you have long straight hair. But you can get as close to it as possible with a comb over.
50. Wavy flat top
The drop taper fade mohawk approach is an opportunity to create an impressive flat top haircut for men. If your hair is wavy, there is no need to straighten it out. Just use hair cosmetics to create the required shape.
51. Long sides
The classic modern flat top usually involves tapered or shaved sides. However, there is no need to forget about the old flat top styles. Consider leaving the hair on the sides at least ½ an inch long.
52. Flattened out
You can turn virtually any hairstyle into a flat top haircut for men by flatting out the top with hair products. All you need to have is enough patience and a desire to create a modern shape for your locks.
53. The Russian style
This particular hairstyle stems from a military cut and can look quiet interesting with long and blonde hair. Consider creating high styles if you are not afraid of styling them every morning.
54. Simple trick
When dealing with the top part of a modern hairstyle, there are many things you can try, including spikes, comb-overs, pompadours and more. Don't forget about a flat top variation you see in the photo.
55. Mohawk trend
A trendy mohawk can easily turn into a flat top haircut for men of you decide to make the top a little shorter. Consider turning your long locks into a more tamable material by cutting them to take a flat form.
56. Shaped up top
This shaped up flat top is a wonderful choice for maintenance-haters. While offering you a modern flat shape with a high taper fade on the sides, it looks perfect without any extra touchups.
57. Simple and flat
This flat top haircut is great for guys with thick and straight hair. The hair is cut to be about 1 – 1.5 inch short so it can stand up on its own. All you need to do is giving it a little shape.
58. The minimalist
This hairstyle will be appreciated for guys all over the world. The modern very short mohawk is styled to create a flat top without anything extra. If you are tired of long hair, give this one a try!
59. Adorable afro flat
This cute afro flat top style looks great on black men and boys. It's neat and creates a fashionable impression while keeping the maintenance to a minimum. You can even avoid the hair gel.
60. Shape it up
This flat has enough curves to make it an Ivy League hairstyle. Don't be afraid of squaring the top part a little. Coupled with a curved back it looks fantastic!
61. Flat top with protruding sides
If you aren't afraid of being the center of attention, this flat top hairstyle is what you should go for. It is the definition of vogue and trendy. This haircut is perfect for someone with thing voluminous hair.
62. Organic texture with a high fade
This haircut is perfect for men who have natural ringlet curls. It's a great way to style and cut your hair in a way that it is manageable.
The curls on top are slightly highlighted with a light, honey-like brown, which enhances the look. The flat top fade adds structure and completes the style. This clean hairstyle is perfect for all occasions.
63. Sleek with shin hairstyle
Hard parts are another great way to add structure to your face. Sleek hairstyles go hand in hand with hard parts. If you have thick hair and no time to treat it, this haircut is perfect. This way, you can style your hair quickly.
64. Unique flat top
If regular flat tops don't float your boat, this cut is a great contender. Having this haircut will draw you some undivided attention.
The short hair on the top is contrasted with the long hair towards the back, complementing each other. This out of the box hairstyle is perfect for festival season.
65. Red pointy flat top haircut
This cut is yet another alternative for festival season. The flat top shaped in a triangle is extravagant and a fashion statement. The high taper fade allows the haircut to balance itself out. It is perfect if you have thick stiff hair.
66. Side swept pompadour
Pompadours can never go out of style, only evolve with time. Get this timeless haircut that screams fresh, fashion and style. The side swept pompadour is great formal occasions. This preppy look can never go wrong no matter where you go.
67. Textured flat top
Almost everyone has worn this flat top haircut at some point or another. It is one of the trendiest hairstyles of this year. The medium length hair towards the top is textured and messy to give more dimensions.
The fades that start high help in structure and cleaning up the haircut as well as making it look stylish.
68. Tousled evident fade
If you aren't on the smooth, seamless fade bandwagon this evident fade haircut is for you. The angular textured flat top is a great way to add volume to your hair. Even though this haircut might take some commitment, the result is perfect.
69. Fine hair flat top
If you have fine hair and are searching for a haircut that will complement your texture, this cut is the one. The side swept hair towards the crown allows you to have an illusion of volume at the crown. The high taper skin flat top fade helps the look come together in entirety.
70. Mullet inspired Flattop
This haircut is perfect for someone who prefers having a little bit of fringe on their forehead. Instead of having it sleek, messing up the hair towards the end of the crown gives the look texture. This haircut is low maintenance and can be worn everywhere.
71. Blonde flat top haircut
Into funky hairstyles and blonde hair? This haircut is perfect. The hard part towards one side adds a perfect amount of detail. While the asymmetrically shaped flat top with blonde sections ads the right amount of funk.
You could wear this to a fun night out or any music festival. On the other hand, if you are confident enough, you can also sport this daily.
72. Wavy top haircut
This haircut is perfect for anyone who has subtle waves in their hair. It might take a while to style the crown, but once you finish, it will look mighty handsome. This haircut is perfect for both formal and informal settings.
73. Subtle curls and a hard part
This hairstyle is another alternative for people who have wavy or curly hair. This is a great way to embrace and highlight your hair texture. The hard part and the skin fade balance the curly hair and give it a fresh look.
74. Textured top
If you are someone who isn't in the mood to risk it all, this haircut fits the bill. This textured flat top can never go wrong. You could pull this off irrespective of the thickness or natural texture of your hair. Its versatility also allows you to wear it anywhere.
75. Short flat top fade
This haircut is as low maintenance as it gets. You don't have to do anything to it, and it would still look perfect all day round. The hard part with is off center adds dynamism to the style. You could wear this wherever you please.
76. Short pompadour flat top
This haircut is another variation for a pompadour. If pompadours are something you are comfortable with you should opt for this hairstyle. Men of any age can rock this hairstyle without a worry.
77. Hard part and mid fade
If you are blessed with African-American hair, you can rock this hairstyle as no one else can. This haircut is edgy yet clean and chic. The hard part and flat top fade will give your face structure and make you look appealing.
78. Sharp-edged flat top
If you are into elegant haircuts this one an extravagant pick. The sharp and precise cut edges of this flat top look stylish and attractive. You could wear this haircut anywhere and pull attention your way easily.
79. Spiky flat top haircut
If you are blessed with pin straight hair, thick or thin this haircut is perfect for you. It will allow you to style your hair in a way that compliments your hair texture. The front is kept loon while the back is short, making the look balanced out. You could sport this cut anywhere.
80. Pompadour with stylish side fade
This pompadour is true to the original one. If you enjoy keeping your medium length hair, this haircut is the right one. The hard part at the side and the fade around it adds a common characteristic. This haircut is fun and fashionable.
81. Curly flat top
When styled correctly, curly hair can look sexy. This flat top haircut does precisely that. The curly hair towards the crown really allows you to embrace and enhance your natural texture. The fade tones down the hairstyle so that it doesn't come off as overpowering. This haircut is perfect.
82. Sleek comb back hairstyle
If you don't mind devouring your hair in hair gel, this haircut is apt. The sleek gelled hairstyle is in contrast to otherwise messy looks. This haircut is perfect for a formal event, where you want to come off as serious and well kept.
83. Peacock highlights
Peacock highlights have widely been accepted throughout the world. If you aren't afraid of standing out, this haircut and color is something you should go for. The off-centered hard part adds definition to the hairstyle and compliments it. You can sport this anywhere, but it's apt for funky events.
84. Messy flat top
This haircut is definitely a mixture of different components mixed into one very appealing hairstyle. If you are into the messy hairdo, this haircut is perfect. Even though the hair on the crown is messy, the haircut still looks chic and clean. You could wear this flat top haircut anywhere you like.
85. Curly centered top
This haircut is yet another hairstyle that will allow you to style and maintain your curly hair. By getting this haircut, you won't have to worry too much about spending ridiculous amounts of time styling it. This flat-top haircut is perfect for any occasion.
86. Natural curls with a skin fade
A great way to compliment your curly hair is by going for a skin fade. This is perfect for someone who has a small face and curly hair. This way you can help have your hair compliment your looks instead of overpowering it.
87. Curved hard part
The misconceptions about hard parts are that they are supposed to be straight and down the middle. In this haircut, you can see how the curved hard parts actually add edgy and character to the hair. It is a great haircut for young boys who want to try something different.
88. Blue flat top
Electric blue is a versatile color that goes with every skin tone. Pair this with a flat top and skin fade, and you fit right into the modern trend. It is a great haircut to sport casually as well as for festivals.
89. Side combed flat top haircut
If you want a haircut that can be worn everywhere, including in an office setting this one's it. This haircut is clean and attractive. Moreover, it complements every hair texture. It's a great low maintenance haircut that looks sexy.
90. Artistic asymmetric flat top
If you are an African-American man, then having an edgy, funky and cool flat top haircut is something you could always opt for. This haircut is exactly that. It is the right kind of modern fashion statement you can make. It is also attractive and clean.