Shaved sides haircuts are created to help the guys make a statement. However, some of them are so impressive that they can even be sported during formal occasions.
Military hairstyles and Ivy League haircuts are becoming a thing of the past. New and improved undercuts and mohawks are conquering the world. These haircuts are usually easy to take care of but the impression they make is tremendous. The only downside of such hairstyles is actually an upside.
If your hair grows too quickly, you need frequent touch-ups. This property becomes an advantage in case you don't like the way you look with shaved sides or want some variety.
Attractive Haircuts for Men with Shaved Sides
Shaving your hair off is a bold step but many men are ready to take it. After all, it's just hair. This approach can help you create the most stylish shaved sides haircuts for men out there. Newer and bolder ways to arrange your hair are coming to light and most of them involve shaving your sides. So whether it's a high taper fade, a mohawk or a subtle undercut, amazing hairstyles are waiting out there for you to try and enjoy. If you have really long hair, try these long hair with shaved sides
1. Ponytail mohawk with shaved sides
This haircut is perfect for guys who like long hair but don't care for maintaining it. All you need to do is shave the sides and leave the hair on top long enough to create a ponytail. No hassle at all!
2. Undercut with a comb over
This is a stylish undercut variation to keep your sides shaved while maintaining a formal hairstyle. You need to keep the hair on top long enough to create a comb over. This haircut is good for guys with straight hair.
3. Simple Lines
Wherever there are shaved parts, there is room for haircut art. Simple lines or more complicated drawings can make your hairstyle look truly impressive. Ask your hairstylist to show off his or her talent.
Coolest Line Haircuts to Create The First Impression
4. Spiky Mohawk
This is a wonderful shaved side haircut that can help you forget about hair styling. Your maximum effort will entail applying a few drops of hair gel to spike up the top. If you have thick hair, it will become spiky on its own when cut short enough.
A well-designed high taper fade borders on becoming a full-blown mohawk. The difference is in the shape. If your stylist is a real professional, he can shape a taper fade in a really unique way.
6. The real mohawk with shaved sides
Real mohawks are rare which makes them a really impressive hairstyle. The sides need to be shaved and the hair must run down your neck. This type of haircut needs special maintenance and close attention.
7. Color mix
If you want to emphasize your shaved sides, you can get some assistance from the hair dye. Color the top part of your mohawk or a taper fade with a shade that creates a contrast.
8. Medium taper fade
If you are not brave enough to deal with full-blown shaved sides, you can opt for a subtle shaved sides haircut for men. A medium taper fade is a great choice for guys who love being stylish. If you want to emphasise your shaved sides, you can get some assistance from the hair dye. Color the top part of your mohawk or a taper fade with a shade that creates a contrast.
Difference Between Taper and Fade
9. Keep it short
Many guys opt for shaved sides hairstyles because they want to factor out the maintenance. In order to forget about keeping your hair neat for at least two weeks, you can opt for this short mohawk version.
10. Ocean waves
When you choose to shave your sides but don't want to lose any style, you need to learn how to deal with the hair on top. Soft ocean waves are a great way to sport a fashionable look but need some effort to create.
11. Taper fade comb over
High taper fades can be different. The gradual tapering can be replaced by harsh levels. This is a good choice for guys who already tried different shaved hairstyles and know what suits them best.
12. Wild fohawk
This fohawk is what you'll get if you let your shaved sides haircut for men grow long. Dyeing your hair white or grayish is a bold move, especially if you have a black beard. Give it a chance!
Inspiring Mohawk & Fohawk Cuts for 2023
13. Two level taper fade
A high taper fade can have just two levels. The top one should be long enough to play around with and the second one is just a little longer than the shaved part. The rest of the sides can be shaved.
14. Outrageous side-shaved haircut with contrast
When you are going for shaved sides, you might want to compensate with wild hair on top. Some guys like making a statement by using the two extremes: shaved sides and long and messy top.
15. Fohawk taper fade
This mix of a fohawk with a taper fade is a great choice for guys whose hair grows quickly. The stylist should leave hair in the places where you want it to grow. In several weeks, you'll get impressive results.
16. Lined taper fade with ocean waves
Ocean waves look especially well on black guys with short and curly hair. You can make these shaved sides haircut even more special by outlining it with hair designs. Start with lines and go from there.
17. Creative options
When you are ready to get your sides shaved, it means you are in for a lot of fun. Experimenting with hair can create an image you've always wanted. Make a real statement with your hair!
18. Messy fohawk
If you are into weirdly unique haircuts, you can enjoy this interesting fohawk. It's created to make the appearance of a hairstyle mix. Keep it shocking or shave the sides to get a stylish mohawk.
19. Fashionable mohawk
Not all mohawks are created equal this shaved sides haircut for men is very attractive and can easily be appropriate for special occasions. The secret is in the way you style the top part.
20. Layered taper fade with the sides shaved
Shaved sides are great even if the shaved part is small. Start with a low layered taper fade and you might get to like the way shaved sides look on you. They are a great way to avoid touch-ups.
21. Asymmetrical art
Shaved sides give you a lot of room for special art. Instead of settling for simple lines that are very popular right now, consider something more complicated, and the heads will definitely turn your way.
22. Stylish mohawk
How stylish your mohawk is dependent on how well you approach the top part. The shaved sides are easy to make. But when it comes to the hair on top, you need some effort to stand out.
Shaved sides hairstyles for men are especially appealing for guys with curly and unruly hair. Create a high taper fade to keep the maintenance out of your daily routine. Leave the top about 2 -3 inches long.
24. Low taper fade with a side part
If you have straight hair that's easy to style, you can settle for a low taper fade. Create a side part for your hairstyle to be fashionable. Keep the top 4 -5 inches long to create comb-overs and other interesting styles.
25. Long comb over
Unless you have a high forehead, you'll appreciate long comb over styles. They look complicated to maintain, but in fact, the styling is simple. All you need is to apply some hair gel and brush the hair backward.
26. Bangs
Not many men are ready to deal with bangs. However, guys with large foreheads can benefit from them greatly. This shaved sides haircut for men is designed for people with wavy and thick hair. The bangs look great without any styling.
27. Simple mohawk
Simple mohawks are the choice of many guys. There is no complicated tapering or top styling. Just shave the sides and keep the top as natural as you wish. A short top can save you from daily brushing.
28. Add some color and shave the sides
If you are not afraid of a full-blown mohawk, why not add some color to make it even more fantastic? There is no need to go for something absolutely outrageous, consider dark purple or mahogany brown tones.
29. Tattoos with the shaved sides
If you have a high mohawk, you can finally create some tattoos on your head. While they might be a little painful, the impression they make is truly tremendous. You will need to keep the sides shaved on a regular basis.
30. Fashionable taper fade
If you are planning a special occasion, you might want to ask your hair stylist for this fashionable taper fade. There isn't much shaving involved here, but the overall look is truly fantastic.
31. Shaped up hairstyle
Shaped up shaved sides hairstyles for men look especially stunning if you add some designs. Shaped up haircuts make the hair look especially neat and make the maintenance easier.
32. Messy top
When it comes to shaved sides hairstyles, a lot of attention is being paid to the top. You don't have to go out of your way for it to be stylish. Add just a few drops of hair gel and mess it up!
33. Cute waves
Another way to style the top is to make cute waves. You will need some professional help to arrange the waves neatly for the first time. Once you get a hang of it, the styling will take just a few minutes.
34. Ocean waves for straight hair
If your sides are shaved and the top is left long enough to experiment, you can create your own straight-haired variety of ocean waves. You will only need some hair gel and a brush.
35. Long bangs
This hairstyle is acceptable for guys who are ready to take good care of their locks. The hair on top must stay long enough to be brushed forward and create amazing bangs that will be kept spiky by hair gel.
36. Colorful mohawk
Long mohawks look especially appealing when you add them some color. Consider something fun like purple or dark pink. Don't dye the whole top, just add a few highlights for a great look.
37. Slightly shaved
If you are not ready for shaving your sides but want to get rid of as much hair as possible, you can consider this type of an undercut where the sides are only partially shaved in the front.
38. Complicated hairstyling
This shaved sides haircut for men requires complicated hair styling to look perfect for a special occasion. In order to give yourself a chance to look unique, you need to leave your hair on top long enough for experiments.
39. Medium taper fade
Medium taper fades are perfect for guys who don't like outrageous hairstyles. The sides are only shaved partially shaved but this is usually enough to create a low maintenance style.
Hairstyles for Men With Round Faces
40. High taper fade with a lateral comb over
Side parts with a lateral comb overs look great on guys with any hair length. But if you have shaved sides, this hairstyle will be favorably outlined and you'll be making a great impression.
41. Shaved sides hairstyle for thin hair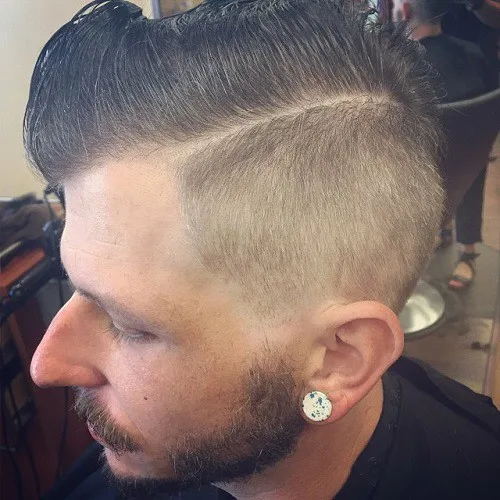 If you have thin or balding hair, shaved sides hairstyle is a great way out. Your shaved sides will look natural, while you can focus on the areas where your hair is the thickest.
42. Shaved neck
Many guys have hair growing on their necks and most of the haircuts except for long ones require it to be shaved off. Make sure your hairstylist does it, otherwise, the haircut won't be complete.
43. Shave the bottom

If you are into complicated hairstyles, shaving sides is still appropriate. You can use the shaved parts as a tool to shape up your new hairstyle. Experiment with the rest of your mane as you wish.
44. Patchy shaved designs
Shaved sides hairstyles for men give you a chance to experiment with patchy designs. Before you go to the barber shop, find some appealing examples of hair art that involves leaving hair patches on your sides.
45. Streak of lightning
This design is very popular and looks truly fantastic. Your hairstylist doesn't need to be a super-professional to achieve this type of hair art. Bring the photo to the barber shop, the next time you come to visit.
46. Classical taper fade
Classical taper fade involves shaving your mane just to shape up the hairstyle. Don't be afraid to do a little more shaving. It will save you time and money on the next barber shop visit.
47. Asian mohawk
This high Asian mohawk is exactly what you need to make a fiery impression. Leave just a small patch of hair on top but make sure it's long enough to be tied into a ponytail.
Adventurous Blowout Haircuts for Men in 2023
48. A little shave
Even if you are going for a fohawk instead of a mohawk, the hairstyle must involve a little shaving. Choose the height where the shaved part should stop. The ideal line is near your ears.
49. Stylish crest
This shaved sides haircut for men is easy to make and maintain. All you need to do is create a very high taper fade and leave the hair on top long enough to make a crest. If your hair is thick, the crest doesn't need any styling.
50. The hairline
If your sides are shaved, you can use hair art to make the hairline more prominent. Take a look at how the top hair stands out when this technique is applied.
Shaved sides haircuts for men can really diversify your image and make you look impressive. Most of these haircuts don't require any additional styling. So if you want a hassle-free yet amazing hairstyle, give one a try!