If you are looking for haircut ideas for black boys, look no further. We have collected the best modern black boy hairstyles out there to make you look fabulous on any occasion.
Any African-American boy out there who wants to look his best without doing too much styling in the morning can try these haircuts. That's why hairstylists came up with the most stunning hairstyles that don't require too much effort to maintain.
However, high-maintenance haircuts always look better than low-maintenance ones. So if you are not scared of a little hassle, you can truly become the most fashionable man on the block.
Taking care of your tresses can become the easiest part of your morning routine once it becomes a habit. Don't be afraid of complicated hairstyles. Embrace them!
Haircuts for Black Boys
Your hairstylist can make you look cool by creating a black boy hairstyle that will change your image.
There are many hair styling options for black men and young boys, including outrageous hairstyles like mohawks or military styles.
There are also subtle options, such as undercuts and hair designs. Take a look at these ideas and you will definitely find one for yourself.
1. Fade Haircut for Black Boy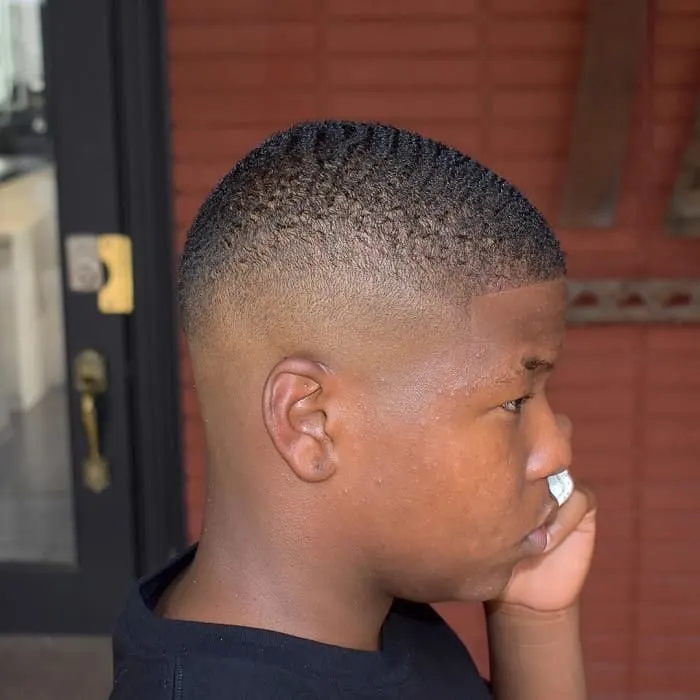 A bald fade for the sides and back is ideal for the summer, and it's one of the most low-maintenance hairstyles for black boys. Kiss any morning routine goodbye because you'll wake up looking great and ready to start your day.
Is your little man already a girl magnet thanks to his bubbly personality and his shenanigans? In this case, he deserves a hairstyle for black boys that will match! Create a fade part with a design and keep the crown hair thick and rich.
3. Baby Boy Haircut
Make your little man look stylish with a faded part and a razored line design that goes on only one side.
4. Low Fade Hair
Create a low fade onsides and back and keep your crown hair long. Create two razor lines on both sides of your head for a stunning effect.
5. Taper Haircut
Start by building a fade on your sides and backs hair and keep your hair tapered in the crown area. Create a round shape for the top.
6. Ocean waves and hair art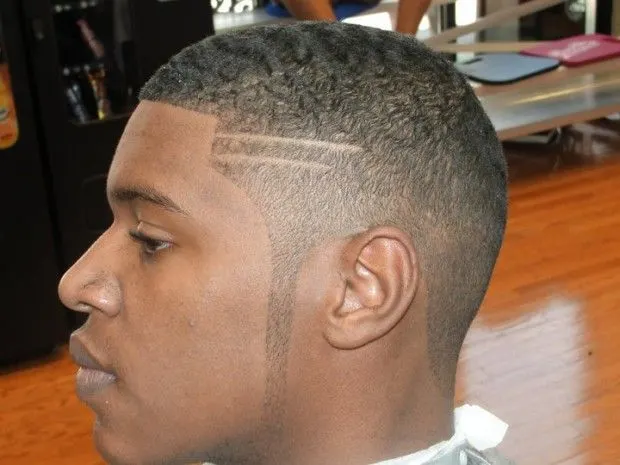 Ocean waves can be a great style all on their own but it will look great coupled with some hair designs on the side. You will need to get a special brush and watch videos to learn how to make these waves at home.
7. Trendy high taper fade for black boys
A high taper fade is the best way to deal with unruly curls on the sides while flaunting the thick hair on top. This is a great hairstyle for black boys who hate any hair hassle in the morning.
High & Low Taper Fade Cuts for Black Men
8. Black Boy Haircut with Design
If you decided to go for a close to military hairstyle, diversify it by creating some fun hair art. You can go for any designs, including stars, stripes, geometrical shapes and etc. Anything goes.
9. Fun mohawk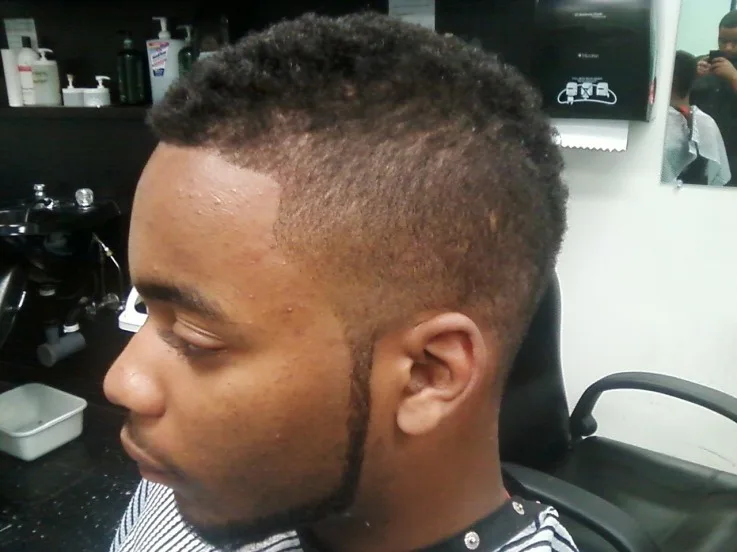 Since black men usually have thick and curly hair, they can create a simple mohawk and it will stay intact without any styling. The curls will hold the volume on their own. Give it a try!
10. Flaunt the curls
When you are going for an undercut or a fade, consider leaving the top part of your hair just long enough to show some curls. You won't need to do any styling, just brush them and go.
11. Shape it up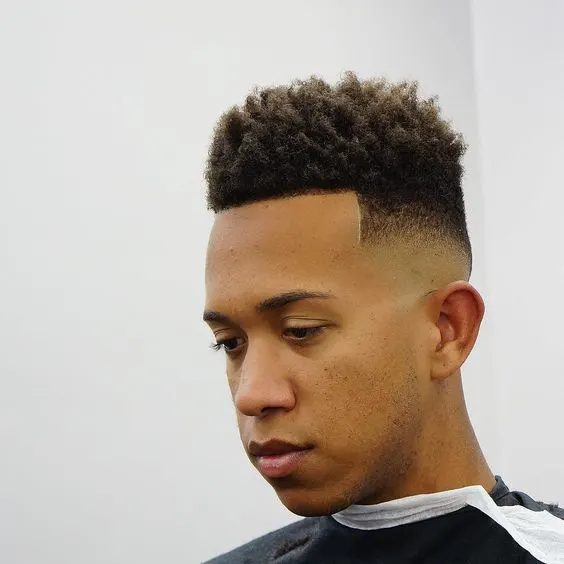 Shaping up your hair is always a great idea since it gives it a great form and a plenty of volume. You can either fade the sides or shave them altogether. In any case, this is a perfect haircut for black boys.
12. Simple mohawk
This simple to make and easy to maintain mohawk will make your life absolutely worry free. Perhaps some gel will be needed to keep up the shape of the top part once it grows a little longer.
Want to try Taper fade with Mohawk? See these options
13. A blowout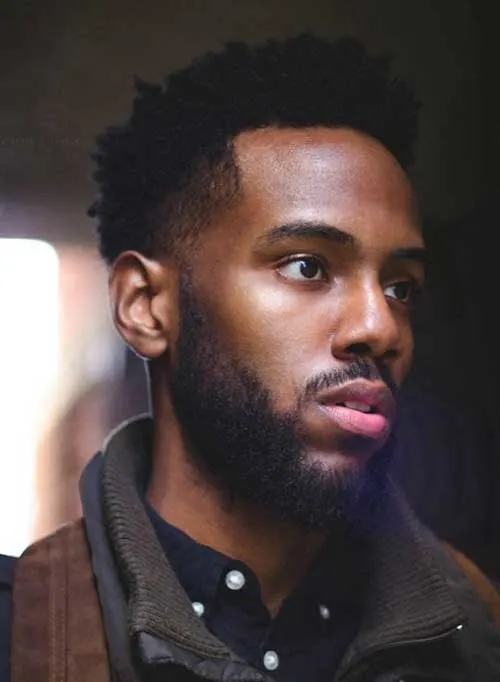 The popularity of a blowout can't be overlooked. You will need to keep the top part neat with some hair gel to get the best impression. However, a messy look is allowed as well.
14. Shave the sides
By just shaving the sides of your mohawk hairstyle, you can get an amazing dragon tail shape that will have all the girls turning your way. Do some hair design to complete the image.
15. Tiny Twists
These fun tiny twists will make you look truly fantastic. They are not easy to create but they will make you forget about daily styling without doing any shaving. A great idea!
16. Military black boy cut
When all else fails, go military haircut. If you are tired of the way your hair looks and want something outrageous yet simple, shaving your head is a way out. It will save you money on shampoo too.
17. Geometrical fade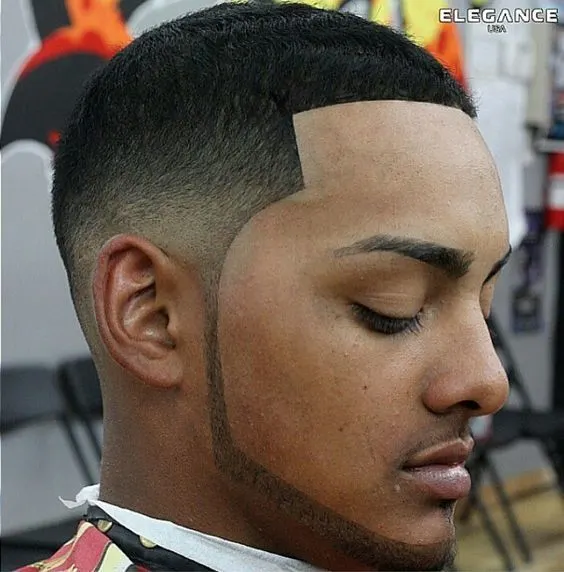 Using geometrical forms to shape up your fade is always a great idea. This kind of hair art is easy to make and will change the way your hairstyle looks in a flash.
If a smooth and creative fohawk is not good enough for you, consider some fun hair designs by shaving the sides and leaving a couple of lines above your ears. Unfortunately, this haircut for black boys will be very short-lived.
19. Modern Fresh Prince of Bel-Air
A simple high top fade haircut can turn absolutely amazing with the help of some shaving and fun art. Ask your hairstylist to use her imagination when dealing with the back of your head.
20. Wavy fade
Ocean waves look good on the hair of any length as long as it's done correctly. Ask your hairstylist to give you a couple of lessons on how to achieve this black boy hairstyle on your own.
21. Black Boy's Curly Haircut
Allow your voluminous curls to impress the girls by leaving about 4 to 5 inches on top of your head. Make some fun lines on the sides to shape up the top part and give your image some zest.
22. Creative black boys
Creative hair art is better than the greatest haircut idea for black boys and men. You don't have to do any hair styling; it just looks cool all on its own. Unfortunately, it becomes a mess once the hair gets longer.
Difference Between Taper and Fade
23. Short Haircut
Sometimes you just don't feel like going all out with your hair. That's when absolutely simple short haircuts come in. Make your hair all the same length and let it grow a little. It will be a great ground for new experiments.
24. Black boys: get a beard!
Even the simplest hairstyle will look great when coupled with a cool beard. You don't need to grow anything very long or complicated. A simple short goatee will do wonders for your image.
25. Very short fade
Creating a classical taper fade on very short hair is not an easy task. If your stylist is up to it, you'll get a fashionable hairstyle that will stay intact for a very long time.
26. Go higher
The higher your black boy haircut is, the better it looks. Just don't forget that the hair won't look this perfect on its own. You will need to style it daily and get regular touch-ups at the salon.
27. Classical mohawk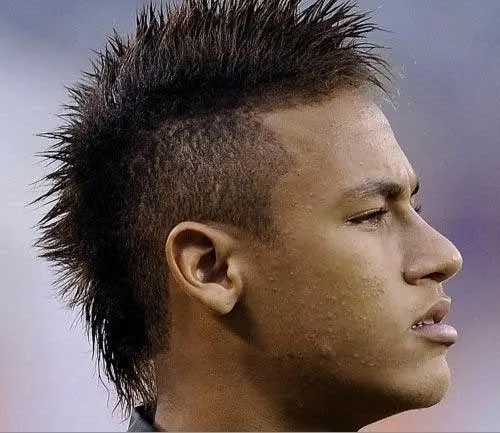 A classical mohawk will make you look terrific on any occasion. You will need to spend sometimes spiking it up and making it look terrific but the result is truly worth it.
28. Stylish cat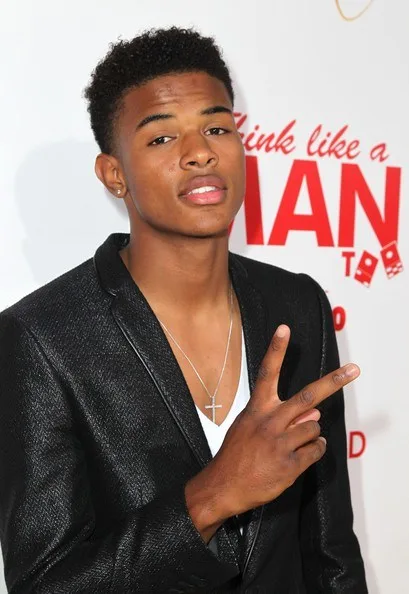 Even the simplest hairstyle can make you look stylish if you keep it neat and do regular maintenance.
29. Soft and natural
Give your hair a break and don't use any hair products on your stylish tape fade. The soft and natural look will get you a lot of attention.
30. Get bangs
Black boy's with curly hair can get their own special fringe by growing the hair over their forehead. These spiky bangs will look fun and natural.
31. Slicked Back Hair
This is a perfect haircut for black boys with a good build and a big forehead. Comb your hair backward when wet and you are good to go for any occasion. You will need a moderate hair length for this style.
32. Super-Trimmed Look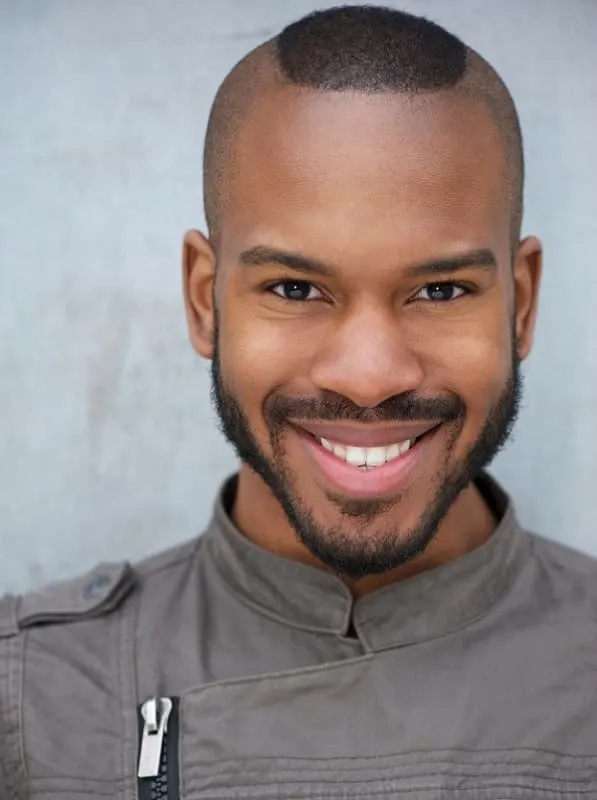 This is an ideal haircut for summers and places which are too hot for long hair. Cut the sides off completely and leave a small trimmed portion in the middle. The style looks sophisticated and perfect with every type of clothing.
33. Side Shaved Squared Curls
For skinny guys, all you need to do is shave your head sides completely and leave the curls on top. Cut the trims in a squared shape, and your look will be good to go.
34. Shaggy Afro Look
The haircut is idle for slim black boys with stubble and especially those who do not have a lot of time to maintain their hair. You can keep your afro curls open and give them a casual shaggy look.
35. Undercut with a Pony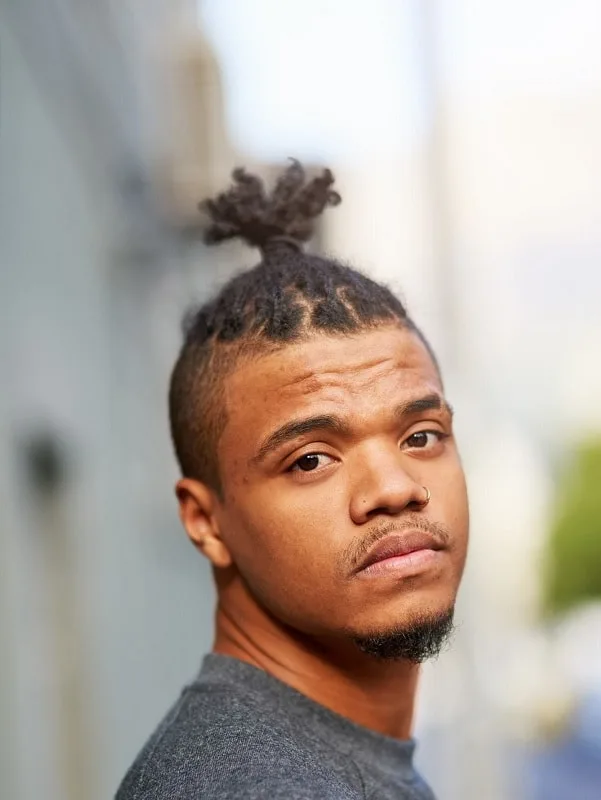 Create your unique style with an undercut and a small open pony on top. Grow your hair in the middle part and create an ideal afro look for men with short hair. Make sure your undercut is finished off with a proper finish for a professional look as well.
36. Natural Curls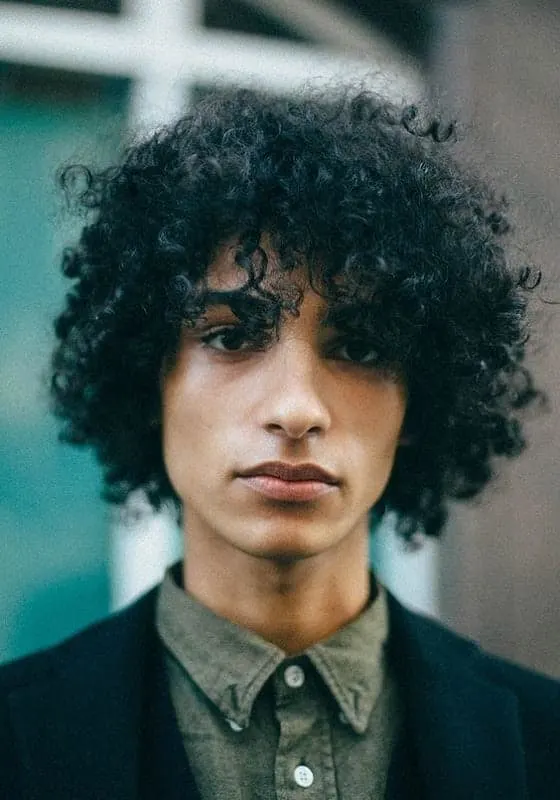 An ideal haircut for black boys with naturally curly hair and small square shaped faces. Condition your curls regularly to give them the shiny finish that they need. You can rock this hairstyle for every casual outing as well as professional meets.
37. The Afro Man Bun
Give a confident feel with an afro man bun. Grow your hair long on the middle part and make a perfect neat bun on top. You can give a neat finish with an undercut and a separating line between the undercut and the middle part.
38. The Classic Fohawk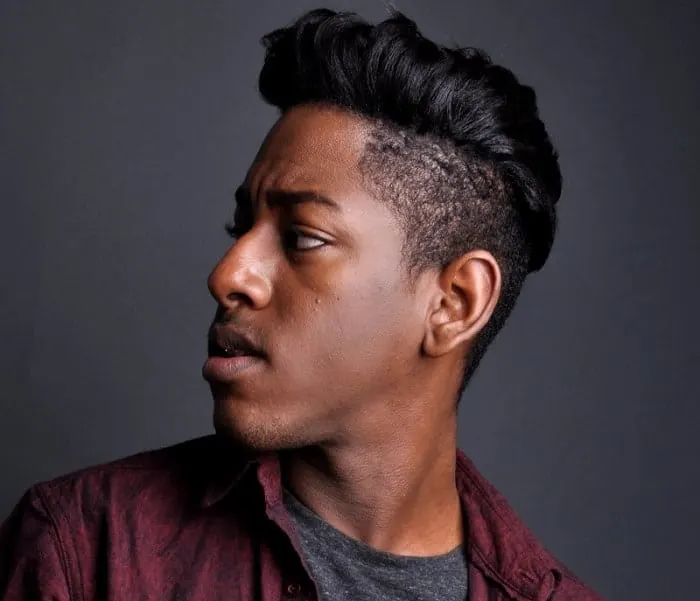 Opt for a classic fohawk with a nice undercut which drops around the neck for a clean look. You can give a neat, clean finish on top to complete the look. This classic fohawk is ideal for any outing.
39. Stylish Box Braids
Let your braids loose from the front and tie them in a bun at the back. This is one of the most stylish and brightest black boys haircuts to rediscover your look. The look will be perfect for a casual street look but also a professional suited makeover.
40. Smokey Hairdo
If you are in search of a new rocking hairstyle, then opt for this short side and long top style which will give you a fresh and young look. Give the top a whitish silver shade to take the hairstyle to the next level.
41. Colored Military Look
If you are up for a new but daring look, you can opt for this colorful short hairstyle. Get a military cut and then color your hair in different shades of blue and then white at the back. This will bring out the cheerful you.
42. Afro Cut with Wings on Side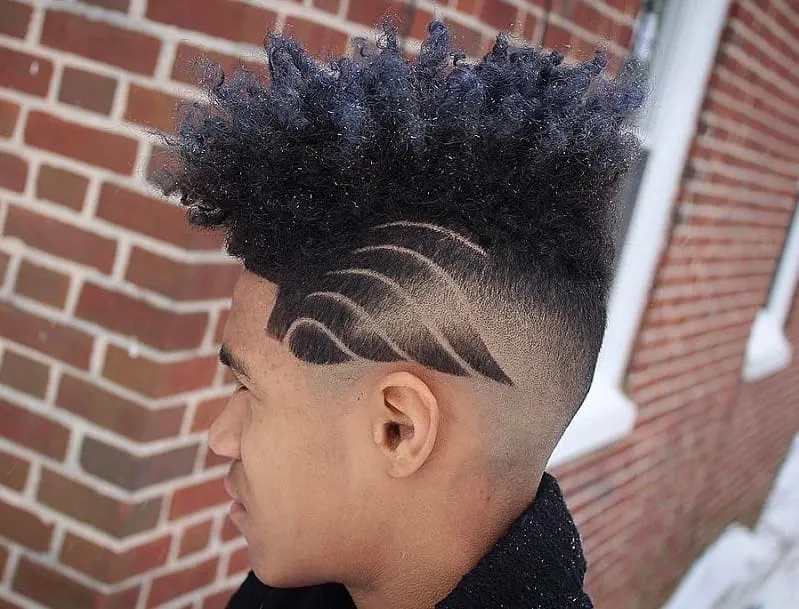 Opt for this rocking young look which will surely make you the center of attraction for all the good reasons. Get wings on the side of your afro cut, and you can add some glitter to make the look stand out.
43. The Bag Mellow Hairstyle
Black boys can go for this all guns blazing with this stylish celebrity-like haircut. All you need is a military cut with shades of golden throughout and you will good to go to rock any look.
44. Short Dread Style
If you want a rock star look, search no further. This afro look is ideal for people with medium length hair who are looking to change their style. You can rock the look at any outing or meeting, and there will surely be many admirers.
45. Purple Long Top
This is a unique twist to the short sides and long top hairstyle with the shades of light purple on top. Rock this black boy hairstyle anywhere and at any time.
46. Long Braided Pigtails
If you have a fit figure with long hair, rock this hairstyle with long braided pigtails from the front. To make it even better, get an undercut, and your black boy look will be complete.
Spend some time browsing these options and looking for the best black boy haircut for yourself. African-American boys can start with natural looks and go further, getting more and more creative. Don't forget to try the hair designs!