Do you have black hair and blue eyes? Then you know how gorgeous the combo is. You can make it even better by styling your hair so that it highlights your eyes. It's easy to do—black hair will draw attention to your eyes, even if you don't have bangs. See for yourself.
Beautiful Black Hairstyles for Blue-Eyed Women
There's no shortage of black hairstyles, but the ones here are unique. They focus on the blue eyes. Each coiffure is designed to frame them. Black-haired beauties who have blue eyes strike a magical vibe. That mix isn't seen very often, so why shouldn't you make the most of it? Squoval nails will suit great with your combo, you can try that too!
#1: Effortless Waves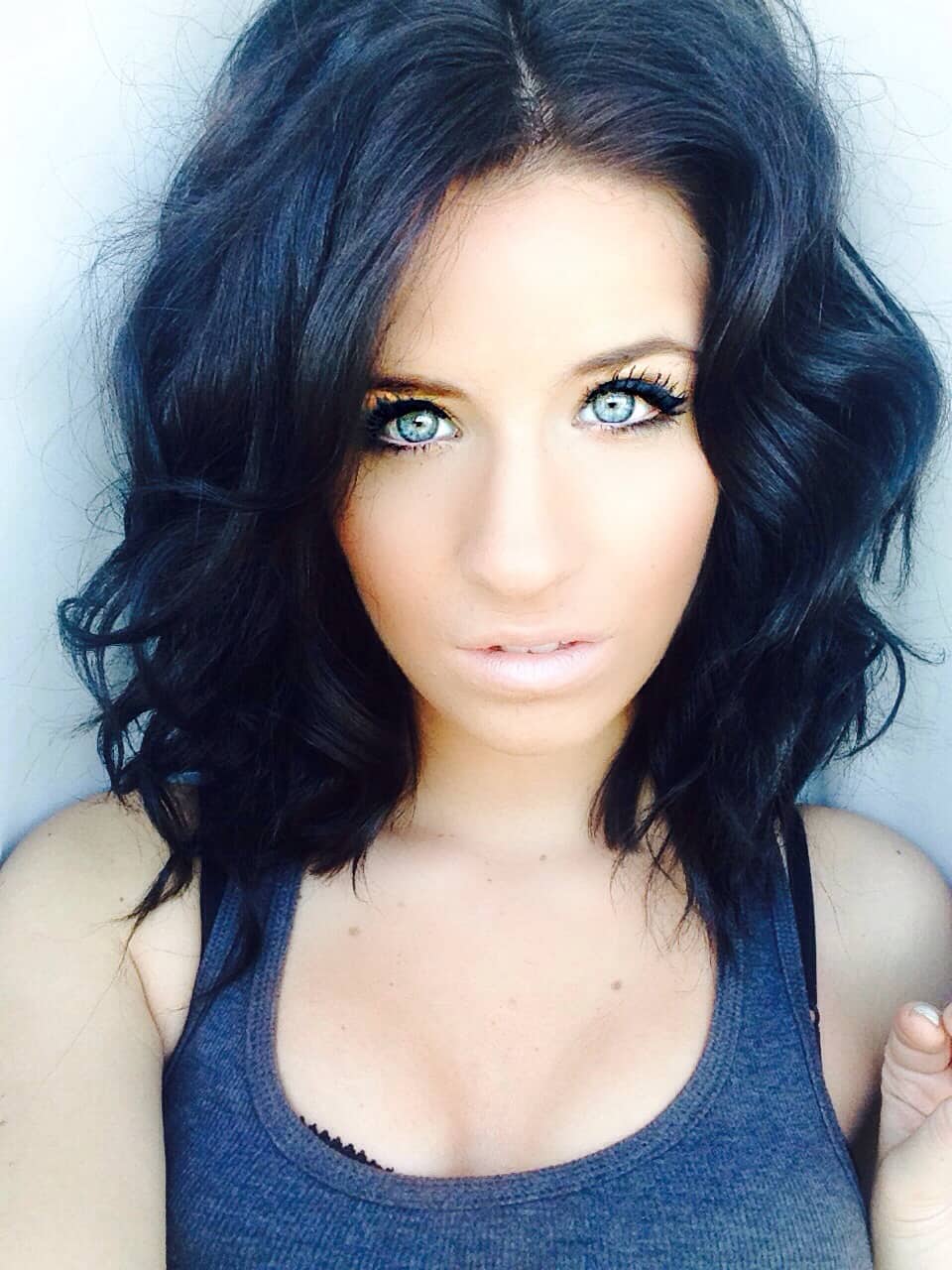 The whole black hair and blue eyes combination are stunning all by itself. You don't need to do anything to make people take notice. However, you can heighten your natural beauty with a casual, natural hairstyle, such as simple but elegant waves that frame your face without overshadowing it.
#2: Long, Sleek Bob With Blue Eyes
Dark hair, porcelain skin, vivid blue eyes—that mixture begs for a stylish coiffure, not to mention a bold red lip. Go for a straight, sleek bob, which is a timeless haircut. Feel free to keep it a little longer, or opt for an edgy, angled bob that's longest and sharpest at your chin.
#3: Short and Sassy
There's something undeniably retro about blue eyes and black hair. Look at all the pinup girls and burlesque dancers of yesteryear. This bob resembles a pageboy because of its short, blunt ends, but the subtle under-curl and the thick bangs take it to another level.
#4: Hippie Chic
One of the most attractive black hairstyles to match with your blue eyes — simple & elegant in their simplicity. Give a nod to the Boho chic trend or embrace your hippie roots with long, straight, black hair, perfectly parted in the middle. Actually, is anyone else getting some serious Cher vibes?
#5: Shagged and Jagged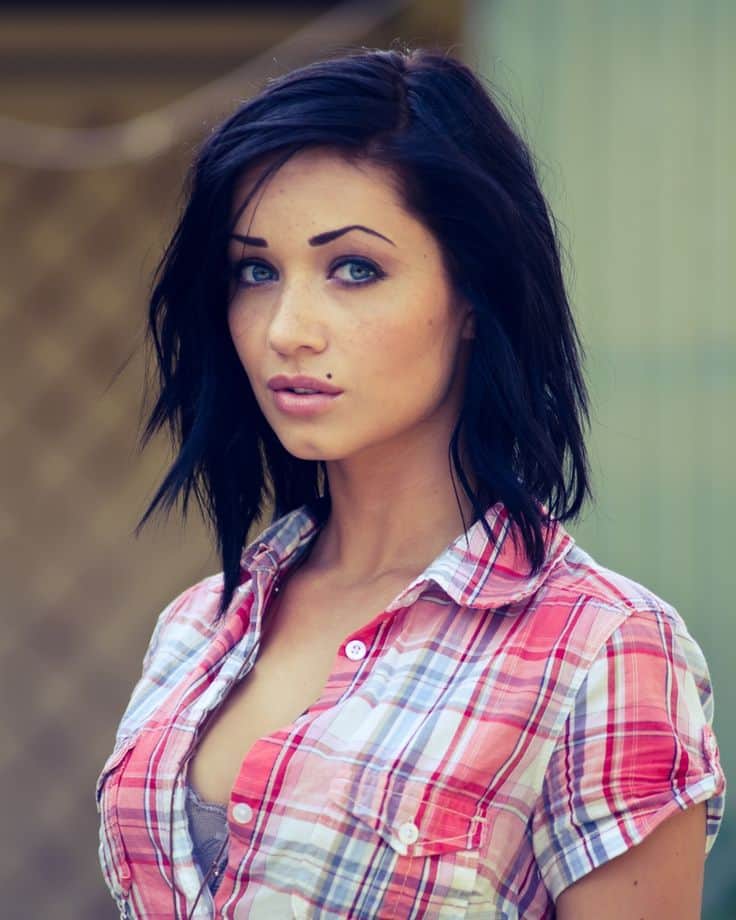 Shaggy, tousled haircuts will mesh well with your blue eyes and black hair. It makes unkempt look like the next hot thing. Talk to your stylist about layers created using the razor. That will make your coif jagged and edgy, but it will still have some cohesion.
#6: Bangs and Body
Does your hair have enviable body? Show it off! Black curls are bomb as hell. A side-swept fringe is a must, too—the dark hair against your fair skin will draw attention to your creamy complexion and those baby blues.
Hair Color Ideas for Hazel Eyes
#7: Soft Waves
This. This right here. You're seeing a perfect example of the natural beauty of black hair and blue eyes. Imagine striking such a sweet, romantic figure with so little effort.
#8: Elegant Updo
With or without bangs, I promise that an updo will flatter both your hair color and eye color. Do you need more evidence? High bun, chignon, or a retro-inspired 'do similar to this one—it doesn't matter. Put your hair up in the air sometimes.
#9: Retro Curls
Black hair is sensational in retro and vintage hairstyles. Throw it back to the '50s with curls like these. You're going to need a whole lot of hairspray, though.
#10: Emo Vibes
Back in the early '00s, black hairstyles abounded. They were de rigueur in the emo set. Short, distinct layers coupled with an extreme side fringe were the signature details, and a knitted hat was a must-have. Tell the truth. Who rocked this coif?
Black hairstyles with blue eyes are a dynamic duo. They're eye-catching all on their own, but with the right hairstyle, your appeal becomes irresistible. Where are our black haired, blue eyed girls?