Have black hair and blue eyes? Or maybe you're thinking of rocking blue lenses and wondering which hair color to pair with? Trust me, this combo is a head-turner.
You can make it even better by styling your hair so that it highlights your eyes. It's easy to do—black hair will draw attention to your eyes, even if you don't have bangs. See for yourself.
Black Hairstyles for Blue-Eyed Women
There's no shortage of black hairstyles, but the ones here are unique. They focus on blue eyes. Each coiffure is designed to frame them.
Black-haired beauties with blue eyes strike a magical vibe. That mix isn't seen very often, so why shouldn't you make the most of it?
1. Jet Black Hair for Women with Blue Eyes
Is a glam statement hairstyle your speed? With your blue eyes, this long black hairstyle will look amazing. Turn all eyes on you by curling in some larger waves to wear over one shoulder.
2. Short Black Hair for Blue-Eyed Girl
A black pixie with layers is just the thing for a woman who loves edge. Brush them across the forehead so your blue eyes peek through.
3. Long Black Hair for Blue Eyes
There are two ways to wear your long black hair: with or without waves. A pin-straight hairstyle parted in the center is just the style for a woman who loves looking chic.
4. Curly Black Hair and Blue Eyes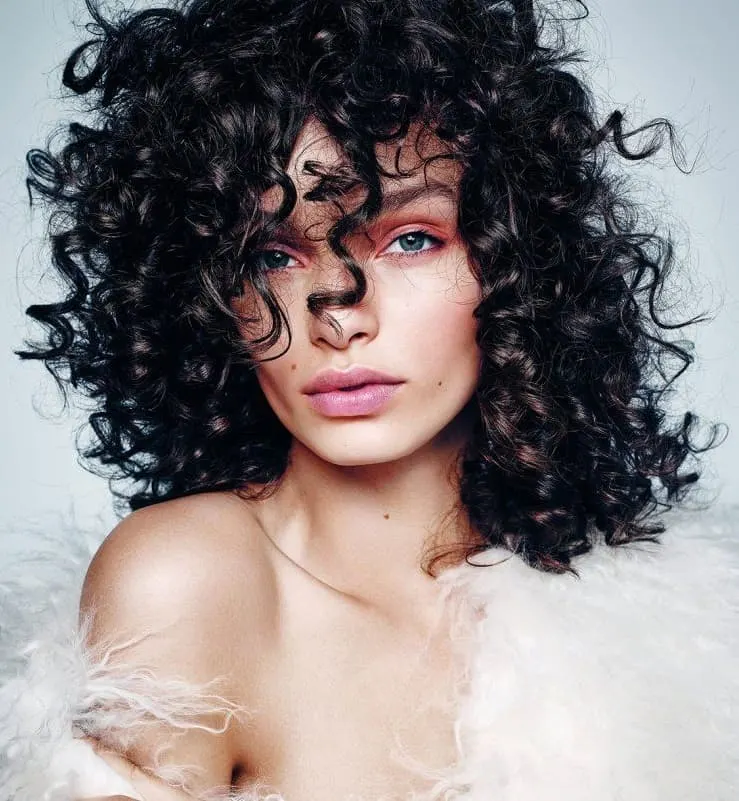 Luscious curls fill up this short hairstyle for blue eyed women. To accentuate your springy curls, use curl cream to shape them and retain moisture.
5. Wavy Black Hair for Blue Eyes
The Kardashians have rocked this long wavy hairstyle more than once and it's easy to see why. When your jet black hair is loaded with waves, a center part is all you need for effortless style.
6. Black Hair Updo for Blue Eyes
Wearing your black hair down and loose is gorgeous, but if you need a beautiful style to wear to a special occasion, you can't go wrong with a sleek bun updo and a bold cat-eye.
Check out these brown hairstyles for blue eyes too.
7. Actress with Black Hair and Blue Eyes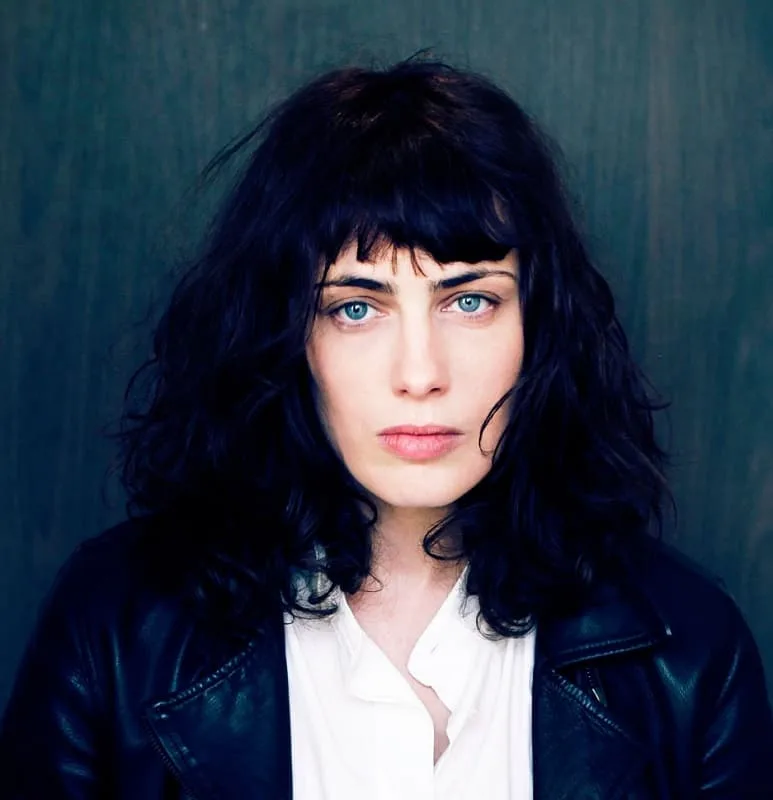 Trying to find the perfect hair color for your light or pale skin? Jet black hair color is the dark contrast you need. Try it on a curly medium-length hairstyle with short choppy bangs.
8. Black Hair Ponytail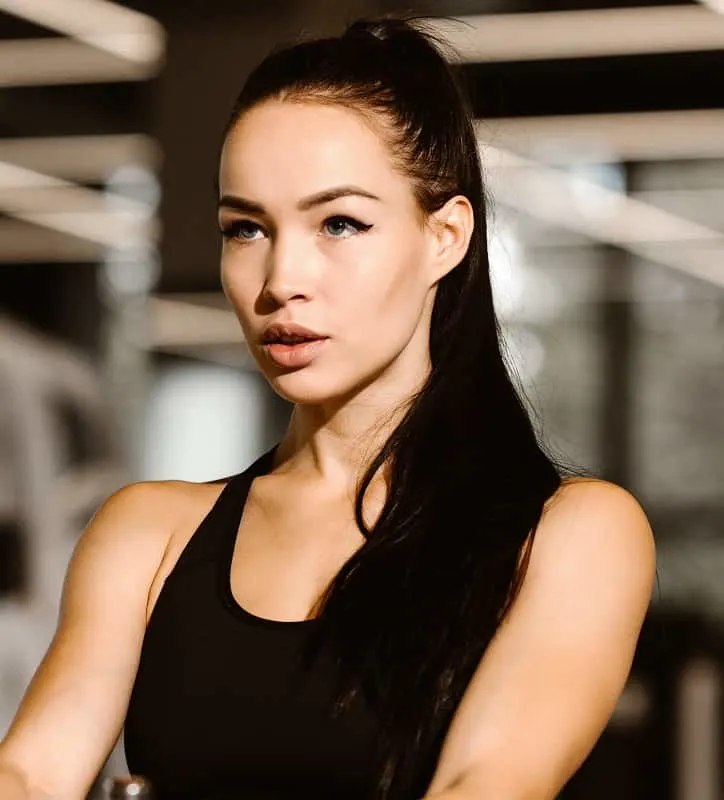 If tomorrow is a work out day or you just need your hair out of your eyes while you're running errands, gather black hair into a high ponytail. Slicked back or slightly messy, it's a classic.
9. Braided Black Hair Updo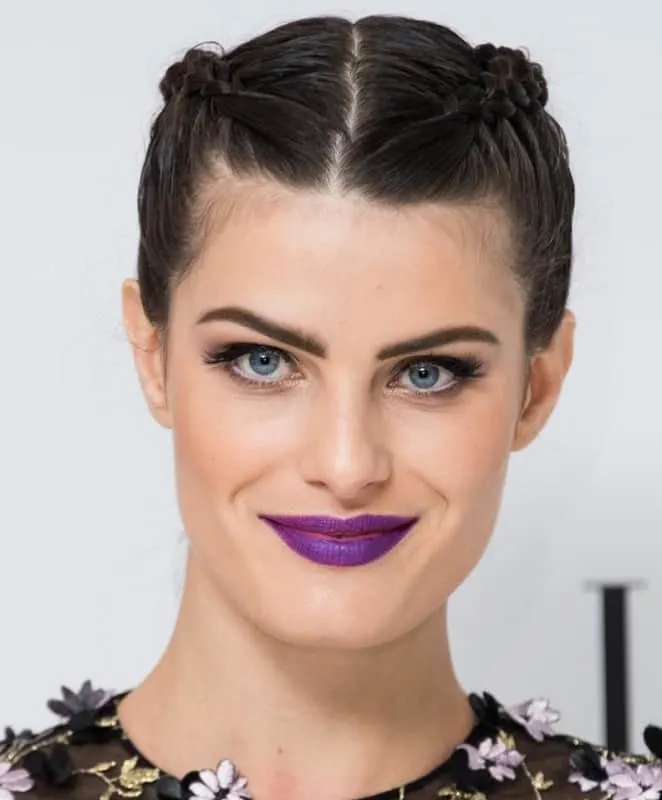 Two braids that start at the hairline and flow throughout to ends is a favorite for women. Smooth down your black hair with hairspray and leave plain or pin in a few colorful flowers.
10. Half Updo for Black Hair and Blue Eyes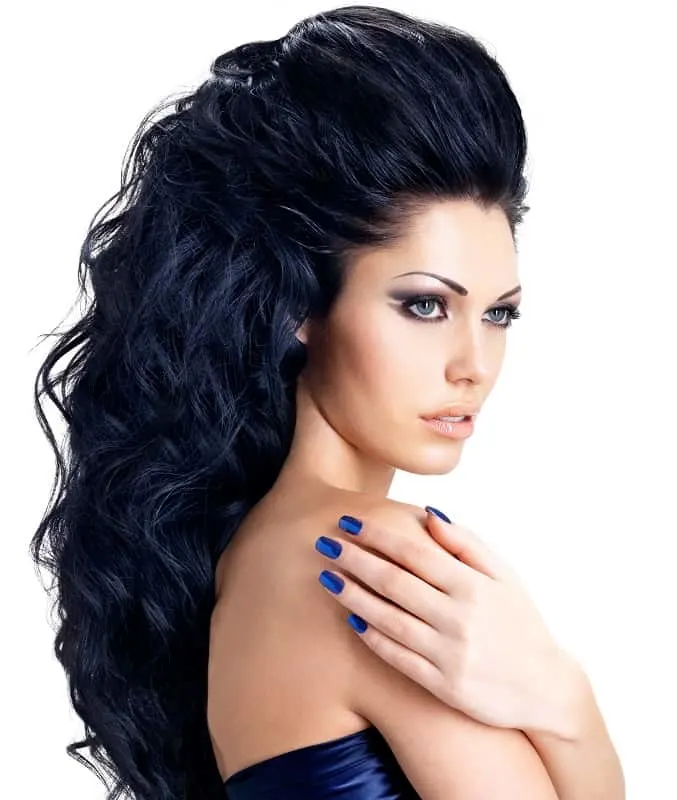 The secret to a fierce hairstyle like this half updo for black hair is teasing the hair before securing it with an elastic. Load up the bottom half with waves or tight curls for a finishing touch.
11. Layered Pixie
If your hair is naturally straight, this cute black layered pixie is a great low maintenance hairstyle. There's just a little lift at the crown and the front is cut in a way that draws attention to blue eyes.
12. Curly Half Updo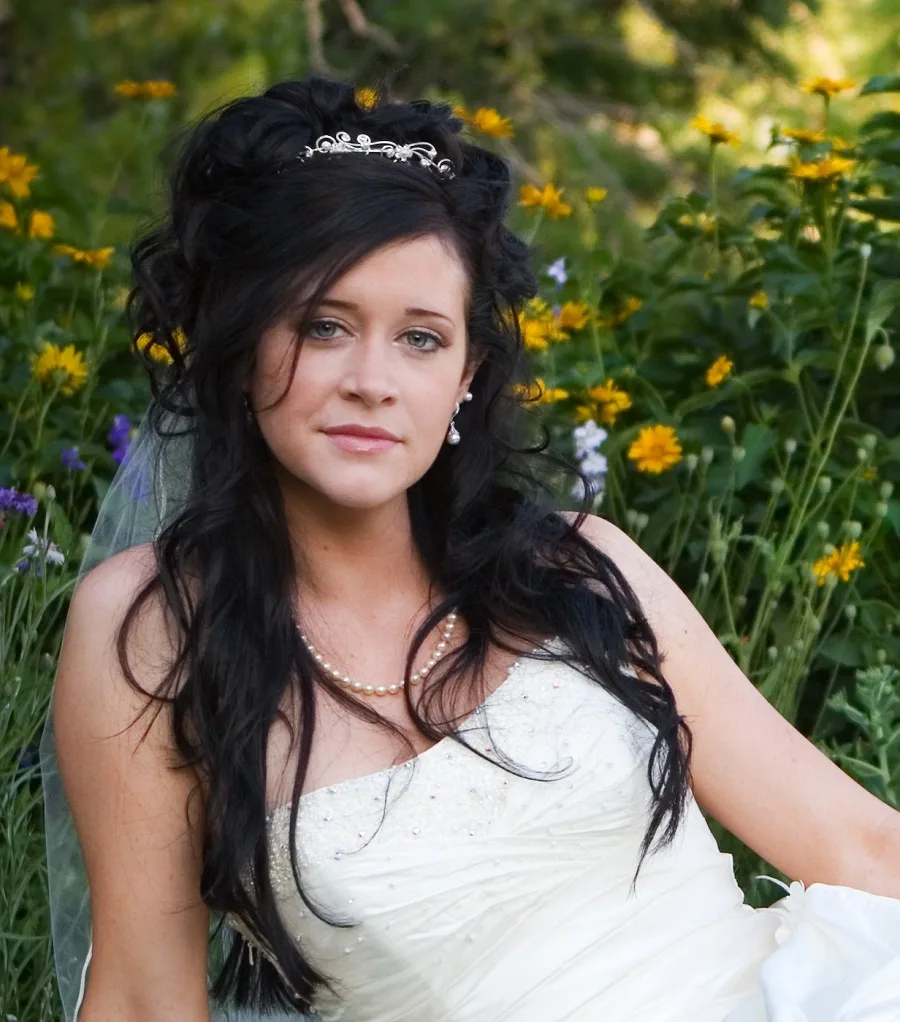 A wedding updo should have one or both: curls and waves. Gather the top half of your black hair into a loose curly half ponytail, leaving out a small section to tuck behind your ear. Fill the bottom half of your hair with waves to cascade over your shoulders.
13. Long Hair with Blunt Bangs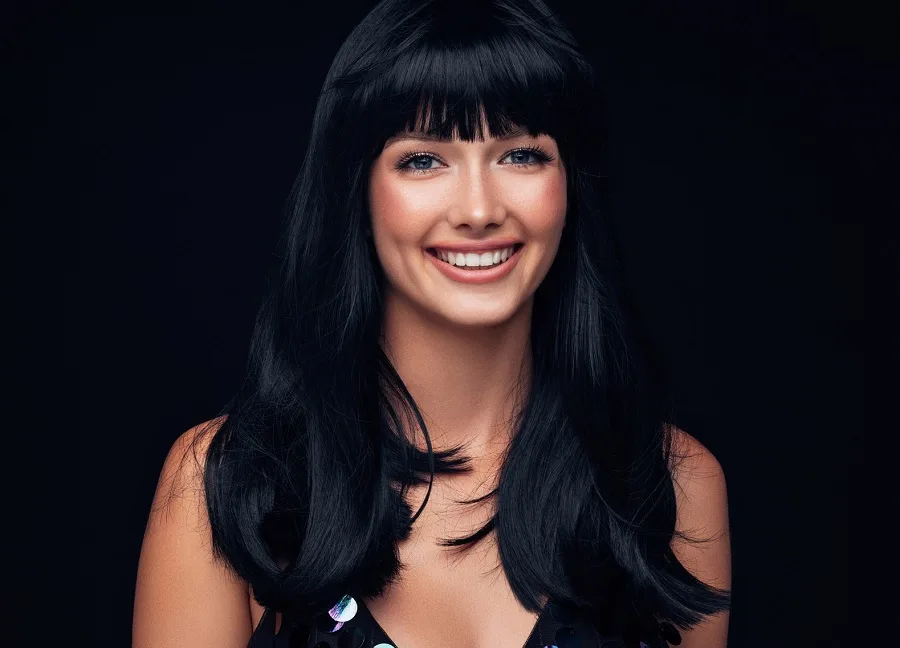 Long blunt bangs are super chic. They're also the perfect way to make sure everyone sees your beautiful blue eyes. If you have a long mane, go with large soft waves and straightened bangs.
14. Messy Bun with Bangs
This messy bun updo is a playful look and incorporates a vintage vibe with its bright red bandana. Use one to separate straight bangs from the rest of your mane. To bring out blue eyes, opt for a bandana in any shade of blue.
15. Low Side Pony
Need a pretty long hairstyle in a hurry? Part black hair in the middle or off center before gathering it into a low side ponytail. No need to make it sleek, a casual look with stray hairs is adorable.
16. Wavy Short Pixie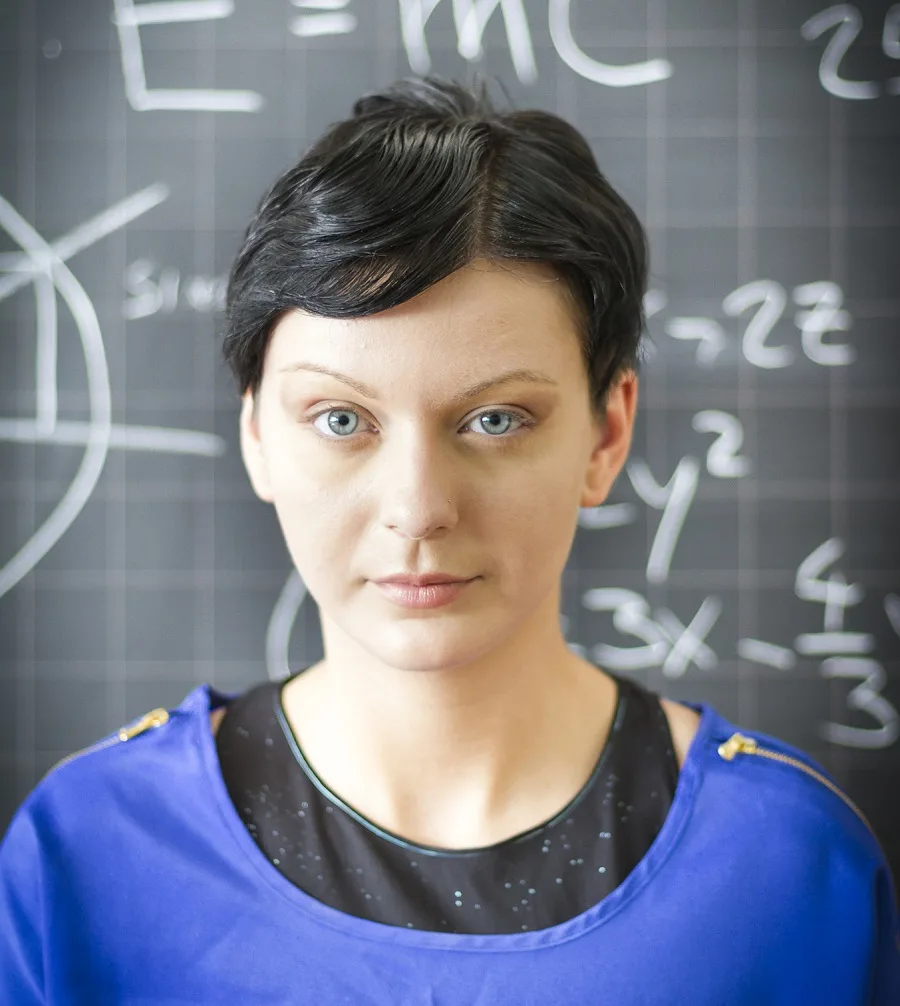 How cute is this short black pixie with light blue eyes? The off center part is a small detail that makes those smooth layered waves look so much better.
17. Pink and Blue Box Braids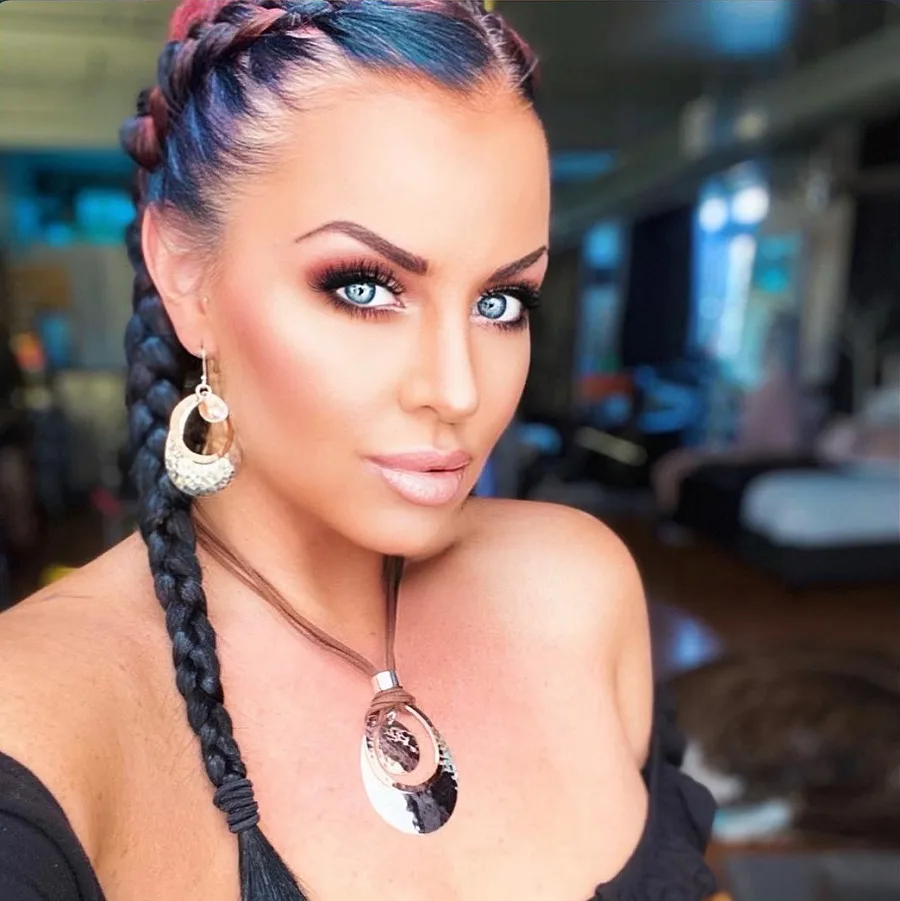 Do you have long hair and love braided hairstyles? Make a black mane stand out with light pink and dark blue in the top half of your hair. Smooth hair into two low braids.
18. Black Hair Messy Bun Updo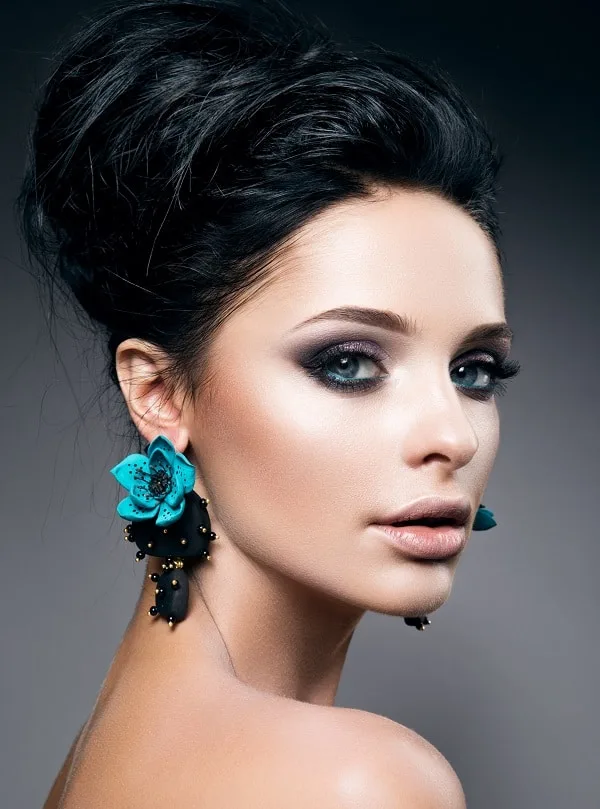 For the woman with black hair and blue eyes who has a wedding or work gala to attend, an updo with slightly messy texture won't let you down.
19. Black Hair with Side Part
Adding layers to a long hairstyle will shape up your look in no time. Worn with a center part, your style will become soft and you can even try a side bang.
20. Short Bangs on Black Hair and Blue Eyes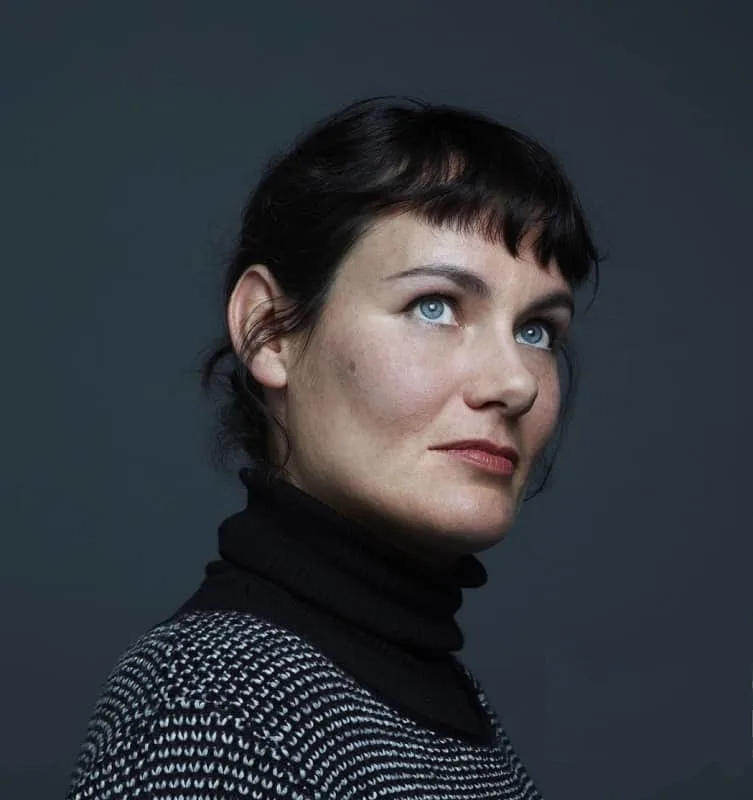 Is your black hair on the short side? Finger comb hair back into a low bun or ponytail for an easy two-minute hairstyle.
21. Effortless Waves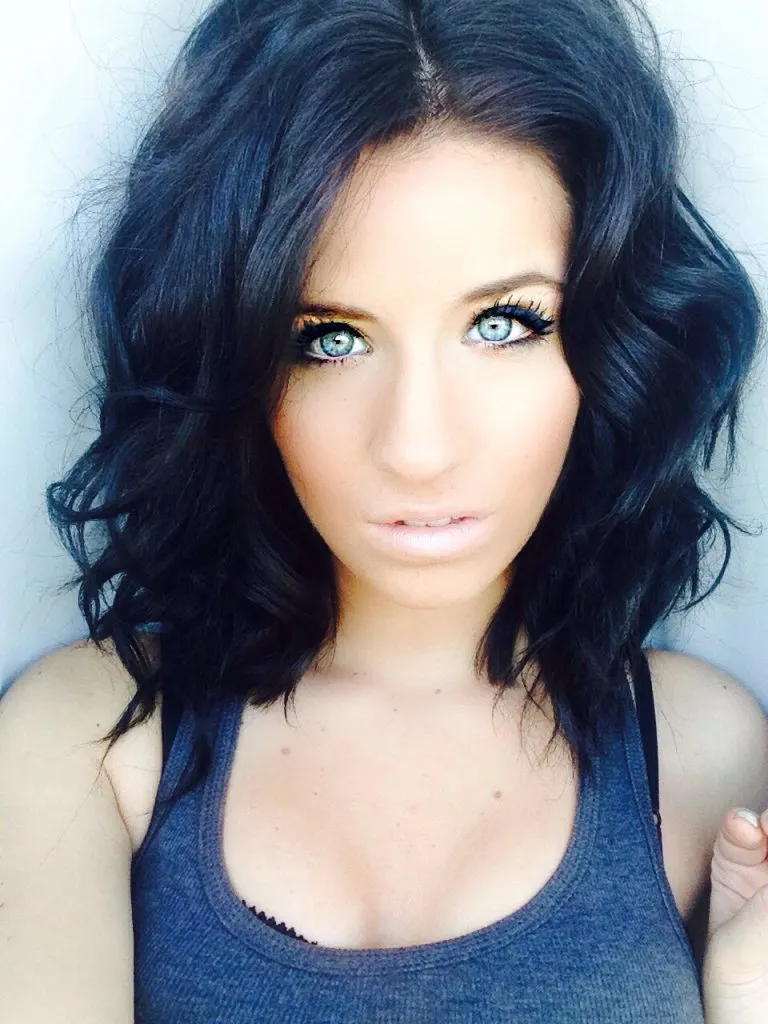 The whole black hair and blue eyes combination are stunning all by itself. You don't need to do anything to make people take notice. However, you can heighten your natural beauty with a casual, natural hairstyle, such as simple but elegant waves that frame your face without overshadowing it.
22. Long, Sleek Bob With Blue Eyes
Dark hair, porcelain skin, vivid blue eyes—that mixture begs for a stylish coiffure, not to mention a bold red lip. Go for a straight, sleek bob, which is a timeless haircut. Feel free to keep it a little longer, or opt for an edgy, angled bob that's longest and sharpest at your chin.
23. Short and Sassy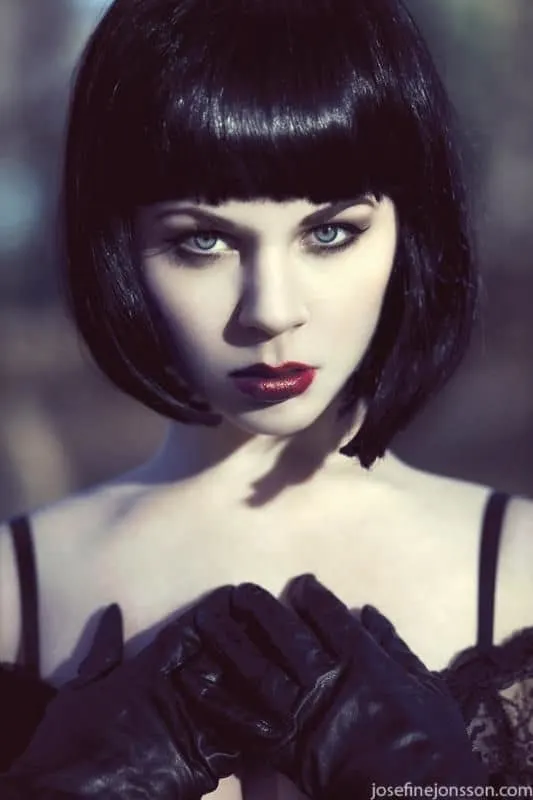 There's something undeniably retro about blue eyes and black hair. Look at all the pinup girls and burlesque dancers of yesteryear. This bob resembles a pageboy because of its short, blunt ends, but the subtle under-curl and the thick bangs take it to another level.
24. Hippie Chic
One of the most attractive black hairstyles to match with your blue eyes — simple & elegant in their simplicity. Give a nod to the Boho chic trend or embrace your hippie roots with long, straight, black hair, perfectly parted in the middle. Actually, is anyone else getting some serious Cher vibes?
25. Shagged and Jagged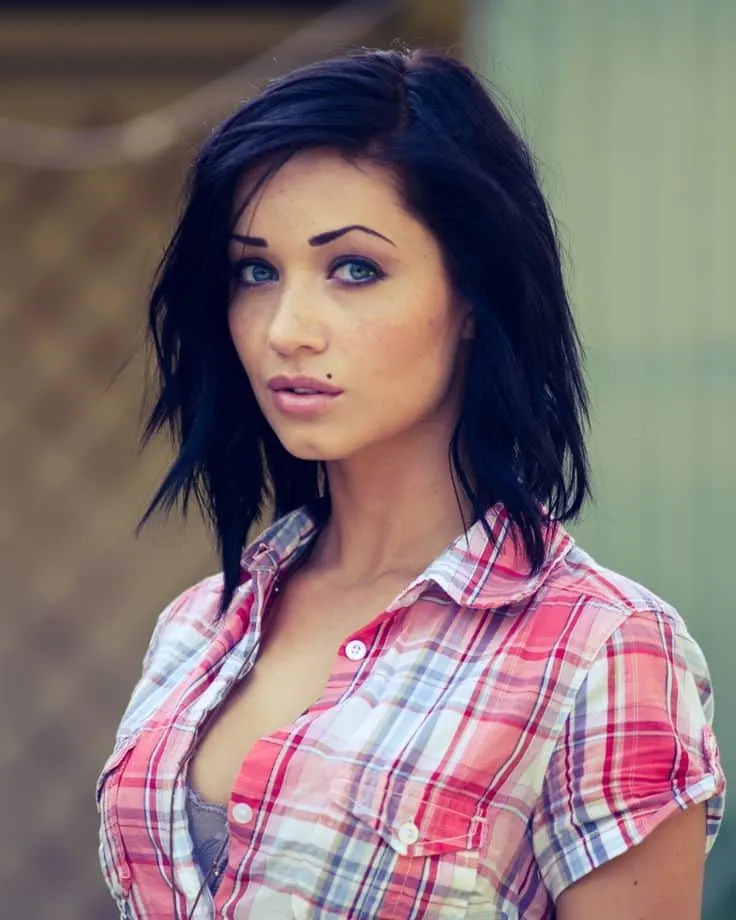 Shaggy, tousled haircuts will mesh well with your blue eyes and black hair. It makes unkempt look like the next hot thing. Talk to your stylist about layers created using the razor. That will make your coif jagged and edgy, but it will still have some cohesion.
26. Bangs and Body
Does your hair have an enviable body? Show it off! Black curls are bomb as hell. A side-swept fringe is a must, too—the dark hair against your fair skin will draw attention to your creamy complexion and those baby blues.
Hair Color Ideas for Hazel Eyes
27. Soft Waves
This. This right here. You're seeing a perfect example of the natural beauty of black hair and blue eyes. Imagine striking such a sweet, romantic figure with so little effort.
28. Elegant Updo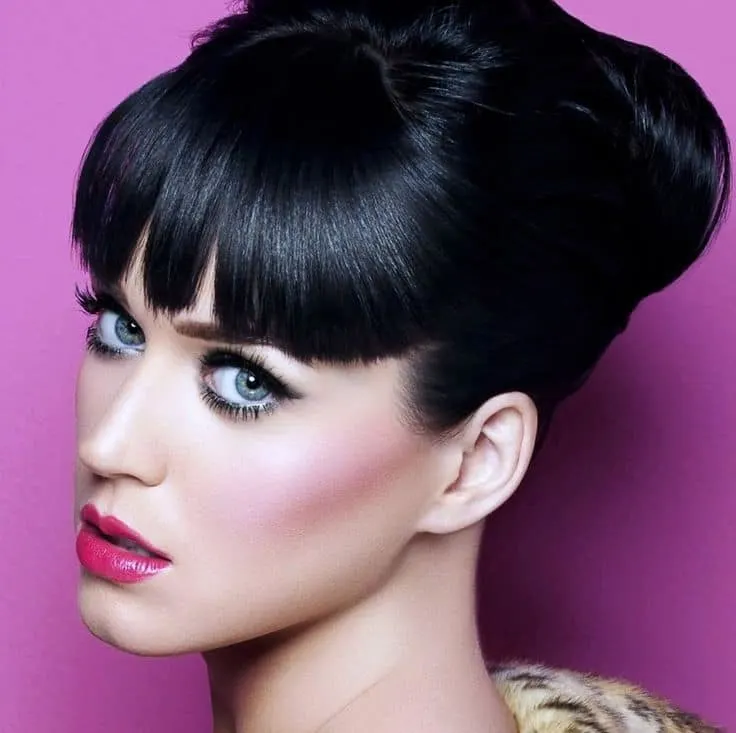 With or without bangs, I promise that an updo will flatter both your hair color and eye color. Do you need more evidence? High bun, chignon, or a retro-inspired 'do similar to this one—it doesn't matter. Put your hair up in the air sometimes.
29. Retro Curls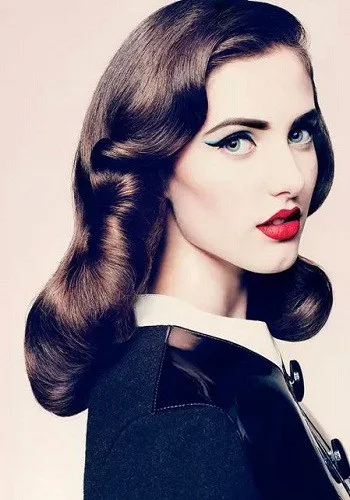 Black hair is sensational in retro and vintage hairstyles. Throw it back to the '50s with curls like these. You're going to need a whole lot of hairspray, though.
30. Emo Vibes
Back in the early '00s, black hairstyles abounded. They were de rigueur in the emo set. Short, distinct layers coupled with an extreme side fringe were the signature details, and a knitted hat was a must-have. Tell the truth. Who rocked this coif?
FAQs
Here are the most commonly asked questions regarding black hair and blue eyes.
How common is black hair and blue eyes?
Black hair and blue eyes is a rare and unique combination of colors. While black is the most common hair color of people on the planet, blue eyes are much less typical. Experts believe that only 8-10% of people have naturally blue eyes because it is a recessive trait.

Additionally, most people born with black hair have dark eyes, as both forms of pigmentation are determined by melanin levels. These factors make black hair and blue eyes an extremely unique combination.
What ethnicity has black hair and blue eyes?
There is not a single country known for dark hair and light eyes. Most often, this combination is produced by a mix of ethnicities and hereditary traits. Black hair is most common in Africa, the Middle East, and Asia, while blue eyes are more typical in Europe and Scandinavia.
Will black hair make blue eyes pop?
This unique color contrast will absolutely make blue eyes pop! Many celebrities and influencers use hair dye or colored contacts to achieve these eye-catching hues.
Black hairstyles with blue eyes are a dynamic duo. They're eye-catching all on their own, but with the right hairstyle, your appeal becomes irresistible. Where are our girls with black hair and blue eyes!