Some hairdos are timeless and never out of style, and that's all thanks to brilliant and splendid actresses like Marylin Monroe or Audrey Hepburn, who made them iconic.
There is a number of vintage hairstyles that never lost their glow and which you can recognize at any glamorous gala, fundraiser, awards, or wedding.
Retro and Vintage Hairstyle Ideas
When it comes to fashion, what goes around comes around, and the same thing is happening when we're talking about hairstyles.
Most of these hairstyles are modern updates for hairdos that were extremely famous in the 60s to 80s, and nowadays, Hollywood singers and actors got them as popular as they once were.
Below are some vintage hairstyle ideas to try on your beautiful hair.
#1. French Twist Hairstyle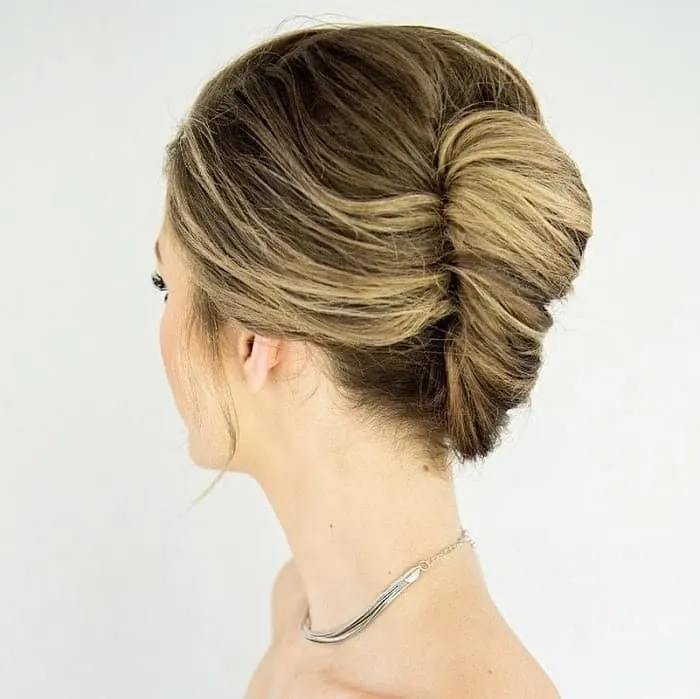 A French twist hairstyle is ideal for weddings and any glamorous event. You need to comb your hair in a low ponytail and twist the base clockwise. Once you start spinning, direct your pony upwards, and it will form on its own. Once it's done, if you have hair left, continue rotating it and tuck it under the main twist.
#2. Rounded Hairstyle with Bangs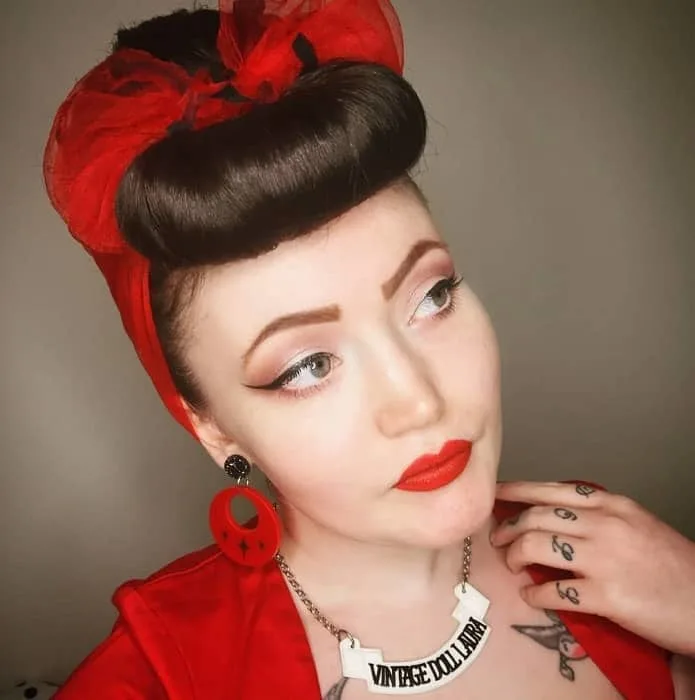 To recreate this dazzling vintage hairstyle with bangs, you need to pin your hair into a big bun and leave your fringe loose because you'll be dealing with that later.
Use a scarf to part the bun from the fringe and make a big perfect bow.
Take your bangs, lift it and twist it a couple of times, and pin it under the scarf. This way, you will create this ravishing pin-up look. Fix it with loads of hairspray.
#3. Yellow Finger Waves for Short Hair
Recreate this gorgeous hairstyle by dyeing your hair into an electric yellow color. Fill your hair with hair gel and use duckbill clips to create your wave.
Don't pin them directly one your hair, use a piece of cardboard between the hair and the clip if you want the waves to look natural.
#4. Very Short Haircut
Pixie haircuts are so popular right now, but quite a few know that its origin is back in the 50s when gorgeous Audrey Hepburn adopted it. It consists of short hair in the back and longer fringe that can be easily styled or dyed.
#5. Waves and Curls for Medium Hair
Go back in the past with a sublime hairstyle with rolled upwards bangs and stunning curls.
Reproduce this medium hairstyle by creating curls that you won't fall on your back, but pin them in your hair with bobby pins. This way, you get yourself an exquisite retro hairstyle.
#6. 50s Hairstyle
Make your curls look splendid just by pinning them to your head. They will look like perfect rolls of hair, and if you choose a big flower to bind above your ear, you will feel like you were born in the '50s.
#7. 1920sHairstyle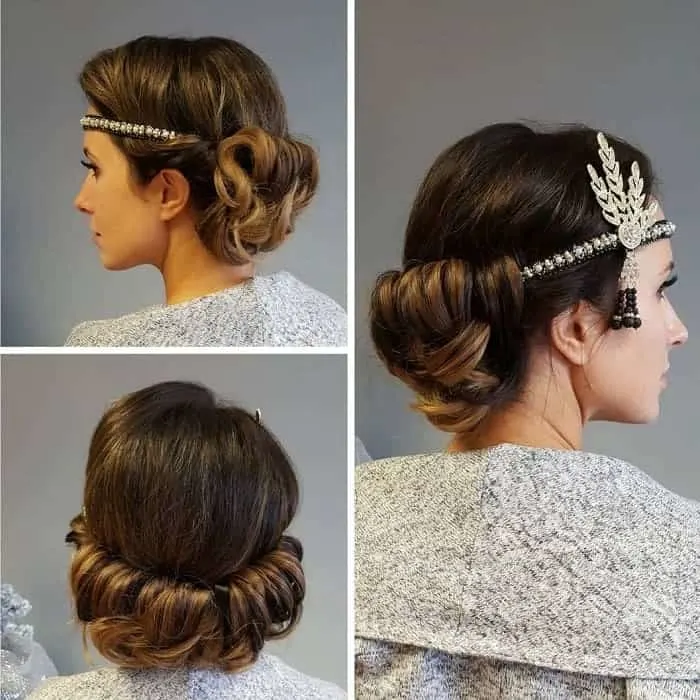 This Great Gatsby hairstyle is extremely fashionable, and it's ideal for a retro-themed party!
Use a gorgeous tiara with golden applications that stays on your forehead and roll your back hair on it. Be very careful with the rest of the outfit because this 1920s hairdo is pretty demanding.
#8. Vintage Black Hairdo
Black women used to wear twists back in the days, and they are still fashionable nowadays. The only difference is the way they styled them. Create a big twist on top of your head, just like a crown and a twisted bun for your back.
#9. Vintage Side Bun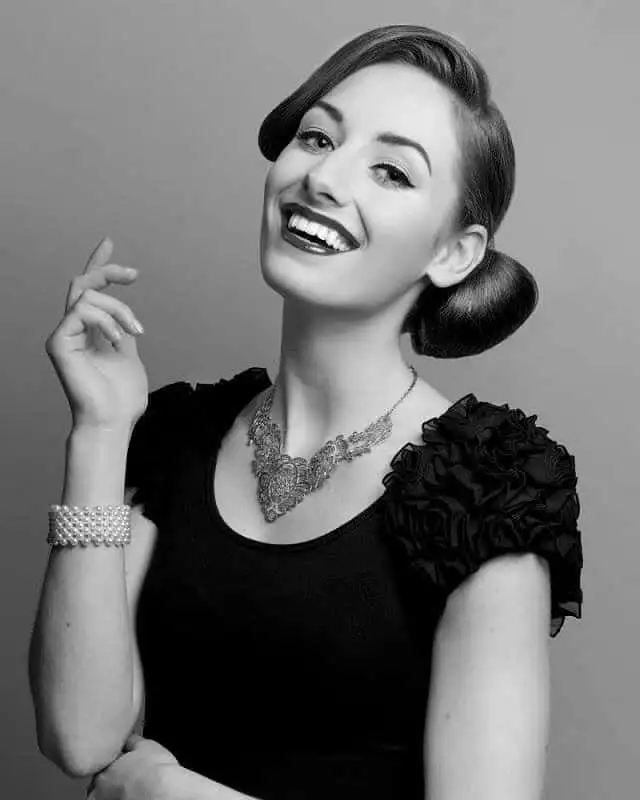 Give your fringe an upwards weave effect and tie up all your hair into a low flawless side bun. Accessorize this hairstyle with an outstanding necklace and vibrant red lipstick.
#10. Rosie the Riveter Bandana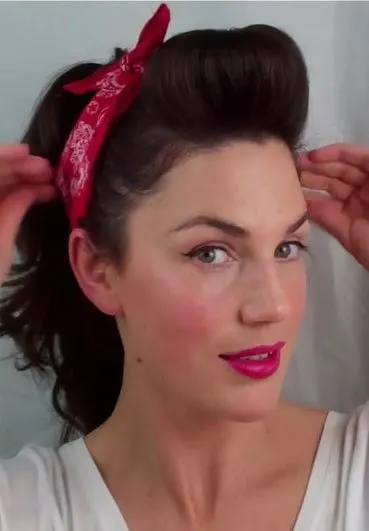 This simple, classic style was made famous by the Rosie the Riveter ad campaign. A simply knotted bandana can help to transform any hairstyle into a style with a vintage edge.
#11. Big Vintage Curls with Bandana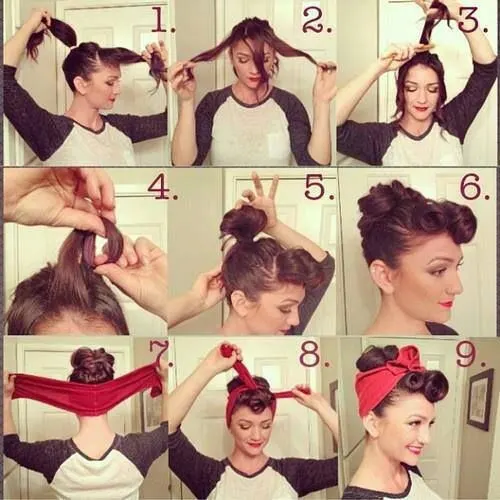 Take a few sections of hair down at the front whilst pulling the back up into a high bun. Use small hairpins to hold your front sections in big loops. Top off your style with a classic "riveter" bandana.
Have Thin Hair? Try These Styles
#12. Rolled Fringe
Another popular vintage style. Comb your hair back over a big barrel brush to create a rolled fringe. Pin it close to the roots so that it keeps its volume and then wrap around with a bandana for added emphasis.
#13. Side Reverse Rolls
Create two loose chignons at the back of your hair whilst leaving two sections down at the front of your head. Tease these two sections up into voluminous rolls at the front of your head to create one of the most popular looks of the '40s.
#14. Rolled Fringe with Big Bouncy Curls
Put your hair into heated curlers to achieve big, bouncy curls. Pin your fringe back in a voluminous curl to create that vintage look. Let the rest of your curls bouncy freely.
#15. Vintage Long Hairstyle
Long, voluminous hair embodies the spirit of vintage glamour. Use a volumizing shampoo and blow-drying techniques to make your hair look big and beautiful.
#16. Waterfall Curls
Use curlers to create big bouncy curls. Pin your hair back high on your head and let the curls flow down freely like a waterfall.
#17. Swirled Fringe
Pull in sections of hair from the top of your head and your fringe. Twist this hair from the base to create a tight column of hair and then swirl this column round onto the top of your hair. Pin your swirl to keep it in place.
#18. Loose Waves
Voluminous hair is evocative of retro style, even when the style has a more modern twist. Create voluminous loose waves with an iron, then brushing through it with a paddle brush.
#19. Blue 'Do
Give your vintage do a funky twist with blue hair dye. An ombre look like this looks great even on shorter hairstyles.
#20. Bows and Bouffant
Section off your hair at the back and backcomb the rear area to create a bouffant style. Leave some of your hair down to create a soft look and accessorize it with beautiful bows.
#21. Vintage 40s Hairstyle
This gorgeous deep-red color is reminiscent of times gone by without looking particularly dated. The beautiful color looks wonderful with any type or cuts of classic hairstyle.
#22. Asymmetrical Quiff for Women
Sweep your fringe over to one side of your head and then brush it backwards from the roots. Create a one-sided quiff by pinning it over and back away from your face.
#23. Black Dahlia
This flower hair accessory looks even more striking because it contrasts perfectly with the gorgeous hair color. I black flower mixes vintage and burlesque styles.
Put a loose wave into your hair and then draw it up into a chignon at the back of your head. Accessorize your chignon however you see fit. Leave a few strands of loosely curled hair down at the front to frame your face.
#25. Dark Plum
Dark Plum (or other colors which are almost black) were very popular amongst vintage starlets who wanted to be a little rebellious without going too far. These shades still look amazing, especially when teamed with a bright red lip.
#26. Knotted Bandana with Waterfall Curls
Knotted bandanas are not just for short hair or up 'dos. Accessorize your waterfall curls with a knotted bandana for a simple style which can be worn anywhere.
Create easy volume by backcombing your hair down towards the roots. Add a little loose wave to your lower hair by curling and then brushing through. Create the illusion of extra volume with a contrasting hair accessory.
#28. Vintage Updo
For an unusual vintage hairstyle that looks great, roll your hair into a series of miniature buns which sit high on your head. This style can be complemented with an accessory that sits to one side of your head.
Create curls which are large, bouncy and perfect using heated rollers. In order to get them to stay in shape, you will need to set them with hairspray as soon as you take them off of the rollers.
#30. Lily
An overstated flower like a lily is the perfect accessory for your vintage hairstyle. Be careful if you want to use a real lily as the pollen is known to stain clothing.
Luscious curls look beautiful when the hair is allowed to flow down freely. Curl your hair with hot rollers and pin the top sections so that they stay buoyant like victory rolls.
#32. Curled Bob with Side Parting
Create a "bob" with voluminous curls by pinning your hair so that it falls at bob length. Add extra glamour with a side parting.
For an asymmetrical bob, sweep most of your hair over to one side. Use a curling tong to and some loose curls and rolls to your hair.
Popular Layered Bob Hairstyles for Women to Try
#34. Quiff with Riveter Bandana
Comb your fringe back and over to create a voluminous "rolled" quiff which is evocative of vintage "worker" style. Keep the rest of your hair out of the way with a bandana of your choice.
#35. Vintage Curly Hairdo
Curl your hair using rollers to create big bouncy curls. Pin your hair with a bold accessory at one side of your head and then let the curls fall in a waterfall style.
Tease your hair back and up into a bouffant style. Boost the bouffant by pinning your hair high up in a chignon on the back of your head.
#37. Asymmetrical Rolls
Asymmetrical hair looks great if you have a very symmetrical face shape. Create asymmetrical rolls by drawing hair over from one side of your head to the other.
#38. Short Hair with Big Curls
For a hairstyle like this, you will need chin-length curls. It is important to remember that curling your short hair in big curls like this will make your hair look shorter than it actually is.
#39. The 1940s Victory Rolls
Big curls of hair, known as "victory rolls" were incredibly popular during the 1940s. Use heated rollers to create big, bold curls that have a regular shape.
#40. Glamorous Loose Curls
Big, loose curls are very evocative of vintage hairstyles. Use heated rollers on sections of your hair. Take your hair down and then brush lightly to create bouncy curls which look great with your hair down.
#41. Bridal Bouffant
A bouffant style is a wonderful style for a retro wedding. Enhance the look of your bouffant by using a hair accessory in the place just before your bouffant begins.
#42. Vintage Beach Look
Keep your beach hair with a rolled fringe at the front. Your curls may not be as big and bouncy when your hair is wet, but you can still create a by-gone style with vintage swimwear and sunglasses. Here are some short beach wave and long beach wave hairstyles to inspire your next look.
#43. Frizzy Curls
There are some great vintage hairstyles which are perfect for afro textured hair. A bob with frizzy curls looks perfect when the volume is created by separating out the individual curls.
#44. Hippy Plaits
Plaited hairstyles were very popular in the '60s because people saw them as a simple style which was widely used by indigenous people. These styles were teamed with flower accessories to give a very natural look.
#45. Painted Quiff
Give your quiff an extra something by putting in a hint of color. Light pink is a subtle and feminine choice.
#46. Waterfall Pony Tail
Waterfall curls from a ponytail are a timeless classic look. Accessorise to make your wedding hair look even more special on your big day.
#47. Vintage Half Up 'Do
Give yourself a fusion hairstyle by mixing lots of different styles together in one. Create victory rolls at the front and then section off your hair at the back. Leave some sections down whilst pulling the other sections up.
#48. Polka Dots
Polka dots play a huge part in vintage style and hairstyling is no exception. A knotted polka dot band can help to add a little classic touch to any women's hairstyle.
Get Inspired From The 1900s Hairstyles
#49. 60s Hairdo
Leave your fringe down at the front to frame your face. Comb your hair backwards into a bouffant style and then let the rest of your hair hang straight down.
#50. Wavy Swept Fringe
The beautiful wavy kinks in this style can be created by rag-rolling your hair. Sweep your fringe across to one side to give a beautiful asymmetrical look that highlights your lips and eyes.
#51. Pixie Cut
Pixie cuts became really popular during the 1960s. These short hairstyles look amazing on people who have strong facial features.
Cut your hair into a long pixie style, so that it sits at about cheek length. If you want to keep it out of your face, you can pull it back with a knotted bandana.
#53. Candy Striped Rolls
Give vintage hairstyles a funky modern twist by putting a mixture of colors in your hair. Combining two different colors like red and blonde will create a cute candy stripe effect.
""Finger Waves" define the flapper girl style. Use a thin curling iron to get small curls then brush through to leave these waves. Pin in place with a bobby pin for more defined kinks.
#55. Minnie Mouse
Take inspiration from Minnie Mouse for your retro look with a quirky oversized bow. This adds a funky twist to any pin-up hairstyle.
#56. Vintage Bob
Big bouncy curls help to give a bob a real retro vibe. Get vintage curls easily by leaving your hair in heated curlers whilst you watch TV or use the computer. Apply hairspray to your hair as soon as you take it out of the curlers.
#57. Pinned Back Bob
Hold your hair back from your face by using a bobby pin to clip it just above your ear. Sweep your fringe over from one side of your head to the other to help to open your face up even more.
Those who want an alternative to bouncy curls can choose sleek and smooth hairstyles, like this bob with blunt bangs. This is less "pin-up girl" and more "smoldering fashion icon".
#59. Afro with Bandana
Keep your afro back out of your face by using a bandana to keep your hair in check. A big bow and polka dot material are very evocative of vintage hairstyles.